Want to get rid of the boring style of showcasing images on your WordPress website? Try the image box template of ElementsKit.
ElementsKit (a complete Elemetor add-on) offers 19 different image box templates to display images with various effects and animation. Also, you can include text, headings, buttons, URLs, icons, and many more.
All of these elements are fully customizable. Plus, you can remove or include any elements of Elementor with the ElementsKit image box templates.
Create an Image Box Using ElementsKit #
Create a new post/page or open an exciting one with Elementor
Click on the ElementsKit icon
Choose the "Image box" from the category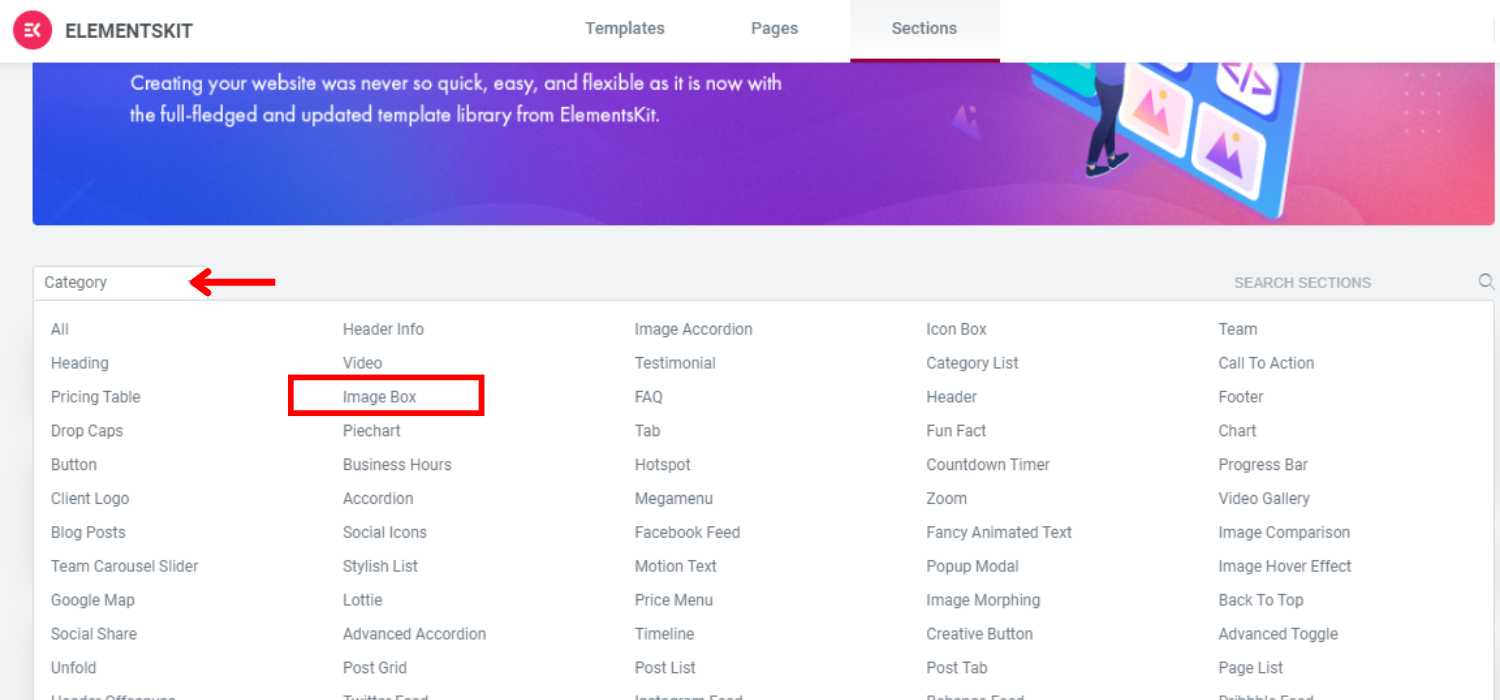 You can see 19 different templates (11 free, 8 premium) for the image box
Click on plus sign (+) to see the preview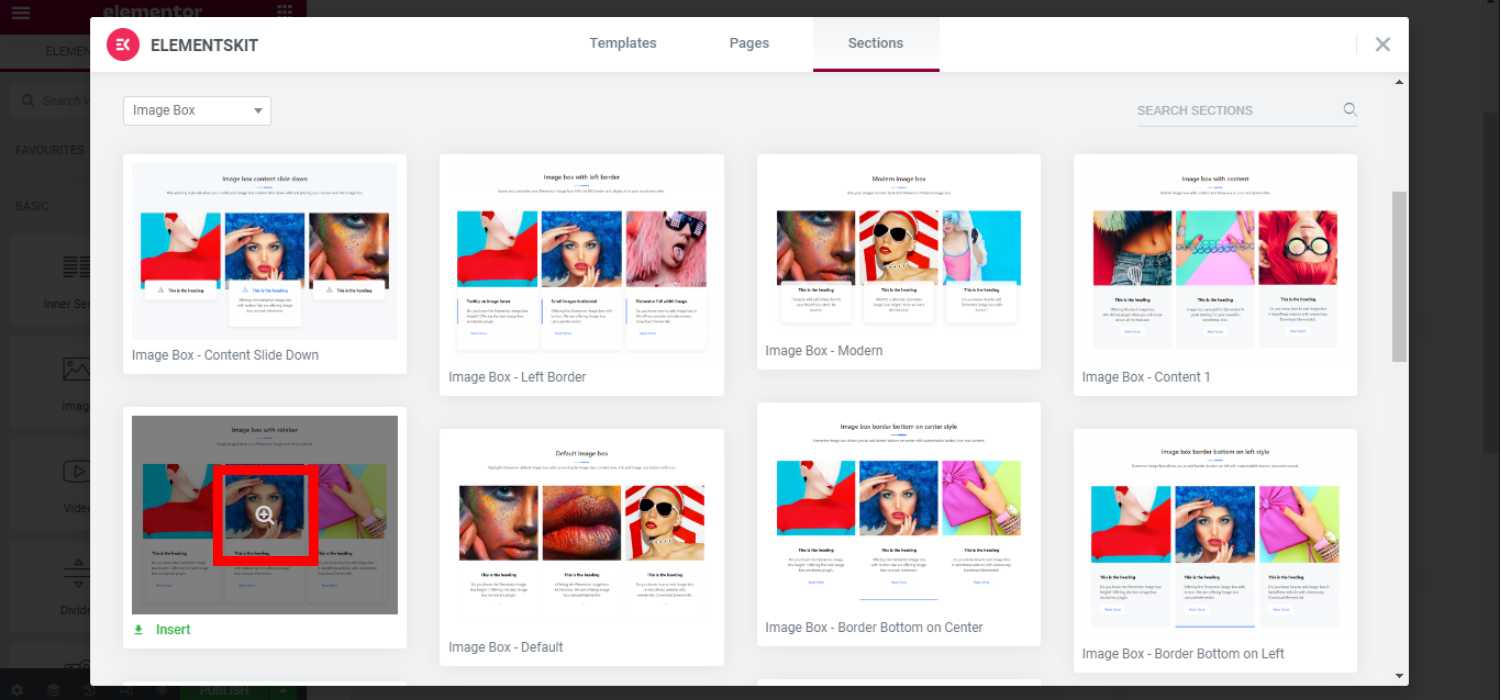 Click on "Insert"
It will appear on your page/post
Now you can edit the styles and other properties of the image box template
After customization, click on "Update"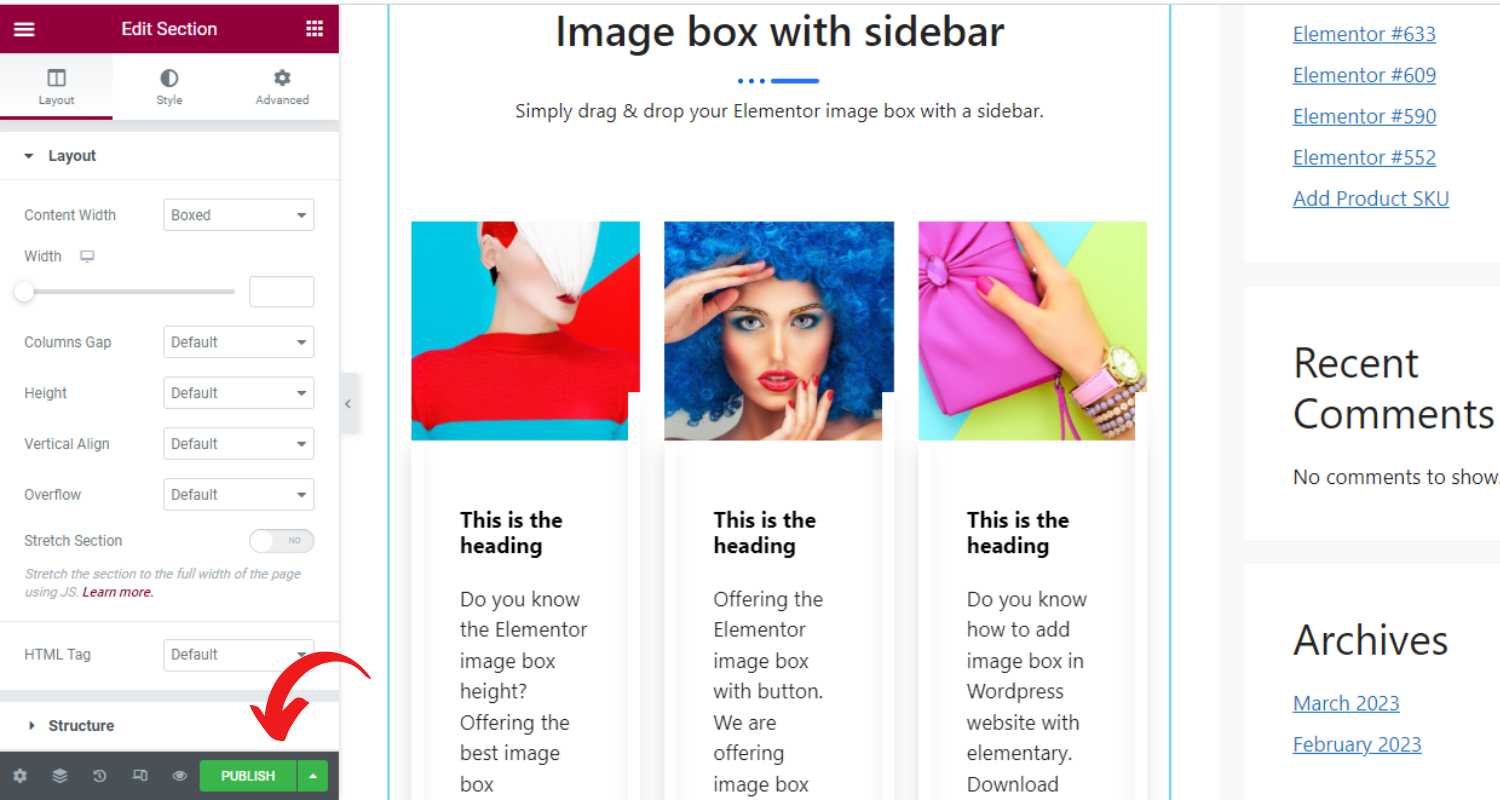 Customize the ElementsKit Image Box Template #
From the left sidebar, you can customize the image box layout, content as well as styles of each element. Besides, you can do advanced customization for a single element or the entire layout from the Advanced settings.
Layout Customization #
Select the content width (boxed or full width)
Set custom width
Customize column gap, height, vertical alignment, overflow
Turn on/off the stretch section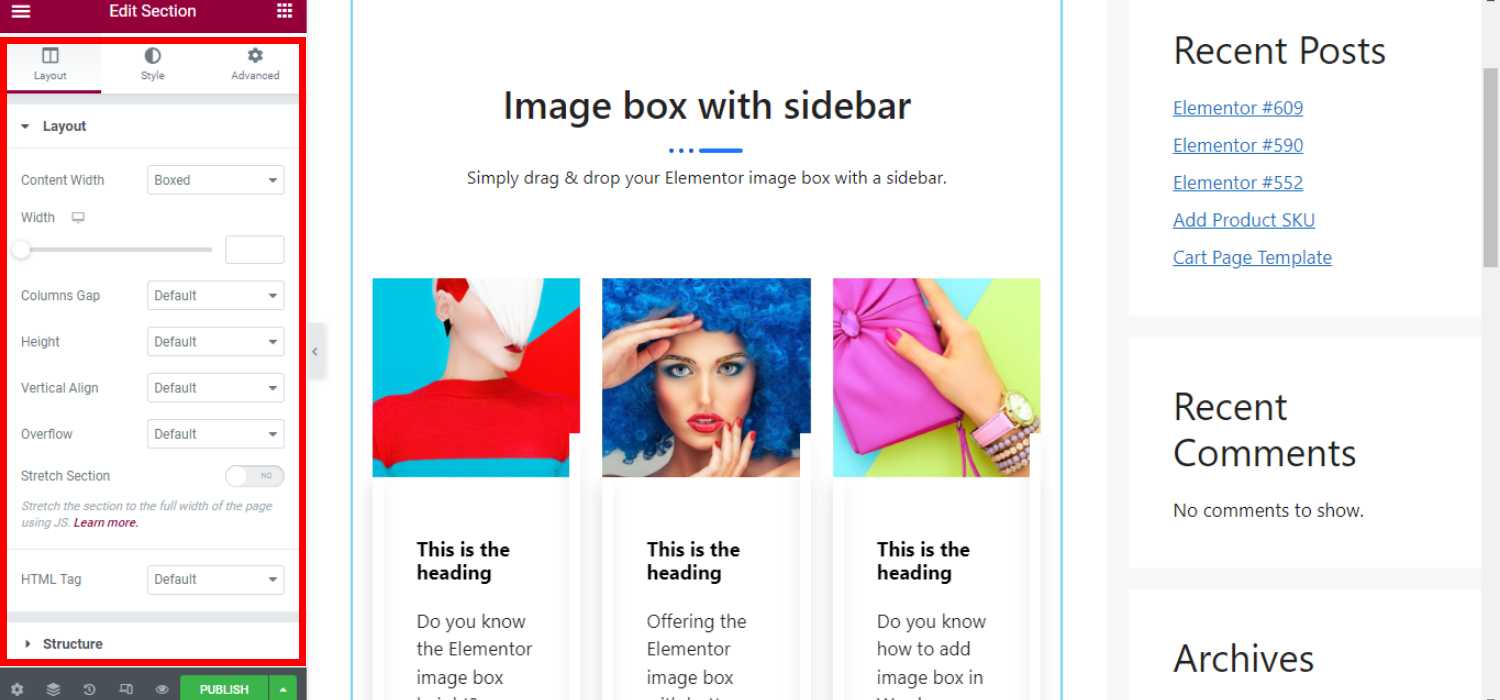 Content Customization #
👉Image
Change the image
Customize the image size
Set the content area
Enable or disable equal height
Enable or disable URL
👉Body
Change the title text
Customize the title HTML tag
Set the title alignment
Button
Enable or disable the button
Customize the button label text
Add URL
Add/remove icon
Set icon position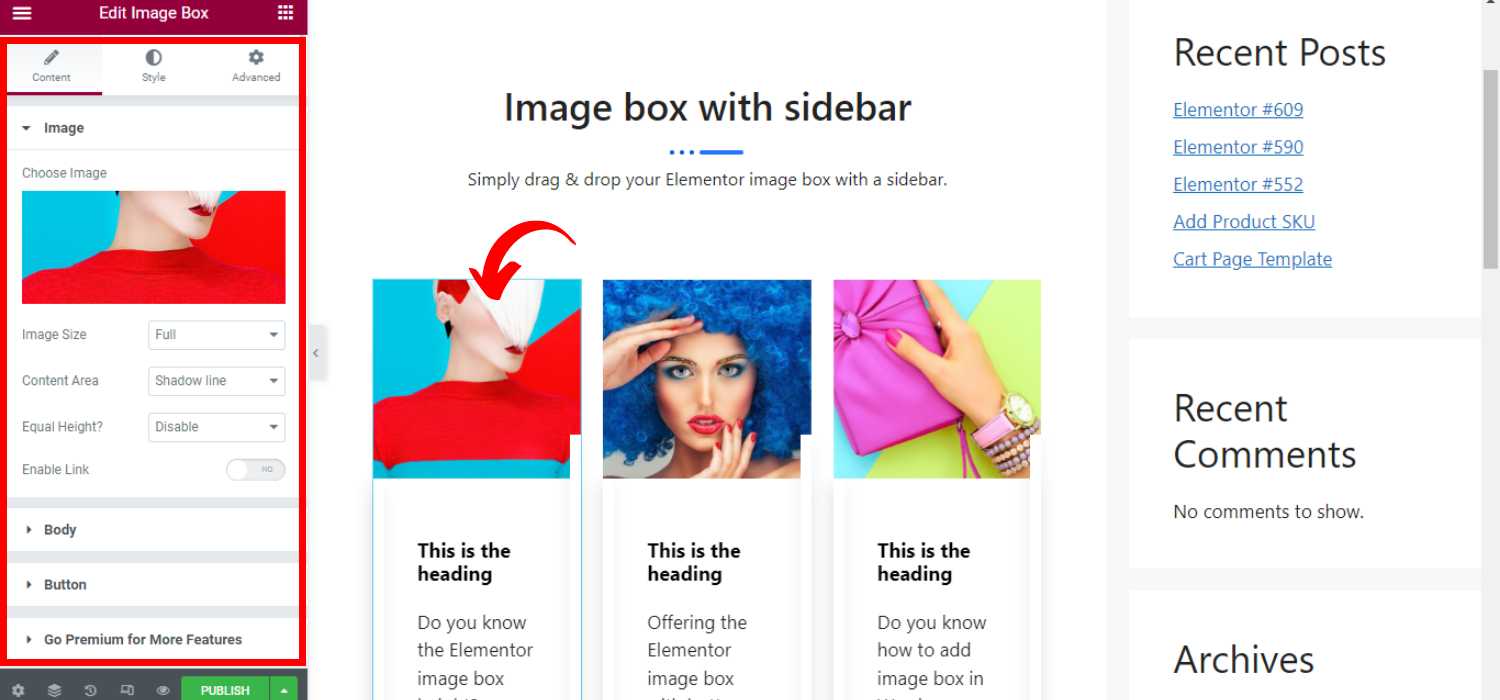 Style Customization #
👉Shadow Line
Select the left or right shadow line
Set custom width
Customize the box-shadow
Customize background type, color
Set background image
👉Image
Set custom border radius, padding
Customize the image opacity for normal or hover style
👉Body
Set border type, border-radius
Customize background image, type, and color
Set custom padding, box shadow color
Set title spacing, typography, color
👉Button
Customize padding value, icon font size
Change the button text and background color
Set normal or hover properties
Set border type, border radius, box-shadow
Advanced Customization #
Customize the layout's margin, padding, width, position, and z-index
Set motion effects for elements (e.g. fade in, zoom in up, bounce in, slide in left, etc.)
Customize the responsiveness and attributes
Insert custom CSS for additional modification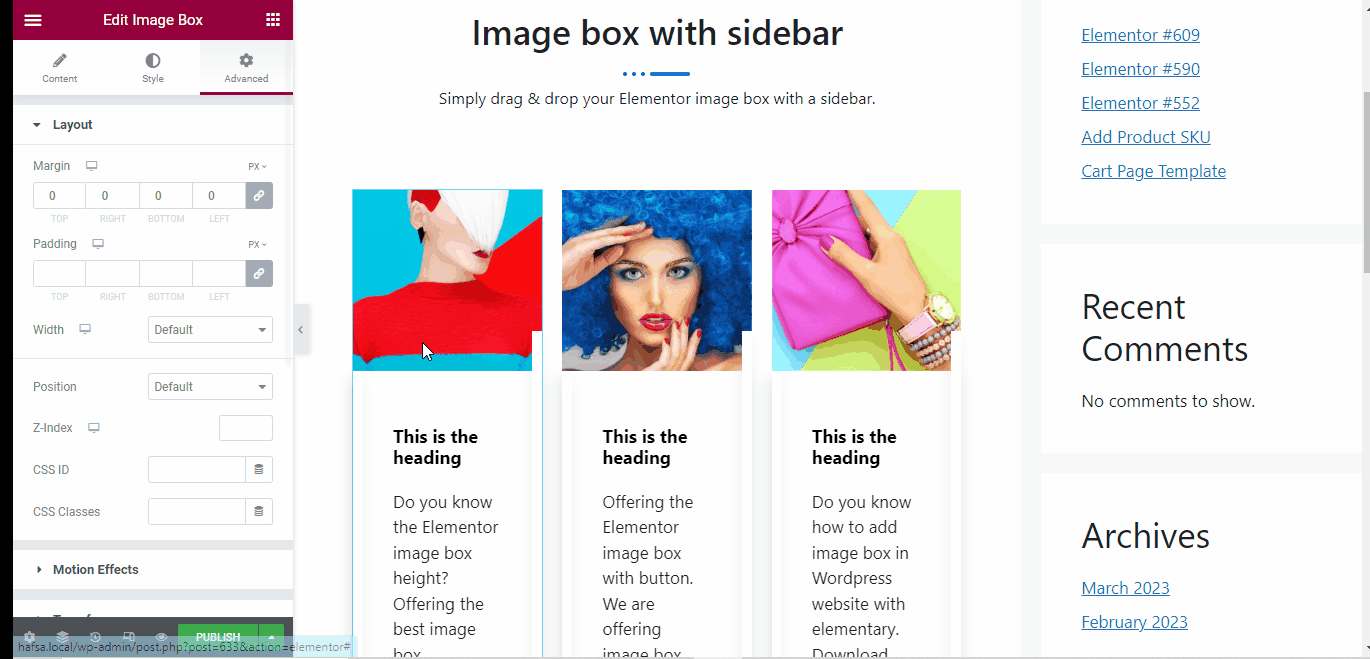 Hopefully, now you can showcase your website images in more interesting ways using the ElementsKit image box templates. And, don't hesitate to ask any queries or share your suggestions with us.