Conditional Logic is a pro feature of MetForm through which you can show or hide any field depending on the input value of another field. Besides, you don't need to use the Elementor form field shortcode to add conditional logic.
Watch out the video guide that is on how to add Elementor form conditional fields
How to add Elementor conditional logic forms #
Follow the step-by-step process below on how you can add a Conditional Logic Field without using any Elementor form field shortcode.
Step-> 1 #
Click on Email Field=> Enable Conditional Logic to add conditional logic Elementor form.
Step-> 2 #
Show the Email Field if the Full Name is not Empty
Condition match criteria: AND
Action: Show this Field
If: Copy the Full name "Name Field" and Paste here. For EX: full–name
Match: Not Empty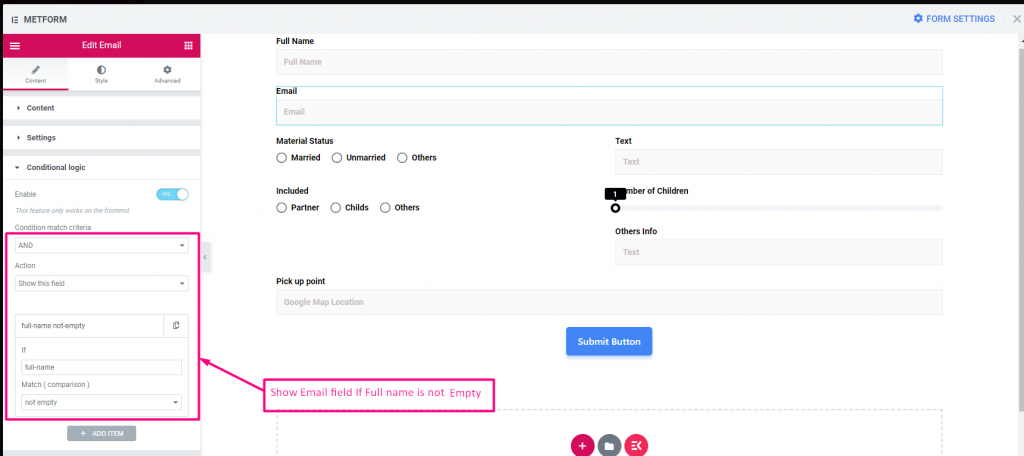 Showing the Email Field when the Full Name is not Empty

Step-> 3 #
If Material Status is Others then Show Other Status Field
Condition match criteria: AND
Action: Show this Field
If: Copy the Material Status "Name Field" and Paste here. For EX: material-status
Match: equals
Match Value: Copy the Material Status=> Others " Option Value Field" and Paste here. For EX: others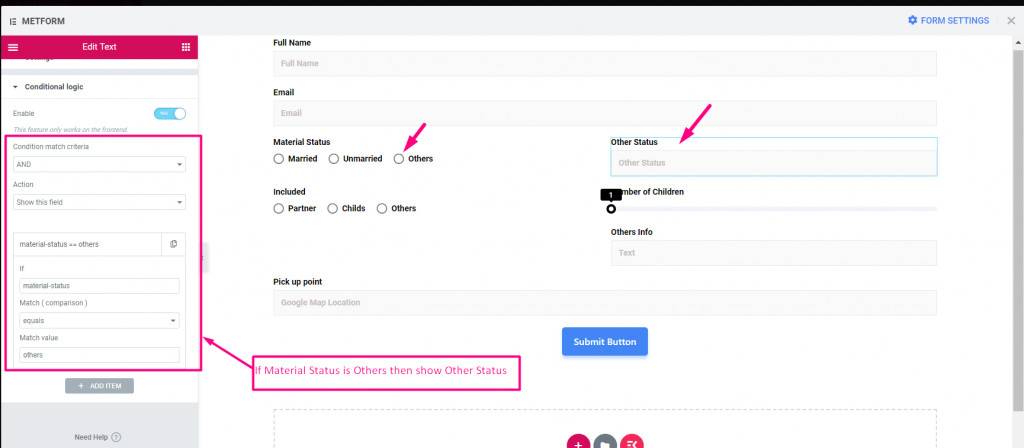 Material Status is Others and Showing Other Status Field

Step-> 4 #
If Material Status is Married then Show Included Field
Condition match criteria: AND
Action: Show this Field
If: Copy the Material Status "Name Field" and Paste here. For EX: material-status
Match: equals
Match Value: Copy the Material Status=> Others " Option Value Field" and Paste here. For EX: married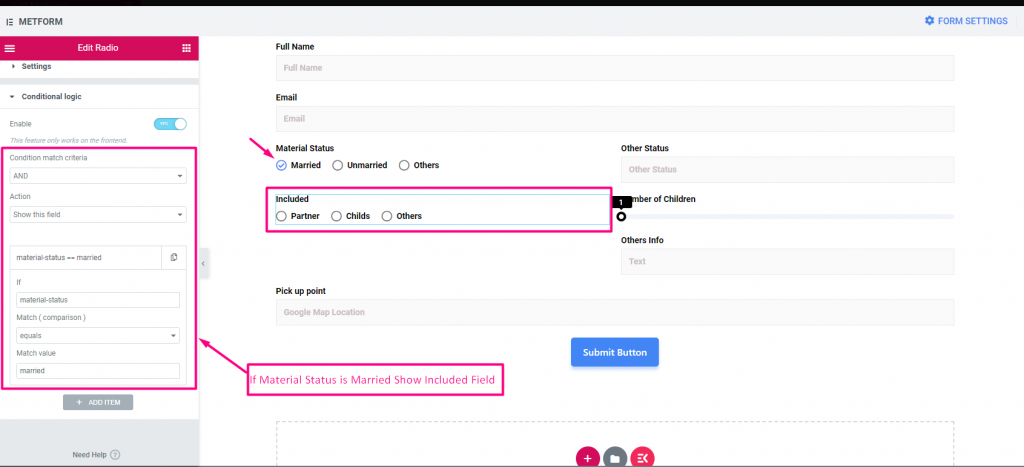 Material Status is Married and Showing Included Field

Step-> 5 #
If Included option is Child then Show No of Children Field
Condition match criteria: AND
Action: Show this Field
If: Copy the Included "Name Field" and Paste here. For EX: included
Match: equals
Match Value: Copy the Included => Child " Option Value Field" and Paste here. For EX: childs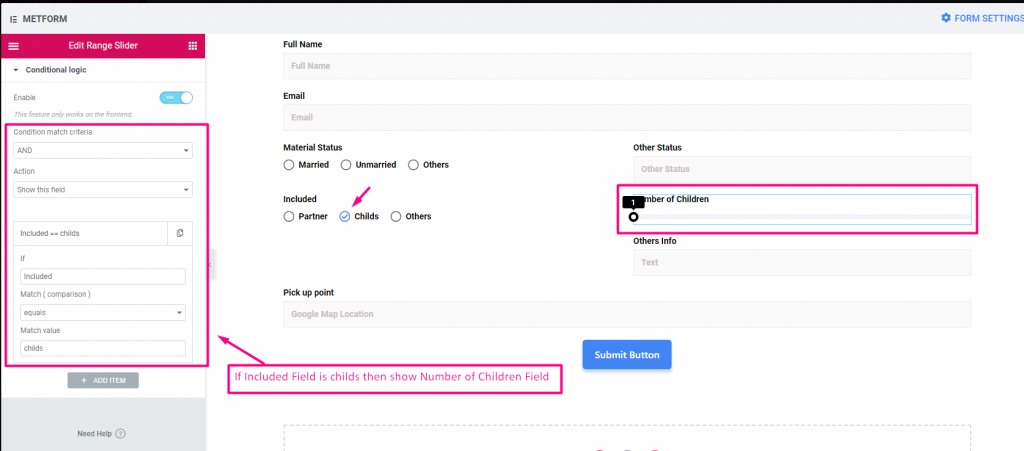 Included option is Child and Showing Number of Children Field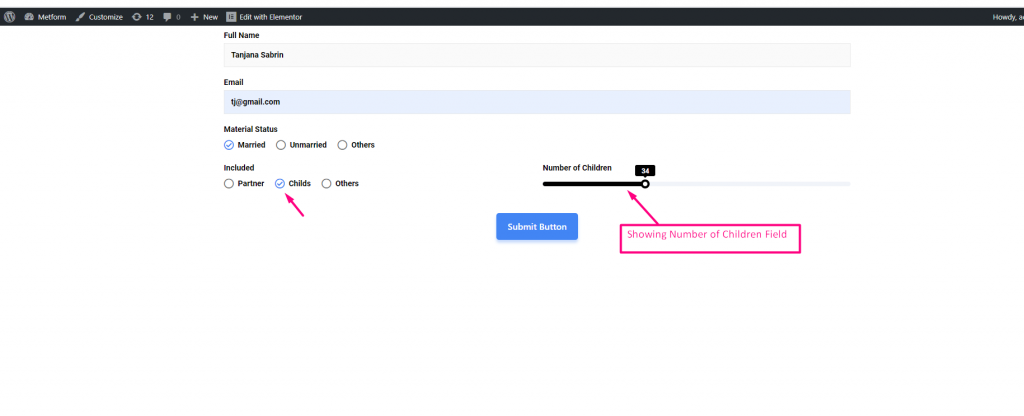 Step-> 6 #
If Included option is Others then Show Other Info Field
Condition match criteria: AND
Action: Show this Field
If: Copy the Included "Name Field" and Paste it here to show Elementor conditional logic form. For EX: included
Match: equals
Match Value: Copy the Included => " Option Value Field" and Paste here. For EX: others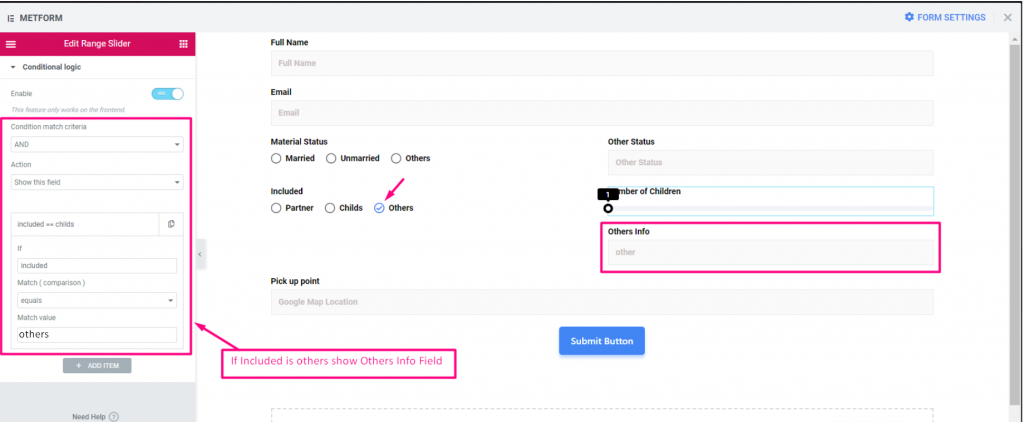 Included option is Others and Showing Others Info Field. Here is your created Elementor conditional logic form: