MetForm form builder addon comes with 30+ templates (e.g. contact form, newsletter form, feedback form, etc) to create any type of form in the WordPress website.
MetForm also allows you to create any custom form by just dragging and dropping the elementor elements. With 40+ styles for customization, you can design a fully responsive and functional form within a few minutes.
How to Create Forms With MetForm #
Step 1: Choose a Form Template #
Navigate to 1. Dashboard -> 2. MetForm -> 3. Forms -> 4. Click Add New -> 5. A Pop Up will appear
From this Create Form popup window, you will see-
You can start making a form by typing the name of it in this field.
The form type is General Form. It is by default, if you use MetForm pro you can have the option here.
You will get 30+ different types of templates here.
Clicking this button, you will start editing the form with Elementor.
Step 2: Customize the Form Template #
Every form template is completely designed and developed for serving different purposes (e.g. feedback form for getting customers' feedback). However, you can customize them in any way as they are compatible with elementor.
You will get 3 settings such as content, style, and advanced to customize and control the input field and button properties.
👉👉Content Customization #
Can hide/show the label
Set position for left or top
Can change the placeholder
Add help text
Turn on/off the required property
Set the warning message
Set the validation type
Insert URL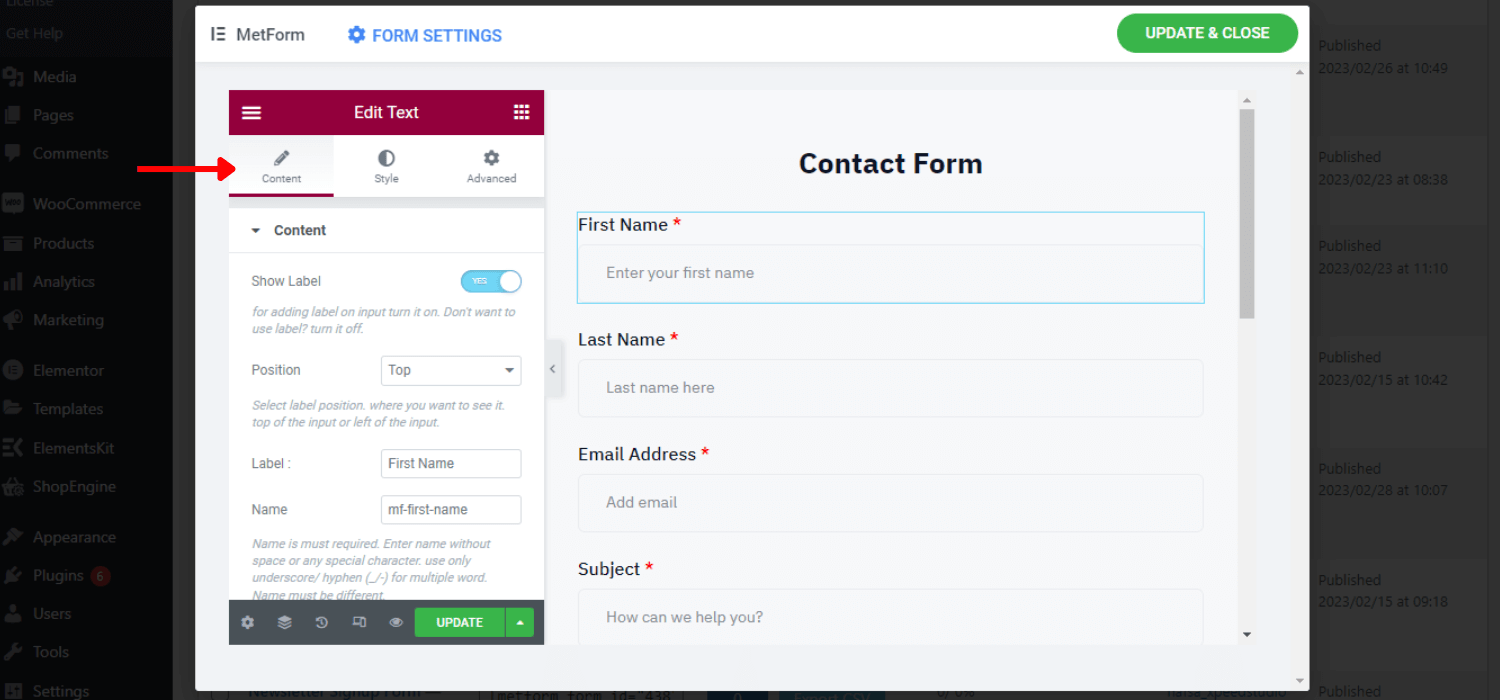 👉👉Style Customization #
Set custom width for layout
Change the input field text color and typography
Customize placeholder and help text color and typography
Add background color
Set custom padding, margin
Select a custom warning color for the required field
Set left, center, justify, or right alignment
Insert image background for input field
Customize border, border color, and border-radius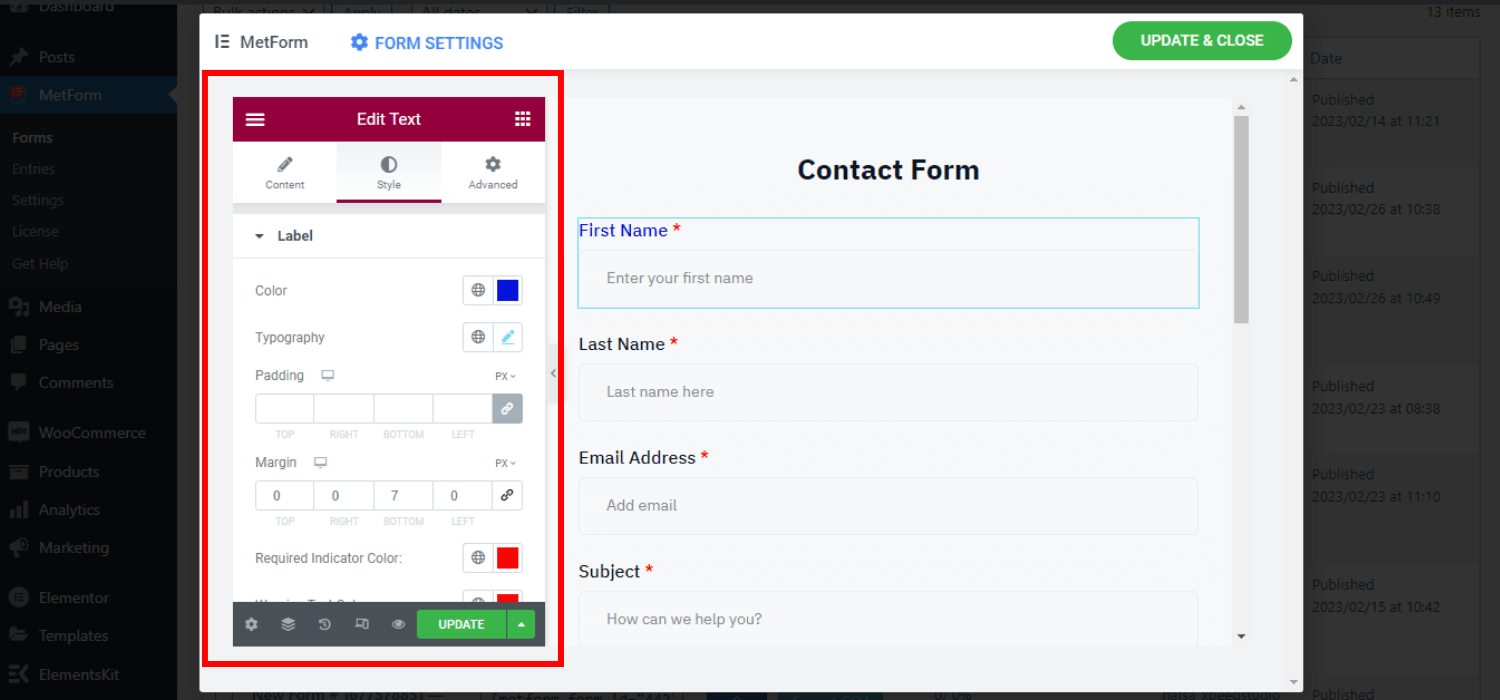 👉👉Advanced Customization #
Set custom margin, padding, width, and position for form layout
Various motion effects for the input fields
Turn on/off the responsiveness for pc, tab, and mobile
Add additional CSS code and many more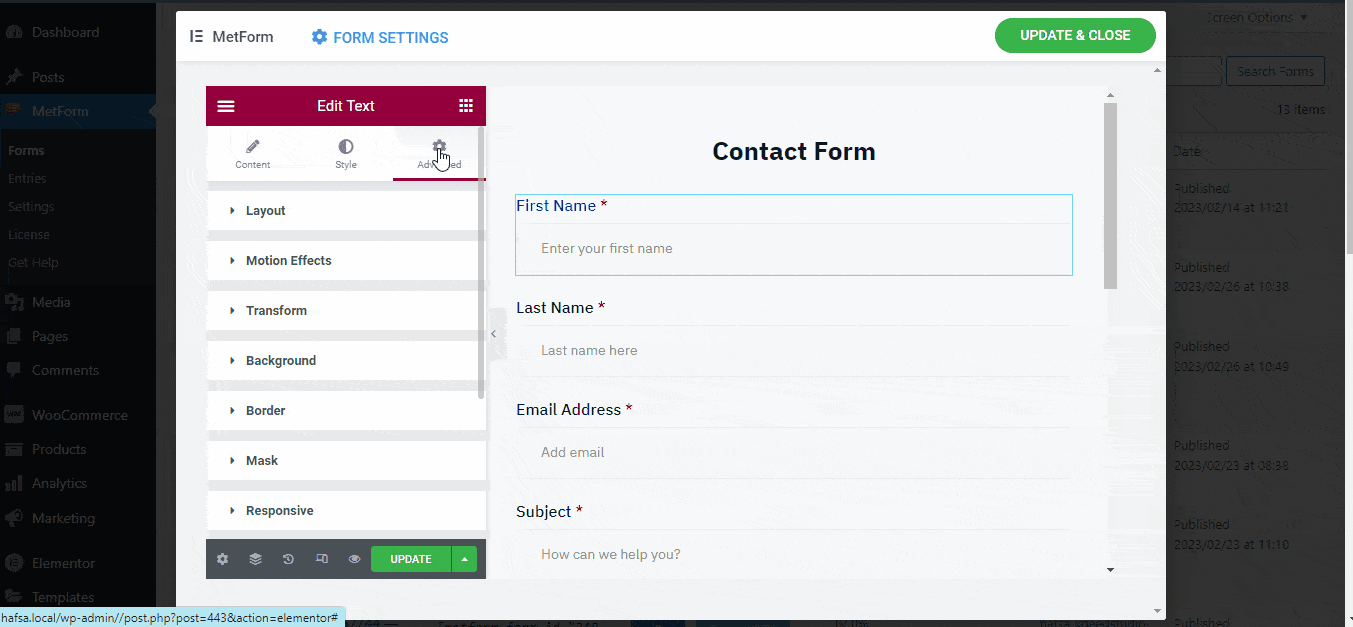 Step 3: Insert Form to a Page/Post #
Next, time to insert the form into your preferred page/post. MetForm makes it easy to insert the form into any page or post by elementor. Also, you can insert any form using the shortcode of the form.
1. Insert MetForm Form using Elementor #
First, create a new page/post or open an existing one.
Start with "Edit with Elementor"
Choose an elementor block
Search for MetForm widget in Elementor elements
Drag and drop the widget into selected the block
Click on "Edit form"
You will see the form names you have created already
Choose the form name
The form will be inserted within seconds. Now you can do further customization or keep it as it is.
Click on Save & Close
Click on "Update"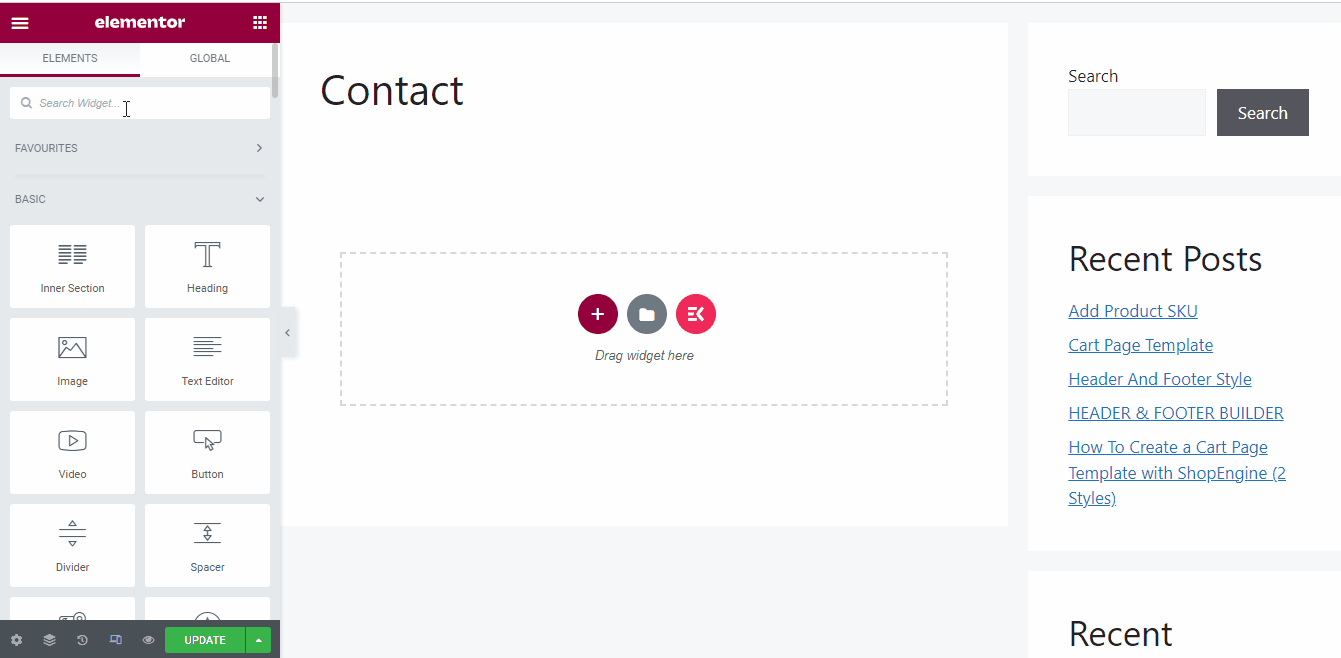 2. Insert MetForm Form using Shortcode #
Inserting a MetForm form using a shortcode is also an easier way.
Create a new page/post or open an existing page/post.
Hover over MetForm -> Click on forms
You will see all the shortcodes along with the form name.
Copy the shortcode that you want to insert
Paste the shortcode on the page/post
Click on "Publish"
You are ready to go! Hope, you will enjoy using these form templates and make your website more elegant and dynamic.