Want to start email marketing? Newsletter Signup Form is the first step to beginning an email marketing approach.
To create an efficient and functional Newsletter Signup Form, MetForm can help. MetForm is a complete form builder for Elementor. You can make forms by dragging and dropping without a single line of code.
It can gather email subscribers to send them the latest product and services through the Newsletter Signup Form. Also, you can send valuable ideas or industry news, upcoming product updates as well as offer discounts and coupons to your potential customers.
✨✨ Requirement:
👉👉Elementor: Download Elementor Plugin 
👉👉MetForm – Download Metform
👉👉MetForm Pro: Download MetForm Plugin 
Default Elements of MetForm Newsletter Signup Form #
First Name
Last Name
Email Address
Checkbox 1 (Subscribe to our newsletter)
Checkbox 2 (Agree on our terms and condition for using your submitted data)
Subscribe Button
How to Create Newsletter Signup Form Using MetForm (3 Steps) #
Step 1: Create a New Form #
Go to your WordPress dashboard
Hover over the MetForm
Click on forms
Click on "Add new"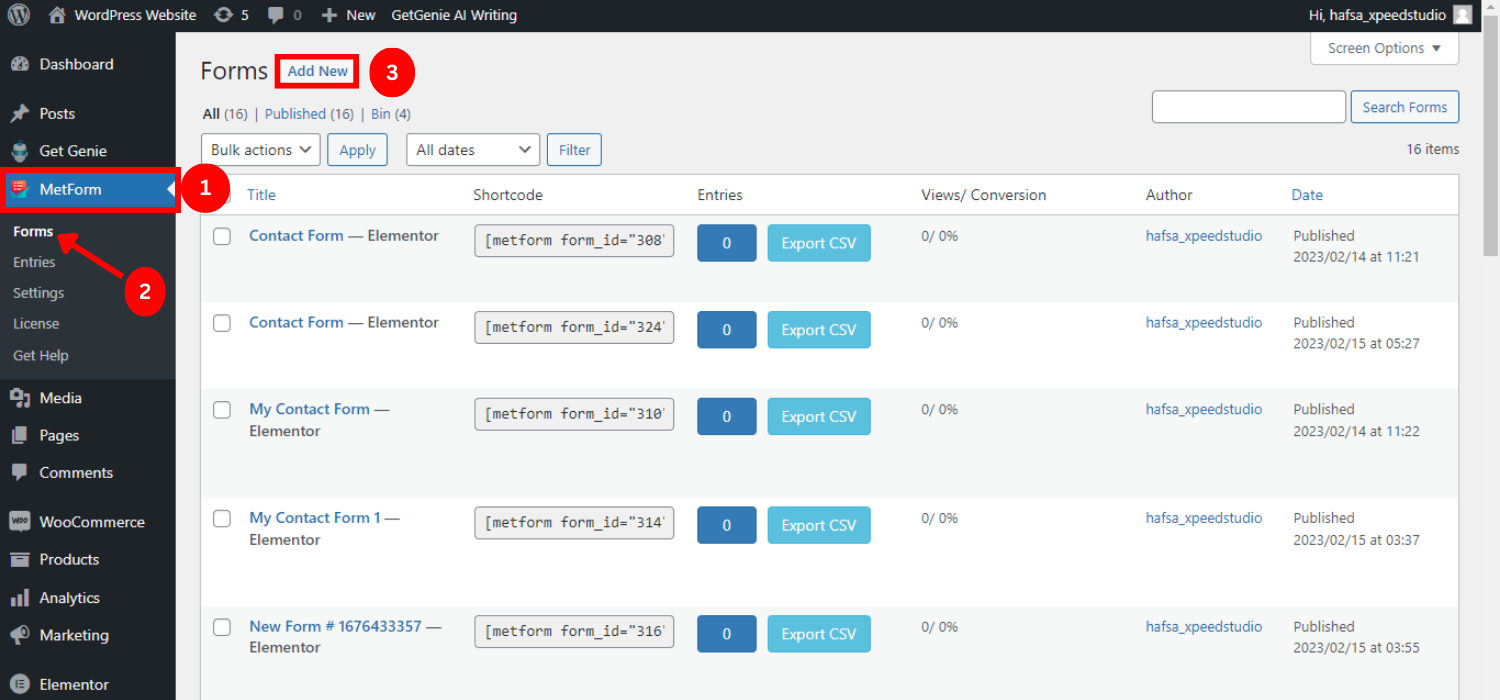 Give the form name (try to keep the name meaningful for easy navigation)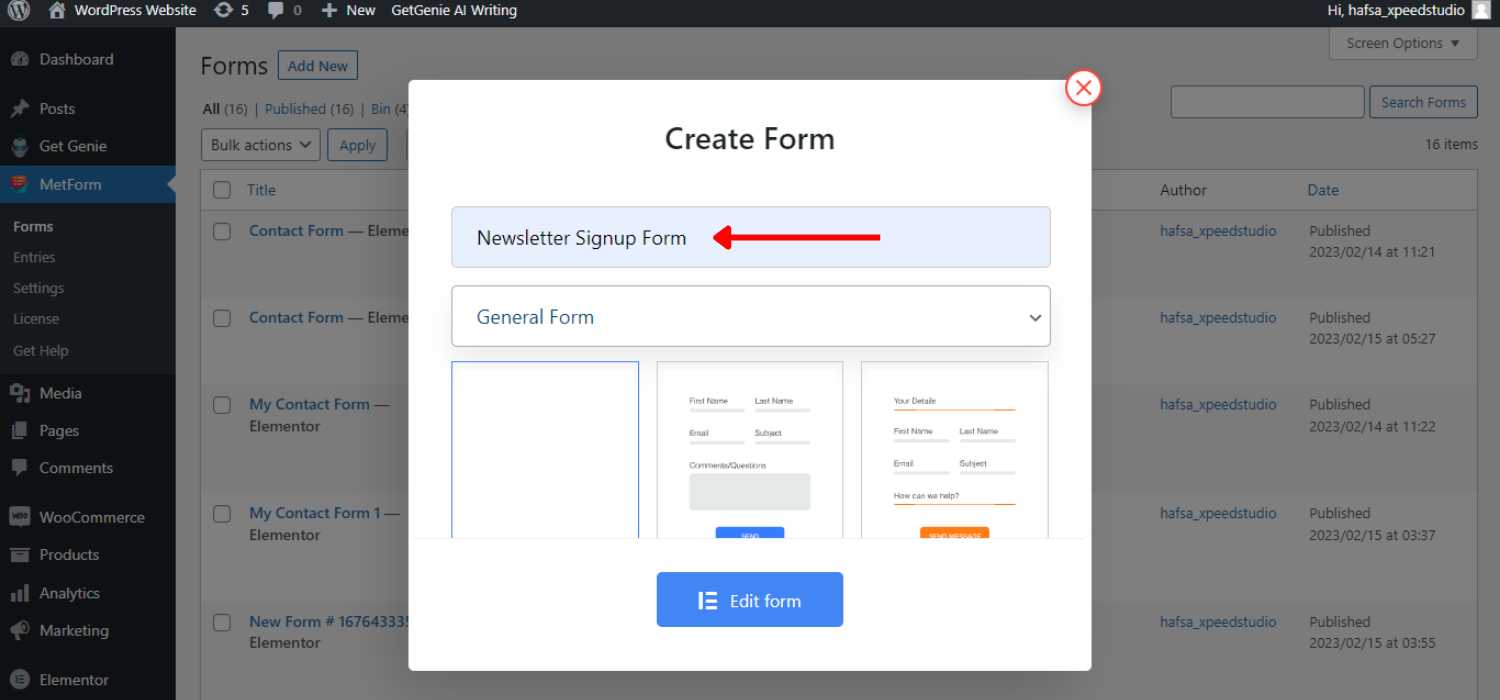 Select the "Newsletter Signup Form"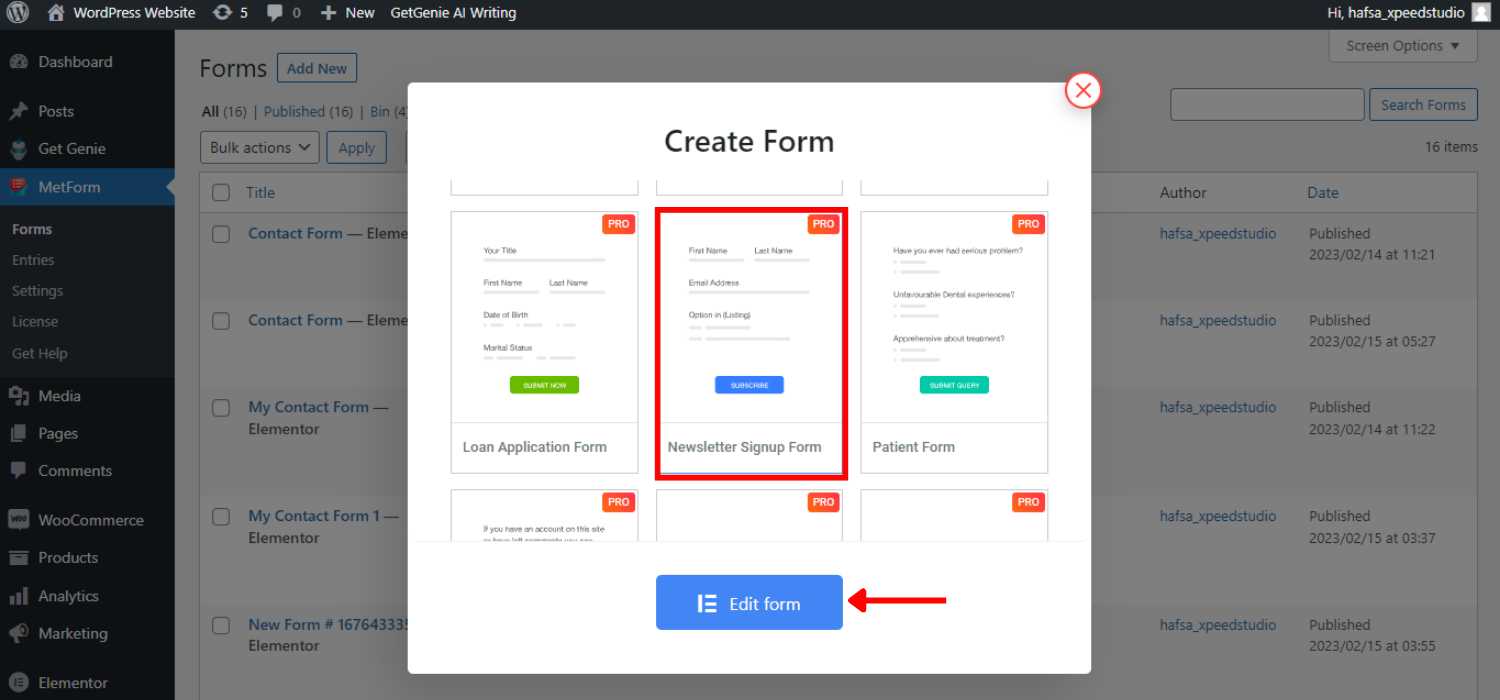 Step 2: Customize the Form #
You can see the Elementor elements on the left side and the selected form on the right side. You can keep it as it is or customize it based on your requirements.
Besides, you can remove any element or add multiple features by dragging and dropping the elements of Elementor. Also, you can customize the content and styles of the input fields and buttons.
Content Customization #
You can show or hide the label
Change the placeholder text
Set the position at the top or left
Set warning for required input fields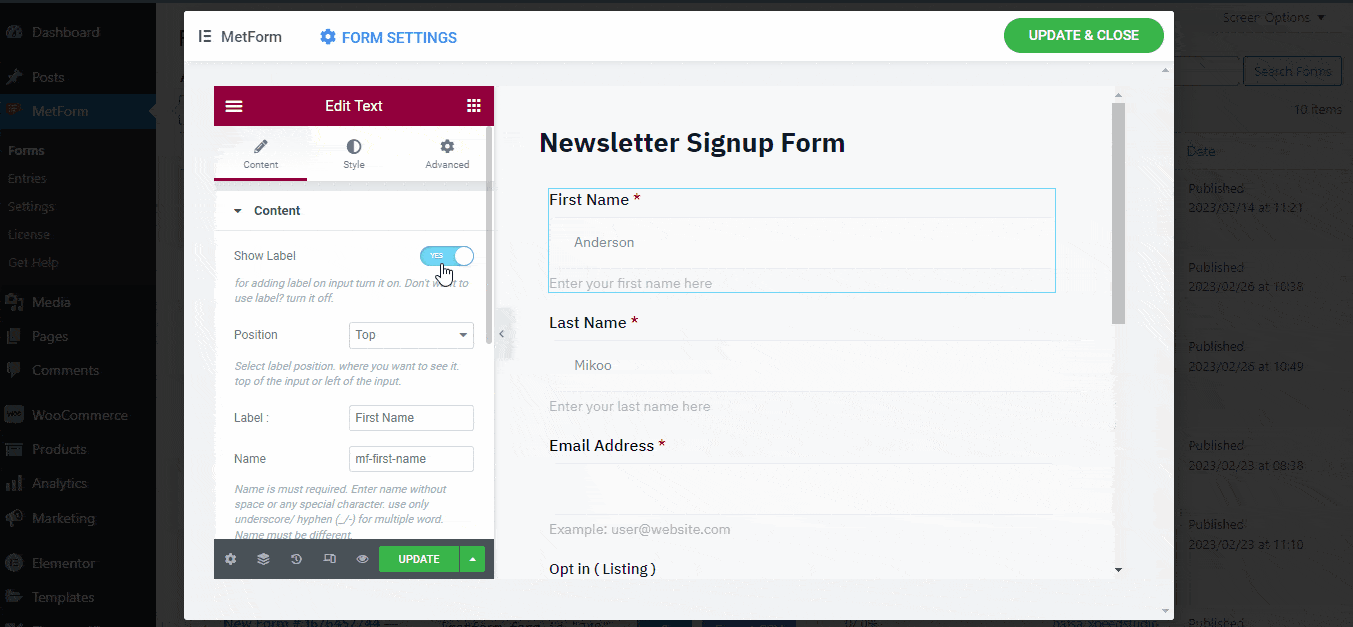 Style Customization #
Can customize the label color, warning text color, and indicator color
Can set the input padding, margin, background, border & typography
Customize the padding, color, and typography of placeholders and help text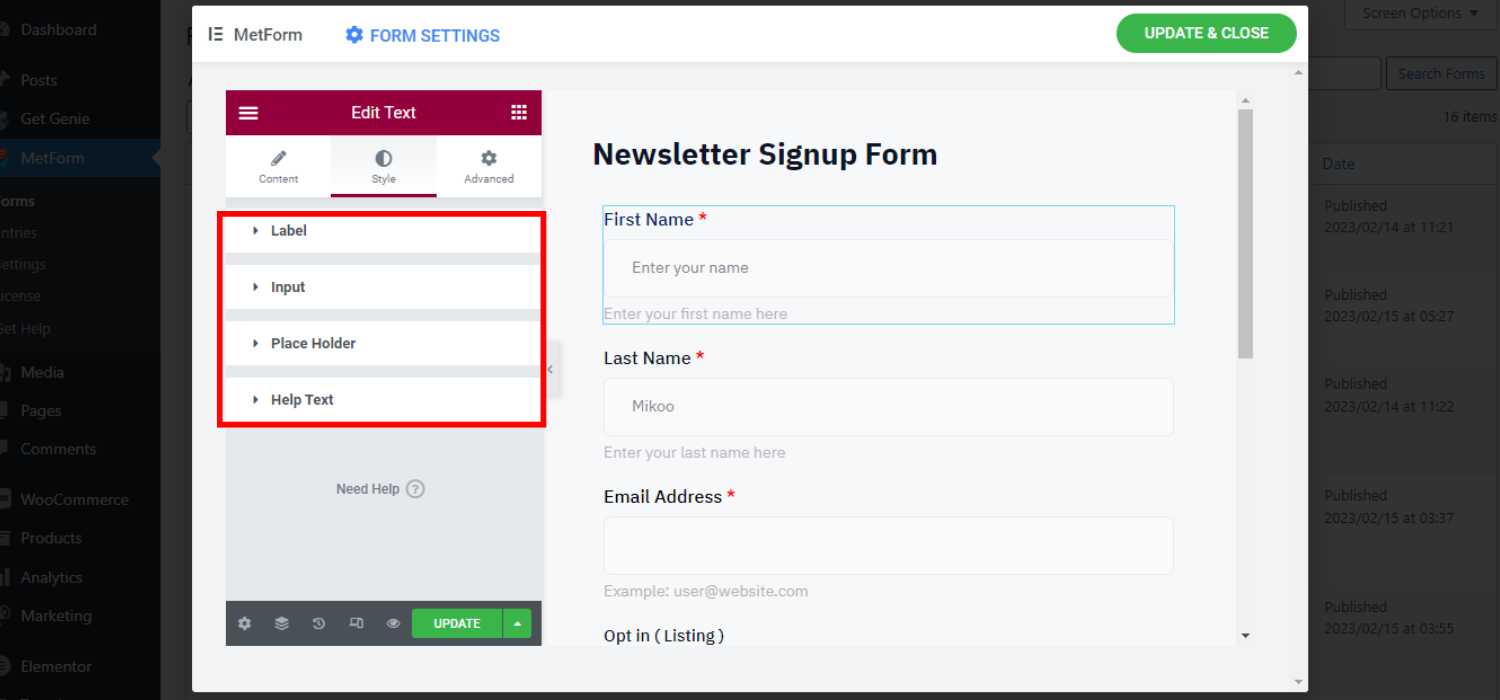 Advanced Customization #
You can set custom width, padding, margin, position, and background for the form layout
Also can insert custom CSS code for extra feature addition
👉👉Check the blog to know the 4 way to add Custom CSS in Elementor
Step 3: Insert the Form into Pages #
The next step is to insert the form template in the page or post to showcase it on your website. You can insert the Newsletter signup form in 2 ways.
For both ways, create a new page/post or open the existing page/post.
Insert Newsletter Signup Form by Elementor #
Open the page by "Edit with Elementor"
Select the Elementor block
Search for the "MetForm" widget
Drag and drop the MetForm widget onto the page
Tap on "Edit Form"
Choose the form
Click on "Save & Close"
Click on "Update"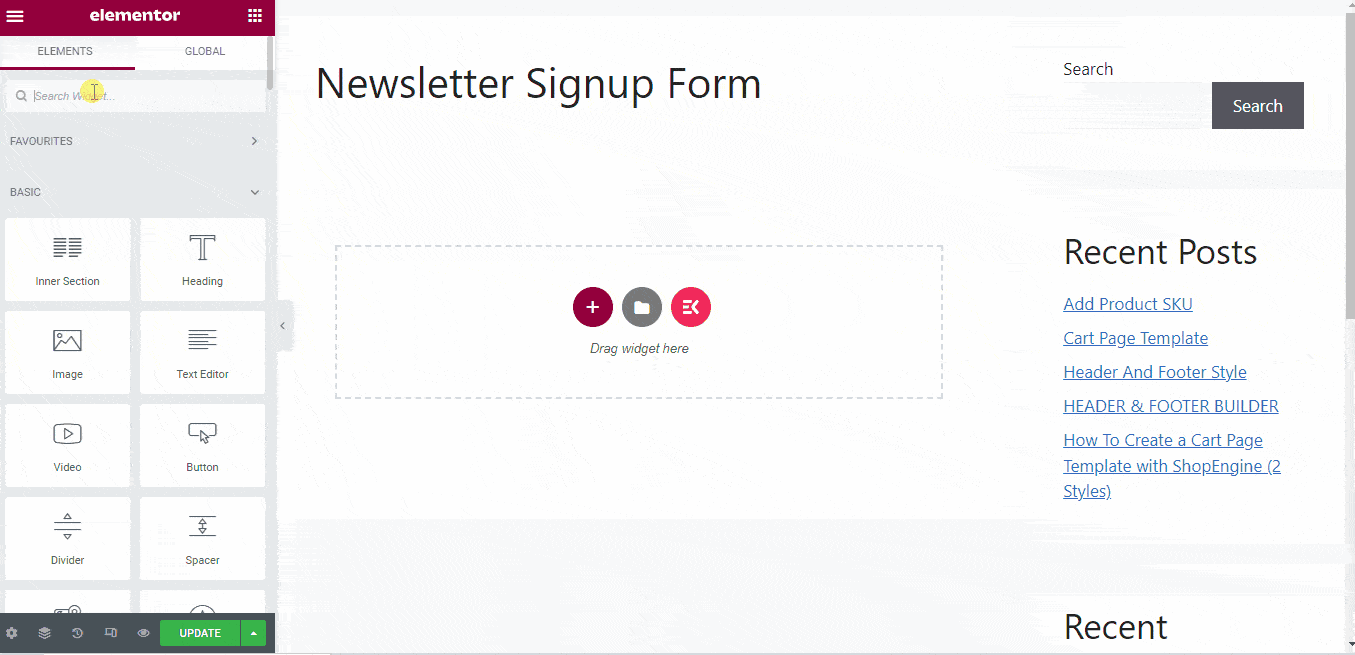 Insert Newsletter Signup Form using Shortcode #
Go to the MetForm -> forms . You can see all forms here associated with a unique shortcode
Copy the created newsletter signup form shortcode
Paste the shortcode on your desirable page
Click on "Publish"