How to Create WordPress Survey Form in Elementor in 4 Steps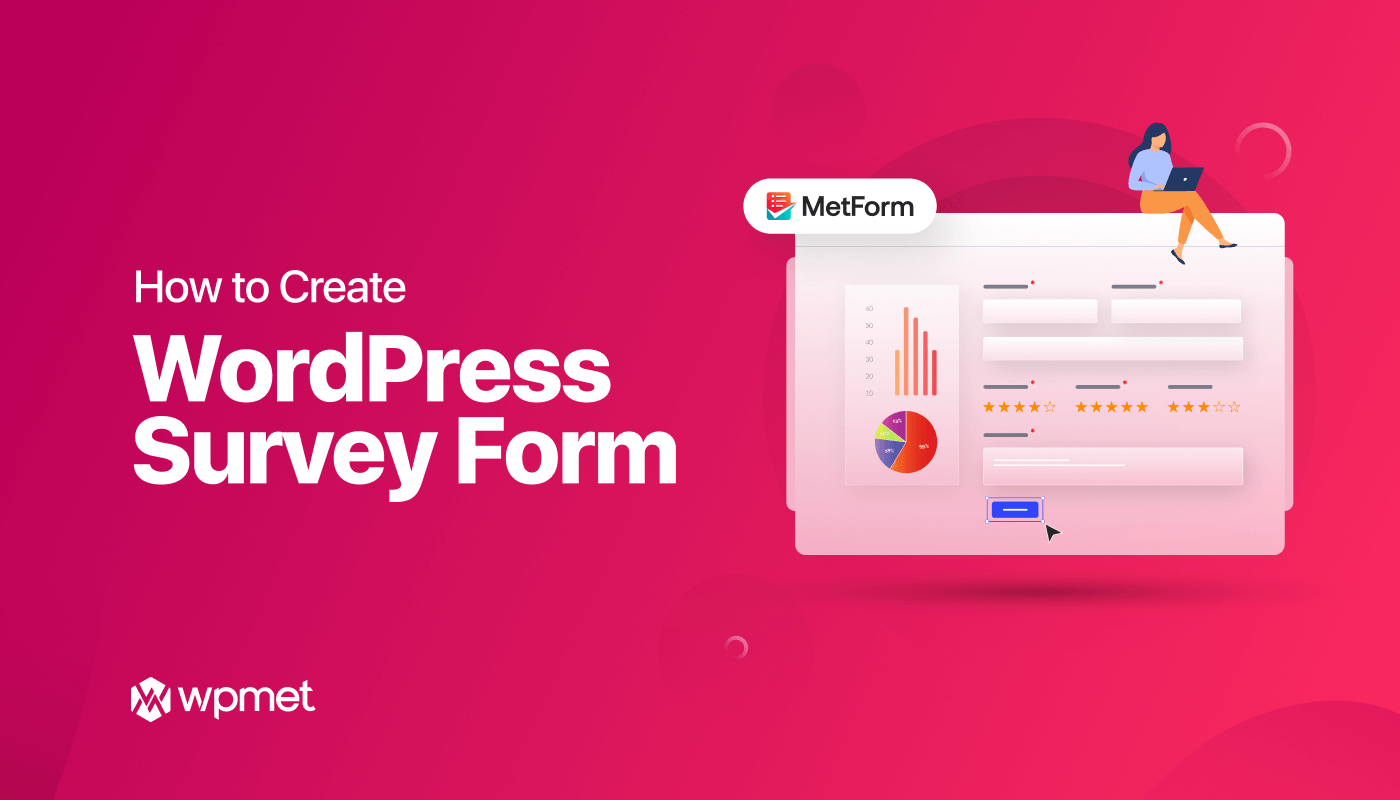 Need a way to collect customer feedback using WordPress survey form?
WordPress survey form not only provides your user with a beautiful form but also provides you with an easy tool to analyze and interpret the data later.
But hang on! Which plugin should you use?
While there are many on the market but not all of them are user-friendly and do not offer advanced features.
In this blog, you will learn about the best survey from the WordPress plugin that you can use to add a survey form in just 4 steps. So, keep reading…
What is a WordPress Survey Form?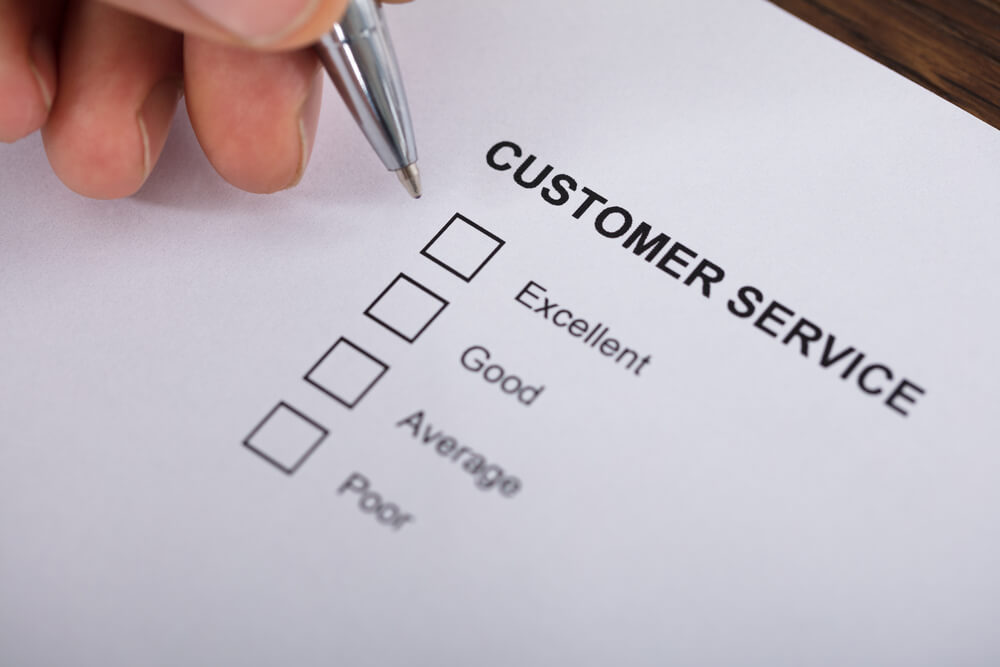 A survey form is a form that consists of questions designed to collect specific information about the user's opinion and experience regarding a particular topic.
Usually, the survey form is designed for a defined audience with the aim to gather information. After all the information/data are gathered, the data then gets aggregated, analyzed, and finally interpreted into meaningful conclusions. Some common types of surrey form would be feedback form, product survey, etc.
A WordPress survey form is basically online survey form that you can add to your WordPress site to conduct survey. Usually a WordPress survey form also equips with tool to generate survey reports.

Why Add a Survey Form to Your Website?
Well, the simple answer is to stop guessing. A survey form can provide you with actual data about what your audience is thinking, be it your website user, your employee, etc.
If you add a survey form to your WordPress site then you don't have to guess if the website visitors like the UI of your website, whether they find the visual appeal of your website is okay or not.
Just like about the website, you can also use a survey form to ask your customers about how happy/ dissatisfied they are with your product, customer care, etc.
Once you have the real data in the form of people's honest opinion, when you truly understand where your business stands and you can make practical decisions to better the situation.
To summarize, some of the reasons to add a survey form to your WordPress site are:
Collect real data about customer's opinions about your product/service
Find out about what's working for the business and what's not
Make improvement plans based on data you can trust.
Required survey form WordPress plugins
To create a WordPress survey form, I am going to use a high-quality award-winning form builder that many famous sites are already using to create forms. Along with the survey form WordPress plugin, you will also need to install a page builder. Here are the plugins you will need to install:
Elementor (free)
MetForm (both free and pro)
🔔🔔 Note: if you need to activate the MetForm pro, check out our documentation.
How to add WordPress Survey form in Elementor in 4 steps using MetForm
Keep following the steps mentioned below to create a modern-looking Elementor survey form in 4 easy and simple steps:
Step 1: Drag and Drop MetForm
You need to edit the page with Elementor. Then search for the MetForm widget and drag and drop where you want the form to appear.

Step 2: Create a WordPress Survey Form in Elementor using MetForm
Click on the form section to go to the Edit MetForm options. Click on the Edit Form Button.
Once the new window pops up Select New (create a new form), provide a form name, click on the form (I am using a website feedback form here), and finally, click on the Edit Form.
Note: The website feedback form collects user data and data based on user experience such as User experience, Visual Appeal and Correct Info etc. To check out the WordPress survey template demo click here.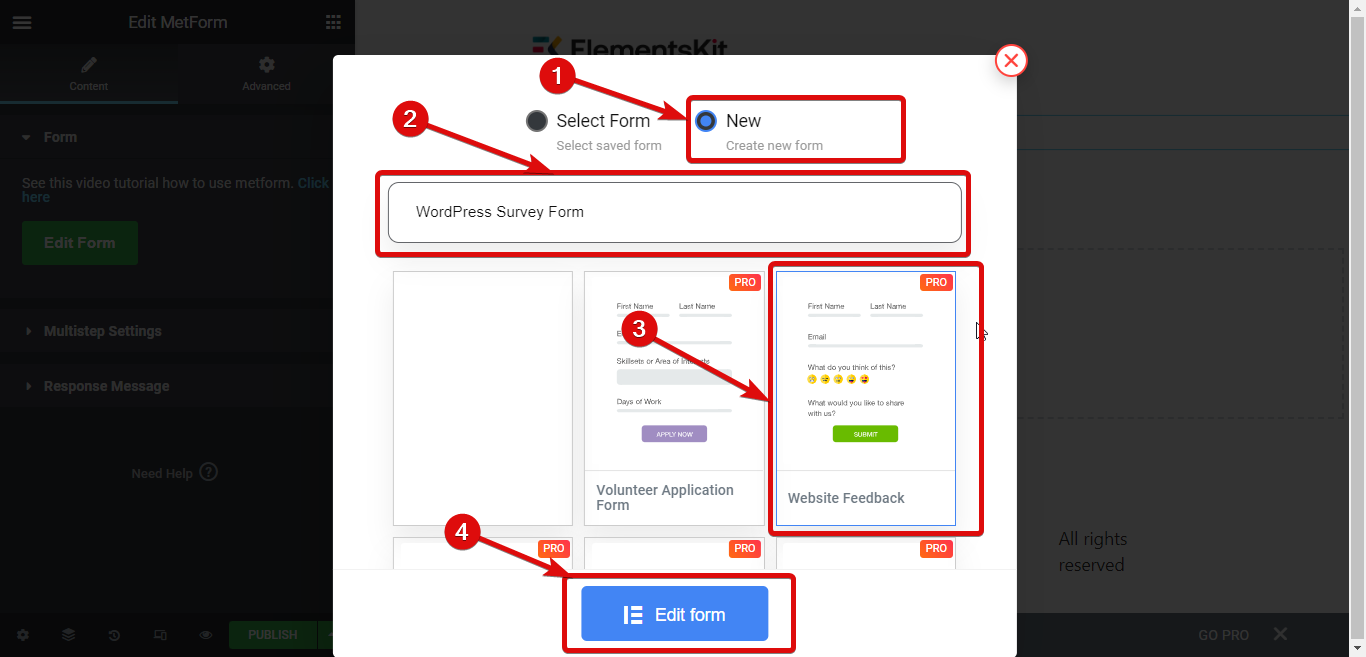 Now you can customize any settings of the form, and to update the form click on Update and Close. After the window closes, publish the page to use the form.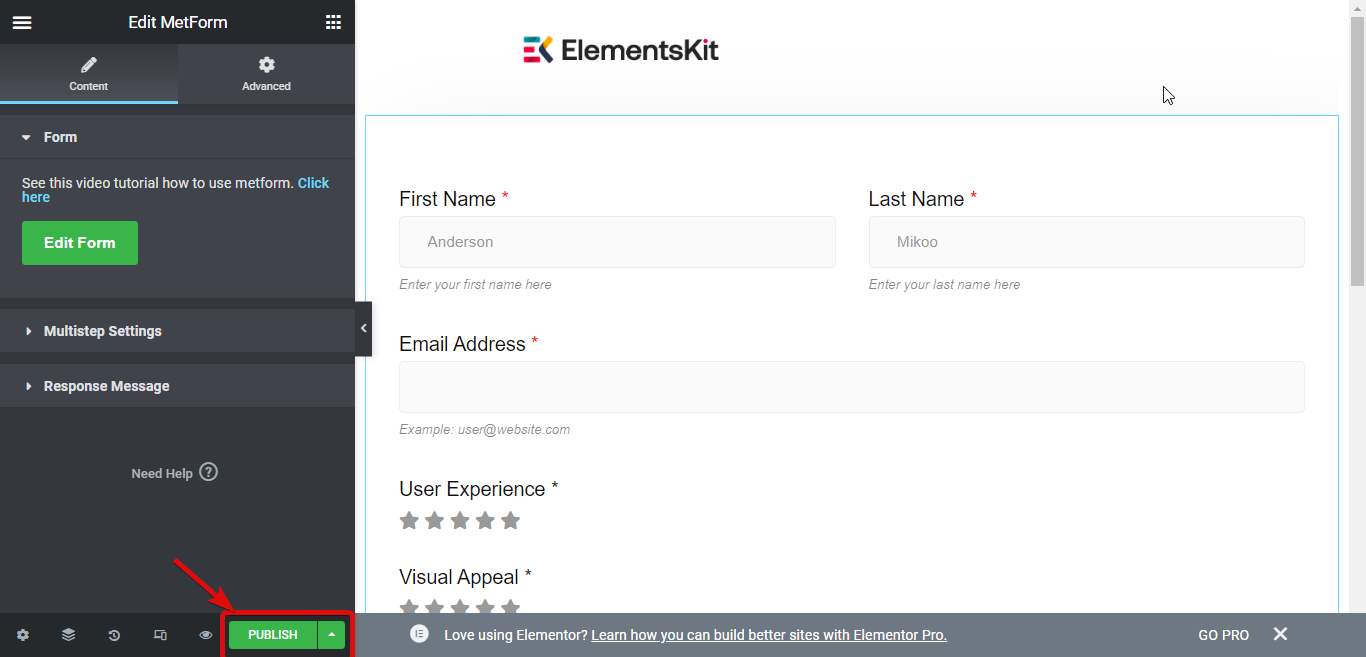 Now the WordPress survey form is added successfully to your Elementor site.
Step 3: Connect with Google Sheets
Now you have added a survey form to your WordPress site, but to do the survey analysis and interpretation, you need to connect MetForm with Google sheet.
To connect with Google Sheets, you need to generate Google Client ID and Google Client Secret. Then you need to turn on the Google Sheets integration option from Form ⇒ Settings ⇒ Integrations.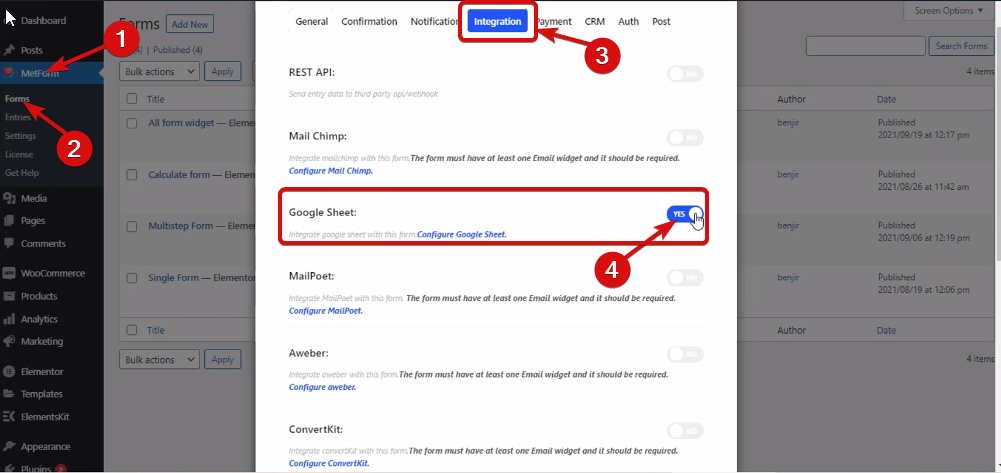 Once you connect your form with Google Sheets Integration, you will find a new sheet with the form name.

Now whenever a user will fill up your WordPress survey form, you can find them both in MetForm Entries and this Google Sheets file.

Step 4: Prepare Survey Reports using Google sheets
Once you have all the data you need you can use the Google sheets features to generate survey reports in different forms like tablets, Bar charts, Pie charts, histograms, Line graphs, etc.
To generate charts using a table select the data you want to use, and navigate to Insert ⇒ Chart.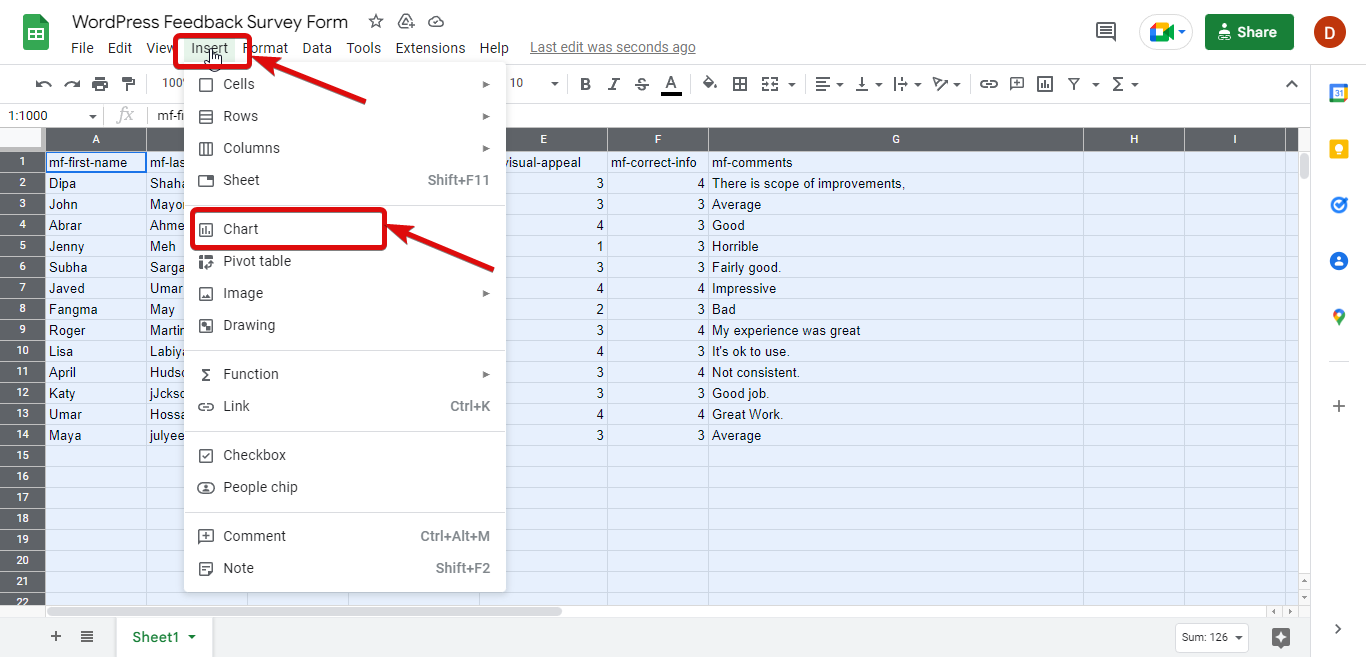 Now you can choose the Chart type you want to use, Stacking, Data range, Y-Axis, Whether you want to show the Aggregated value (check Aggregate for checkbox if yes), Series settings, etc. You can also customize the style in the Customize tab.
Here is an example of Bar chart showing user experience, visual experience, and correct information feedback given by each user.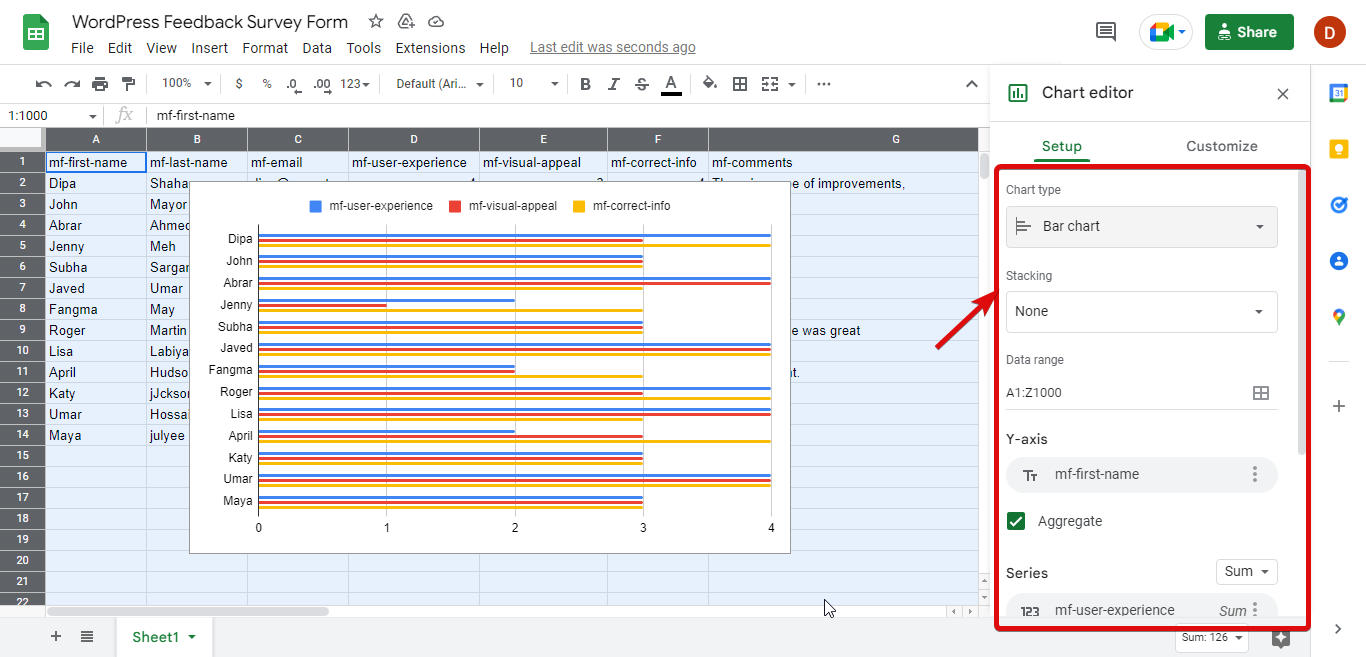 You can also make a report for each type of feedback. For example, here is the Histogram that displays the ratings users gave for user experience.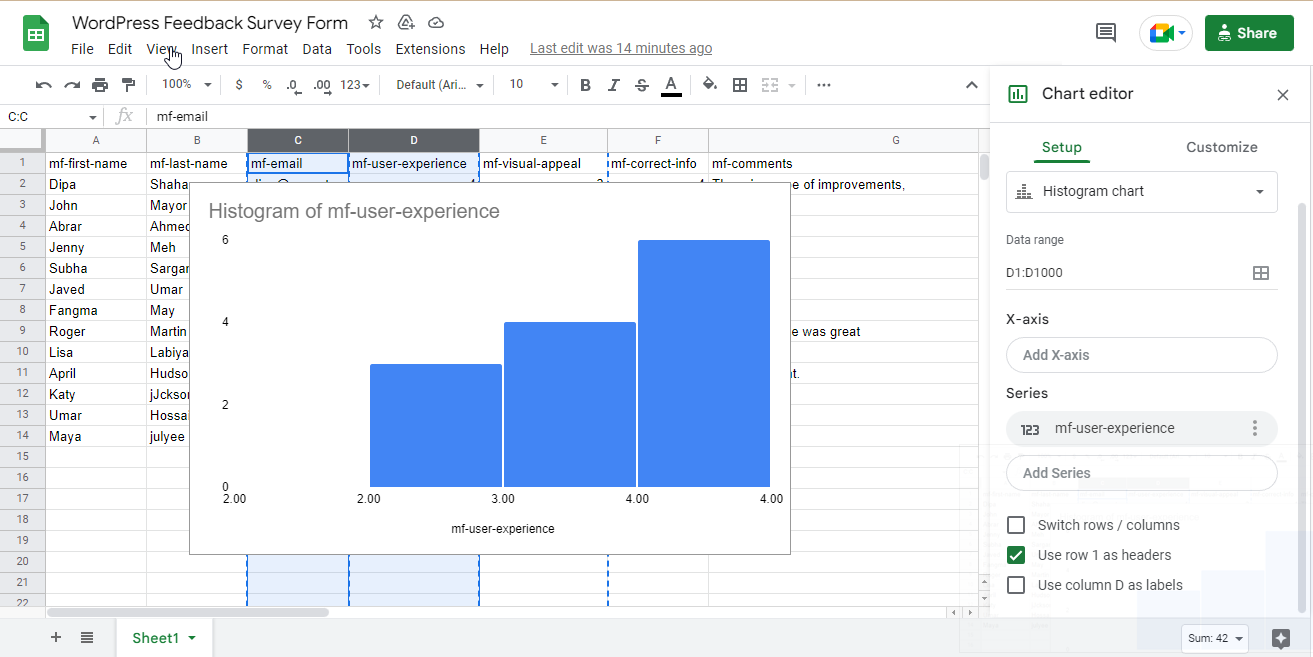 You can also use the very popular Pie chart to display people's feedback on a particular question in percentages.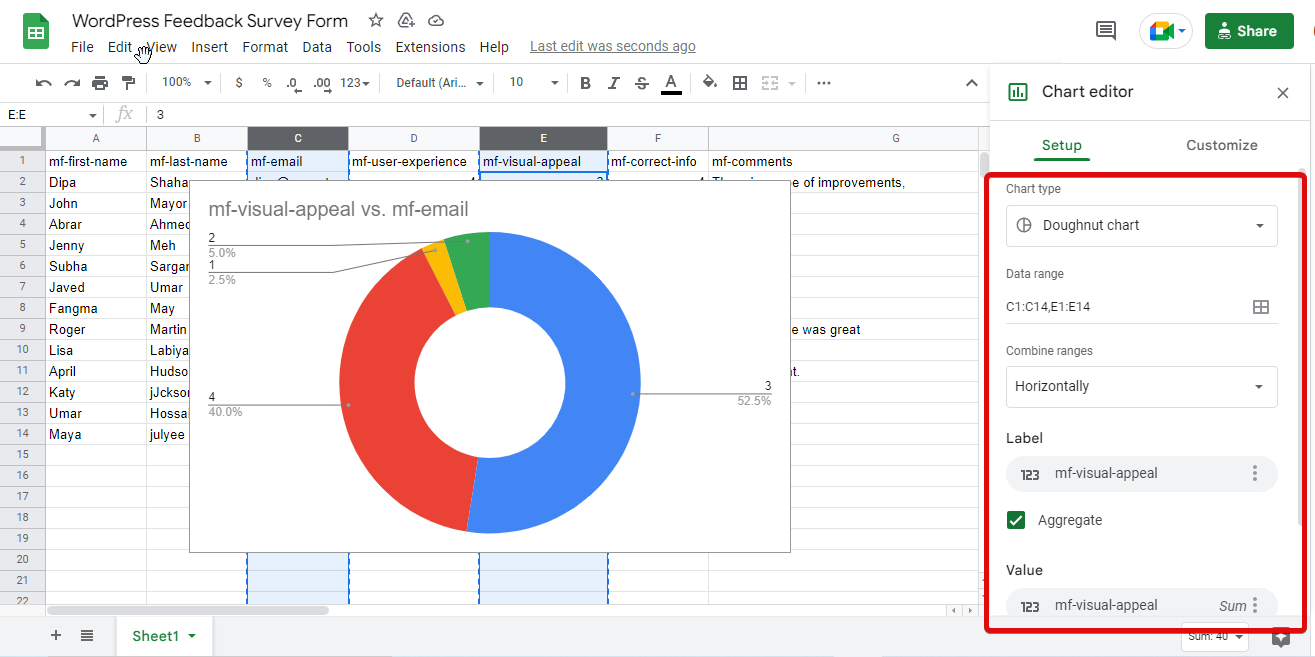 I have shown a few of the charts here, however, you can use any of the charts and also use the options like filter view to analyze your data and come up with an interpretation of your WordPress survey form data.
Some more reasons to choose MetForm as your WordPress Form Builder
MetForm provides you the most flexibility when it comes to form-building and generating survey reports it shakes hands with the best in the business that's Google Sheets.
Besides, Google Sheets integration, this WordPress survey plugin also offers third-party integration with platforms such as HubSpot, Fluent CRM, Zoho, HelpScout, etc.
And all these are in addition to the 30+ ready-to-use templates that MetForm offers that you can just import and use in no time (as shown in the article).
Along with the templates, you will also get an Email notification, and Google Recaptcha for security, advanced validation, shortcode, etc. Moreover, MetForm is extremely lightweight which is great for your website speed.
So basically, MetForm is the ultimate package you can ask for in a form builder. So get your MetForm license today and leverage this awesome tool to create spectacular forms.

Final words on Elementor survey form using MetForm
Congratulations! Now you know the easiest way to create a WordPress survey form in Elementor, thanks to MetForm.
So, next time you need a survey form that you want to add to your WordPress site, do try out MetForm.
You can either import forms from the ready-to-use library or create one from scratch. If you are already an Elementor user, then creating an Elementor survey form using this WordPress form plugin should be a piece of cake for you.
In case you are not a pro and need help, the MetForm team is available 24×7 to help you.
So, have fun building your next WordPress survey form. And do share your experience in the comment box.
The good news is you can join the MetForm Community at 20% less price using the coupon code community20