Develop Business Consulting Website in 2023: Step By Step Guide [Free & No Coding ]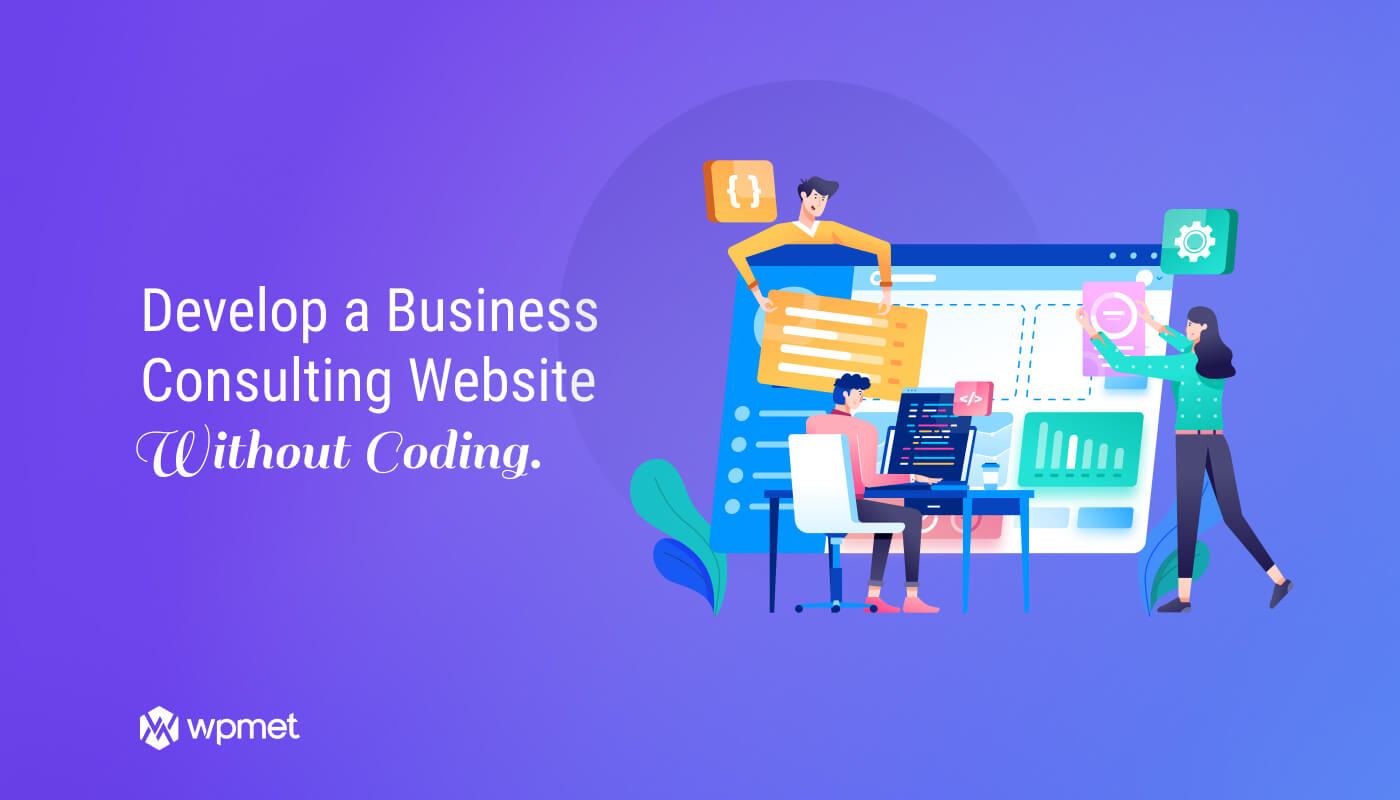 Does your consultancy firm has a website?
If the answer is no, then you should know every four out of five prospective clients of a consulting firm check out the online websites before they decide to work with that firm.
Yes, Having social media accounts is not enough to attract more potential clients, you need an online website.
If you don't have a website because you simply can not afford to hire a web developer and pay him a lot of money, then I have got news for you.
What if I tell you, you yourself can build a website for free without hiring an expensive web developer or web designer?
Now, you must be thinking "Well, I don't know how to code."
Well, the cherry on the cake is you don't need to code. You just need to continue reading this blog.
In this blog, you will learn how to Develop Business Consulting Website for free without Coding in a step-by-step tutorial.
You will build a complete WordPress website for free following this blog and not just a landing page.
Why your Consulting Businesses must have a Website?
Are you wondering why a consultancy firm should have a website?
Well, the answer lies in the fact you are reading this blog. Just like you, most people nowadays search online for answers to all the whys and hows.
According to a stat, 97% of people learn more about a local business using the internet?
Yes. In fact, 80% of consumers trust a brand that has a website than those who don't.
Having a professional website adds credibility to your brand and gains people's trust in your firm. Besides a website is available all the time to answer people's queries about your consultancy business even on weekends and outside of office hours.
Let's have a look at all the benefits of adding an online website to your marketing strategies :
24×7 availability for users to know about your brand
A stronger online presence that will attract more potential clients.
Beat your competitors in the digital marketing race
Gain user's trust in your brand
Website will help you rank high on the Search Engine Result Page(SERP)
Collect data to retarget your website visitors
Grow your business faster than ever
Digital marketing is the most effective form of marketing right now and if you want to sustain your business and grow in the long run, then you must have an online website of your consultancy firm.
Why choose WordPress to Develop a Business Consulting website?
Now that you are convinced and are looking to build a website to promote your business, it's time to choose a platform to build your site.
I would suggest you choose the WordPress platform. Let's learn what is WordPress and why you should choose this wonderful platform briefly?
WordPress is a open-source software that you can use to create a beautiful website – WordPress.org

As of 2021, WordPress powers over 42% of the internet. This statistic shows how popular this platform is.
And this did not happen by fluke, WordPress has too many benefits especially for people who don't know how to code or write programs.
Let's have a look at some of the features of WordPress:
Customizable Designs
Fully Responsive websites
High Performance site
You can easily manage on the Go
SEO (Search Engine Optimization) Friendly
Powerful and easy Media Management
Easy and accessible
offers high security
And you get all of these for free and without having to know how to code.
So, if you are looking to build an SEO-friendly, professional-looking website with minimal effort, you should go for WordPress.
Things you need to Develop Business Consulting WordPress Website for free
Now that, you have decided to build your Business Consulting Website with WordPress lets check out the things you need to get started:
1. Web Hosting & Domain
Before you start the development work of your website, you need to get :
A domain name
Website Hosting
I would recommend you should get a suitable paid domain name for your website that represents your consulting business brand rather than a free one. A good domain name will make your website seem authentic and professional.
Also. get hosting from a reputed and trustworthy company. Good hosting will ensure your website speed never goes down. Otherwise, you can lose out on potential clients because of slow speed. We would specifically recommend Kinsta to host your WordPress website as they provide a reliable hosting service.
2. WordPress & Other Plugins
Of course, you need WordPress! Along with WordPress, you need 3 other plugins and we are going to use the free version of those.
Here is the list of all the software/plugins you need:
Elementor is a number one free WordPress page builder. It's a visual builder with drag and drop technology.
ElementsKit is the best Elementor Add-on for WordPress. This all-in-one addon for Elementor comes with 85+ Widgets & Extensions including Header Footer Builder, Mega Menu Builder along with 500+ ready blocks and 35+ ready pages, and 22+ ready templates.
MetForm is a user-friendly drag and drop form builder for Elementor. This WordPress plugin has 40+ Inputs, a multi-step contact form widget,30+ Predefined Contact Form Template, Newsletter Integrations, Email Notification, and many more options.

How to Create Business Consulting WordPress website for free : Step by Step guide to create a complete website
In this tutorial, You are going to use the ElementsKit Business Template to build a complete website in 5 steps. Let's get to the main process now.
Step #1: Install WordPress and all the required WordPress Plugins
All WordPress hosting provides easy WordPress installation. So, follow the instruction your hosting company provides you.
After the WordPress installation, you will get a username and password. To login to your WordPress dashboard, Go to yourdomain/wp-login.php and use the username and password created during the WordPress installation.

Now, that you have access to your WordPress dashboard, it's time to install the WordPress plugins you need. To install login to your dashboard and
Go to Plugins > Add New
Search for Elementor / ElementsKit / MetForm (one at a time)
Click on Install Now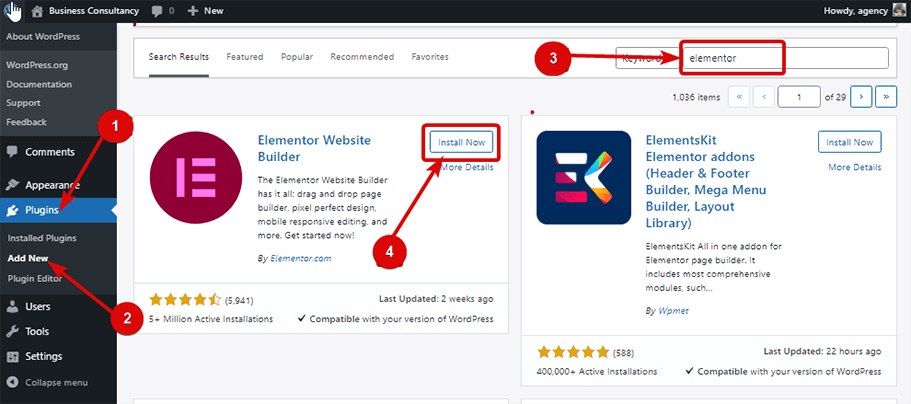 After installation, click on the Activate button to active.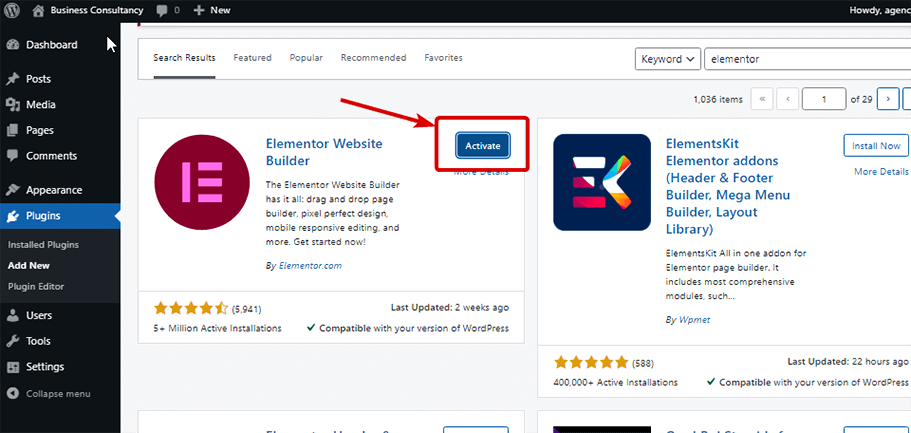 Use the above-mentioned steps to install all the required WordPress plugins.
Tips: ElementsKit and MetForm are Elementor based plugins, so you need to install Elementor first and then the other two.
Step #2: Create website pages using ElementsKit Business Consulting Template
First, let's build the necessary pages. EmenentsKit Business Template has a total of 6 templates 1 Landing page, 2 About Us, 2 Services pages, and 1 Service details page.
To create a professional-looking landing page using Element's consulting website template, follow the below-mentioned steps:
Go to Dashboard > Page > Add New
Add a Title
Select Elementor Full Width as Template
Click on Publish
Click on Edit with Elementor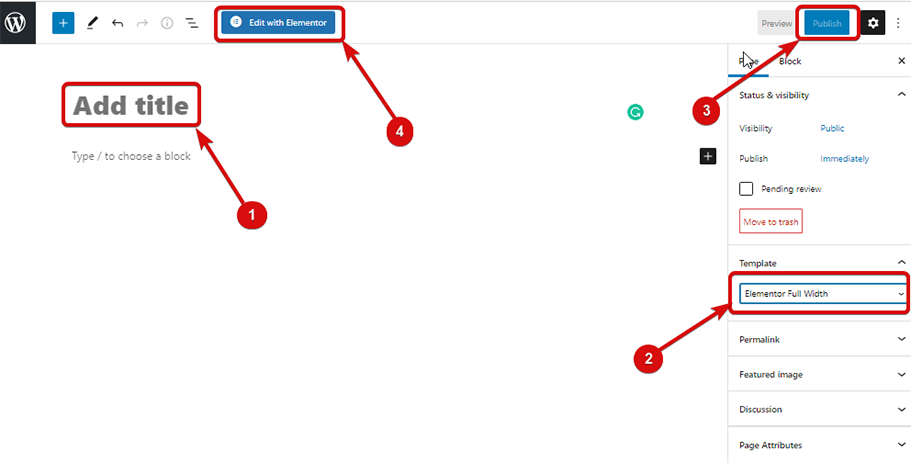 Once the Elementor Builder Window opens, Click on ElementsKit Button (EK)

Go to the Templates tab
Search for Business Template and click on that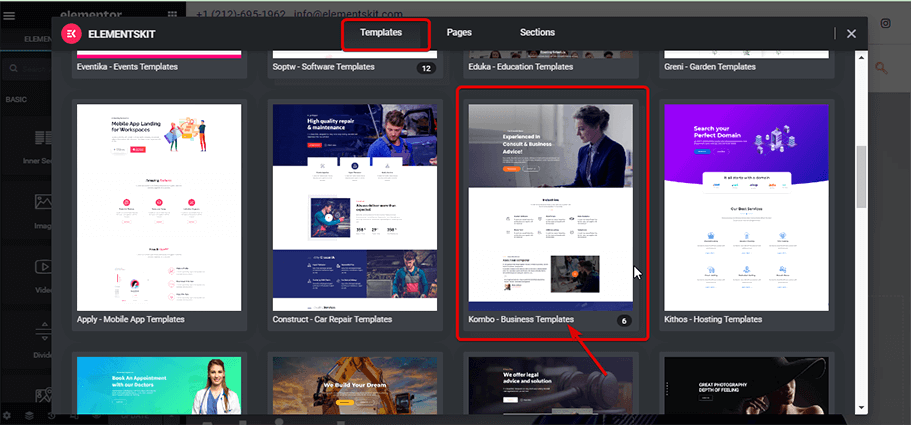 Now find the home page option and insert
Click on Update to save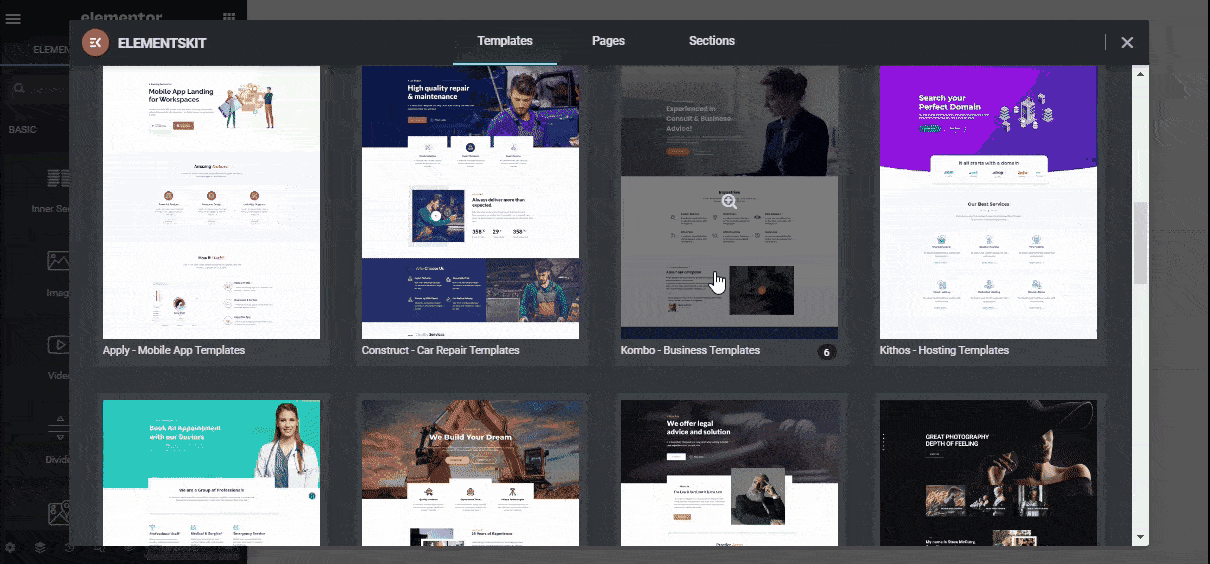 Now if you click on the preview to see the final landing page.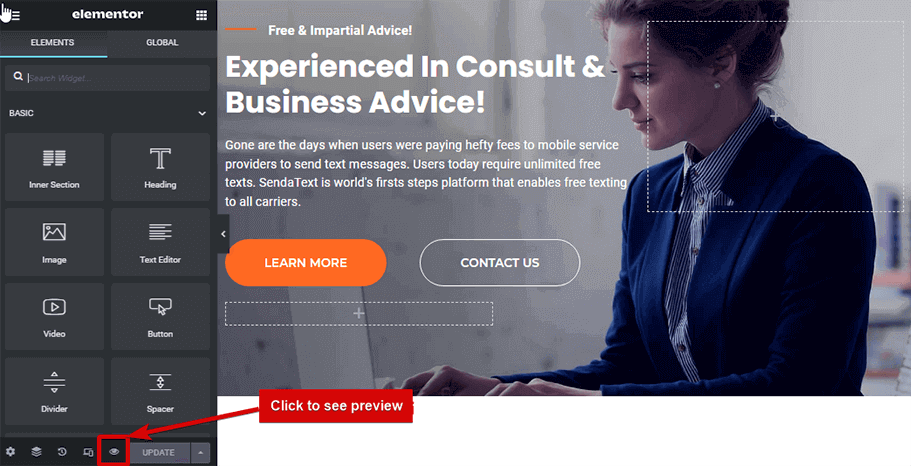 You can create the rest of the pages using the same steps as the landing page. Since there are two about us and services page, choose the one you like better.
Step #3: Customize ElementsKit Business Consulting Website Templates Pages
You can customize the content of all the sections of each template to make the template appear as your own website that represents your consulting business.
To personalize content, from the dashboard
Go to Pages > All Pages
Move the cursor on the page you want to edit
Click on Edit with Elementor

Click on Edit with Elementor
Click on the edit icon of the section you want to edit
Customize content On the Content Tab
Click on Update to save the changes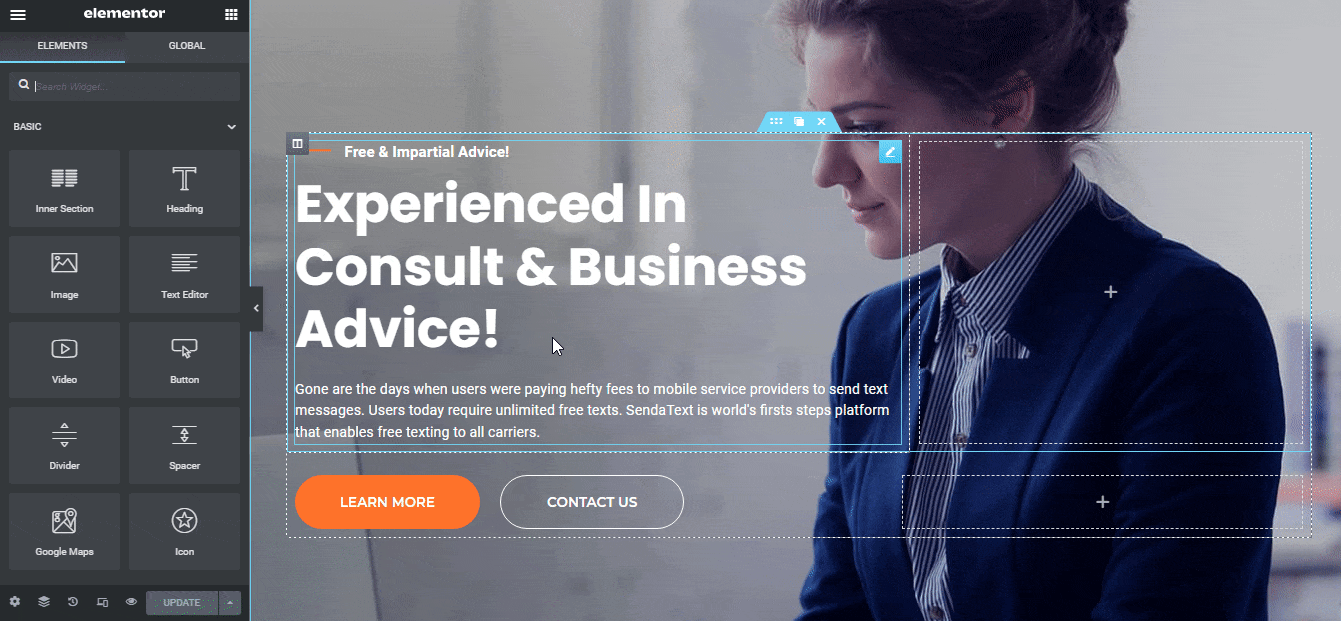 Note: You can also check out the responsiveness of each page. To check, turn on responsive mode and choose the device.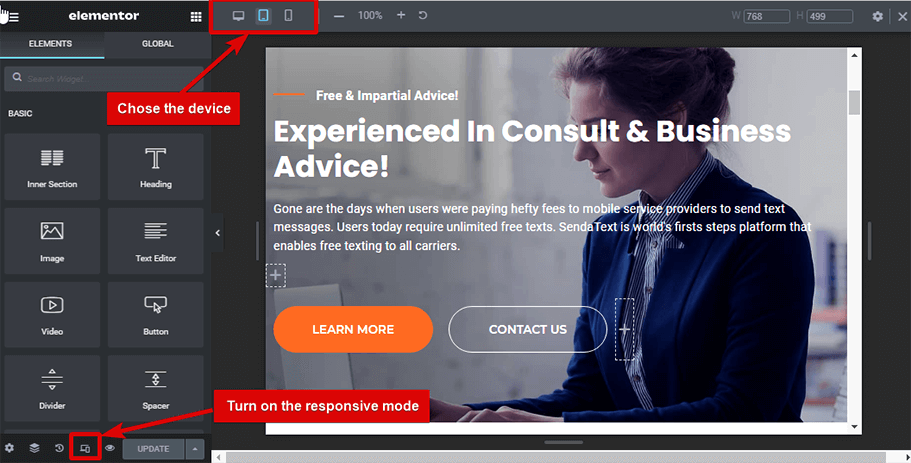 Step #4: Add a form in the Appointment Section using MetForm
If you are wondering why I asked you to install MetForm, here is the answer. Once you have a website, you must give your customers to reach out to you and a contact form is really the best option.
MetForm comes with ready-to-use contact forms. But if you need a custom one you can build and customize your contact form easily. You can also take help from the video below to make a contact form from scratch using MetForm.
To add the form you created:
Go to Make An Appointment Section
Seach for MetForm widget
Drag and Drop the widget
From Select Form, Select the Form you created
Click Edit form
Make changes if you want
Click Update and Close
Finally, Click on the Update button to save all the changes.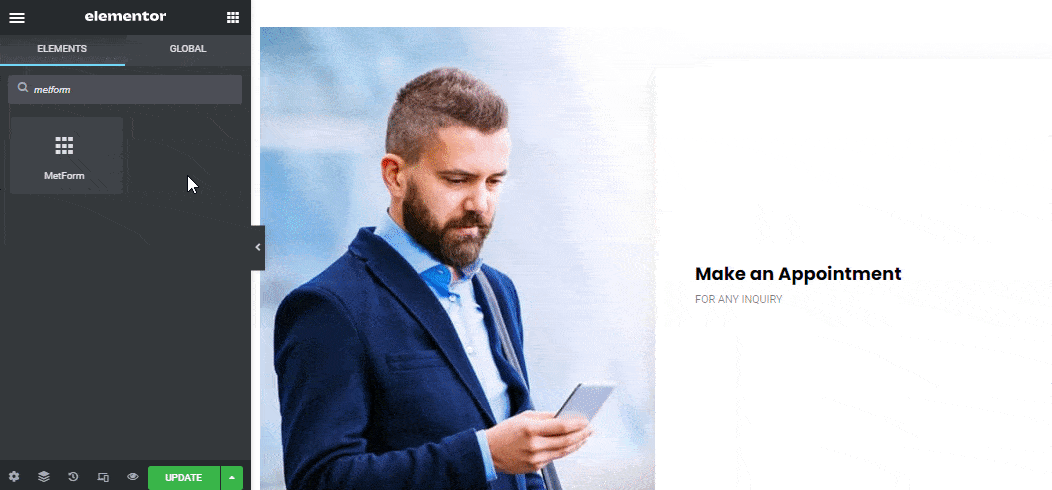 Step #5: Create Header Using Premade Header Section by ElementsKit
Not just a professional template, with ElementsKit you also get access to a beautiful premade Header.
To use premade Header, from the dashboard :
Go to ElementsKit > Header Footer
Click on Add New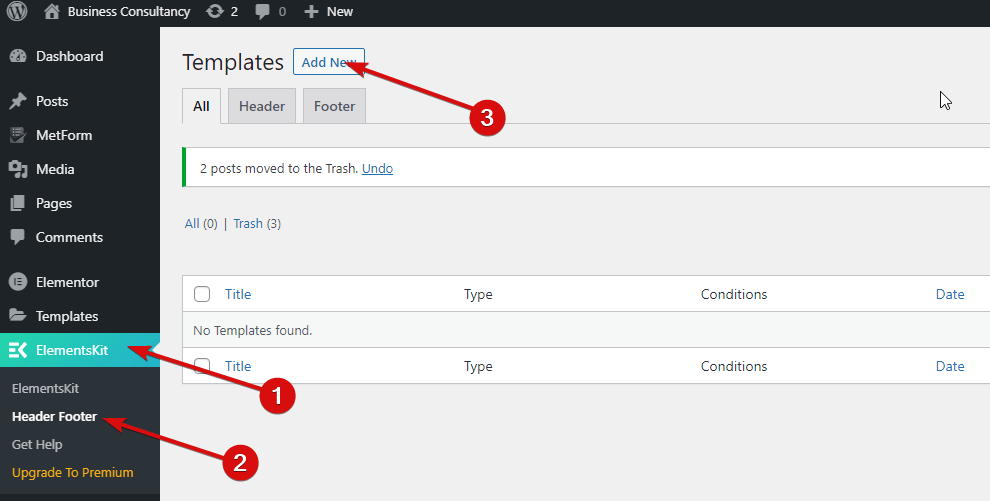 Choose Type as Header
Conditions as Entire Site
Turn on the Activate/Deactivate option
Click Save changes.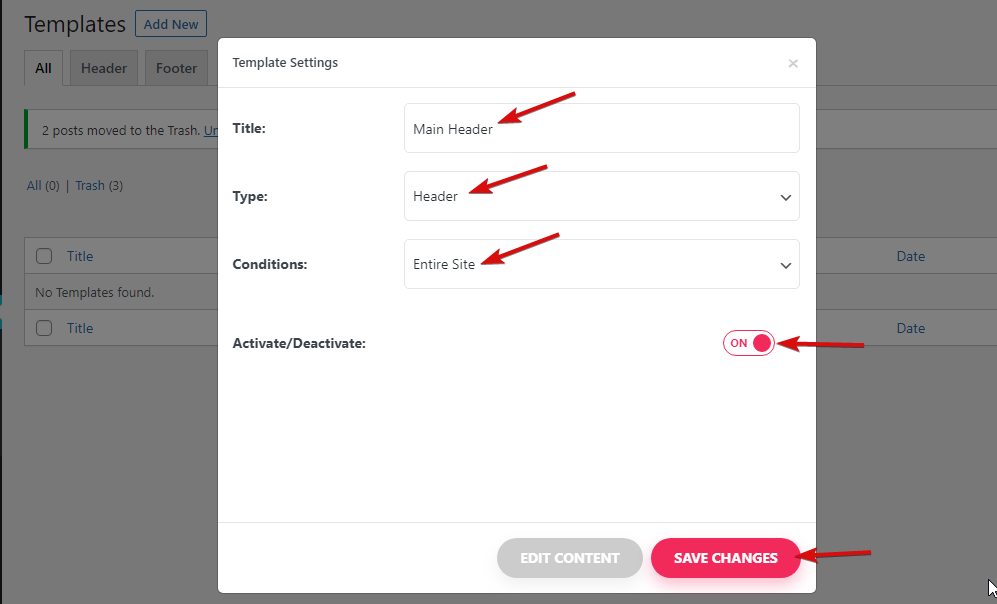 Now click Edit on the menu you created
Click on Edit Content
Click on the EK button
Go to the Sections tab
Choose and insert the header design you like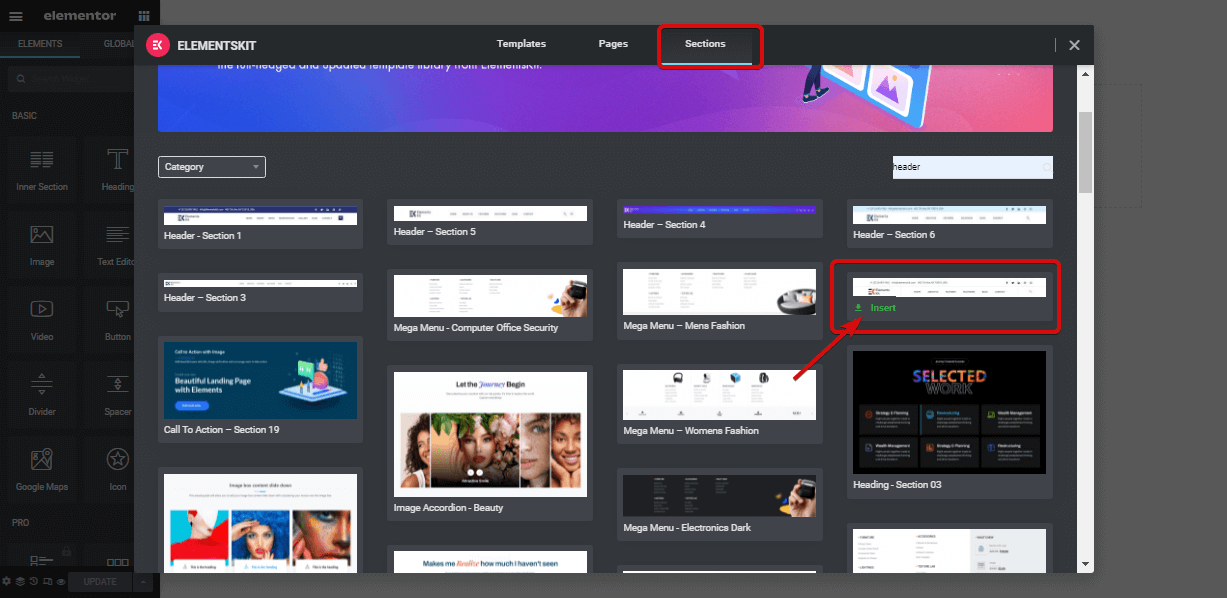 Customize the content
Click update to save
You can also check out the whole process of creating a header using ElementsKit in more detail in the video below.
Use a personalized Logo of your business consulting firm in the header. Logo adds credibility to your brand and makes a great impression on your prospective clients.
Note: You can get access to the Premade Footer section on the Pro version of ElementsKit.
If you have followed all the steps above, then you should get a website like the preview below.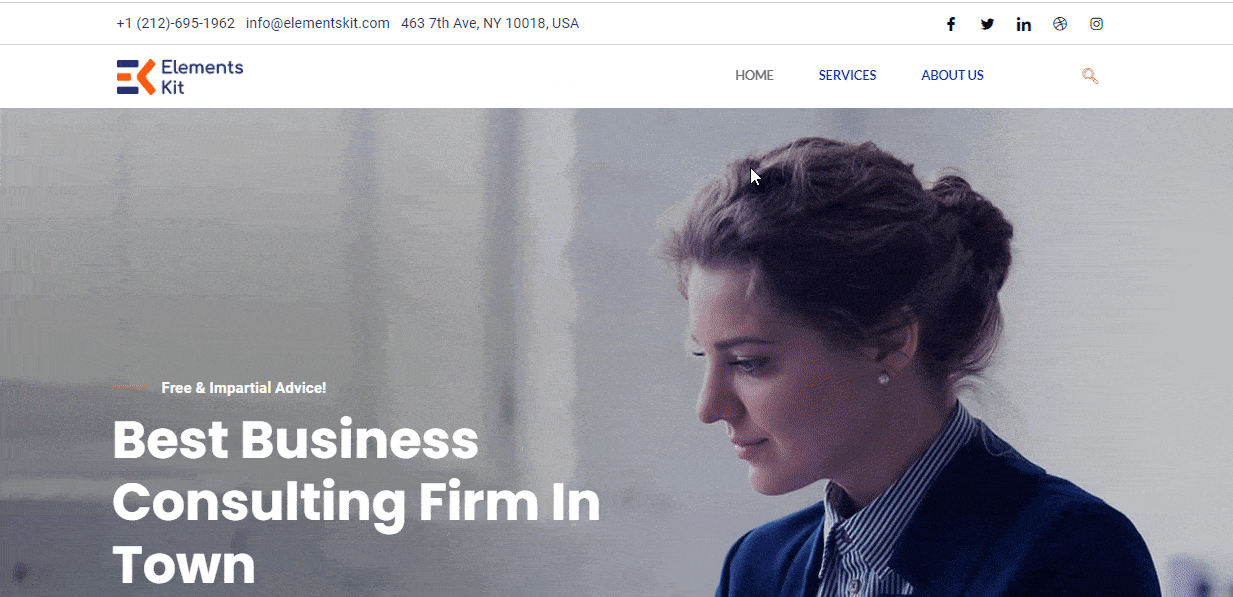 Final Words on building WordPress website for free
Congratulations! You have just created your own WordPress website for free and are ready with business consultancy website to attract more prospective clients.
ElementsKit template makes it easy to develop a business consulting website that has a professional look. However, I have just covered a few ways to utilize ElementsKit's features on your website. There are plenty of other ways to use this amazing addon to enhance your website.
So keep experimenting and if you struggle with any step or has any question feel free to leave a comment, I will reply Asap.
To purchase Elementskit Pro at 20% less price use the coupon code community20.