Everything You Need to Know About MetForm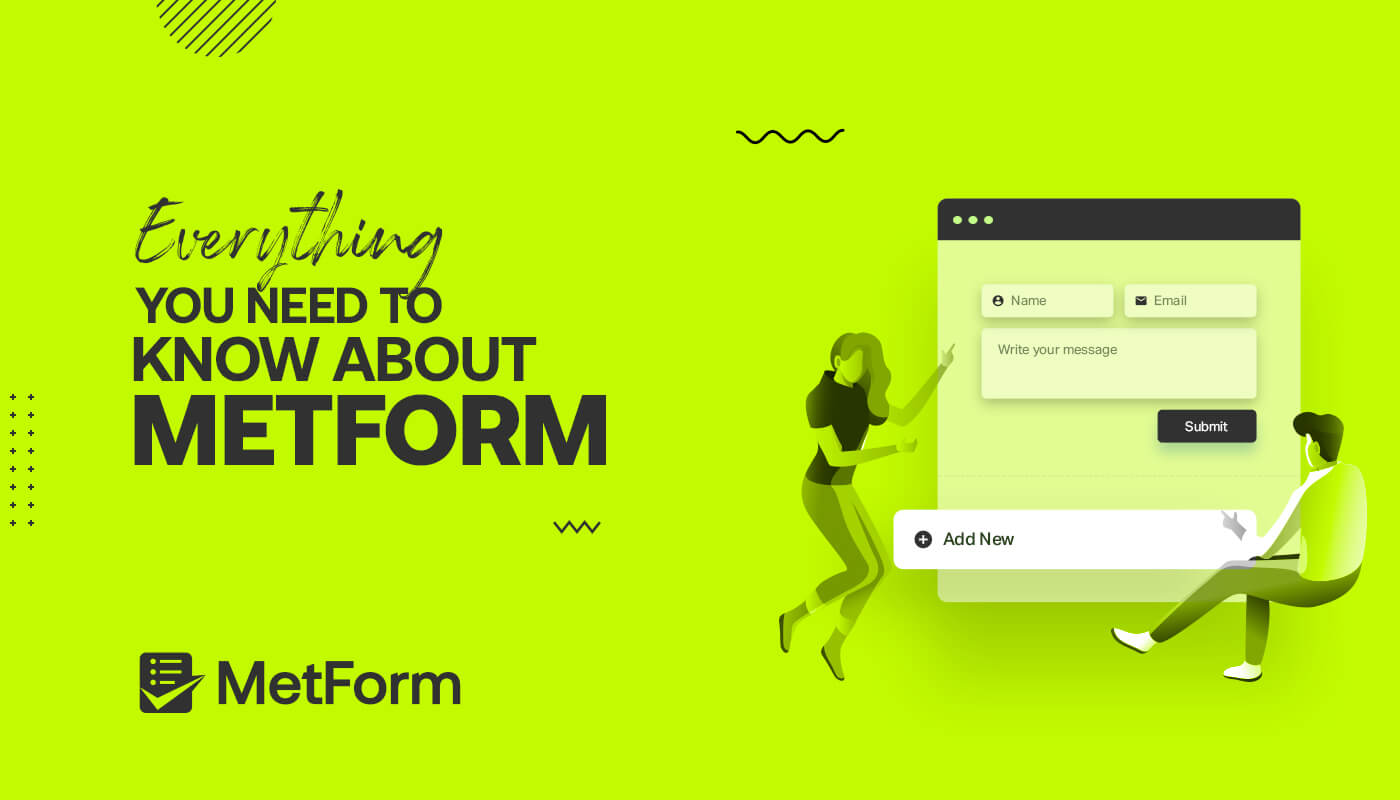 If you are from the 21st century and own a website, it is needless to convince you about the importance of using forms on your website. You already know it. A form lets your visitor reach you anytime without much ado.
A contact form is the most common type of form website owners use on their websites. However, a contact form might not be enough for you.
Feedback form, multi-step form, booking form, survey form, event form, job application form, restaurant reservation form, product order form, support form, login and registration form, WooCommerce checkout form, etc. are getting popular day by day and you might need them as well.
If you need to create a contact form or any of the forms mentioned above, you can rely on MetForm, an advanced, flexible with design-friendly form builder for the Elementor page builder.
In this article, we are going to talk about the types of forms you can create with MetForm and the unique features MetForm offers. We will also cover the types of widgets or text fields you can leverage to make your desired form. Let's go ahead.
Types of Forms You Can Create with MetForm
With MetForm installed on your WordPress site, you can create 20+ different kinds of forms for your website. Let's get to know about them one by one.
Contact Form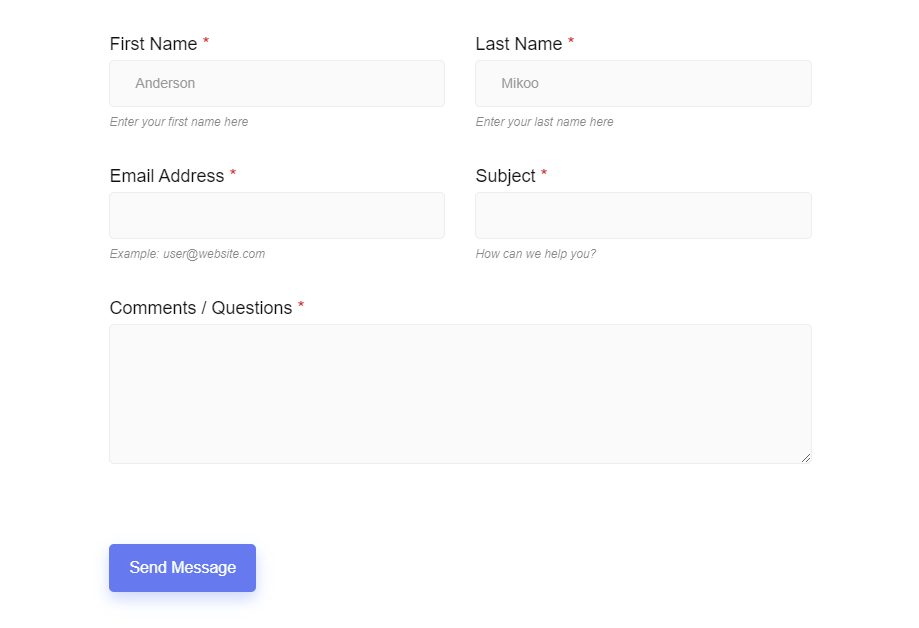 MetForm offers simple one-page contact forms for your website visitors to contact you ASAP.
Your visitors can comment or ask you questions by providing their personal information in the contact form.
Integration of Google reCAPTCHA before the form submission helps to keep your website secure from abusive traffic and unwanted spam.
Multi-Step Form
If you are offering products or services that require more information from the clients to serve them better, you can leverage the Multi-Step Form.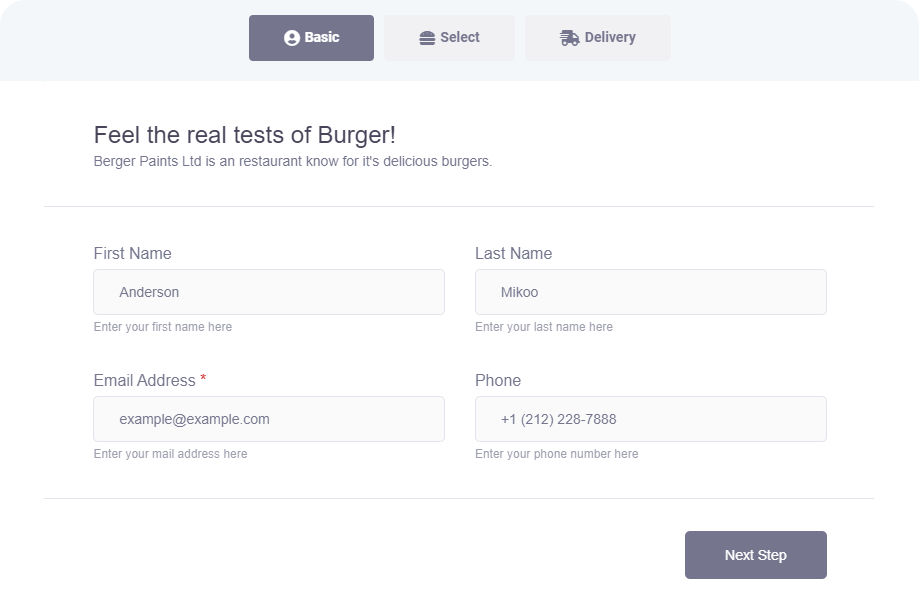 Suppose, you have a restaurant business that serves delicious foods to nearby customers. In that scenario, you need something more than just the personal information of your customers.
A multi-step form allows you to let the customers choose the food they want, select the quantity and flavor, and then place the order by providing their delivery address and other necessary details.
You should integrate a multi-step form on your website if you want your customers to fill two, three, or more steps so that you get all the information you need to serve them.
Calculation Form
A calculation form lets your customers calculate the price of the product or services you are offering.
Let the customers choose your products or services they want to buy and the form will automatically calculate the price they need to pay. The customers can also draft a message or comment before submitting the form to you.
Conditional Form
Conditional Forms employ smart conditional logic for some of the input fields. In these forms, the form fields are made dependent on how the user responds to certain form fields.
Conditional forms allow you to interact with customers by asking them questions or options to fill and submit.
Do you want to know about the experience of your customers with your website, products, or services? Do you want your customers to choose from a bunch of given options? You can do all of these and more by creating a conditional form using MetForm.
Feedback Form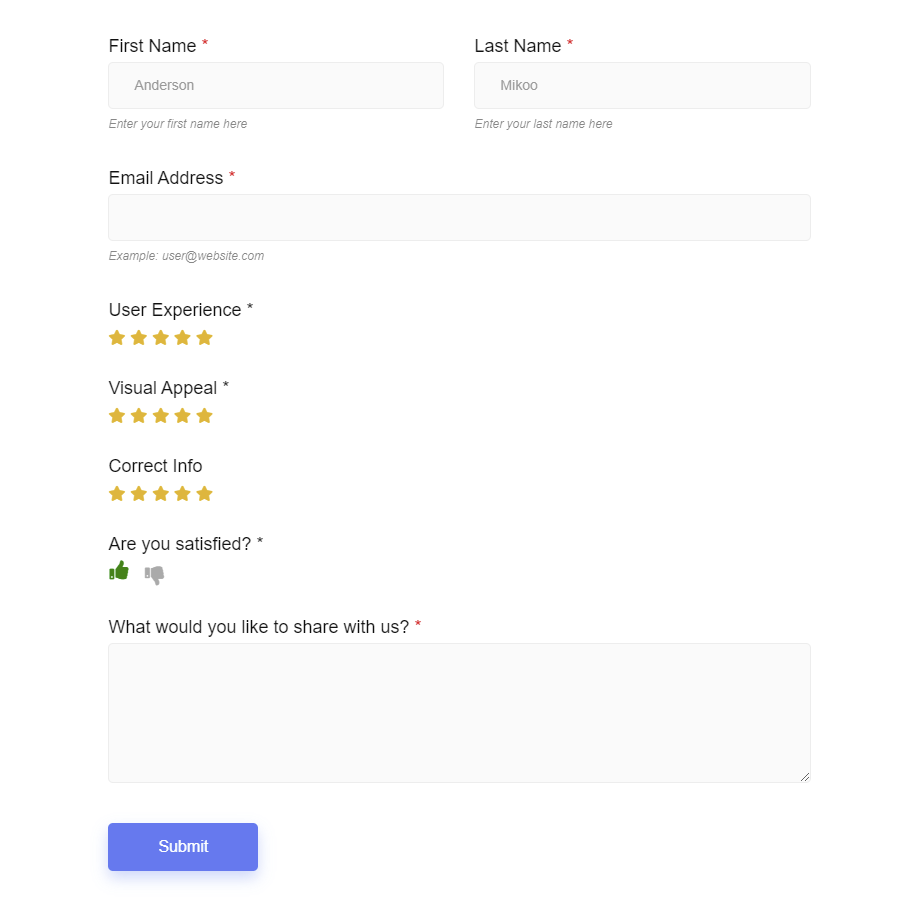 Creating a Feedback Form with MetForm lets you get the ratings and suggestions straight from your clients. You can also create a form where they can report a bug so that you can make your website more secure.
Volunteer Application Form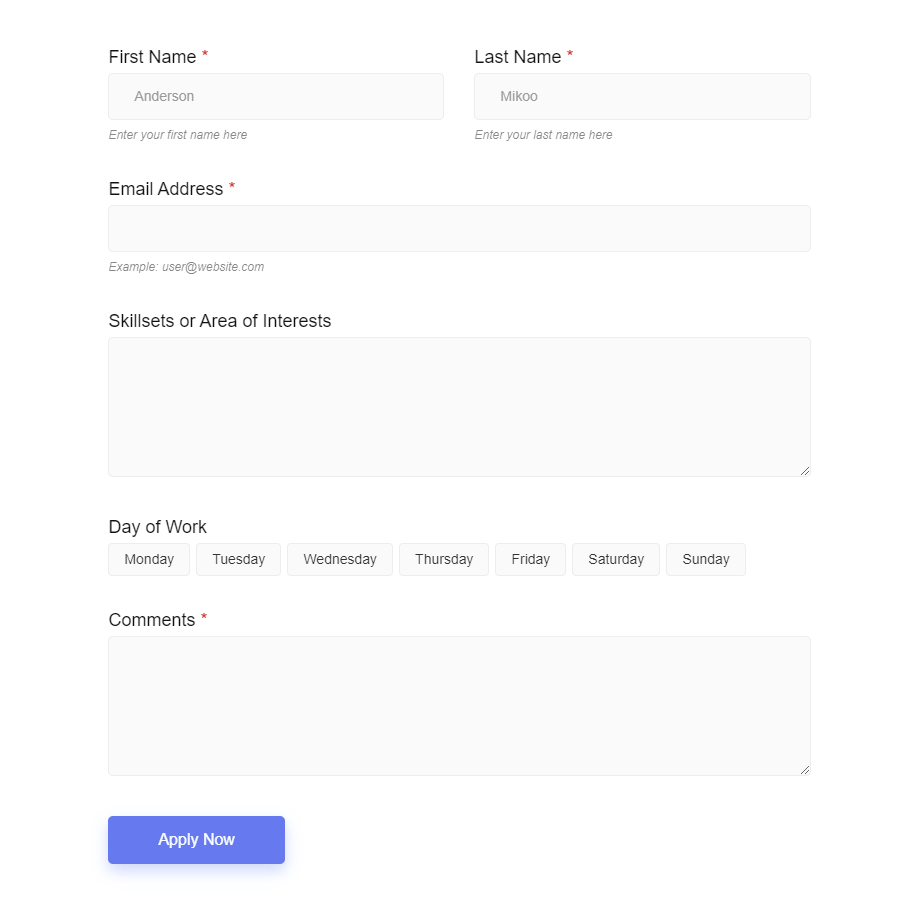 If you are running any type of organization, especially non-profit ones, you can leverage the Volunteer Application form to find interested volunteers to support you for a good cause.
With a volunteer application form, the interested candidates can let you know their area of interest, set of skills they possess, the time slots when they are available to work, etc. They can either ask you queries or apply for the position you are offering.
Booking Form
The integration of a booking form in your Elementor sites lets your customers book for the services you provide.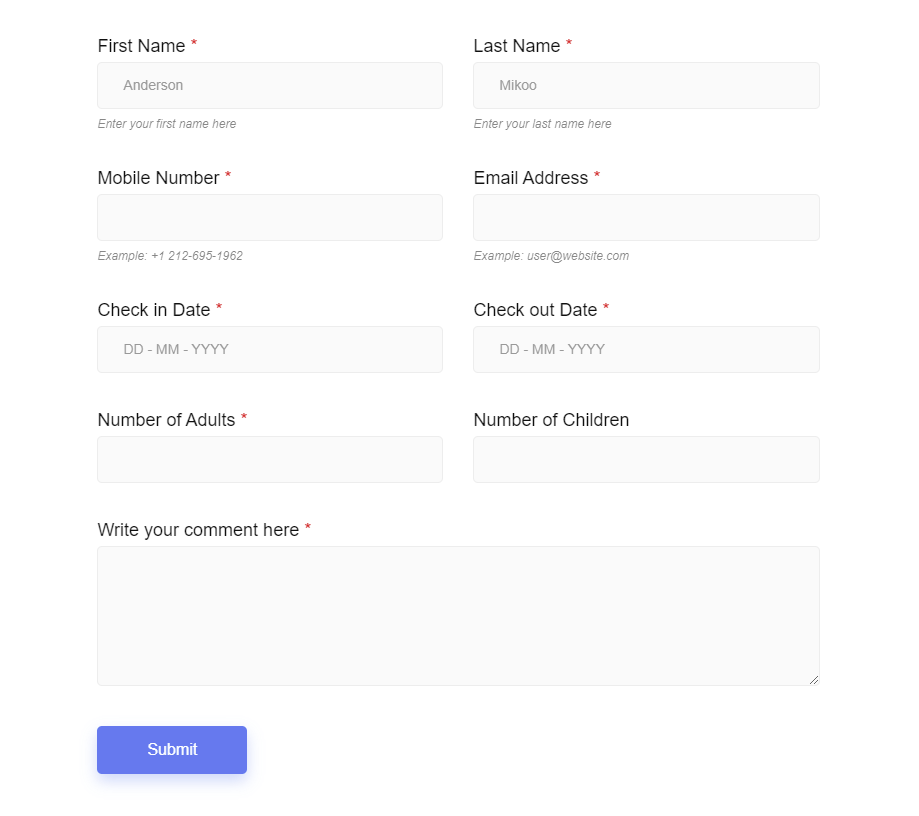 If you own a hotel, motel, or type of business that requires advanced booking from the customers, this booking form will make a bridge between you and them.
With a booking form, you can collect any personal information like the name, email address, contact number, check-in/check-out date, the number of beds your customers need, etc.
Event Form
Do you have any events in the next week or month? Do you want to gather information from the event participants regarding their personal details and preferences? If your answer is "yes", adding an event form on your website helps to ease the pressure of intense mutual communication.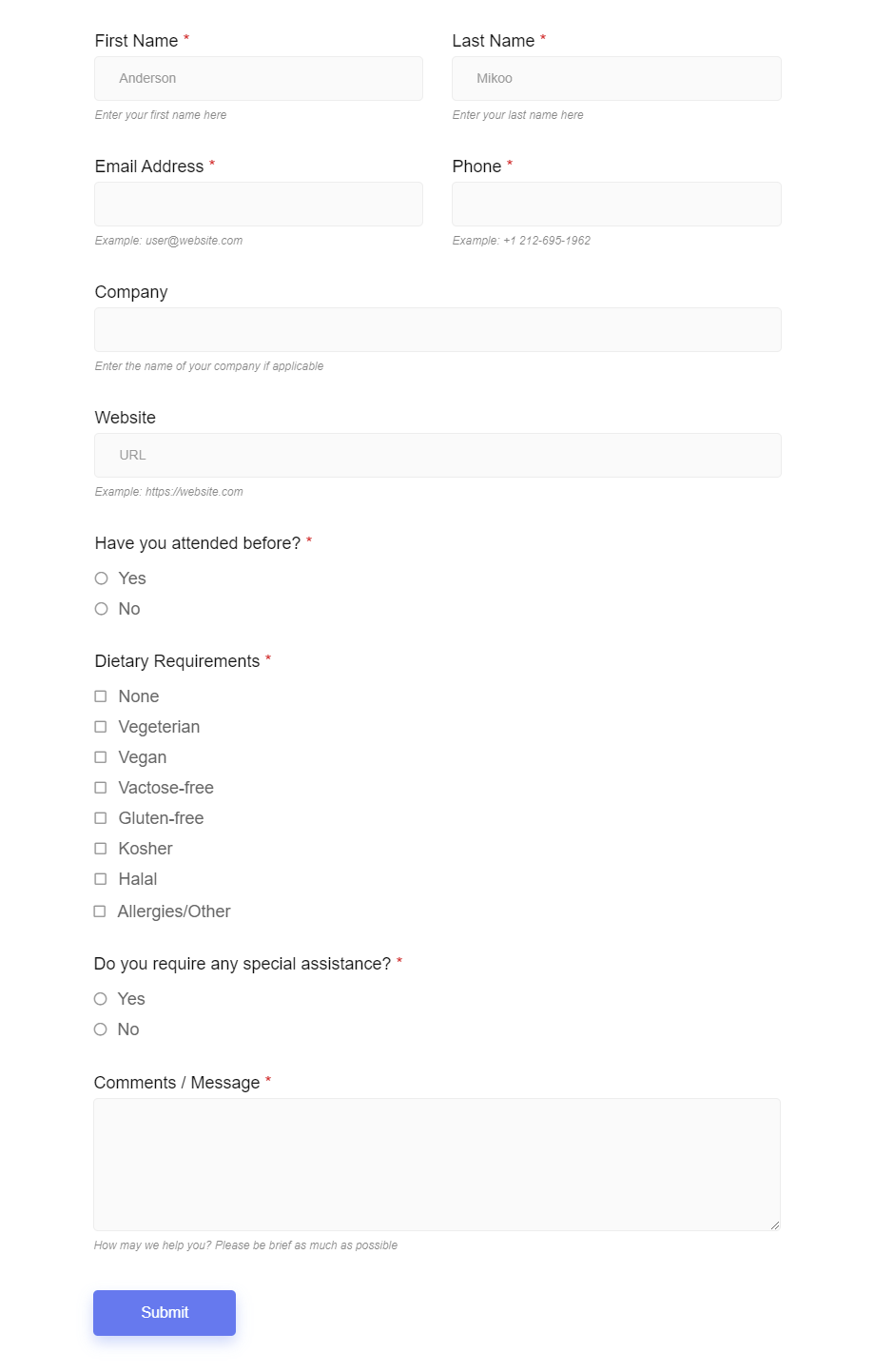 An event form lets you collect data from the interested participants regarding their contact information, dietary requirements, special preferences, or any recommendations and comments.
MetForm allows you to create your own set of questions and options for the participants to answer and submit.
Job Application/Listing Form
Looking for new employees? Create a job application form with MetForm to let the interested candidates submit their CV and other important information about them.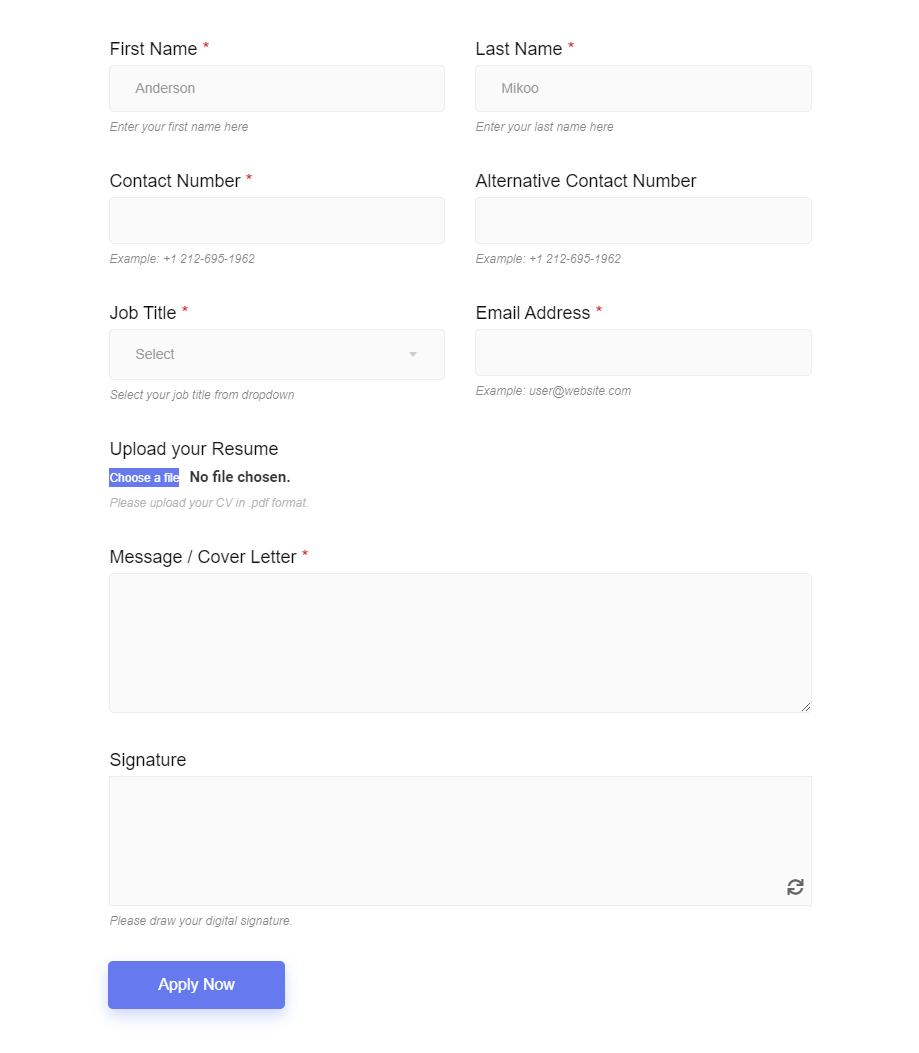 You can also create a job listing form where a company can put the company profile along with the position and salary details, type of contract, position, employment, etc. they are offering to the job seekers.
Loan Application Form
A loan application form is a must for the banking and finance companies to gather important information from the applicants.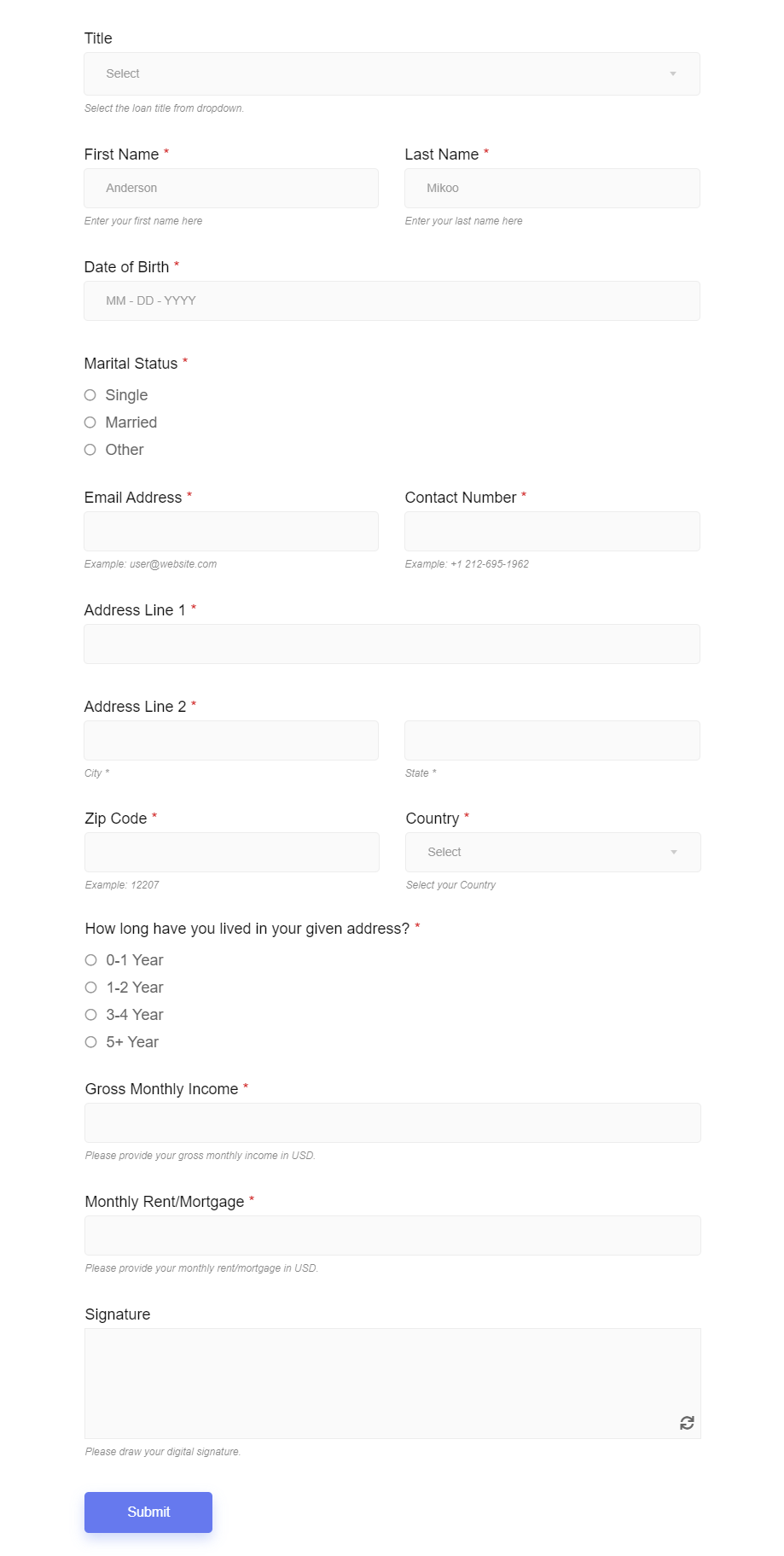 You can leverage the loan application form to collect any personal details of the applicants including their income, address, marital status, phone number, and whatever else you want to know from them. On top of that, you can customize the form options to meet your needs.
Restaurant Reservation Form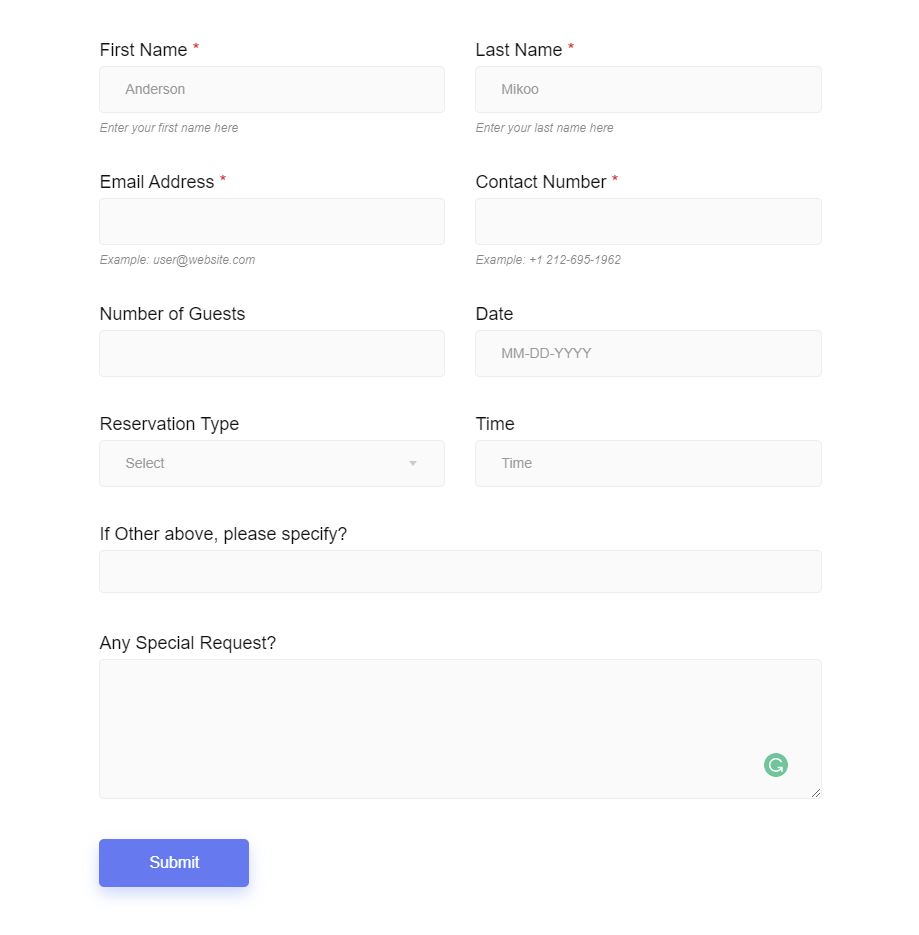 A restaurant reservation form lets the customers reserve their seats in a restaurant online.
This reservation form is a perfect choice for those restaurant owners who offer online reservations on their websites.
Guests can easily reserve their place by providing information about their personal details, number of guests, type of reservation, date and time they will attend, etc. They can also make any special requests such as mentioning their preferred foods, requesting a birthday party setup, and whatever else they want.
Admission Form
MetForm allows you to create a stunning admission form that you can leverage to receive detailed information from the new applicants.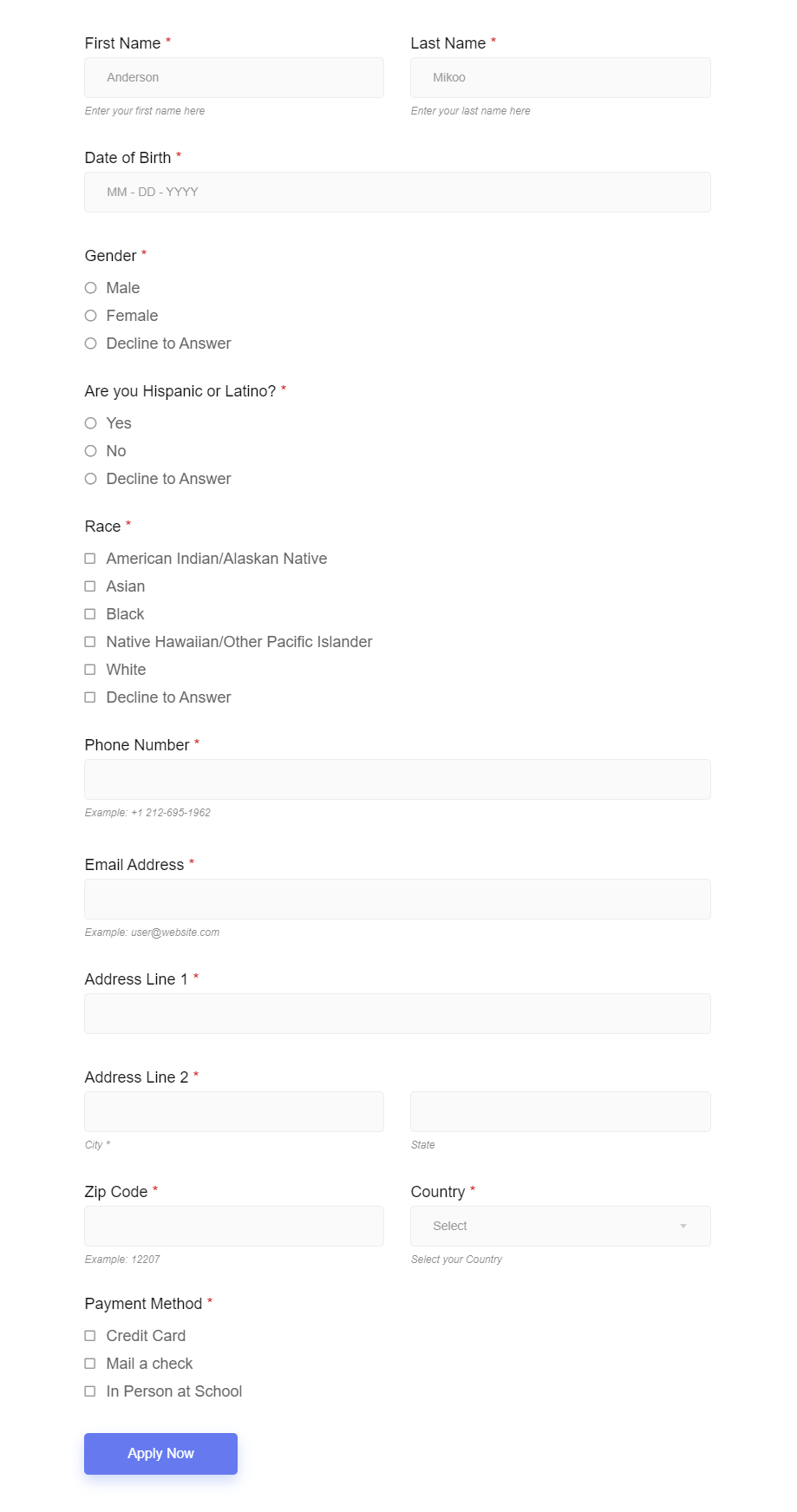 Collect any personal details including the names, gender, nationality, race, address, and any information that is required to you for letting the applicants get admitted to your institution.
Newsletter Signup Form
Let your subscribers fill a form to subscribe to the newsletters of your website. With a simple form, you can collect the name, email, and consent of the subscribers to receive the newsletters from you.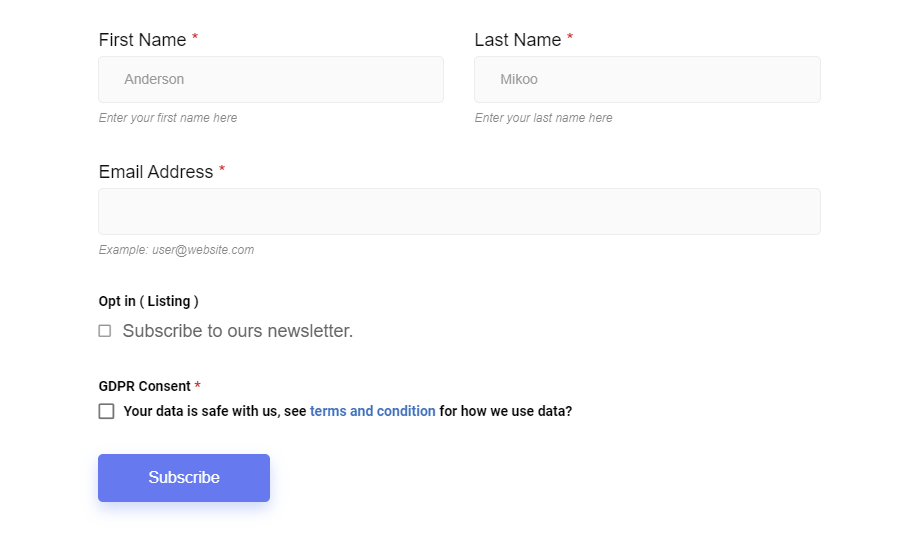 Data Erasure Request Form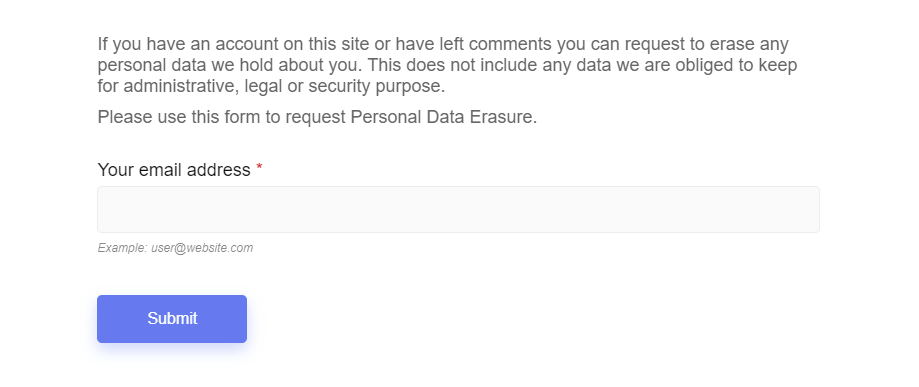 Let your visitors submit a data erasure request by filling up a simple form created with MetForm.
When any of your visitors want to delete their personal data saved on your website, they can use this form to let you know that they want the data to be erased forever.
Product Order Form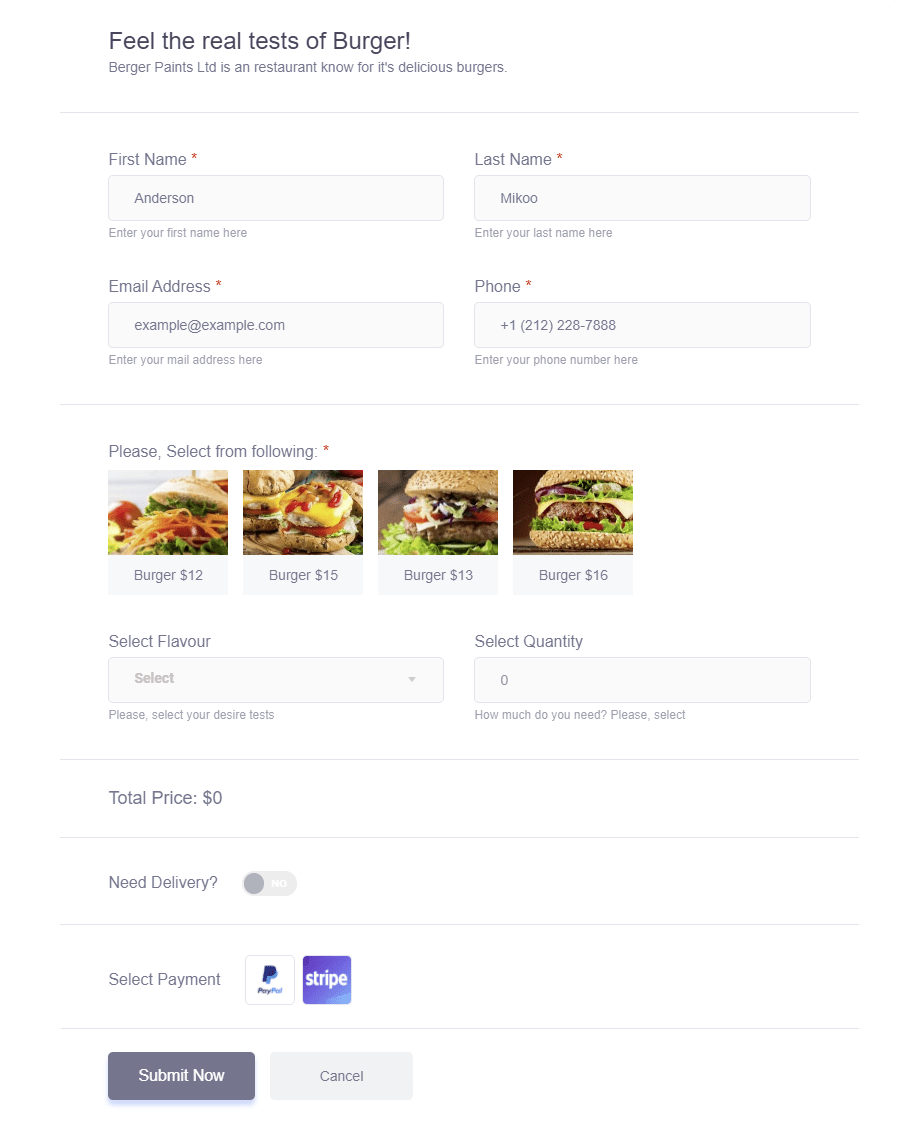 MetForm lets you create a product order form that your customers can use to order products.
You can integrate the personal details section along with the product name, color, quantity, price, payment method section so that your customers find it very easy to order your products when they are on the go.
WooCommerce Checkout Form
If you are running WooCommerce on your website, making a WooCommerce Checkout form will help your customers order your products and check out pretty quickly.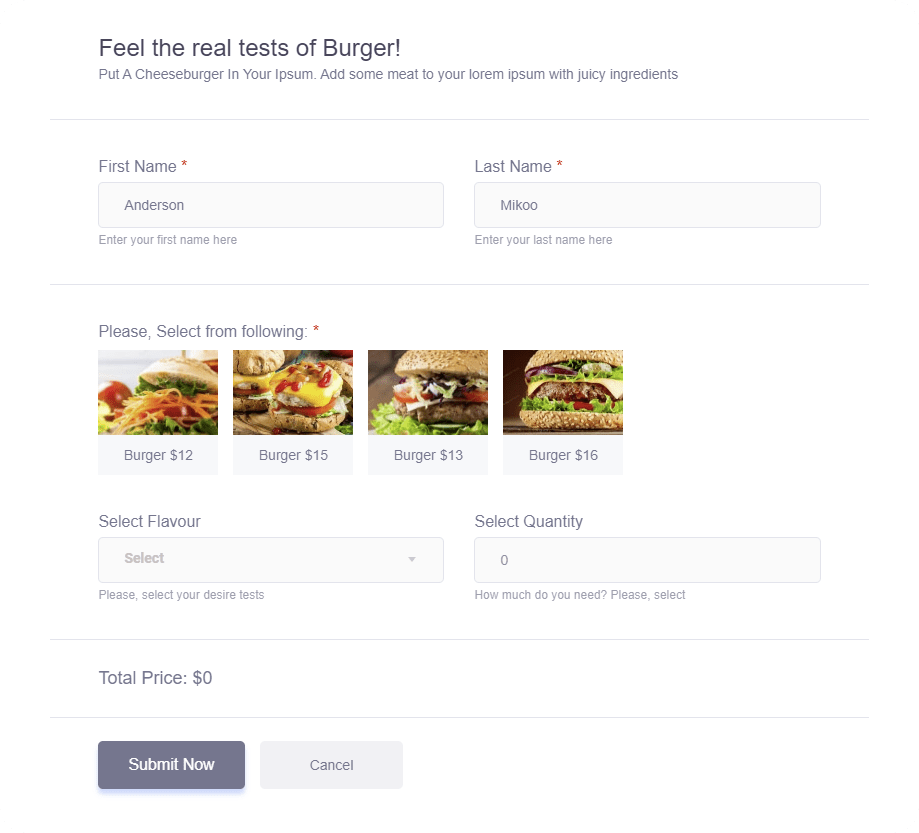 Subscribe Form
Let the visitor of your website subscribe for offers, ebooks, and updates by filling up a simple subscribe form created by MetForm.

Patient Form
Keeping healthcare experts, diagnostic centers, and hospitals in mind, MetForm has the functionalities for creating an interactive patient form.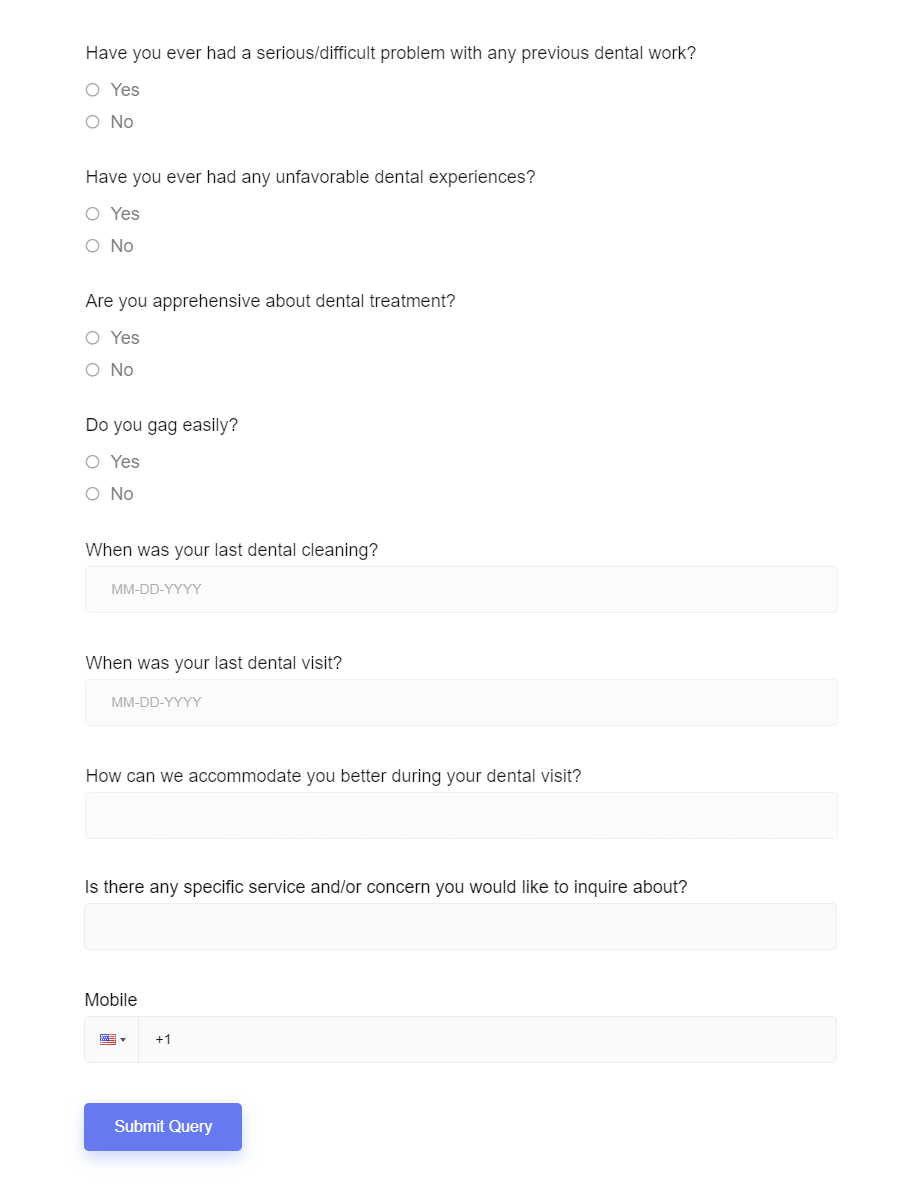 A patient form lets the patients answer certain questions related to their health and previous treatments before they meet the doctor for consultation.
Suggestion Form
Design a form to accept suggestions or feedback from your visitors or clients.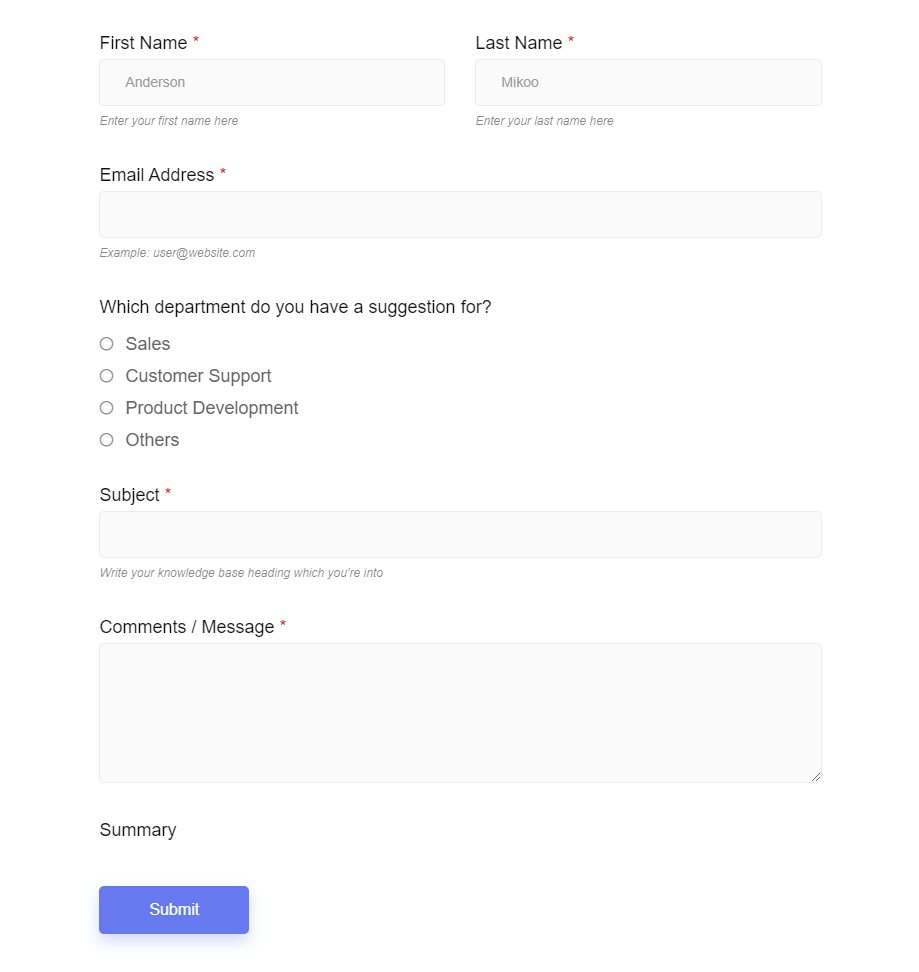 A suggestions form helps you to know the drawbacks and fields of improvement that translate into the advancement of your business.
Support Form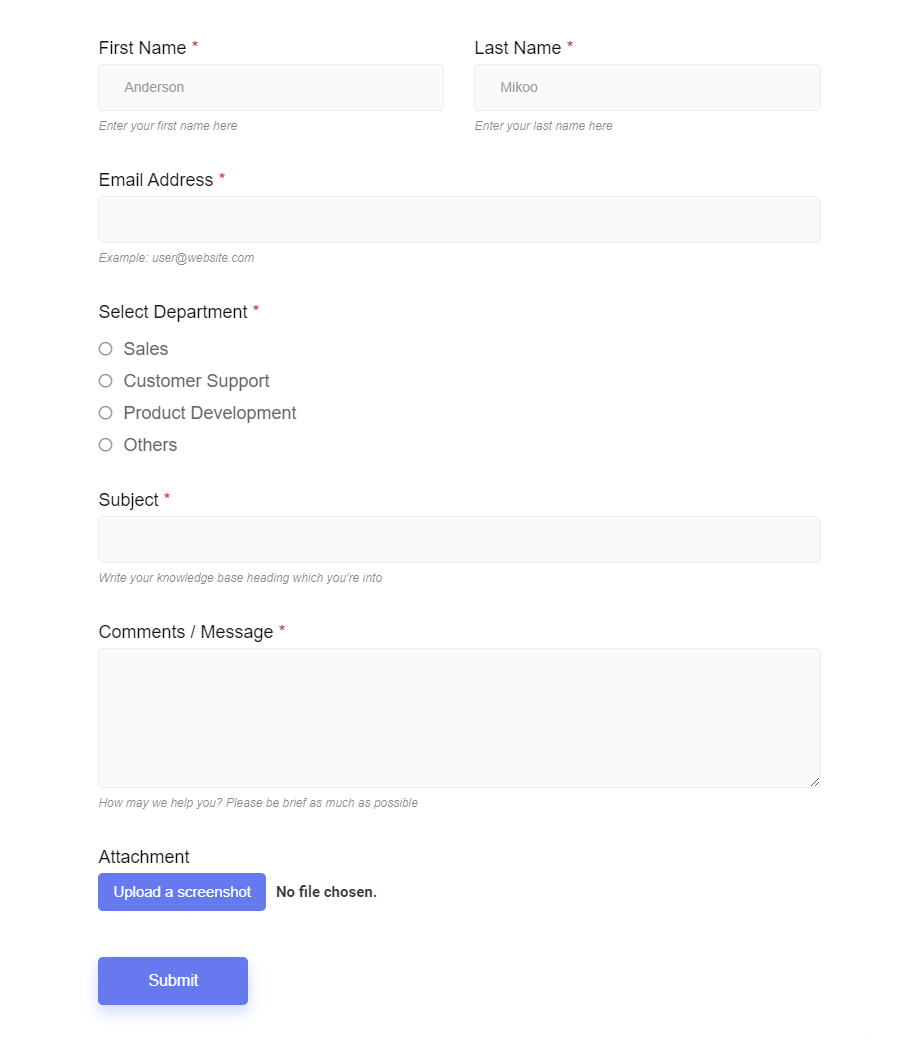 Create a support form by MetForm so that your customers can receive the necessary support regarding the products or services you provide.
Your customers can write and upload screenshots regarding the problem they are experiencing. Solve the issues they are facing to turn them into your recurring customers.
Login & Registration Form
MetForm lets you easily create a registration or login form at any page to let the visitors register or log in to your website. You can create fields like username, password, email, and other data fields inside the form.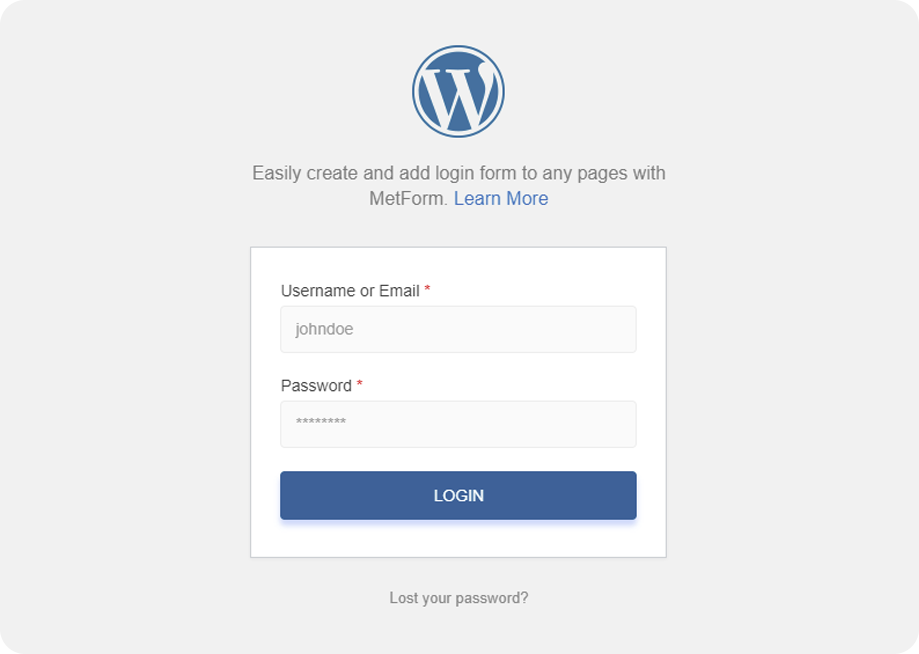 Top Features of MetForm
MetForm offers a wide range of features for its users. If you compare MetForm with other forms for WordPress sites, you will see how distinguished MetForm is.
Want to compare MetForm with Gravity Forms and Contact Form 7?
MetForm stands out from the crowd with the following features:
Built with Elementor
MetForm is an Elementor-based form builder. It works flawlessly with both the Free and Pro versions of Elementor page builder.
25+ Input Fields
You can leverage more than 25+ input fields in different types of forms created with MetForm. Those input widgets will let you create complex forms that will serve various purposes.
Text widget, password widget, date widget, email widget, checkbox widget, URL widget, password widget, opt-in widget, rating widget, file upload widget, etc. are some of the common widgets you might need to implement on your forms.
User Confirmation Email
You can send a user confirmation mail to every user when they register or submit their data successfully.
Admin Notification Email
As an admin, you'll receive a notification Email after any successful data submission from the user's end. However, you can turn this notification off if you want.
Saved Entries in the Admin Panel
You can store all the data that the users submit in the form. Those data will be displayed in the admin panel.
Export Entries from MetForm as CSV
You can export the submitted form data into a single CSV file and download in a spreadsheet.
Required Login to Submit the Form
You can set rules on whether the users require to stay logged-in or not to submit the form.
Capture User Browser Data
Record the browser information of the users such as web browser info, visited URL, title, visit time, visit count, and user profile, etc.
Hide Form After Submission
You are at liberty to hide the form after the user completes submitting the data and tap or click on the submit button.
Limit Total Entries
Set a limit on the number of submission entries to your form. Choose to show an error message when your form receives the required number of entries.
Redirect After Successful Form Submission
Simply add the desired destination URL and redirect to that page after a user successfully submits the form.
MailChimp Integration
Integrate MailChimp to create and manage automated mailing, mailing lists, newsletters, and other options.
AWeber Integration
If you want to automate the form submission, integrate AWeber, a popular email marketing tool to your form created with MetForm.
Slack Integration
You can choose to redirect all the form data to integrate with Slack so that you get the customer information faster in your team.
Google reCAPTCHA Integration
This feature enables you to integrate Google reCAPTCHA to keep your site safe from abusive traffic as well as unwanted spam.
GDPR Compliant
Create a form that complies with GDPR policies before you collect the user data.
Validate Required Fields
This feature will help you to validate your form's required fields and display an error message if required. This makes your form standard and more professional.
Mailpoet Integration
Mailpoet Integration in your forms makes it easier for you to send professional-looking newsletters in minutes.
Zapier Integration
Zapier is an integration tool that lets you connect many hundreds of cloud apps and other services to share data across tools or trigger actions between one tool and another. Integrating Zapier into your form helps you automate your subsequent tasks.
Supports Multiple-column Layout
You can display as many column layouts as you want. It just takes a click to add a column.
Editable Success Message
MetForms lets you create your own success message to show to the users when they complete the form submission.
GetResponse Integration
Integrate GetResponse with your form to create a valuable marketing list of clients and prospects.
Translation Ready
The forms you will be creating with MetForm can be translated into multiple languages. So, the language will be no longer a barrier for you to collect and translate any data you want.
ConvertKit Integration
Integrating your forms with ConvertKit helps you increase subscribers, add PDF, checklist, and more.
Multiple Image Selection
Let your users choose one or more images from multiple options in any forms created with MetForm. Users can also upload images horizontally and vertically.
User-Ratings
MetForm allows you to integrate a user-rating option to your form. This feature will enable you to know the customer's feedback and thoughts about your products or services.
Summary
Displaying a summary of the orders or subscriptions is a great way to let the users know that everything is tracked accurately.
File Upload
You can integrate the file uploading option to your form so that the users can upload images, attachments, and any important files.
Use of Webhook
MetForm features webhooks that enable you to deliver the collected data to any applications you want for further processing.
CRM Integration
You can process the user data after submission via popular CRM services including HubSpot, Zoho, and ActiveCampaign.
Easy Payment Method
When it comes to making payments, allow your users to choose the most convenient one for them from multiple payment methods.
Smart Conditional Logic
The use of smart conditional logic empowers you to show or hide any fields to certain users.
Effortless Simple Repeater
You can repeat any fields dynamically just by clicking on "Add". This feature comes to use when you want to create multiple fields of the same nature one after another.
Powerful Set-Up
MetForm comes up with dozens of integration scopes. It lets you store the entries to Dashboard along with greater flexibility in all the steps of making a form.
Multi-Step Form
We understand that one step form is not perfect to meet your needs all the time. Keeping that in mind, MetForm offers you drag and drop multi-step form to collect more data from the users. A multi-step form allows you to divide a large form into multiple smaller steps without making the users bored.
Advanced Validation Field
Leverage the drop-down menu to select the validation type by character, word, and expression.
Easy Calculations
MetForm offers easy calculations to let the user get the best out of the math logic applied to the form and then view the results.
30+ Predefined Form
You do not need to exhaust your brain thinking about the fields required for the type of form you want to create. MetForm offers 30+ predefined forms to meet your needs and lets you create forms in minutes.
What you all need to do is to decide the type of form you want to create and then drag and drop the readymade form to get your work done.
Supports Shortcode
If you have some knowledge of coding, you can insert shortcodes to empower your forms even more by creating useful features.
Login and Registration
You can create and set a login and registration form at any page along with validating them simultaneously.
Responsive Design
The forms that you will create with MetForm will be responsive to suit the various screen sizes.
So, no matter whether your users are using a smartphone, tablet, or computer, they can all view the form according to the screen size of their individual devices.
Form Submission via AJAX
Your users can submit the form without loading the page. This takes less time and makes the form more user-friendly.
Mailster Integration
Leverage Metform to grow your email list and then run all of your email marketing campaigns via Mailster.
Well-Documented
To make you understand how MetForm works and how you should create forms with MetForm, we have documented everything regarding MetForm here.
Input Fields/Widgets You Can Drag and Drop into Your Forms Created With MetForm
MetForm offers you a lot of flexibility when it comes to adding widgets to the forms you create. You can drag and drop any of the following widgets as required to all the forms created with MetForm:
Text Widget
Drag and drop a text widget to your form so that your target audience can put short and plain texts like their first names and last names.
Email Widget
Attach an email widget to your form to collect the email addresses of your clients.
Number Widget
Adding a number widget on a form will help the users specify a quantity or number.
Textarea Widget
Let your customers question, answer, suggest, and comment in detail with plain text.
Telephone Number Widget
Collect the telephone number of the users by adding a Telephone Number Widget.
Mobile Number Widget
Drag and drop the mobile number widget that comes with country codes.
URL Widget
Collect the domain address or URL of the website of your target audience by integrating a URL widget in your form.
Password Widget
If you are making a registration and login form for your website visitors, adding a password widget in your form is a must.
Date Widget
Featuring the date widget in your form lets the users choose a certain date with month and year from an in-built calendar.
Time Widget
Let the users choose a time (hours and minutes) by integrating the time widget in your form.
Select Widget
Leverage the select widget to create a bunch of options to choose from. It helps your target audience to select the right or applicable option.
Multi-Select Widget
When you want the form users to select multiple options, you should integrate the multi-select widget in your form.
Checkbox Widget
Attaching a checkbox widget in your form will allow the users to select one or multiple boxes.
Radio Widget
MetForm offers a stylish radio widget to let your target audience make the right choice by clicking on the radio buttons.
Switch Widget
Drag and drop a switch widget in your form to let the users choose one between two options.
Range Widget
MetForm features a range slider to let the users choose a specific range. The users can choose any value ranging from 0 to 100.
Opt-in Widget
Add one or more opt-in widgets to your form so that your target audience can opt-in for anything.
Suppose, you want your visitors to opt-in for your newsletters, an opt-in checkbox will help them decide whether they want to receive newsletters from your website or not.
The visitors may tick on the opt-in checkbox if they agree to receive newsletters and they may avoid ticking on the checkbox if they are not interested to receive any newsletters or updates from you.
GDPR Consent Widget
GDPR stands for General Data Protection Regulation. A GDPR consent widget will let the users of the form decide whether they agree to the terms and conditions of your website regarding the usage of the submitted data.
Google reCAPTCHA Widget
Adding a Google reCAPTCHA widget in your form will ensure that a human being, not a robot is filling up the form you've created.
Simple Captcha Widget
Leverage the Simple Captcha widget to protect your forms from spammers.
Rating Widget
Choose MetForm to add a rating widget on your form (rating widget works best for feedback forms) to inspire your clients to rate your products or services. The users can choose from one star to five stars to point out their level of satisfaction with your products or services.
File Upload Widget
If you want the users to upload any file to the form created by MetForm, it is essential to add a file upload widget.
Calculation Widget
The calculation widget from MetForm allows you to use any math logic to your form field and display the results. It helps the clients to know the price of the products or services they are going to order.
Image Select Widget
As the name suggests, applying an image select widget on your form will let the users choose an option from two or more images.
Suppose, you accept food orders to deliver at the doorsteps. If you serve three types of burgers, you can display their pictures to let the customers choose the one they want to be served.
Simple Repeater Widget
Add as many text fields as you want with this simple repeater widget. Just click on "Add", the new repeated field will appear constantly. You can also delete any fields that are not required.
Google Map Location Widget
Let the form users specify their location on the Google map. The Google Map location widget by MetForm enables you to know the location of your clients that might help you to serve them better.
Color Picker Widget
Add a color picker widget on your form to let your customers choose their preferred color of the products they want to order from you.
Payment Method Widget
Let your customers choose the payment methods such as PayPal and Stripe to pay for the products or services you are offering them.
MetForm currently offers Paypal and Stripe integration with your form. Blockchain and Skrill are also going to be integrated soon.
Signature Widget
Including a signature widget in your form created with MetForm allows the users to put their digital signature before submission.
Final Thoughts
By now you should have a good idea about how functional MetForm is! If you think it can meet your needs, try it now to check if it is the plugin you were looking for.