5 Best WooCommerce Addons for Elementor Compared (Free & Paid)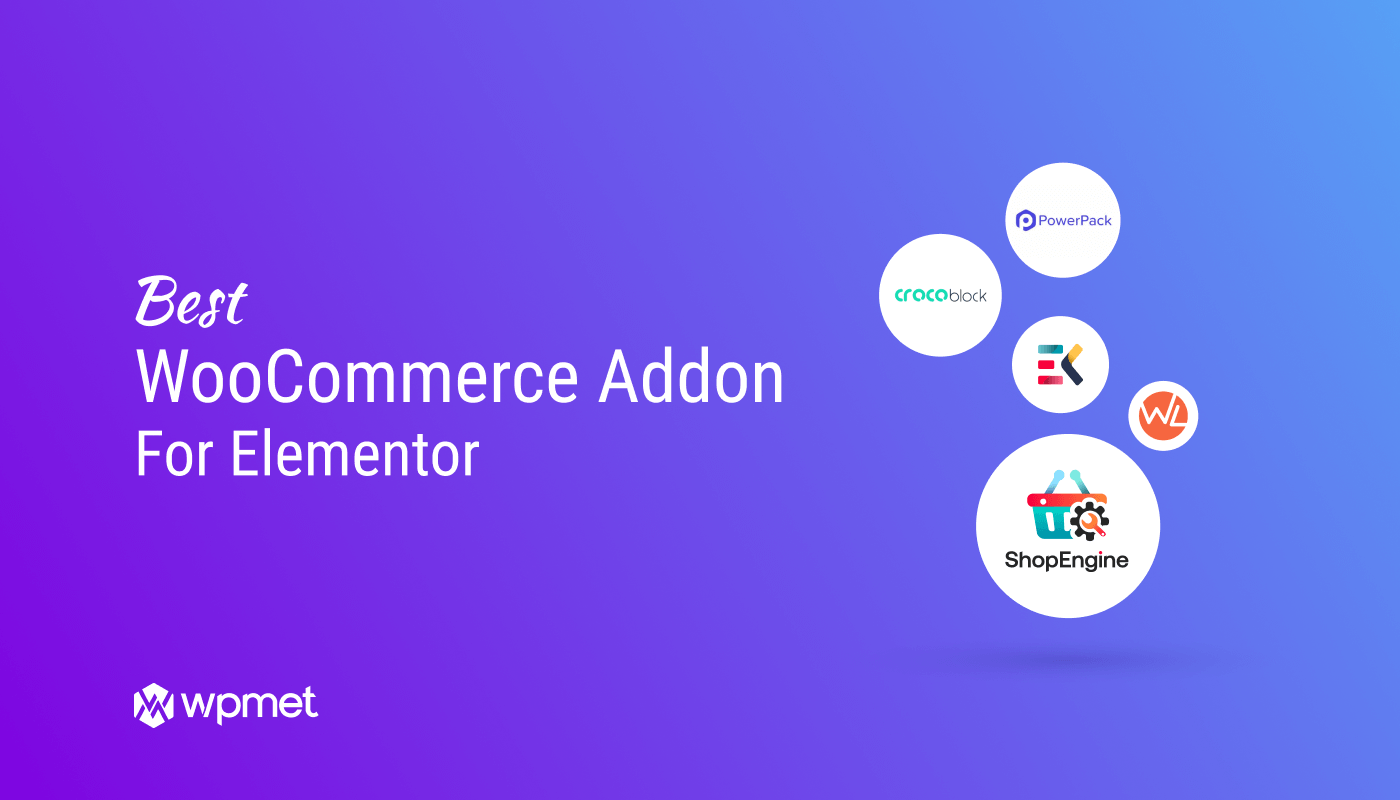 Elementor is the best and most renowned page builder available in WordPress. However, there are lots of third-party software that unlock unique and advanced features for Elementor. With these, you can easily customize your WooCommerce site with an easy drag and drop option that Elementor provides.
Your website's design, appearance, and functions everything will be changed after using an Elementor WooCommerce addon. Researching all the available WooCommerce Elementor addons are quite impossible. That's why I have decided to help you choose the best Elementor addons for your WooCommerce site.
In this blog, you will get to know about the 5 best Elementor WooCommerce addons along with their comparison.
What are the necessities of using WooCommerce Elementor Addons?
In WordPress, there are lots of Elementor add-ons available for WooCommerce sites. You might have come across some addons while operating your WordPress site. But, do you know why you need these addons so badly? If not then, here are why you need these addons:
These will help you to build and customize WooCommerce pages within minutes.
Creating a competitive WooCommerce site is possible with these addons.
Quick checkout, variation swatches. sales notification, etc all advanced features can be implemented to build a wonderful website.
Managing stock images is possible with preorder, backorder modules.
Required payment gateways will be available.
Help your users to get an effortless shopping experience.
Advanced features and modules for your WooCommerce site.
Reach out to more customers to boost conversion rate.
Built-in templates for easy page customization and lots more.
These are not the only benefits you will get from WooCommerce Elementor Addons. You will also get lots of other benefits along with these. Now if you want to know more about WooCommerce Elementor addons then here is a shortlist for you along with their comparison.
5 Best WooCommerce Addons for Elementor:
I have promised you to give a shortlist of the best Elementor WooCommerce addons. Here I have listed down the 5 best Elementor addons for WooCommerce along with their highlighted features, popularity, and packages. Check out the following five best Elementor Addons for your WooCommerce website: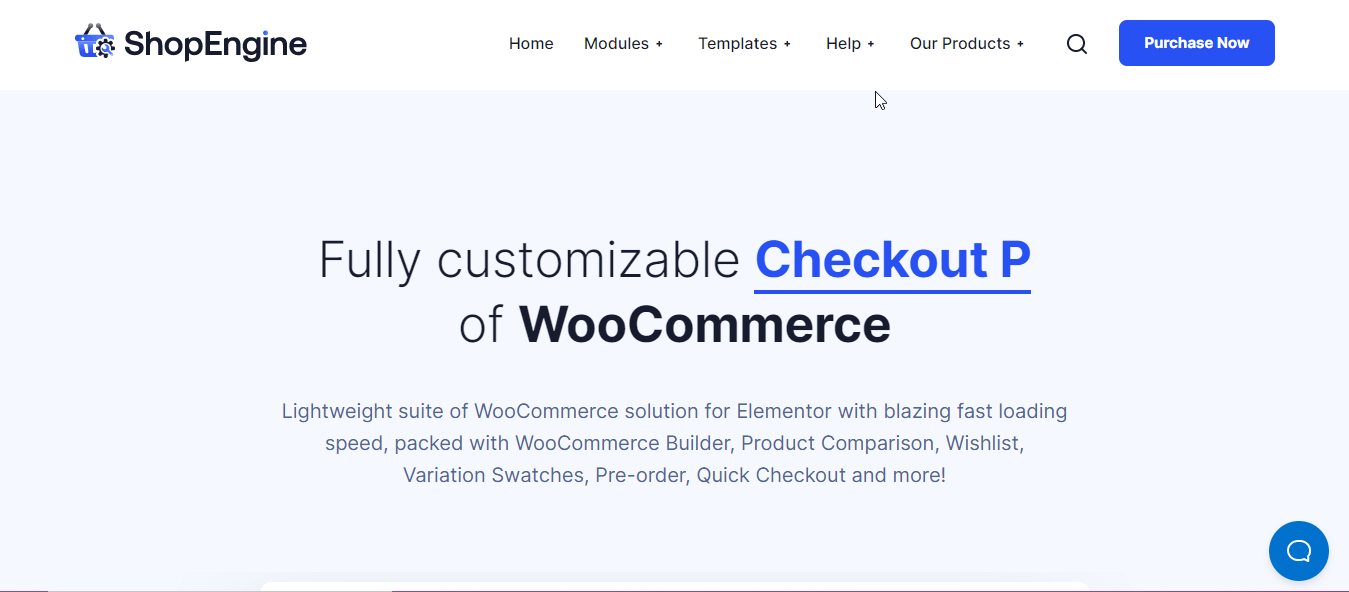 ShopEngine is the most complete Elementor page builder for WooCommerce that provides complete flexibility to customize WooCommerce pages. Because of its responsive and flexible pre-built templates creating a shop, my account, checkout, and cart pages is now possible within a few minutes. In addition, you can customize your pages from scratch by dragging and dropping widgets.
Highlighted features:
15+ templates for free and premium packages.
Shop page product variations with variation swatches module.
Flexible payment system with partial payment module.
New business possibility with preorder and backorder module.
Popup notifications for sales.
Flash sale for increasing conversions.
Compare among different products using product comparison module.
Adding a future preference option can be done with the wishlist module.
Easy and fast checkout system with quick checkout module.
Adding custom field using additional checkout module
Quick view module adds popup view for better user experience.
62+ widgets are available that offer top to bottom customization.
Popular theme and plugin compatibility.
100% customization with zero coding skills.
Finest support system.
Incredible loading speed.
Full control over enabling and disabling modules, widgets.
Popularity:
Active Installations: 4000+
WordPress.org rating: 4.6
Packages:
ShopEngine is available for both free and premium users. In WordPress.org, you will find its free version. Its premium version is available on Wpmet. It comes with three packages that are single, unlimited, and five sites. Also, lifetime and yearly deals are available for these three packages.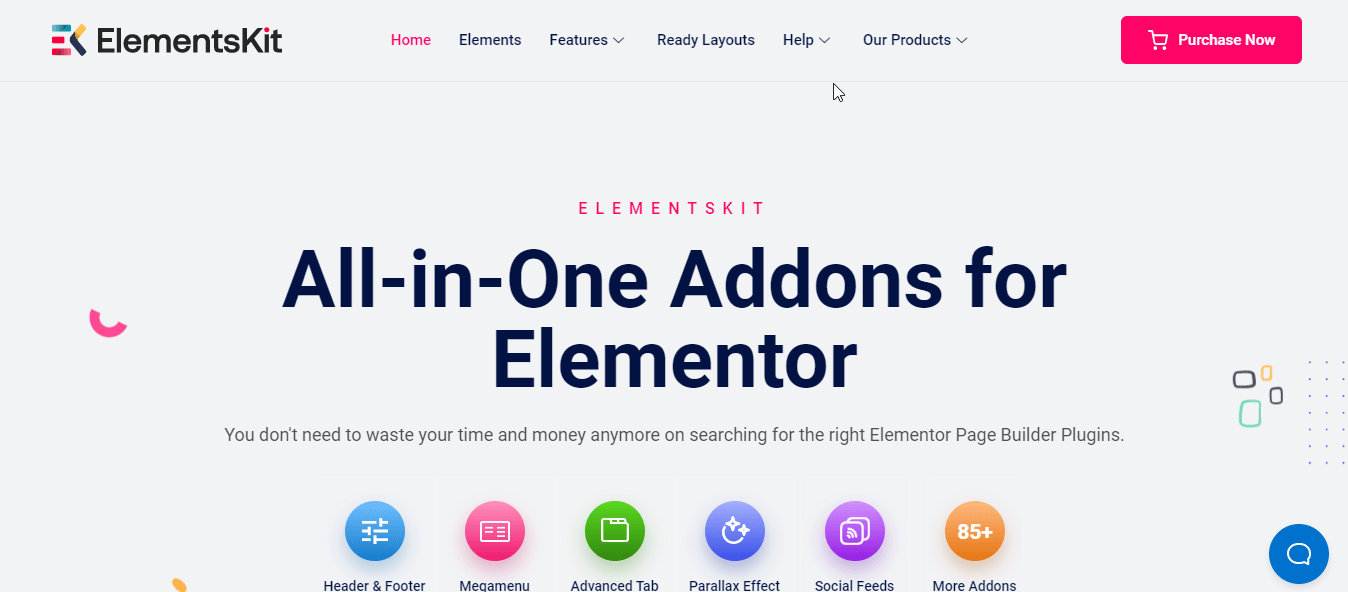 It is the ultimate addon for your Elementor page builder that provides lots of free and premium modules, widgets, templates for building your pages. ElementsKit ready-made blocks are 100% customizable and responsive. Besides, you can customize your pages more with the parallax, image hotspot, and many more premium widgets. Moreover, you will have full control over your widgets and modules. Disable the widgets that you don't want to use for your site. As a result, your site speed will be as smooth as before.
Highlighted features:
Advanced header and footer builder.
Effective mega menu building option.
Excellent customization options with advanced sticky, advanced parallax, and advanced table module.
Custom widget builder.
Impactful content visibility with conditional content module.
Content reusing is possible with cross domain copy paste module.
6 social media feed widgets are available.
Different type of form building is possible with 7 form widgets.
7 different widgets are available for building headers and footers.
Reviewing on social media can easily be done with 2 review elements.
4 WooCommerce elements that are must for building a WooCommerce site.
Provides 41 general widgets which includes countdown timer to breadcrumb.
79+ ready pages that are 100% customizable.
416+ ready sections for Elementor pages.
On page scrolling is possible with this addon.
awesome support system.
Popularity:
Active installations: 500000+.
WordPress.org rating: 4.8 .
Packages:
ElementsKit comes with three packages: personal, professional, and agency. You can buy these packages on either a yearly or lifetime basis. Its free version is also available on WordPress.org.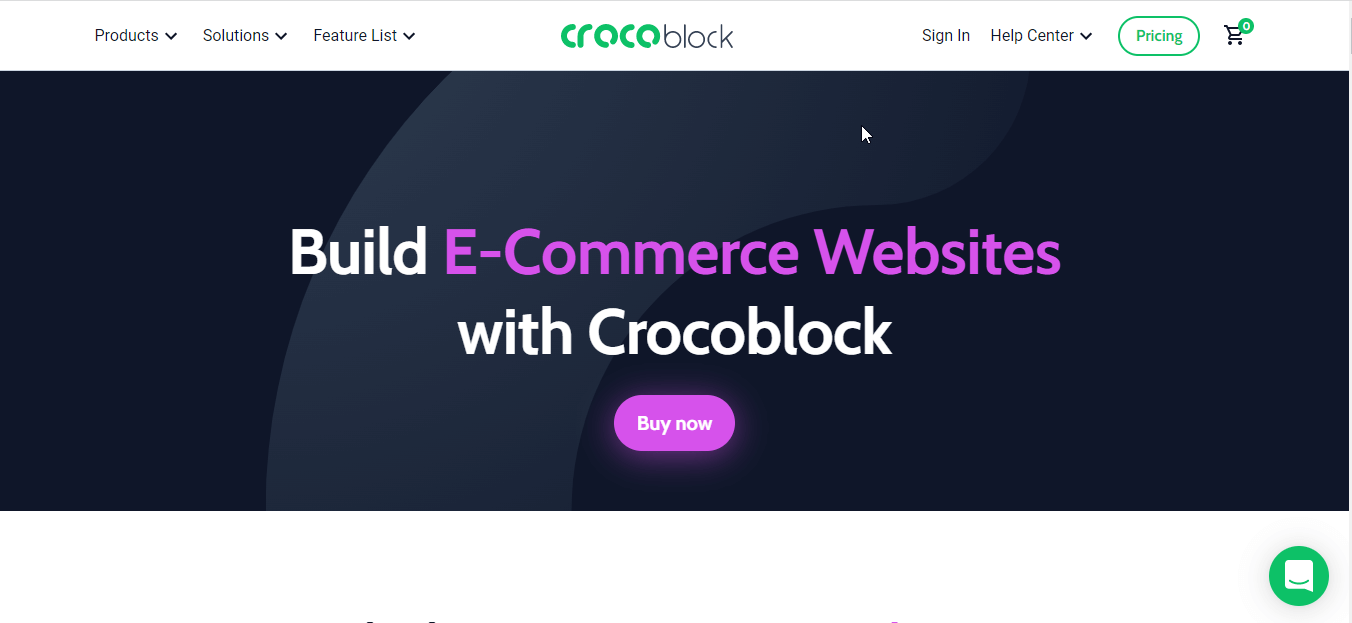 It is a premium Elementor WooCommerce addon that offers lots of features for building a website. No free version is available for trying out. Currently, more than 200 features are available for the users of this addon.
Highlighted features:
32 widgets available for dynamic content.
Making a more impactful profile is possible with 10 widgets.
50+ form-building widgets.
22 widgets for filtering your website.
5 website search widgets.
9 mega menu creating widgets.
Easy booking and appointment option.
Eye-catching content design.
Effective review presentation.
Lots of widgets to customize WooCommerce pages.
Popularity:
Users: 8000+.
Ratings: 4.5
Packages:
This is a premium addon for Elementor that does not provide any free package. It offers four plans along with a custom package. Here you can customize your package the way you want.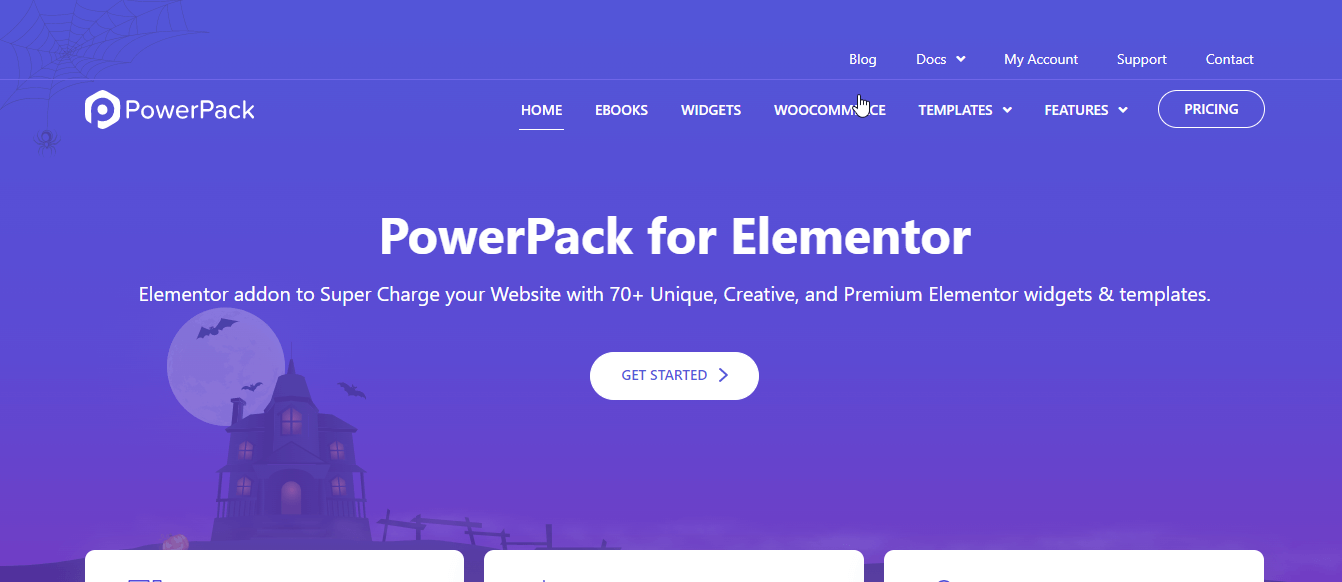 PowerPack is a budget-friendly Elementor addon for WooCommerce that provides 70+ unique widgets, templates for your WooCommerce site. PowerPack only offers a paid version. Besides, this plugin also offers pre-built templates that let you create your WooCommerce pages quickly.
Highlighted features:
70+ unique widgets and templates.
Lightweight and fast loading speed.
Cross domain copy paste.
Customize login and sign-in pages.
Offers SEO widgets.
Useful header and footer builder.
Advanced display.
Frequent updates.
Popularity:
Users: 100000+
Rating: 4.5
Packages:
PowerPack offers three premium packages for Elementor users. Those are starter, professional, and lifetime. Unfortunately, no free package is available for checking out.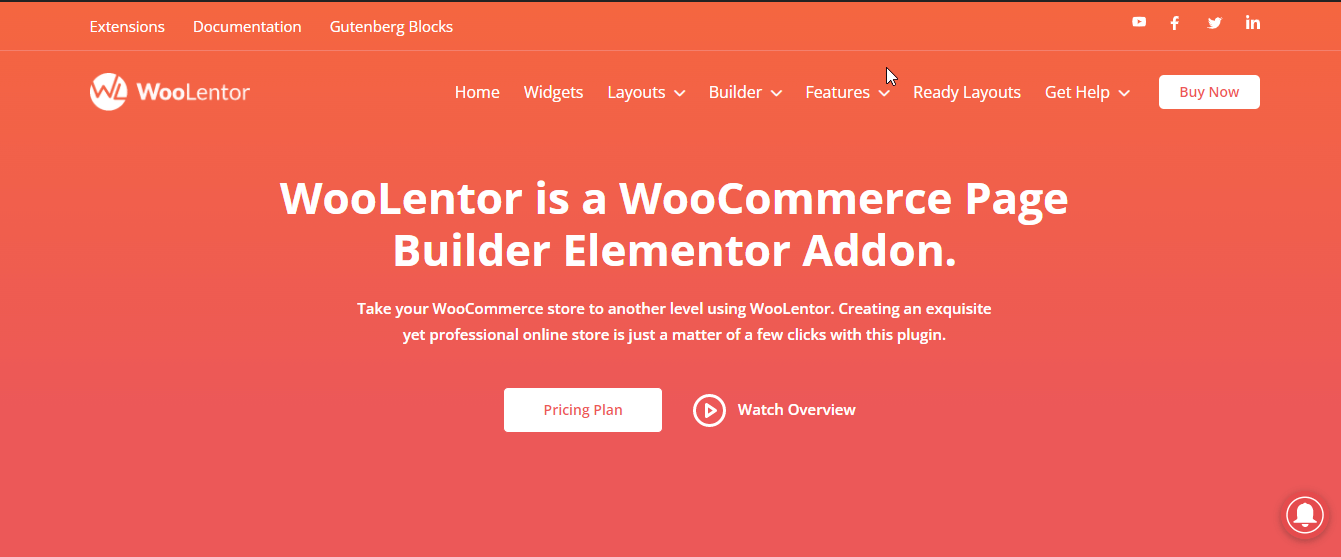 This is a WooCommerce addon for Elementor where you will get 42 product layouts, free and premium features, and templates. Free and premium versions are available for WooLentor. With this Elementor WooCommerce addon, you can also customize template designs.
Highlighted features:
25 free and 14 premium widgets.
Custom template builder (Pro feature).
WooCommerce page customization options (Pro features).
Sales notification.
Sales countdown timer.
Rename label.
Individual and default archive template builder.
Popularity:
Active installations: 70000+
WordPress.org rating: 4
Packages:
Woolentor offers free and paid packages. Paid version comes with three packages named personal, developer, and agency. The personal package is for one website, developer is for five, and the agency is for unlimited websites.
Quick comparison among the 5 Elementor WooCommerce addons:
Take a look at the quick comparison among 5 best Elementor WooCommerce addons:
| | ElementsKit | ShopEngine | Crocoblocks | PowerPack | WooLentor |
| --- | --- | --- | --- | --- | --- |
| Active Installations | 500000+ | 5000+ | 8000+ | 100000+ | 70000+ |
| Widgets | 85 | 60+ | 50 | 70+ | 68+ |
| Templates | 45 | 13 | 12 | 150+ | 15 |
| Ratings | 4.8 | 4.5 | 4.5 | 4.5 | 4 |
| Pricing | $31 | $47 | $85 | $39 | $25 |
Get started with the best Elementor WooCommerce Addon
Hope you have figured out which is the best Elementor addon for your WooCommerce site. If you still have confusion then, don't forget to check out their free version. This will clear all your confusion. If you want to learn more about ElementsKit and ShopEngine then check out the blogs Introducing ShopEngine Pro, ElementsKit's latest update.
After choosing, don't hesitate to use these addons as they will extend your website functions. You can also choose more than one addon for your WooCommerce site. But, don't use a normal addon that doesn't offer advanced and effective functions. Because more addons will slow down your site more. Be focused and choose the best addons for your WooCommerce site.