Introducing ShopEngine PRO: Revolutionary WooCommerce Builder
In less than six months, ShopEngine has won thousands of hearts all around the globe! 🌏
And as a matter of fact, it should be, ShopEngine for Elementor is not just a one-stop solution for WooCommerce template builder. Rather, it is freedom of web design that allows you to express your story with state of art ready-to-use layouts.
Here in this article, we will talk about ShopEngine Pro and how it will help you to resonate your dream eCommerce site into reality.
Renovate the Template Building Experience Forever
ShopEngine is here to give you the easiest, fastest, and effortless WooCommerce site-building experience that you have ever imagined. Even non-developers can build a visually stunning website all by themselves.
Thanks to our hardworking developers who've spent days and nights to make all this happen.
Now for those who are not aware of what ShopEngine is, well, it is an all-in-one WooCommerce Builder for Elementor. In which you will get all types of WooCommerce template-making solutions.
Because of the amazing user-friendly experience that we had never had before, ShopEngine gained a number of satisfied users in WordPress.org in such a short time.
Why Do You Need ShopEngine PRO?
Since you're reading this content, let's assume that you're using the free version of ShopEngine and not sure about whether to upgrade at ShopEngine Pro, then you've come to the right place.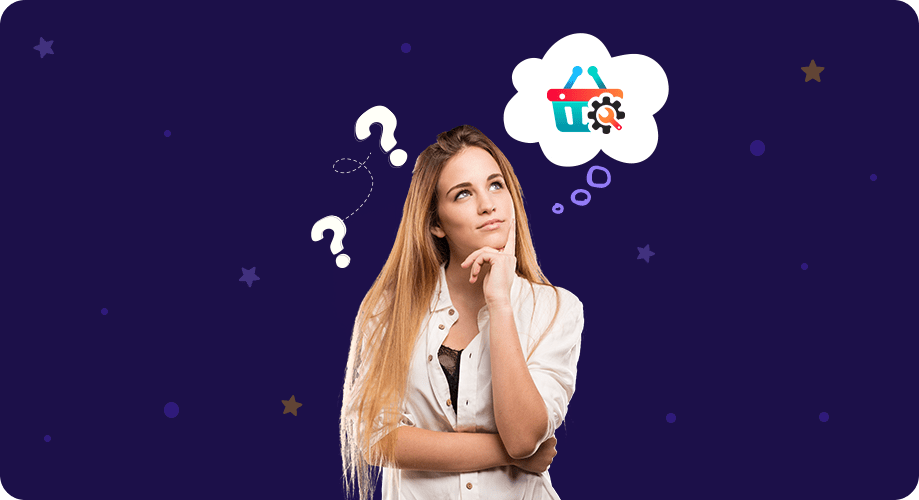 In this blog post, we'll go through the differences between the Free and Pro versions of the ShopEngine template builder to help you decide which one you should go for.
✨ ShopEngine Free and Pro features at a glance:
| Overview | Free | Pro |
| --- | --- | --- |
| Widgets | 40+ | 65+ |
| Modules | 4+ | 13+ |
| Templates | 5+ | 15+ |
Quick Comparison of ShopEngine Free & Pro
We'll go through the essential features of ShopEngine Pro that will help you develop a more professional design, which will assist to get more leads and conversions.
Here are the core reasons why ShopEngine PRO is for you:
You are in need of a WooCommerce plugin that will assist you to create the best eCommerce Store.
If you wish to make your website lighter then ShopEngine is for you. As it has all the elements that are sufficient for an eCommerce store.
If you value money and times then ShopEngine can serve you really well.
😎 Why ShopEngine is your Most Complete WooCommerce Solution?

With ShopEngine Pro, you will get a full package of 62+ Fully Customizable Widgets, 12+ Useful Modules, 15+ pre-designed templates, and many more with helpful community support.
Apart from the core features and modules, a few things that you need to bear in mind is that ShopEngine is professionally coded and regularly updatable with 24/7 technical support.
12+ Useful Modules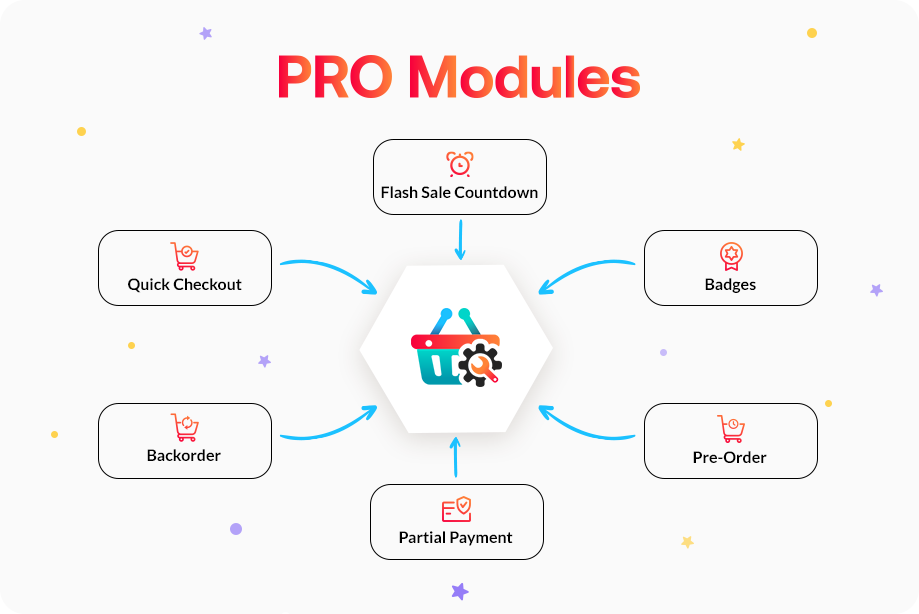 With ShopEngine Pro you can access multiple useful and advanced modules all by yourself. Which will assist you to make the best out of your eCommerce store.
The quick checkout page, badges, backorder, pre-order, partial payment, and many other fascinating modules are ready to use with ShopEngine (Pro), the most complete WooCommerce solution.
Quick Checkout
Through the Quick Checkout Module of ShopEngine, you can create a wonderful and user-friendly checkout page for your customers. Enabling the quick checkout module will add a "buy now" button to the product shop page.
With this quick checkout module you can create an advanced, yet user-friendly pop-up checkout page for your customers.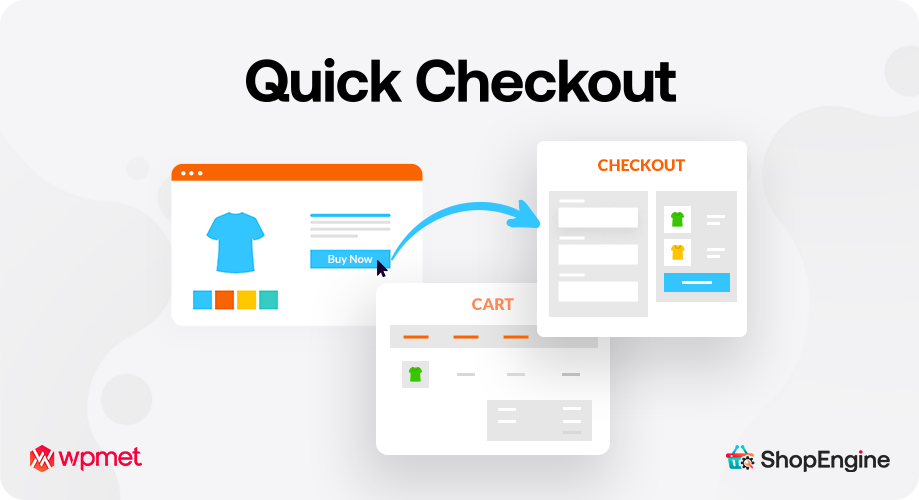 By skipping the shopping cart page, you can optimize the checkout process. This may encourage buyers to shop more frequently and in less time.
Simplifies the Checkout Process: This widget helps to shorten the checkout actions with just one click.
Fully Customizable: This module is capable to customize any aspects you prefer it to be.
Fast Pop-up Modal: Quick checkout pop-up modal works in just one click
Lesser Abandoned Shopping Carts: This module guarantees fewer abandoned carts, as your customers would buy and check right away.
Skip 'Add to Cart' Button: Pay up can be done in just one click, so your customers can skip the add to cart.
Fast Purchase Feature: Helps your users to provide a rapid and effortless shopping experience.
In another word, the customer's decision to buy is converted into a one-click process with direct checkout through a pop-up modal. It may also boost your sales by lowering cart abandonment.
Badges
The Badges module will allow you to show any badge on the product/s. A badge can help you display the percentage of discounts.
A badge is a tool that can help you to display sales percentages on a specific or group of products. It also may help you boost your sales rates and satisfy your customers.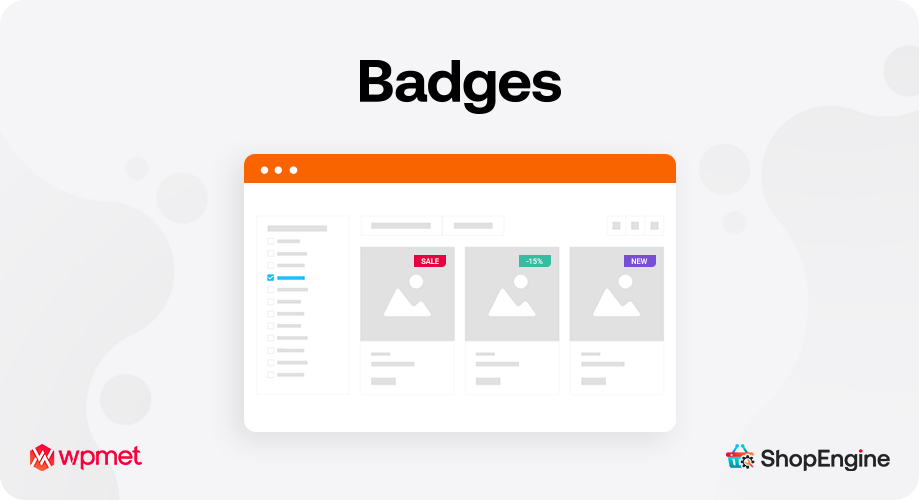 Create Unlimited Textual Badges: With this module, you can design limitless textual or numerical badges for your site.
Made-to-order Badge Options: Build your badge design just like you prefer it to be.
Highly Customizable: Freely customize your badge color, shape, text, number, etc.
Badges are an important tool because they serve as spotlights in the minds of users, drawing their attention to a certain product, an offer, or attracting them and increasing their interest and willingness to purchase.
You can easily combine some text or an image with some design flair to make it stand out.
Backorder
By installing ShopEngine Pro you can create a backorder segment. In which you can backorder those items which are in demand but due to lack of supply, not available in the market for the time being.
Set a number of backorders that a WooCommerce product or product variation can have. The stock status will change to 'out of stock' once the maximum number is met.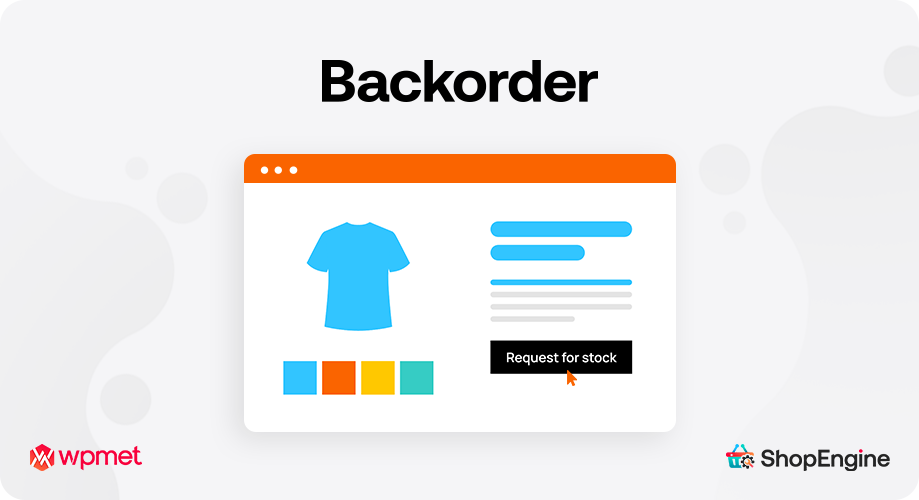 Allows Maximum Backorders: Simple place maximum capacity of WooCommerce backorders.
Customize Order Description: Edit your backorder product descriptions flawlessly.
Easy to Operate: This module can easily be navigated in seconds.
Compatible with other Plugins: ShopEngine is 100% with any theme or plugins.
This segment is capable of making your site unique. As you're providing a backorder floor to your users for those items which are in demand but due to lack of supply, not available in the market.
It also represents care and loyalty towards your customer, as you will restock the products from backorder. However, you can enable or disable the backorder segment anytime you prefer.
Do keep in mind that backorder is quite an important element to add to your e-site to get maximum exposure by all types of users.
Pre-Order
Get a clear idea of how the upcoming product has demand in the market and give your customers the chance to pre-order the product.
This module allows consumers to pre-order new items so they may receive them as soon as they become available, allowing you to track their progress.
Manage Pre-orders Section: Operate all the pre-ordered products in a specialized section
Set a pre-order Status on Product: Flash a pre-order status on product/s in your WooCommerce site.
Add Closing Date for Pre-order: Easily sets a closing date for the pre-order products.
Admin Notification: WooCommerce pre-order notification in admin panel
Product Price Editing: You can edit the page product pricing during the pre-orders.
Our plugin allows you to follow up on pre-sales in a comprehensive way, thanks to an efficient system that quickly adapts to the individual needs of your store.
One of the most fascinating parts of an eCommerce site is taking pre-orders. You need to be aware that your buyers get the opportunity to pre-order their preferred product.
Partial Payment
Adding an installment facility can be compelling to a lot of buyers. Because it might help them to buy their desired product right away, without thinking about their budget. As it will help them to pay in sections.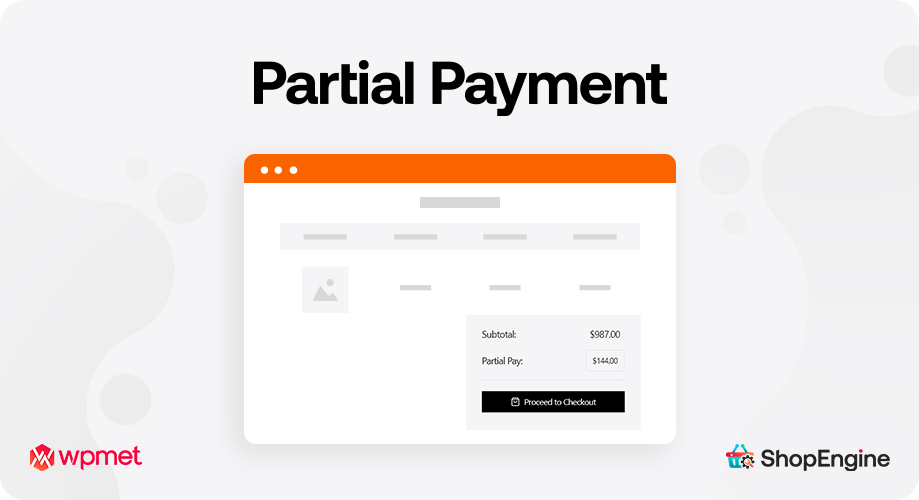 The reason why people prefer to use eCommerce stores is for the installment facilities. And the better partial payments you can offer the bigger your store gets popularity.
Set-Up Amount: Compose a percentage or fixed installment amount on your site products.
Support Woo Payments: This module easily supports all types of WooCommerce payment methods.
Support Variation Products: You can customize each product's partial percentage on your site with ShopEngine.
Deposit Items: Your customers can avail the partial payment option just by clicking on 'add to cart'.
Report for Admin: You will receive a partial payment auto report generation on the admin panel.
Fixed Payment Gateways: Simple and fixed WooCommerce payment system for a better site experience.
Do keep in mind that ShopEngine is a freemium plugin and a complete WooCommerce solution. It is fully functional and dedicated to take your WordPress eCommerce website to a whole new level.
Flash Sale Countdown
Flash Sales Countdown Timer extension allows you to create appealing bargains and discounts on specific product/s which are available only for a limited period of time.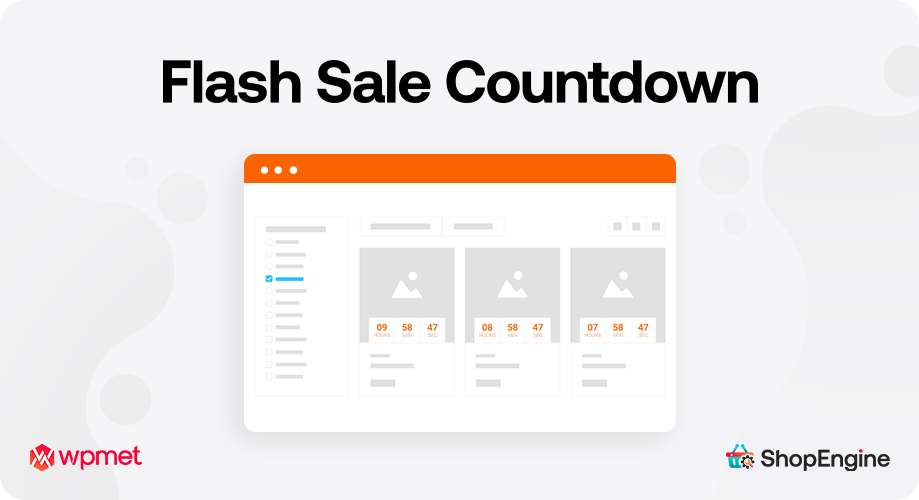 The module makes it easy to create flash sales for special occasions such as Black Friday, Christmas, New Year's Eve, Thanksgiving, or any other community-specific event.
Variety of Sales: Design and organize limitless sales offers with an advanced timer or closing date.
Display Discounts: Now you can add up a specific discount or percentage with ease.
Listed on a Page: Keep it more organized and your sales list on a separate page of the admin panel.
Display Sales Countdown: Showcase your sales update on multiple items with an editable countdown.
You can run many flash sales at once, as well as set up recurring discounts. These discount attractions are listed in their own specific sections.
With the help of this widget, you may offer flash sales on any other page in addition to specific products and categories.
Currency Switcher
This WordPress module allows users to change the currency options on your site in real-time based on set currency rates!
This currency switcher module is a powerful pricing marketing tool for WordPress sites that need to display information in multiple currencies.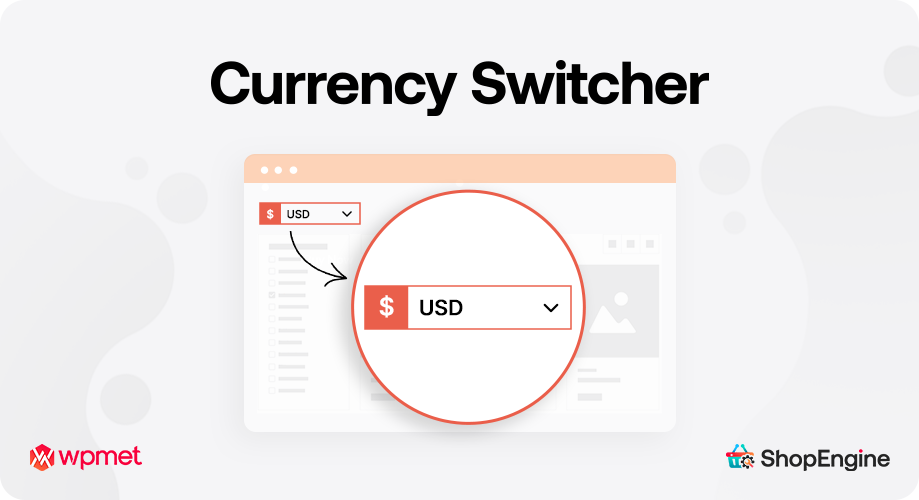 The ideal technique for making your website's business recommendations more clear for customers from all around the globe.
Easy to Use: You can enable this currency switch in your site in just one click.
Auto Rates Update: Update currency rates hourly, daily or monthly.
Editable Pricing Format: Set a price system that is appropriate for your needs.
Highly Customizable: Customize your currency icons, color, shape, and more.
Extremely effective module, especially for marketing programs, catalogs, portfolios, and any commercial text content.
Sales Notification
Displaying your sales updates on site helps to build social proof, and also creates a sense of urgency for visitors to purchase products.
This WooCommerce sales pop-up notification represents recent orders, including customer name, address, purchased products, image, and purchase time.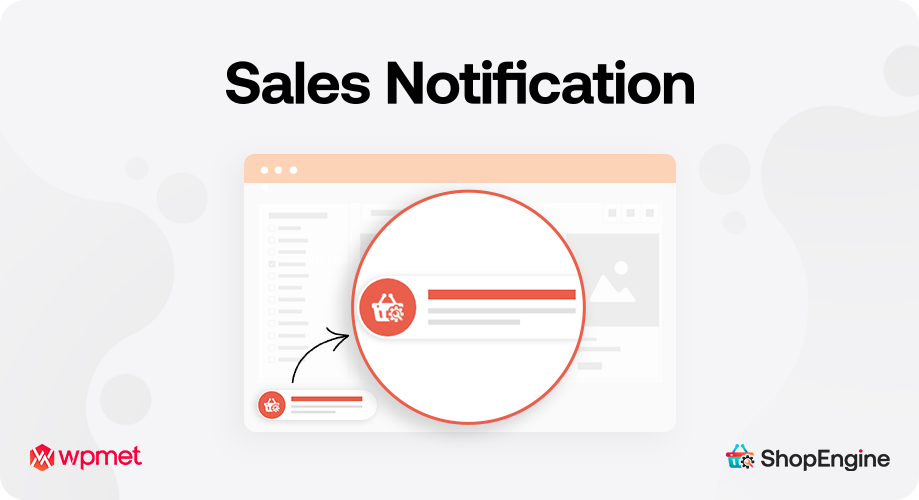 You can also generate virtual orders to display from a list of client names, addresses, and selected items if your store is new and there aren't many things to exhibit.
Real-time WooCommerce Buyer: Now you can showcase real-time purchase validations and updates in just one click.
Display Virtual Orders: You can create a set of virtual sales orders on your own, in case your site is new.
Device Friendly: ShopEngine is a super adjustable module and highly compatible with any device.
High Customization: You can also customize the background color, image, pop-up positioning, etc.
Easy to Use: Enable, disable or create anything that can be done in a min with this plugin.
You can with recent WooCommerce orders and showcase how busy your eCommerce store is. By creating a sense of urgency in visitors, you can persuade them to make a purchase.
Here are the major additional modules that you will get with ShopEngine for free:
Variation Swatches
ShopEngine variation swatches are one of the attractive features of the product page. Easy-to-use variation swatches to display beautiful, vibrant, and appealing colors, buttons, images, and variations of products to improve customer experience.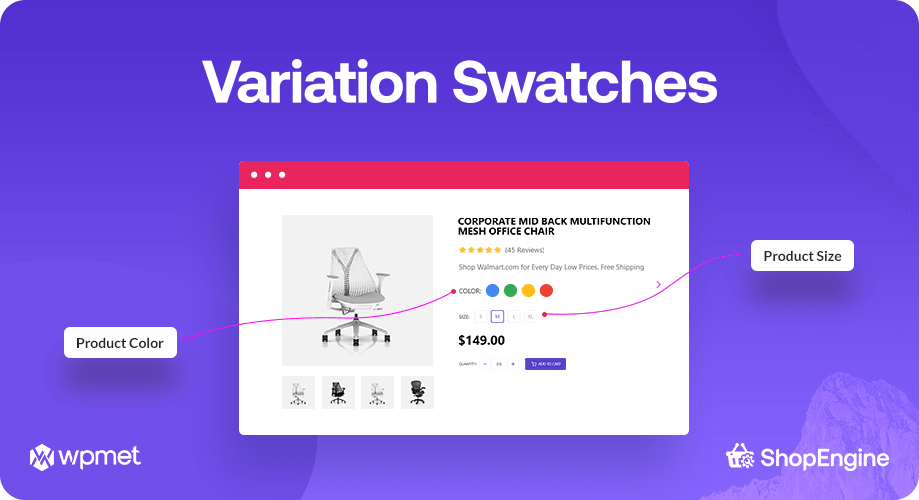 It is something that one can use on the product page. Variation swatches will help your customers to understand what options they should go for.
Customize Swatch Profiles
Edit Attributes
Display Product Type & Style
The WooCommerce Variation Swatches of ShopEngine make it much easier to display versions of variable products. It will assist your users in selecting the appropriate style for each attribute, such as color, picture, or label.
According to a recent survey, an eCommerce site having variation swatches get a 10x less bounce than another regular website.
For color swatches, no extra plugin or cost is needed when ShopEngine is available on your site.
Wishlist Page
With ShopEngine you will get a beautiful heart that symbolizes the wishlist icon. You can also customize your plugin settings to store user preferences. You're also allowed to create unlimited wishlists with it.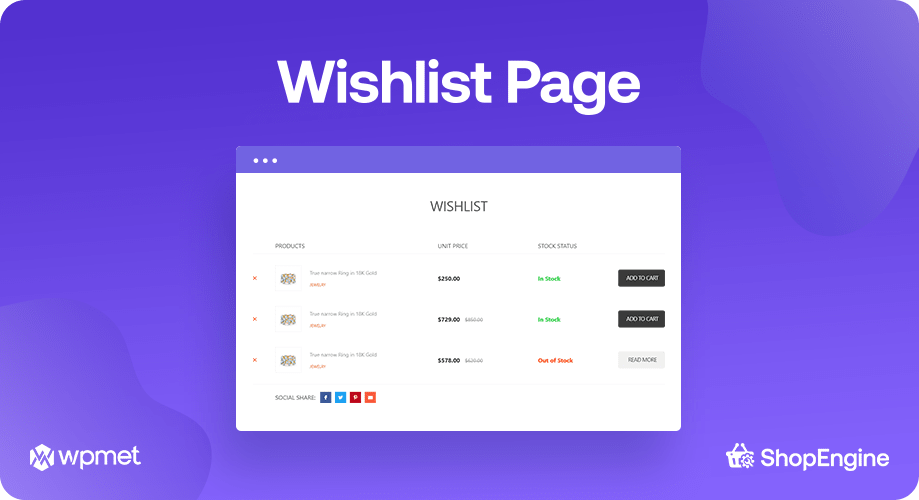 ShopEngine brings the wishlist options for WooCommerce page builders. With it, you can now add a wishlist segment to your eCommerce site within a small time.
Save Product List
Share Wishlist
Customize list for Purchase
Let customers save their favorite products to quickly and easily go through them whenever they prefer to purchase or depending on the availability. Draw attention to new customers by allowing users to share their wishlists with family and friends.
Quick View
Another super useful feature can be added to your website in just one click and that is the 'quick view' option, for an easy quick look at your product.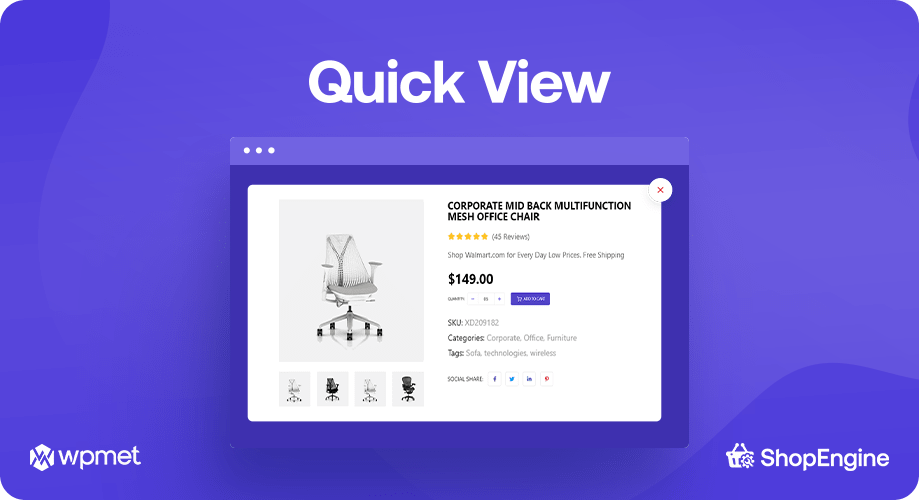 Quick View, often known as 'quick look', is a place where users interact with products through a pop-up. Luckily ShopEngine brings the option to next-generation eCommerce builders. E-commerce entrepreneurs claim they get better selling results with the quick product view options.
Pop-up view product
Add to cart
Checkout
Give your customers a better glimpse of the product to showcase the unique selling points. Let your customers discover the product features without leaving the main page.
Product Comparison
According to visiture.com, "72% of Millennials research and compare their options online before going to a store or the mall." ShopEngine brings the product comparison features for your WooCommerce site at its first release.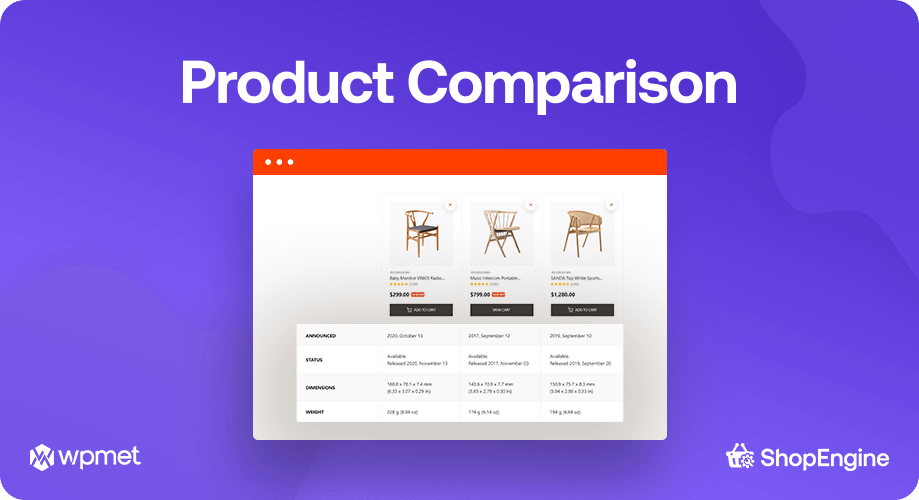 A/B product comparison can be added with ShopEngine. Now with the ShopEngine Product Compare widget, your customer can compare multiple products together.
Add products to compare list
Feature comparison table
Add chosen product to cart
Increase your chances to transcend by offering customers opportunities to compare various products. Providing enough information to customers allows them to make an informed decision guaranteeing customer satisfaction.
15+ Latest Pre Designed Templates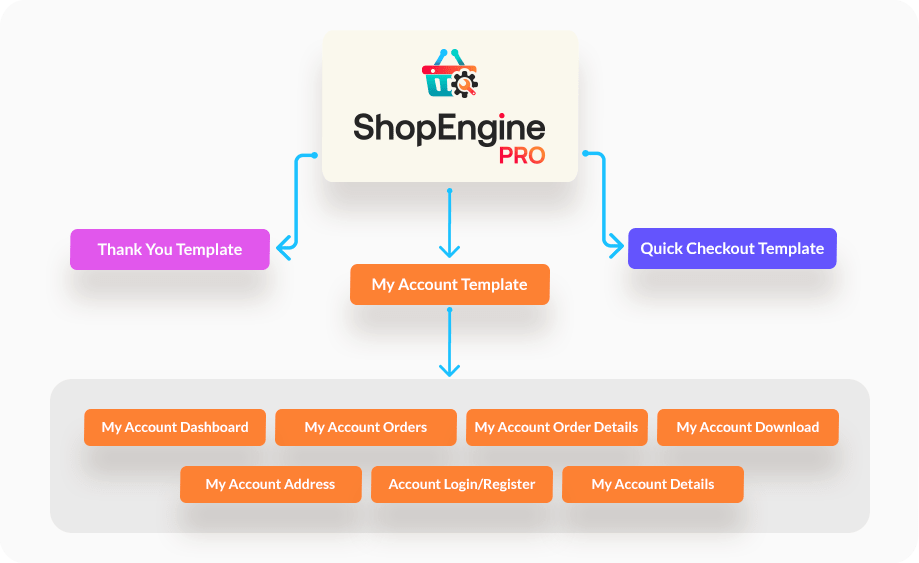 As we all are aware of the fact that, ShopEngine is your one-stop WooCommerce Builder for Elementor, in which you will get all types of WooCommerce template-making solutions.
And with ShopEngine's Pro version, you can access 10+ premium templates that will save your time and money. It will also help you make your website smarter and lighter.
Thank You Template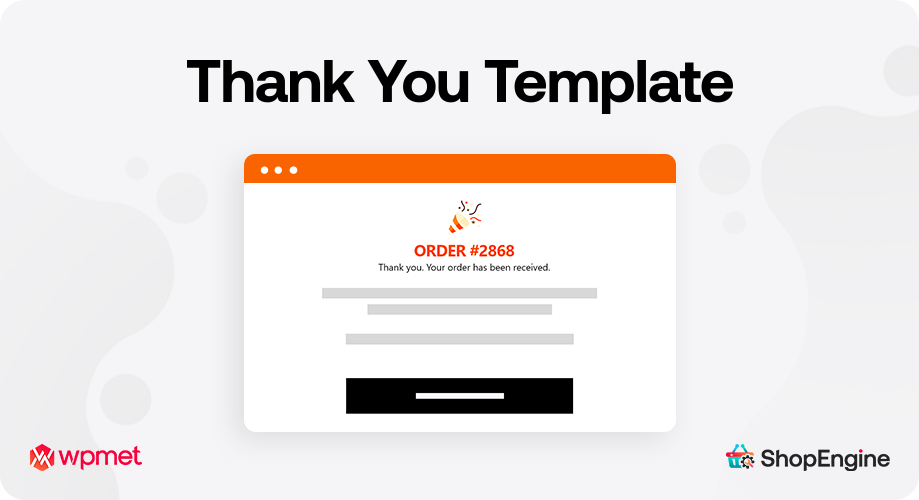 Adding up 'thank you' at the end of the purchase refers to showing gratitude towards your users. Which can be quite intuitive and respectful.
The good news is with ShopEngine Pro you can add a Thank You note in just one click.
Simply choose the template from the list and integrate. You can also have full control over the layout of that page. You can either use the default style or add more features. No more hassle of doing everything from scratch or adding individual plugins. Our well-designed thank you page is there to have your back!
Checkout Template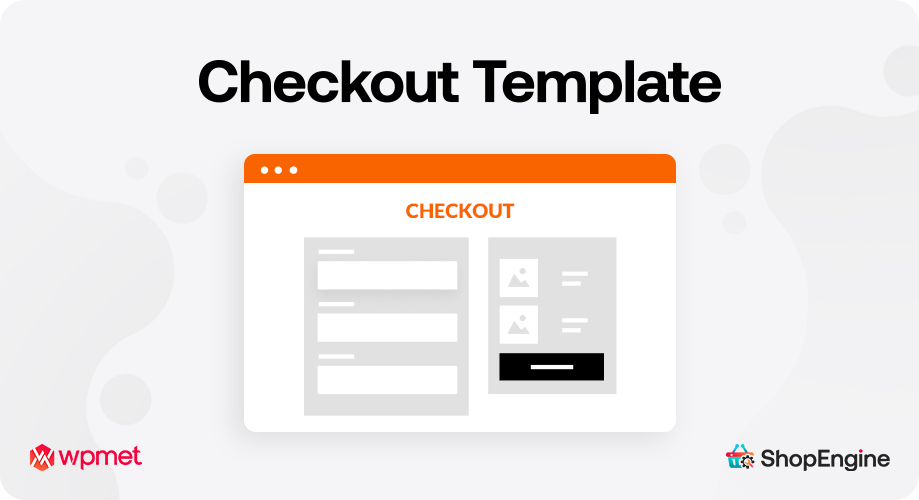 Creating a checkout can be nerve-racking at times, as it has to include some important account and delivery details. ShopEngine Pro has a pre-built checkout template, all you have to do is just click on the template and you're all good to go!
Use our ready checkout template and keep the page quick to load and easy to use. You can either directly use the ready form for the buyer's detail or customize the form according to just the way you prefer.
Add up the precise data about the order to let your customers know what they are ordering. In other words, ShopEngine's Checkout template makes it easy to give the best user experience.
My Account Templates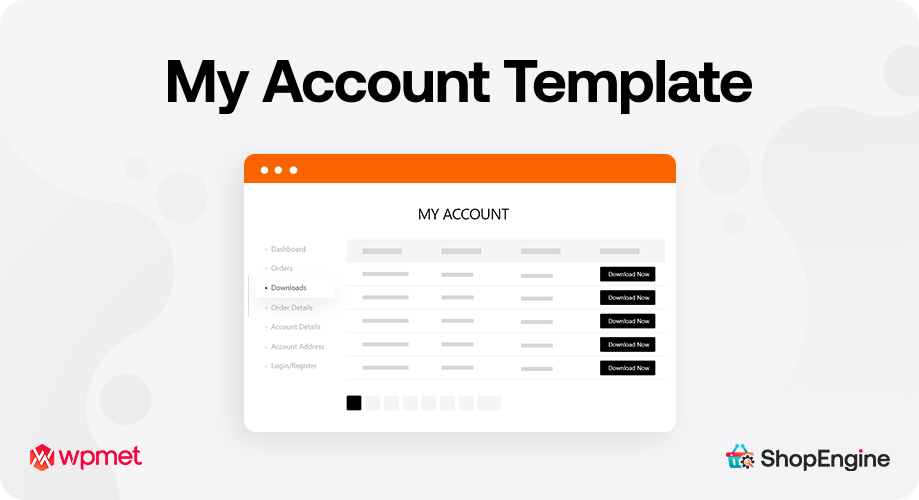 My account templates include all types of account-related layouts. To save your time and effort we have added a bundle of all My Account templates options, which includes:
My Account Dashboard
My Account Orders
My Account Order Details
My Account Download
My Account Address
My Account Login/Register
My Account Details
Use ShopEngine's user-friendly 'My Account' ready template pages instead of the WooCommerce default one. Our pre-built template for account details is helpful to give your visitors a good experience. Add new sections, forms, or anything else you want.
Just drag and drop new widgets from the ShopEngine's widget library. Allow your customers to know all the details regarding the account on one page.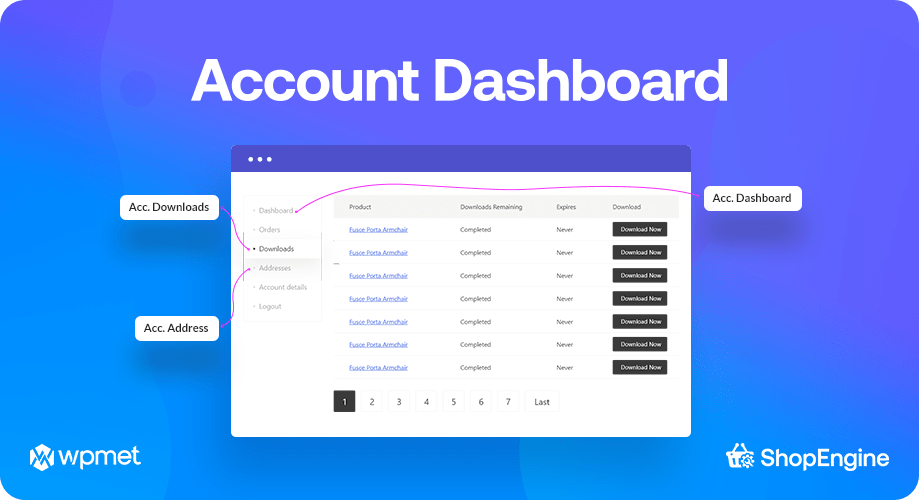 With ShopEngine PRO you can assess a vast range of pre-designed templates, in which you can create your eCommerce store with ease.
ShopEngine (Pro) Brings 60+ Fully Customizable Widgets that you never had before!
All of ShopEnginer's elements are divided into two categories: Basic & Pro Elements. The Basic 50+ Elements are included in the Free Version.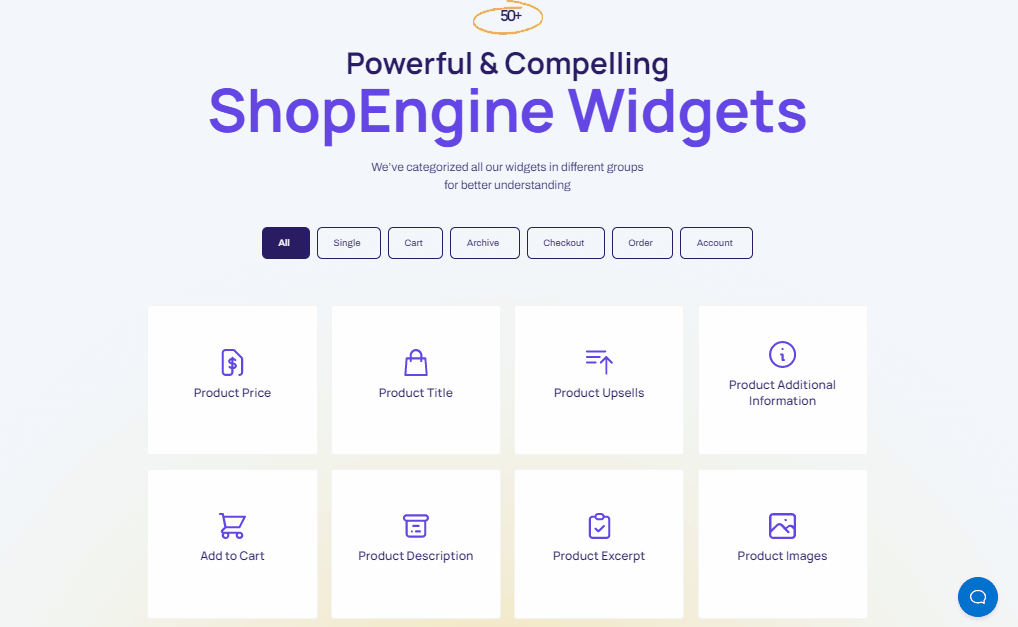 However, with ShopEngine Pro, you can access 60+ sophisticated elements for your WooCommerce store, which are enough to enhance the interactivity and functionality of your design.
Prior to the ShopEngine era, you don't need to code each of these elements or install separate plugins to use any of these functionalities.
All you have to do is just drag and drop the advanced and powerful elements on your site and Bingo! 🤩
Here is the list of all the ShopEngine PRO built-in templates, which will help you to make a better WordPress eCommerce website:
| Pro Templates | Pro Templates |
| --- | --- |
| Product Filters | Account Order Details |
| Account Dashboard | Account Orders |
| Account Address | Categories |
| Account Details | Thank You Address Details |
| Account Form Login | Order Confirm |
| Account Form – Register | Order Details |
| Account Logout | Order Thank You |
| Account Navigation | |
ShopEngine Pro Widgets
Just to make sure, our Pro and free widgets, modules, and features are more than enough to create the best WooCommerce store for Elementor.
Other Resources
For more assistance, please don't forget to go through our featured blogs for a better understanding of ShopEngine and its usability:
Final Words
All-in-all ShopEngine Pro offers a valuable package to help you build a better WordPress WooCommerce website. Currently, it offers the highest free widgets plugin among all the WooCommerce template builders.
And switching to the Pro subscription will give you wings to make the best out of your WooCommerce Elementor store.
However, we would be highly honored if you gave us any suggestions, recommendations, or ideas to make ShopEngine a bigger and better WooCommerce builder.
Do keep in mind that ShopEngine is constantly working on a more effortless WordPress WooCommerce template builder mission.
So, what are you waiting for?
🤔 What's next?
Please don't forget to visit our ShopEngine roadmap site if you want to keep yourself updated on what's coming next on ShopEngine.
Finally, if you wish to have a complete WordPress WooCommerce builder package, which has limitless templates and features, and also helps your website work faster, then ShopEngine is your ultimate destination.