ElementsKit's Latest Update is All You Need in Elementor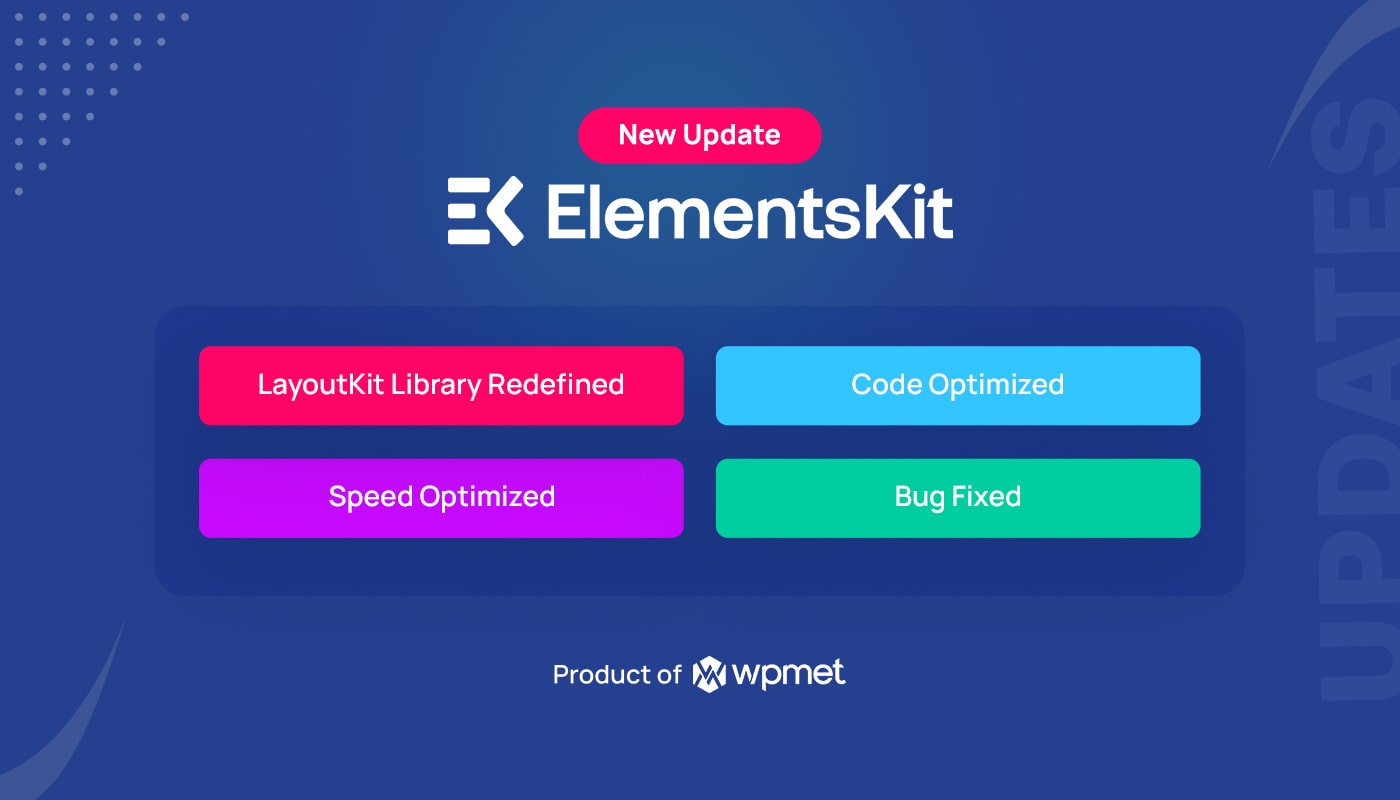 ElementsKit All in One Addon for Elementor has grown its popularity ever since it came into this WordPress market. We always have and will look into our users' demands and constantly work to make things easier, and better! 
ElementsKit was formed in mid-2019. In less than 2 years, we are successfully and dedicatedly helped over three hundred thousand people all around the world with their WordPress Elementor web development platform.
To improve our users' experience, we're here to announce our latest updates for the Pro version of ElementsKit.
We truly believe this new release is going to be an absolute turning point for you to improve WordPress website speed and performance.
Before getting there we would like to ask you a question! 🤔
What are the three important elements of a WordPress website?
You got it right, a well-built template or layout, website pages, and different sections as required isn't it?
If we tell you that ElementsKit for Elementor has all the necessary requirements and more, how would you feel about that? 😄
With ElementsKit you don't need to purchase another Elementor Add-on in your WordPress website. Especially, with our latest update, you can create an advanced, yet user-friendly website all by yourself.
Now, let's jump into our updates! 🦘
ElementsKit Updates
When it comes to increasing site performance, optimization is the most important factor to consider. We've always focused on empowering our users' satisfaction.
To use the LayoutKit of ElementsKit, please click on the ElementsKit button in the bottom section of your page. The section will look similar to the image below.

The following updates are only for the pro users, now the first change you'll see after clicking on this beautiful ElementsKit widget button on your Elementor editor page, you'll see that we have divided our 5 parts into 3 important elements: Templates, Pages & Sections that are required.
Furthermore, each part has better updates in a more subtle manner. We always try to make things more understandable and organized for our non-coder friends/users.
✨ Pre-Designed Pages
Now we have 35+ pre-designed WordPress, and Elementor web pages. You don't need to download other plugins to add pages to your website, we have covered almost all the categories as possible at your convenience.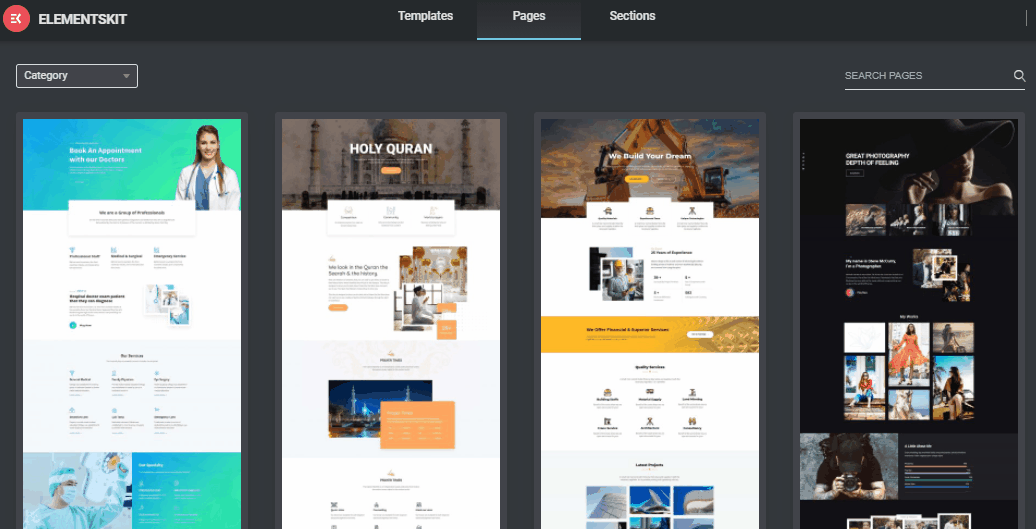 In order to make it more comfortable, you can select which category you would like to go from by clicking on the category tab up-left corner of the page.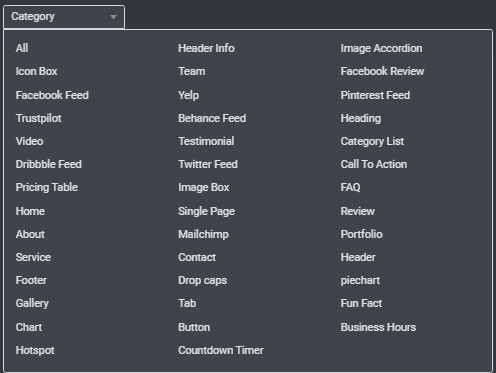 Just a quick reminder, ready pages are available for both free and pro users, however, the latest pages will only be available for the ElementsKit pro users.
✨ 500+ Ready Blocks or Sections
Now here in our ElementsKit section tab, we have combined all our header, footer, and widgets for WordPress Elementor all together, you can easily search them from our category in the top-left corner.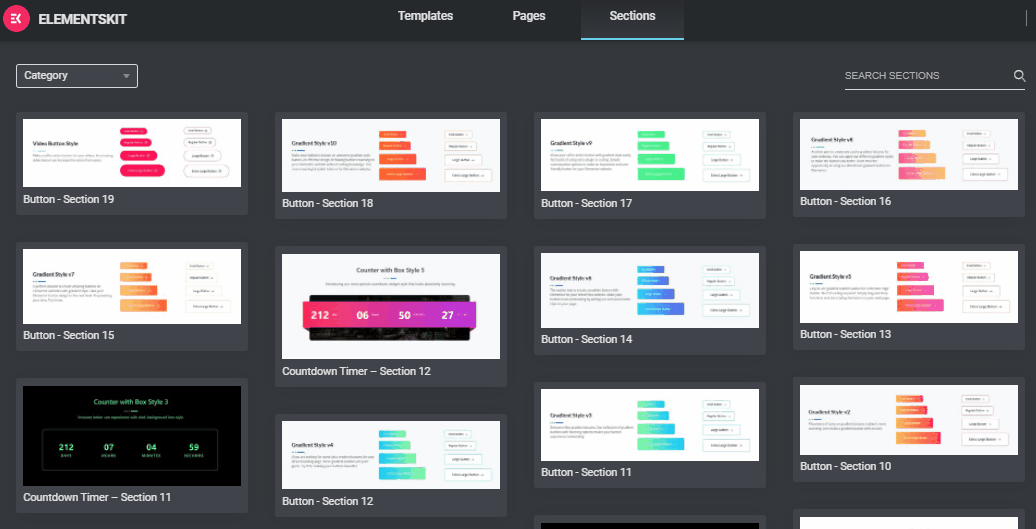 You will certainly find all types of header, footer blocks, charts section, and many more in this segment, all in one place.
✨ Pre-Built Template Kits
We have full build-it templates for our Pro users. If you want to create a website and you're a pro user of ElementsKit all you need to do is select any of the templates and yes you're all good to go.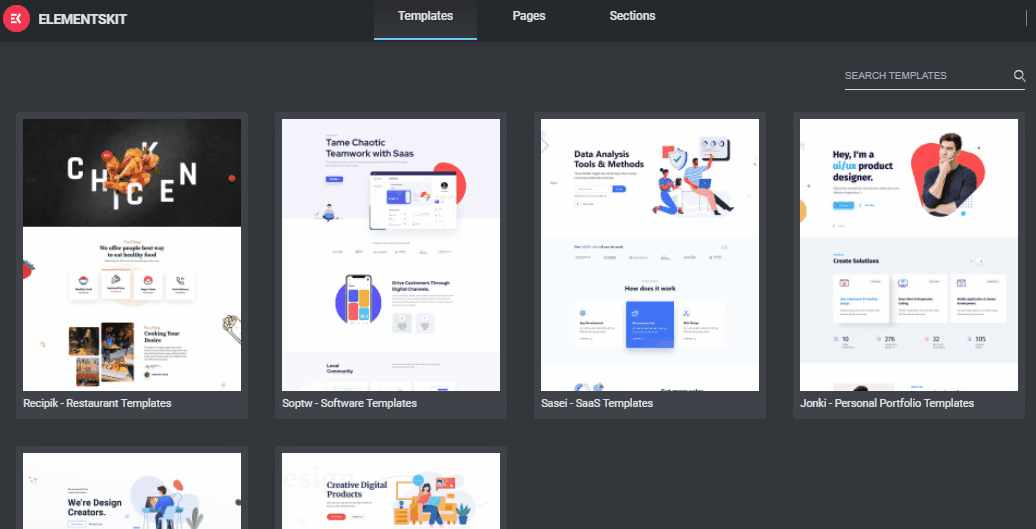 If you want to build your WordPress Elementor website in any of the categories, all you need to do is just click on the template, put your pieces of information and you're ready to fly! A lot more template kits will be released in our future updates.
Please don't forget to check out the latest video on the following ElementsKit updates 👇🏻

🤩 Other Plugins that will Make Your Life – Easier..!
Now that you have put together your new WordPress site, like a work of art, I hope you are not overlooking one of the most fundamental aspects of a website? That's right: Contact Forms 📝
MetForm is one of the easy-to-use contact form builders in WordPress. Its limitless features and state-of-art pre-built forms are powering over 100,000+ websites all around the world. The drag-and-drop interface form builder makes it really simple to create forms, even non-developers will be able to create contact forms in just one click.
It allows you to create simple yet professional contact forms without having to know any code. The design method is simple and intuitive; all you have to do is click or drag and drop the interface, input your data and your desired form is ready.
✨ Here are the key features of MetForm that will help you to create a better website:
30+ predefined forms, 25+ built-in added input fields. Also supports multiple column layouts.
With the MetForm plugin, you can integrate MailChimp, AWeber, MailPoet, Get Response, Convert Kit, and many other platforms.
Capable of sending a submission confirmation email to the user.
Messages, as well as helpful notifications, are copied into the WordPress admin panel. Alternatively, you can have them forwarded to your email address.
Other useful integrations include Zapier, Google Sheets, and Slack.
Export data entries through CSV file
Google reCAPTCHA will help you to protect your forms from spam.
To manage your contact database, it seamlessly interacts with a CRM on the WordPress dashboard.
There's a lovely AJAX drag-and-drop builder with a real-time preview.
Multi-step forms are supported, as they have been demonstrated to enhance conversions.
MetForm comes with 24/7 customer support, documentation, language translations, a FAQ page, and a variety of other resources as standard. Even if you are using the free version or the premium our support system will be there to assist you.
ShopEngine is here to give you the easiest, fastest, and effortless WooCommerce site-building experience that you have ever imagined. Even non-developers can build a visually stunning website all by themselves 😎
With ShopEngine, you will get a full package of 62+ Fully Customizable Widgets, 12+ Useful Modules, 15+ pre-designed templates, and many more with helpful community support.
Even the free version of ShopEngine has quite competitive and intuitive WooCommerce features that will assist you to create a better e-commerce website. ShopEngine is capable of developing a professional, yet easy-to-use website design, which will help you to get more leads and conversions.
Now let's go through the Free and Pro versions of the ShopEngine all-in-one WooCommerce builder to help you decide which one is appropriate for you.
✨ ShopEngine Free and Pro features at a glance:
| Overview | Free | Pro |
| --- | --- | --- |
| Widgets | 40+ | 65+ |
| Modules | 4+ | 13+ |
| Templates | 5+ | 15+ |
ShopEngine Free & Pro
Apart from the core features and modules, a few things that you need to bear in mind are that ShopEngine is professionally coded and regularly updatable with 24/7 technical support.
Here are the core reasons why ShopEngine PRO is for you:
You are in need of a WooCommerce plugin that will assist you to create the best eCommerce Store.
If you wish to make your website lighter then ShopEngine is for you. As it has all the elements that are sufficient for an eCommerce store.
If you value money and time then ShopEngine is for you.
All-in-all ShopEngine offers a valuable package to help you build a better WordPress WooCommerce website. Currently, it offers the highest free widgets plugin among all the WooCommerce template builders.
If you wish to have a complete WordPress WooCommerce builder package, which has limitless templates and features and also helps your website work faster, then ShopEngine is your ultimate destination.
Wp Social helps you to add social login, social counter, and social share buttons of different styles to your WordPress website 🙌🏼
You don't need to download multiple plugins for social login, social counter, and social share to keep your website paced with social media.
When it comes to leveraging WordPress social media plugins, WpSocial should be on top of your preference list. The plugin is loaded with handy features that can scale up your site traffic substantially. You can do social media integration with ease.
Whether you want to add social share, social login, or social counter, you can get all the 3 features in WP social. So, why install 3 different plugins when you are getting them in 1?
Visitors can log into your site using their social accounts and share your content on a variety of platforms.
✨ Here are the key features of WpSocial that will help you to create a better website:
GDPR Compliant: Enables GDPR compliance before collecting user data to keep them protected.
Up to Date API: The application programming interface of the plugin is designed with the latest software development kit.
Enable/Disable Features: This is a magnificent feature you can get in WP social as you can enable features as per your need and disable features that you aren't leveraging to prevent slowing down your site.
Access to Tons of Social Channels: The plugin offers you to display 14+ social sharing networks, 8+ social counter networks, and 8+ social login networks.
Smooth Registration and Social Login: This provides you a hassle-free one-click registration and social login via Woocommerce, Buddypress, Facebook, LinkedIn, Twitter, etc.
You can view both the total shares and individual shares on various social media platforms. You can even display the total number of fans, followers, and subscribers of your social channels with this cost-effective social media plugin.
Why do you need to update your plugins?
First of all, if you switch to ElementsKit Pro you will get full access to all our widgets, layouts, and modules, which will help you to make a website even if you're not a coder. 
Installing ElementsKit Pro will also save a lot of your money too because it has all the features and modules which are sufficient to create an advanced website, yet lighter!
Maintaining a plugin that is always up to date decreases the danger of your site being hacked. The reason for this is that updates perform the following:
1. Increase security
2. Fix bugs
3. High Performance
4. Add feature
5. Enhance the functionality
ElementsKit Update Results
What makes ElementsKit 'all-in-one' Add-on for Elementor
One of the main reasons of ElementsKit is so successful is its features are updated regularly from time to time. With ElementsKit you will get a full package of website building resources.
Optimized Server Load: ElementsKit provides you with the ability to assist with the most critical components of server load balancing.
This update will reduce loading times, increase the buffer size, increase available cache space, and clear up the database's junk.
Speed-Up Your Site Performance: Page size, page loading time, website loading time, and additional data points such as traffic, traffic volume, user activity, and so on may be included in this data.
You'll obtain more conversions in online marketplaces and improve user experience by speeding up your site's performance.
SEO Friendly: One of the most crucial components of SEO for your business and websites is search engine optimization. Continue to engage your readers by increasing the speed of your website to an acceptable level; you will gain a big ranking benefit.
🧐 Quick Info
According to experts, consumers only stay on your site for a short period of time and pay attention to it, and page speed is directly tied to SEO rankings.
So, in order to minimize increased traffic and improve page speed, we focused on improving the site's speed and performance. This gives you a better chance to improve the efficiency and quality of your website.
Minify Code, Faster & Better: Every line of code you add increases the load time, but the impact on performance is minimal for well-built and tiny plugins.
Taking these factors into account, we concentrated on reducing the number of unnecessary CSS and JS calls, file size, and concatenated files, which combine numerous files into a single file.
Here are the things ElementsKit has, which will make your site lighter and better to use:
– We have used HTML/CSS instead of JS like image-accordion etc
– Used cached JS code (By function) instead of repeated code
– Instead of using raw scroll functionality, we have used the Elementor waypoint function.
Besides that, we have used lots of third-party JS Plugins. But right now we are using Elementor-supported JS Plugins are: 
1. Slick JS
2. Magnific JS
3. Masonry
4. Date picker and so on.
Final Thoughts
We are really appreciative of all of your help and encouragement. You can now download both the updated Lite and Pro versions from this page. Simply install the plugins to have access to new features and capabilities.
Don't forget to share your ideas about the newest updates or feature requests in the comment section below. We will gladly review it!
If you liked this article, you will surely find some more helpful tips and blogs by joining our WPmet community on Facebook/Twitter. Please don't forget to subscribe to our channel on YouTube for useful tutorials.