How to Customize the WooCommerce Product Page Without Coding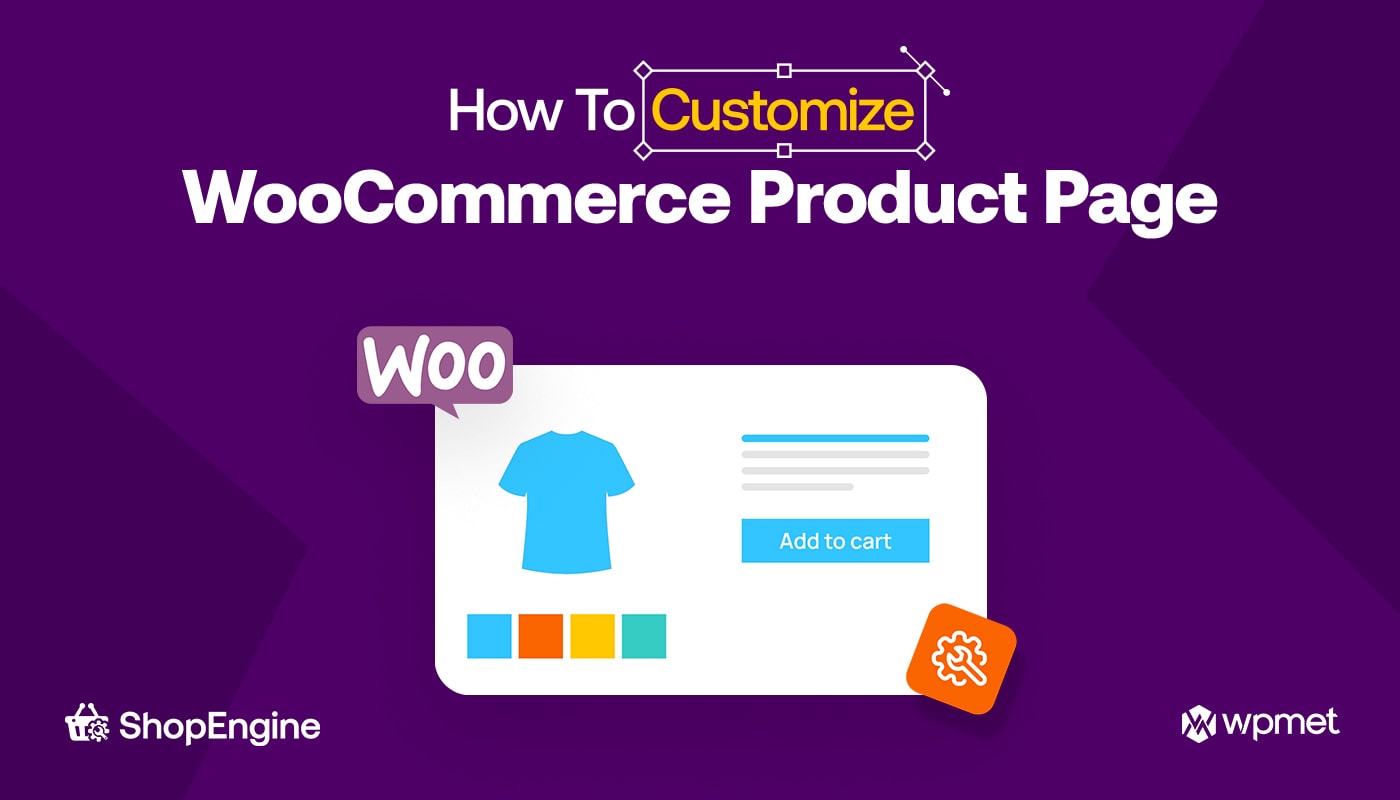 Are you using WooCommerce to design your online store? Then you should know that over 3 million websites are doing it too.
So does this mean that they all look the same?
Well, if your site has the default WooCommerce templates then yes. Your online shop will look like thousands of other stores.
Your unique product deserves a unique WooCommerce product page. Luckily, this does not require any complex code or process. You can perform simple tweaks to improve your page design to complement your product.
In this article, I'm going to explain how to customize a WooCommerce Product Page even if you have no coding knowledge.

Are you here to hear? If yes, read this post till the end.
What Do You Need to Customize the WooCommerce Product Page?
You must be wondering about what you need to customize a WooCommerce single product page for online business. Well, the process I'm going to show will not need you to buy dozens of paid plugins or extensions. Apart from having WooCommerce installed and activated, you'll need to activate the following two plugins on your WordPress website:
Both of the plugins work smoothly with the WooCommerce plugin and help you start designing your single product pages for all new products and old ones.
Customize a WooCommerce Product Pages Step-by-step
There is no end to customization and tweaks for a default product page. Different kinds of products need different types of customizations.

However, in this step-by-step guide, I'm going to explain the key customizations you can make to your WooCommerce product page so that you get more sales from all product pages. Let's get started.
Install Elementor and ShopEngine
As we're going to customize the default WooCommerce product page with Elementor and ShopEngine, the first step is to install the plugins from WordPress. Here's how to install Elementor and ShopEngine from your admin dashboard.
Elementor Installation Process
ShopEngine Installation Process
1. Go to your WordPress Dashboard. Click on Plugins ➜ Add New
2. In the search box, enter Elementor, and choose the Elementor Website Builder plugin to install.
3. After installation, click on Activate.
1. Go to your WordPress Dashboard. Click on Plugins ➜ Add New
2. In the search box, enter ShopEngine, and choose the ShopEngine plugin to install.
3. After installation, click on Activate.
Elementor and ShopEngine Installation Process
Create a Woocommerce Single Product Page Template
Go to ShopEngine ➜ Templates➜ Add New
Give the template a Name
Choose type: Single
Set the template as default (Yes)
Click on Edit with Elementor
Select a Structure
Choose your preferred structure from Elementor to start making a single product page of your WooCommerce store.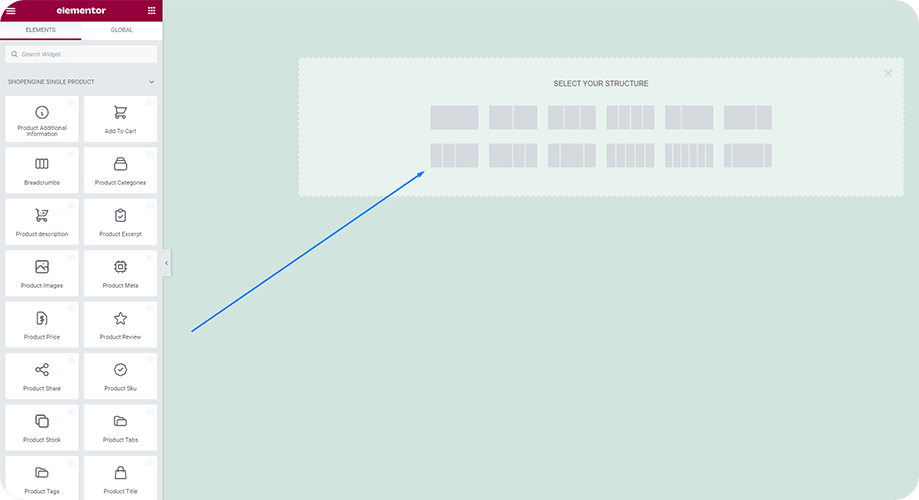 Customize Product Price
Search for the 'Product Price' widget on Elementor. Drag and drop the product price widget from the 'ShopEngine Single Product' block to make a custom product page.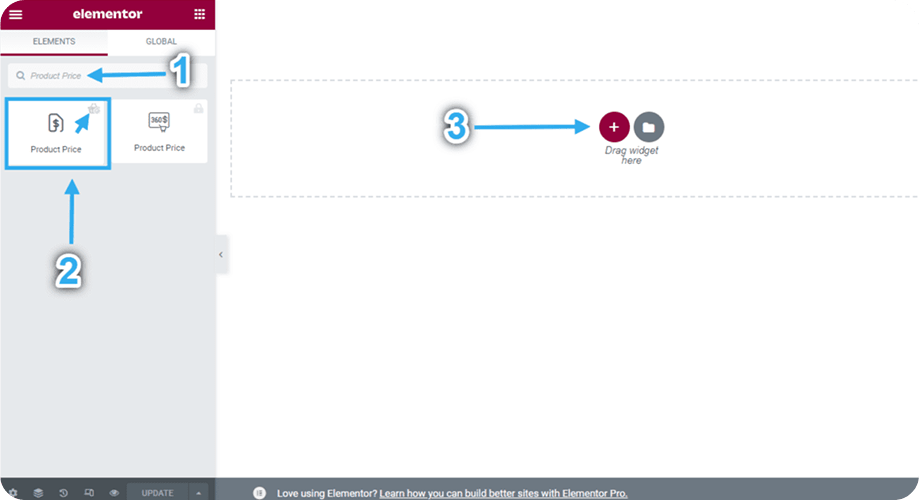 This price block widget will help you to:
Set the product price alignment to left, center, and right
Change the primary, secondary, text, accent color
Use the color picker option to design the product tag with your favorite color
Change the typography family, typography size and weight, decoration, line height, letter spacing, and other typography-related settings.
Customize WooCommerce Product Title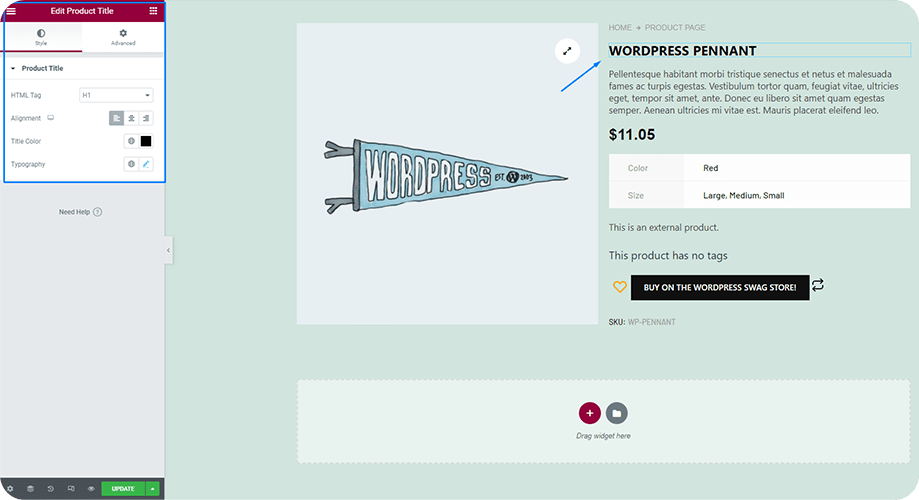 Search for the 'Product Title' widget on Elementor. Drag and drop the product title widget from the 'ShopEngine Single Product' block to make your product page.
From the style settings of the product title block, you can make the following customizations:
Set your product title HTML tag from H1 to H6.
Set product title alignment to right, left, or center.
Change the product title color
Set all aspects of typography
Add Breadcrumbs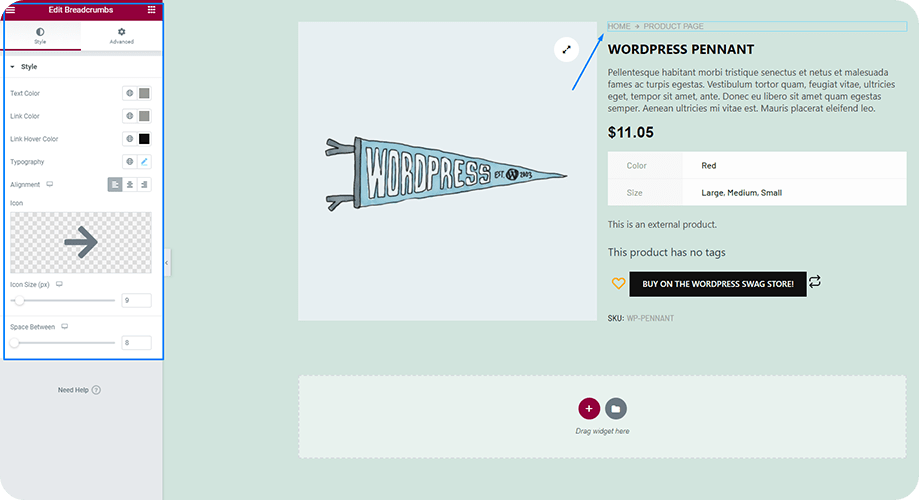 A breadcrumb will let the shoppers know where they are on your website. It is a wise decision to add a breadcrumb to your product page. Here's how to add breadcrumbs:
Search for the 'Breadcrumbs' widget on Elementor. Drag and drop the breadcrumbs widget from the 'ShopEngine Single Product' block to the Elementor content area.
From the style settings tab, you can:
Set text color, link color, link hover color of the breadcrumbs
Choose typography, alignment, icon, icon size, and space between values.
Customize Product Additional Information
A short description might be inadequate for your product. And when a short description is not enough, the additional product information will increase the likelihood of more sales.
Search for the 'Product Additional Information' widget on Elementor. Drag and drop the widget from the 'ShopEngine Single Product' block to the content area.
Here is a list of what you can control leveraging the widget:
Change the alignment, color, typography, and margin of the title
Change the color, typography, background, and width of the label
Change the color, background, and typography of the value
Reset the table alignment and padding
Set your preferred typography family
Leverage Product Upsells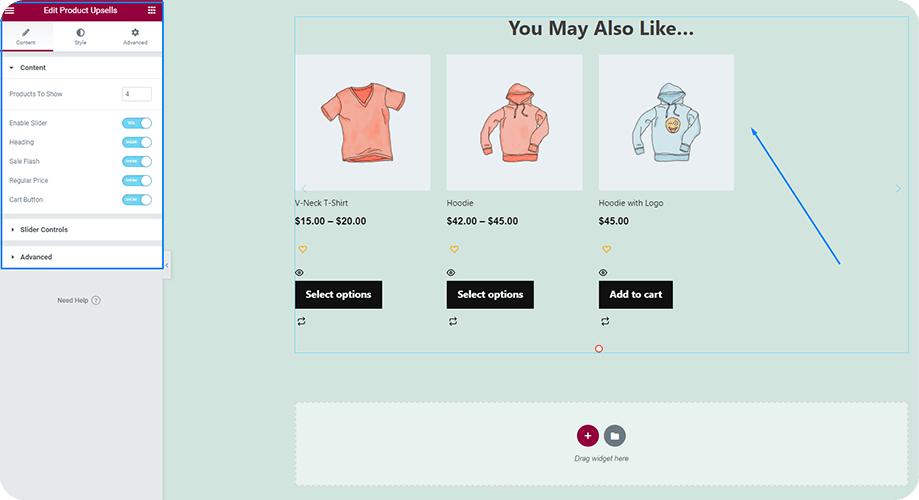 Product Upsells widget will help you to suggest more products to your buyers. Upsell products will inspire your buyers to buy more products from your shop and thus contribute to increased profit.
Search for the 'Product Upsells' widget on Elementor. Drag and drop the widget from the 'ShopEngine Single Product' block.
From the content and style tab, you can:
Set the number of the product image to show
Enable/disable slider, loop, and autoplay
Show/hide the heading, sale flash, regular price, arrows, dots, and cart button
Set slider columns, speed, and arrow size
Define the dots size or active dots size
Set order by option
Set column gap
Change background color, text alignment, etc.
Customize Product Rating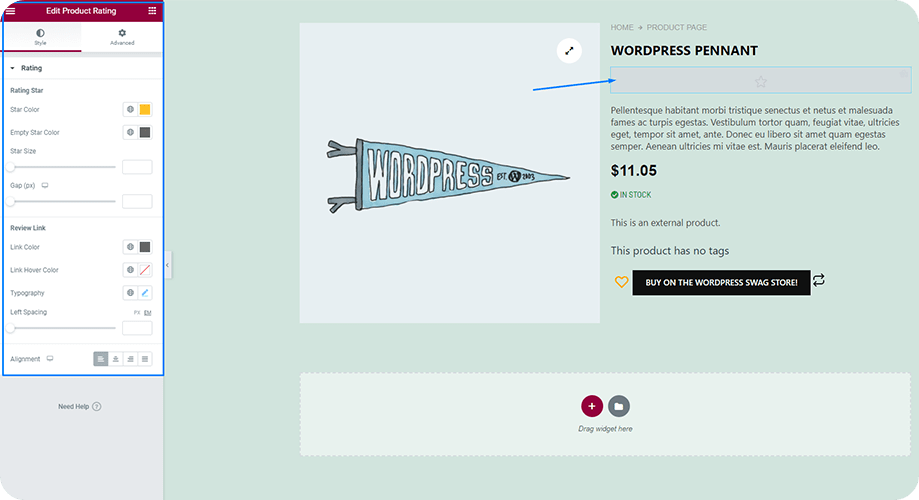 Showing product ratings on your product pages will help your visitors find the best products based on the user ratings.
Leverage the Show Product Rating widget from ShopEngine and make any of the following changes:
Choose rating star color and empty star color
Set the star size and gap
Review the link color, link hover color, and typography
Define the left spacing and alignment
Customize Product Meta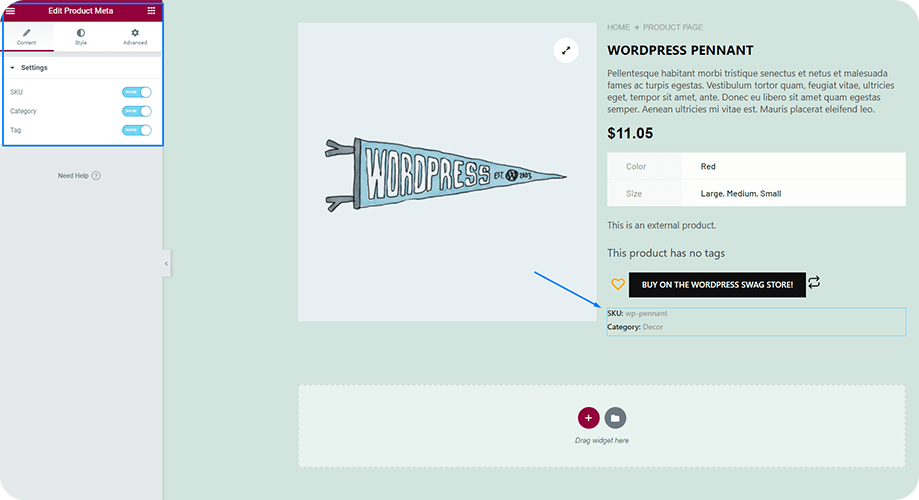 Just drag and drop the product meta widget to the Elementor content area to start customizing your product meta settings.
Using the product meta widget, you can show or hide product SKU, category, and tags. On top of that, you can also change the layout, alignment, padding, typography, link hover color, and content color within minutes.
Update Product Description Styles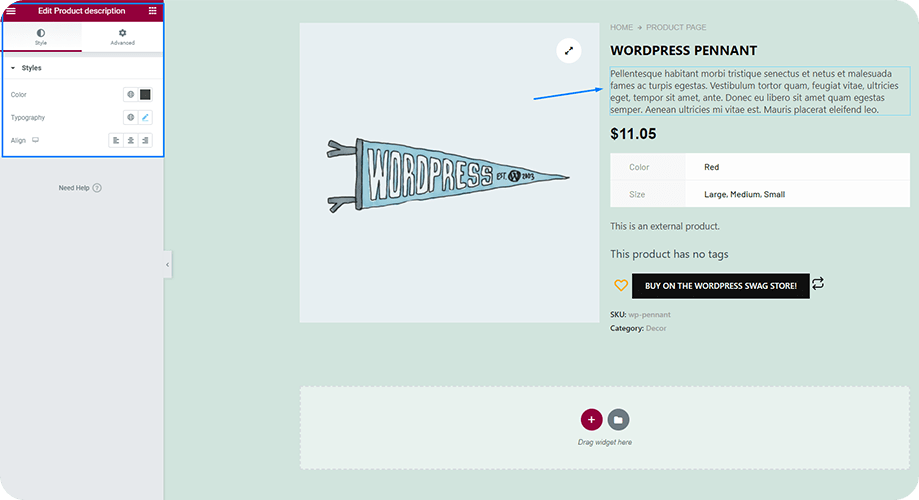 Drag and drop the product description widget of ShopEngine and bring any changes you like to the color, typography, and alignment of the description.
Customize Add to Cart Button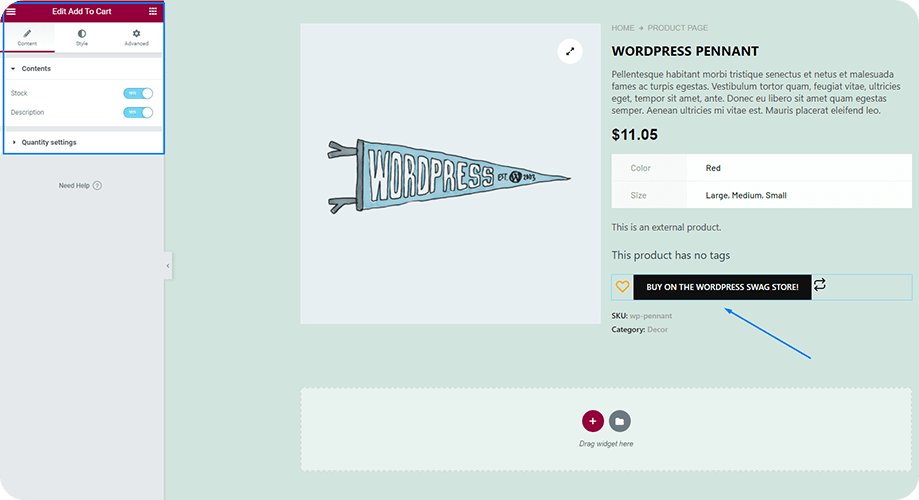 Make sure that your product pages have an excellent add-to-cart button. This will surely increase the conversion to a great extent.
With the add to cart widget from ShopEngine on Elementor, you can change the quantity icons, button positions, etc.
Moreover, you can execute A/B tests with the style settings to find out what works best for you.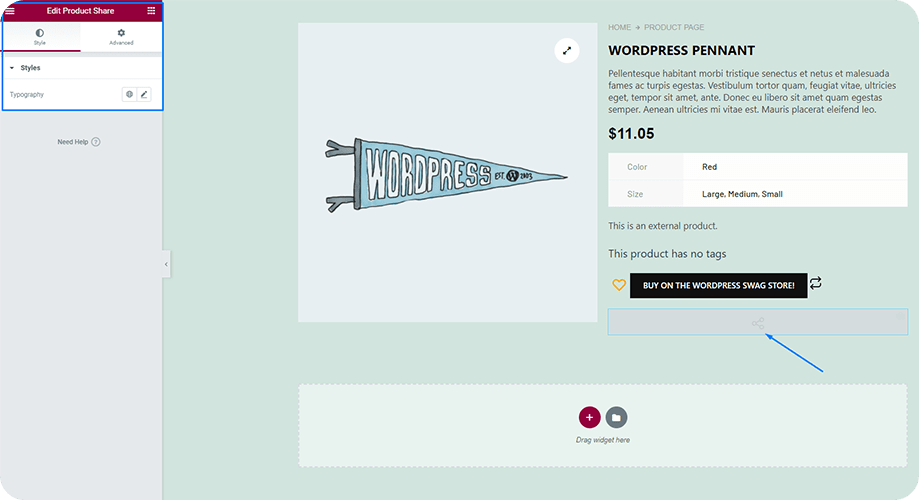 Adding product sharing buttons on your WooCommerce product pages is a great idea you can implement right now. When the shoppers will share the product data with their near and dear ones, you're going to have more sales from new users without any paid advertising.
Leverage the product share widget from ShopEngine to add a customizable product share option to your product pages. However, you have to use a social sharing plugin like WP Social to enjoy this option.
Customize the Product Review Widget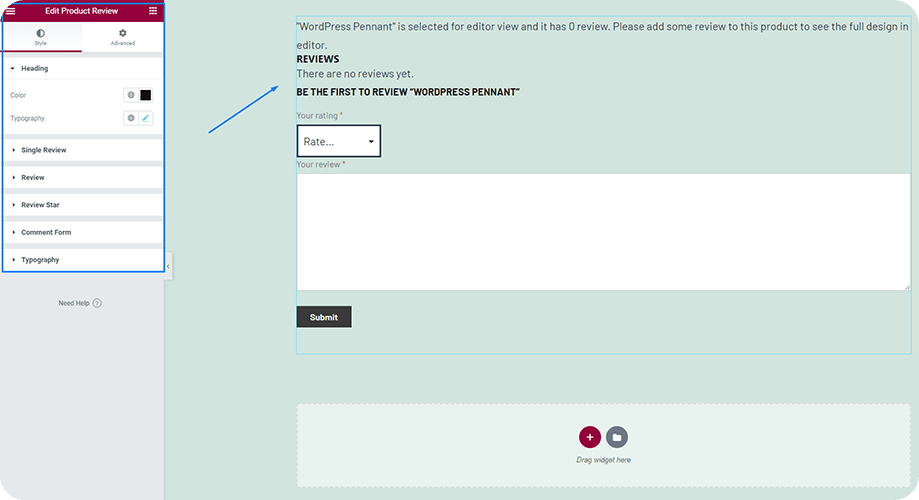 Place the product review widget at the right place of your product page so that the product users can leave their ratings and reviews. It also promotes your brand perfectly.
Using the ShopEngine 'Product Review' widget from Elementor block, you can make the following changes to the product review section:
Change the color and typography of the product review heading
Set the single review border type, width, color, and padding
Set author avatar width, author name color, and typography, review date color, and typography
Review content color along with the typography
Change the default star color and empty star color
Customize the comment form
Choose your preferred font size and font family, etc.
Customize Product Stock Status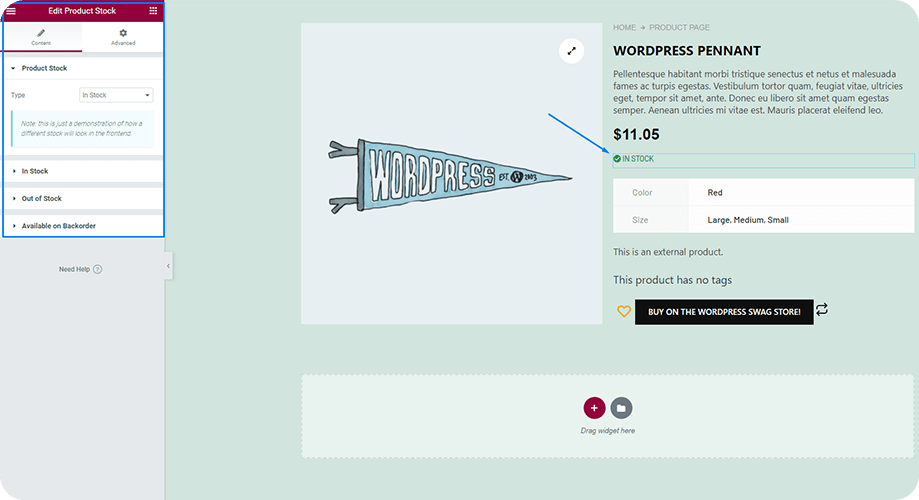 With ShopEngine's "Product Stock" widget, you can customize the in-stock or existing product text and icon along with the color, typography, and alignment of your WooCommerce product pages.
On top of that you are at full liberty to set the icon, alignment, color, and typography for 'out of stock' and 'available on backorder status.
Add and Customize Product Tabs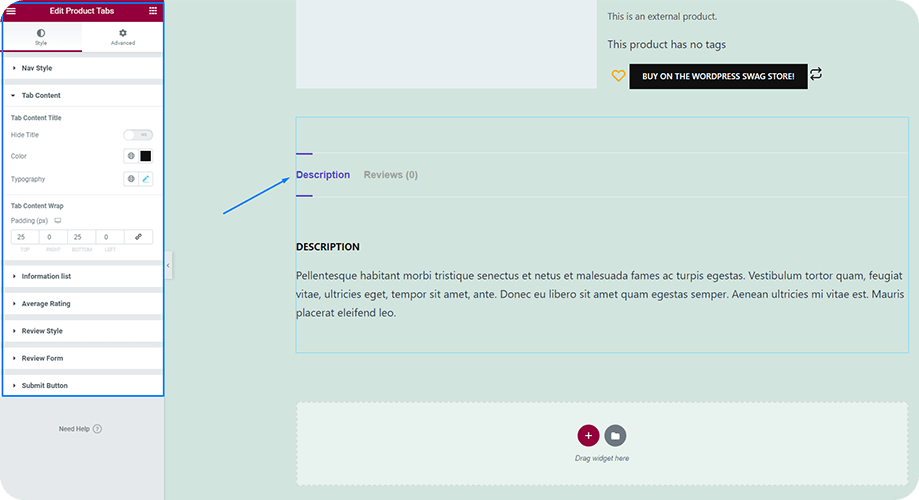 Adding product tabs allows you to let your customers give more information regarding the products you are selling on your WooCommerce store. With ShopEngine, you can add custom tabs and customize them to suit your needs.
Just drag and drop the 'Product Tabs' widget from the ShopEngine Single Product block on Elementor and you are ready to go.

You can control the following aspects of your product tabs with the widget:
Navigation Style: Typography, menu color, active menu color, nav indicator color and border, menu spacing, box-shadow, border type, line width, color, and padding.
Tab Content: Show or hide tab content title, change the tab content title color and typography, set tab content wrap padding.
Information List: Customize the attribute color, value color, and table data typography.
Average Rating: Experiment with the rating title, rating total, and rating count typography and color.
Review Style: Customize the rating color, empty rating color, date, authority and description color, date typography, and description typography.
Review Form: Change the form label color, label typography, input border color, input focus border color, input typography, message color, and required color.
Submit Button: Set the padding, border radius, button typography, box-shadow, color, and background.
Show Related Products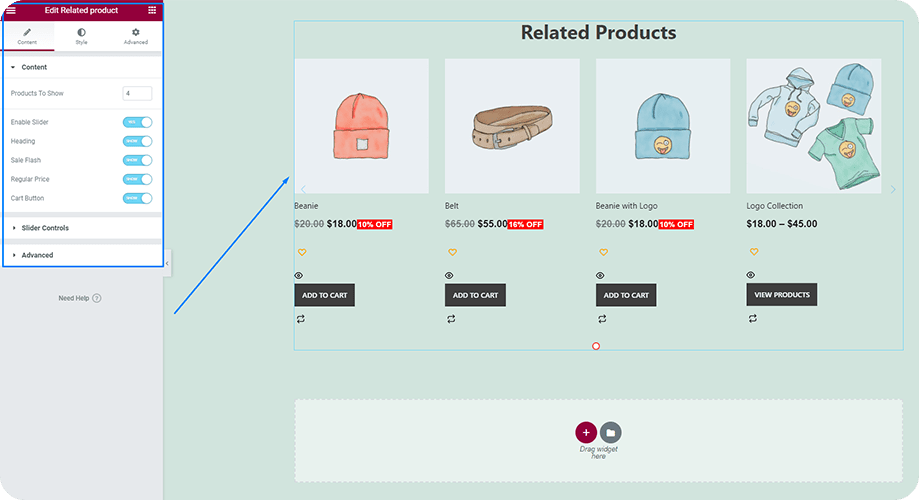 Showing Related Products for your customers to buy is an amazing idea you can implement on your eCommerce website. ShopEngine 'Related Product' widget for WooCommerce product page will help you show related products with the following settings:
Set the number of products to show
Enable/disable slider
Show/hide heading, sale flash, regular price, and cart button.
Set number of slider columns
Change background-color
Set slider speed, etc.
Preview Settings or Changes on Responsive Mode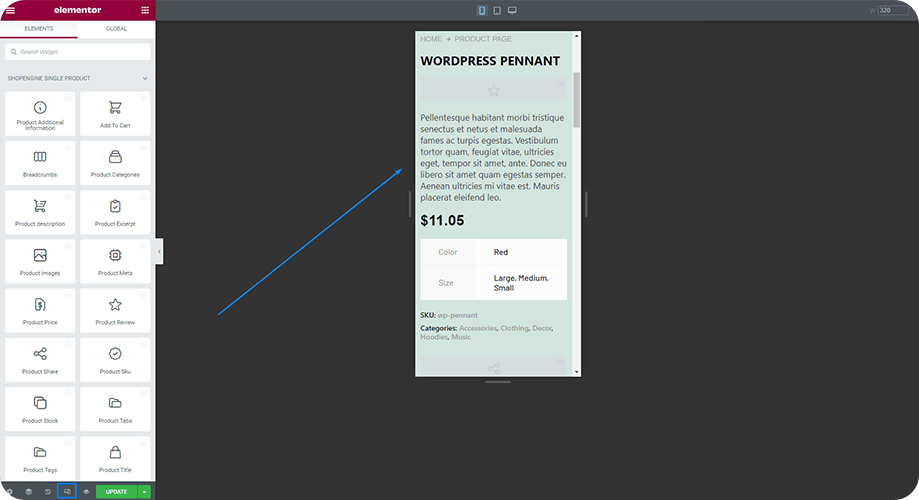 As most of the customers nowadays use mobile devices to buy from online stores, make sure the product pages of your shop work seamlessly for mobile and tablet viewers.
Leverage the button labeled responsive mode of the Elementor to see how the changes of your full-width product page look on mobile and desktop devices.
If you find that there are some inconsistencies or issues for mobile and tablet views, fix those up for mobile viewing.
When you are done adding the required widgets for your WooCommerce product pages and previewing the product page layout for devices, click on the 'update' button of Elementor.
Bingo! Your WooCommerce product pages are now mobile optimized and ready to go live.
Bonus: 5 Ways to Optimize the Product Page to Increase the Conversion Rate
To get a good conversion rate, it is important to optimize your product page. Below are 5 ways you can follow to maximize the conversion rate and revenue out of your online store.
Maintain Information Hierarchy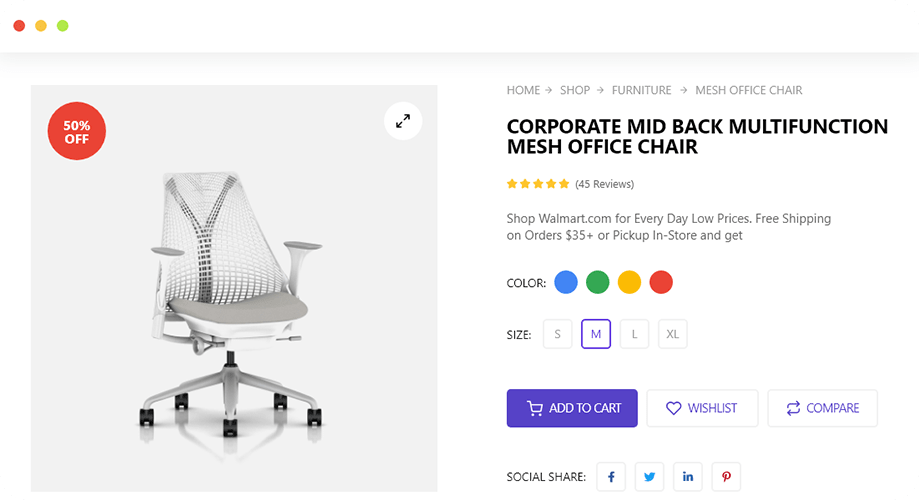 Make sure that you design the WooCommerce single product page maintaining the information hierarchy.
For example, it is a common practice to keep the breadcrumbs atop all the information. The breadcrumbs are usually followed by the product title and other product-related information like a review or description. In most of the online stores, you'll see the images on the left of the page with an icon to see the enlarged view.
Also, make sure that the information you are providing on the new WooCommerce product page is giving the shoppers a complete idea about the product you are offering to sell.
Use High-Quality Images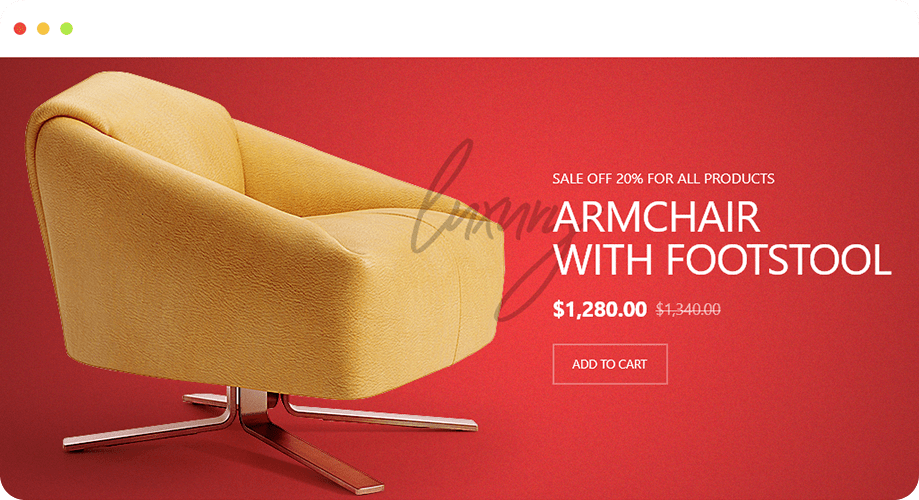 Only having a good product can't bring more money to your pocket unless you present them smartly to your customers. A product image is an excellent way to showcase your products to the target audience both inside the product page and shop page.
However, If your pictures are mediocre, obscure, or with a wrong angle, you can't expect much out of them.

When you post the product images, make sure that they are clear, product-focused, and captured from the right angle.
Adding contextual product images can show your products in the appropriate environments. For example, capture the picture of kitchen appliances in the kitchen to show your customers how perfectly the appliances will suit their kitchen.
Hire a professional photographer to capture the detailed product image for the product gallery. In the case of a physical product, it is best to capture the same product from all angles. It will help the customers see the product parts more clearly. On top of that, it makes the customers feel confident about making the purchase.
Last but not least, I recommend using high-resolution product gallery images. Though images can slow down your WooCommerce product page a little bit, you can minimize the effect with any free plugin for image optimization like Smush.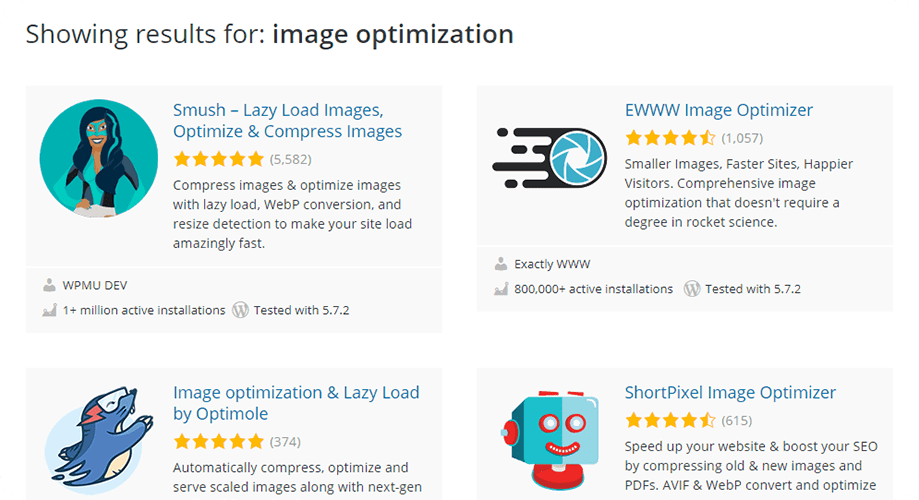 Write a Killer Product Description
A convincing and appropriate product details or description plays an important role in online sales. Make sure that the product description mentions the key product information. By the way, that's not enough. The information should also be easy to read and to the point. You can use bullet-point format to display the information one by one.
Remember, you don't need to be formal all the way. If it suits the product category, you can use a funny, approachable, and delightfully off-beat voice.
Here's an appealing description of Breakfast Hot Dog Bundle from Picky Bars: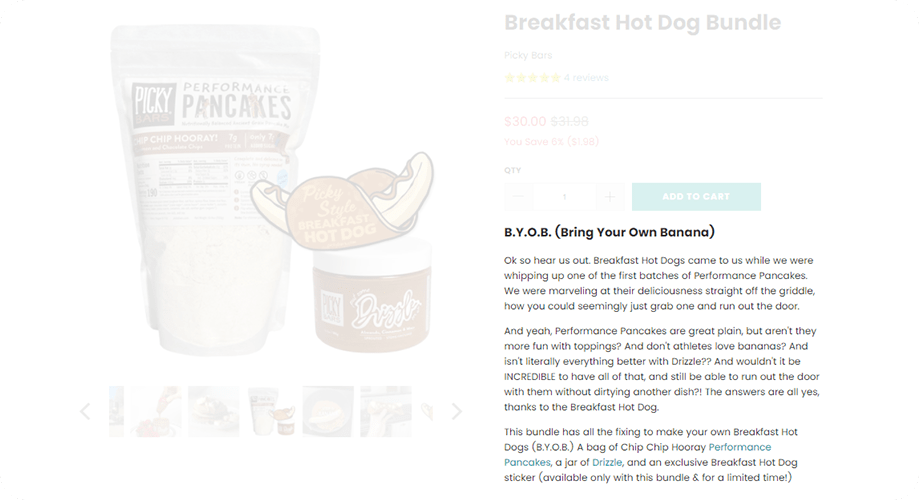 The final suggestion, while you write a product description, note various usage options of the products. It will help the potential customers know whether the product will fulfill their needs or they need something else.
Place Pricing the Right Way
No matter what types of products you are selling, price is always a big factor for your customers. The pricing and how you place it on your custom WooCommerce product page affect their buying decision.
To make your pricing easily visible, you can use a large font. Making the pricing text bold or using a contrasting color might also work well for you.
Highlight discounts along with showing the regular price followed by the new one.
Here's an example on how Picky Bars have done it:
If your customers can't see the price clearly, you should rethink your design customization.
Optimize the WooCommerce Product Page with On-page SEO
To gain more organic traffic to your WooCommerce product pages, it is important to use on-page SEO techniques. Use the right title tags, meta description, alt tag for product image, keywords, description, and other on-page SEO factors to gain more customers and thus more conversion rate.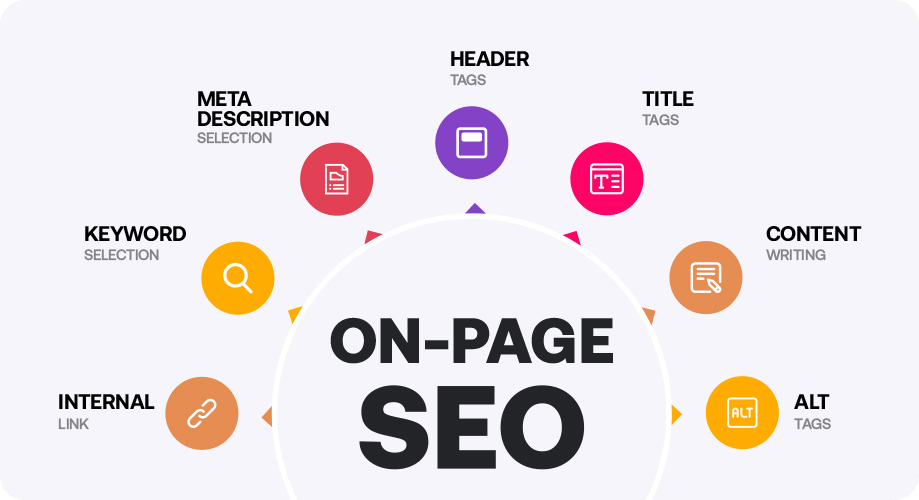 Final Words
No matter how you customize the product page of your online store, make sure that the changes you make are user-friendly and intuitive. While you customize the product page layout, make sure that you follow consistency, relevance, and context.
Customizing your WooCommerce single product page might seem to be a daunting task at the beginning. However, if you have Elementor page builder and ShopEngine, you should stay free of stress.
That's all for now. If you have any questions or confusion, feel free to let us know via the comment box.