How to Create Tables in WordPress with TablePress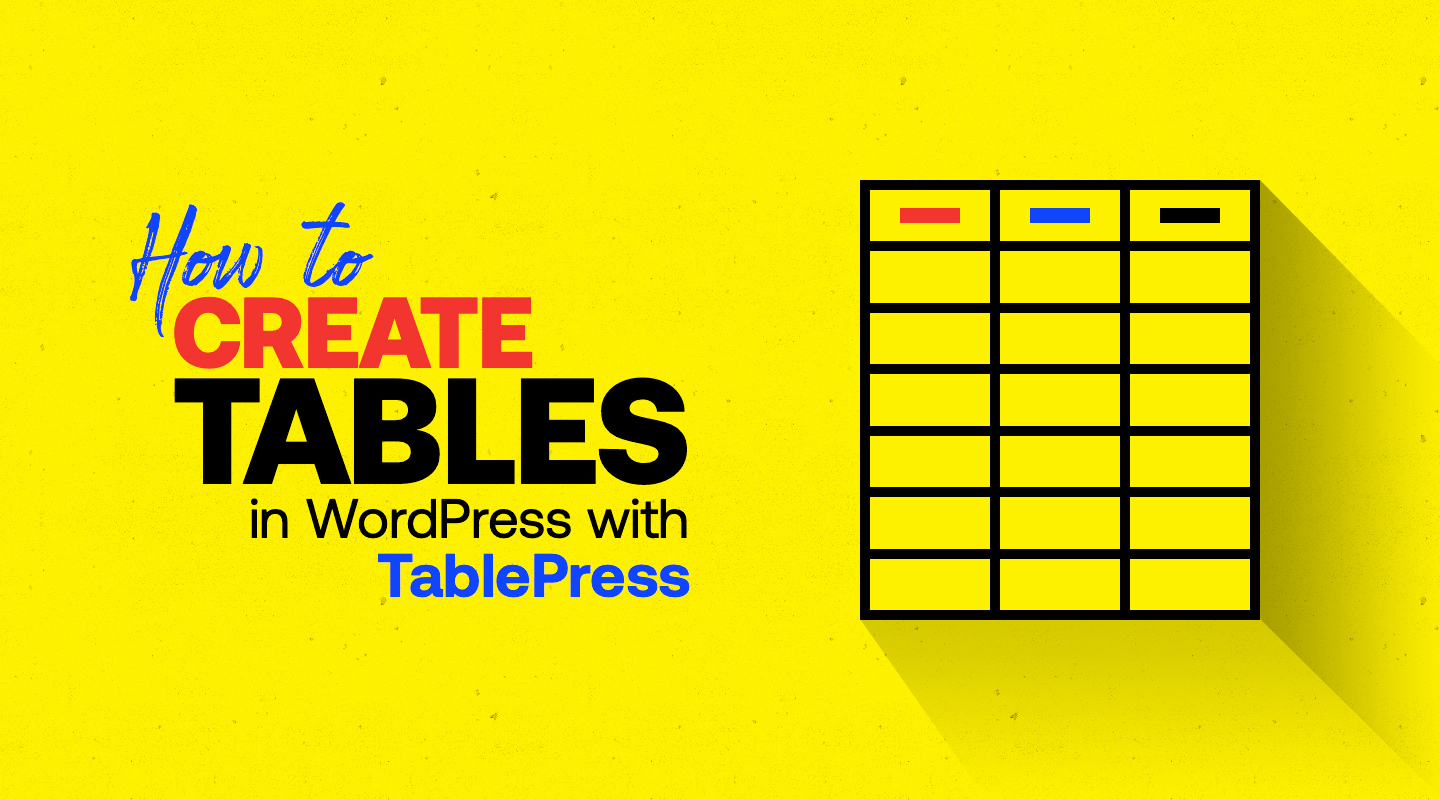 A simple table is one of the best methods to organize a vast amount of data on your WordPress site. Unfortunately, WordPress does not include table press as a built-in feature.
The WordPress post editor is improving all the time, allowing you more flexibility over how your post content is formatted and presented. However, adding a table press to your articles and/or pages is one area where WordPress falls short.
Today, we're going to take a look at TablePress, a popular tablepress WordPress plugin that may help you construct tables in WordPress with simplicity and without technical skills.
What is a TablePress WordPress plugin?
WordPress TablePress has 2,900+ reviews, over 700,000 active installs, and a jaw-dropping 5-star rating on WordPress.org!
Clearly, it's a great, well-coded plugin that's been well-received by the WordPress community and is a great way to make tables in WordPress.
Now let's have a look at the key features of the WordPress TablePress plugin:
Multiple import formats: WordPress TablePress allows you to import data from a variety of sources, including Excel, CSV, HTML, and JSON files, as well as construct tables in WordPress from scratch using a WordPress table editor.

Export your tables: You may quickly export your tables in a CSV, HTML, or JSON file if you built them from within the TablePress interface.

Extend your capabilities: Tobias Bäthge, the creator of WordPress TablePress, has created various add-on features for the platform that considerably increase its potential.
These extensions include features such as responsive tables, column filters, and a save-to-PDF button for front-end users, among others.

Creating Tables on WordPress from Scratch
This plugin can be installed directly from your website's admin panel because it is hosted in the WordPress.org plugin directory. Simply go to your WordPress website's login page (http://yourdomain.com/wp-login.php) and select Plugins > Add New from the sidebar menu.
Then on the Search Tab on the right top corner type 'TablePress'. Then click on Install Now.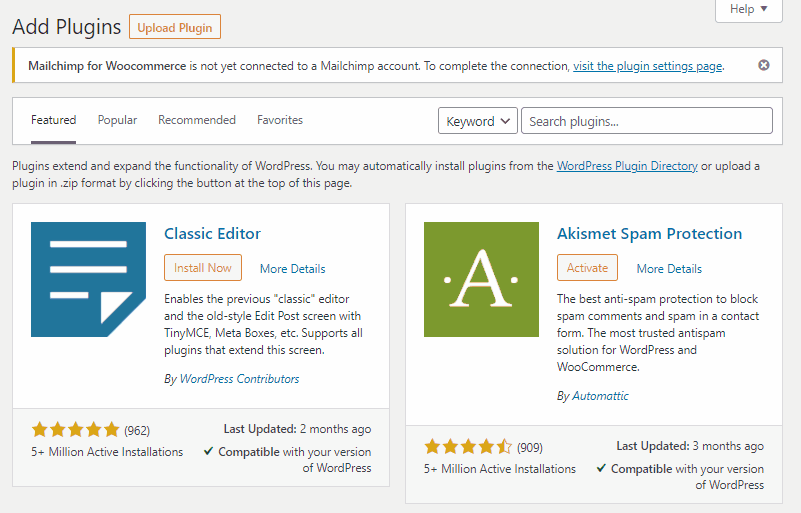 Then click on Activate or you won't be able to add or create a table for your website.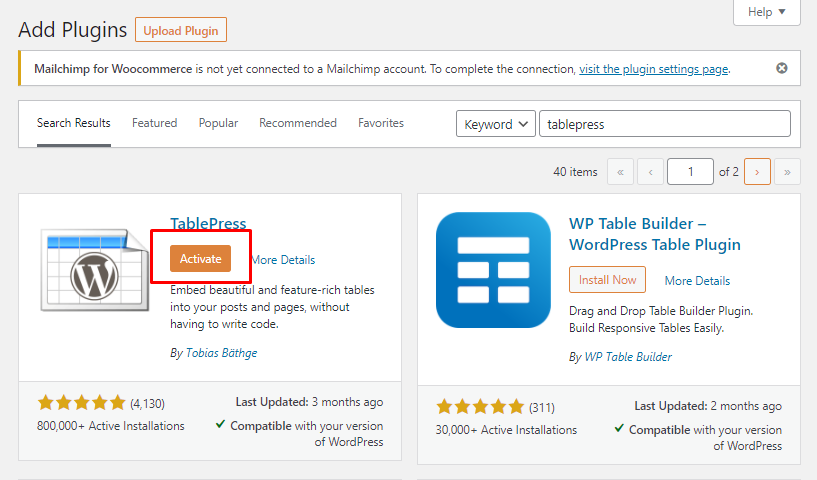 We're gone through the plugin's installation and activation. Let's look at how to use TablePress to insert tables in WordPress. So, let's get it started! 😄

Now a new item labeled TablePress should appear in your admin sidebar. If you hover/click on TablePress you will see an interface like this below.

To add up a table first you need to click on Add New Table.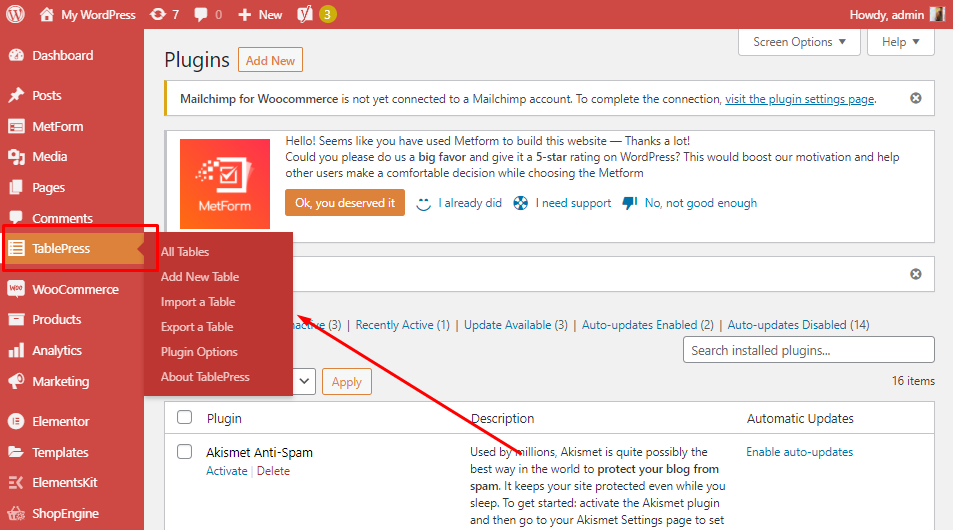 Here all you need to add is your Table Name > Description (what this table is all about) > then you need to select how many Rows and Columns you need in your table. When you're done with the details click on Add Table.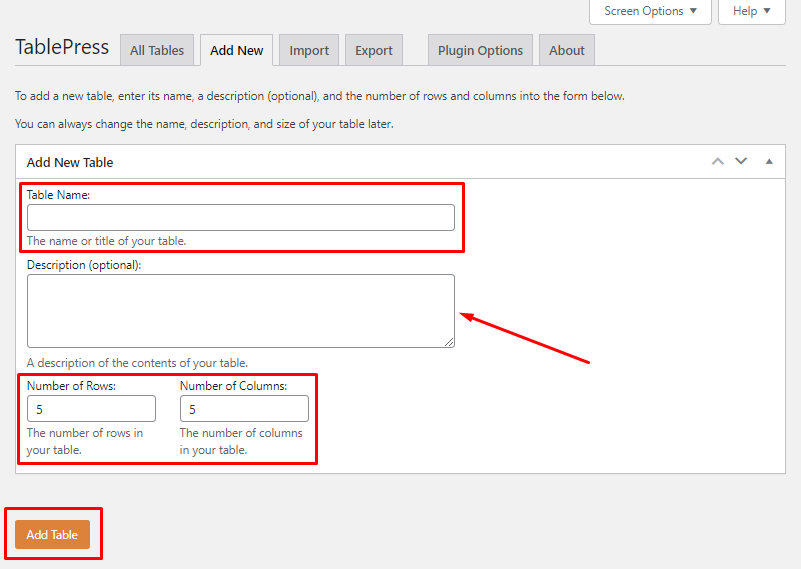 You can start putting your Table Data into your table on the next screen. A shortcode known as table code will automatically generate. You don't need to have any coding knowledge for that.
🔔 Clicking on the headers allows you to drag and drop them into place if you need to change the columns and rows at any time.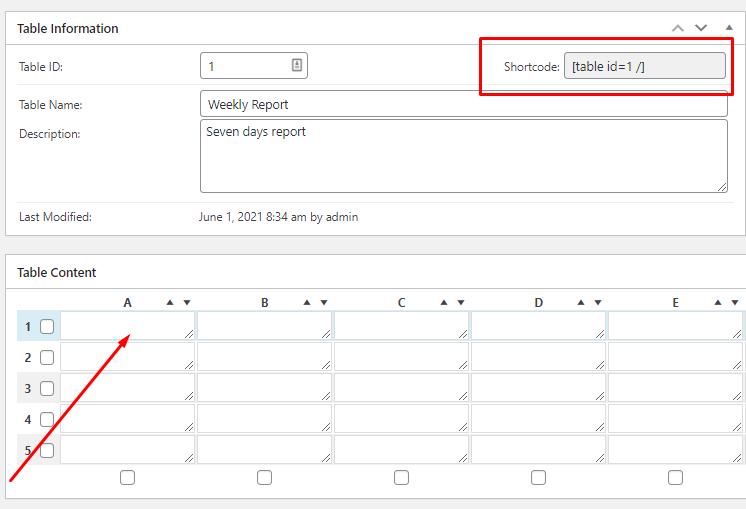 The next set of settings is Table Manipulation which allows you to be a little more creative with your table. Combining or merging column and row cells, duplicating existing columns and rows, and adding new columns and rows are all can be done with these settings.
You can also use an advanced editor to add formatting to your table contents by clicking on the relevant button to insert pictures and links into the table cells.
Furthermore, through the Table Options, you may access the table header and footer row for sorting and decoration, choose an alternate background color for the rows, choose whether to display the table name or description and may also prefer to add Extra CSS classes in your table.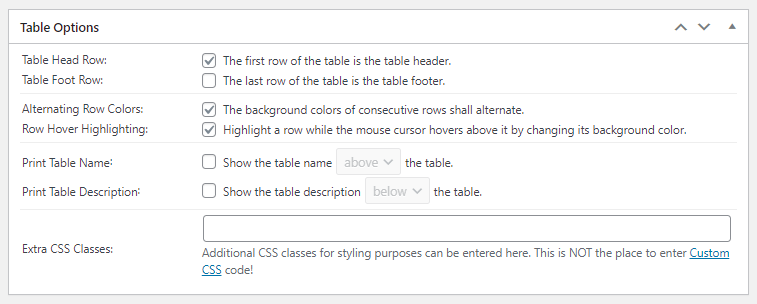 Once you're satisfied with your table or want to preview how it will appear in a post on your site, click the Save Changes button and then create a new WordPress post or update an existing one.
Clicking on the preview button at the bottom of the page, you can see how your table will look as you work on it.
Now many times we want to make out table look better, advanced, and customized, that's when the table press plugin comes in.
ElementsKit has one of the most advanced tablepress widget for Elementor in which you can customize your tables, just the way you desire and a lot more!
Don't believe me, watch the ElementsKit TablePress widget in action below:
This table plugin will assist you to give an additional touch, you can change the background colors and it also has some beautiful design layouts, which can be added instantly to your site.

And guess what, the TablePress widget is absolutely free in ElementsKit Plugin.
Import a Table Data
If you already have your data prepared (for example, in an Excel sheet or a Google Sheets document), you can import it directly into the TablePress plugin.
To import a table all you need is just go to WP Admin > TablePress > Import a Table. You'll choose your import source on this screen (direct upload, URL, file on the server, or manual input into a blank text area).

If you have a Google Sheets document that you can easily convert to CSV format.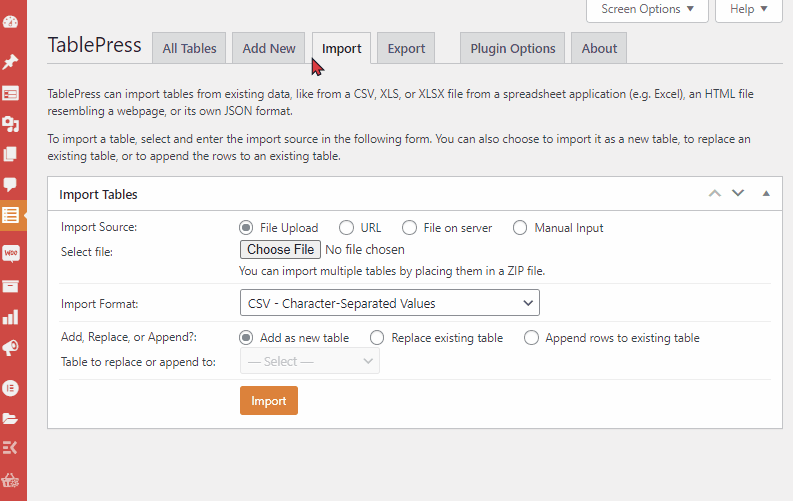 First, you need to choose your Import Source, which either can be through File Upload, URL, File on the server, or Manual Input. Then you can import your file by Choose File option.
However, there are Five types of Import Format options in this tablepress plugin, which you can choose accordingly. Then click on Import, your table data should be imported on your WordPress tables.
Export a Table Data
The plugin also has a built-in option to export your tables in WordPress, as we mentioned at the start of this post. It's a one-step technique that's really easy to follow.
Go to WP Admin > TablePress > Export a Table from the WP Admin menu. You can choose which table(s) to export and in what format from this menu (CSV, HTML, or JSON).
You can specify the CSV delimiter to a comma (,), semicolon (;), or tabulator if you use the CSV option as shown below (\t). A zip archive is required if more than one table is exported at the same time.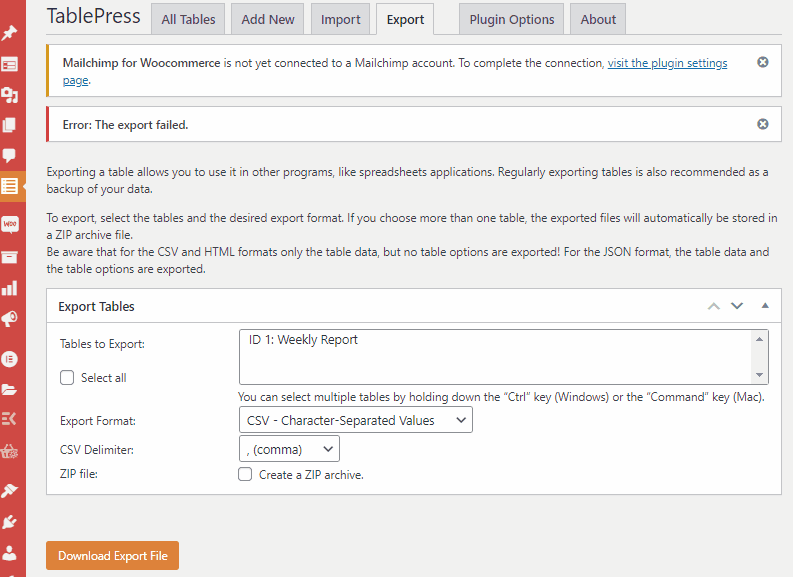 After you've chosen the appropriate table and export format, simply click the "download export file" button to obtain your data.
TablePress Plugin Options
TablePress's plugin options page is a bit restricted. Although it has a user-friendly interface and several import/export options, its built-in customizability is restricted, as shown below (although it can be extended somewhat with the add-ons).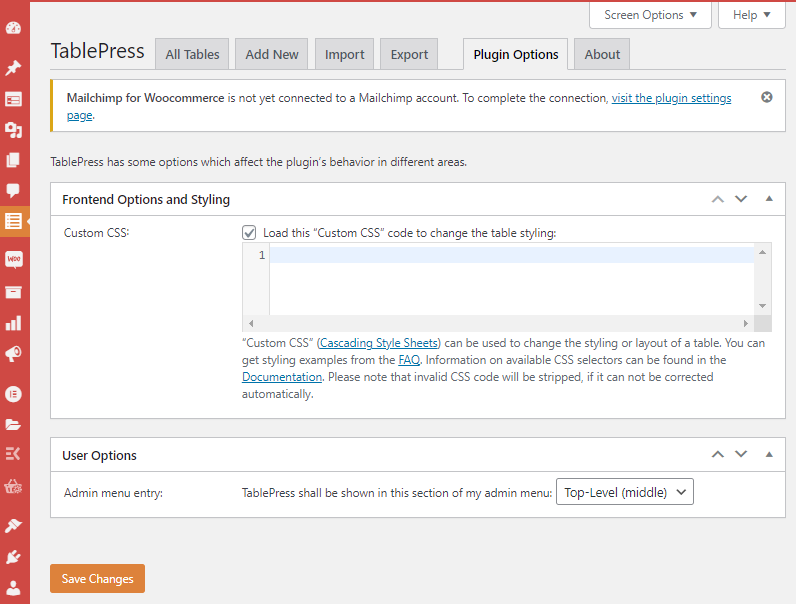 You'll need to enter custom CSS commands in the text section above to conduct any serious stylistic adjustment.
You can also alter a few user preferences, such as the admin menu section where TablePress appears and the plugin language (20+ presently supported).
🔔 Do you know?
Contact forms strike a vital role to connect with the customers and help the company grow gradually, want to know more? Please check out our latest blog on Best Contact Form Plugins in 2021
Advantages & Disadvantages of having a TablePress on your Website
TablePress is without a doubt one of the most functional and user-friendly table plugins on the market. It offers a lot of features, however, it also lacks in a few areas.
Here are some advantages and disadvantages based on our experience with the plugin:
| Advantage 😃 | Disadvantage 😔 |
| --- | --- |
| Styling is fantastic. | It takes a long time to utilize the advanced editor. |
| The user interface is quite simple and user-friendly for newcomers. | Built-in styling customization is limited. |
| CSV, HTML, JSON, and Excel are all valid import formats. | Although it isn't responsive out of the box, you may use an extension to make it so. |
| CSV, HTML, and JSON are all options for export. | You must manually enter the data or import it from a spreadsheet. |
| Users can look for certain data strings in the table. | |
| Tables can be paginated based on the number of rows they contain. | |
| There are numerous free plugin extensions available (those extensions are highly useful in terms of customizing the table). | |
Advantages & Disadvantages of having a TablePress, Wpmet
Wrapping Up
TablePress is a great plugin that makes adding tables to your WordPress posts and pages a breeze. There are also a number of free and paid extensions that can be used to enhance the functionality of this plugin.
Please leave a comment below if you have any queries regarding making tables in WordPress with TablePress.
If you liked this article, you will surely find some more helpful tips and blogs by joining our WPmet community on Facebook/Twitter. Please don't forget to subscribe to our channel on YouTube for useful tutorials.