How to Design a Fully Custom Elementor Header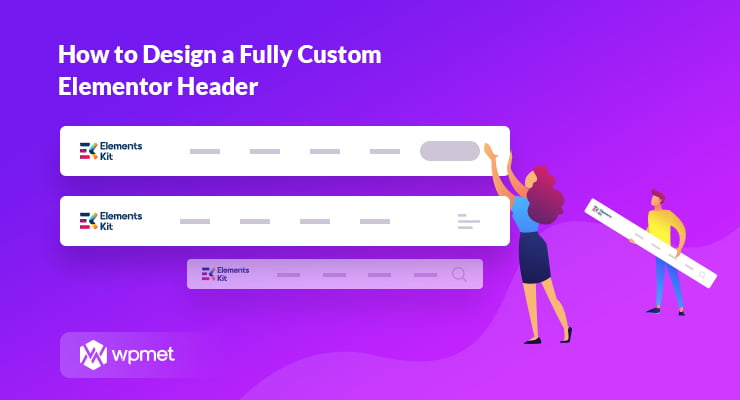 I wish… I could use Elementor to design my website header without having any coding skills!
Ever thought by yourself like that? Surely, you did!
Well… The good news is… yes, you can definitely use Elementor to build your custom header.
You may already know that the Elementor page builder allows a non-coder designer to build fully unique WordPress pages.
But did you know Elementor is the 8th most popular plugin among the Top 1 Million sites?
As your WordPress theme or page builder does not provide as much as the control you need, you can definitely choose the Elementor page builder to customize your website's header part with ease.
So, here in this article, you will get the step by step process to create and customize your Header with Elementor!
Let's get into it!
What You Need to Create Custom Header with Elementor
To follow this tutorial blog, you will need two things–>
And done! Let's get started and look at how to use these plugins to edit headers.
Creating a Custom Header Using Elementor
In this part, we will show you the step-by-step process of how you can easily create a custom header for your website.
Step->1: Add Header
Login to your admin dashboard panel.
Navigate to ElementsKit → My Templates→ Click Add New.
Step->2: Select Header Options
A popup box will open with options.
Add a Title. For Example: Custom Header
Select the Type → Header
Select a Condition → Entire Site, Singular, or Archive
Turn On the Activation Option
Click on "Edit With Elementor"
Now you can edit your professional-looking Header section with an ease
Step->3: Choose a Header Design
You can select your header design from ElementsKit built-in header library. Choose a design from the library and click on the Insert button of your chosen design. It will automatically put your design on your webpage.
Step->4: Customize the Default Layout
To edit the layout section click on the customization button:
Enable/ Disable Stretch Section: You can stretch the section to full width
Adjust Content Width: Select the content width boxed or full width from the drop-down menu
Change the column gap to Narrow, Extend, Wide, or Wider.
Adjust Height: Choose Fit to screen or min-height
Choose vertical align from Top, Middle, Bottom, Space Between, Space Around, Space Evenly
Overflow: Keep it Default or Hidden
Select HTML Tag: Select from drop-down
Step->5: Customize Telephone No
Reduce the communication barrier by adding the contact number to your site. Add a link to your contact number so that visitors can easily call you.
Choose the layout: Default or Inline
Customize company Telephone no
Upload any Icon with Redirect Link
Step->6: Customize Email
Adding your official email address on the header ease the communication procedure. It ensures a smoother communication bridge with your users. Let's have a look at the process of customizing the email address.
Choose the layout: Default or Inline
Add or Edit the company Email
Upload any Icon with Redirect Link
Step->7: Customize Address
Let your users locate you easily by adding the company address at the top. This will help intensely to improve user-interaction. Here's the process of adding your company address→
Choose the layout: Default or Inline
Add or Edit the company
Upload any Icon from the icon library with Redirect Link
Step->8: Add Your Social Media Profiles
You can display your official social media profiles like Facebook, Twitter, or Instagram and connect your users seamlessly.
To custom social media icons you need to→
Click on the social widget
Select your style: Icon, Text or Both
Select Alignment position: Left, Center, or Right
Add Icon: Upload Icon From Library
Add/ Edit Label
Provide Social Link
Customize Icon for both normal and hover
Add Background color
Choose Border Type: Solid, Doubled, Dotted, Dashed, Groove
Select Text Shadow: Blur, Horizontal, Vertical
Select Box Shadow: Horizontal, Vertical, Blur, Spread
Choose Position: Outline or Inset
Step->9: Add a Logo
You can add a logo with some easy steps:
Click on the Logo Image→ upload or choose from your media file
Select the Image Size from the drop-down
Choose the Alignment left, center, or right
Add any type of Image Caption like Attachment caption or Custom caption
Choose the Link Type Media File or Custom URL. You can also add a redirect URL.
Step->10: Add Search Option
If your website contains a large amount of content, you can add a search option for your website. Have a look at how you can add custom search options:
Add any placeholder text
Upload icon from the icon library
Adjust the size by dragging
Step->11: Add a CTA Button
Follow the process to add a CTA button →
Label: Add or Edit Button Text
URL: Provide Redirect URL link
Enable Add icon to provide Button Icon
Upload Button icon from Icon library or you can upload from your library
Select Icon Position: Before Text or After Text
Choose Alignment: Left, Center, or Right
Step->12: Customize a Menu
Megamenu Builder is one of the most amazing features of ElementsKit. If you want to create and customize the menu section, you can use this Megamenu feature. Let's see the functionalities:
Choose your previously created menu from the drop-down
Select horizontal menu position: Left, Center, Right, or Justified
Upload Mobile Menu Logo and Hamburger Icon
Enable/ Disable the submenu click area: Icon/ Text
Enable/ Disable one page
Choose responsive breakpoint: Tablet/ Mobile
Step 13: Testing the Header
Now, it's time to check the result. After designing your header just click on the "Update Button"
Let's check out the final output!
Wrapping Up
It's really simple to create a great-looking website header with Elementor and ElementsKit.
I hope that you have learned how to create an effective header for your WordPress site. However, if you have any further queries about the procedure, feel free to leave a comment below. We will be glad to help you.