Breaking Records: Celebrating 1 Million+ Users of ElementsKit!
It's time for a grand celebration! The moment that we are all waiting for is finally here.
The dream of crossing 1,000,000+ users of ElementsKit has finally come true. Thanks for your never-ending love and support which makes it an Elementor addon with a million users!
Needless to say, it would be impossible without your support and the team ElementsKit who've worked hard to achieve this glorious and cherished milestone.
Although, we have faced many ups and downs throughout our journey. But at last, we made it.
So, here we are to share the journey of unlocking our prestigious milestone and a close look at what makes ElementsKit a million users' Elementor addon.
A quick look at ElementsKit
ElementsKit, the most advanced Elementor addon, is a full-fledged website-building solution that offers the highest perks and features to create and maintain any website.
It provides 90+ widgets and modules for a seamless website creation experience. Besides, it has great compatibility to work with any popular themes and plugins. Also, this is one of the finest up-to-date Elementor addon so you won't face any difficulties while working with the latest updates.
Briefly, ElementsKit is one of the most compatible, updated, and competent website builders for Elementor.
Journey of hitting a million
At last, we have unlocked the most awaited milestone of 2023. Thanks to all our one million dedicated and new users who continuously help us to come this far.
It's a surprise — and also a cheerful moment for us — that ElementsKit has successfully crossed another magnificent milestone in less than 4 years. The journey first started in June 2019 with only a handful of users. After that, we kept growing to accomplish the dream of being your go-to Elementor addon.
We achieved our first major target in November 2021, crossing half a million active users. After that, our growth got doubled and we are here with another mindblowing milestone in less than 1.5 years.
All credit goes to our users and team ElementsKit (the magicians who cause this magic). However, there are many more reasons for being a million users Elementor addon. let's go through the next section to find out what makes people love ElementsKit.
What makes it a million users Elementor addon?
ElementsKit is one of the most popular Elementor addon, which has gained over a million users with its bang-on website creation features and options.
Here are some key factors of its constant popularity and success:
Bundle of features: ElementsKit has numerous modules and widgets that offer almost every option to create and customize your site. This replaces multiple plugins and reduces the load of your site. The functionality of ElementsKit includes Mega Menu builder, Image Hotspot, Image masking, Header Footer builder, Elementor off-canvas menu, etc.
User-friendly Interface: An easy and simple-to-operate interface is another biggest reason for achieving 1 million+ users of ElementsKit. The UI is so intuitive that even a beginner can effortlessly create a site in an instant.
Increasing and in-demand features: Our developers always work hard to bring the demanded features to your plate so that you don't have to rely on separate tools.
Swift and rapid support: It is needless to say that our support team works day and night to provide you with the assistance you are looking for. However, sometimes, offering instant support becomes difficult due to the high load.
Up-to-date Elementor addon: ElementsKit, the leading website builder always remains updated with the growing competition of other plugins, themes, and software. As a result, you don't have to deal with plugin cache, security, and other issues.
That's why, ElementsKit is the first and ideal choice for over 1 million active users who are looking to extend the functionality of Elementor.
What sets us apart?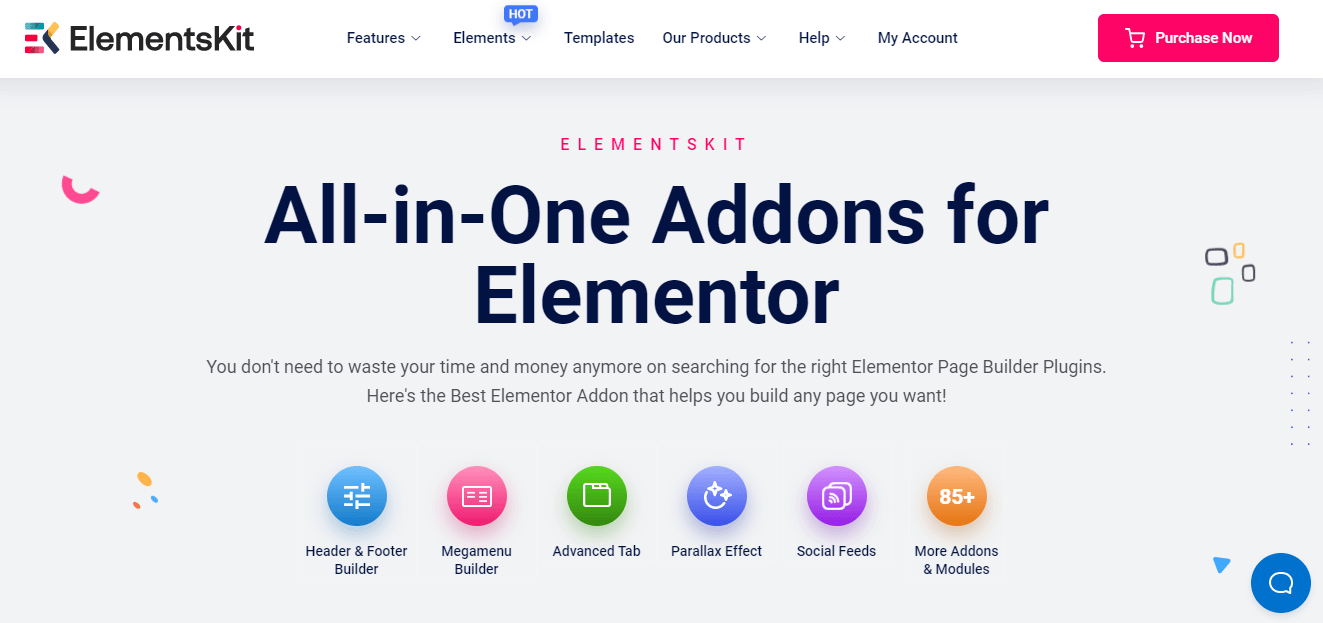 Since numerous Elementor addons are available in WordPress, why use ElementsKit, avoiding others? What influences users to use ElementsKit?
Here are some important factors that set ElementsKit apart from other Elementor addons:
Wide customization option: ElementsKit offers every little customization option to create 100% personalized websites. Besides, it requires zero coding and expertise for customization.
Quick performance: ElementsKit is well known for its fast and optimized performance. You can instantly add functionalities and edit them however you want.
Required comprehensive functionality: Unlike other Elementor addons, ElementsKit doesn't stop bringing new and demanded features. It adds every possibility to provide a seamless experience to its users.
User-friendly operative system: ElementsKit offers the simplest operative system so that even a beginner can use this plugin with ease.
Bug-free Elementor addon: ElementsKit is regularly updated with new features and bug fixes to ensure your website remains up-to-date and runs smoothly.
New features in the pipeline
Despite having all the demanded features, we are working hard to bring unique and useful features to ElementsKit lite and Pro for ensuring a smooth user experience. The record of 1 million+ users of ElementsKit also inspires us to bring more functionalities on board. So, here we are with three new features for our one million users:
Comparison Table: A comparison table is important to compare different products and identify the most suitable product on a list. Therefore we will be bringing a dedicated comparison table widget to offer you an endless solution to compare different products.
Event Calendar: Do you want to add a calendar to your site for properly managing upcoming events? If yes, then soon we will launch a new widget called "Event Calendar" to beautifully showcase your upcoming events by adding a calendar on your site.
Content Protection: Protecting your sensitive data is very important. Due to this reason, we will come up with a better solution named the "Content Protection" widget. This will allow you to restrict showing important data to the users by setting a password or giving certain user permission.
Heading towards more!
ElementsKit, the leading website builder continuously enhances its functionality and user experience to streamline workflow. Its popularity is a testament to its effectiveness and high level of user satisfaction.
Congratulations to all of our users, supporters, and promoters! Now we are in the millions, thanks to your unconditional support and love that we got and are still, getting throughout our journey.
We are looking forward to getting your continuous support in the future too so that we can unlock more milestones together.