How to Create an Elementor Transparent Header In Simple Steps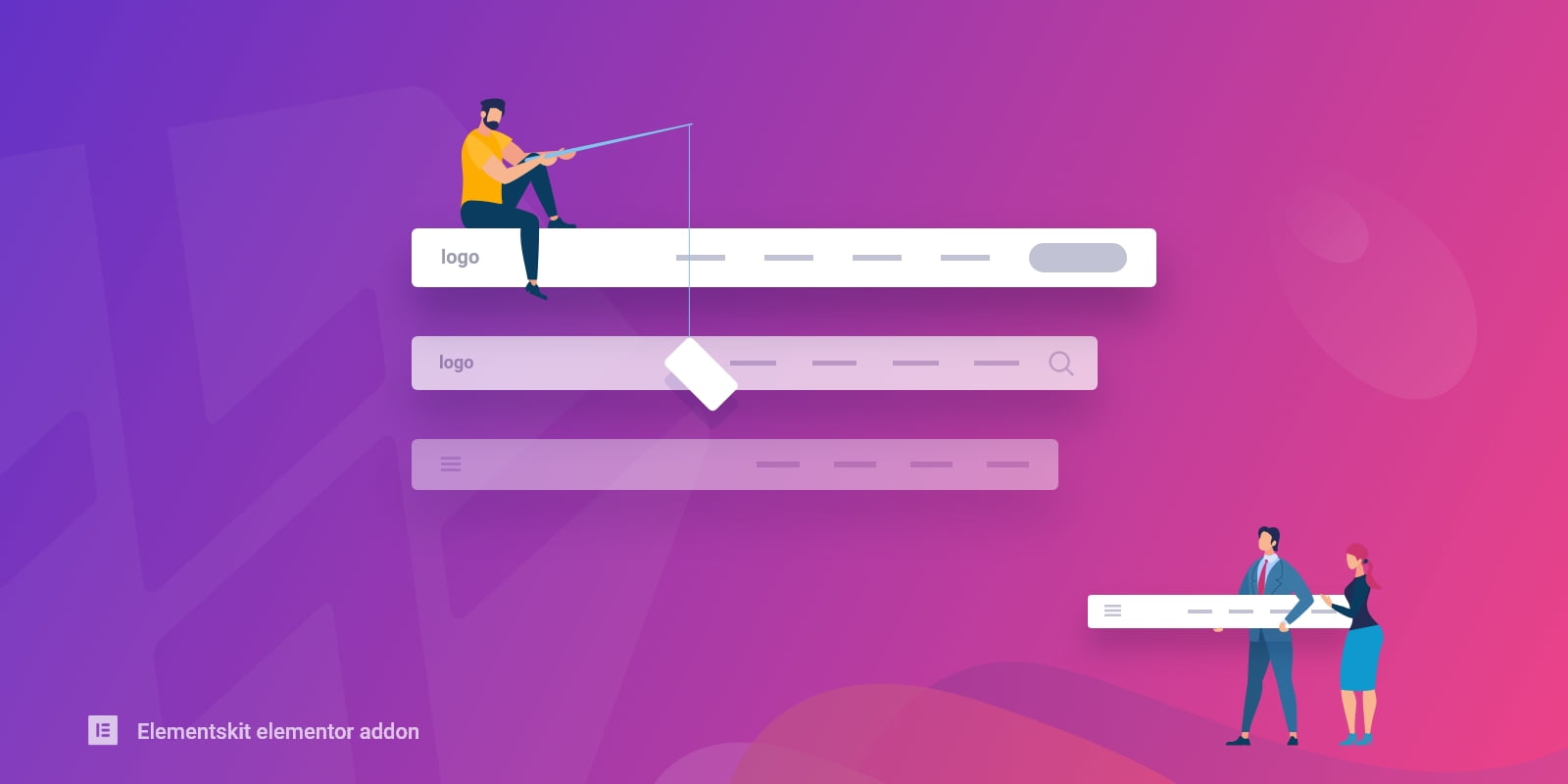 What's the very first thing you notice while visiting a website?

The header, right?

Yes! We're all the same!
The header is the very first thing that catches the visitors' eyes on your site. You can consider the header as the backbone of any website.
It doesn't matter whether you own an e-commerce site, blog site, social media, forum, or a personal portfolio site, you must add a simple and easy-to-navigate menu.
However, adding a simple header with the menu isn't enough now! You must customize the header to provide the best user experience to your audience. And you can do that by making Elementor transparent header and sticky!
In this article, I'm going to show you the most advanced but time-saving way to add a transparent sticky header for Elementor to your website!
Let's create an Elementor sticky header that makes the visitors love your website at first sight.
Did you know that with Elementskit you can create a custom Elementor transparent header for Elementor within minutes? Let's try out Elementskit for Free
Things You'll Need
To follow this tutorial blog, you will need –
A WordPress site
Elementor page builder
5-10 minutes of your time.
Got everything? Great, you're ready to go.
Let's Design an Elementor Transparent Header!
You can create a header via a new header template or a new page. But, I always prefer to create a new page to design a transparent sticky header using Elementor.
Once you're done with the header design, you can just copy-paste the template into the header template. Easy-peasy, right?
Let's start building our header.
Step #1: Create a Menu First
To add an Elementor sticky header, you must start by creating a menu first. To create a new menu, go to wp-admin > Appearance > Menus.

Once you're done creating the menu, give the menu name "Primary" and click on "Save Menu". If you've created a menu already, It will look somewhat like this –
You might notice the "Megamenu" section above. Basically, it's one of the most useful features of ElementsKit. If you want to add lots of categories or options in the menu section, you can use this Megamenu feature.
Step#2: Create a Header Template

Go to the "Header Footer" section of your ElementsKit. Add a New Header Template by clicking on "Add New".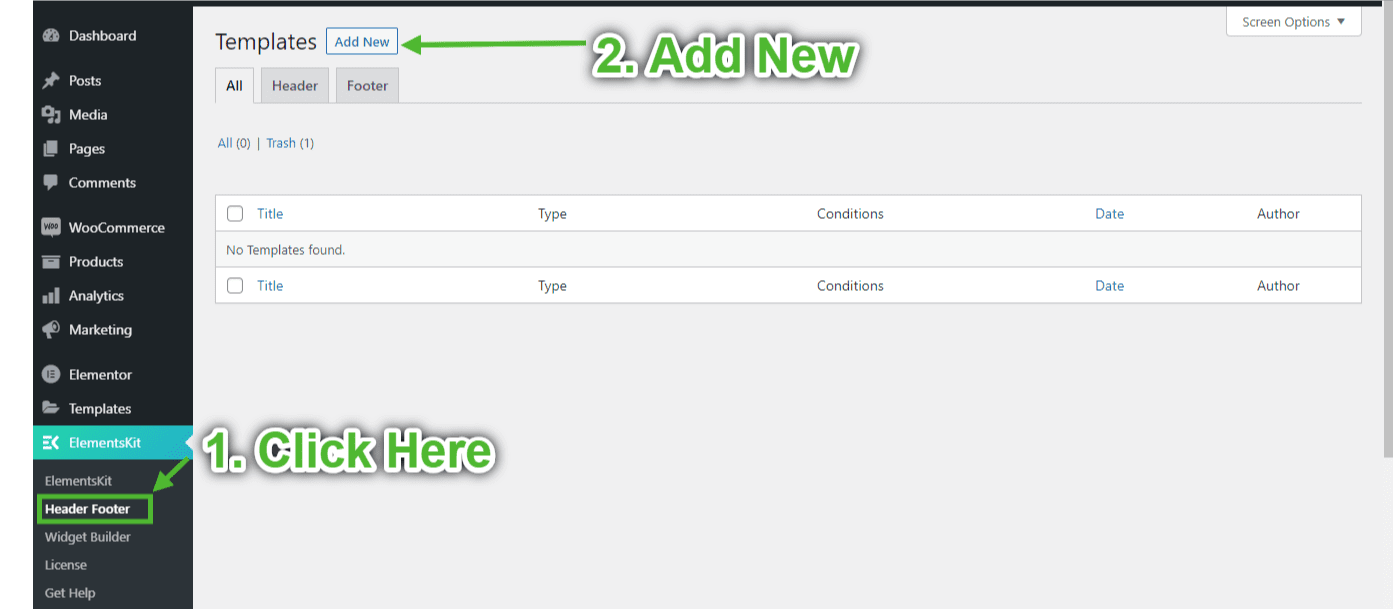 Now the template settings will appear. Here you've to do the following tasks:
Give a title to the header.
From the "Type" setting dropdown, choose "Header"
Choose the condition you prefer. I've chosen "Entire Site" from the dropdown.
Activate the header template by toggling the switch on.
Step #3: Edit with Elementor
When you are done with all the tasks mentioned above, click on the "Edit with Elementor" button from the down-left.
Step #4: Choose a Header Design
In this section, you can choose a header design from ElementsKit's built-in header library.

To proceed on, click on the ElementsKit icon, choose a beautiful design and click the 'Insert' button to import the header in Elementor.
Step #5: Stick the Menu
We've already selected our header design. Now, it's time to stick the header on the top position. Browse the 'Advanced' tab of Elementor for this task. From the advanced tab, find "ElementsKit Sticky". Make the menu Sticky at the Top from the dropdown.
Note that you can choose to make the header sticky until a certain section. In that case, define the Sticky Until. You can also apply Sticky Offset to the header ranging from 0 to 100.
Step #6: Make the Elementor Transparent header
Now, hop into the 'Style' tab. From the "Menu Wrapper" section, set a menu height of your choice.

Choose the menu wrapper background type 'Classic' and remove color by using the slider to the left end. You can also put the color code manually. In that case, enter #00000000 to get a transparent background.


To make the header more refined and attractive, you can leverage any of the following settings as well: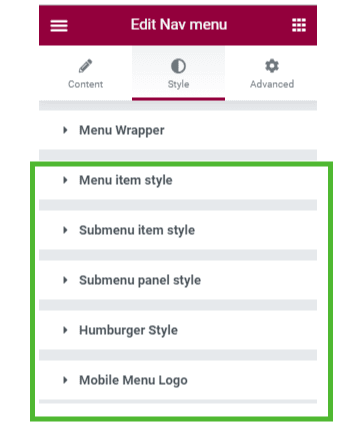 Step #7: Testing the Elementor Transparent Header
Well, we've designed the elementor transparent header using Elementor and another elementor transparent header plugin called ElementsKit. Now, it's time to check the result.
You may add a few more sections under the header to have a better understanding of the transparency. In this tutorial, I've added two images under the header section. Here's the final output.
That's it! We have successfully created an Elementor transparent header. Now, you can copy this header and apply it to any page of your website.
Different Header Designs for ElementsKit Users
ElementsKit comes with numerous built-in header designs out of the box. All of these are stylish, unique and help the user to navigate throughout your entire website.
Have a look at a few header designs of ElementsKit.
Illustration 1 – Elementor sticky header
Illustration 2 – Elementor sticky header
Illustration 3 – Elementor sticky header
Illustration 4 – Elementor sticky header
Illustration 5 – Elementor sticky header
Aren't these designs awesome? Yes, you can access a huge list of premium designs like this by using ElementsKit.
Why Should You Use a Transparent Elementor Sticky Header?
Whether you like these sticky transparent headers for Elementor or not, you must give it a try. These gorgeous-looking, trendy headers add great value to your website. Here I've listed the top four reasons behind using a transparent sticky header for your website.
Better Branding
Thousands of companies have put their logo on the primary header. Do you think it's just a coincidence?
Nope!
A report of Lucidpress shows that consistent presentation of a brand logo increases the revenue by around 33 percent. It means you can increase your company's revenue only by displaying the brand logo to the audience.
If you put the logo on a sticky header for Elementor, it will be visible throughout the entire website. Thus, people will notice your logo for a longer time. It will make your brand familiar to more people and boost up the revenue.
Better User Experience
A sticky header allows users to browse your website faster. They can find their desired information with minimal effort.
On the other hand, using a fixed header requires more time for users to find information. No one wants to scroll to the top all the time to use your primary header. As a result, the users leave your website.
Well, you might stick the header on the top. But, it's not the end of your duty. Nowadays, most people browse websites via a mobile device. If you stick the header on the top, it kills space and shows less content. It's definitely not user-friendly.
To solve this problem, you should use the Elementor transparent header. Thus, you can keep the header visible and also show more content to the visitors. It's just a win-win situation for both, isn't it?
Improves Search Engine Ranking
Being a webmaster, you might probably know that search engines also care a lot about user experience. It's one of the most important ranking factors of Google. It means only a sticky header will help you improve the ranking of your website on Google as well as bring more potential customers.
Do you want to lose your customers? I don't think so!
Easier Navigation
Do you ever face trouble navigating a website?

Well, I've faced it a lot!

Always scrolling to the top is the most tiresome or tremendously boring thing to do while visiting a website. If you don't want to create an extra hassle for your audiences, you should throw the standard header away right now.

Instead of that, design an Elementor custom transparent header and offer a smoother browsing experience to your customers.
Final Words
By now, you must have understood how much you will be benefited only by using an Elementor transparent header. Add a transparent sticky header to your website today and get the most out of your website.
Hopefully, you can design lots of customized transparent sticky headers with ElementsKit and Elementor by following this guideline.
If you have any further inquiries regarding the sticky transparent header for Elementor, let us know in the comment section. We're eagerly waiting to solve your issues.
Have a good day!
Frequently Asked Questions (FAQ)
How can I make the transparent header sticky for different types of devices?
Luckily, you can choose the type of devices where you want to keep the sticky header on. You have the absolute freedom to set whether you want to set the transparent sticky header for mobile, tablet, or desktop users. If you want to set the transparent header sticky for all types of devices, make sure you've set the sticky on for all devices.

Do I need to use custom CSS for setting the Elementor sticky header?
No. If you use ElementsKit pro, you'll get almost everything you want from the ElementsKit Sticky settings. You do not require to use any custom CSS to build a transparent sticky header for Elementor. However, if you still want to add custom CSS, just leverage "Add ekit-sticky–effects Class Offset" and a functional theme to get your work done with CSS code.
Can I use an Elementor header that is sticky but not transparent?
Yes, you can do so. if you want to make the header sticky without making it transparent, just set the sticky header for 'top' and then change the background color with your desired one from the "Sticky background color" settings.
Do I require Elementor Pro to use Elementor sticky header?
No, if you have the free version of Elementor with ElementsKit pro, you are all set to make your Elementor header both transparent and sticky.
So, hurry up and create sticky header for Elementor in your WordPress site with ElementsKit. When you can make your header both sticky and transparent at once, why miss the chance?