ShopEngine vs Woolementor: Right Companion for WooCommerce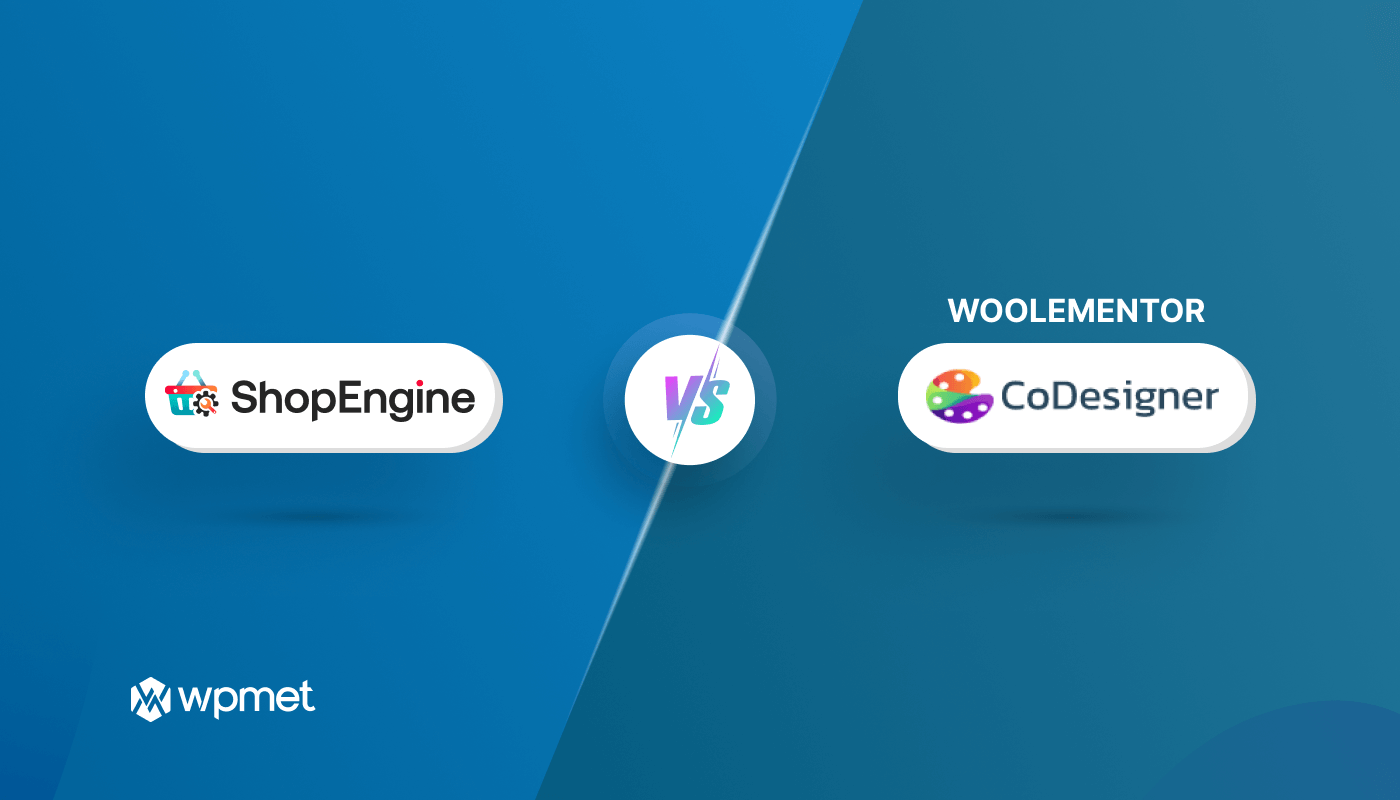 Selecting the right companion for your WooCommerce site can significantly impact its design, functionality, and overall performance.
In that case, ShopEngine and Woolementor (now rebranded as CoDesigner) are two popular woocommerce builders for elementor to streamline the process of building and customizing your online store.
But, which one is the best for your WooCommerce website?
Well, in this comparative guide, we'll walk you into the key differences, strengths, and features of "ShopEngine vs Woolementor". By exploring the specific strengths and features of these 2 plugins, you can determine the best-suited companion to enhance and optimize your online business store.
Let's begin!
What is ShopEngine?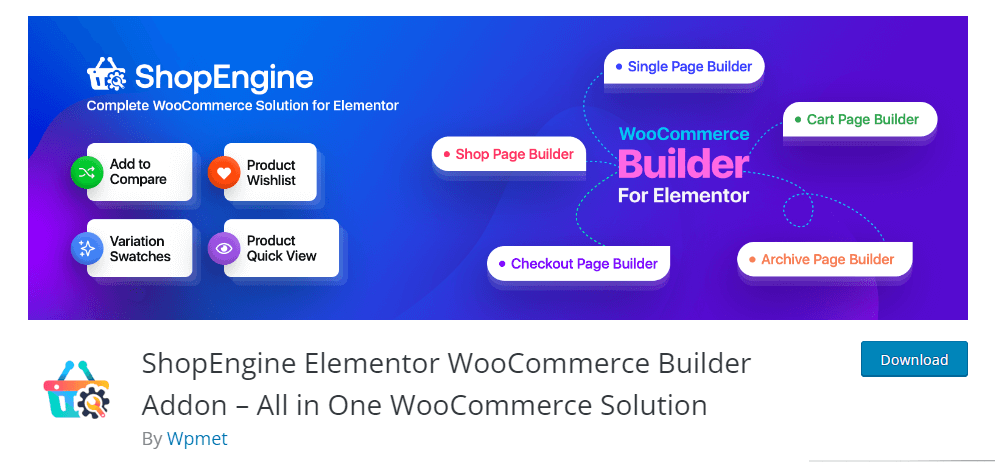 ShopEngine is an all-in-one WooCommerce builder for Elementor by Wpmet. It is an all-in-one solution designed to enhance the WooCommerce experience for any business.
This WooCommerce builder offers a variety of ready-made templates, widgets, and modules that seamlessly integrate with the popular Elementor page builder.
This add-on simplifies creating and customizing WooCommerce shop pages, product pages, categories, carts, accounts, archive pages, and other e-commerce elements with tons of customization styles and functionalities.
What is Woolementor?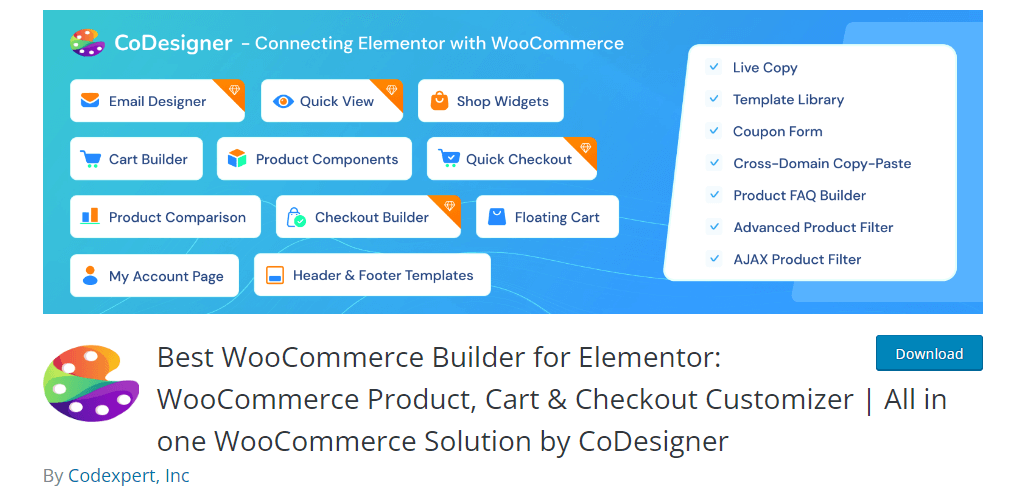 Woolementor or CoDesigner by Codexpert, is another drag-and-drop addon that seamlessly integrates with the WooCommerce website. It enables you to utilize Elementor's intuitive visual design tools to create, customize, and manage various pages within your WooCommerce-powered online stores.
By providing an interface that simplifies the design and layout process, CoDesigner empowers users to easily design and modify product pages, cart pages, and other eCommerce elements within the WordPress environment.
ShopEngine vs Woolementor (CoDesigner): At a Glance
Criteria
ShopEngine
CoDesigner
Winner
Templates
16+
7+
ShopEngine
Widgets
70+
85+
CoDesigner
Modules
20+
2+
ShopEngine
Gutenberg Integration
Yes
No
ShopEngine
Active Installation
30,000
10,000
ShopEngine
WordPress.org rating
4.6/5.0
4.4/5.0
ShopEngine
Price
Starts at $59/yearly,
Unlimited Lifetime at $599
Starts at $59/year,
Unlimited Lifetime at $599
Starts at $49.99/year,
Unlimited Lifetime at $749.99
Live Chat
Yes
No
ShopEngine
Moneyback Guarantee
14 days
14 days
Tie
ShopEngine vs CoDesigner: 5 Key Differences
ShopEngine and CoDesigner (formerly known as Woolementor) have distinct contrasts in their approach to enhancing WooCommerce within WordPress.
Here are the 5 key differences between "ShopEngine vs CoDesigner " to showcase their unique functionalities and capabilities.
1. Design and Customization Capabilities
In terms of design and customization capabilities, both CoDesigner and ShopEngine WooCommerce builder add-ons provide a range of widgets, modules, and templates to enhance the design of WooCommerce-powered websites in WordPress.
✨ ShopEngine
Features with 70+ widgets, 20+ modules, and 16+ pre-designed templates.
Offers an intuitive and visually appealing user interface with a seamless navigation structure
Comes with well-organized and drag-and-drop design elements including WooCommerce quick view, wishlist, checkout, sticky fly cart widgets, and more.
Provides swift page loading times and efficient processing of transactions.
✨ CoDesigner
Offers 85+ widgets and 2+ modules, along with 7+ templates.
Provides a clean and user-friendly interface, offering a customizable design experience.
Prioritizes speed for rapid design modifications and updates.
📢 ShopEngine vs CoDesigner: Which offers more design opportunities?
Though CoDesigner comes with a few more widgets, however, ShopEngine provides a broad range of options for store design and drag-and-drop layout customization with its extensive module collection and pre-made template variety.
2. Integration and Compatibility
Assessing integration and compatibility is also crucial when choosing a plugin between ShopEngine and CoDesigner WooCommerce builders.
As a result, you can understand their adaptability and suitability for diverse website-building needs within the WordPress ecosystem.
✨ ShopEngine
Can be integrated seamlessly with WooCommerce, and Elementor.
Provides specific Gutenberg blocks for WooCommerce to utilize native Gutenberg features to enhance WooCommerce functionalities.
✨ CoDesigner
Provides strong compatibility and integrations with WooCommerce and Elementor.
However, CoDesigner does not currently offer specific Gutenberg blocks for WooCommerce
📢 ShopEngine vs CoDesigner: Which is more compatible to use?
ShopEngine, with its broader compatibility including WooCommerce, and Elementor, along with dedicated Gutenberg blocks emerges as the more versatile and compatible option than the CoDesigner add-on.
3. Support and Training Materials
Comparing support and training materials between ShopEngine WooCommerce builder and CoDesigner is also essential for a positive user experience, efficient site management, and a smooth learning curve.
Let's see which one offers a more intuitive user experience between ShopEngine and CoDesigner.
✨ ShopEngine
Utilizes a ticket-based support system, ensuring users receive assistance for issue resolution.
Offers live chat support for real-time assistance, enhancing the overall user experience.
Provides support through Facebook chat, maintaining communication via this platform.
Offers comprehensive documentation and blogs for user guidance.
Accompanied video tutorials, facilitating visual learning and navigation.
✨ CoDesigner
Employs a ticket-based support system, providing users with similar assistance for issue resolution.
Offers support through Facebook chat, maintaining a consistent level of communication.
Provides detailed documentation for effective utilization.
Features video tutorials to aid users in learning and navigating the plugin.
Does not offer live chat support, distinguishing it from ShopEngine in real-time assistance.
📢 ShopEngine vs CoDesigner: Which provides more support and resources?
ShopEngine WooCommerce builder takes the lead in support and resources over Woolementor, offering a more comprehensive package with live chat support, extensive documentation, and blogs.
4. User Reviews and Feedback
User reviews and feedback play a significant role in evaluating the effectiveness and satisfaction levels of WooCommerce builder plugins like ShopEngine and CoDesigner. Let's see which woocommerce builder for elementor can secure a place in the user's heart.
✨ ShopEngine on WordPress.org
Active Installation: 30000+
Total Ratings: 133+
5-star Ratings: 110+
Average Rating: 4.6/5.0
✨ CoDesigner (Woolementor) on WordPress.org
Active Installation: 10000+
Total Ratings: 140+
5-star Ratings: 110+
Average Rating: 4.4/5.0
📢 ShopEngine vs CoDesigner: Which is preferable to users?
ShopEngine WooCommerce builder appears to be preferable over CoDesigner to users based on higher installation numbers and average ratings.
5. Pricing
Choosing the right WordPress plugin for your online store involves considering various factors, and cost-effectiveness is undoubtedly a crucial aspect among them.
In this section, we'll determine the most cost-effective deal between ShopEngine and Woolementor.
| Plans | ShopEngine | CoDesigner |
| --- | --- | --- |
| Single/Yearly | $59 | $49.99 |
| 5 Sites/Yearly | $149 | $99.99 |
| Unlimited Sites/Yearly | $299 | 249.99 |
| Single/Lifetime | $149 | $149.99 |
| 5 Sites/Lifetime | $249 | $299.99 |
| Unlimited Sites/Lifetime | $599 | $749.99 |
📢 ShopEngine vs CoDesigner: Which one is cost-effective?
For annual plans, CoDesigner tends to offer lower prices across yearly tiers compared to ShopEngine.

On the other hand, ShopEngine WooCommerce builder presents lower prices for lifetime plans, especially in the 1-site and 5-site categories.

Besides, ShopEngine also offers a 5-in-1 WordPress plugins bundle for yearly and LTDs at the most affordable price. 🔥
ShopEngine vs CoDesigner: Pros & Cons
ShopEngine
CoDesigner
Pros
✅ Diverse design elements and templates
✅ Positive user reviews on WordPress.org
✅ Robust integration with WooCommerce, Elementor, and Gutenberg
✅ Cost-effective lifetime pricing plans
✅ Rich customization options
✅ User-friendly integration with Elementor
✅ Simplified interface for intuitive customization
✅ Affordable annual pricing plans
Cons
❌ Fewer widgets for some tiers
❌ Lack of Gutenberg blocks
👉 Help – How to Add WooCommerce Floating Cart to WordPress in 3 Simple Steps
ShopEngine vs CoDesigner: Which One is for Whom?
After the entire discussion, it is clear that the choice between ShopEngine and Woolementor add-ons depends on the unique needs and preferences of WooCommerce store owners.
Let's see which WooCommerce add-on is best for whom:
✨ ShopEngine
For Extensive Design Customization: Ideal for users seeking a wide array of design elements, modules, and templates for intricate and diverse website customization.
WooCommerce, Elementor, and Gutenberg Users: Best suited for those heavily relying on WooCommerce, Elementor, and Gutenberg integration within their WordPress sites.
Support and Documentation Seekers: Recommended for individuals valuing strong support and documentation resources for guidance and assistance.
Long-Term Investment: Well-suited for individuals or businesses looking for cost-effective lifetime pricing options across different site tiers.
✨ CoDesigner (Woolementor)
WordPress Novices and Elementor Enthusiasts: Great for users looking for an intuitive, user-friendly interface and integration with Elementor to design WooCommerce sites without extensive technical knowledge.
Budget-conscious users: Ideal for individuals seeking lower annual pricing for specific site tiers compared to ShopEngine.
Simplicity in Design: Suited for users looking for a simpler, streamlined approach to website customization within the WooCommerce framework.
Users Seeking Compatibility: Perfect for those prioritizing strong compatibility with essential WordPress plugins for a comprehensive site-building experience.
FAQs
1. Can I use ShopEngine for Free?

Yes, ShopEngine offers a free version with basic features, allowing users to start with essential functionalities before opting for premium plans that offer more advanced features.
2. Can I use Woolementor with Gutenberg?

Woolementor, now known as CoDesigner, doesn't have dedicated Gutenberg integration, which means it doesn't provide specific blocks or features tailored for Gutenberg.
3. Can I use both Plugins with Free WooCommerce and Elementor?

Both ShopEngine and Woolementor (CoDesigner) are compatible with the free versions of WooCommerce and Elementor, allowing users to build and design their online stores without additional costs for these essential plugins.
4. What is the Best WooCommerce Builder for Elementor?

ShopEngine is considered the best WooCommerce builder for Elementor due to its extensive collection of design elements, and robust integration with WordPress plugins and Gutenberg blocks. This add-on also offers a wide range of customization options and competitive pricing, making it a superior choice for WooCommerce stores.
Want to build a online beauty store? 🤔
Learn more – How to Create an Online Beauty Supply Store with ShopEngine 🔥
Final Words
In summary of the comprehensive comparison between "ShopEngine vs Woolementor", both woocommerce builders for elementor has specific strength and limitations.
ShopEngine offers extensive design elements and affordable LTD pricing, making it suitable for intricate designs. On the other hand, CoDesigner or Woolementor is user-friendly, with lower pricing for yearly tiers, and ideal for those seeking simplicity in website customization.
So why are you waiting? Carefully consider your needs and the features that align best with your objectives and select the right companion for your WooCommerce site.