7 Little Things That Will Make a Big Difference in Your WooCommerce Store with ShopEngine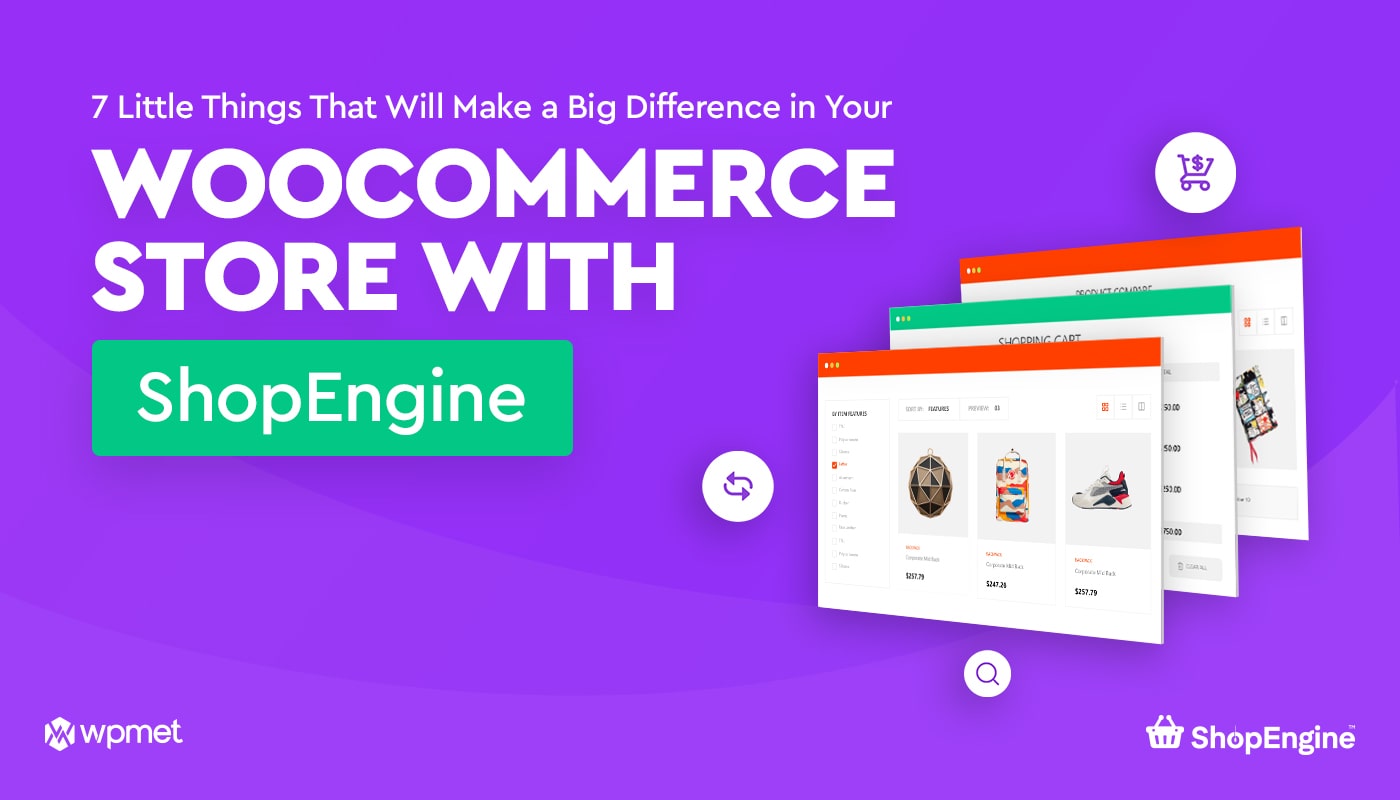 Do you want to make a big difference in your WooCommerce store?
As we all know, WooCommerce has made our lives much easier to sell goods through WordPress.
But after installing WooCommerce in your WordPress, you will see that it doesn't come with many advanced features. That's where the plugins come in.
The best aspect of using WooCommerce to build an online store is the plugins. They empower you to expand your company by enabling you to add new features.
There are multiple free and premium plugins available online. Unfortunately, not all the plugins are worthwhile.
Now, how would you find the best plugin/s that will maximize all the features in just one bundle? 🧐
In this article, we will be talking about ShopEngine and its exclusive features that will make your life easier and your WooCommerce website lighter.
Things That Will Make a Big Difference in Your WooCommerce Store
Here we will be featuring seven simple things that will make your eCommerce store better than ever.
1. User Friendly Layout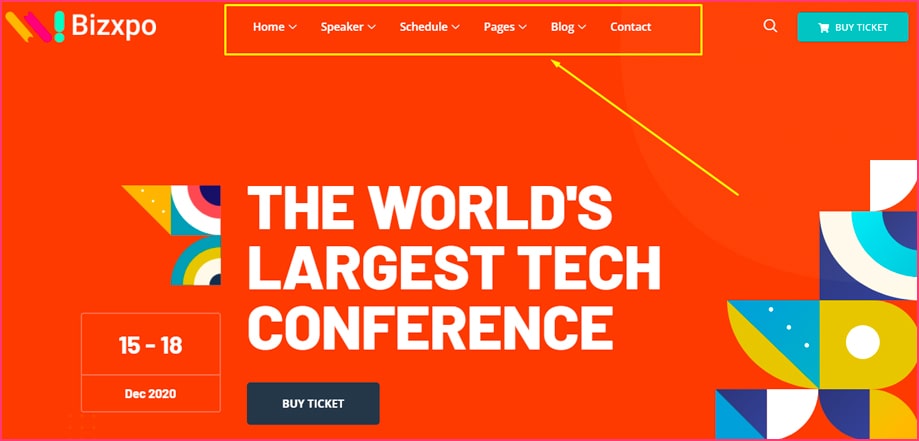 So, basically, ShopEngine introduces us to multiple widgets in one single place, and features that will make your e-shop more user-friendly and flexible to use for the customers.
One of the basic rules of getting most visitors/customers is by designing a simple, understandable website.
First of all, you need to avoid adding up excessive elements, such as banner ads, pop-ups. Because the more you add elements, the more people won't visit your website.
Why? Because banners or pop-ups create distractions and may confuse your customers.
Worry not! Now with ShopEngine, you could design a friendly layout that is easily comprehended. However, Adding-up category blocks to your website can be extremely helpful to your customers. You must be wondering how?
During the WooCommerce design process, one of the most significant principles you should bear in mind is to keep it simple. When it comes to designing a website for WooCommerce, the right option is to keep it normal.
And to do that, you need to install the ShopEngine and make your site easily understandable.
2. Complete Product Details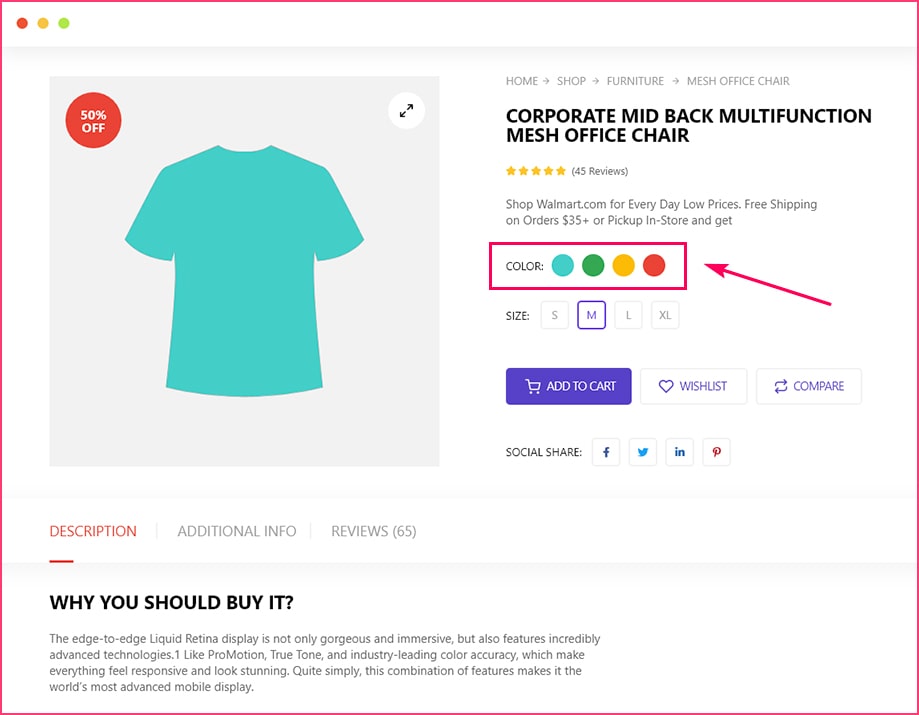 In terms of an e-commerce site, one needs to work on the whole presentation. And product details are something that will assist your customer to understand the product much better and help your site to grow much brighter.
Adding large, functional images will work as a communicator to your visitor. It is extremely helpful if your website supports product image zooming.
One of the most amazing features that you could add in your site is adding-up Swatch. Product swatch is something that will help your customers to select colors, size, portion and so on.
As you can see, those are the show swatches, and a customer would understand what sort of product they would prefer. And if you want to add proper product details in WooCommerce, you need to install various plugins.
However, the ShopEngine offers you to install all sorts of product details in just one click. Here are the widgets that you'll get in one single package:
Product Title and Description
Product Meta Description and other Additional Details
Good Quality Product Photo
Product Image Zoom-In/Zoom-Out and Excerpt
Product SKU and Tags
Product Rating, Sharing and Review.
Adding large, functional images will work as a communicator. It is extremely helpful if the website supports product image zooming. You can add these beautiful large images or videos with ShopEngine.
If you think like a customer, one thing that will surely come to your mind is that, what if the product is not for me?
Online shopping is all about living up to the expectation.
3. Flexible Add to Cart & Search View Option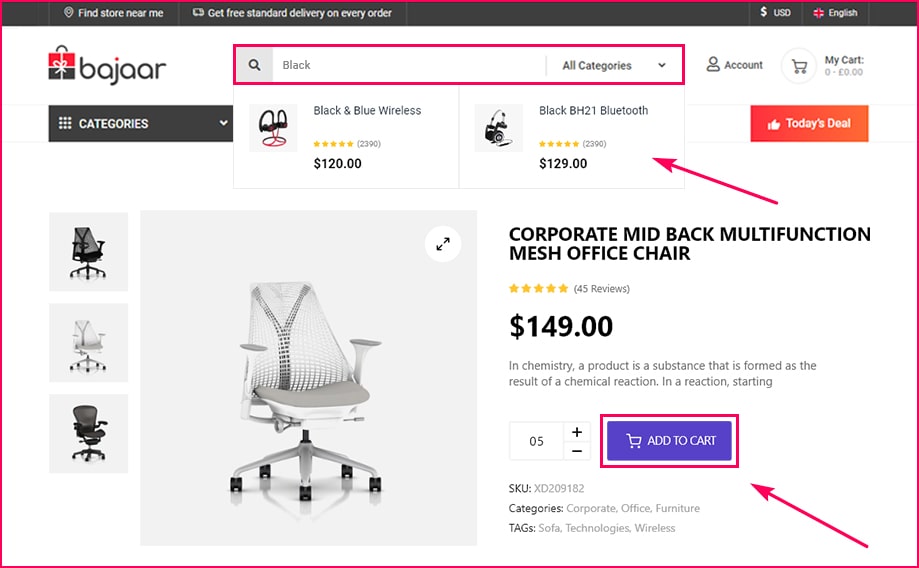 ShopEngine has an AJAX filter that will help your customer to choose through color, name, list, and any other search filters, and as a result, your WooCommerce filtering quest will only show you the items that are exactly right for you.
A fantastic WooCommerce plugin for assisting consumers in finding just what they're looking for. All of this can be achieved in a fast and intuitive manner, which will undoubtedly increase the efficiency and usability of your WooCommerce shop.
Now, let's talk about the 'Add to Cart' filter, well, no online cannot exist without an add to cart option. With ShopEngine, if you wish to implement an 'add to cart' opinion, all you need to do is just drag and drop that option in your WooCommerce.
You should have one of the WooCommerce plugins on your list is Shop Engine because with it you could add Ajax, add to cart as well as quick search view options for your WooCommerce store.
4. Shop Page Product Details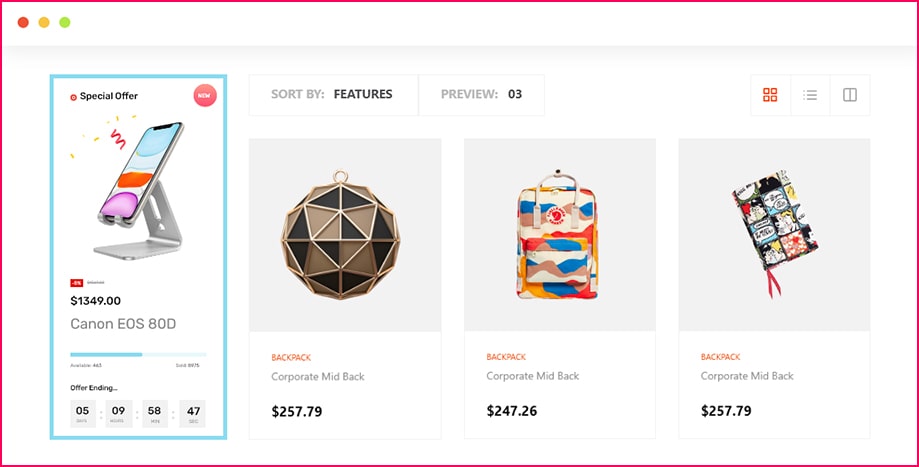 According to WooCommerce, a shop page is "a placeholder for a post form archive for items." In a nutshell, it's the page on which you show your goods, and it's critical to your company's success.
Let's talk about why a shop page is important? And how in just a few simple steps you can customize your WooCommerce shop page with ShopEngine.
Consider going into a shop to make a purchase. What factors influence your shopping experience satisfaction? The way the goods are organized and how easy it is to find what you're looking for are two of the most significant factors.
Overall, the shop page's design and how you present your goods can have a significant effect on your conversions. The shop page in WooCommerce is pre-built, and although there are some options to change its layout, they are minimal. But with ShopEngine, creating a shop page is simple and easy.
5. Check-Out, Shipping & Additional Details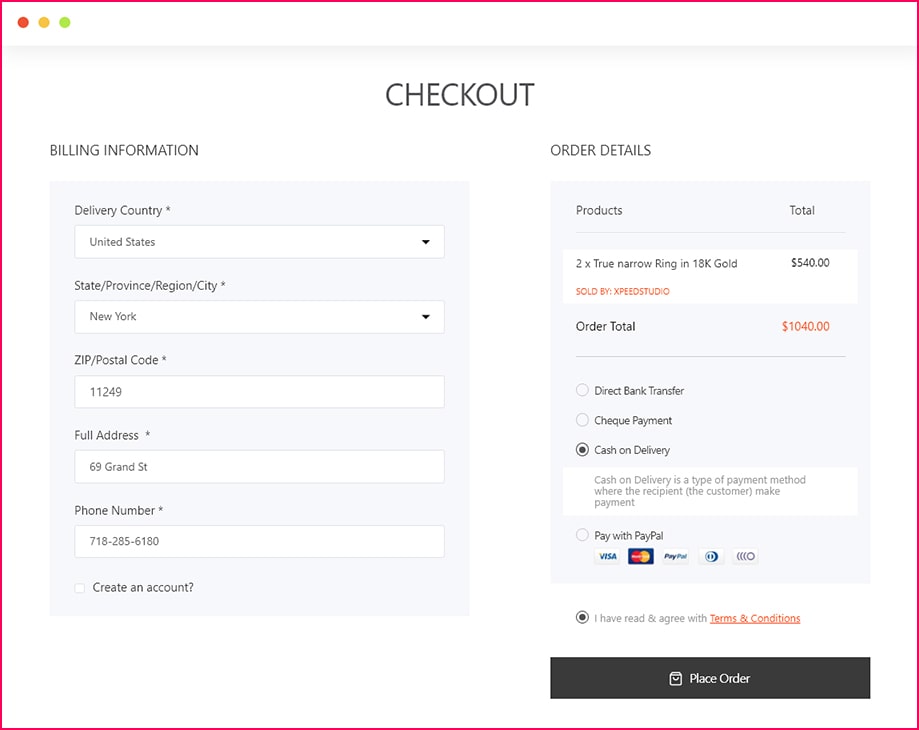 You're throwing away your money if you only use WooCommerce's default checkout page. We make optimizing your checkout page extremely simple.
If you build your WooCommerce check-out page with ShopEngine, it will include the billing information on the checkout page and can also recover all of the information needed by your company. You can also add up a coupon form on the checkout page if there's an offer, discount code available.
In every e-Commerce site, the most essential function after choosing your desired product in checkout. As an e-commerce owner, your main focus should be on the checkout as well.
Why? Because that's where your sales depend.
Another difference that one could make is by maintaining product shipping. If you're selling products, you'll want to know about all of your shipping choices and how to customize them to meet your needs.
ShopEngine offers a variety of delivery options and benefits, including real-time cost estimates, extensions to make checkout faster, and many more.
6. A/B Testing & Wishlist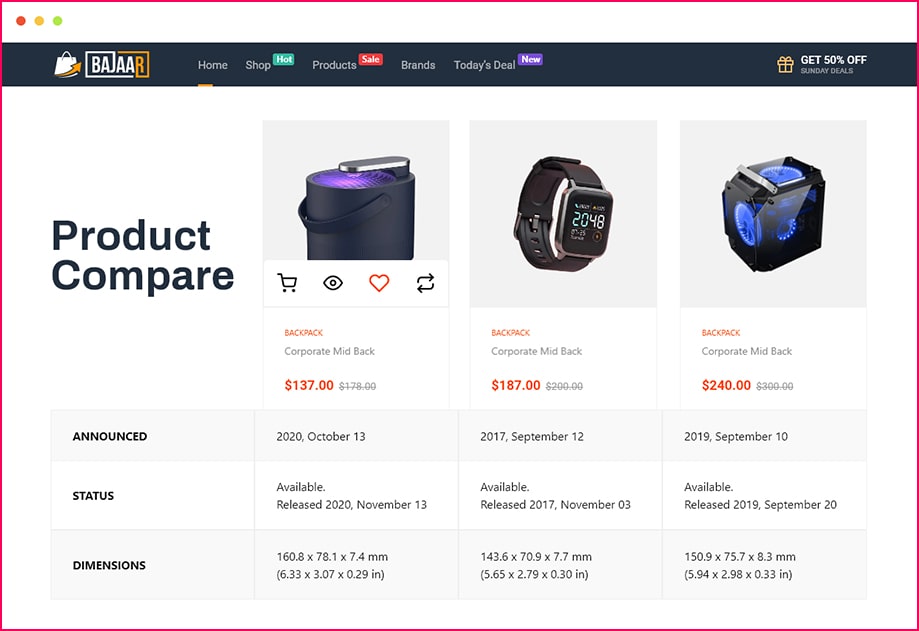 E-commerce A/B testing helps you to see exactly which aspects of your online store are successful and which ones could be improved. They will show you which call-to-action generates the most conversions and which ones are dormant.
A/B testing helps you to optimize your website at its best. You must be thinking, why would you need A/B testing for WooCommerce Store?
Well, sure, you can do that, but I think having it built into your WordPress dashboard is so much more convenient.
However, ShopEngine can check for a solution for WooCommerce specific issues. You won't have to do any manual work to change your performance if you discover that an aspect of your site isn't working.
It allows you to focus your tests on particular aspects of your WooCommerce platform. It's entirely up to you whether that's a particular page or article, a newsletter signup form, a picture, or something completely different, Shop Engine will stand by your side.
ShopEngine's 'Wishlist' widget has a few options for adding items to a wish list. There are several settings that can be customized, making it adaptable to any theme and style.
Setting up split tests and performing experiments is easy along with a wishlist option, and it's something you'll prefer to add to your website. Because it's a very useful option not only for your customer's betterment but also for your WooCommerce store itself.
7. Order & Customer Account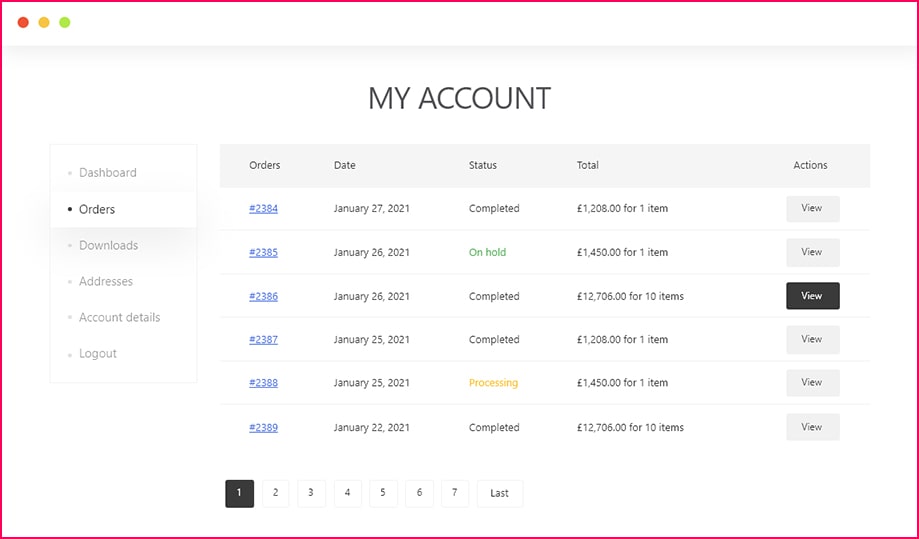 When a customer completes the checkout process, an order is made, and each order is assigned a distinct Order ID. Here if your customer is not interested in registering his/her information in your WooCommerce store, then you can simply add an option called 'check out as a guest'.
And those who are willing to enroll their contact details, with ShopEngine adding-up account details or register to our site option can be done in just one click.
Summary
Now all the respective points we have discussed are available on WordPress. But will ShopEngine add all these features and trendy options that could be added in just one click? ShopEngine is simply your WooCommerce store's one-stop solution.
A small package with multiple surprises! ✨
I hope the whole article was helpful enough to give you a clear scenario on how a single plugin can make big differences in WooCommerce stores and make it an extraordinary success. 
If you still have any confusion, please don't forget to drop your feedback in the comments section below 👇🏼
And for more helpful tips, exciting updates, and blogs please join our WPmet community As well as, don't forget to subscribe to our channel on YouTube for useful tutorials.