Jasper vs GetGenie : Which is the Better AI Writing Assistant?
If AI writing assistant is your area of interest, then you must have heard about Jasper AI.
But have you heard about GetGenie AI 🧞?
Well, GetGenie is the new competition in the market of Jasper and other similar AI writing tools. However, it's not just another AI-powered tool, but rather claims to replace existing AI tools with advanced and all-rounder abilities.
Jasper has been one of the most popular AI writing assistants in the market. But is this new competition a threat to Jasper?
We find out how good of a competition GetGenie can give to Jasper aka Jarvis writing assistant in this Jasper vs GetGenie writeup. We compare this AI writing tool concerning various aspects such as variation in the template, writing quality, blog wizard, ease of use, and many more.
So, without further ado, let's dive into the main part…
Jasper vs GetGenie: Quick Overview
Before we start the comparison, let's get to know a little bit about both the AI tools:
What is GetGenie AI?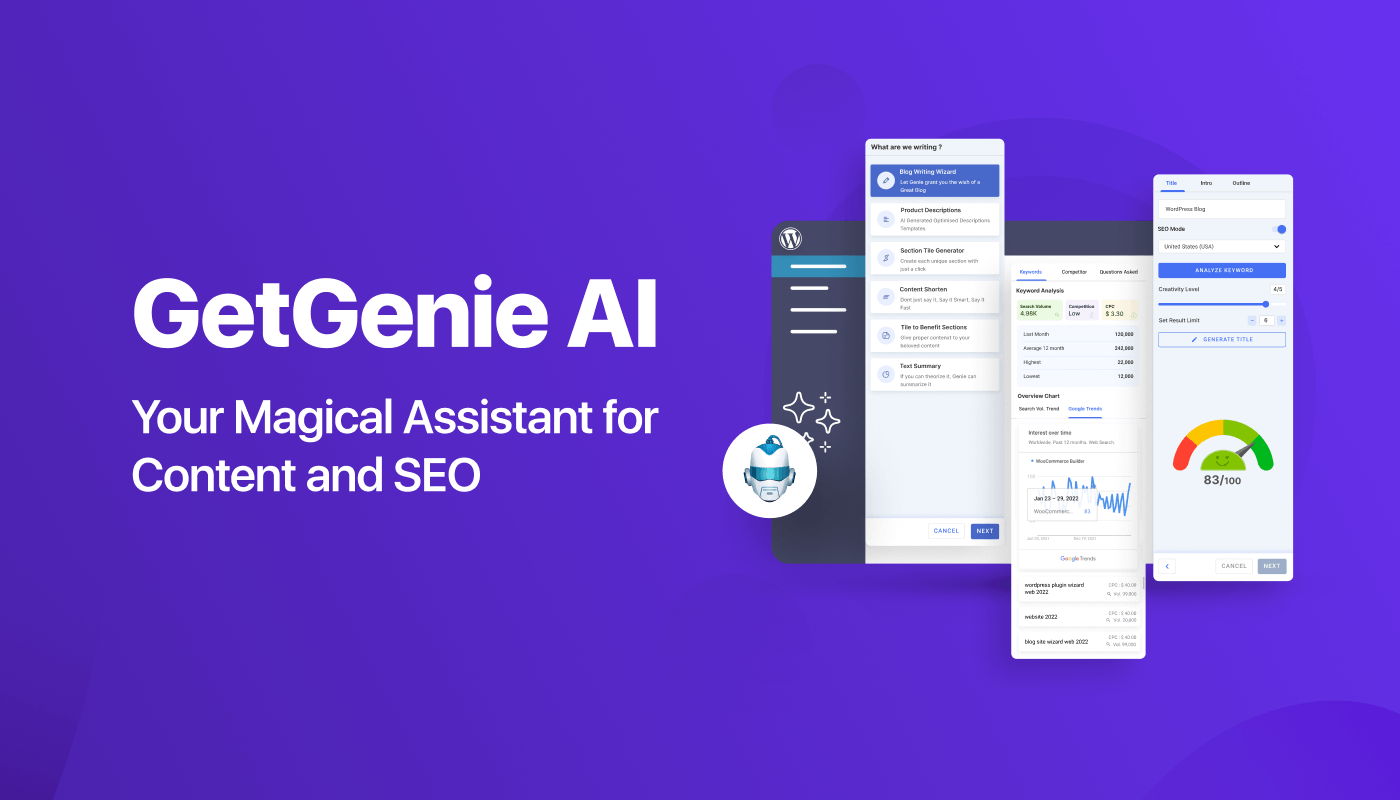 GetGenie is the magical AI writing assistant available in the form of a WordPress plugin that can help users to come up with winning copies and content to boost conversion with just minimal effort. With this revolutionary tool, you can research, write and optimize content at the place using the same tool.
Developed by XpeedStudio, It started its journey to become the only tool anyone with the quest of writing content will ever need. In fact, it's so well planned and made that it can actually replace 10+ writing tools on the market. Btw, the list of tools GetGenie can successfully replace includes Jasper too!
The other tools that you no longer will require if you get GetGenie include Writesonic, Frase, Copy.ai, ClosersCopy, Bertha.ai, WriterZen, Peppertype.ai, Copymatic, etc.
This extraordinary tool can generate practically all sorts of content you can ask for! Be it blog posts, articles, website content, email copies, social media posts, product descriptions, product ad copies, and many more.
What is Jasper aka Jarvis writing assistant?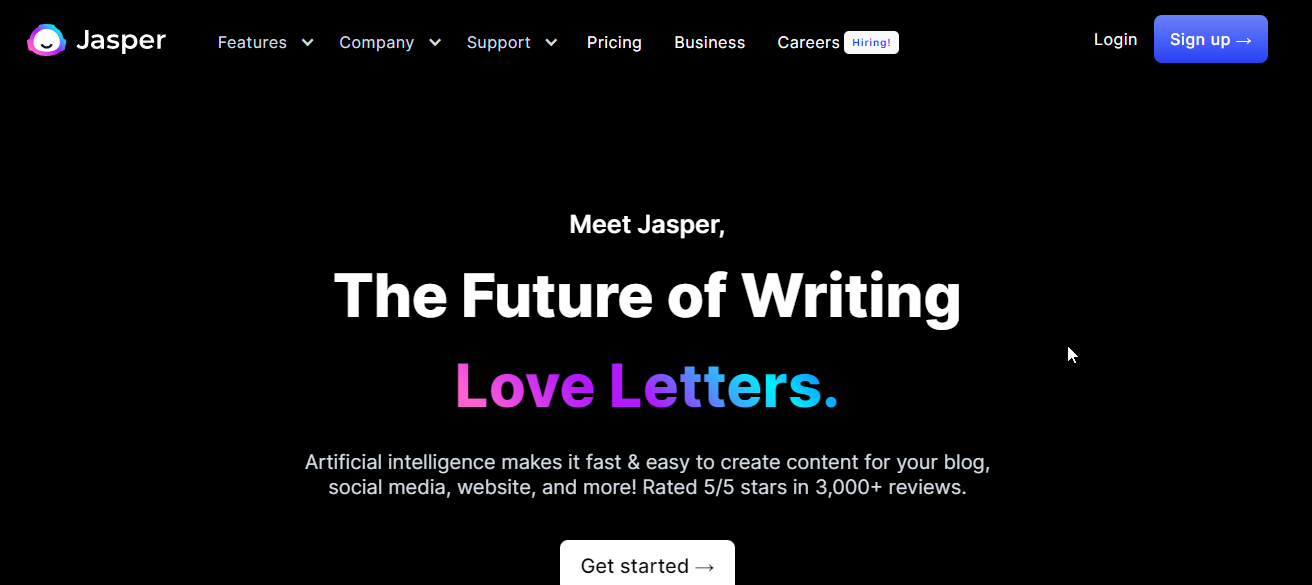 Jasper aka Jarvis writing assistant is a platform-independent AI writing tool that started its journey to help people in search of content without putting in hours and hours of effort.
This writing tool claims it makes a writer's life super easy by eliminating writer's block and making the writing process five times faster than the manual process. Ever since its launch, it has been quite popular for its plagiarism-free content creation.
This Artificial Intelligence trained tool helps you to write all sorts of content such as blogs, emails, website copies, social media posts, stories, ad copies, etc. While it helps you to SEO-optimize content but requires you to get additional add-ons.
Jasper vs GetGenie: Variety of templates
When it comes to the number of content-generating templates, both AI writers offer a wide range of templates. Both the AI writer offers templates to write short and long content along with sales copies. Moreover, both tools provide a blog writing wizard and SEO optimization (more on that later).
If we talk about sales/copywriting templates, then GetGenie offers more templates that are based on proven, popular marketing copywriting techniques than Jasper. For example, GetGenie offers the Before After Bridge template which Jasper doesn't provide.
Though both the tool offers an extensive list of templates, Jasper wins the number's game as it offers 50+ writing templates whereas GetGenie as of now provides 30+. But we also have to keep in mind that GetGenie just got launched, and being launched with 30+ templates is a kickass start. GetGenie has many amazing templates and features on its roadmap.
If you are someone looking for creative writing such as storytelling, then Jasper should be your choice because GetGenie as of now doesn't provide a template of storytelling. Also, Jasper offers templates to produce video descriptions for youtube which is currently not available in GetGenie (but both the features are on the roadmap of GetGenie).
On the other hand, if you are looking for templates focused on your WooCommerce-based eStore, that helps with your conversions, then GetGenie is your tool because it offers templates such as WooCommerce product titles, WooCommerce product Short Descriptions, WooCommerce product long descriptions, etc.
✨✨Winner: The winner of Jasper vs GetGenie in terms of variety of templates is both (it's a tie) because both have lots of common templates along with unique templates that will cater to different audiences. So, what sort of template you will need is what will decide who is the winner.
While Jasper win's the number's game because it offers more templates now, we must mention that GetGenie is not that far behind and may surpass Jasper in terms of the number of templates very soon.
Jasper vs GetGenie: Writing Blog posts & SEO optimization
Publishing regular blog posts is a key tactic of digital marketing and if you are going to buy a writing tool this tool must have the best feature to provide you with SEO-optimized and informative yet engaging blog posts.
You can write a blog post using both AI writing assistants and SEO to optimize them. However, SEO analysis and SEO optimization features are inbuilt only in GetGenie whereas, with Jasper aka Jarvis, you are required to purchase an Addon named SuferSEO.
If we talk about GetGenie it is a close-to-perfect blog wizard because it covers everything. Because you can start with keyword research and change or alter the topic based on keyword research. After keyword research, you can generate multiple variations of blog post intro.
After choosing the intro, the fun part is producing the outline with the headings. GetGenie generates a well-researched outline option for you along with showing you the outline from the top-ranked competitors. And the best part is you can directly add a heading from the competitor list and then add it to your blog as it is or modify it. Genie prepares the outline with H2 headings so you don't have to make it H2 manually.
On top of that, you can generate content for each heading with one click and SEO optimize your blog while you generate the blog post as GetGenie shows live SEO score along with suggestions to improve the score. And guess what, you can generate a blog post on the WordPress dashboard and publish it without any extra work!
Note: You can check how fast and efficiently you can write a blog post in this video below 👇👇
Jasper's blog writing feature, on the other hand, is not as advanced or efficient as GetGenie's. This tool also requires you to provide only input to get output, but it doesn't do the keyword analysis or provide you with the competitors' outline list. Moreover, it produces an outline as simple text so you have to manually make them as H2 which can be pretty annoying since they are supposed to be heading.
As mentioned before, you can get the features of Keyword Analysis and SEO optimization but for that, you need to spend extra.
✨✨Winner: The clear winner of Jasper Vs GetGenie in terms of writing Blog posts & SEO optimization is GetGenie AI. Because it's an all-in-one tool that lets you research, write and optimize blog posts with ease.
Jasper vs GetGenie: Quality of Content
When it comes to the quality of content that these tools generated, we can say both are great. Both write content that is engaging and most importantly original which is the biggest concern when it comes to AI writing assistants. From our experience of using both tools, we can say that both produce satisfactory results.
Morever, both the tools seems to be doing fine in producing plagarism free content. Besides, both offer options to select how creative you want the result tobe and how many results you want which helps a lot get the desired result you want.
✨✨Winner: As both use advanced algorithms and, both seem to write good quality content. So, again the winner of Jasper vs GetGenie in terms of content quality produced would be a tie.
Jasper vs GetGenie: A Better option for WordPress users
GetGenie is a WordPress plugin whereas Jasper is a platform-independent writing tool. So, if you are a WordPress user, then GetGenie is undoubtedly a better option for you because it provides you the option to write and publish content from the familiar WordPress dashboard.
Moreover, GetGenie is compatible with both Elementor page builder and Gutenberg editor. So, whatever tool you may use to build your WordPress website, you can use GetGenie to write content without any hassle or trouble.
It's not like you can not use Jasper as your AI writing assistant if you are a WordPress user. You can always generate the content using Jasper and then move it to your WordPress site. But that's just extra hassle and definitely not the most convenient option out of these two.
✨✨Winner: The winner of Jasper vs GetGenie AI in terms of being a better option for WordPress users is GetGenie AI. Because only GetGenie comes in the form of a WordPress plugin.
Jasper vs GetGenie: Ease of Use / Accessibility
Both provide a rather user-friendly user interface to write content. However, when it comes to Jasper as mentioned before since it's platform independent you have to first write and transfer also.
On top of that Jasper has a limit on how many people can access the tool at one time which is a negative point. Though the tool provides an option to nicely organize team members' work it can not compensate for the limitation on how many people can use it.
On the other hand, since GetGenie is a WordPress plugin it's user-friendly for WordPressians only. If you want to use GetGenie for other platforms then it will be very difficult to manage. But in GetGenie's defense, it is a WordPress plugin! Moreover, the tool will soon introduce voice command options which will then increase the accessibility of use by any user irrespective of their physical ability.
✨✨Winner: As a standalone tool, Jasper is the winner but if you are looking to use it only for WordPress sites, then GetGenie is your winner.
Jasper vs GetGenie: Pricing
GetGenie is currently offering 90% OFF on Ltd packages which start from $69 only. With each lifetime package, you will get unlimited access, unlimited websites, and unlimited users. In addition, you will also get premium support. The word limit starts with 12,000 AI Writing Words Per Month and can get up to 120,000 Words Per Month with the tier 4 LTD package.
On the other hand, Jasper offers different packages on a monthly and annual basis. The monthly package starts from $49/Month with a user limit being a maximum of 5. The yearly package comes a little cheaper at $40/month but the user limits stay the same. The word limit for starter packages is 35,000 words/month.
✨✨ Winner: The winner of Jasper vs GetGenie in terms of pricing is GetGenie AI because it offers a lifetime package with limited access and websites at the cheapest price.
Quick overview of comparison between Jasper and GetGenie AI:
| Criteria | Winner (Jasper Vs GetGenie) |
| --- | --- |
| Variety of templates | Tie |
| Number of templates | Jasper |
| Writing Blog posts & SEO optimization | GetGenie |
| Quality of Content | Tie |
| A Better option for WordPress users | GetGenie |
| Ease of Use / Accessibility | Tie |
| Pricing | GetGenie |
Frequently Asked Questions
Why did Jarvis change to Jasper?
Jarvis trademark is owned by Marvel and the team had sent a cease and desist letter to the Japer (then Jarvis) team. After that, team Jasper decided it was the best idea to avoid legal issues with Marvel and rebrand the software from Jarvis to Jasper.
Who Uses GetGenie AI?
GetGenie is popular among Copywriters for writing sales, marketing, and advertising copies. It also has an advanced blog wizard that allows you to write a complete blog.
Is GetGenie AI free?
GetGenie AI does offer a free trial with one website and unlimited access. The free trial comes with a 15,00-word limit.
Jasper vs GetGenie: Which is the better AI writing assistant?
Honestly, it's hard to give a concise answer to the question of which is the better AI writing assistant as both the tools have features that put them above the other. At the same time, both have shortcomings as well.
We have tried to highlight the good and bad of both AI writing assistants so you can make a more informed decision.
However, if you ask the question, "which is the better AI writing assistant for WordPress?"
Then the clear and concise answer would be – GetGenie AI 🧞.
I hope you found the blog helpful to choose the AI writing assistant that suits your needs. If you have any questions or thoughts you want to share, write in the comment box.
Happy writing!