ClosersCopy vs GetGenie – Which One Should You Pick and Why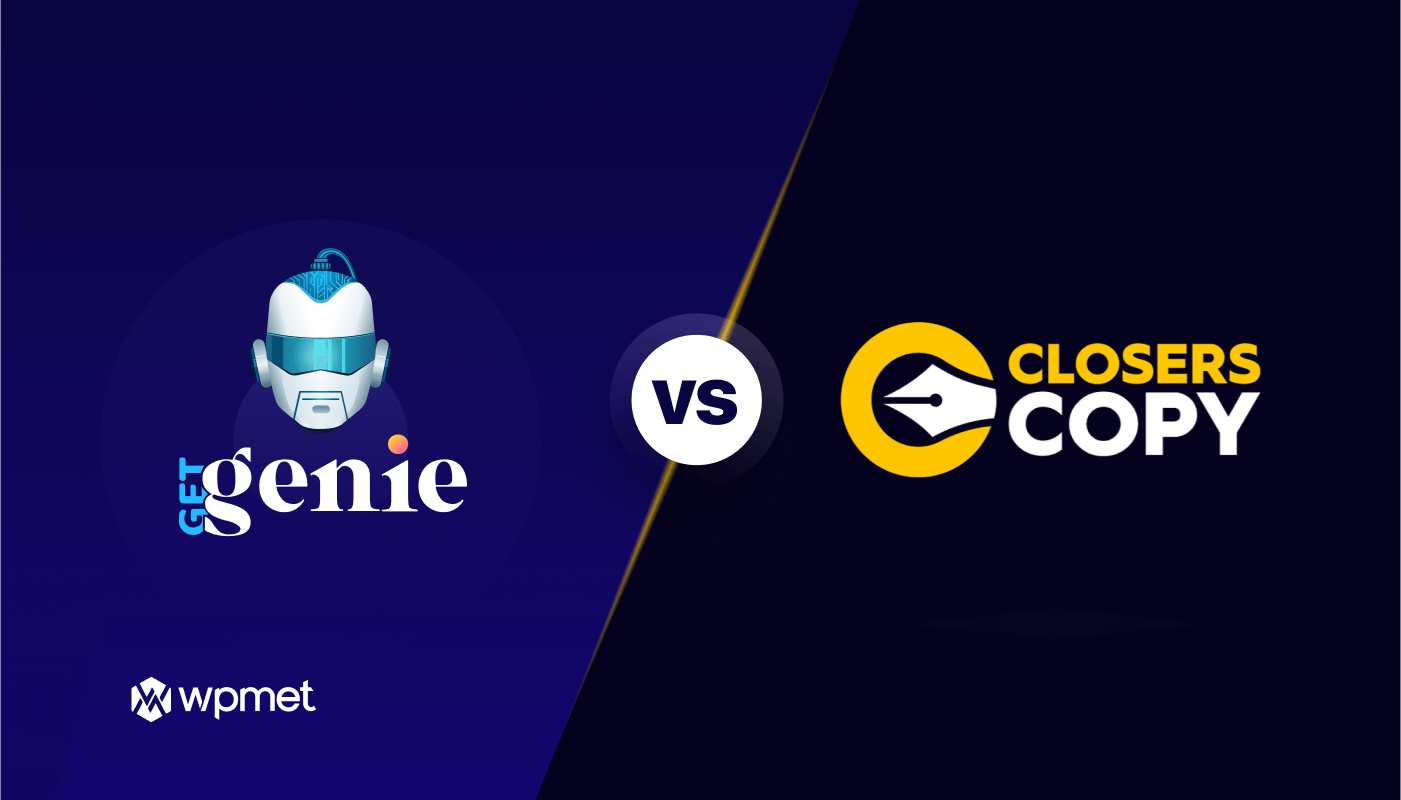 Artificial intelligence is making life easier in almost every field — writing is no different. The writing industry is no different, and we are already seeing some promising AI tools.
ClosersCopy and GetGenie are both AI-based writing assistants. ClosersCopy has been in the market for a while and GetGenie was released recently.
In this blog post, I am going to show a detailed comparison of ClosersCopy vs GetGenie. This will help you to understand why people are talking about GetGenie though it is relatively new in the market.
Spoiler Alert: You can write content directly inside the WordPress dashboard with GetGenie!
What is an AI Content Writer?
This part is for those who are relatively new to AI content writing assistants. You might have tons of questions regarding AI-generated content.
First of all, you need to understand that AI tools are not like content machines where you just give a topic and get content in return. They are more likely to be an assistant to a content writer. This way, content writers can write more but with less effort.
Though the features of AI writing tools may vary, the goal is almost the same — generating content outlines and gathering relevant information to insert into the content.
What is GetGenie AI?
GetGenie is an AI-powered content writing assistant that allows its users to generate content regardless of the topic. It could be any kind of content including email copies, social media copies, sales copies, long-form blog content, and more.
This WordPress-based AI tool comes with ready templates for each type of content that makes it easy to generate content with a few clicks.
The best part is, GetGenie comes with an SEO feature, which means you can write content inside WordPress and optimize it for search engines.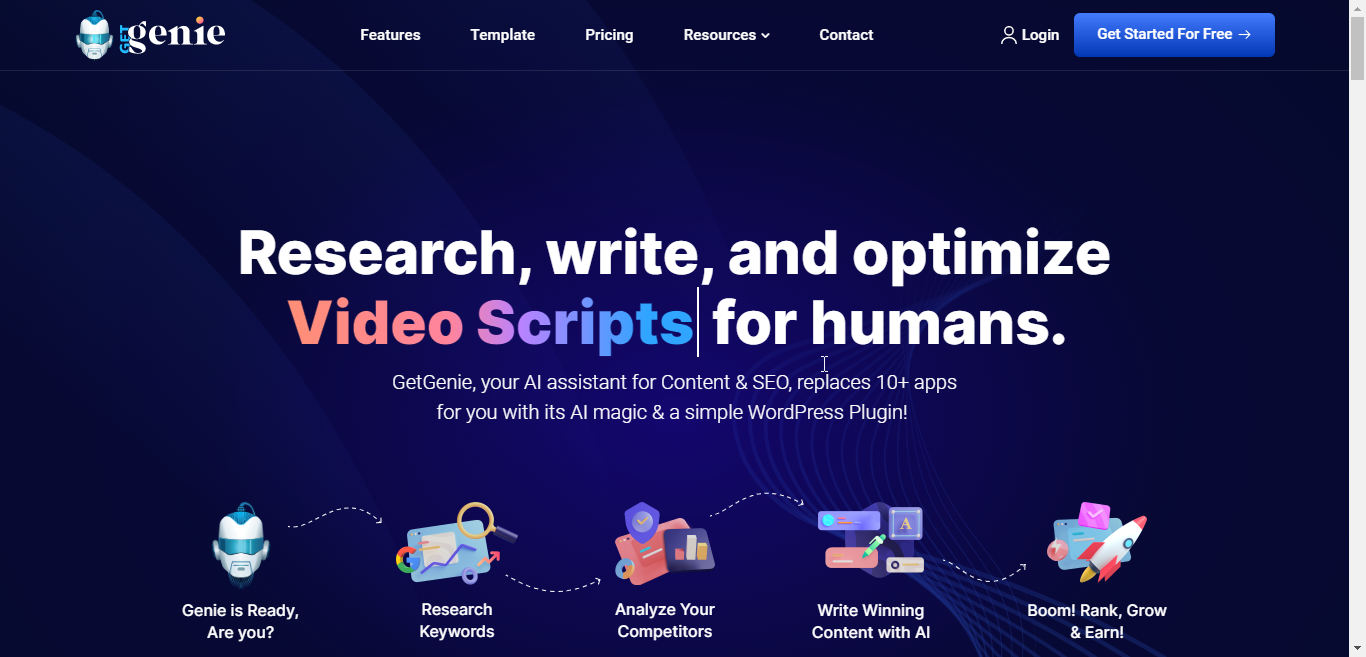 What is ClosersCopy?
ClosersCopy is an AI copywriting assistant that mostly helps in writing sales content. However, this tool also has an option to write long-form content. It combines different variables and algorithms to write unique content. ClosersCopy is mostly suitable for beginners who are looking for simple content writing solutions.
It comes as a SaaS tool where users can write the content inside the tool's dashboard. After doing the keyword research and outlining the content yourself, you can take the help of the ready templates to generate content.
The content output is good but will require some manual editing to make it more user-friendly.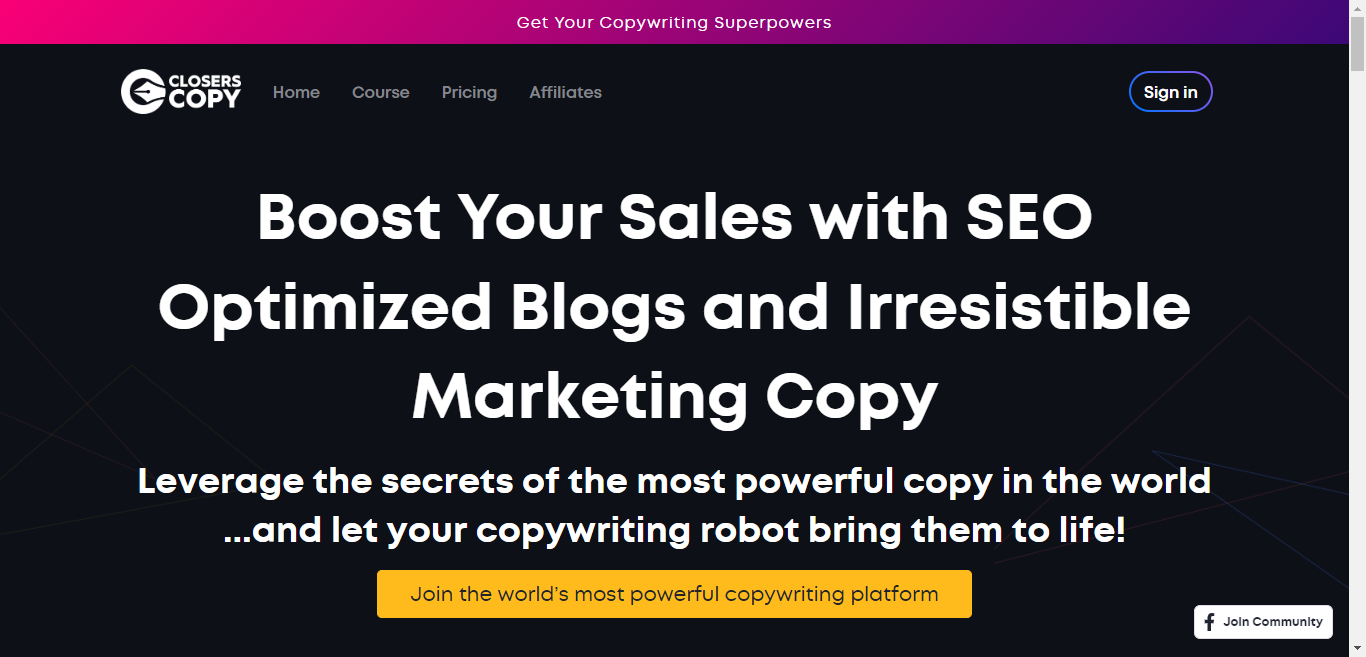 What do GetGenie and ClosersCopy have to offer?
To understand any tool, you need to check the details of the features. Here, I am going to compare the different features of both of these tools so that you can identify which one would be the right choice for you.
Templates for content
Everyone is too busy to perform a task from scratch. Especially if it is an AI content writer, users don't want to spend too much on formatting content. Considering this, most of the content writing tools in the market come with ready templates to write and generate content with a few clicks.
Closersopy has named its templates as framework. So, when a user enters the dashboard, he will see all the available options to write content. This AI writing assistant has a long list of ready templates from where you can select any and start generating the content.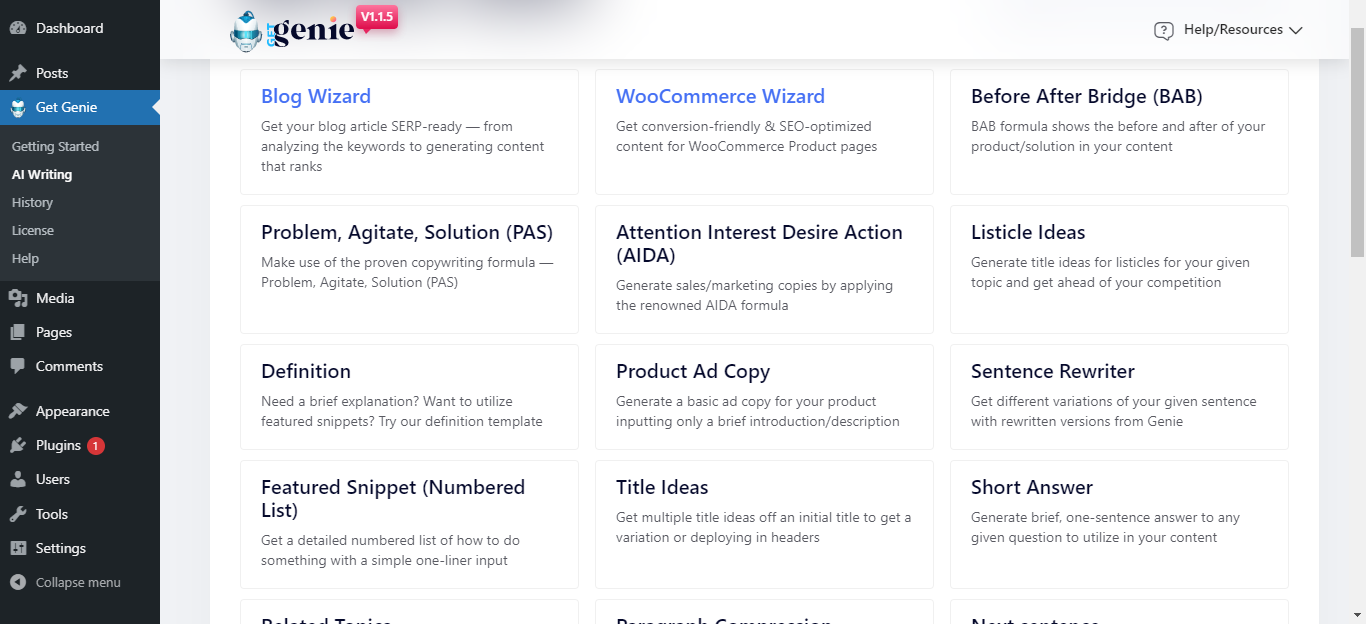 On the other hand, the GetGenie AI writing tool comes with 30+ templates to write content inside the WordPress dashboard. In the template list, you will get the option to write almost any kind of content. It is easy to start with a template as each template has an easy navigation system.
Winner: Both of the tools have almost the same number of templates
Long-form/blog content
The most demanding feature of any AI writing tool is long-form content generation. That's why you will see that all the tools at least have a template for long-form content. The good thing is, both of the AI tools that we are discussing have the long-form content generation option.
With ClosersCopy, users can simply enter the tool's dashboard and then select long-form content. Then, they can give the context for the content, format the content outline, and finally, start writing. It won't take more than a few minutes to write long-form blog content with this tool. You, however, will have to modify the output and it doesn't always fulfill the user demand.
GetGenie has a dedicated option named blog wizard to write long-form content. There are two ways to go with GetGenie's blog wizard — write with the SEO mode turned on or off. With the SEO mode, users can start by inputting the primary keyword for the content. While writing the content, this AI tool navigates step-by-step. You can research your competitors and format your content outline.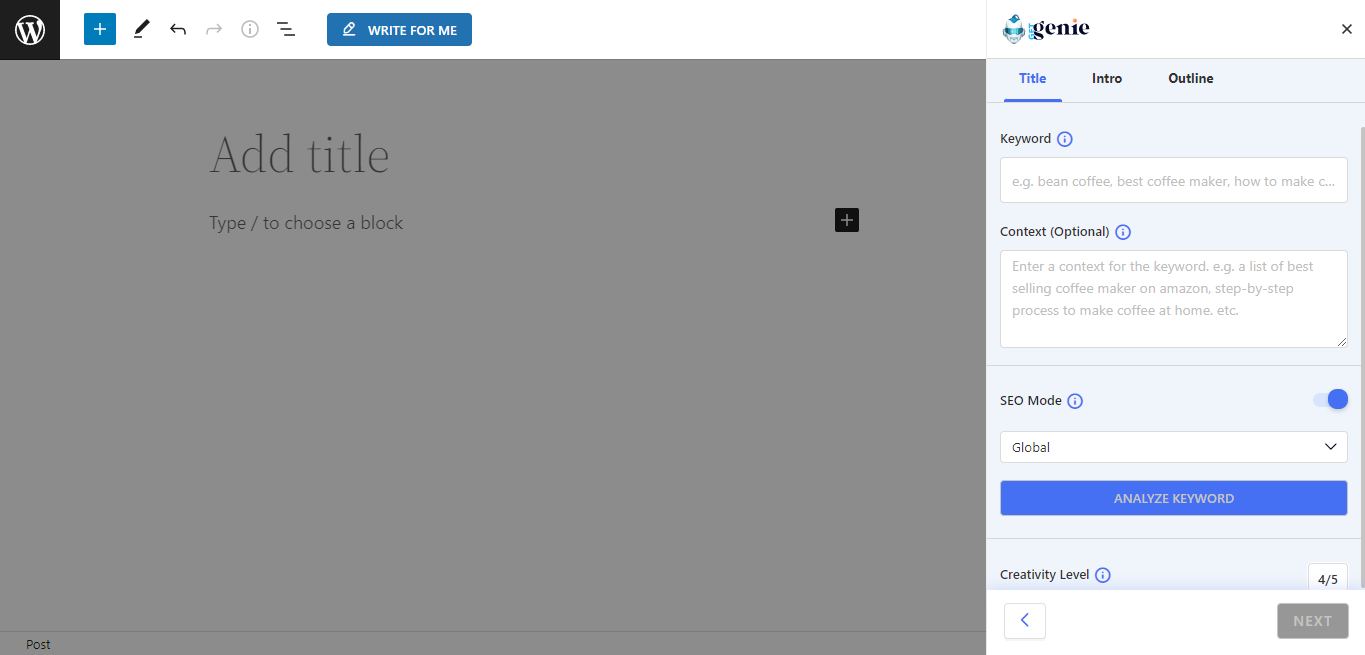 Winner: GetGenie AI is the winner as it provides more reliable data
Copywriting
Have ever tried to get a copywriting service from an individual or a marketplace? Then you know that it is costly to get your copywriting done by professionals. But what about writing it yourself based on the use case? Yes, GetGenie AI writing assistant allows you to write copies for different use cases using popular copywriting frameworks.
As I mentioned, GetGenie AI offers different copywriting frameworks such as AIDA, BAB, PAS, etc. Once you select the framework, instruct different fields and this tool generates the copies accordingly. It could be any kind of copy including sales copies, email copies, social media copies, and more.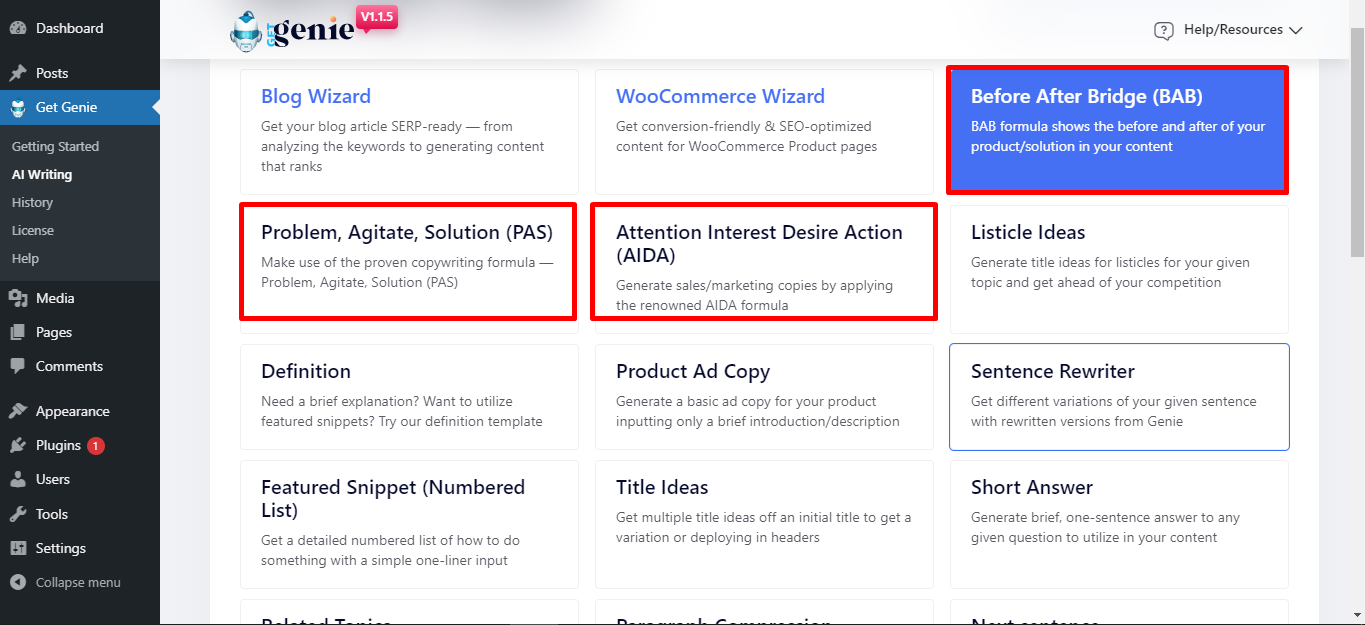 ClosersCopy also has multiple frameworks to write copies for different purposes. Compared to GetGenie AI, the number of frameworks is higher with ClosersCopy. But if you consider the content quality, without any doubt, GetGenie has better output. The content output for copywriting is almost like a professional copywriter.
Winner: GetGenie AI is the winner with its engaging copies and copywriting frameworks
SEO feature
Writing tons of content on a topic doesn't help in getting organic traffic unless you are maintaining the content quality and optimizing it for search engines. Besides covering all the relevant subtopics, fulfilling the SEO guideline is mandatory.
GetGenie comes with an SEO feature so that the generated content outperforms the competitors. Before writing content, users can analyze the SERP inside the WordPress dashboard, get the data, check google trends, keyword search volume, and all the relevant information. It helps to write the content properly. The best part is, there is a scoring system as well that gives an idea if the content is fulfilling the SEO demands.
ClosersCopy comes with almost the same feature that is named compete. So, when you want to compete with your competitors, you can select this feature and start writing. After inserting the keyword, users can select the number of outputs and the tool shows the SERP data from where the user can build an outline. It becomes handy to write the content while maintaining the search engine guidelines.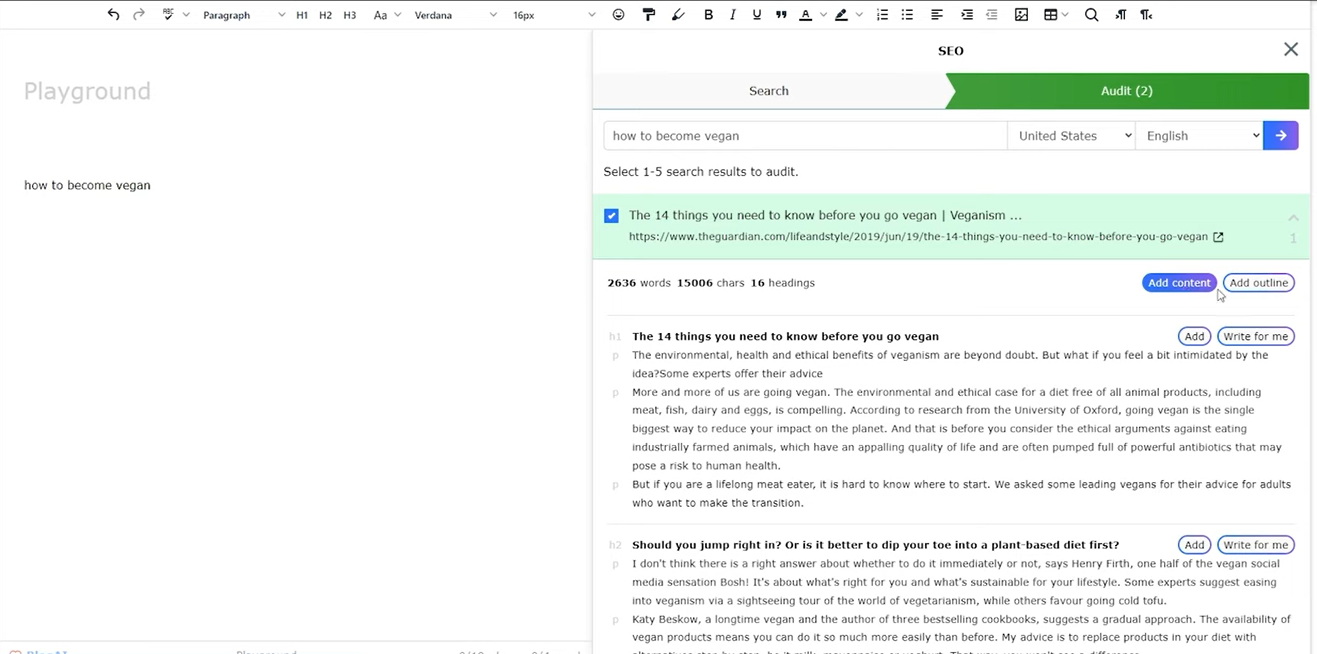 ClsoersCopy shows the relevant phrases along with other information. Like GetGenie, there is a scoring system based on the keywords as well.
Winner: GetGenie AI provides more insight for search engine optimization.
AI technology
We all know that AI tools use different methodologies and algorithms to generate content. The authenticity of data mostly depends on the content generation process. So, the AI tool must use something advanced for content generation.
GetGenie AI uses the most advanced model GPT-3 to help its users in getting the authentic data for the content. Compared to other artificial intelligence systems for content writing, GPT-3 is the best. So, you can expect to meet all your requirements while writing the content.
ClosersCopy also uses an artificial intelligence system for content output. But they have developed their own algorithm for content generation. It performs well but compared to GPT3 technology, the output is not up to the mark.
Winner: GetGenie AI is the winner with the most advanced natural language model
Output customization
No matter whichever AI writing assistant you are using, there will be certain limitations. If you randomly generate the content output, you will soon run out of your credits.
With ClosersCopy, you can select how many words you want to write for a query. It helps to get customized output which is good for content quality. Besides that, you can also select the number of outputs for a single query.
GetGenie AI doesn't have any option to limit the number of words for the content output. But you can choose how many outputs you want to get for a particular query. So, while generating the content, the number of words
Winner: ClosersCopy is the winner as it allows you to limit words.
Grammar and plagiarism checker
None of these AI writing tools has any grammar check or plagiarism check feature. However, GetGenie has announced that they will bring both of these features in the future. You can hope for the same with ClosersCopy. But till then, you will have to use third-party tools to check for grammatical errors and plagiarism.
Quick comparison for ClosersCopy vs GetGenie
| | | |
| --- | --- | --- |
| | ClosersCopy | GetGenie AI |
| Templates | Multiple frameworks focused on copies | 30+ templates |
| Blog outline builder | Not available | Outline builder from SERP analysis |
| Copywriting | No particular model. But available options to write copies. | Popular copywriting frameworks — BAB, PAS, AIDA, etc. |
| SERP analysis | Analyzes competitor pages | Analyzes the SERP and provides details in the dashboard |
| Keyword research | No keyword research function | Does keyword research, show relevant keywords, and google auto suggested keywords |
| Content SEO Score | Doesn't have any SEO scoring system | Content SEO score based on words, images, keywords, and headings |
| Long-form content | Available long-form blog content writing framework | Blog wizard template to write long-form content |
| Creativity level option | Yes | Yes |
| Summary writer | No | Yes |
| Content rewriter | Yes | Yes |
| Setting word limit for content | Yes | No |
| AI technology | Own AI algorithm | Uses GPT-3 technology |
| Grammar and plagiarism check | Not available | Upcoming feature |
| WordPress integration | No WordPress integration | Available WordPress integration |
| Multiple language support | Yes | Yes |
Who is the overall winner?
As you have read in the above discussion, in most cases GetGenie AI performs far better than the ClosersCopy AI writing assistant. So, our winner is the GetGenie AI.
If you want to write your content with great quality and don't want to miss out any information while writing the content, there is no alternative to GetGenie AI.
Why is GetGenie the best alternative for any AI writer?
You might already have realized that GetGenie AI is unique and special in terms of features and navigation systems. Just after the release, everyone is talking about the tool. This is the only AI writing assistant that allows its users to write inside WordPress dashboard, optimize it, and publish it. It is a huge-time saving for the writers and publishers.
The ultimate goal of any AI writing assistant is saving time, producing more content, and optimizing the cost. GetGenie helps to achieve all of these goals without struggling much.
Frequently asked questions
After going through the whole discusssion for ClosersCopy vs GetGenie, now you might have some additional queries. For this, follow the following questions and answers.
Do both of these tools have lifetime deals?
Yes, Closerscopy has a lifetime offer. GetGenie AI, on the other hand, is also offering a lifetime deal for a limited time.
Can I rely on AI writing tools for content marketing?
Yes, you can rely on AI writing tools. But you need to understand that it won't be an automated process. It requires manual effort to achieve success with AI writing tools.
Could any of these AI writing tools replace real writers?
Not yet! AI writing tools are meant to be helpful for content writers. To give proper instructions and get better output, there will be a need for manual input that an experienced content writer can perform.
For academic paper writing, which AI tool should I use among them?
None of these AI writing tools ever claimed that they can generate academic paper writing. So, you better do it yourself or take help from someone who has expertise. But you can always use these AI tools to polish your academic content and make a better version of it.
Final Words
After comparing ClosersCopy vs GetGenie, we got a clear winner and it is GetGenie AI. This amazing WordPress AI writing assistant is doing outstanding performance. Despite being a relatively new plugin, it is getting a great response from the users.
If you are ready to give it a try, you can start with the free version. Download the GetGenie AI plugin and start using it. You can also grab the lifetime deal which is available for a limited time.