Elementor 3.6 Review: New Features and Improvements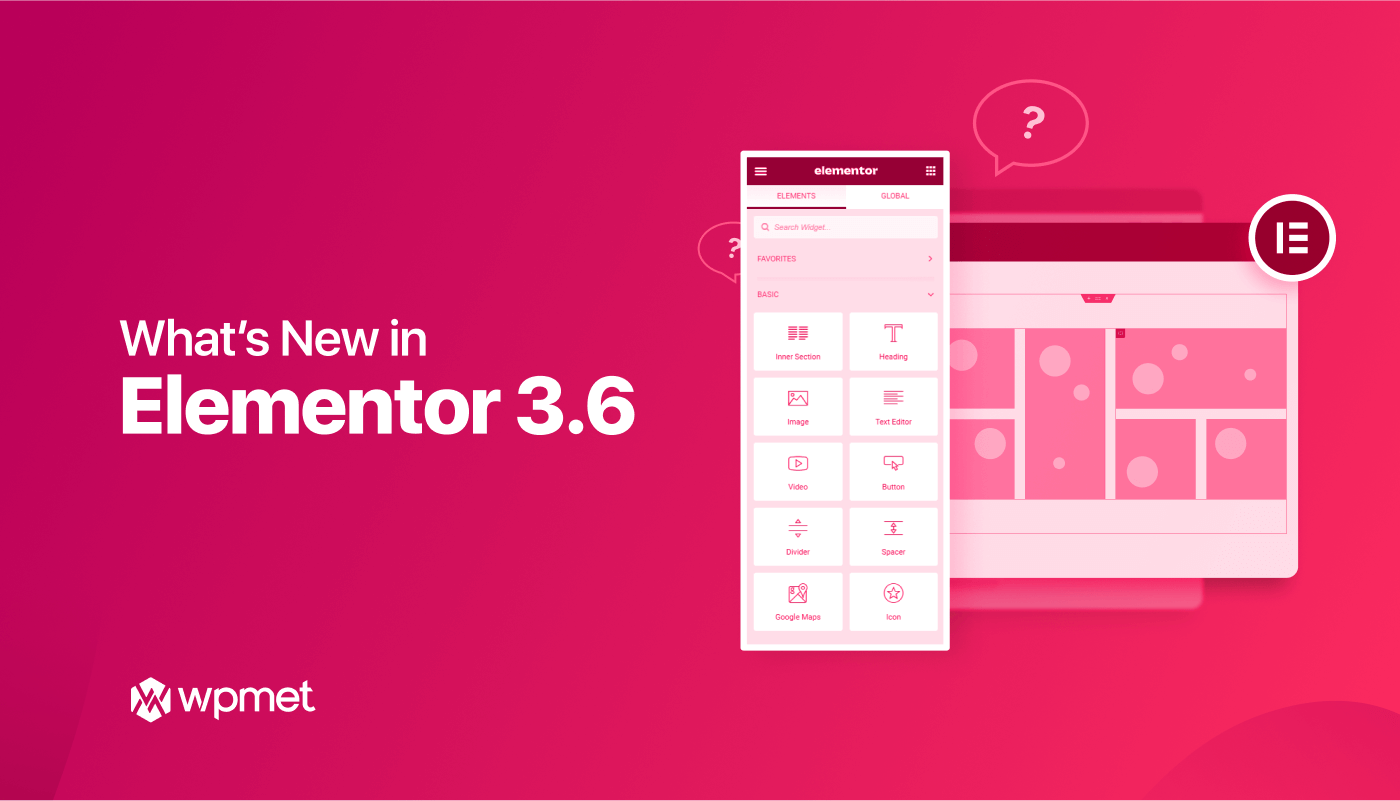 Have you tried the Elementor 3.6 yet?
Or are you waiting for a good Elementor 3.6 review to make up your mind?
Well, if you are, your wait is over!
Because in this article, you will get to know about all the new feature additions and improvements of Elementor 3.6 in detail.
Elementor 3.6 is all about helping you build websites that elevate the brand identity. So, it mostly focuses on features that will help to create pixel-perfect device responsive designs that load faster so that your users have the best shopping experience.
Along with new features, you will also get new WooCommerce widgets to improve the shopping experience on your Elementor website.
However, it's an experimental version, so you don't have to switch to Elementor 3.6 right away. You can try out the new features and then gradually switch if you wish to.
But for that, you need to know what are the features and improvements of Elementor 3.6, right?
So, let's just cut to the chase and move on to the Elementor 3.6 review….
New Features and Improvements of Elementor 3.6
I have tried to include all the main features and improvements that latest Elementor has to offer. Read the blog to find more details about the features.
✨ Introduction of Flexbox Containers
Elementor 3.6 has introduced a new layout structure like the CSS flexbox containers. With the flexbox containers, there is no need for inner sections anymore!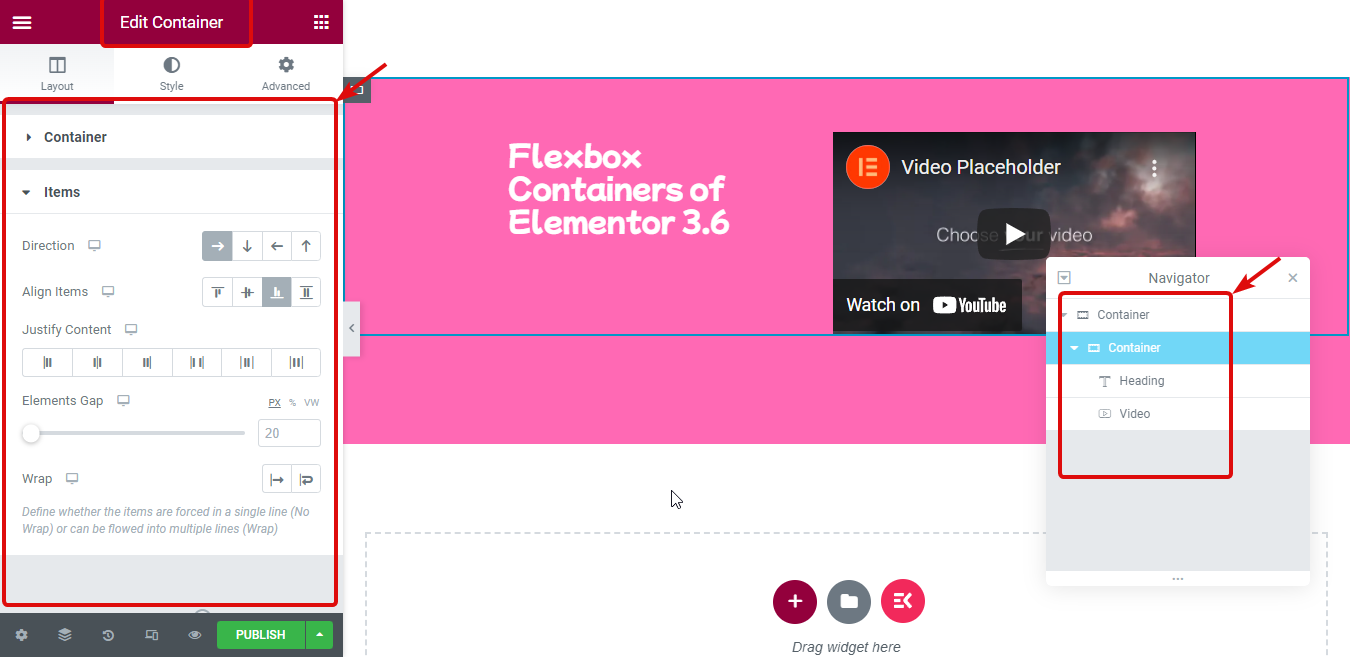 You can add widgets directly to a container and also add containers within a container to make rows & columns. You can customize the directions of the containers to turn into either a row or a column.
This container layout will ensure pixel-perfect responsive designs. Besides, flexbox containers use more optimized DOM output which will improve the site's performance remarkably.
In case you are worried about how you are going to convert your current section-column structured Elementor site to the new flexbox container structure, don't be.
Because Elementor 3.6 comes with an easy-to-use Converter option under page/post settings. You can just click on the convert button/option and have a flexbox container version of your page without doing any extra drag and drop.
Note: To learn how to use the new flexbox container in detail, click here.
✨ New Import/Export Feature
Elementor 3.6 empowers you with new capabilities when it comes to export and import which will make web design faster than ever.
Wondering how?
Well, the new version of Elementor comes with the Import-Export Template Kit feature which enables you to not just import content, site setting, and templates but a whole website kit into another website.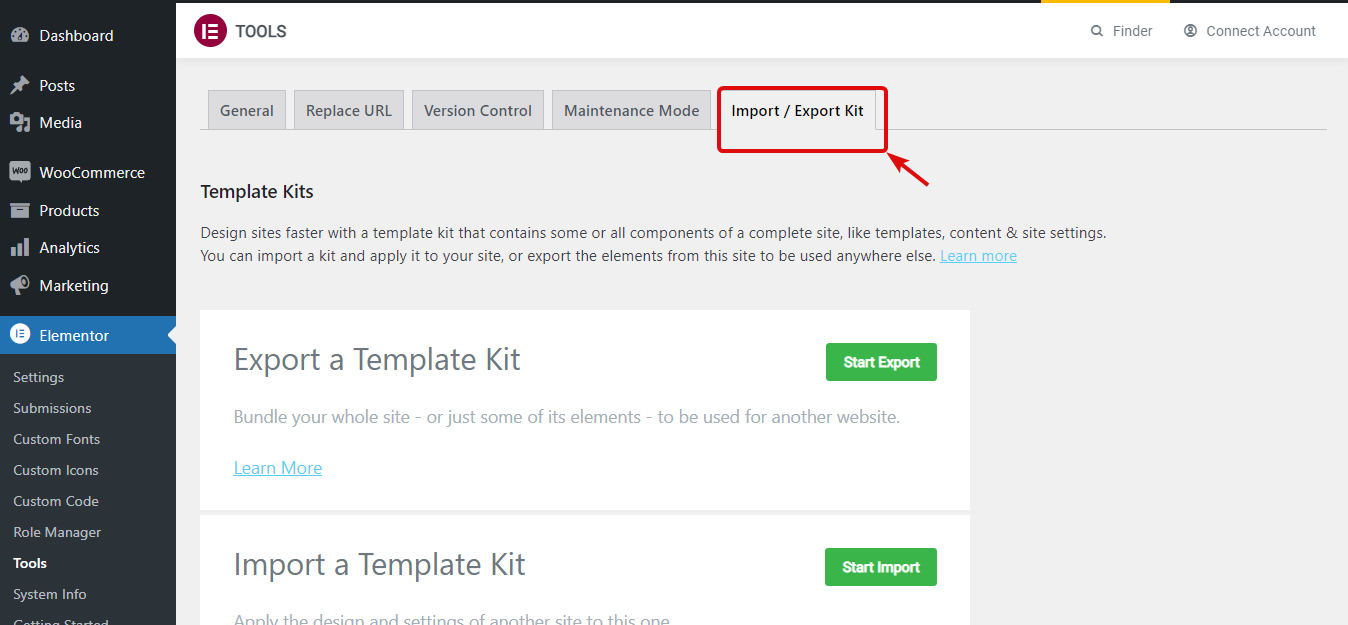 So, you can now export/import all the plugins a website uses along with Elementor and Elementor Pro, such as WooCommerce to another site in a few clicks. You also get to choose which plugins and settings you want to import.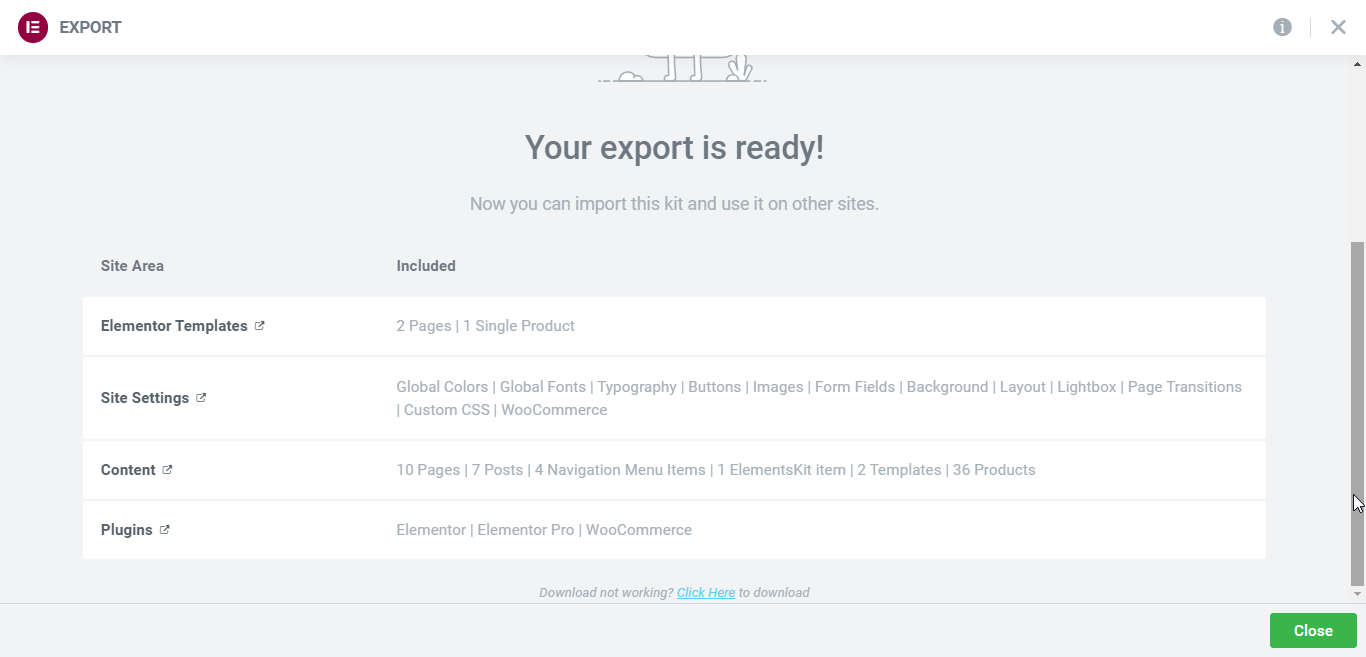 Another great thing about this new feature is you can import all the dynamic links and references of the site. And you'll also get to view a summarized version of all the plugins, settings, etc you choose on the screen.
✨ Page Transitions with Preloader
Yes! Now you will not need any additional plugin to add a preloader to your Elementor site. Elementor 3.6 provides the option to create your own personalized page transition with a preloader that reflects and promotes your brand while giving your user a better experience.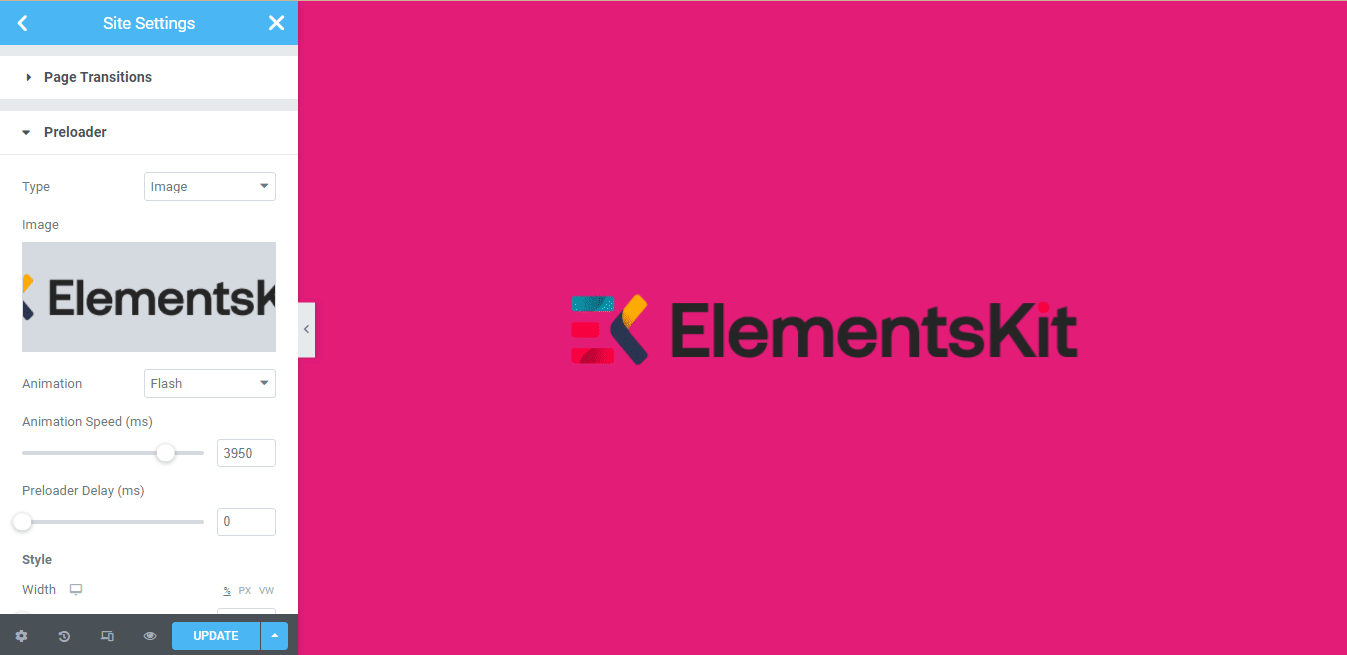 You can find the page transition settings under Site Settings. You can customize the background color, text color, and entrance animation. You can also choose the preloader type such as image, text, animation, etc along with preloader delay time and time settings.

✨ Rearrange Global Colors and Fonts
Some may not consider this addition to be very crucial. However, if you are a perfectionist and you like to work in an organized way, this feature can make your web design process more effortless.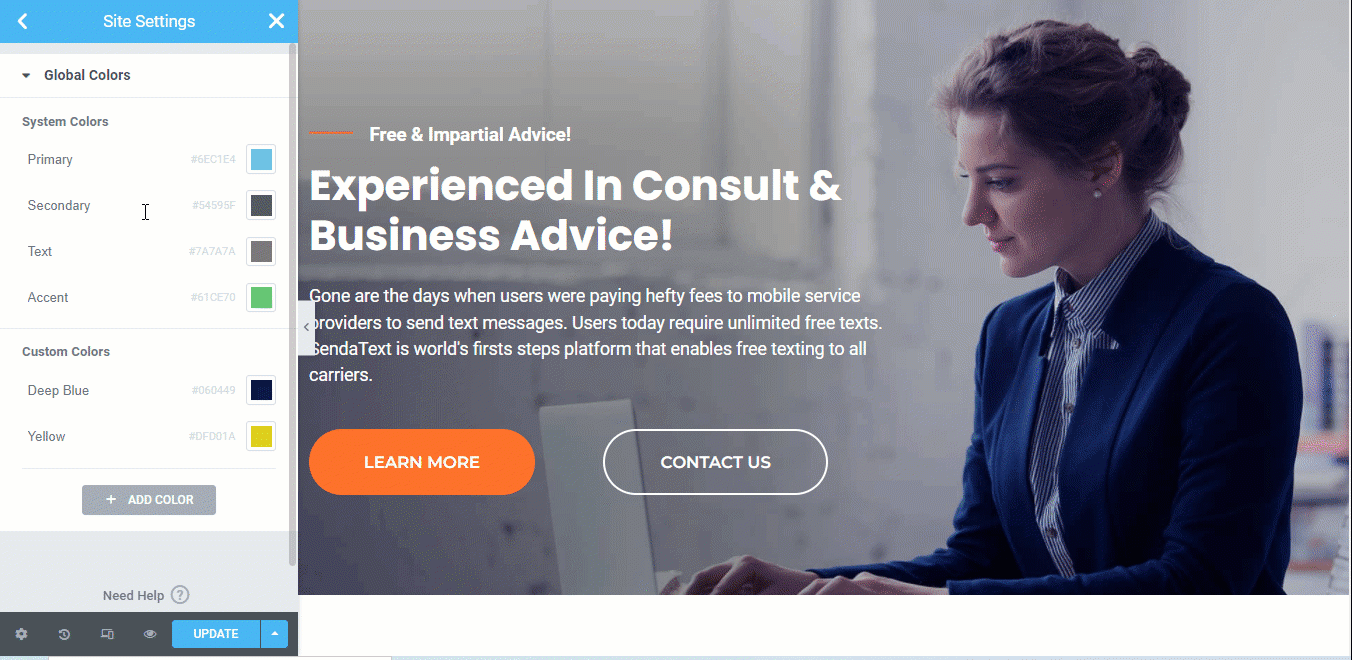 Now, you can reorganize the global fonts and colors. You can reorganize the order of both the Global system colors and custom colors. However, you can only delete the custom colors. Similarly, you can reorganize the global fonts and delete the custom fonts, not the system ones.
✨ Widget Addition and Improvements
If you were waiting for new WooCommerce widgets to elevate the shopping experience of your customers, then you will be glad to know that two new widgets have been added along with new improved layouts of the Add to Cart widget.
✅ Purchase Summary Widget:
With this WooCommerce widget, you can create and customize the order confirmation page. Here you can customize confirmation messages, payment details, bank details, downloads, purchase summary, billing details, etc.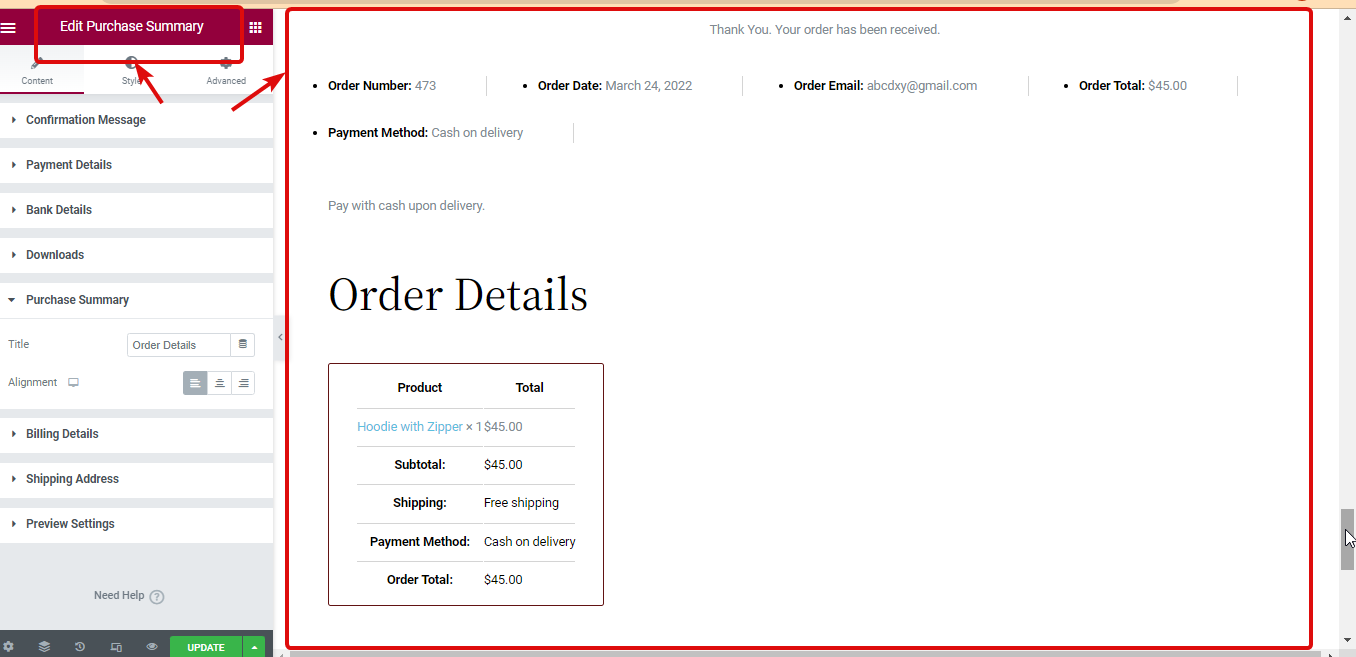 ✅ WooCommerce Notices Widget:
With this widget, you can show custom notices on the header of WooCommerce pages. This widget will override any default WooCommerce notices. You can add and customize different WooCommerce notices from site settings.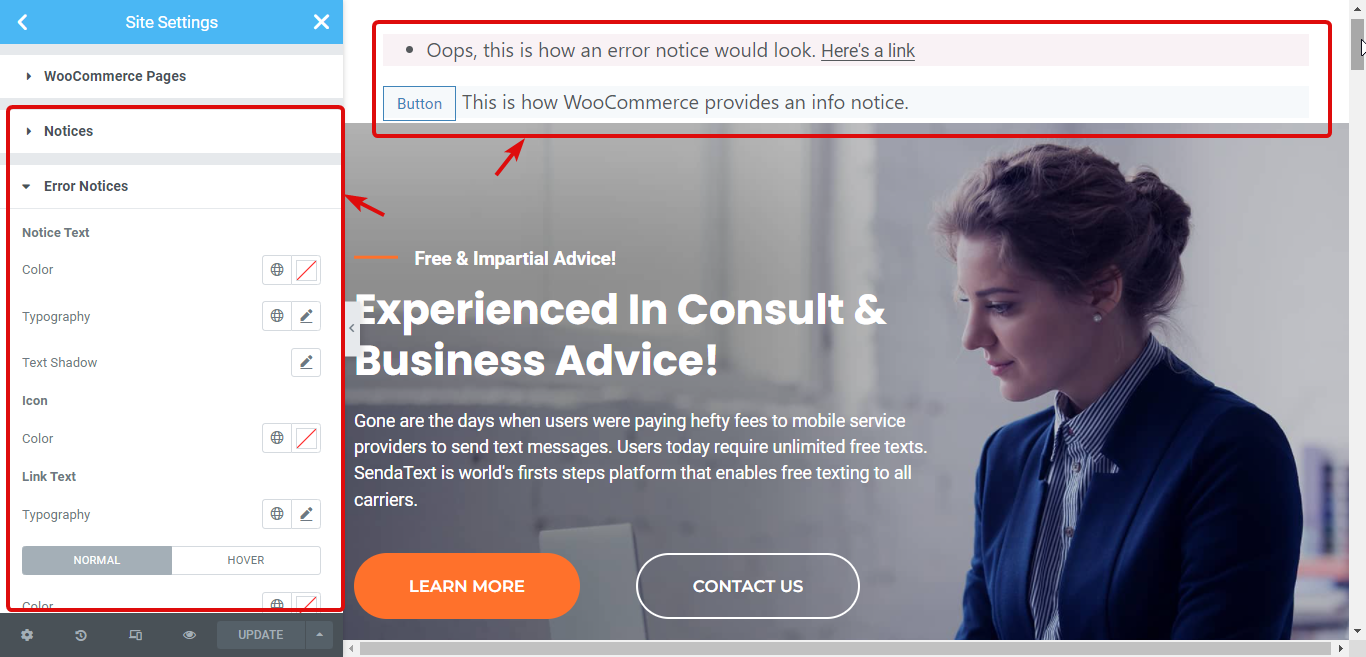 ✅ New Add to Cart Widget Layout:
Now you will get new layout options for your Elementor Add to Cart widget. The three layouts are Auto, Inline or Stacked. This way, you will have more control to enhance the appearance of your Add to Cart section.
✨ Performance Improvements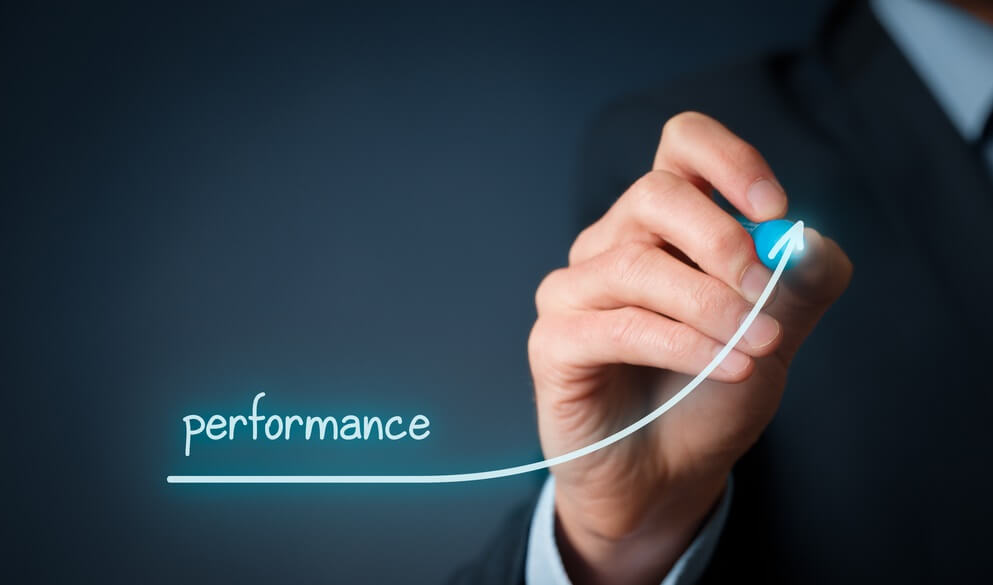 Like every new version, this new Elementor version has also improved a lot of features to boost your website's overall performance. This time, the addition of a lazy load is the highlight.
With the lazy load feature, unlike the earlier versions, now your whole website content will not load at the same time. Rather, it will only load the part that is immediately visible to the user. And the rest of the content will get loaded as the user scrolls down.
This lazy load will be applicable on the Carousel widget and Background Slideshow feature of all the sections of your website. As a result, you will see a big leap in performance improvements.
In fact, you will be surprised to know, with the new version, CSS is reduced to 11kb from 137kb. Yes, the difference is 126kb!
Moreover, 'elementor-section-wrap' has been removed to minimize the DOM outputs as optimized DOM outputs will give you a better website loading speed.
Note: There was a bug in Elementor 3.6.0. The bug was that "The editor was failing to load due to 3rd party deprecation conflicts". But it has been fixed in the new release.
Also, a lot of functions have been depreciated intentionally for the purpose of performance improvements.
Is ElementsKit compatible with Elementor 3.6?
Yes. ElementsKit is completely compatible with Elementor 3.6
So, those of you who love to use ElementsKit to build and customize Elementor sites, have nothing to worry about.
Our Developers and Quality Assurance teams have tested Elementor 3.6 with our latest ElementsKit version and we can assure you that there is no conflict.
However, if you have any issues with your site's ElementsKit after you start using Elementor 3.6, you can contact our support team.
If you are someone who is excited to use Elementor 3.6 and looking for an add-on to add more features without having to face any bugs or errors, you can surely try ElementsKit – The ultimate addon for Elementor.
It has 85+ widgets and modules that are currently making more than half a million users' web development efforts more fruitful. It will be the perfect complement to your Elementor web design toolbox.
Final Words
Well, that's it! Elementor 3.6 seems impressive, doesn't it?
While switching to a flexbox container seems a little daunting at first, the conversion process Elementor provides is pretty good.
Honestly, the addition of lazy load is my most favorite as it will greatly improve the website's loading speed which is non-negotiable when it comes to user experience and maintaining low bounce rate.
I would suggest, you try everything on a staging site first. If you are happy with the results, move it to your real domain.
I hope you found the blog useful. Do share which new feature is your personal favorite on the comment box.