11 Best Mailchimp Plugin for WordPress to Grow Subscribers (Free and Pro)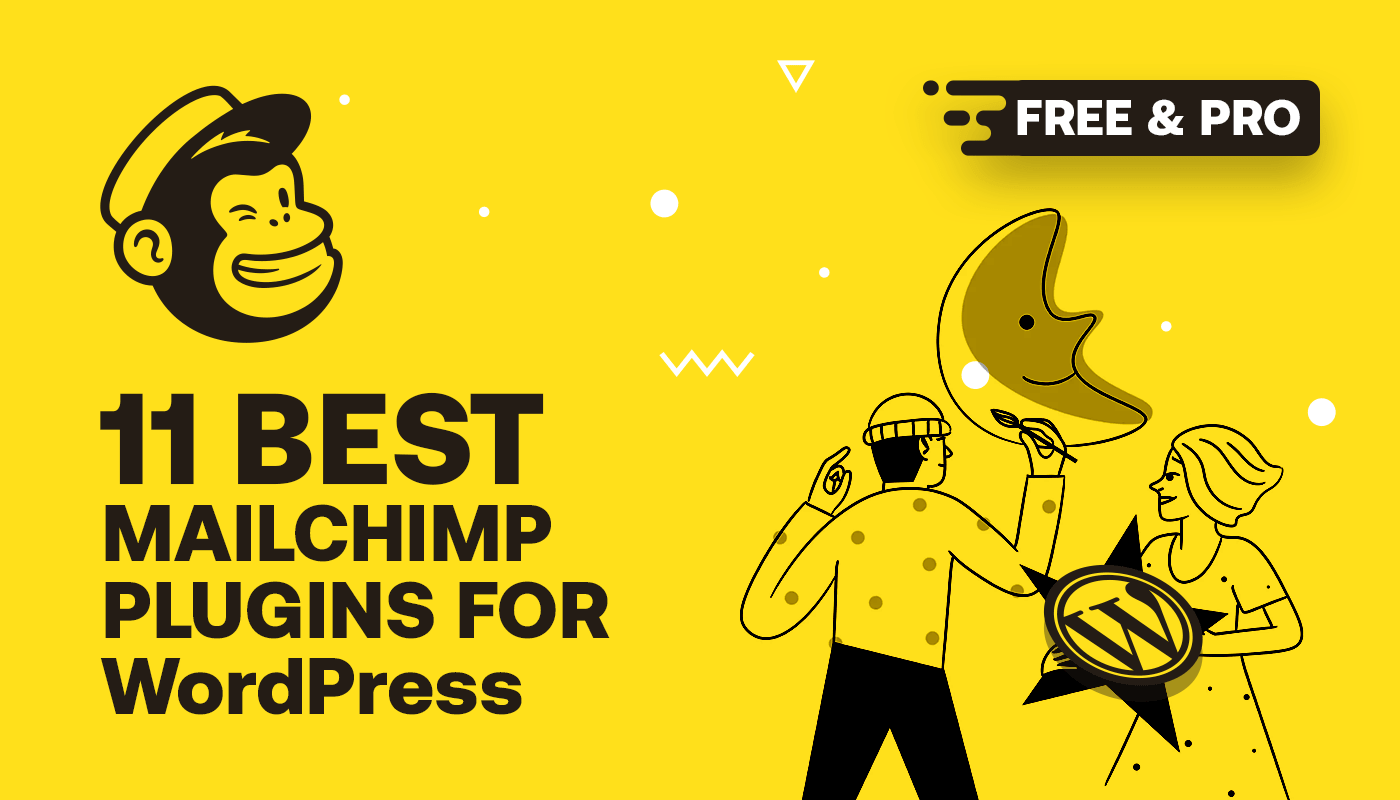 Statista has revealed that while 3.9 million users were using Email in 2019, it can grow up to 4.3 billion in 2023. 
You know what? That's almost half of the world's population!
According to DMA, for per $1 spent on email marketing, you can expect a whopping $42 of average ROI. 
Many people have the wrong notion that email marketing does not work anymore. They should know that welcome emails, personalized emails, interactive emails, and abandoned cart emails still attract people like magnets.
MailChimp is helping millions of businesses to thrive with email marketing. If your website is built with WordPress and you want more WordPress site visitors and sales, you'll find tons of plugins that integrate with MailChimp.
In this article, I will talk about the 11 best MailChimp plugins for WordPress. These WordPress plugins for MailChimp will help you to grow and manage your email subscribers.
Without further ado, let's dive in.
11 Best Mailchimp Plugin for WordPress Reviewed
To make sure you benefit from different types of essential plugins that integrate seamlessly with Mailchimp, I've brought diversity to the list. Below you'll find form plugins, WooCommerce plugins, subscription/opt-in plugins, and GDPR compliance plugins that will help your business grow with better ROI. Let's dive right in.
MetForm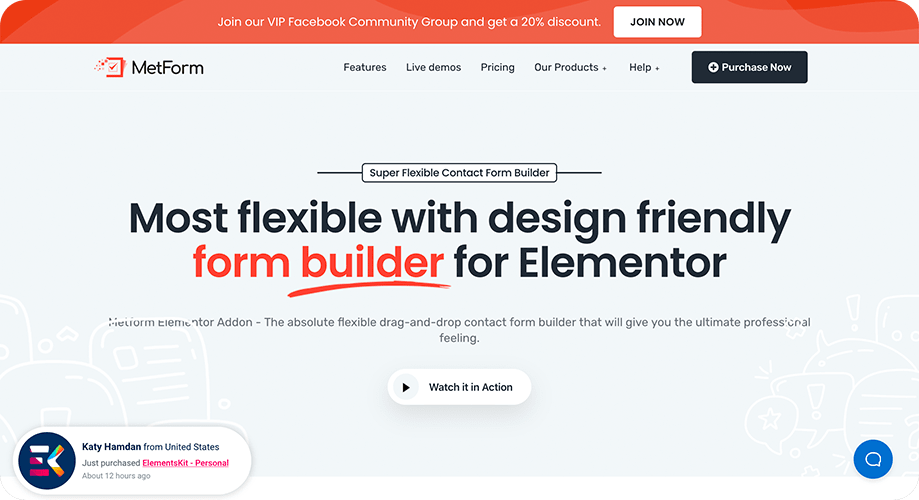 If you are looking for a complete solution for creating sign-up forms of any kind with custom styles, MetForm is the plugin you need.
MetForm is one of the best WordPress plugins for form building that offers MailChimp integration.
MailChimp integration of MetForm via API key will enable you to create and manage the mailing list, send automated update emails, and newsletters to email addresses.
Other than creating the sign-up forms, you can leverage MetForm to create 20+ types of forms with 30+ input fields.
Let's have a look at what you can do with the MetForm form builder:
Create Multi-step Forms: If a one-step form is not enough to collect all the information you need, choose to use a multi-step form. A multi-step form will enable you to segment a form into smaller steps. Creating a multi-step form is easier than you think if you have MetForm installed on your website.
Integration with Other Tools: Apart from integrating MetForm with MailChimp, you can also integrate it to Zapier, Mailpoet, GetResponse, ConvertKit, Slack, AWeber, etc.
Hide Form After Submission: If you want to hide the subscription form after a visitor fills that up, you can do so with MetForm.
Redirect To Any URL After Form Submission: Just add a destination URL to redirect the users to your desired page.
Submit Forms Without Page Reloading: Thanks to AJAX, the page will not reload when the users submit their forms.
Input Simple CAPTCHA And Google reCAPTCHA: To make sure that spammers or bots are not misusing your forms, you can choose to place a variety of CAPTCHAs in your forms.
Customize Success Message: You can customize the default success message for the users. The success message will confirm them regarding their form submission and lead them to the next action you want them to take.
Choose From a Wide Range of Input Fields: You'll never feel the scarcity of input fields with MetForm. As this plugin features more than 30+ readymade drag-and-drop field widgets, you can always use the one you need.
Get Notification Emails: Both the users and admins can get notified of the new form submission. However, admins can turn the notification off if required.
See Entries from the Admin Panel: You don't need to go anywhere to see the submitted forms. It is easy to store the entriest. And most importantly, you can access the data directly from the admin panel.
Leverage the Conditional Logic: By means of using conditional logic, you can choose to show or hide any fields to certain users.
Supports Shortcodes: Got some coding knowledge? Insert shortcodes in your forms created by MetForm to get the best out of the forms.
Payment Methods: You can create forms adding different payment methods so that users can make easy payments.
Capture User Browser Data: MetForm will help you collect valuable information regarding what browsers they are using, the URL they've visited, visiting time, user profile, visit count, and lots more.
Export Entries as CSV: You can export the submitted form data into a single CSV file and open it in a spreadsheet.
GDPR Compliant & Translation Ready: You require no extra add-on to make your form GDPR compliant. On top of that, MetForm is ready for translation into multiple languages.
Pricing
The basic version of MetForm is free to download. You can upgrade to MetForm Pro with one of the following plans:
MetForm Plans
Annual
Lifetime
Features
Personal
$39
$119
For 1 site
Automatic Updates
Professional Support
Professional
$87
$259
For 5 sites
Automatic Updates
Professional Support
Agency
$179
$489
For unlimited sites
Automatic Updates
Professional Support
MC4WP: The Best MailChimp Plugin for WordPress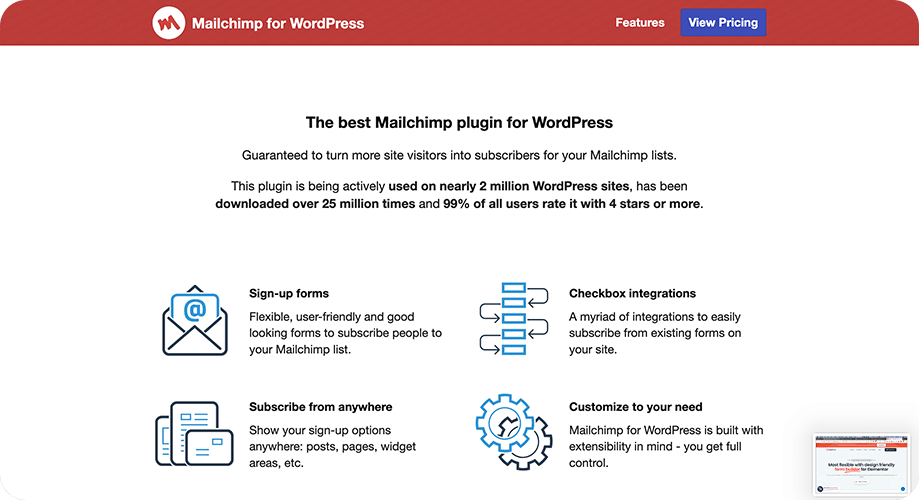 With more than 2 million active installations and good ratings from its users, MC4WP: Mailchimp for WordPress promises to turn your site visitors into subscribers.
So, what's in it for you?
Signup Form: First off, MC4WP lets you create sign-up forms that you can place anywhere on your website.
You can create a form with options for your email subscribers to choose the topic(s) they would like to get emailed on. This should help you filter out the right email list to send an email from your MailChimp account.
Sign-Up Integrations: MailChimp for WordPress collaborates with a bunch of plugins for sign-up integrations. WooCommerce, Contact Form 7, BuddyPress, Events Manager are some of them. Along with getting MailChimp subscribers from these platforms, you can integrate other plugins as well.
Integration with WooCommerce: If you are interested in integrating your WooCommerce store with MailChimp, you can do that effortlessly with this plugin.
With the purchase activity of the subscribers, you can recommend them products they would love to grab. On top of that, you can remind them of products they've abandoned in their carts.
Form Styling: Choose the form you want to use from several built-in form styles. Besides, you can also customize the form by leveraging the styles builder.
Reports and Logging: A clean report with line charts will show you the sign-up methods and pages that work best for you. You can export the sign-up data as a .csv file anytime by clicking a button.
Pricing
The base version of MC4WP: Mailchimp for WordPress is available for free on WordPress. For the premium version, check the plans below:
MC4WP Pricing Plans
Features
Hobbyist @ $59
One year subscription
For 1 website
All premium features included
Professional @ $99
One year subscription
For up to 3 websites
All premium features included
Agency @ $149
One year subscription
For up to 10 websites
All premium features included
MailChimp for WooCommerce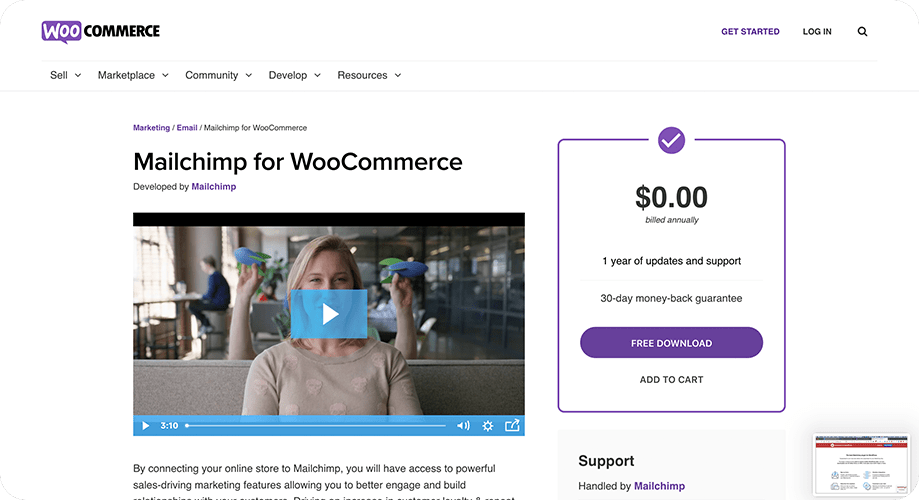 Mailchimp for WooCommerce is one of the WordPress plugins for MailChimp to help eCommerce owners. syncs the customers' data like purchase history to let you create targeted campaigns.
Here are some of the core features of this plugin:
Sync Subscribers and Data: When visitors purchase from your shop, create an account, and opt-in, your MailChimp audience list is synched with their data including the purchase history.
Show Product Recommendations: This WordPress plugin will let you show personalized product recommendations to get more upsells and cross-sells.
Embed Pop-Up: You can automatically embed a pop-up form to get more conversion.
Track and Segment the Customer Base: You can easily track and segment customers as per their purchase frequency and purchase history.
Add Discount Codes: This plugin can help you add discount codes to emails that you create in WooCommerce.
Create Compelling Landing Pages: This plugin will help build compelling landing pages that convert and grow your audience.
Pricing
MailChimp for WooCommerce is free to download from the WordPress plugin directory.
MailChimp WD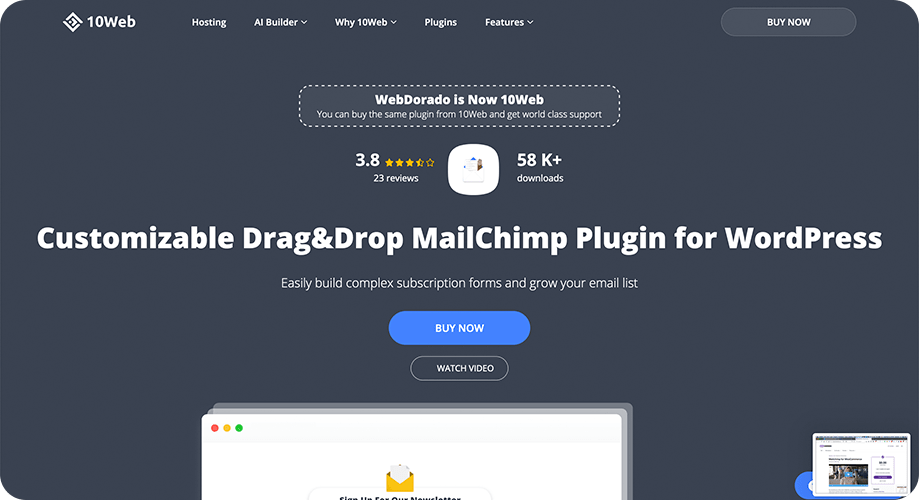 MailChimp WD is a popular WordPress MailChimp plugin that enables you to build subscription forms.
If you want to manage your MailChimp account subscribers right from your admin area, MailChimp WD is a good choice for you. It will enable you to integrate the MailChimp emailing into the WordPress websites you run. What you all need to do is to connect it with MailChimp using the API key.
Let me tell you more about this MailChimp WordPress plugin by explaining some of its awesome features:
Advanced Form Editor: You can add custom fields, choose the form action, and customize the form headers.
Conditional Logic: You can set conditions to show or hide certain form fields to the audience.
Custom Fields: There are a wide array of custom fields for you to let you build forms as per your preference.
Drag and Drop Interface: To make things simpler, the interface comes with a drag-and-drop approach.
Paypal Integration: This plugin will help you receive the payments from Paypal directly from your subscribed users.
Multiple Display Options: You can display your forms in the scrollbar, toolbar, popup, and embedded style.
Submission Manager: This will let you see an in-depth overview and statistics regarding the submissions.
Customizable Notifications: Along with sending custom subscription emails to any email address on your email list, you can also customize the error messages and thank you messages.
Spam Protection: To make sure that forms are protected from spam, you can easily set a CAPTCHA.
Export Submissions: You can always export the lists and submitted data in .xml or .csv format.
Pricing
There is no free version of MailChimp WD WordPress MailChimp plugin. It offers premium versions with the following pricing plans:
MailChimp WD Pricing Plans
Features
Basic Bundle @ $85
For 3 websites
Updates for 6 months
Premium support for 6 months
Standard Bundle @ $100
For up to 30 websites
Updates for 6 months
Premium support for 6 months
Advanced Bundle @ $150
For up to 30 websites
Updates for 12 Months
Premium support for 12 months
WP WooCommerce MailChimp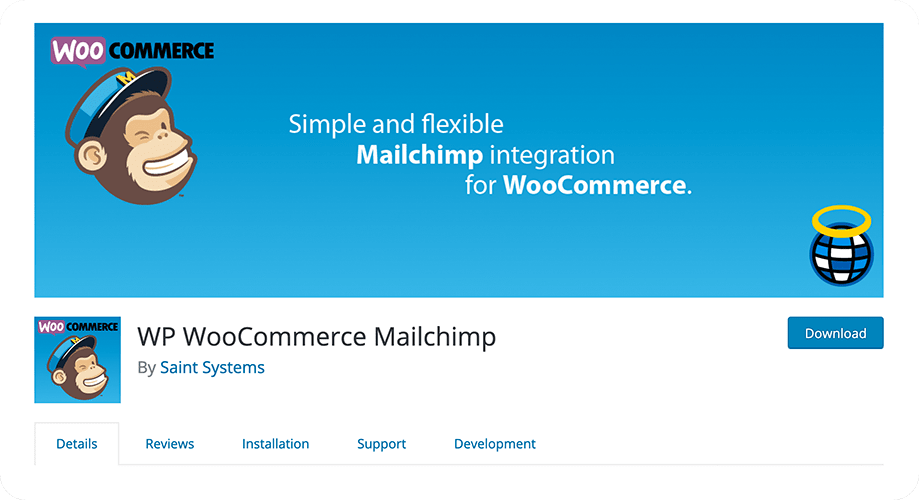 WP WooCommerce MailChimp is one of the few freemium WordPress plugins for MailChimp that come with flexible and easy integration for WooCommerce.
It can add customers automatically to the designated MailChimp list after order creation, order processing, and order creation. To make sure that this goes with international opt-in laws, there are several opt-in settings.
Let me mention some of its features so that you can visualize how this plugin can help you.
Add Customers to an Email List: Just set your preferred MailChimp email list for a specific group of customers and this plugin will do the rest. When a customer places an order or completes it, the customers will be automatically added to your designated list on MailChimp. This will help you to create targeted email campaigns.
Opt-in Settings: With opt-in settings, you can display an opt-in checkbox on the checkout page, control the label after the opt-in forms checkbox, and determine whether the subscribers should get the opt-in forms checkbox checked or unchecked. On top of that, you can also control where and how you will place the opt-in checkbox on your checkout pages.
Product Specific Tags, Groups, and Lists: To segment customers based on the individual purchased products, you can set tags, groups, and lists.
Anti-spam Compliant: To make sure that you do not violate the international anti-spam compliance, Wp WooCommerce MailChimp features multiple double opt-in settings.
Translation-Ready and WPML Support: This plugin can be easily translated into other languages. Besides, it offers WPML support.
Pricing
The basic version of the WP WooCommerce for WordPress is free to download. However, to explore the advanced features, you've to upgrade to WP WooCommerce MailChimp Pro. Here are their Pro pricing plans:
WP WooCommerce MailChimp Pro Pricing Plans
Features
25 Sites @ $29/month, $149/year
For up to 25 WordPress sites
1-month support and updates for the monthly plan and 1-year support and updates for the yearly plan.
Single Site @ $9/month, $49/year
For 1 WordPress site
1-month support and updates for the monthly plan and 1-year support and updates for the yearly plan.
5 Sites @ $19/month, $99/year
For 5 WordPress sites
1-month support and updates for the monthly plan and 1-year support and updates for the yearly plan.
Another MailChimp Widget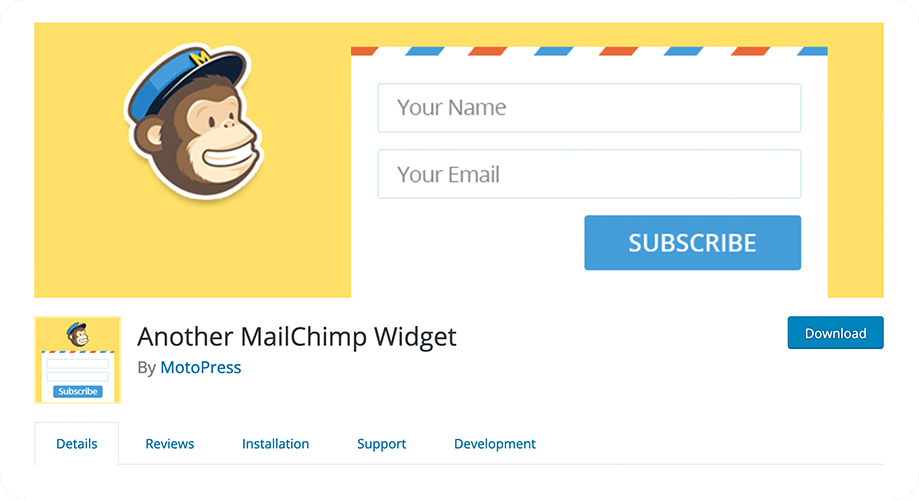 If you are looking for an elementary MailChimp WordPress plugin to add email addresses to your MailChimp lists and groups, Another MailChimp Widget can be your go-to solution.
So, what does it offer?
Add Subscription Form Widget: Another MailChimp widget lets you add a subscription form widget to your site. Pretty simple, right?
Use Shortcodes: Note that if you need any changes to the widget, you can use shortcodes and place any attributes like button, failure message, placeholder, and whatnot.
To add the widget to your website, all you need to do is to provide your MailChimp API and drag it as a sidebar widget. To get that done, leverage the widgets section of your wp-admin dashboard.
The next step is to select the preferred mailing list, Voila!
Pricing
Another MailChimp Widget is a free plugin. You can download the plugin from WordPress.org
N-Media MailChimp Subscription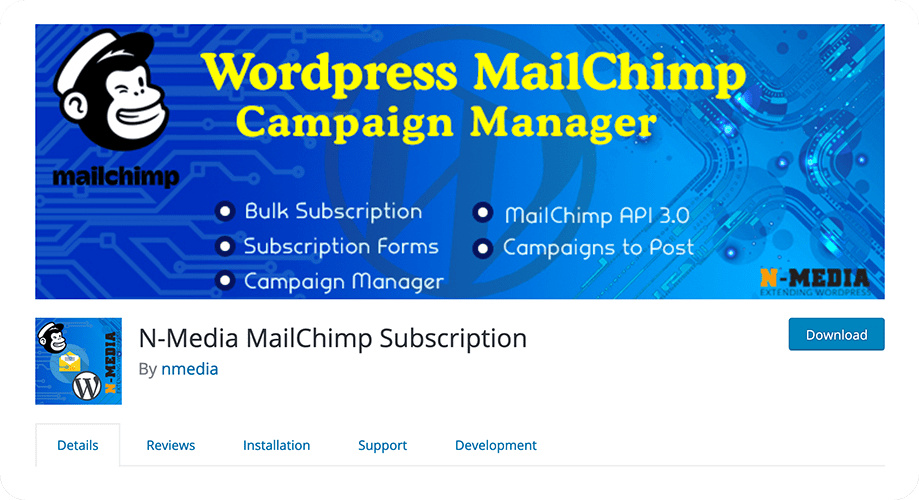 N-Media MailChimp Subscription plugin will pull all the MailChimp lists from your account and let you create forms based on the interest groups.
Visual Form Designer: You'll get a visual form designer and form wizard tool to create unlimited subscription forms.
Use Shortcodes or Write Your Own CSS: Apart from using shortcodes in pages or posts, you can write your own CSS/style. This plugin allows you to create campaigns and delete them if required.
Testing Campaigns and Provide Graphical Report: Testing campaigns before going live and producing graphical reports with this plugin are two features you are gonna love about it.
Pricing
The basic version of this plugin comes for free on WordPress. To leverage the advanced features, you have to upgrade to the Pro version. It will cost you $35 to use the plugin for a single site. It comes with lifetime updates and pro support.
MailOptin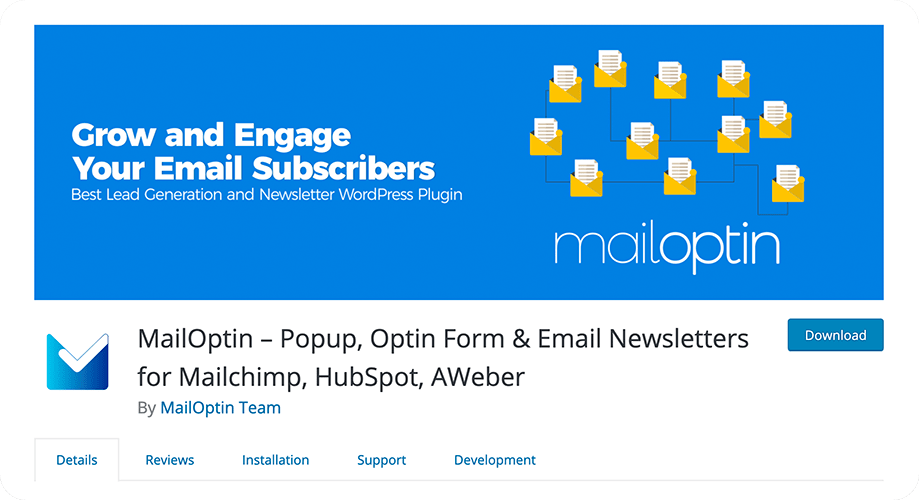 If you want to create popups, subscription forms, user registration forms, as well as send email newsletters to subscribers, you can try MailOptin.
Display Forms, Buttons, and Messages: MailOptin lets you show signup forms, CTA (call-to-action) buttons, and targeted messages to any post or page of your WordPress site.
Place Anywhere: Leverage the sidebar widget, pop-ups, in-post subscription form, notifications bars, and scroll box to make sure you get an enriched list of MailChimp subscribers within a short period.
Send Customized Newsletters: Apart from helping to generate leads, MailOptin also enables you to send customized email newsletters. You can send the newsletters to a selected few or all of your subscribers of the email list. If you get it right, your subscribers will get instant notification via email about the content you publish on your site.
Pricing
The core version of MailOptin is free. MailOptin Premium comes with the following pricing plans:
MailOptin Pricing Plans
Features
Agency @ $299/year
For unlimited sites
Lead generation
Email automation
Newsletters
Pro @ $199/year
For 3 sites
Lead generation
Email automation
Newsletters
Standard @ $79/year
For 1 site
Lead generation
MailChimp Forms by MailMunch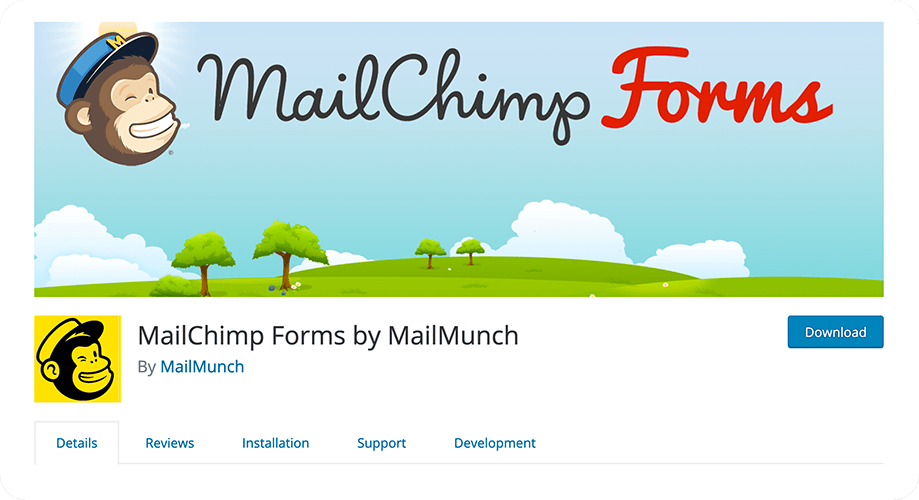 This is another popular form plugin for MailChimp users to turn their website visitors into subscribers.
MailChimp Forms by MailMunch allows you to integrate MailChimp opt-in forms to your blog or eCommerce store to build an email list. It has a WYSIWYG form builder to create opt-in forms for growing email lists and improving the conversion rate. This MailChimp forms plugin will help you use different opt-in forms for the top bar, scroll box, sidebar widget, exit-intent popup, and landing pages.
Here are some of the key features of MailChimp Forms by MailMunch:
Enable/disable the Default MailChimp Welcome Email: This form plugin allows you to use the default MailChimp welcome mail. You can disable this if you want. You can also customize the thank you message for your audience.
GDPR Compliant: Forms created with the plugin will be GDPR compliant.
Analytics and Reporting: Get analytics and reporting for all the forms you create.
Redirect Users: You have complete control to direct your users to any post or page after they submit their forms.
Enable reCAPTCHA: Keep the forms away from spams by using reCAPTCHA.
Remove Subscribers: You can remove any subscribers straight from the admin interface.
Pricing
You can download MailChimp Forms by MailMunch free from WordPress.
Easy Forms for MailChimp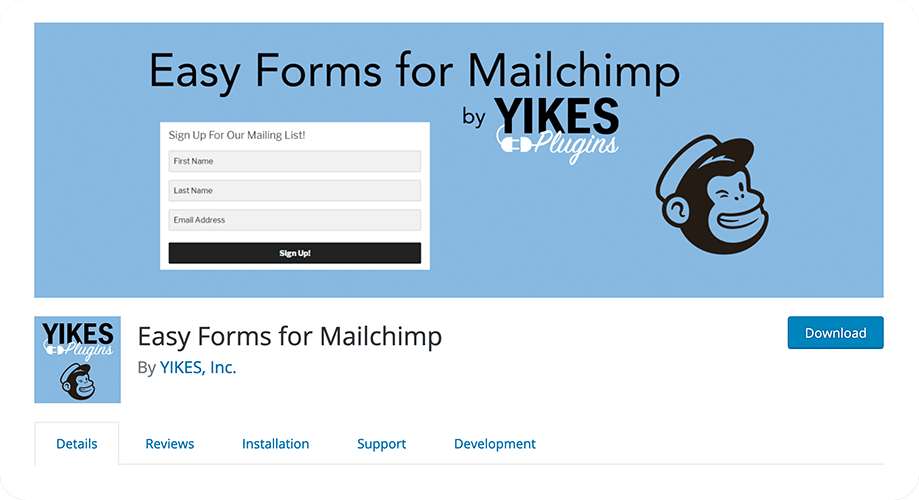 Easy Forms for MailChimp is one of the cool WordPress plugins for MailChimp that allows you to integrate unlimited subscription forms to your website. Be it on posts, pages, or sidebars, you can add a sign-up form anywhere you want. With the help of MailChimp API, you can easily pull all the information regarding your subscribers and see the statistics right from your dashboard.
Here are some outstanding features you'll find in Easy Forms for MailChimp:
Easy Duplication: This form plugin lets you duplicate forms easily.
Customize Submission Button Text: Set any text you want for the submission button.
CSS Options: Use Built-in CSS or build your class if you are good at it.
View Subscribes and Unsubscribes: you can easily track the number of subscribes and unsubscribes..
Pricing
Easy Forms for MailChimp is free.
GDPR Compliance for MailChimp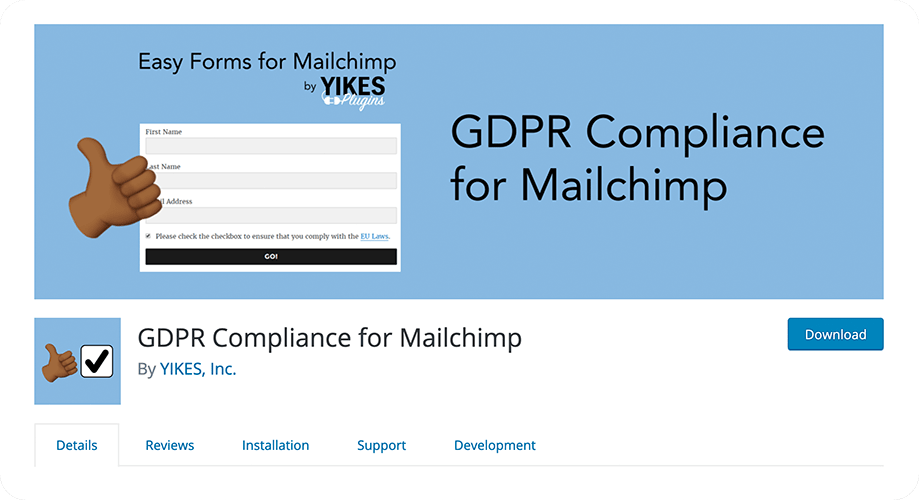 The key objective of GDPR is that you have to process the users' data with their consent.
GDPR Compliance for MailChimp is an add-on for Easy Forms for MailChimp.
Manage GDPR Settings: This is one of the WordPress plugins for MailChimp that creates an extra section titled 'EU Law Compliance' on Easy Forms for MailChimp form builder. From that very section, you can easily manage settings to make sure that the forms you are creating for your subscribers are fully compliant with the EU General Data Protection Regulation (GDPR).
So, how does it work? Well, the MailChimp forms will include a checkbox a bit above the submit button with the customizable text. When you save the checkbox confirmation text on the subscriber's profile, that works to show the consent of the users as required by GDPR.
Pricing
GDPR Compliance for MailChimp is free to download on the WordPress plugin directory.
Final Thoughts
So, what's the best MailChimp plugin for WordPress? Well, it depends on what you want to do with the plugin. If you want to make unlimited customized forms for MailChimp subscribers, MetForm is the best one. 
On the other hand, if you put more emphasis on WooCommerce integration with the MailChimp plugin, you can try MailChimp for WooCommerce. 
However, all the other plugins in this list will help you in different ways. It is up to you to choose the one you need.

Have you found the right one for you? Got any questions in mind? Do you think a great MailChimp plugin for WordPress is missing from this list? No matter what, feel free to let us know in the comment box below.