ElementsKit Hits Another Milestone: 600K Active Installations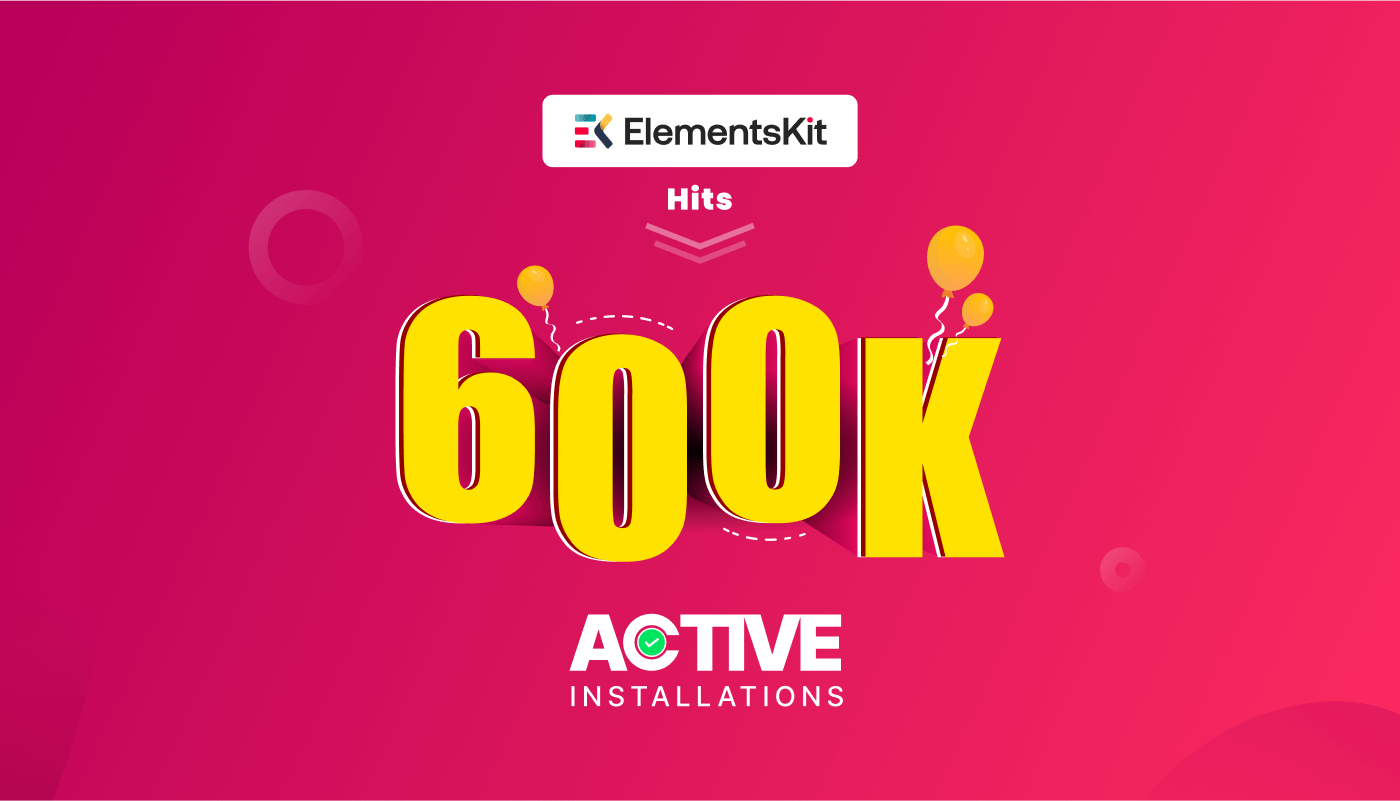 ElementsKit hits another milestone in less than four months since achieving half a million active installations. This time its active installations rose from 500k to 600k. We are thrilled and overwhelmed after receiving this news.
It can be a mere number for the people who are not a part of this community but members of this community know exactly what this number conveys. This means 600k users are satisfied with the service of ElementsKit and decided to make their life more awesome with the help of this Elementor addon. Let's discover the journey of this all in one addon from start to till now.
What is ElementsKit?
It is a standalone solution for Elementor users who are looking for an addon that can streamline their experience with this page builder. Besides, you can build a website or bring any changes to your website through the easy drag and drop feature as it is Elementor compatible.
It consists of 85+ awesome widgets, 8+ modules, 25+ homepage designs along 500+ blocks to complement Elementor. Because of this all-in-one Elementor addon, building a website is just a matter of time for even a beginner who doesn't have any tech knowledge.
The splendid success of ElementsKit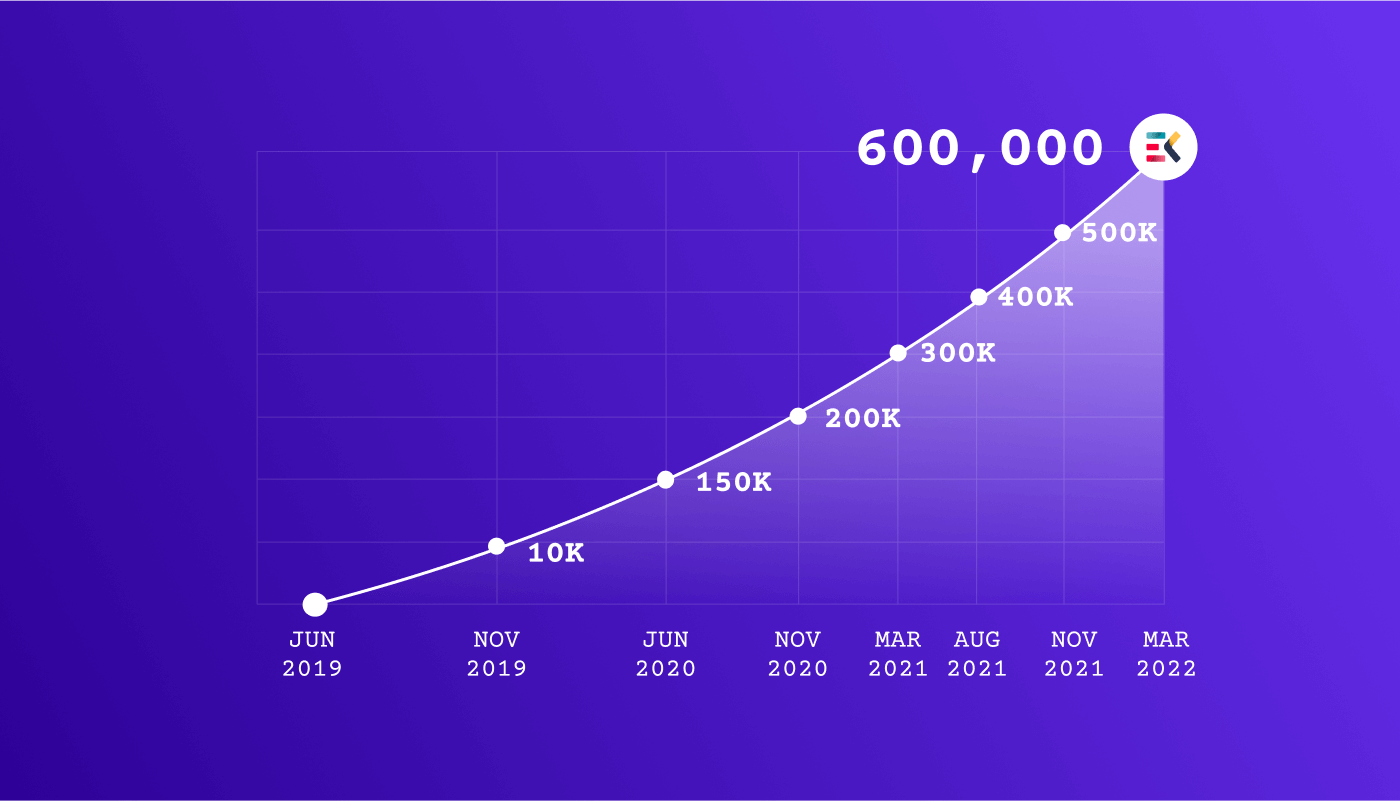 ElementsKit has started its journey in June 2019 with the dream of achieving the glory of being the number one Elementor addon. With each passing month, it moves toward its dream. Just in one year, its users crossed 150K. After that, it never stopped moving forward.
It continuously unlocked all the milestones and successfully achieved half a million active users in November 2021. After this mind-blowing achievement, this plugin unlocked another milestone in March 2022 by acquiring 600k active installations. Besides, you will be in total surprise to know that this success is gained in less than four months. This means:
Every second more than a hundred websites are created with ElementsKit.
This statistic proves how much you have love and trust for this Elementor addon. Also, this love and trust showed in the reviews. We get more than 700 five-star ratings on wordpress.org. This is not the success of the ElementsKit WordPress plugin alone but also, it is the combined success of 600k active users like you.
Because you have always pointed out our bugs and minor issues which helps us a lot to make this Elementor addon more flawless and awesome. Just not it. You have given us your most precious time and helped us to make a roadmap for it by providing your feature suggestion. By following that roadmap, now we have successfully placed it as one of the best Elementor addons in this WordPress industry.
What makes ElementsKit extraordinary out of other Elementor addons?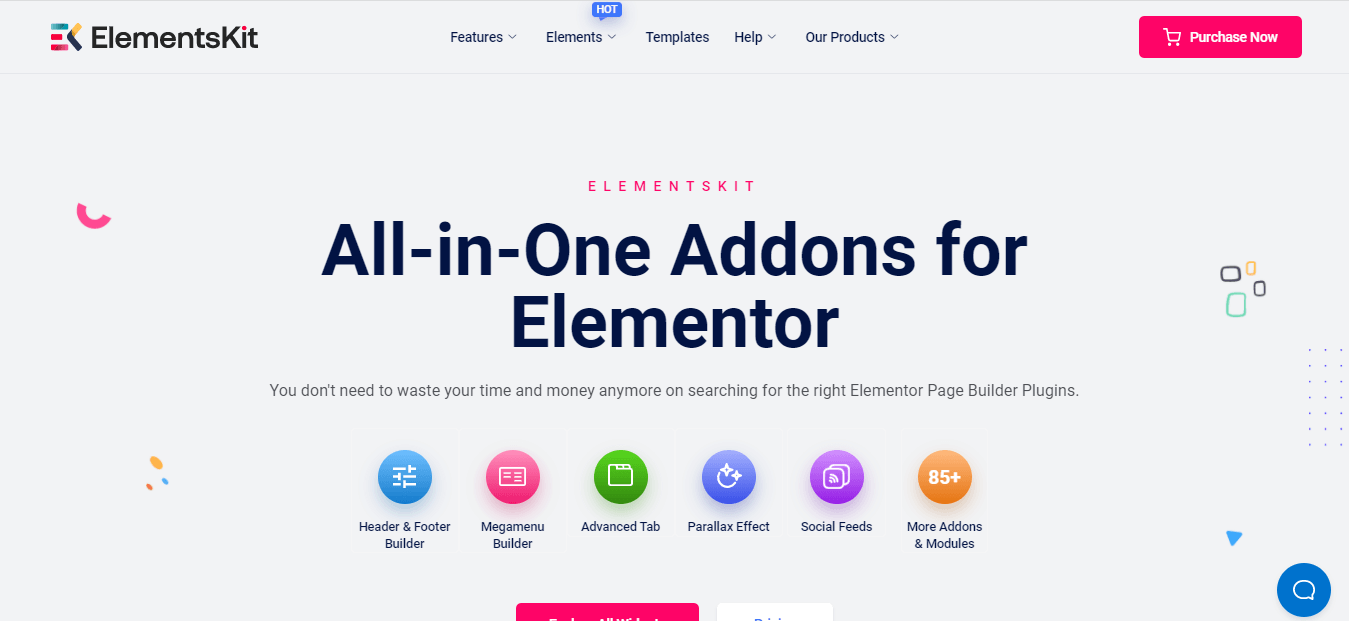 Success doesn't come only from the name, it comes from the value of a product. It is no different for ElementsKit. If you compare its today's situation with before then, you will find a huge list of advanced features that it provides now. It doesn't come up with these features on its own. There is a big contribution from users like you.
Because you have continuously suggested features that helped it to grow more and reached today's position. Are you excited to find out what makes it out of ordinary? Then, here are the branch of its advanced features:
The header and footer is the most important section of a website. This Elementor addon helps to create stunning headers and footers with pre-built templates. Besides, there is also a builder to build these sections without coding.
Through it, you can make any part of your website sticky. Normally, people want to make their header section, button, or offerings sticky. But, you can also use it for website design purposes.
Getting a library full of pre-built templates and blocks is the dream of many people. Because, many people don't want to start from scratch. Keeping this in mind, it has come up with a library full of beautifully designed templates.
ElementKit's mega menu is one of the most popular features which helps to cover all the categories by showing submenus under the main menu.
It lets you connect with your customers by featuring social media icons on the header or any other part of your website.
User experience is one of the most important factors that you need to focus on while building a site. It maximizes UX by offering an easy searchable option.
The advanced parallax effect is another amazing feature that lets you slow down the movement of your site's background image instead of moving the vertical section.
Showing personalized content to your website's visitors can work like a magic. It enhances website engagement and helps to increase conversions.
Its advanced table feature will let you present a sortable table on your website.
It can convert your simple website to an online store with its 4 WooCommerce elements.
This Elementor addon contains an image hotspot effect that you can add to the image for conveying more info.
The image comparison feature of it shows the comparison or before after image.
You can showcase business hours on your website with it so that, your customers can know the time when they can get in touch with you.
Testimonial widget makes a site more social proof which can increase sales.
Its cross domain copy-paste transfers section, column or anything from one website to another Elementor website.
ElementsKit for Elementor offers 6 social feed widgets through which you can showcase different social media posts on your website.
This all in one addon has 7 form widgets that can add different types of forms to your site.
An awesome support team who works day and night to solve all your confusions and problems.
So, these are the features that help ElementsKit to break all previous records and stand high in the WordPress industry as one of the best Elementor addons.

Another growing plugin like ElementsKit
There are more than 59 thousand plugins available in WordPress but, unfortunately, only a few plugins have succeeded to meet ongoing customers' requirements due to lack of updates and bug fixes. Good news for the users because now you will get a compatible form builder on that shortlist.
And that form builder is MetForm which provides an excellent form building experience. Besides, this form builder also unlocks lots of milestones because of its continuous feature updates, bug fixes, and high compatibility with other popular plugins.
On this March, 2022 MetForm has achieved another thriving success of 100k active installations. This means 100K websites are using MetForm as a form builder.
Through this form builder, you can build forms using pre-built form templates or you can create them from scratch. This means you have all flexibility to build forms with MetForm.
Wrapping up
The journey from zero to 600K active installations was not smooth. It faces many obstacles while reaching a 600k satisfied family. But, because of your support, it overcomes all the barriers and unlocks all the milestones one by one. Also, reaching towards many thriving successes in the future.
Throughout the journey of ElementsKit, our main focus was satisfying your demands. In this case, you have supported us a lot with continuous feature suggestions and bug findings. That's why we have succeeded in bringing regular updates that can satisfy you more.
Stay with us in the future too so that, we can reach our goal of becoming your first and last Elementor addon that provides you the finest user experience ever.