WooLentor Review: A Close Look at the WooCommerce Builder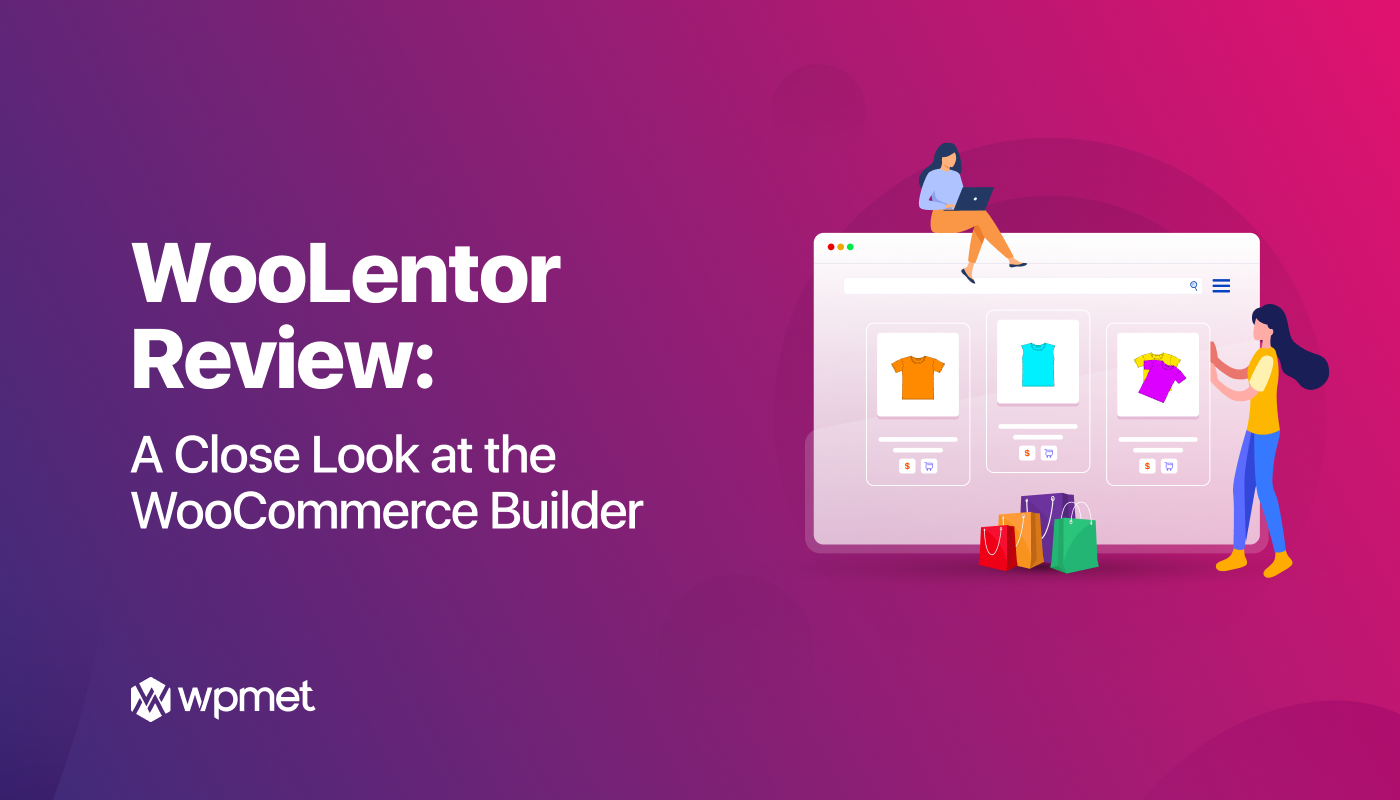 WooCommerce has been in great demand for quite some time now. Most people looking to build their online stores are preferring WooCommerce over other platforms. This is mainly due to the features, benefits, flexibility, and ease of use WooCommerce offers.
But to extend the functionalities of WooCommerce, you need addons for the plugin. So, which WooCommerce builder can be a good pick? One of the popular WooCommerce add-ons or WooCommerce builders available out there is WooLentor (now rebranded as ShopLentor). WooLentor WordPress plugin comes packed with scintillating features that can level up your WooCommerce store.
Here, in this blog, we will be reviewing WooLentor from top to bottom. We will put forward the installation process, key features, pros and cons, and price of this WooCommerce page builder. By the end of this WooLentor review, you will be able to decide whether you should opt for this WooCommerce builder or not.
WooLentor Installation Process:
Installing the WooLentor add-on in your WordPress is easy and hassle-free. Like most of the other WordPress plugins, you can install WooLentor from the backend of your WordPress site.
First off, log into your WordPress site's backend and move to the dashboard. From the dashboard, navigate to "Plugins" and click "Add New".
Then, search for the WooLentor plugin on the search bar. Once "ShopLentor" (formerly known as WooLentor) is typed, the plugin will show up on top of the list of plugins. Install the plugin by hitting the "Install" button and then activate it.
With that, the WooLentor WordPress plugin will show up as a menu item on the dashboard. You can now proceed to leverage the plugin on your WordPress site.
You can also install WooLentor manually by downloading directly from the WordPress repository. All you have to do is hit the "Download" button on WooLentor's WordPress.org page and the download will start straight away.
After that, click the "Upload Plugin" button on the Plugins page. Once uploaded, you can go ahead to install and activate WooLentor as shown earlier.
WooLentor Core Features:
Right from the get-go, let me reveal that the WooLentor add-on is a feature-rich plugin for WooCommerce. With this WooCommerce builder, you can modify even the minute part of your online store. We will now have a look at some of the key features of the WooLentor plugin-
Curious to know about the contest between ShopEngine and WooLentor? Check out the link below-
ShopEngine vs. WooLentor- The Ultimate Showdown
Sales Notification:
WooLentor features a sales notification popup which isn't just handy but also helps lead to sales and conversions.
Once a visitor lands on your website, you can showcase WooLentor's sales notification popup anywhere on the website. The popup displays purchase details like buyer name, location, price, etc.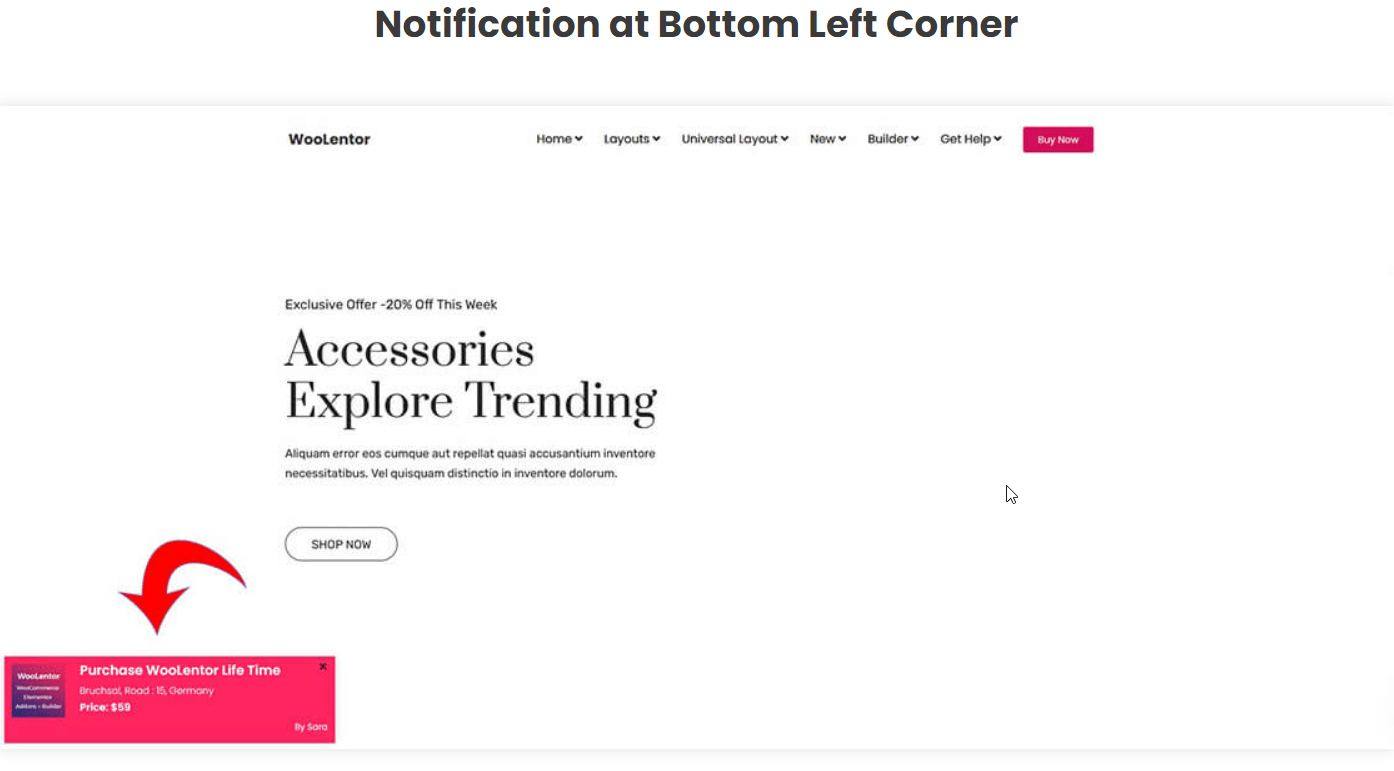 As a matter of fact, ShopEngine which is another first-grade WooCommerce builder also comes with a sales notification feature/module.
Flash Sale Countdown:
Flash sale countdown has a magical power to generate sales. You can set a discount timeline for a number of products and display it through the flash sale countdown feature in your WooCommerce store. What it does is create a sense of urgency and influence shoppers to go for a purchase.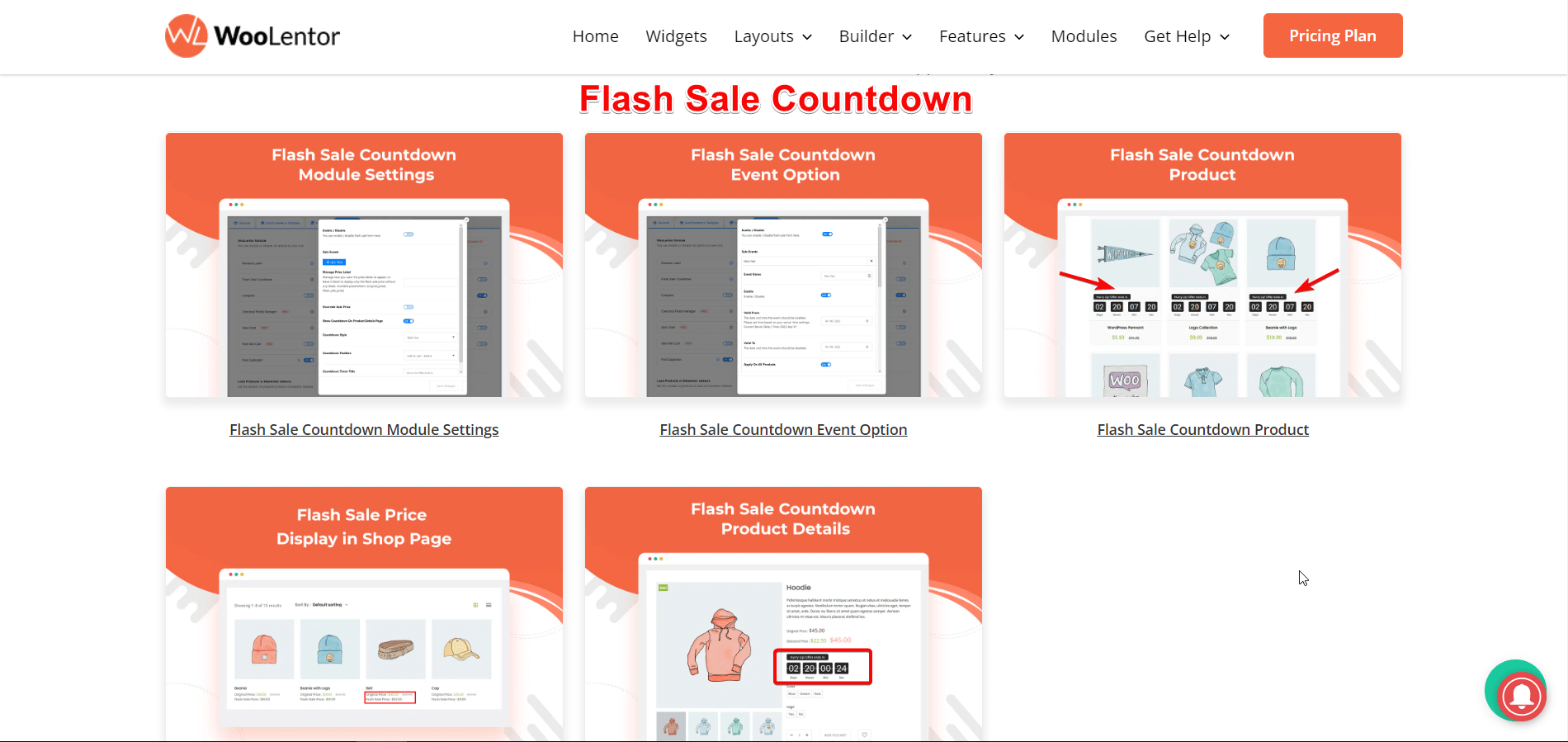 Partial Payment:
Another sales-generating feature that the WooLentor plugin offers is partial payment. Many times, buyers look for WordPress backtrack plugins to purchase their desired products due to falling short of money. This is where the partial payment feature comes into play. With this feature, you can let shoppers make their payments in installments or by parts, upscaling the chances of sales.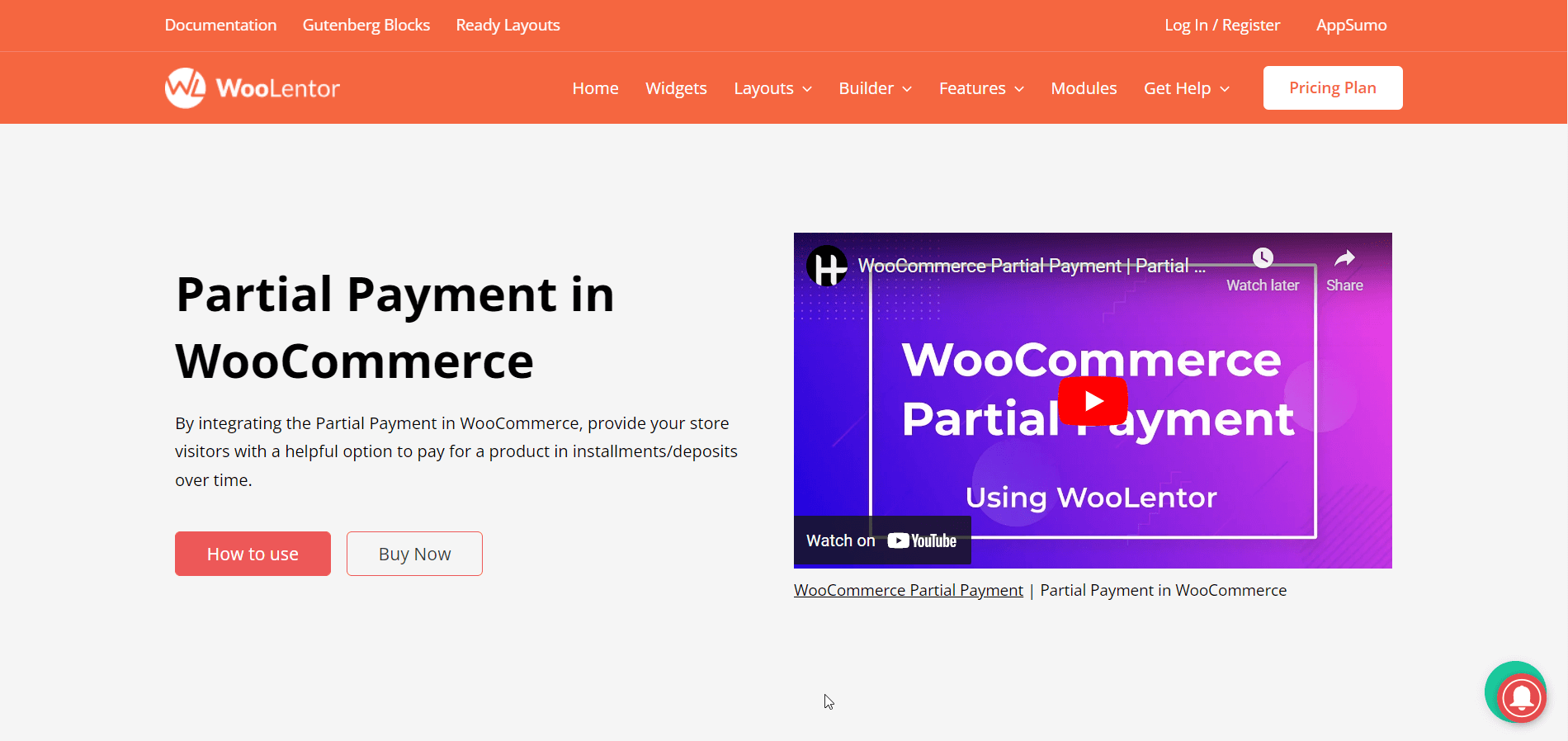 If you want to compare WooLentor's partial feature with another product having similar features, ShopEngine can be a perfect choice. ShopEngine's partial payment feature/module is charming, stylish as well as user-friendly.
Customer Review:
Displaying customers' reviews of your brand or products carries a lot of weight to create a positive impression in your visitors' minds. WooLentor's customer review feature will let you add the reviews of your clients on your WooCommerce site. You can even bring a catchy look to the customer reviews by stylizing the layout.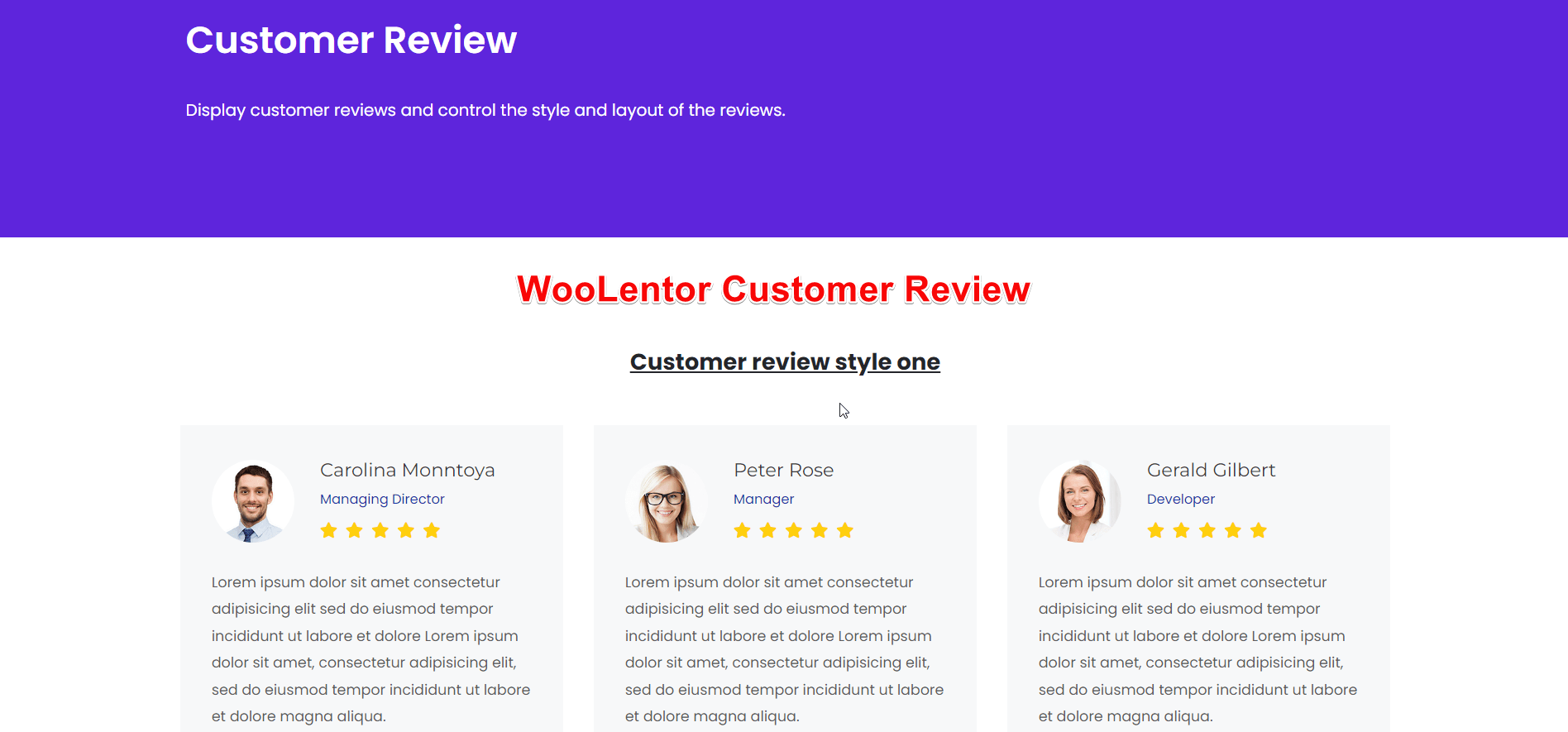 QR Code:
QR code is well-known for its versatility. It's a multi-purpose code that is storable, trackable, and easily accessible. However, WooLentor's QR code feature will let shoppers add products to their carts simply by scanning the QR code with their smartphones.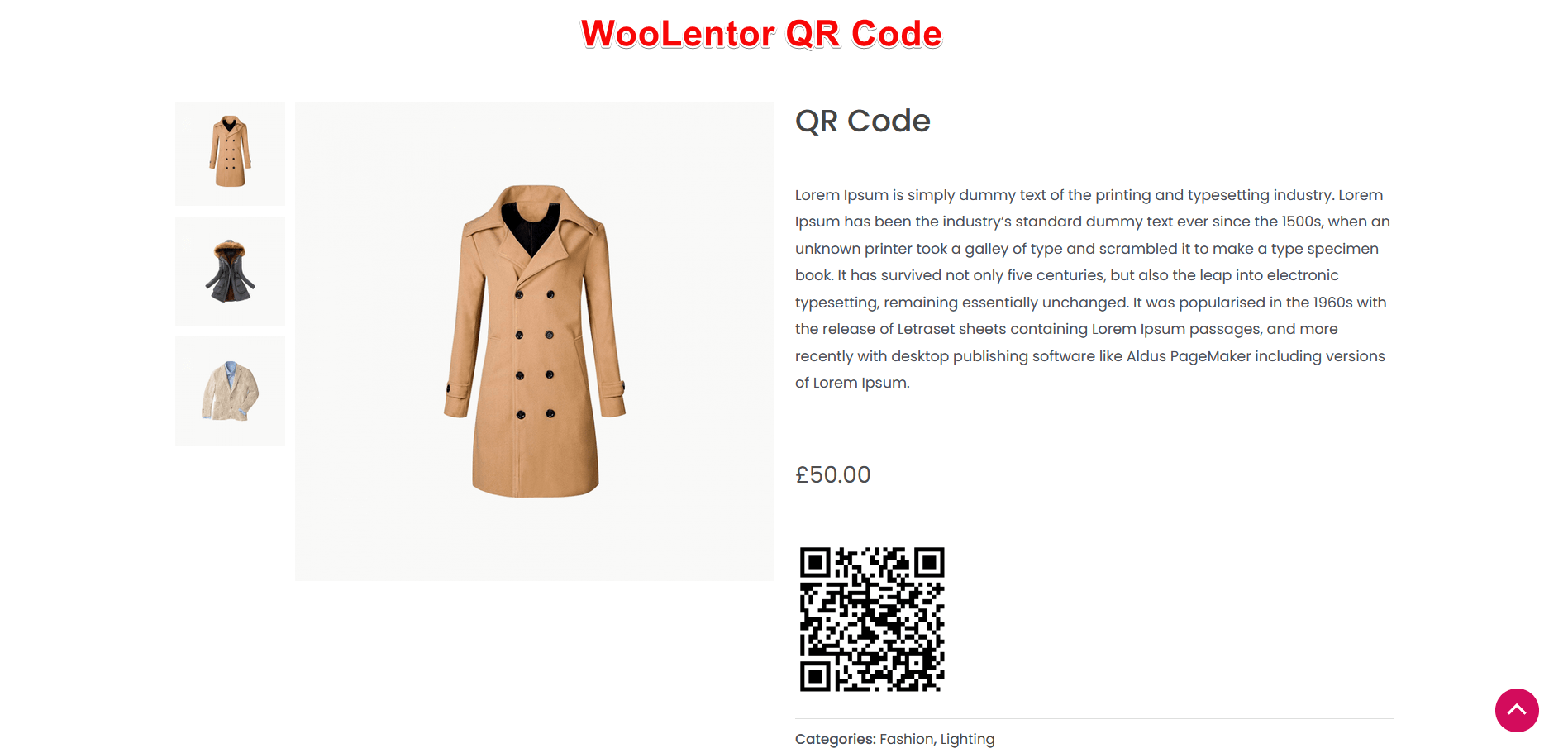 Product Accordion:
The product accordion of this WooLentor plugin is a super handy website element that helps to store text in a limited space. Some of the ecommerce pages like the homepage, product page, etc. are likely to contain plenty of text. If all the texts are shown on these pages, scrolling will get lengthy which is sickening.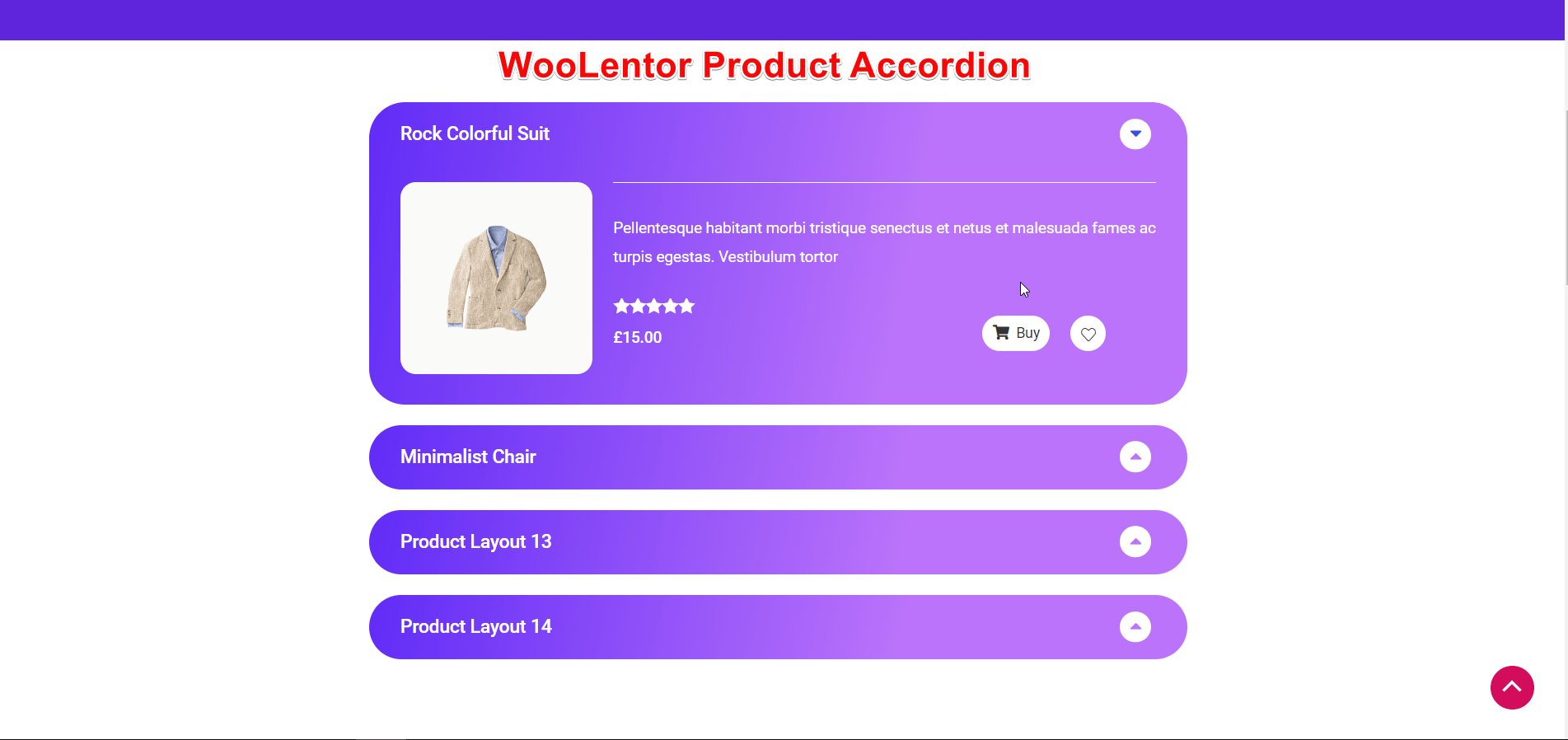 Adding WooLentor's product accordion can fix this issue by containing text inside the accordion. Based on the requirements, visitors can open or close accordion tabs.
Product Image Accordion:
Not only just product accordion WooLentor add-on
also provides with product image accordion feature. This feature helps to place multiple images in a limited space, generally side-by-side. It's useful for some of the ecommerce pages like homepage, product page, etc.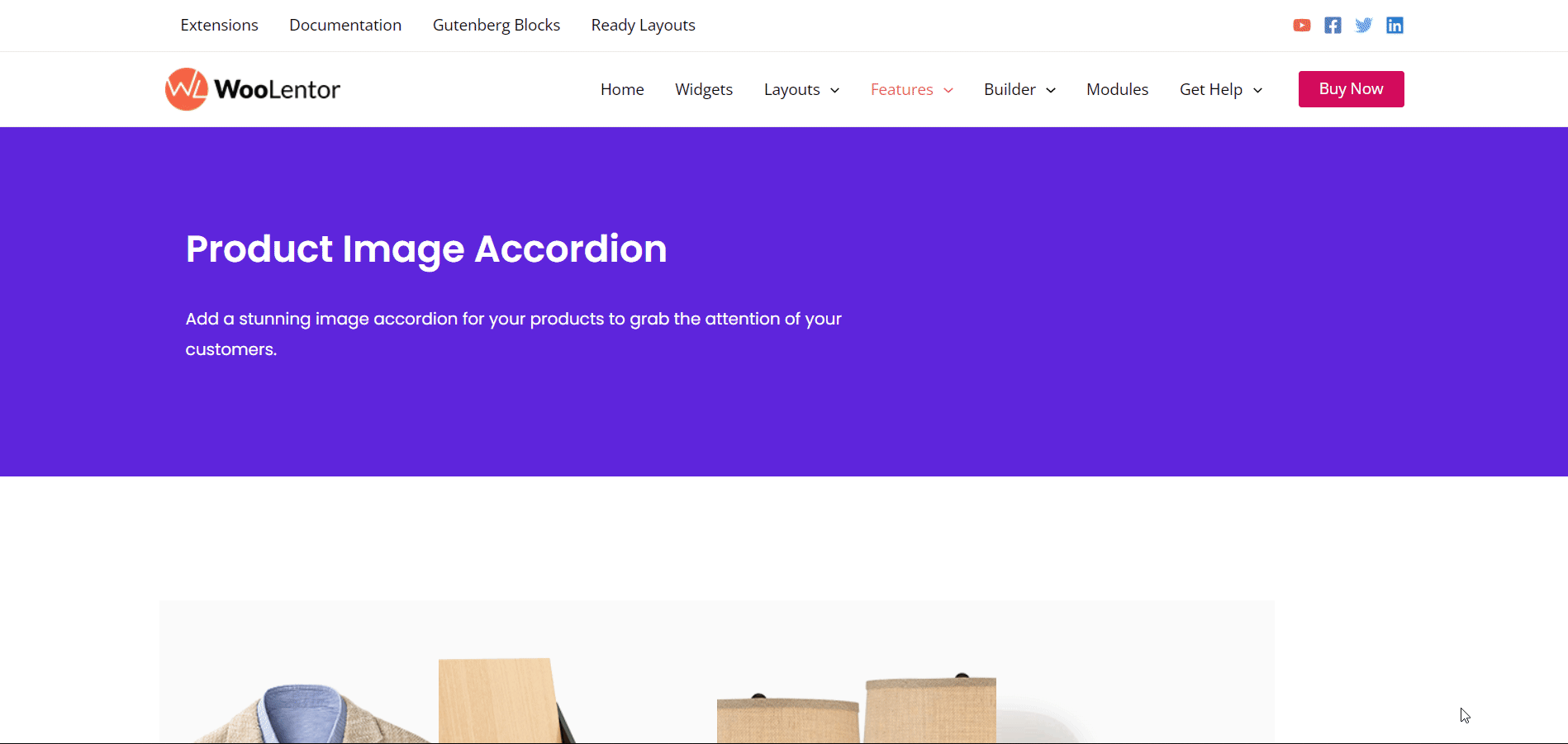 Adding WooLentor's product image accordion can not only save your page space but also spice up your store's product appearance. Based on the requirements, visitors can switch to different product images.
Product Video Gallery:
Videos play a key role in explaining products. It's a stunning idea to add videos on product pages, giving comprehensive ideas about different products. WooLentor's product video gallery feature can turn this idea into reality. It will let you add product videos on your site pages in a gallery with full control of the gallery position.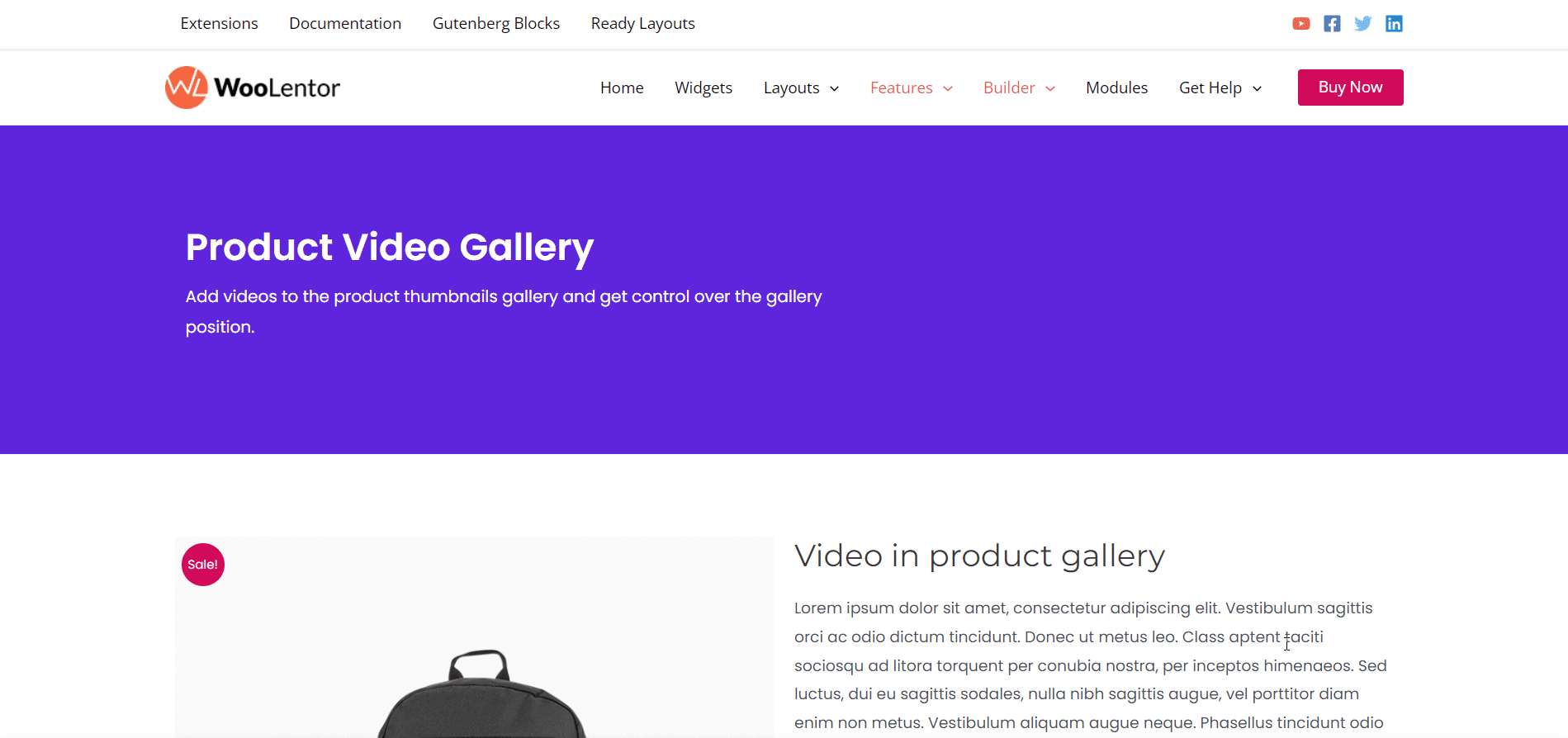 Checkout Page Customization:
The checkout page contains multiple sections like billing details, order details, payment mode, and so on. These sections again boast a number of fields. These sections and fields should show up evidently and stunningly to buyers.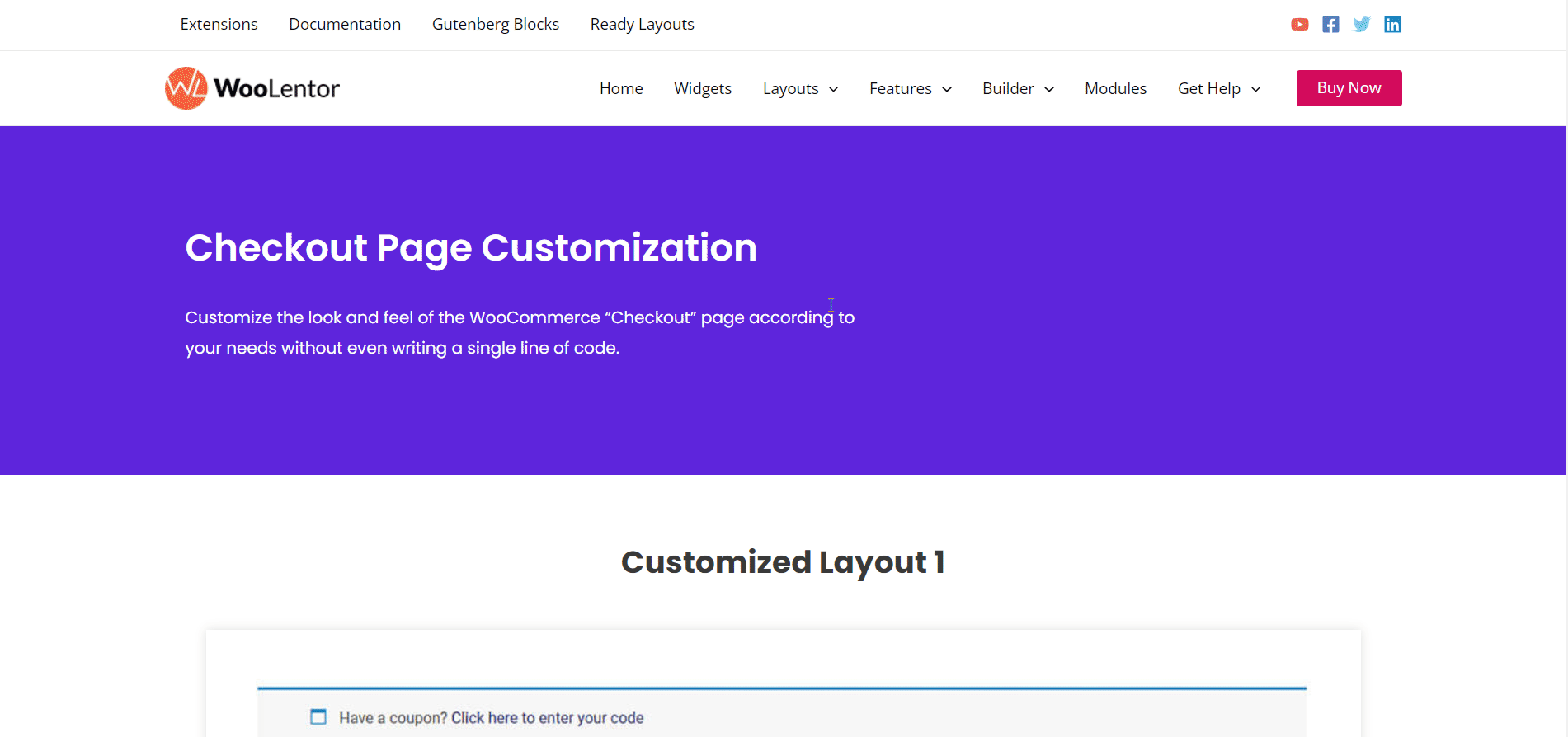 WooLentor offers checkout page customization through which you can tailor the checkout page layout and other parameters as you wish without writing a single code.
Special Day Offer:
No business exists but offering special day offers. No matter whether it's Christmas, Cyber Monday, Black Friday, or any other festival, businesses tend to offer special discounts on these occasions. WooLentor lets you create a stunning special day offer banner and display it on your WooCommerce store.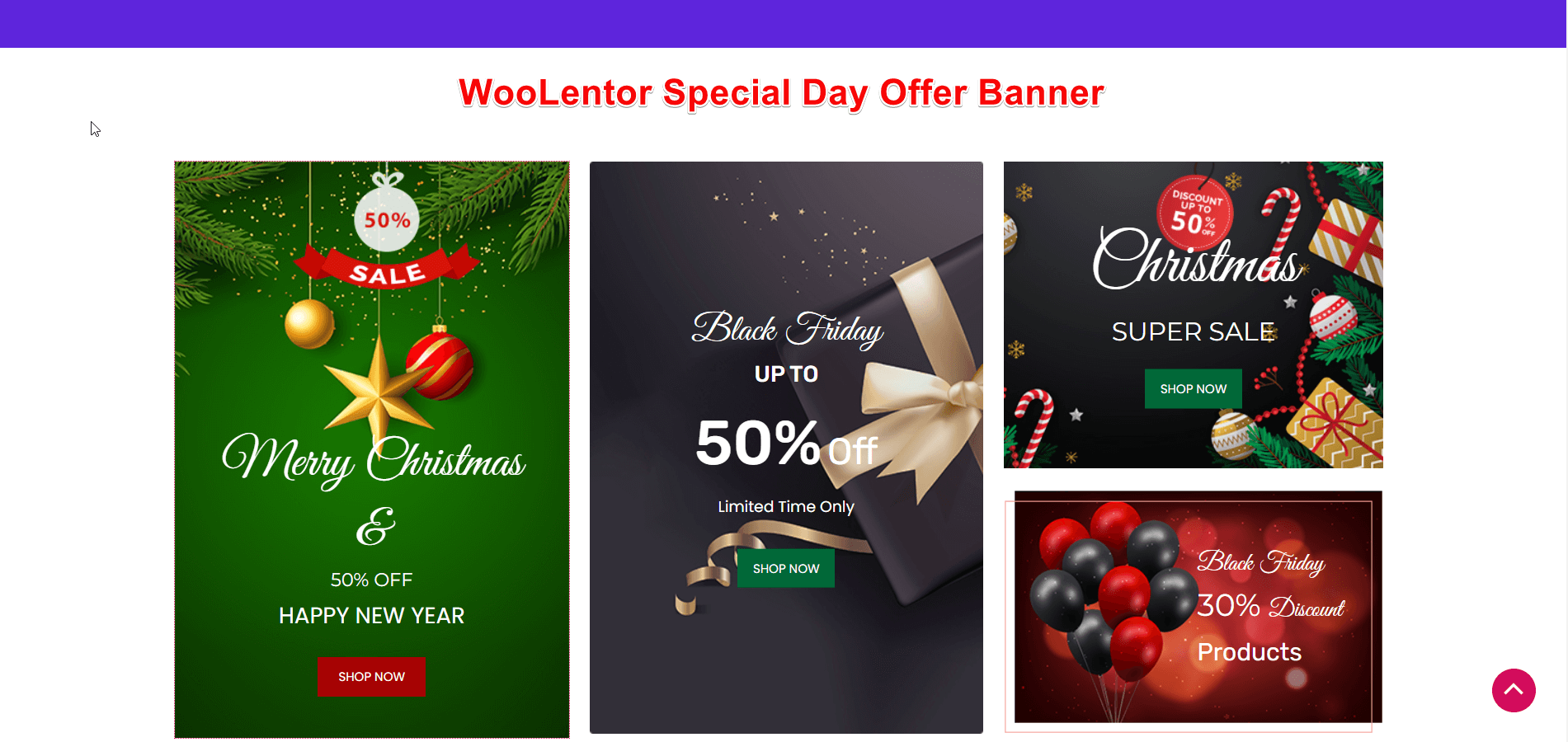 Some more WooLentor Features at a Glance:
Other than the above features, this WooCommerce builder comes with some more scintillating features. Let's take a quick look at those features of the WooLentor plugin, a feature-rich WooCommerce builder-
Horizontal Filter
Vertical Filter
Add to Cart Notification
WooLentor Product Filter
Stock Progress Bar
Ajax Search Form
Call for Price
Suggest Price
Image Zoom
Shopify Style Checkout Page
Premium WooCommerce Themes
Check out the rivalry among ShopEngine, WooLentor, and JetWooBuilder from the link below-
ShopEngine vs. JetWooBuilder vs. WooLentor
WooLentor Modules at Length:
Now, it's time to take a look at the WooLentor modules. As a matter of fact, the WooLentor add-on comes with scores of modules within itself. Some of the modules we have already covered in the features section as the module is also a kind of feature. The core ones from the rest of the modules we will list out now.
Email Customizer Module:
With this amazing Module of WooLentor, users can create personalized email templates, creating a professional look for their emails. The module boasts a number of widgets enabling store owners to design innovative and catchy email templates.
WooLentor's email customizer is a super cool module for integrating videos, images, and social icons and crafting killer email templates to make successful outreach campaigns.
Backorder for WooCommerce:
Backorder is a super handy module for any plugin. WooLentor's backorder module will enable WooCommerce users to let their clients make purchases of the products that have been stocked out. What the module does amazingly is it lets users to set backorder limits, availability dates, custom availability messages, etc.
All in all, WooLentor's backorder module is a fascinating one for processing backorder, easily, conveniently, and smoothly.
Preorder for WooCommerce:
Preorder module, like the backorder module, is also useful for users. WooLentor's preorder module will allow users to let their clients make purchases of the products that aren't available for purchase. This is a super useful module as preorders allow online store owners to make out the demand for different products.
As a result, they load their stores with those products that people are looking for, upscaling the chances of sale. WooLentor's preorder module, like the backorder module for WooCommerce, is also useful and hassle-free for order processing.
Multi-step Checkout:
Multi-step checkout! Sounds interesting, right? Multi-step checkout module of WooLentor is wholly responsive on any device. This module is dedicated to easing and smoothing the checkout process and improving the user experience.
All the pages of the checkout process come with a simple and clean layout, letting customers complete their purchases without any difficulty.
GTM Conversion Tracking:
GTM or Google tag manager conversion tracking module is a cracking module of WooLentor letting you track all the conversions and assign them to different sources. The captivating part of this module is it lets users identify the sources of sales. That means users will get to know if the sale has come from Facebook ads, Google ads, direct site visits, or social media posts.
The best part of the GTM conversion tracking module is it provides insight into the right channels to make investments with accurate sales data. As a result, users can get the bang for their buck.
Apart from these core modules, WooLentor also offers some other modules like checkout field manager, product size chart, rename label, product compare, wishlist for WooCommerce, single product Ajax add to cart, side mini cart, redirect to checkout, and so on.
Learn more – How to Add WooCommerce Floating Cart to WordPress in 3 Simple Steps
WooLentor Pros and Cons:
Pros
Cons
✅ Elementor Compatibility
✅ Advanced Customization Facilities
✅ Diverse Payment Options
✅ Translation Support
✅ LTD Plans with Flexible Licensing
❌ Limited Language Options
❌ Documentation lacks details
WooLentor Pricing:
| | | | | |
| --- | --- | --- | --- | --- |
| WooLentor | Plus | Elite | Agency | Bundle |
| Price | $59 | $159 | $299 | $499 |
| Validity | One Time | One Time | One Time | One Time |
| Number of Websites | 01 | 05 | Unlimited | Unlimited |
| Support | Premium | Premium | Premium | Premium |
FAQs
Can I use WooLentor with Free Elementor?

Yes, you can use WooLentor with the free version of Elementor, requiring its installation for plugin functionality.
Does WooLentor have an LTD plan?

Yes, WooLentor offers lifetime plans for single, 5, and unlimited WooCommerce websites.
What languages does WooLentor support?


Although WooLentor doesn't natively support multiple languages, users can easily translate it using third-party WordPress plugins.
What gateway/payment options are available for WooLentor?

When purchasing WooLentor, payment options include credit/debit cards and PayPal Checkout. Additional methods such as Pay with Amazon and Wire Transfer are available on the main website.
WooLentor vs JetWooBuilder: Which one is better for WooCommerce sites?

WooLentor is generally considered better for WooCommerce with 105 total widgets, 50 free widgets, 25 modules, 90 pre-built templates, and over 1 million downloads, surpassing JetWooBuilder's 64 total widgets, 3 free widgets, 3 modules, 13 pre-built templates, and 67,000+ downloads.
Help – Top 4 WooCommerce Builder Plugins for WordPress 👌
WooLentor Review: Ending Notes
So, what's your take on the WooCommerce builder? Based on the above data, it can easily be concluded that WooLentor is a cool WooCommerce builder. It has plenty to offer for the WooCommerce users. The number of widgets, modules, and other features that WooLentor offers is really phenomenal.
WooCommerce users can do limitless customization with WooLentor (now rebranded as ShopLentor) at ease and design their stores stunningly as they crave. WooLentor has a number of flaws which is natural for any product, including a WooCommerce builder.
In our opinion, you can try WooLentor, the premium WooCommerce plugin to build your WooCommerce store even after these flaws. However, if you opt out of leveraging WooLentor for these flaws, you can opt for ShopEngine too. We can assure you that you won't be gutted after using this top-grade WooCommerce builder.