ShopEngine vs WooLentor – Ultimate Showdown of WooCommerce Builder for Elementor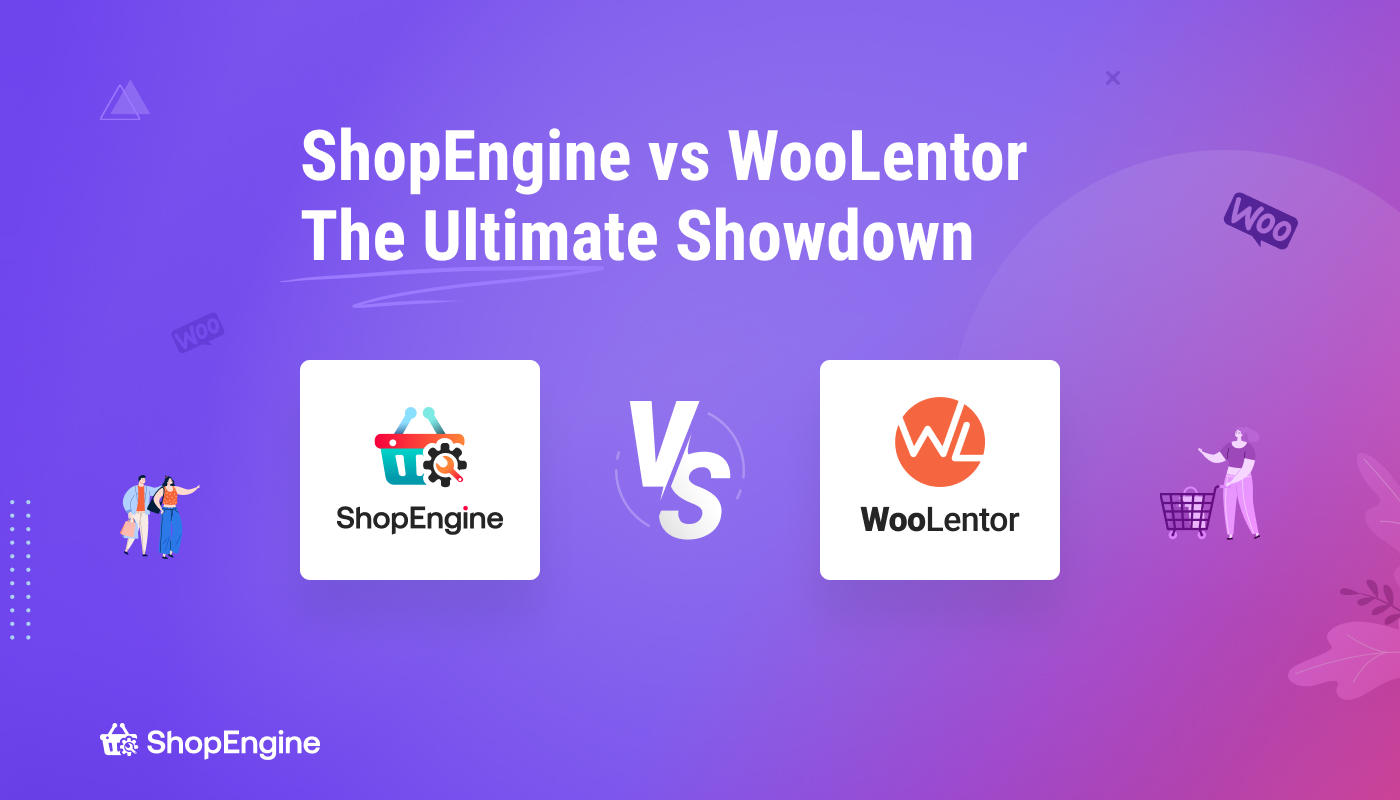 Designing an eCommerce website from scratch with WooCommerce could be time-consuming and heavily expensive.
A full-fledged e-commerce website needs tons of features to give the best experience to users. By default, there will be fewer options from WooCommerce and customizations could be tough.
The combo of Elementor and WooCommerce addon for Elementor can make the whole process smoother. ShopEngine and WooLentor, both are Elementor addons that are dedicated for building eCommerce websites without coding.
Currently, there are various WooCommerce plugin addons available for Elementor. But hardly any individual add-on can fulfill all the requirements for a top-notch e-commerce site.
At this point, ShopEngine is different from others. You can implement almost any feature for an eCommerce website using only ShopEngine.
What is WooCommerce Builder for Elementor?
Elementor is a page builder for WordPress that allows users to design all the sections of a website just by dragging and dropping. Regardless of the website type, Elementor is suitable to use.
The same goes for WooCommerce. But the fact is, for a full-fledged WooCommerce website, Elementor is not enough. That's the point when you would feel the need for a WooCommerce builder addon for Elementor.
The WooCommerce builder addons give the opportunity to explore new features for eCommerce websites. Besides the default Elementor widgets and templates, you can also use the templates and widgets of the addon.
The process works in the same way as Elementor but with more premium features. WooCommerce addons for Elementor used to come both in free and pro versions.
What is ShopEngine?
ShopEngine is an Elementor Addon plugin for WooCommerce website designing. The plugin offers tons of widgets and features to implement all possible features for a WooCommerce website.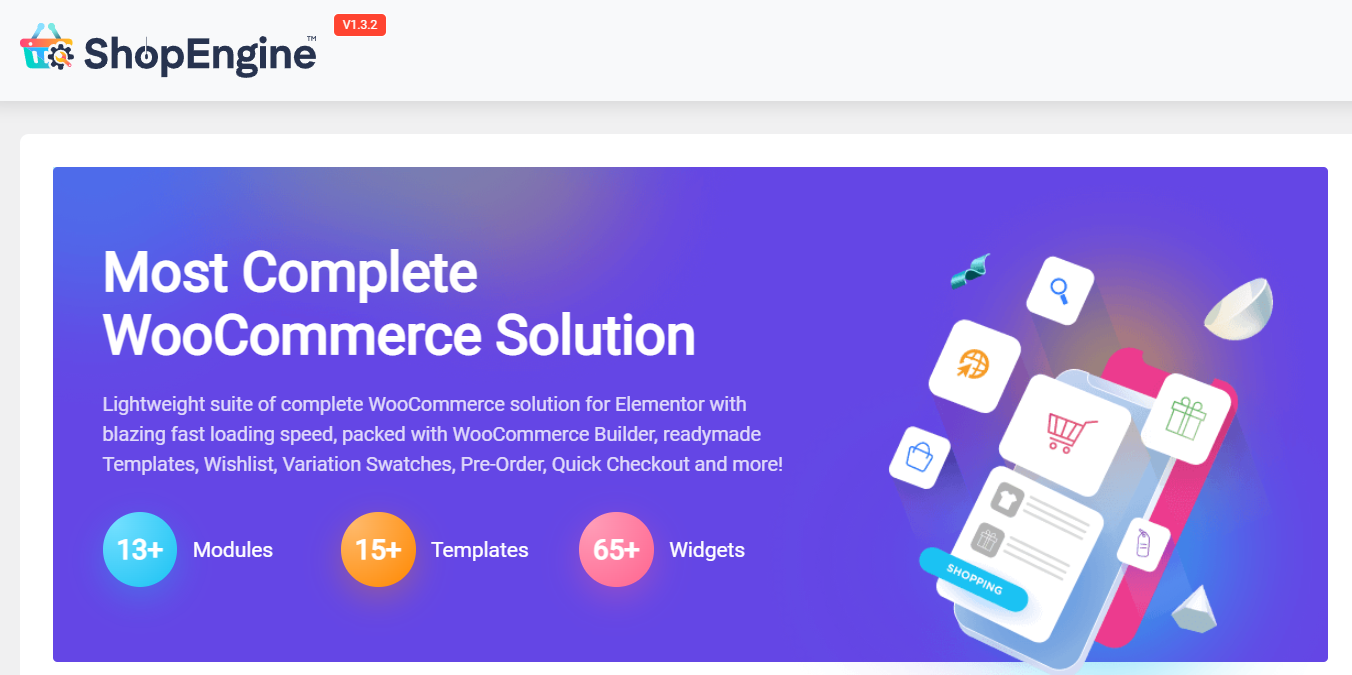 You can give the real form to your imagined e-commerce website using the default features of ShopEngine. Everything it requires is dragging and dropping the right widget and customizing it.
In any of the steps, it won't require writing a single line of code.
What is WooLentor?
Like ShopEnigne, WooLentor is also an Elementor addon for WooCommerce. Woolentor features different ready templates and widgets to design an e-commerce website without any coding. You can add most of the essential pages using the plugin along with Elementor. However, you won't get many advanced features like ShopEngine.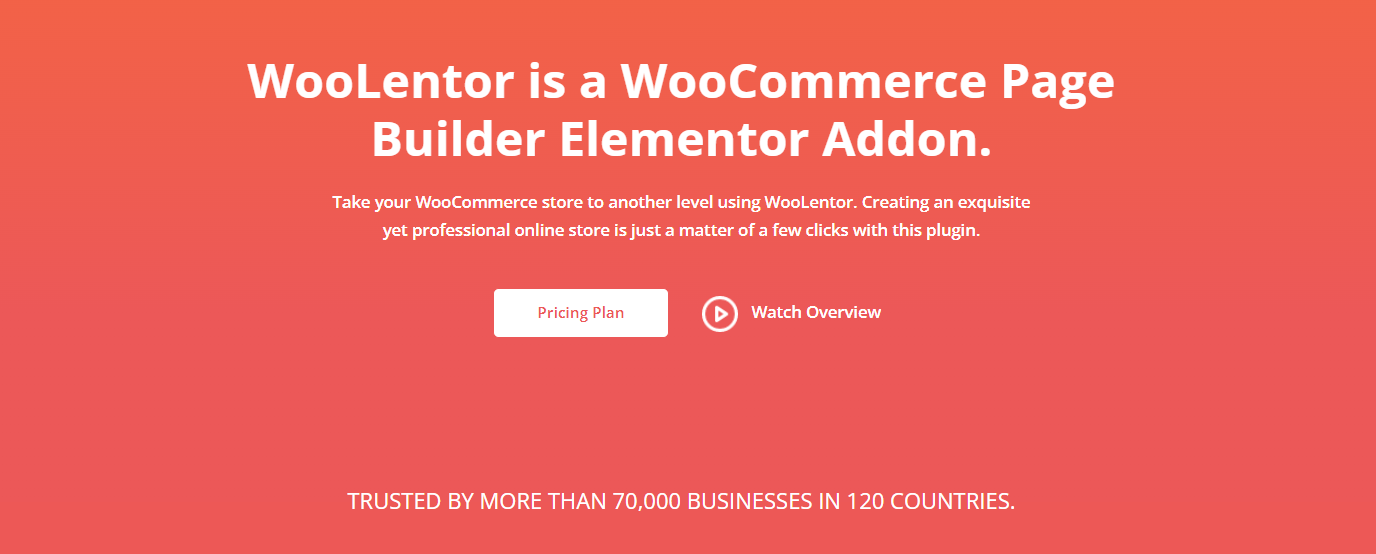 Feature-Based Comparison for ShopEngine and WooLentor
In plain eyes, both of the WooCommerce addons for Elementor might look the same. Choosing one from them could be a tough decision. Here we have shown a detailed comparison between the WooCommerce builders for Elementor.
Ease of Use
Here the goal is to design a complete WooCommerce website without coding. So, you are looking for the easiest method, right? So, the addon needs to be user-friendly and easy to use.
In terms of user-friendliness, ShopEngine has done great. ShopEngine features three different areas to have full control over the site design. You can use the modules, widgets, and templates to add different sections for a WooCommerce website.
All of these things are easy to understand with navigation. Even if you never have designed any website before, you will find it easy to integrate the features.
WooLentor, on the other hand, has two different options to control the features – settings, and Template Library.
If you want to control what you want to use for the site design, you need to change the settings. It might feel a bit tough for someone who has never used any addons for Elementor. Other than that, it works fine.
Template Table for ShopEngine and WooLentor
Though Elementor addon meant to design everything just by dragging and dropping, having ready templates makes it easy. Templates are basically pre-designed pages for WooCommerce so that you don't have to do anything from scratch.
Both of these WooCommerce builders have a template library to integrate a page without any issues. Considering the number of templates, ShopEngine has a big collection.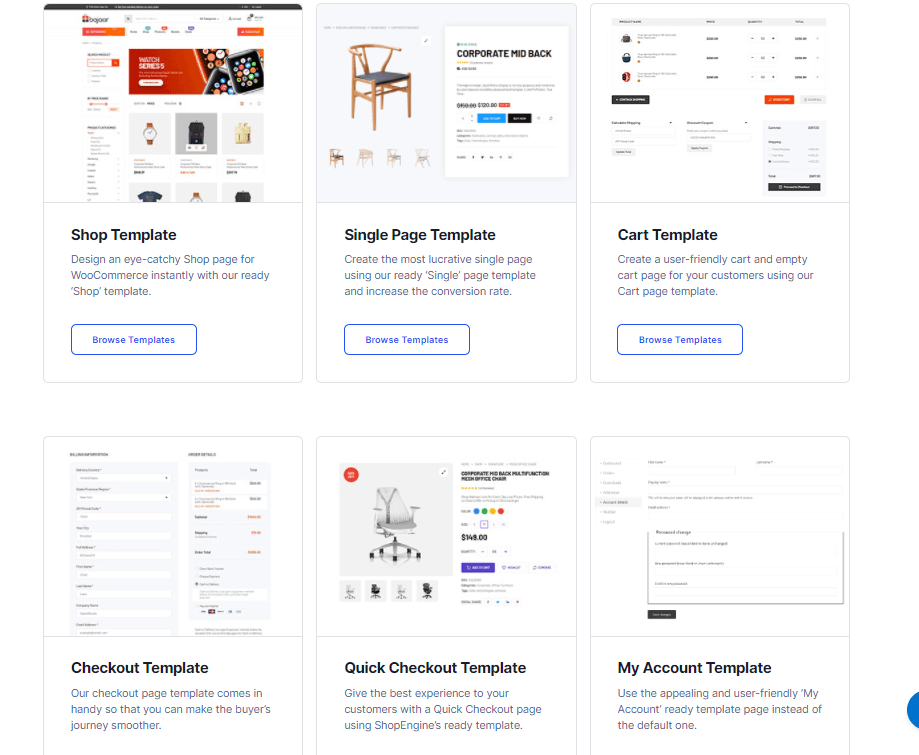 Also, each of the templates has multiple layouts to choose from. WooLentor also has different template pages for WooCommerce with multiple layouts.
But if you compare the number of templates, ShopEngine is the winner. Check the following table to get a clear idea about the type of templates and the number of templates.
| ShopEngine | WooLentor |
| --- | --- |
| Shop | Home |
| Archive | Shop |
| Single Product Page | Product Details |
| Cart | Sales Notification |
| Checkout | Cart |
| Order Thank You | Checkout Page |
| My Account login/register | My Account |
| Account Dashboard | My Account Login |
| My Account Orders | Quick View |
| My Account Downloads | Single Product Template |
| My Account Order Details | Product Archive |
| My Account Details | Thank You Page |
| My Account Address | |
| Quick View | |
| Quick Checkout | |
Number of Widgets
If you already have used Elementor at least once, you know that widgets in the builder help to design and integrate new features easily. Also, widgets are used to be customizable to get the perfect layout. Both ShopEngine and WooLentor offer tons of widgets for different feature integrations.
ShopEngine features around 70 widgets while WooLentor offers 76 widgets. Though in terms of number, WooLentor has more, you can actually integrate the same features that you can do with WooLentor.
Also, ShopEngine gives continuous updates and the number of widgets will increase in the upcoming versions. Check out the list of widgets from ShopEngine to have a clear idea.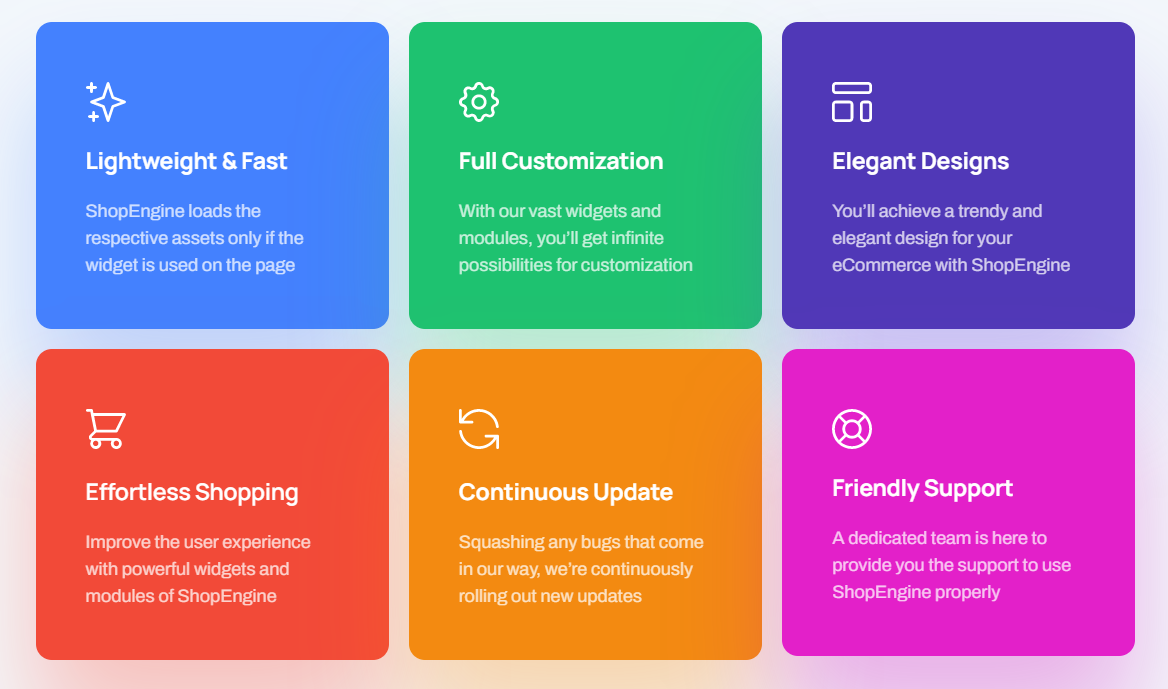 Free Version and Pro Version Feature Comparison for ShopEngine and WooLentor
Before you start with the premium subscription, you might want to give them a try to understand what you can do with these plugins.
The good thing is, both of the WooCommerce addons for Elementor have free versions. For a basic WooCommerce website, the free versions would be good enough. Here we have compared the free and pro version of ShopEngine and WooLentor.
ShopEngine Free Version
ShopEngine Pro Version
WooLentor Free Version
WooLentor Pro Version
Number of Modules:

5

Number of Modules:

12+

Number of Templates:

8 (With limited layouts)

Number of Templates:

12+

Number of Templates:

7

Number of Templates:

15+ (More are Coming)

Number of Elements/Widgets:

36

Number of Elements/Widgets: 76
Number of Widgets:

45+

Number of Widgets:

70+ (More widgets are coming)
From the above stats, it is clear that the free version of ShopEngine is offering tons of features for free. The free templates are super helpful to start a WooCommerce website from scratch. Also, you can use the free widgets to integrate special functionalities for the website.
Ready Templates vs Free Themes
If you check the landing pages of ShopEngine and WooLentor, you would find that ShopEngine Pro is offering 15+ ready templates to add new pages for WooCommerce websites without any code.
But the WooLentor Pro version is offering 7 free themes besides the ready templates. However, you will need only one theme if you want to use it.
Though ShopEngine is not offering free themes, still, you can design any WooCommerce page with the ready templates. You can even design the website from scratch just using the widgets and modules. With user-friendly layout, you can easily boost your WooCommerce store's conversion rate.
Unique Features of ShopEnigne that WooLentor Doesn't Have
Though it might look like both of the addons have almost the same features, ShopEngine is actually offering more. Here are the features that you will exclusively enjoy with ShopEngine.
Partial Payment
The most unique feature of ShopEngine is the Partial Payment module. It allows the integration of a partial deposit payment system for the customers. So, if you want to take partial payment in the initial order, simply turn on the partial payment module.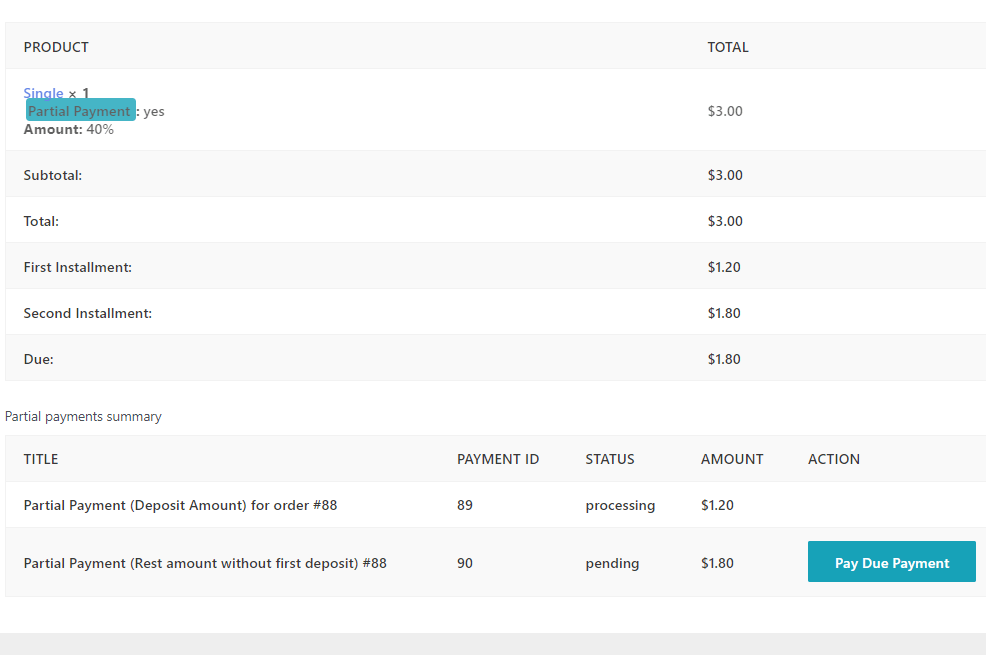 It could be helpful for any kind of installment payment like restaurant booking, hotel booking, and more. There is no need for any individual plugin (it could cost around $40) just to integrate the partial payment.
Variation Swatches
Variation of products helps to increase the conversion from your WooCommerce store. Using the variation swatches module of ShopEngine, you can show all the variations for a product without any critical coding.
Simply turn on the variation swatch module of ShopEngine and you will have the option to add vibrant colors, images, and other details for the products.
You can customize the WooCommerce pages and settings for each of the products available in your WooCommerce store.
Pre-Order and Backorder
WooCommerce stores have to deal with several issues. For instance, if a product is out of stock and it will be available soon, backorder helps to retain the customers and get the order for the next lot.
The backorder module of ShopEngine allows to integrate the feature without any technical knowledge. Even, there won't be a need for a single line of code.
Similarly, when you are going to launch a new product for your store, taking a pre-order helps to generate revenue initially.
In the traditional way, you need to write tons of codes and there is a good chance of getting technical errors. But with ShopEngine's pre-order module, you can integrate the feature instantly.
Product Comparison
When visitors land on a WooCommerce website and see multiple products in the same category, they might want to compare the products before making the buying decision.
Integrating Product comparison options makes it easy for potential customers. ShopEngine's Product Comparison module has made it easy. Just turn on the module in the backend and integrate it for the store.
WooLento offers a similar option but with a third-party tool. To integrate product comparison with WooLentor, you must need to install an additional plugin named 'Ever Compare'.
Wishlist
When customers land in a store, they sometimes are in a hurry. So, when browsing products, they might not be ready to complete a purchase. Instead, they want to create a wishlist of the desired products so that they can log in later and buy the products. ShopEngine's built-in Wishlist module has made it easy.
You can integrate the feature without any third-party tool or coding.
Though you can do the same with WooLentor but need to use a third-party tool. The store needs to install an additional plugin named WishSuite. It could be a hassle for you to use multiple plugins for the same WooCommerce store.

Upcoming Features for ShopEngine
ShopEngine released the Pro version recently and the plugin has a lot more features to offer. Different modules are now in the roadmap that will be available very soon.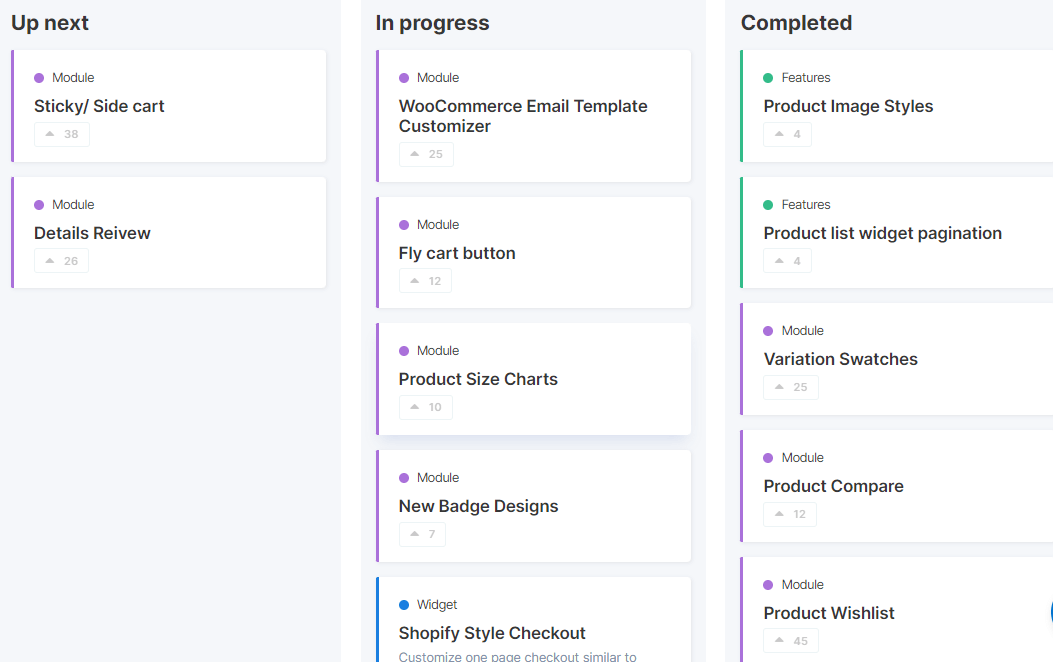 Some upcoming features of the ShopEngine WooCommerce plugin are Category dropdown, WooCommerce Email Template Customizer, Quick Checkout Template, etc.
The best thing is, users can always request new features in the plugin. If the ShopEngine team finds it should be in the WooCommerce addon of Elementor, they would take the initiative to add the feature in the next release.
Frequently Asked Questions
Can I Use the Addons Without Installing WooCommerce?
No! Installing 'WooCommerce' is mandatory to design a WooCommerce website using Elementor and any of the Elementor addon.
Does ShopEngine Work with the Free Version of Elementor?
Yes! Whether you are using the free version or the Pro version of ShopEngine, you can use it with the free version of Elementor.
Is ShopEngine Better Than WooLentor?
Comparing the price, advanced features, and variations of the widgets, ShopEngine is clearly ahead of WooLentor. Also, lots of new features are coming for ShopEngine.
Is WooLentor Cheaper Than ShopEngine?
Not at all! Just compare the pricing for both of the WooCommerce addons for Elementor and you will find both have similar price ranges. But ShopEngine is offering more features.
Final Words
You might have found out that ShopEngine is offering the best features. It is like you are getting a combo of multiple plugins in one single plugin. If you do care about your store's loading speed as well as the user experience, start using the Addon now.
The best part is, even if you are a newbie, you can start designing a WooCommerce store just by following the resources. ShopEngine has easy to understand text and video documentation.