5 Tips to Improve Customer Service on Your WordPress Website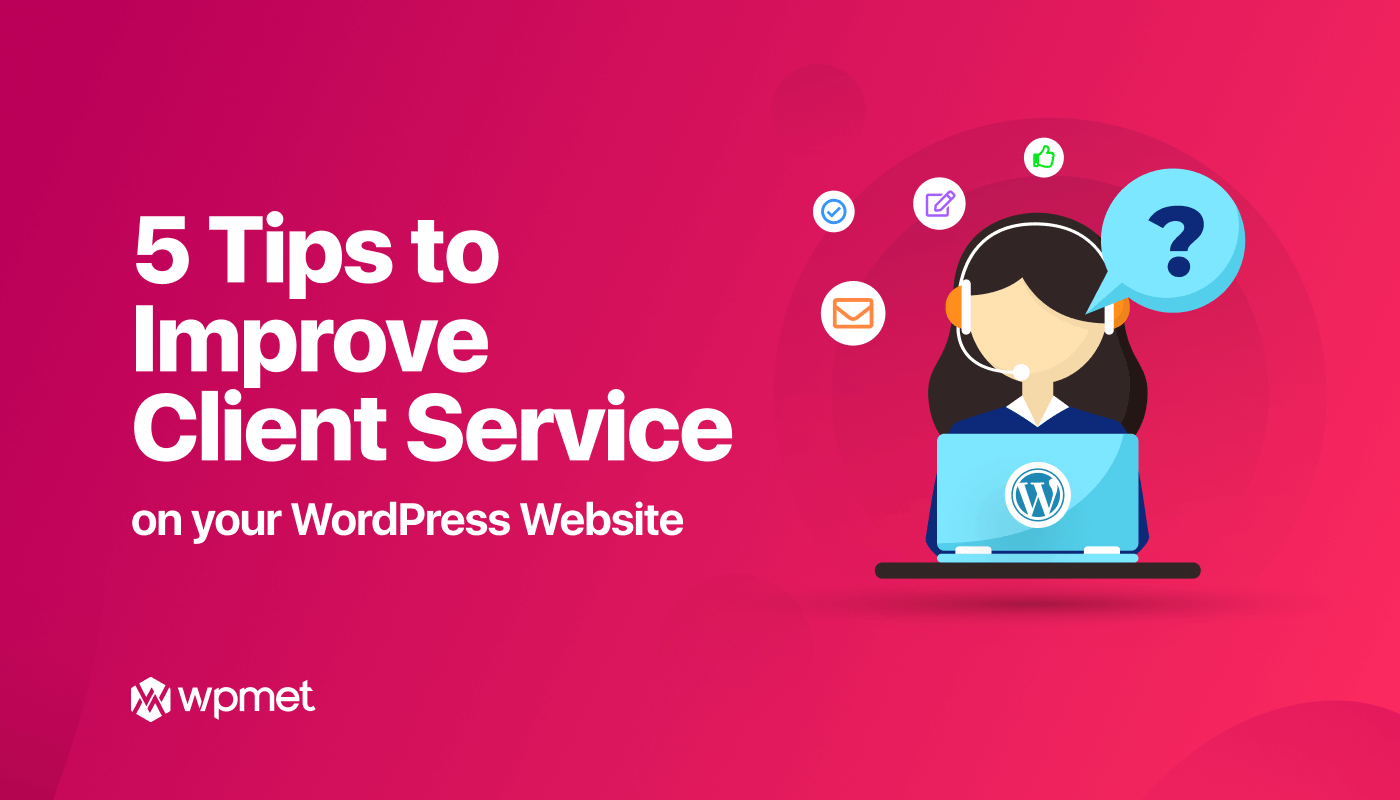 Have you ever thought of providing top-rated customer service on your WordPress website? It's a very crucial part for retaining your existing customers. You have to know what serves your customers well, how to respond to their needs, and how to improve customer service overall.
But don't fret if you don't know how to serve your customers well as this write-up will provide you with 5 fruitful tips to improve customer service on your WordPress website.
WordPress in a nutshell
WordPress is one of the first keywords that comes to mind when the discussion touches on the creation of a website.
As per the stats of w3techs.com, WordPress is used by 43.4% of all the websites out there.
Such success and popularity are due to the fact that WordPress is a great solution for those who need a website but know next to nothing about programming. WordPress is free, open-source, and provides a convenient content management system for those who wish to have a high-performance and efficient website.
From individual bloggers to eCommerce websites to top government resources, such as the official White House website – WordPress has something to offer to everyone. This blog will deal with 5 effective tips to improve customer service on your WordPress website.
WordPress and customer service
With all the convenience and flexibility WordPress offers, what else is there to desire to make your website successful, popular, and profitable? Maybe, top-notch customer service? You maybe offering some killer and advanced features to your customers through your WordPress site.
But if you don't respond to their queries immediately and don't resolve the issues they face while using your products, the end-result will be frustrating. You will get negative feedback about your business. That's why you need to know how to provide premium customer service on your WordPress website.
Read on for some tips to improve customer service on your WordPress website and increase user satisfaction.
How to provide great customer service on your WordPress website
Stellar customer service is not only about the professionalism and availability of your support team. You can excel in customer service right from the very structure of your WordPress site to satisfy your customers and influence them to return to you repeatedly.
Get acquainted with some handy tips to improve customer service on your WordPress website-
Design for mobile
There are over 6 billion smartphone users in the world who generate more than 50% of the entire web traffic. This is a huge chunk of your audience, which will appreciate it if you set up your website to be mobile-friendly. With WordPress, you have multiple options of mobile-friendly design, for example:
Responsive themes, allowing your content to be displayed properly both on desktop and mobile screens of various sizes. Most of the themes that WordPress offers are optimized for mobile use, so make sure you choose one that works well on any device.
Plugins make the creation of mobile-responsive pages easier. For example, ElementsKit, a single plugin for the Elementor Page Builder, allows building great mobile-friendly websites with high performance and usability.

Mobile-compatible content. When designing your website, avoid content that renders poorly on mobile. For example, pop-ups that cover most of the screen or Flash videos will not only bring down your website usability on a mobile device but also deteriorate its SEO performance. To make content mobile-compatible, use a bulleted list, compressed images, more captivating headlines, and keep your paragraphs short.
Provide useful and valuable content
Content is what can either prompt your visitors to browse and explore more or drive them away. If you want your content to contribute to providing great customer service, create value-rich content and arrange it to assist your visitors:
Organize your website content in a comprehensible and engaging manner to increase your visitors' knowledge of your brand, products, and services. Use the extensive content management options WordPress offers to enable intuitive navigation between content blocks.
Provide content that is relevant for your visitors. Display content depending on certain conditions, for example, the user's login status, to show only what they might need. WordPress supports the conditional content feature, which you can use to display what may be the most important for the current visitor.
Shift the focus to your customers. Create content that speaks to your leads and explains how your product can address their pain points.
Create self-service resources. A comprehensive knowledge base, a FAQ page, and a set of video tutorials can resolve many issues for which your customers may seek support.
Make it easy to contact you
Your website should offer clear and straightforward communication options allowing customers to reach you. To ensure maximum availability and customer satisfaction, provide multiple communication channels for customers and visitors to choose from:
For those who need assistance urgently, add a live chat widget to your WordPress website. Place it where it is visible and can be easily accessed. A good idea is to implement a chatbot, too, to direct users to self-service resources and assign their requests to the corresponding subject-matter experts.
For customers who prefer communicating via social networks, include links to messengers where your support agents can answer questions and provide assistance.
For people who do not need urgent solutions, offer the email address of your support team.
Allow your customers to provide feedback
One of the effective tips to improve customer service is allowing customer feedback. It's an important part of service, both for the customers and the business. By giving your customers an opportunity to provide feedback, you can achieve multiple benefits that help your business in more than one way:
You show customers that you appreciate and value their opinions. When people share their views about how you are doing and voice suggestions for improvement, they feel more involved and engaged with you. If they see that you listen to them and take their recommendations into account, chances are that they become your most loyal customers and brand ambassadors.
Feedback helps you to improve your products and services. No market analysis or research will give you as much insight into your product quality and usability as the actual customer experience. By gathering feedback, you learn about your product from the people who actually got to use it. This information may be literally priceless for planning further improvements and enhancements.
Through feedback, you can measure customer satisfaction. Feedback shows how happy your customers are with your product and how likely they are to recommend you. The rating that they give you shows the overall level of satisfaction and can suggest if improvements are necessary.
The best way to collect feedback effectively is through a form that you can be placed on your website. For WordPress websites, forms built with the MetForm plugin may be the best idea. MetForm allows building all kinds of forms and supports rating features, which is especially useful for collecting customer feedback.
Social proof helps to build trust towards your brand and increase your customers' confidence. If your website includes content generated by other users, such as reviews, ratings, endorsements, or testimonials, new visitors feel easier about you.
While the main advantage of social proof is its ability to boost sales, it can also be one of the useful tips to improve customer service:
Prompt response to feedback. Make sure that you analyze public feedback regularly and respond both to positive and negative reviews.
Positive social media mentions. Social media is another channel of customer service with its own performance metrics. If you include posts where your brand is mentioned in a positive way, you are going to earn higher trust with your customers.
Names of well-known customers. If companies whose names and logos are immediately recognizable are among your customers, it means that they value everything that you offer, including customer service.
Leverage your website options to improve customer service
That's all we had in this post rounding up 5 tips to improve customer service on your WordPress site. If you have chosen WordPress to build your site, you might use its features to the max. WordPress provides great content management options to set up a visitor-friendly site.
Don't forget to take advantage of the above result-driving tips to improve customer service on your WordPress website. These tips are worth following to streamline your client service. And in a CMS like WordPress, these will work even better, we promise!
Last but not the least, always emphasize on customer feedback as customers' reviews and views will help you to understand your strengths, weaknesses, achievements, and flaws. In case you are wondering how to build a customer feedback form, you can avail of MetForm for that.