10+ Must-Have Google Chrome Extensions To Accelerate Your Content Writing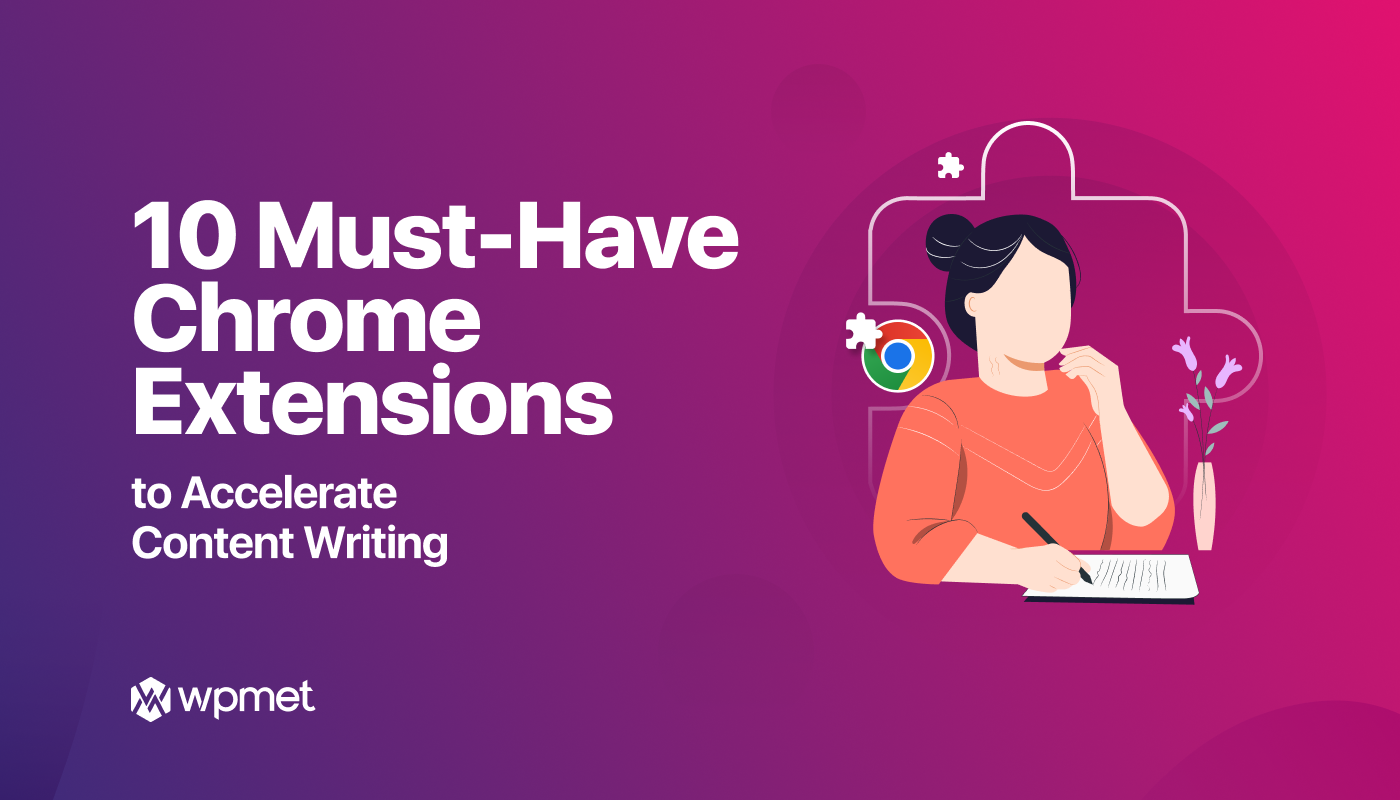 Many Google chrome extensions can assist you with your writing if you use an online document creation tool or need to write blogs/emails frequently.
Chrome extensions can make all of our hard work easier, whether it's addressing grammatical problems, taking screenshots, or doing topic research.
You must be wondering, How?
Here in this article, we have provided all the necessary pieces of information that will help you choose the right extension. Here we've also compiled a handful of Chrome extensions that can make writing unexpectedly easy for you, whether you're an author, a college student, or a business manager that needs to write frequently to clients.
So, let's get started…
👉 What Are Google Chrome Extensions?
Let's start this blog with a quick introduction to Google chrome extensions, for those who have just started blogging or planning to start one. First up, let's learn what a Google Chrome extension is and how it works.
Chrome extensions are apps that are installed in the Google Chrome browser to improve functionality when surfing the web. These types of mini-programs have different names in different browsers.
Chrome browsers are typically used for browsing the internet, bookmarking, saving passwords, and cookies, and plenty of other things. However, you can improve your Chrome browser's user experience by using Google Chrome extensions.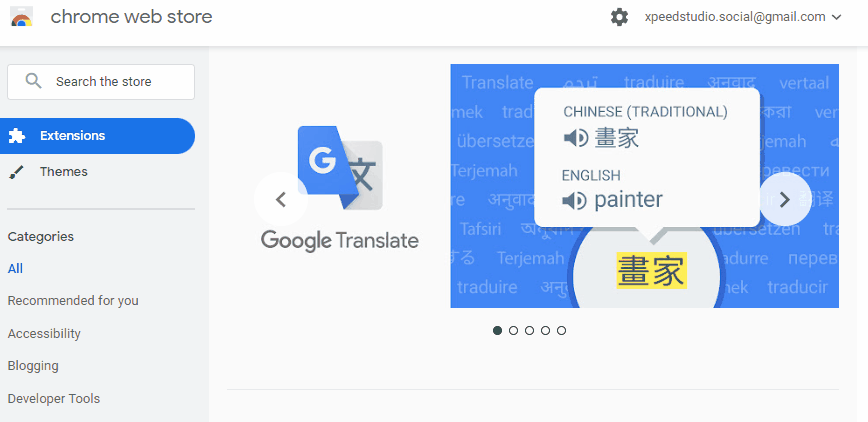 Chrome extensions makes it simple to browse the web smoothly while also improving security. Google Chrome extensions are also available for a variety of functions, including content writers, designers, and developers, among others.
They can also be adjusted to meet the user's needs by adding new features and modifying the behavior.
🤷‍♂️ Benefits of Google Chrome Extensions for Content Writers?
Because the Google Chrome platform is open source, you can find Chrome extensions for practically any feature.
The most popular Chrome extension categories are accessibility, content writing, developer tools, entertainment, and so on. Today, we'll look at how various content writing chrome extensions might help you write faster.
⚡ Improve Productivity:
Using Chrome browser extensions for time management, storing everything in one place, and receiving notifications for crucial deadlines will undoubtedly increase your productivity. You will get all the necessary information without having to use your preferred browser.
⚡ Prevent Distraction:
It is common to become distracted when using several tools and platforms to manage your content authoring. Because you must switch between different apps to do several activities. Chrome extensions can help you sort this issue and save your precious time. You can also stay focused and prevent interruptions by using content writing chrome extensions.
⚡ Content Sources:
If you've ever written content, you're well aware of how difficult it is to manage content sourcing. However, there are numerous free Google Chrome Extensions that might assist you with content sourcing. This will assist you in improving your article writing abilities.

🔥 Must-have Chrome Extensions for Content Writing
The Chrome web store has a number of writing extensions that can make your life easier and help you write more efficiently.
You may not be aware of several important Google Chrome extensions that are already installed in your browser. Take a peek at these 10+ crucial Google Chrome extensions that can help you write better content faster:

If you work in content marketing, proofreading, grammar, and spell-checking is a daily task. Grammarly is now the most popular Chrome addon for assisting you with these.
You may use the Grammarly Chrome plugin to correct your writing in Google Docs, emails, and any other program that has a text editor.
For most users, Grammarly's free edition is sufficient to correct simple typos and punctuation problems. Grammarly Premium, on the other hand, will help you enhance your writing and make it more impactful. With a lot more customization options.
TL;DR

⭐ Active Installation: 10,000,000+
💸 Does it have a Pro version: Yes | Learn more

Google Docs is now the most convenient tool for creating, managing and speeding up content creation. You'll find practically every feature you need to boost your writing efficiency and create masterpieces.
This beautiful tool is also available as a Chrome browser extension for your preferred browser.
TL;DR

⭐ Active Installation: 500,000+
💸 Does it have a Pro version: No

While you're writing drafts, you'll want to use a simpler medium to sketch down your ideas. If you're looking for a speech-to-text tool for content creation, Speech To Text is a good option.
This Chrome browser plugin will assist you in transcribing your speeches into text. This tool is also a productivity tool because it saves a lot of time when writing.
TL;DR

⭐ Active Installation: 90,000+
💸 Does it have a Pro version: Yes | Learn more

Momentum replaces the blank new tab page with inspirational words, beautiful images, weather updates, and a spot for you to jot down your daily priorities when you first open your browser.
This Chrome browser extension also allows you to keep track of ongoing, completed, and scheduled jobs. As a result, you may use Momentum to help you write better content.
TL;DR

⭐ Active Installation: 3,000,000+
💸 Does it have a Pro version: No
✅ Lightshot (Screenshot Tool)

Taking screenshots is an important duty for a writer since it allows them to adequately exhibit concepts, rapidly share, or save ideas. There are numerous screenshot addons available in the Chrome web store, but I like Lightshot because of its simplicity.
The extension works without any prior setup or registration. Simply click the extension button, and a snapshot of the currently open tab will be taken and opened in a new tab. The snapshot can then be manually cropped to get a precise image of the area.
There are tools to make minor modifications, such as adding arrows or text, and you can share or download the screenshot directly to your PC.
TL;DR

⭐ Active Installation: 2,000,000+
💸 Does it have a Pro version: No

To attract users and enhance visibility, a good Chrome extension for bloggers must create eye-catching headlines. By just giving the plugin a keyword, you may build catchy headlines.
Over a thousand catchy heading phrases are included in the plugin, and it automatically adapts your specified keyword to create a new heading. Because it uses a fixed database of headings, some of them seem to not make more sense at all. But the majority of them do, or at the very least offer you an idea for a nice heading with some human tweaks.
However, the free edition only comes with 30 headline suggestions. To see all of the headings, you'll need to upgrade to the Pro edition.
TL;DR

⭐ Active Installation: 6,000+
💸 Does it have a Pro version: Yes | Learn more

Using high-volume keywords is a crucial criterion for making your content optimized for search engines. This will also aid in the ranking of your article.
However, if you're looking for a way to develop keywords and determine their volume, check out Keyword Everywhere. You should use the Google Chrome plugin. This extension will display your current usage data, related keywords, volume, and more for each keyword you search on Google.
"We've found the Keywords Everywhere chrome extension to be a superbly useful – and highly affordable – SEO and keyword research tool. We would highly recommend it to anyone involved in digital marketing or blogging,"

says Donald Chan, founder of digital marketing agency IMPACT.
TL;DR

⭐ Active Installation: 1,000,000+
💸 Does it have a Pro version: No

Content writers sometimes struggle to find the right words to create fine-tuned content. In this instance, the Wordtune Chrome extension can assist you in finding high-quality, user-engaging content suggestions.
You can then choose the most relatable sentence and improve the quality of your material. This Google Chrome add-on delivers free suggestions that are plagiarism-free and will increase interaction with your content.
TL;DR

⭐ Active Installation: 1,000,000+
💸 Does it have a Pro version: No

Including photos, screenshots, and videos in your content is just as crucial as including hyperlinks. Images and videos, especially if you're managing a knowledge base, can help your audience understand better.
This increases site engagement and improves the readability of your material. Loom For Chrome is a useful add-on for capturing screenshots, GIFs, movies, and other media. This Google Chrome browser also includes cloud storage.
TL;DR

⭐ Active Installation: 5,000,000+
💸 Does it have a Pro version: No

Time management is an essential component of content management. Furthermore, you must begin tightly organizing your time in order to expedite your article writing.
Toggl Track can assist you in doing so quickly. This feature-rich Google Chrome extension can interact with over 100 different programs, allowing you to start tracking time without needing to open a new browser in seconds. Pomodoro reminders can now be set up automatically in Toggl Track.
TL;DR

⭐ Active Installation: 300,000+
💸 Does it have a Pro version: Yes | Learn more

This UTM.io addon replaces the Google Analytics URL Builder. You can utilize your newly-tagged URLs in Google Analytics, Mixpanel, Kissmetrics, Amplitude, and just about any other analytics platform to track your campaigns.
It is highly useful to save time by creating links in bulk, custom branded domain links shortened. Also, no more cluttered spreadsheets, save UTM campaign templates, sync UTM templates across your team, and many more other features are included in this free Google chrome extension.
TL;DR

⭐ Active Installation: 10,000+
💸 Does it have a Pro version: No
✨ At a Glance: Must-Have Content Writing Chrome Extensions
All of the Chrome browser extensions described above are considered essential for any type of content writer. To provide you with a quick overview of all the listed Chrome extensions, we've compiled a list of their functions. Let's take a look:
| Chrome Extensions | Its Purpose |
| --- | --- |
| Grammarly | Corrects grammatical errors and fixes sentence structure. |
| Google Doc | Fastest content writing doc. |
| Speed-to-text | Transcribing speech into text. |
| Momentum | Improves productivity. |
| Lightshot | Takes instant screenshots. |
| Headlinr | Creates eye-catching headlines. |
| Keyword Everywhere | Assists with improved SEO. |
| WordTune | Helps to find you the right word. |
| Loom for Chrome | Creates videos, SS, and Gifs. |
| Toggle Track | Content management. |
| UTM.io | Creates UTMs |
Quick Must Have Chrome Extension Info

🤔 How To Install Google Chrome Extensions?
Hopefully, you now have a basic understanding of the Google Chrome extensions you'll need to speed up your content creation. The question now is how to obtain these necessary Google Chrome addons.
To get started with extensions in Chrome, follow this step-by-step tutorial:

Step 1: From your Google Chrome browser, go to the Chrome Web Store. You may also navigate easily using the browser bar.

Step 2: Now, in the Extension search box, search and type any above-mentioned extensions.

Step 3: The "Add To Chrome" button may be found on the extension's detail page. Just click on it and your Google chrome extension is ready to use.
Still confused? Here's detailed documentation on how to install the Chrome extension!
⛔ Are you getting a WordPress error that says "Allowed Memory Size Exhausted"?


This is one of the most popular WordPress errors. Though it is simple to increase the WordPress memory limit in just a few steps 👉👉 Learn more
Final Verdict
It takes time to improve your content writing productivity. To make the entire content management process faster and more efficient takes a lot of attention and, more importantly, the correct tools. We hope you find these Google Chrome addons useful to accelerate your content writing.
Stay tuned with Wpmet for more informative articles! ✌