ShopEngine Compatible Theme Bascart Featured on Envato
Do you know Envato recently featured ShopEngine theme Bascart on their website?
Wow! isn't it?
Now if you don't know what is Bascart then, here is a little description for you.
Bascart is a flexible ShopEngine compatible WooCommerce theme that makes eCommerce websites more professional with its amazing home page designs, layouts, and demos. Whether you want to build a grocery shop or medical shop, everything is possible with Bascart.
Now, want to know what cause Envato to feature Bascart? Then, you have come to the right place.
In this blog, you will get to know everything about this ShopEngine compatible theme and other themes like Bascart.
What is Bascart the highly compatible ShopEngine theme?
Bascart is the best ShopEngine compatible WordPress theme that is highly responsive and flexible for building any eCommerce website. It will provide the most professional look to your eCommerce website with its built-in home page designs. Whether you want to build an eCommerce website or supermarket shop everything is possible with Bascart. You will also get 7+ demos for your default home, sports shop, gadget shop, medical shop, furniture shop, and many more. Moreover, you can import these demos with one click.
Bascart is highly compatible with ShopEngine that will enable you to create and customize your WooCommerce site with an easy drag and drop feature. Your eCommerce site will have the best look as well as features that are enough for sustaining in this competitive eCommerce world. Bascart is not only compatible with ShopEngine but also compatible with Elementor, MetForm, WooCommerce, ElementsKit, Mega Menu, and many more popular plugins. Your issue regarding speed also will be solved after using this theme.
Why did Envato feature Bascart?
Bascart has launched with its amazing features that are suitable to build a full-fledged eCommerce website. Because of these new and amazing features, Envato featured Bascart. This is really excellent as it is newly launched. It also won the heart of customers in this short period. Now, are you wondering what are those amazing features that make Bascart featured on Envato?
No worries here we will help you to know what features make this theme so different from others. Here are the special features of this theme:
High compatible ShopEngine theme:
This is the most exclusive feature of Bascart that helps it to highlight on Envato. Because this ShopEngine theme solves the problem of many eCommerce sites. Besides, it is known to all that the failure rate of the eCommerce sites is very high. Sometimes it hits up to 90% that can't be ignored at all. Unable to build a proper eCommerce site is one of the main factors of this failure rate. Here ShopEngine comes. Nothing can beat ShopEngine when eCommerce website building and customization comes.
As Bascart is a ShopEngine compatible theme, you can build an amazing full-fledged website. Moreover, you can also boost your WooCommerce product page conversion rate with ShopEngine and Bascart. Because it will let you customize your shop page, account page, checkout and other pages. That means ShopEngine compatibility will help you to build a better WooCommerce site.
7 Built-in home page designs:
It provides 7 unique home page designs for your WooCommerce site. As a result of getting pre-made home page designs, you can build a successful eCommerce website within a few hours. Besides, these designs are 100% device-friendly and customizable. So, no need to spend months and days thinking about home page designs.
Incredible loading speed:
Loading speed! it is the main concern for any website owner. Because an eCommerce website with low loading speed will take your business nowhere. More than half of your website visitors will leave your site when your site takes to load more than three seconds. Here Bascart plays the main role. This theme is highly optimized for website loading speed. That's why you can use this theme without keeping a single thought on your mind.
9+ exclusive and unique demos:
Bascart will offer you 9+ professional demos for building any kind of eCommerce website. Besides, these demos are available with one click that means you can import these demos within seconds. Bascart will also release new demos in its upcoming version with more elegant layouts. You don't need to worry about the responsiveness of these demos. Just click and use any demo you want for your eCommerce site.
Fully customizable:
Bascart is a highly customizable theme. You can customize every layout, design in Bascart. As Bascart supports ShopEngine, customization gets easier than ever. Customization was never this easy. It is only possible due to the full-packed solution that this ShopEngine compatible WordPress theme provides.
device responsive theme:
What is the benefit of an eCommerce website where you can't target half of your customers?
In the United States, more than 47% of websites traffic comes from mobile devices. Source name- Statista.com
This means a device responsive site can draw almost 50% of visitors to your website. That's why your website needs to look good on every device. Bascart is an extremely responsive theme that will make your eCommerce site responsive as well.
Unlimited designs for header and footer:
It will also offer you an unlimited layout for your header and footer that are extremely unique. No need to design headers and footers anymore. Building your header and footer from scratch is also open when you use Bascart.
Always up-to-date:
You know what a huge problem can cause a theme when it don't update with WordPress and plugins, right? Sometimes, it can even break down your whole site. Breaking down your site means breaking down your years of effort. Luckily, you won't face this problem in Bascart. Because it is a well-updated WordPress WooCommerce theme.
Compatibility with popular and useful plugins:
Bascart supports Elementor, WooCommerce, ElementsKit, MetForm, ShopEngine, etc that will let you build a successful eCommerce with an easy drag and drop website building option. Only a responsive and flexible theme won't help you to create a successful eCommerce website. You will also need some plugins for your website functionality. Here Bascart also lets you use the most useful plugins for your eCommerce site.
New features with new business opportunities:
You can't grow your business opportunity with the same old features that every website uses. For beating your competitors, you need to come up with new and exclusive features that your competitors don't use. However, Bascart supports ShopEngine that lets you add new features like pre-order, back-order, sales notification, quick checkout, partial payment, and many more options for your eCommerce site. These unique features will help you to create more unique business opportunities that your competitors don't have. That's why it is a plus point for you if you are a Bascart user.
Why theme authors are making ShopEngine compatible themes?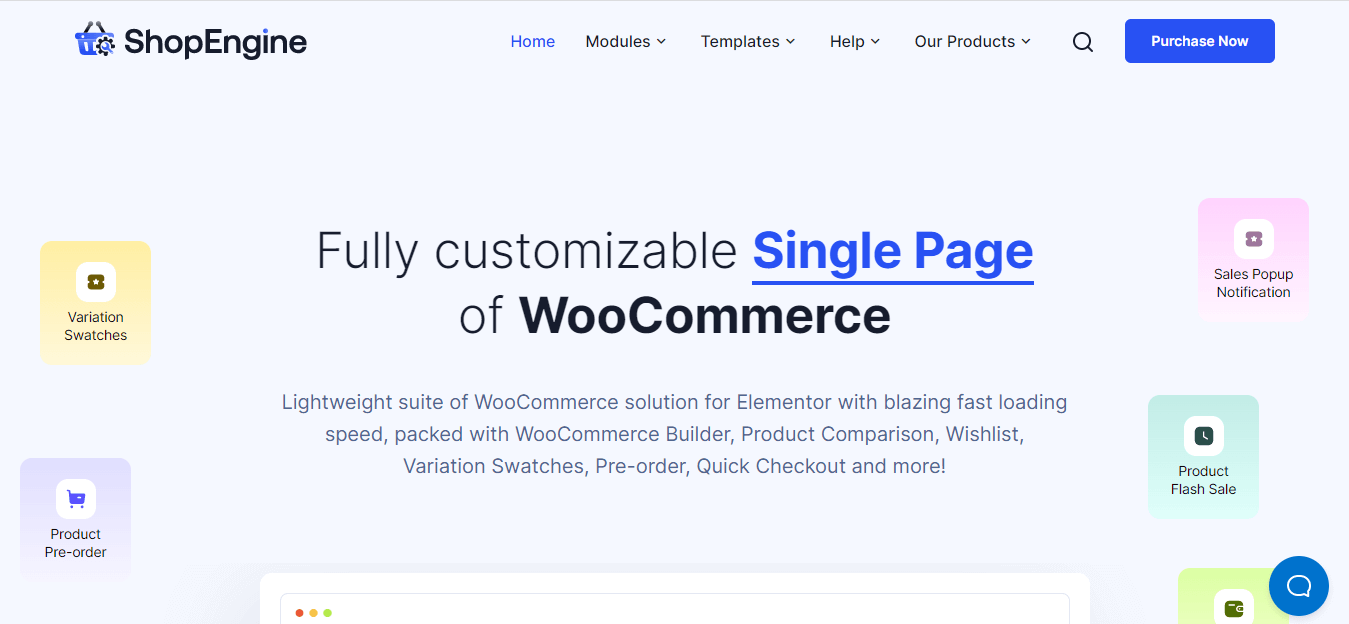 There are many theme authors like XpeedStudio, Themewinter who are recently adding ShopEngine compatibility with their themes. But, why they are making ShopEngine compatible themes? Ever wonder? The reason is clear and simple. ShopEngine unlocks every door that you need to go through to run your WooCommerce site flawlessly.
Now take a look at the reasons for making ShopEngine compatible theme:
Adding a pre-order and backorder system to each product is possible with this plugin.
Making the payment system more flexible can be done with partial payment module.
Using variations for each product like color, size, etc is possible.
The Sales notification module will show notification for product sales to your website visitors.
Showing flash sale products on your WooCommerce pages is possible with ShopEngine.
Switching into different currencies is possible.
Wishlist module will let visitors add products to their wishlist.
Checking out quickly is possible with ShopEngine.
Will help customers to compare different products.
Gives a popup view of the products.
Making the checkout page more professional is possible with an additional checkout field module of ShopEngine.
Adding discount badges with product pictures is also possible with ShopEngine.
ShopEngine also provides 15+ built-in templates along with 62+ widgets for enabling the advanced customization for an eCommerce website. If you use this plugin, you can do everything with just a single plugin. You can eliminate the necessity of using other plugins. As a result, website loading speed will be as smooth as before.
This draws the attention of theme authors. That's why they have targeted ShopEngine for making their theme more functional. It is beneficial for theme authors to make a ShopEngine compatible theme for expanding their business more.
Want to know another ShopEngine compatible theme? Keep going.
Bajaar: Another ShopEngine compatible theme like Bascart
Bajaar is a premium WordPress WooCommerce theme like Bascart that is suitable for building any eCommerce website. It offers 10+ world-class demos, unlimited headers, and footers for building an eCommerce website. Besides, these layouts and designs are device responsive that will help your site to look perfect on every screen size. Customizing eCommerce websites with bajaar is also possible because this theme supports both Elementor and ShopEngine. Bajaar provides high loading speed by using a custom CSS framework.
You will also get 400+ awesome icons, 200+ line icons, smooth animation, and a parallax section for making customizations that will look more professional and competitive. Bajaar is also ShopEngine compatible like Bascart that will let you customize a website using ShopEngine's amazing features. Moreover, you can unlock advanced features by taking ShopEngine Pro.
Wrapping up:
Any theme must provide useful plugins compatibility along with high loading speed, device responsiveness, 100% customization. During choosing plugin compatibility, theme authors also need to select featureful plugins that provide all-in-one solutions. Bascart is a perfect WooCommerce WordPress plugin that is highly compatible with Elementor, ShopEngine, MetForm, and other handy plugins. Because of its compatibility and wonderful features, Envato featured Bascart on their website. Now want to check more about Bascart? Press the following button to see their demos, layouts, and features all at once.