How to Export Orders from WooCommerce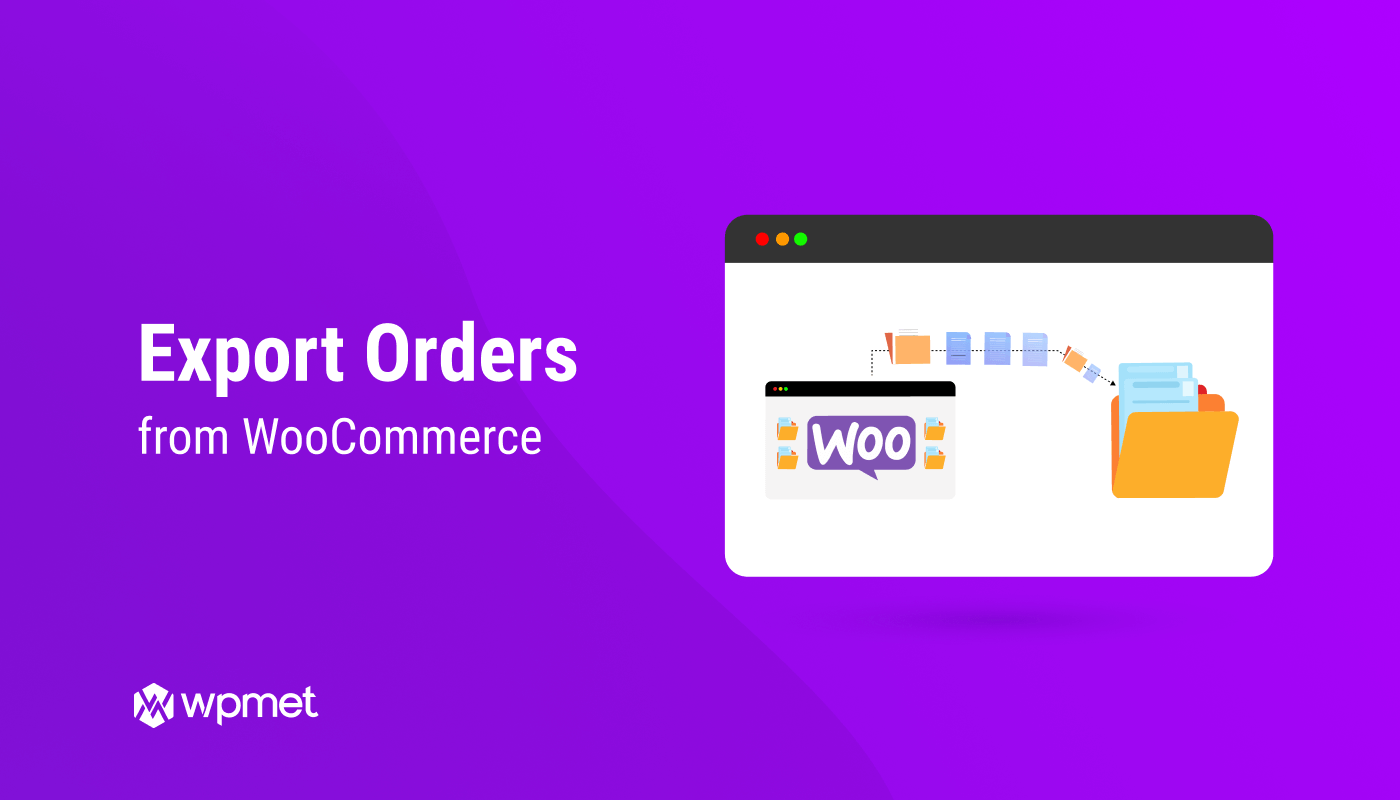 It takes a lot of effort to manage and maintain an online business. Aside from having to operate day in and day out, keeping pace with the competition all while trying to please customers is truly stressful such as restricting shipping and exporting orders. And these are just a few of the difficulties that every online business needs to tackle.
We're going to show you how to at least avoid one of these difficulties using WooCommerce Order Export. It will allow you to export orders from WooCommerce without any issues.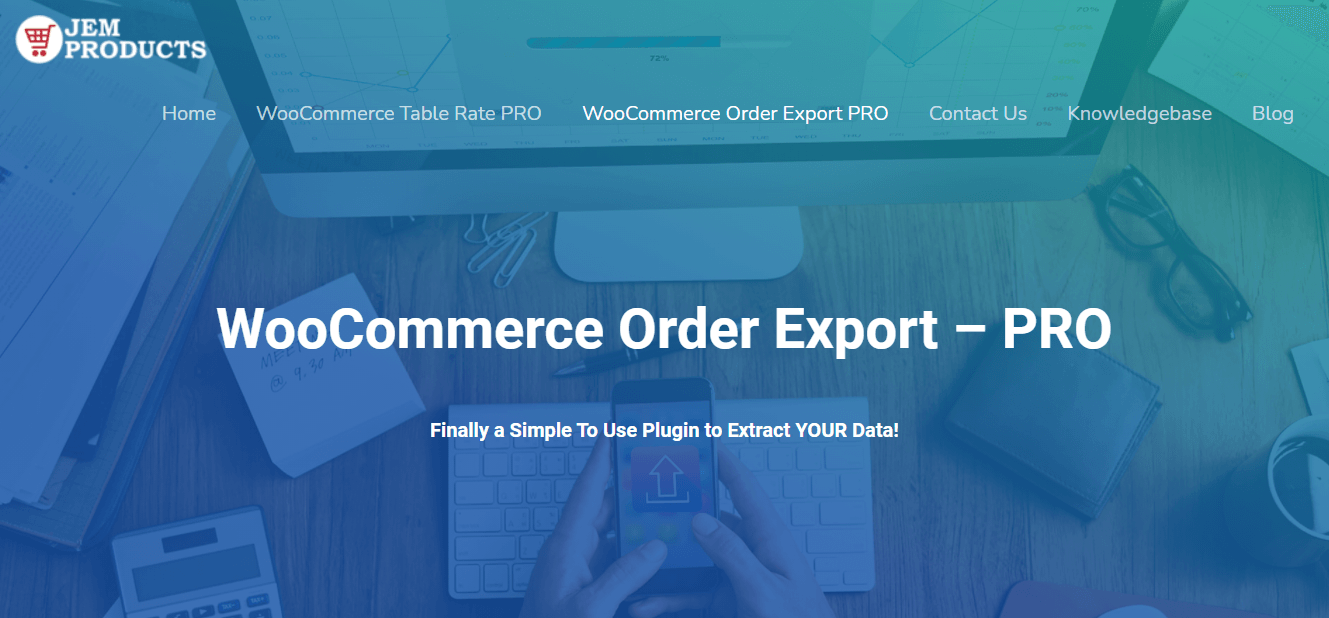 With only a few clicks, you can install this plugin on your WordPress site. Since WooCommerce does not offer a well-designed and easy-to-use order data exporting function, this plugin will be the perfect solution for your troubles.
If you are not convinced yet, keep reading. We are going to explain how to export WooCommerce orders in detail and why you should download a copy of the WooCommerce Order Export plugin. The plugin will allow you to quickly browse and connect to any of your databases.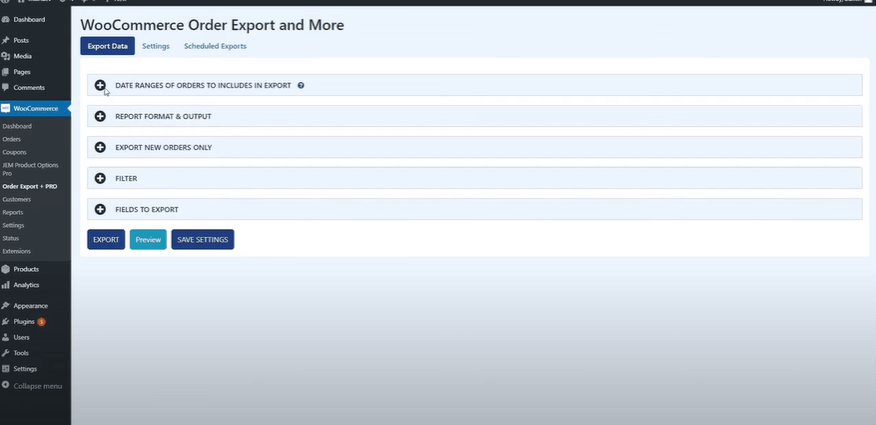 Date ranges
With the Date Ranges feature, you can select a specific date range for any orders. There are various predefined ranges that you may pick from to simplify the whole process. This feature is useful because it provides you with only the information that you want to see rather than the entire collection. As an outcome, your findings will become more convenient and effective to browse through.

You have the option of selecting the following intervals:
• Today's orders, yesterday's orders, this week or last week's orders, month to date orders, year to date orders, or last month's orders, and more.

Export orders from WooCommerce with new orders only feature
By default, this plugin recognizes what orders have been exported and those that are new. Of course, users can alter this tool and turn it off if desired. However, we recommend leaving it enabled because it will improve the user experience.

While you probably think that this feature is not so useful right now, you would be surprised after using it. By using it, you will be able to avoid duplicating any information in your documents and reduce unnecessary editing time. So, to recap, by selecting Export New Orders Only, you can prevent mistakes and redundant work by not exporting already known information to your documents.
Filters
The very name of this feature should say a lot about its capabilities. With Filters, you can further filter information by allowing it to narrow the search down to specific categories, features, and prices.

You can filter anything you want, from goods, orders, and coupons. By simply dragging and dropping, you may organize and rearrange those filters.
The best thing about this is that you can use as many filters as you want. You'll have all of your wanted results provided to you in each section if you select one of the available qualifiers.
Fields to export
With Fields to Export, you can rapidly change the database table column names on the export, as well as their ordering, by utilizing a dragging and dropping method.
By simply glancing at the columns in the tables, you will immediately understand what should be included in the exported data. After you do that, you will have the ability to simply reorganize all of them by sliding them towards the desired position.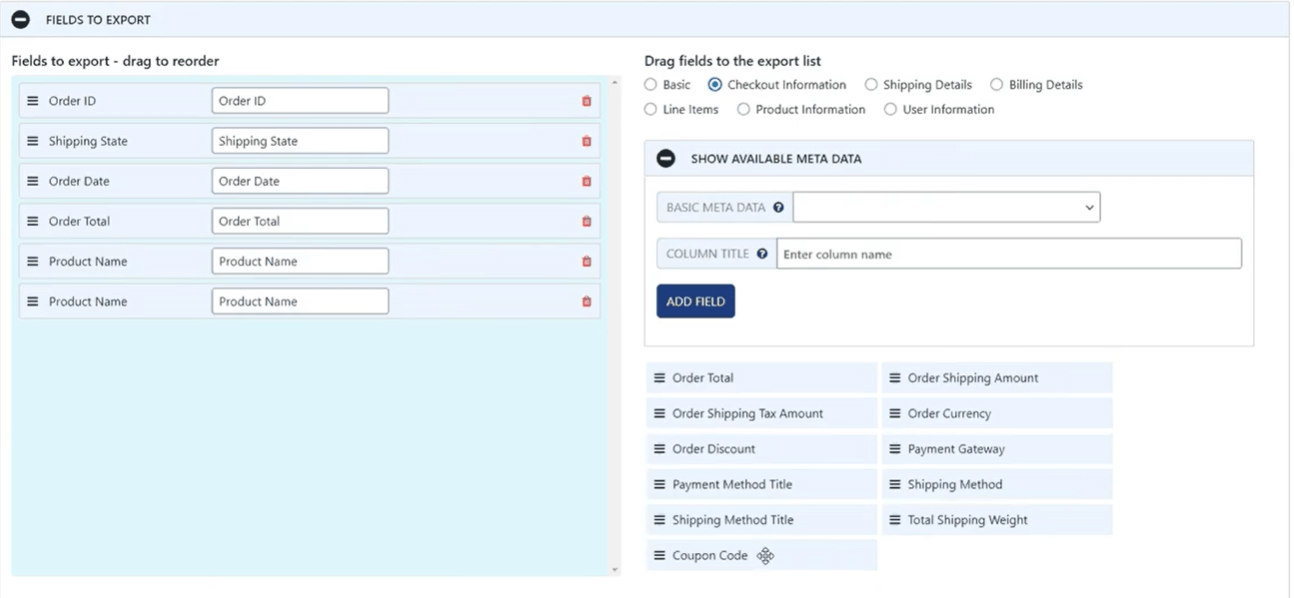 Choose from a variety of options, which would include Time, Shipping Location, Item Description, Purchase Total, and far more.
When it comes to simple exports, there is the opportunity to display and edit already available knowledge and metadata, which is often concealed but not required.
Fuller and more detailed exports that might include customer insights, goods, or transactions are provided in this plugin.
Preview button
One of the coolest features is the 'Preview' button. You may examine a sample of the exported data reports in their complete version using this type of preview.
As a result, before actually exporting your data, you may utilize the Preview option to evaluate and check what you've achieved and how your data will look once exported.

This feature will also save your energy and time as it will inform you if you really have made any errors before posting or emailing your reports to teammates or employers.
This should generate the initial information that meets the stated criteria, giving you a comprehensive picture of how the exported data is ordered and allowing you to rearrange it quickly.
Settings page
The purpose of the Settings page is to detect and eliminate any obstacles and difficulties. Not only that, but it lets you customize your user experience.
It's useful if you're having difficulties getting your exports to function just the way that you want and wish to figure out why.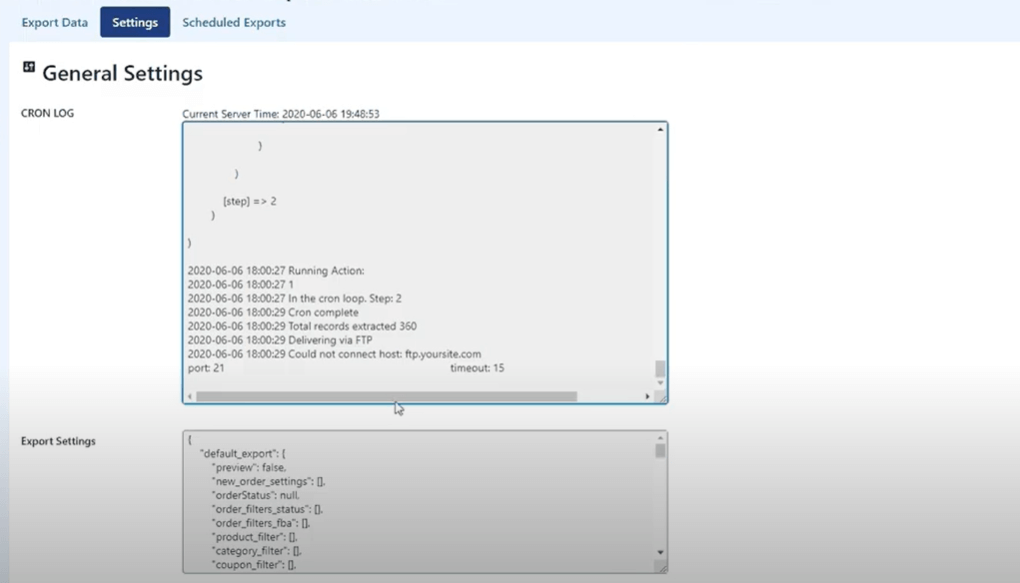 Additionally, it provides you with information on scheduling and exporting.
You can go to the Settings page and look at the log data if something just does not perform as expected or specific parts of the plugin are not working as intended or don't work at all.
Scheduled exports
As the name implies, Schedule Exports allows you to schedule order data exports. Users can easily set everything up and export every business transaction on a specified date, location, and timeframe that they choose.
Make strategies and set up automatic exports to learn how to handle exports. This will dramatically reduce the time that you have to spend working.
The options are limitless, and because the plugin does not restrict functionality, you may set as many scheduled exports as you desire.
Depending on your requirements, you can also make your project and ventures successful by using a schedule that will continuously transfer data at specified intervals.
The pricing plans
WooCommerce Order Export is free to use for everyone; however, there is a PRO edition with a lot more functionality.
As a result, depending on business demands, there are three price tiers to select from One Site License, Three Site License, and 100 Sites License.
Each has its own set of benefits, but the primary purpose of all pricing plans is order data export.
Conclusion
So, you have learned how to export WooCommerce orders. Before you decide to fully purchase this plugin, make sure that you try it for yourself, as they offer you seven days of free testing and a complete refund if you do not like it.
Once you try it, all you need to do is upgrade it to a premium package. You'll surely like all the advantages that it will provide you with.
It will make your tasks so much easier with all its features when exporting your orders. You will export orders from WooCommerce in the most easiest way using only this plugin.
Finally, WooCommerce Order Export will give you everything that you need to transfer all sorts of order information, even from store to store.
It allows users to download WooCommerce order reports in a few easy clicks, and the best thing about this plugin is that you can use it even if you don't know how to write a smidgen of code.
Make sure you download it and enjoy a more productive workflow.

Guest Post by
Vallery Henings

She is a copywriter and content writer who specializes in ghost blogging, email marketing campaigns, and sales pages. She is also a lover of road trips, peanut butter cookies, and a dog name Mimy.