How to Create Alumni Websites Using WordPress in 5 Easy Steps
Do you know building alumni websites are the only effective way to keep connection among the graduated people of your organization?
Because in today's world people are connected to the internet more than anything. They get all info from this internet. Even most people read magazines online too. That's why if you want to stay connected with your university or graduated people then forming an alumni site is a very good idea.
Now, if you don't know how to build an alumni site in WordPress then take a look at this blog. Because in this blog you will get to know everything about alumni websites, how to build this website.
What is an alumni website?
An alumni website is a website that is built to support and grow alumni associations so that graduated people can connect with each other and help to create a strong profile for the school or university.
The main purpose behind creating this alumni website is to maintain connections among the graduates that can't be possible without forming an alumni site.
Why do you need to build alumni websites?
In this era of technology, everything got digital. That's why without maintaining an online platform, having connections with your graduated friends, or students isn't possible at all. Besides, without an alumni site, you can hardly keep communication with a small group of people but when your circle grows it will be impossible.
There are more reasons for forming alumni sites. Take a look at those reasons that will push you towards creating a website for alumni association:
You can have the fastest and easiest communication system through alumni websites.
Alumni sites will let you have info regarding your graduated friends or students.
Raising donations or any kind of funding can be possible with this site.
You can know whenever your institution will arrange a program and also easily register for those functions.
It will assist your university to create an established organizational profile.
Connections will not vanish after completing graduation. You can connect and join any program of the university.
You will be able to share any little or big achievements via alumni websites.
That means if you want to stay connected with your university and your graduated friends in the easiest possible way then, building a website for it is necessary.
But how? Want to know the user-friendly process of creating an alumni site that won't take more than a few minutes? If yes, then keep reading.
How to create alumni websites easily using WordPress
WordPress is the most user-friendly content management system that saves lots of time for users like you. Besides, its plugins and themes make everything easier in WordPress. You can solve all your problems by using the correct plugin or theme.
Here I will show you the best and easiest process of creating an alumni website using the most user-friendly plugin and that plugin is ElementsKit. Follow the following steps to build your alumni website:
Step #1: Add ElementsKit to your WordPress site.
First, go to your WordPress dashboard. Then hover over your mouse on plugins and then click on the add new option.
After that, search for ElementsKit in the search box and install and activate ElementsKit for building alumni websites.
Note:
You need to be an Elementor user to customize your site with ElementsKit. Because ElementsKit is an all-in-one addon for Elementor. That's why install Elementor first and then install ElementsKit.
Step #2: Create a new page and add the ElementsKit ready-made template to that page.
In this step, you need to first create a new page. For it visit pages>> add new.
Then, click on the ElementsKit icon to add templates to your WordPress alumni site.
After that, go to the templates section like the following image.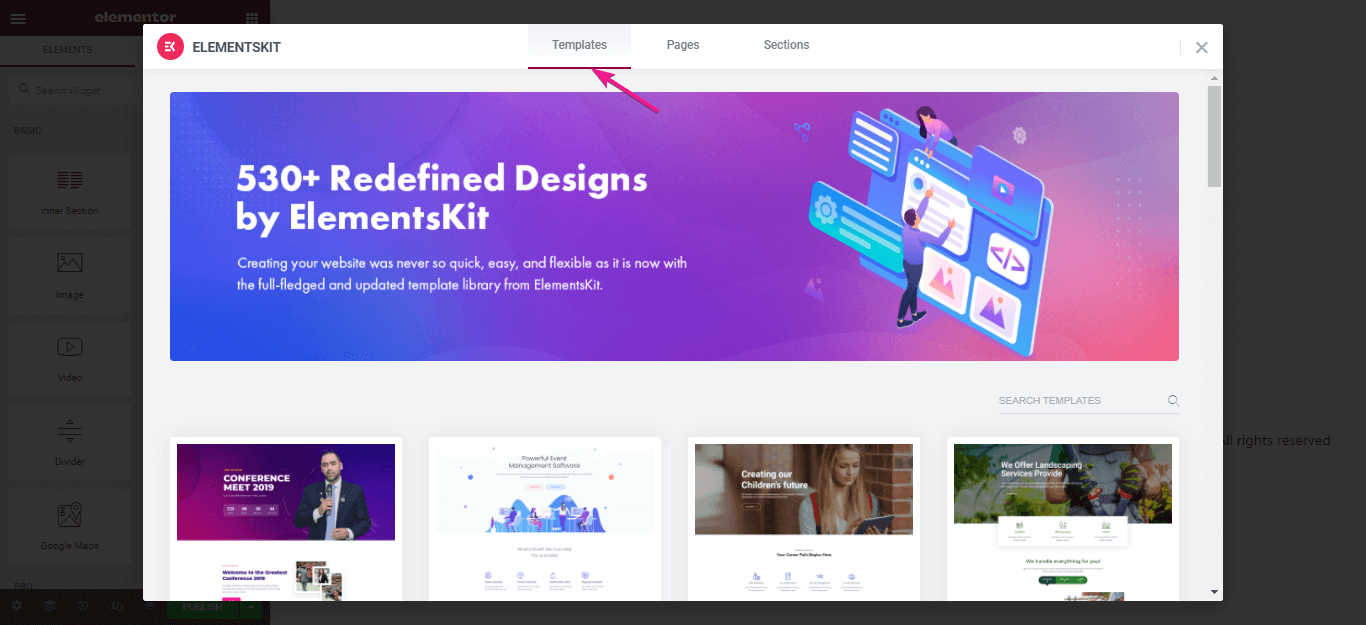 Now, select the template you want to use on your alumni site and after choosing, press on that template.
Then, press the insert button to insert that template.
Step #3: Edit the content of your alumni site.
In this step, you need to edit the content of your website. For editing title you can customize the following areas:
Heading title: You can edit the title or add a new title from here.
Title HTML tag: Choose the tag for your title.
Show border: Show or hide border by enabling and disabling this option.
Float left: Enable this option to set your title on the left.
You can also hide or show subtitle by switching on the subtitle.
After that, you need to add a title description by enabling the title description option and typing your desired description. You can also hide this feature if you want.
Besides, you can show shadow text and separator by switching on the shadow text and separator button.
Step #4: Style customization with ElementsKit.
Here you need to choose the alignment of your content. This can be left, middle, or right.
Now, you need to style your title by editing:
Text primary color: Set the color for your title.
Text shadow: Add shadow by enabling text shadow.
Margin: Edit the margin from here.
Typography: Select suitable typography for your site that will suit alumni websites.
Like the title, you can also customize the focus title. This option will let you edit:
Title primary color.
Typography.
Text decoration color.
Text shadow.
Padding.
background color.
text fill.
Now, you need to edit the title description just like the title and focus title.
ElementsKit even lets you customize every single part as your requirement. Just click on the part you want to edit and customize as your wish. Here I have selected the image portion and added images along with customizing image size, alignment, caption, link.
Step #5: Publish your alumni website.
ElementsKit also offers lots of free headers and footers for building any kind of website. You can use these headers and footers for building more eye-catching alumni websites.
Finally, press the publish button to make your alumni website live.
The final look of your alumni website
Get started with your alumni website
Since you know how to build alumni websites using WordPress, it's time to create one for your organization and maintain that site. You can easily create your alumni site by adopting the above five steps and also maintain your site by doing WordPress website maintenance activities properly.
To properly run your alumni website, you need to add various forms to your site. For example, registration forms, donation forms, contact forms, etc all these forms are necessary for alumni websites. Without these forms, your purpose of creating an alumni website will not be fulfilled.
However, WordPress provides various form builders and one of the best form builders is MetForm. You can easily create high-converting forms with this form builder. This will let your site be one of the best alumni websites. So, after creating an alumni site, add necessary forms to your site and your website will be all set.