7+ Best WordPress Mega Menu Plugins for Elementor 2023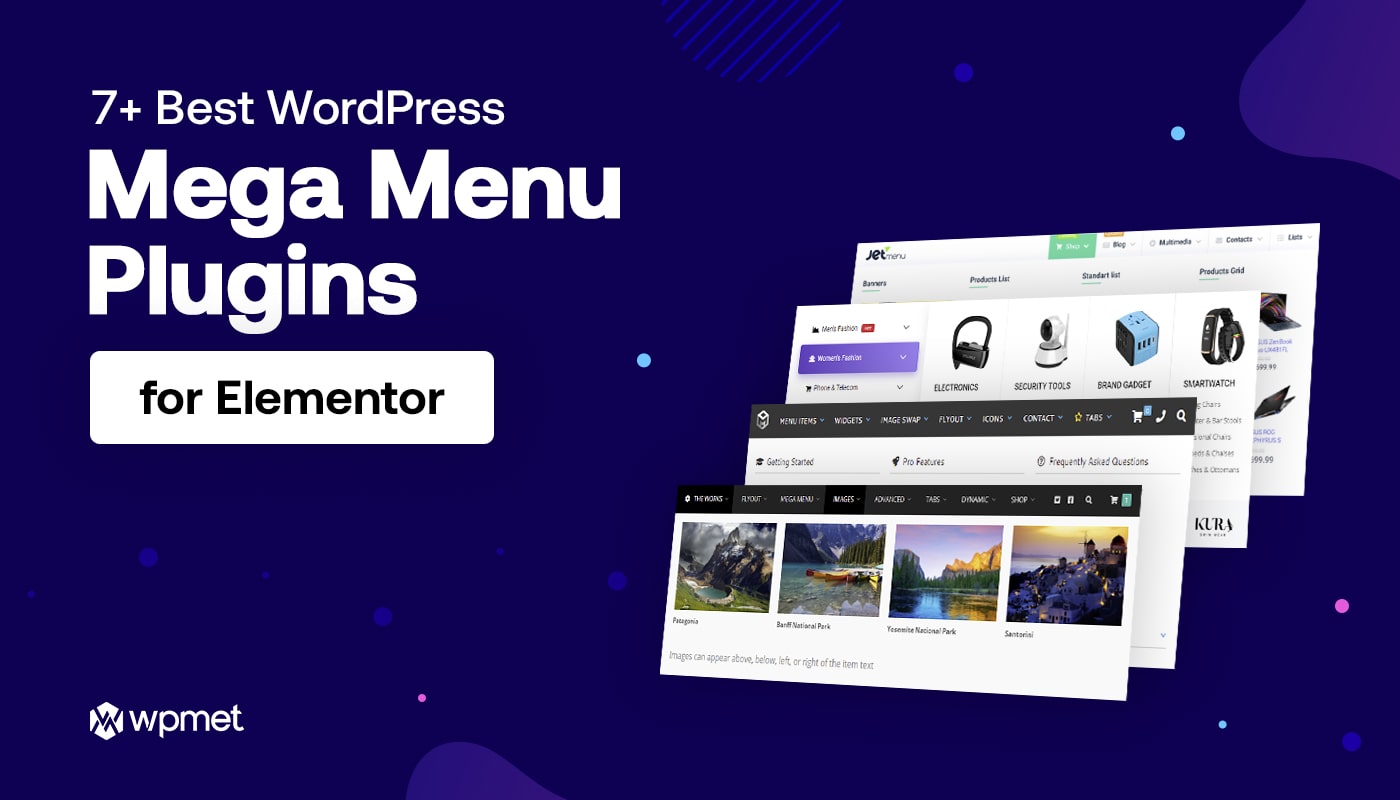 To explore a website with category and subcategory, Elementor mega menu is the best way to navigate the deepest section of your site and show information in a well-organized drop-down menu.
How can you enhance user experience with the mega menu Elementor?
For that, You need to find a simple but functional Elementor mega menu that will improve website navigation and encourage users to explore even more areas of your website.
In today's advanced marketing era, almost all the eCommerce websites, news and online sites could not go a day long without a mega menu. Even the biggest retail sites, like Amazon, eBay are using mega menu to help users browse through website's entire navigation into a single menu
Here we'll discuss and recommend some best Elementor Mega Menu Plugins for WordPress that will take your site to the next level. You may choose any of those best Elementor mega menu plugins to design your website.
What is a mega menu in wordpress?
Mega Menu in WordPress is a multi-column drop-down menu that allows users to navigate the deepest section of your sites just in one click.
Why Elementor?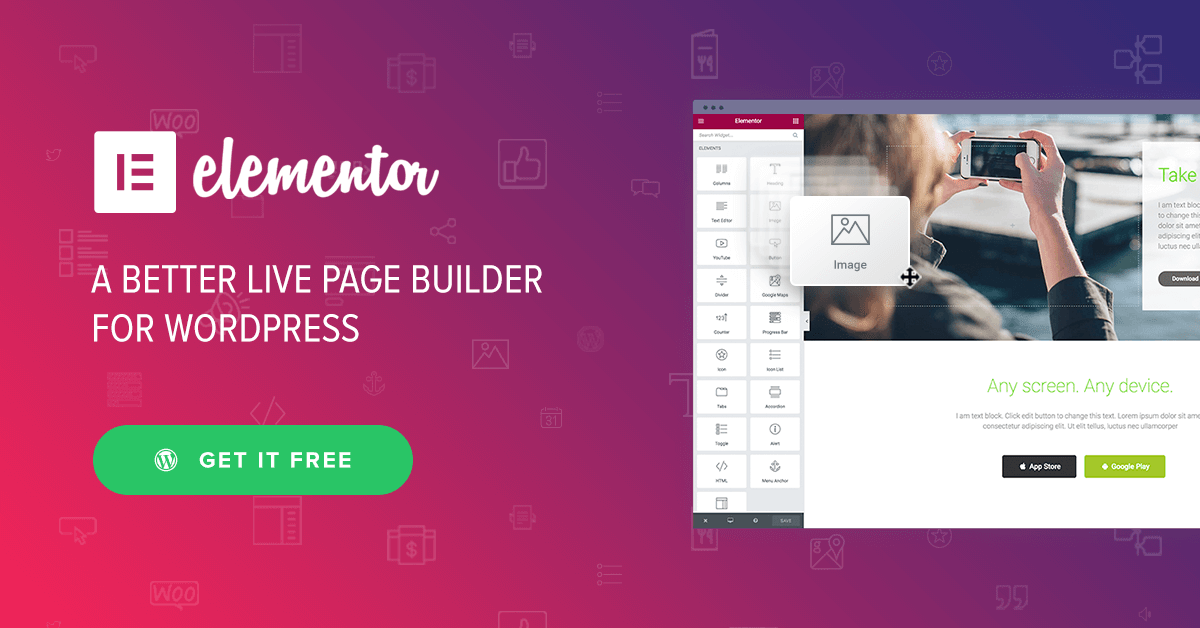 Elementor is the ultimate free drag & drop page builder plugin for WordPress. It is the only front-end page builder that offer countless top-notch design patterns.
Its dozens of useful widgets, extensive tool-set, visual features, and a stunningly designed template library with integration of other addons make it the first priority for customers.
The best thing you get, Elementor is highly configurable with many mega menu add-ons to add more functionality via using this WP mega menu plugin. This catches the user's attention and boosts your productivity.
If you still use Gutenberg on your website, you might consider moving on Elementor. To know more about the differences, you may check our Gutenberg vs Elementor blog.
So, let's check out the top WP Elementor mega menu for WordPress plugins!
Best WordPress Mega Menu Plugins
In this section, we will discuss about the top mega menu Elementor plugins on the market. Let's have a look at all of those Elementor menu plugins at a glance.
ElementsKit Mega Menu builder
Max Mega Menu
UberMenu
QuadMenu
Clever Mega Menu for Elementor
Jet Menu
Ultimate Mega Menu
HT Mega Menu
The Plus Mega Menu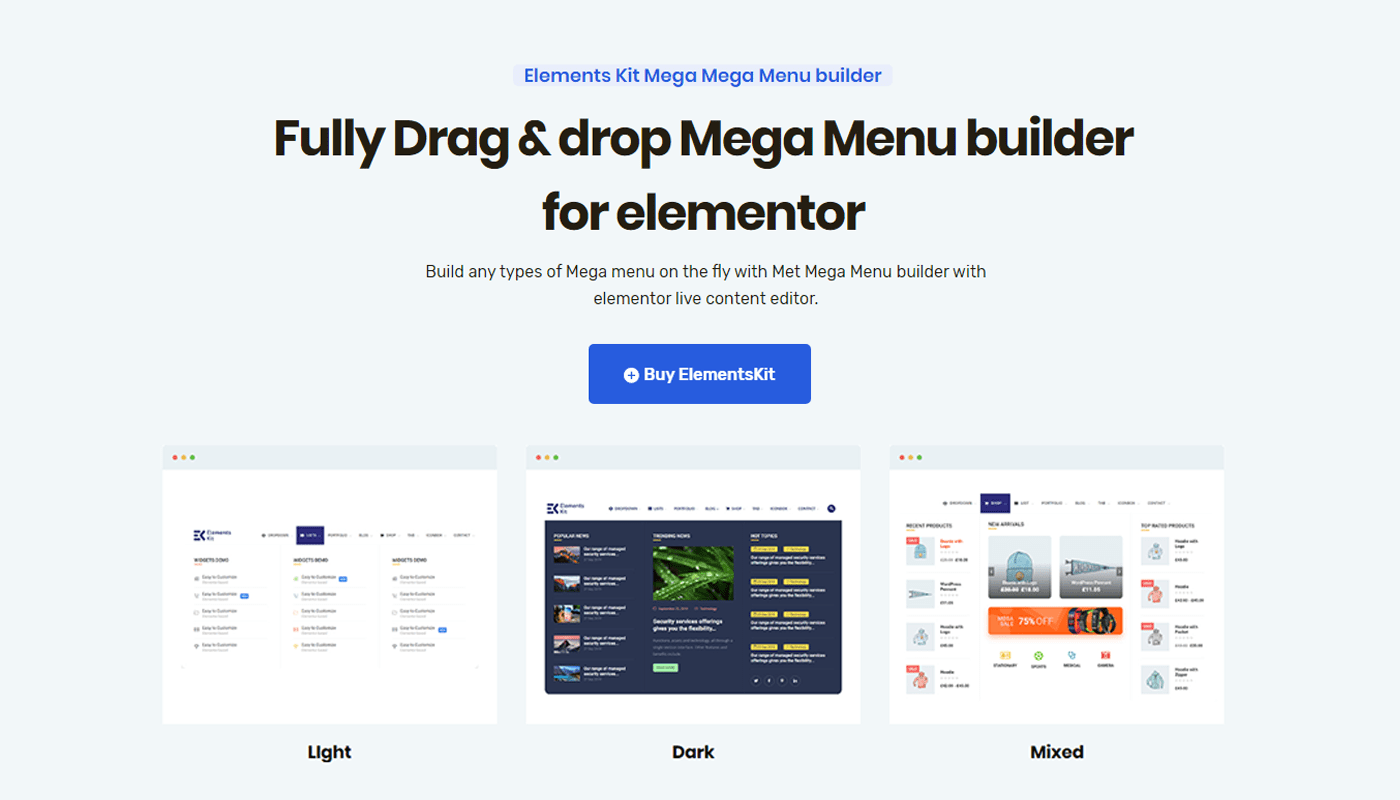 Presenting the most powerful, exceptional and feature-rich Elementor Mega menu builder at the top of the list that enables you to create and customize any type of Mega menu with an Elementor live content interface. You can use ElementsKit which is considered as the best WordPress mega menu plugin for making stunning and user-friendly mega menus with Elementor.
Elementskit Mega Menu comes with all other advanced features that makes it all-in-one Addons for Elementor. If you're not already familiar with Elementskit just to let you know, currently this Addons is the Fastest growing and Top-Rated Addons for Elementor. Visit the Elementskit webpage for more details.
It provides the highest number of features at a glance including 70+ amazing widgets, 8+ unique modules, 30+ ready pages, 500+ ready sections, and many more. That's the main reason for becoming everyone's first priority.
Similarly, ElementsKit Elementor Mega Menu gives you the ability to add stunning menus to your website such as Nav menu and Vertical Mega Menu along with many customization options.
The most unique feature of this Elementor menu plugin is that you will get two options for showing mobile submenu, one is "Builder Content" and another one is "Wp Sub Menu List".
You will have many more dynamic settings options for the Elementor Mega menu along with Vertical Menu such as Content, Select Icon, Choose Icon Color, Choose Badge Text, Color, Position. You can also select the Elementor menu position as Relative or Top and also set the Width to provide a perfect look of each featured item.
If you have eCommerce stores then this Elementor menu plugin is the perfect choice for you because it includes WooCommerce features like adding Woo-commerce items, products, and categories.
ElementsKit WordPress Mega Menu plugin is highly configurable and comes with an impressive selection of powerful pro features including drag and drop menu builder panel, blog post, add blog categories, auto add pages, social links menu, display location, pages, content, menu, custom links and many many more. It's really easy to customize with CSS.
Overall, ElementsKit Elementor Mega Menu is a full featured-packed Elementor mega menu builder and highly recommended to build an eye-catching professional site. Most importantly, it won't affect your webpage speed.
Let's See the Main Features:
Nav Elementor Menu
Vertical Mega Menu
Sticky Menu
Parallax Effects
Off canvas
SEO Friendly
Sub Menu Supported
Custom menu JS/CSS code
Advanced mega panel options
Google Fonts
Supports any Content Type
Dropdown animations
Support Font Awesome icons
Horizontal Mega Menu
Fully Responsive and compatible
Cross Browser Support
Perfect integration with WordPress themes
Use Elementor widgets inside Elementor mega menu
Work with most popular plugin like woocommerce
Deemed as the best mega menu plugin for wordpress
Price
Elementskit Mega menu Price is included with ElementsKit all in all Elementor addons
| | | |
| --- | --- | --- |
| Personal | Professional | Agency |
| $35 | $87 | $179 |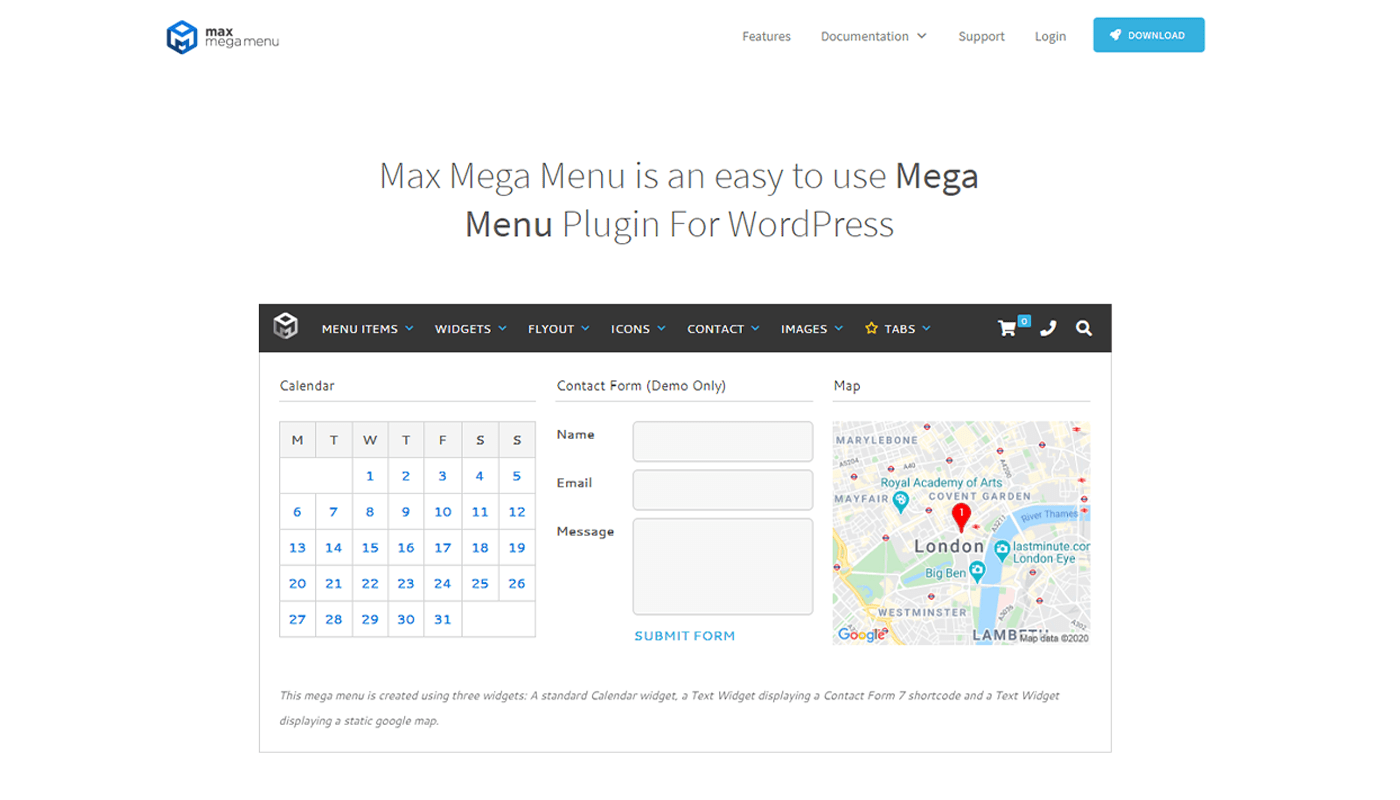 Max Mega Menu is a very popular Elementor Mega Menu Plugin for WordPress. This WordPress max mega menu will automatically convert your existing menu or menus into a mega menu.
You will also get lots of settings options for your Elementor drop & down menus such as scrolling effects, add any WordPress widget, restyle menu using the theme editor and change the menu behavior using the built in settings, custom CSS3 animations, sub-menu styles, unique icons, and much more.
With WordPress Max Mega Menu for Elementor, you can control your existing menu and create a user-friendly, drag & drop, and easily accessible menu. It is basically developed focusing on code quality, performance and usability.
Display WordPress Widgets in your menu
Supports multiple Elementor menu locations
Off canvas
Grid Layout builder
Built in theme editor
Click event to open sub menus
Add icons to menu items
Hide Text, Disable Link, Hide on Mobile etc
Price
| | | |
| --- | --- | --- |
| Personal | Professional | Agency |
| $29 | $49 | $99 |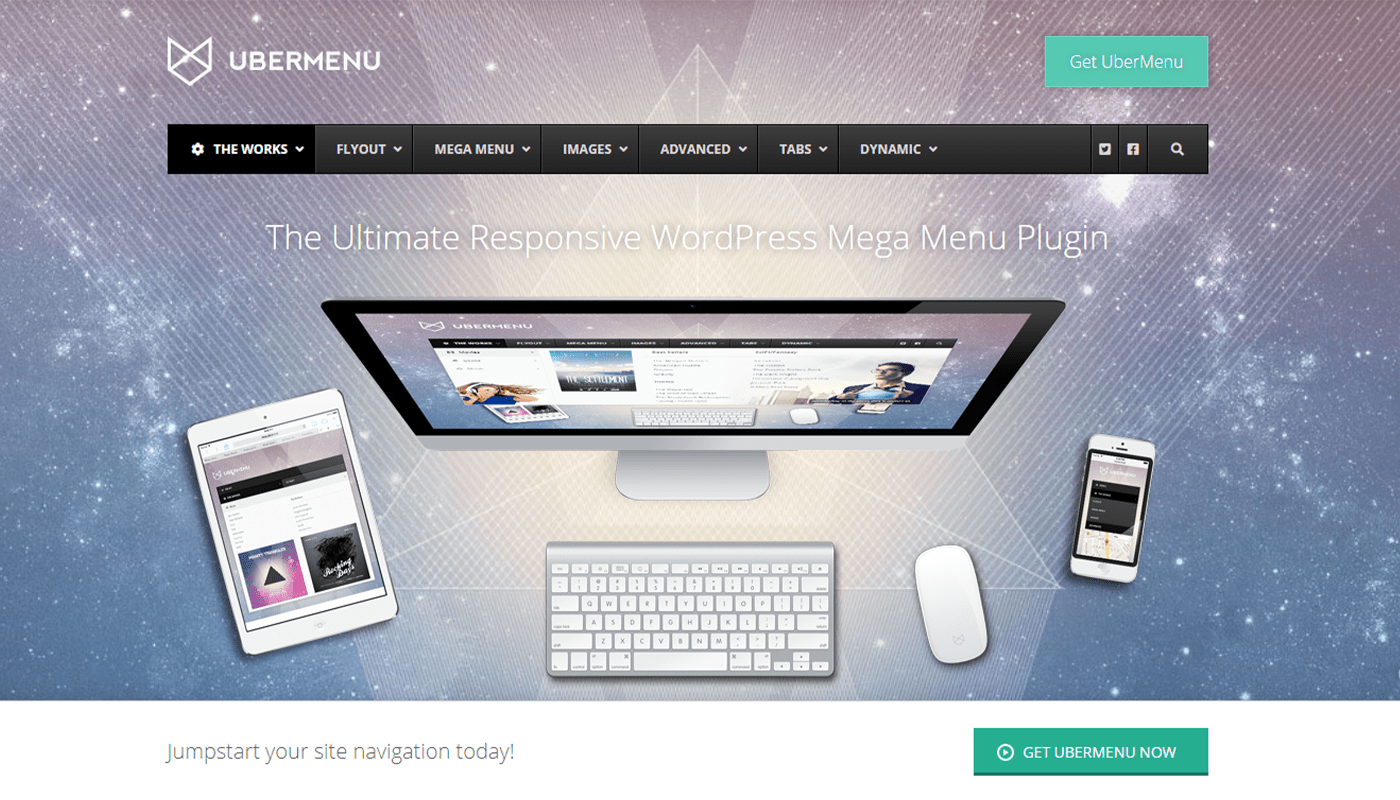 UberMenu is a very powerful and responsive WordPress menu plugin menu builder. It's a quality Elementor plugin with many more amazing features
This smart WordPress mega menu plugin offers you options to select background, font color, font size etc, that makes it look totally unique to your visitors.
UberMenu is a simple yet powerful Elementor Addons that includes a variety of pre-designed skins, as well as integration with the WordPress Customizer with many configurable settings, that helps you to design your menu with a Live Preview.
This Elementor mega menu builder allows you to create advanced menu options such as flyout menus, drop-down image menus, tabbed menus, and of course mega menus. UberMenu is fully responsive and work perfectly smartphone and tablet devices
Let's See the Main Features:
Ease to Use
Fully Configurable
Responsive
Tabbed Submenu
Vertical and horizontal menu
Customizable animations effects
Columns wrapper to group multiple items
Set background images for each submenu
Custom Content & Widgets
Create beautiful menu layouts
Automatic Item Generation
One of the best mega menu for wordpress
Price
| | |
| --- | --- |
| For 6 Months Support | For 12 Months Support |
| $21 | $27 |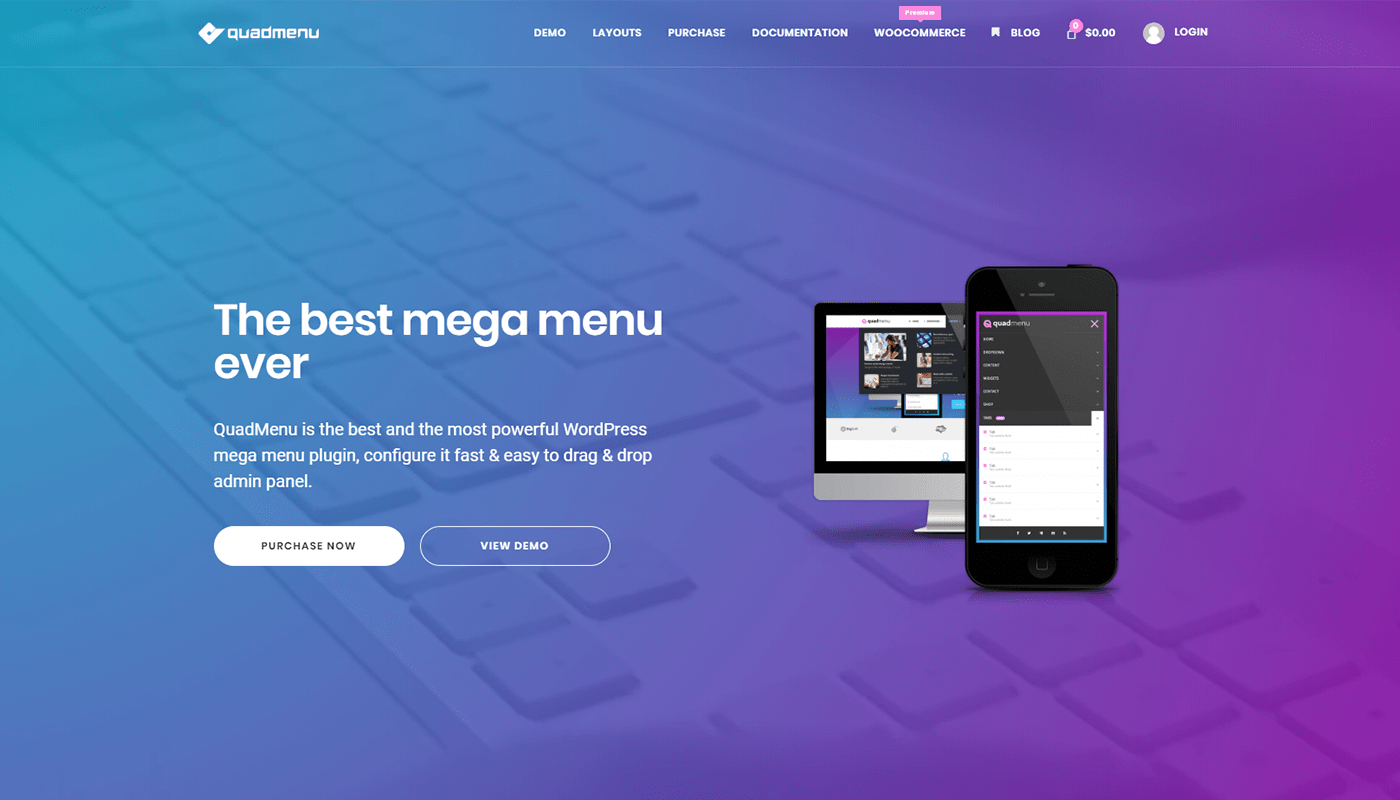 QuadMenu is a dedicated and intuitive easy navigation plugin responsive mega menu with customizable menu layouts and megamenu drag & drop field for WordPress. You will also get a variety of filters that let you change the style, behavior of the Elementor drop & down menu.
QuadMenu is a WordPress Mega Menu that will allow you to easily integrate the menu, create mega menus, tabs menus and carousel menus, add new elements, create columns and add widgets or any other type of element available in the native WordPress menu metaboxes.
It has another impressive feature that allows you to create horizontal & vertical Elementor mega menu width accordions or panels with support for touch screens and mobile devices. This also improves the user experience on touch screens.
Let's See the Main Features:
Supports multiple menu locations
Drag and Drop admin builder
Display WordPress Widgets in your menu
Unlimited Menu Themes
Vertical Mega Menu
Horizontal Mega Menu
Off Canvas Mega Menu
Elementor Sticky Menu
Google Fonts
Dropdown animations
Price
| | | |
| --- | --- | --- |
| Personal | Agency | Developer |
| $15 | $30 | $60 |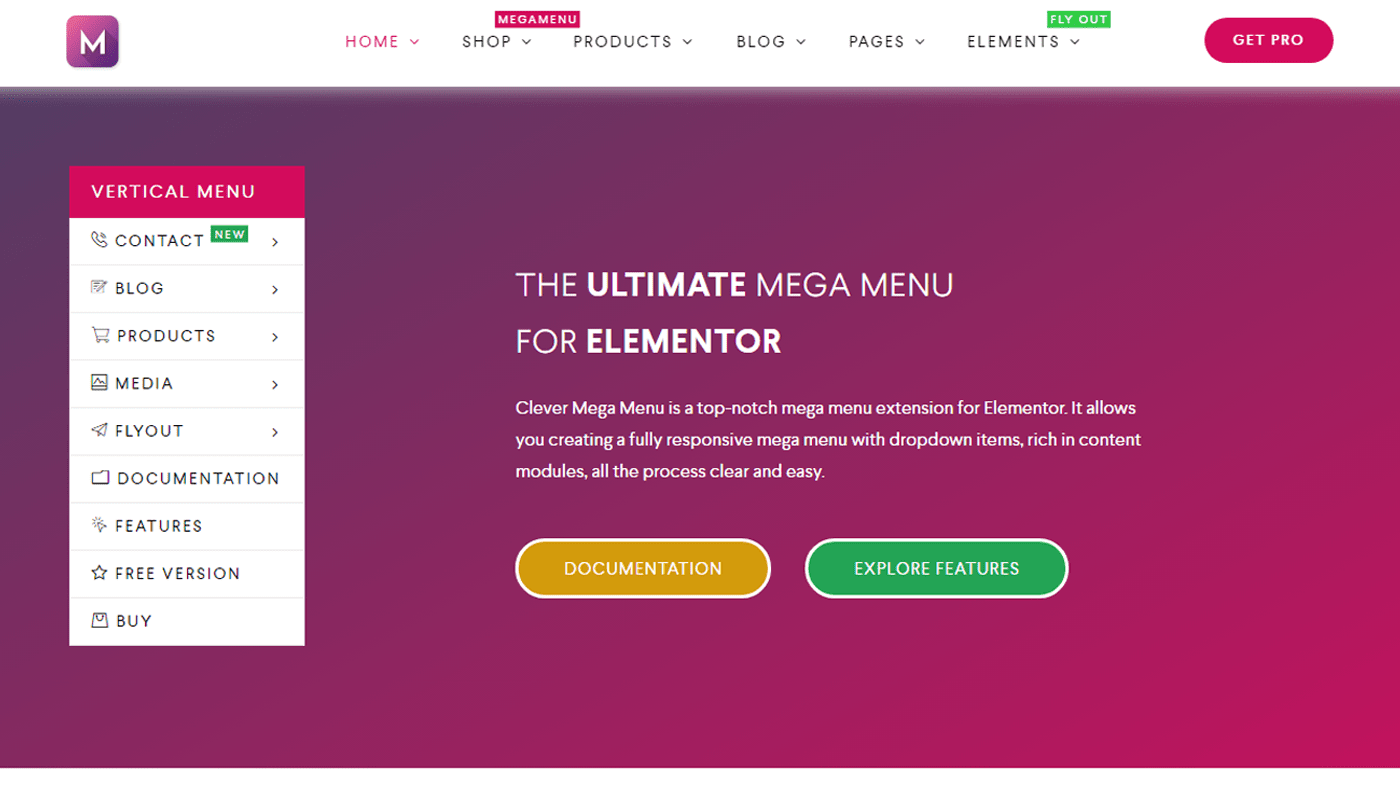 Here comes another top-notch and best WordPress mega menu plugin on the list. This modern Mega menu allows you to create fully responsive dropdown items, rich in content modules, all the process clear and easy.
The plugin offers a wide range of features including Elementor mega menu icons, menu skins, menu layouts & sub-menu layouts, import/export menu themes, drag and drop mega menu builder, multiple CSS3 menu transition effects, display mega menus and flyout menus responsively, display widgets, shortcodes
One thing you need to clear about, this plugin won't automatically adopt the style of your theme, your theme must have an CMM4E-specific stylesheet. You'll need to customize the styles to recreate it.
Besides that, you can choose horizontal or vertical menu layout includes appearance, set backgrounds, custom width, colors and others more
Let's See the Main Features:
RTL ready
Vertical menus
Selective menu icons
Selective menu layouts
Menu short-codes
Menu item badge
Advanced support
Advanced menu widgets
Unlimited menu icons
Custom menu JS/CSS code
Menu location generator
Advanced mega panel options
Price
| | | |
| --- | --- | --- |
| Single Site | Unlimited | Theme Seller |
| $19/Year | $79/Year | $149/Year |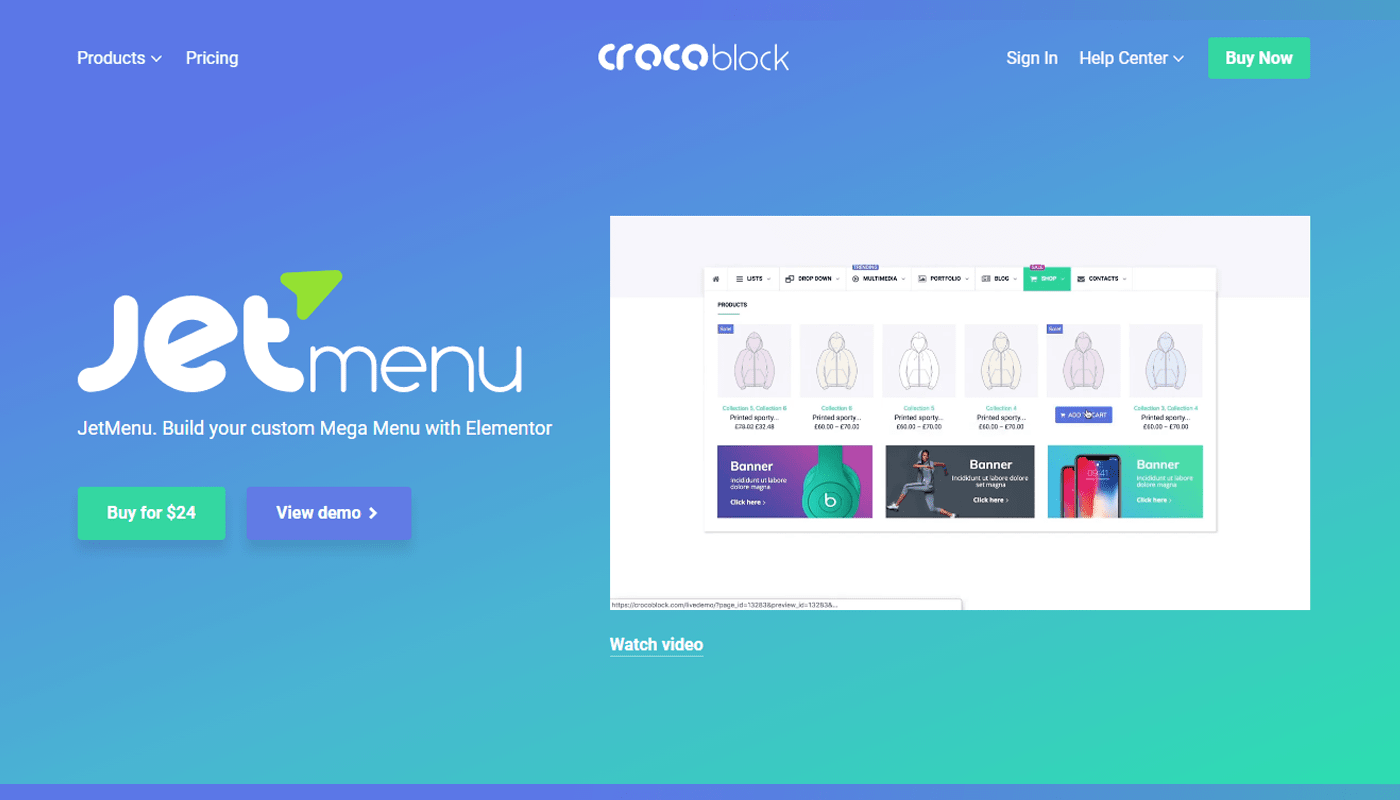 If you're looking for a simple yet effective mega menu, then JetMenu is a great choice for you. You can create an ultimate Elementor mega menu using JetMenu.
This plugin offers multiple content type including Stores, Multimedia, Contacts, Blog, Dynamic Content and Templates with multiple Animation layout, Box Shadow, icons, badges, drop-down arrows, typography, and many more
For your information, JetMenu also comes with a flexible and customizable horizontal, vertical and hamburger menu that you can give your website a perfect look.
Let's See the Main Features:
Amazing Capabilities
Fully Responsive
Supports any Content Type
Custom Widgets
Horizontal, Vertical & Hamburger Menus
Essential Styling Options
Export & Import options
Amazing support
Price
| | | |
| --- | --- | --- |
| Single Site | Unlimited Websites | Plugins Set |
| $19/Year | $31/Year | $49/Year |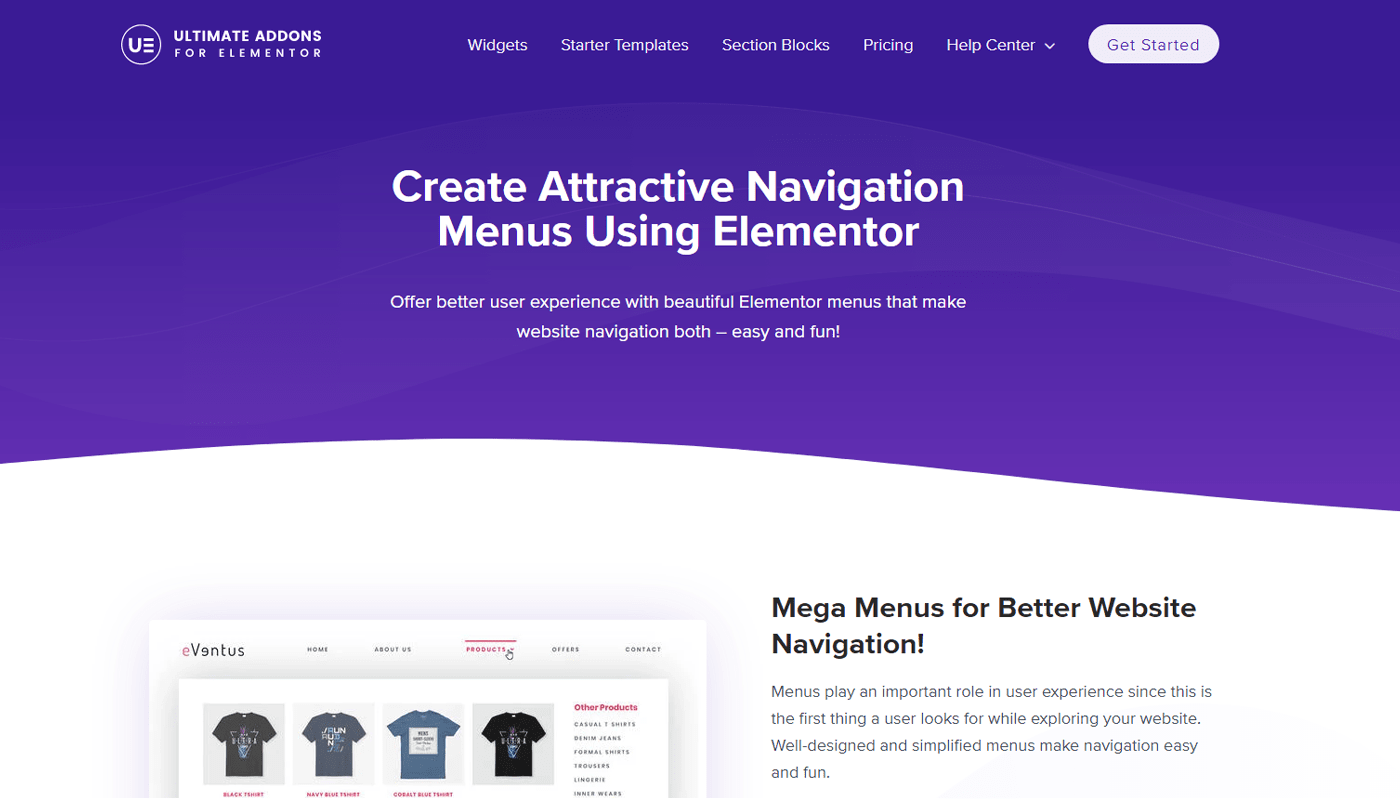 One of the popular Elementor Mega Menus in the market is Ultimate Mega Menu. You can customize almost everything in a super interactive and intuitive admin interface with amazing features.
Ultimate Mega Menu for Elementor comes with a flexible menu structure editor with which you can manage the submenu contents quickly. You can customize various menu content such as simple text, images, maps, forms, shortcodes and much more they can all be displayed in the submenu.
This WordPress mega menu plugin offers a wide range of customization options including spacing between all elements, their width, position, colors, background, separators, borders and menu trigger & close icon, typography and more.
Let's See the Main Features:
100% responsive and mobile ready
Horizontal/Vertical Menu
Spacing Control and Styling Options
Set breakpoints
Opt to display a full-width menu when opened
Align mobile menu to center or left
Style toggle button and manage alignment
Detailed Documentation
Price
Ultimate Mega menu Price is included with Ultimate Addons for Elementor
| | | |
| --- | --- | --- |
| Ultimate Addons | Mini Agency Bundle | Agency Bundle |
| $48/Year | $169/Year | $249/Year |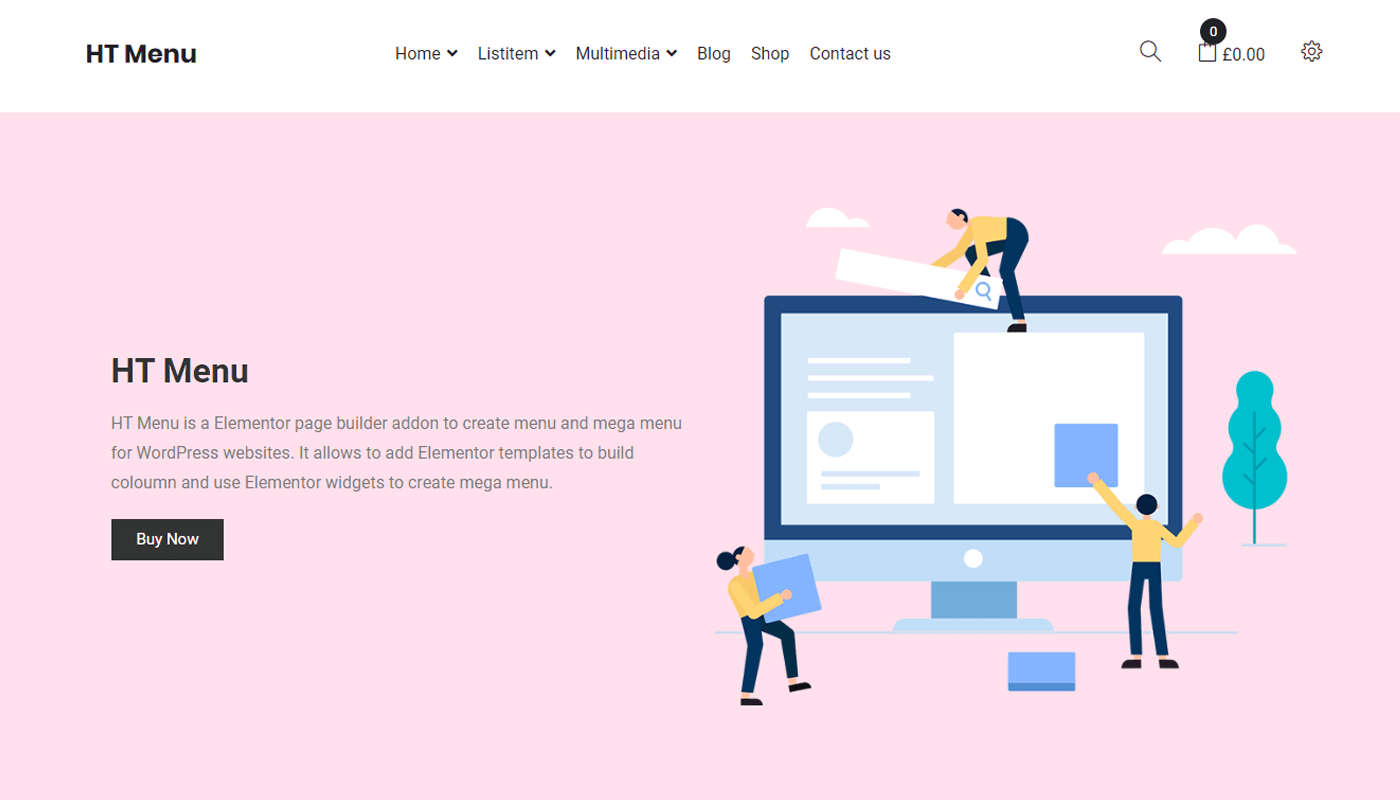 HT Menu is a very professional Mega Menu plugin for Elementor page builder.
This simple and highly intuitive mega menu is the ultimate solution to create rich and stunning navigation menus, add menu icons, and customize the styles using drag-and-drop tools.
The plugin includes 10 pre-defined Menu Layouts, custom colors, badge and many more. WT Mega Menu allows you to add Elementor templates to build columns and use Elementor widgets to create mega menus.
Let's See the Main Features:
Add Elementor Template under a menu.
Individual Menu Width Control Option.
Sub Menu Position
Menu Icon Picker
Menu Icon Color
Menu Badge
Menu Badge Color
Menu Badge Background Color
Price
| | | |
| --- | --- | --- |
| Ultimate Addons | Mini Agency Bundle | Agency Bundle |
| $29/Year | $89/Year | $149/Year |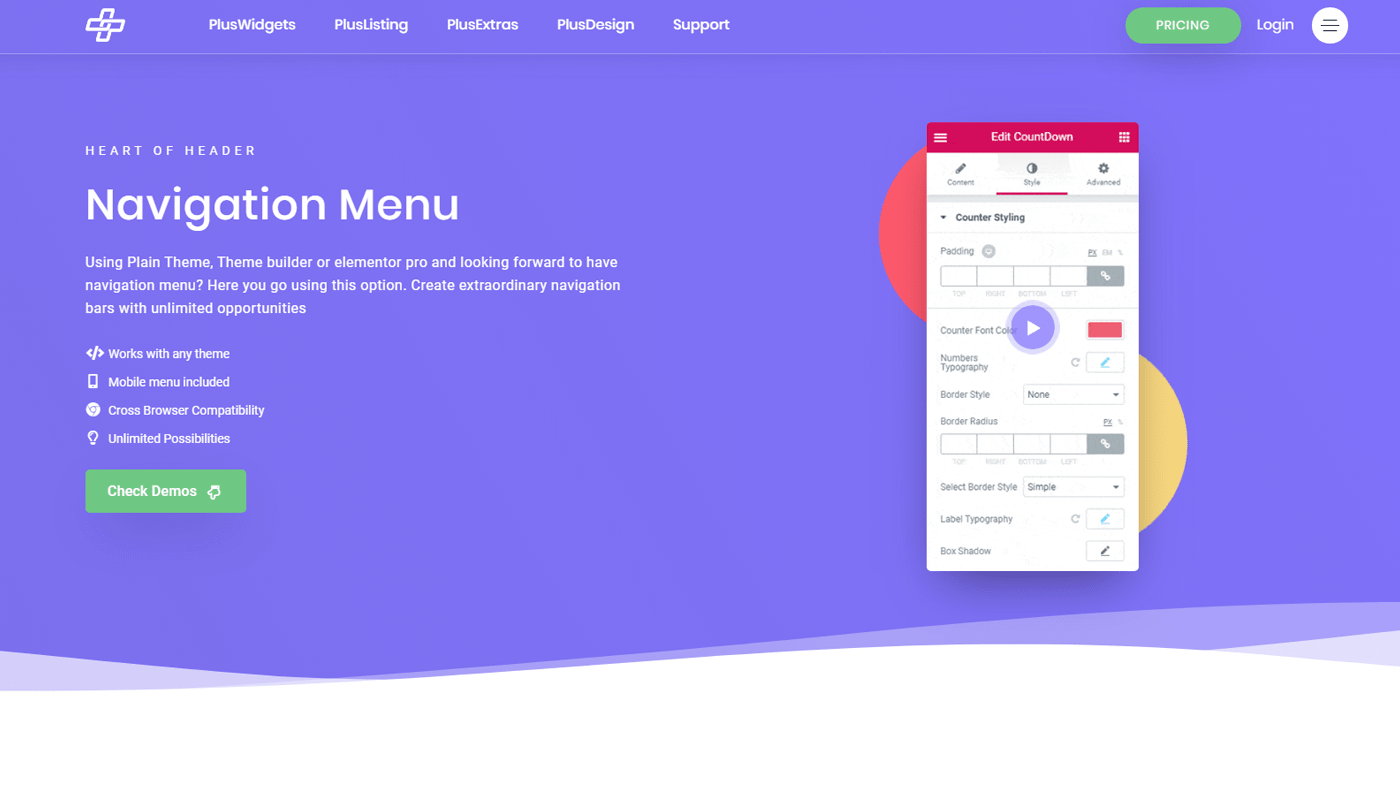 Another popular plugin comes at the last but not the least is The Plus Elementor Mega Menu that is fully responsive, works beautifully on mobile screens smoothly. The Plus mega menu comes with The plus Addons for Elementor
It's design integrates different layout variations building your navigation in one place. This mega menu for Elementor offers both vertical and horizontal options from which to choose.
The Plus Elementor Mega Menu makes your navigation easy with tons of options to create unique and various designs.
Let's See the Main Features:
Drag and Drop Menu Builder
Fully responsive
Vertical and Horizontal Mega menu
Mega menu width Options
Navigation Icon and Indicator Options
Elementor Mega menu with lots of Options
Indicator Option
Responsive
Price
The Plus Mega Menu Price is included with The Plus Addons for Elementor
| | | |
| --- | --- | --- |
| 1 Website | 3 Websites | Unlimited |
| $59.40/Year | $79/Year | $348.60/Year |
Final Recommendation
Based on the Features, Pricing and Performance we have figured out these best Mega menu Elementor plugins that will improve your navigation and usability.
So considering all the requirements our favourite one is ElementsKit Elementor Mega Menu Builder and we would highly recommend you to try out this plugin. By far, it is one of the best WordPress mega menu plugins for Elementor.
And if you have any recommendation or query, also let us know in the comment section. We'd love to hear more from you!