11 Best Elementor Tables Plugins Compared (2023)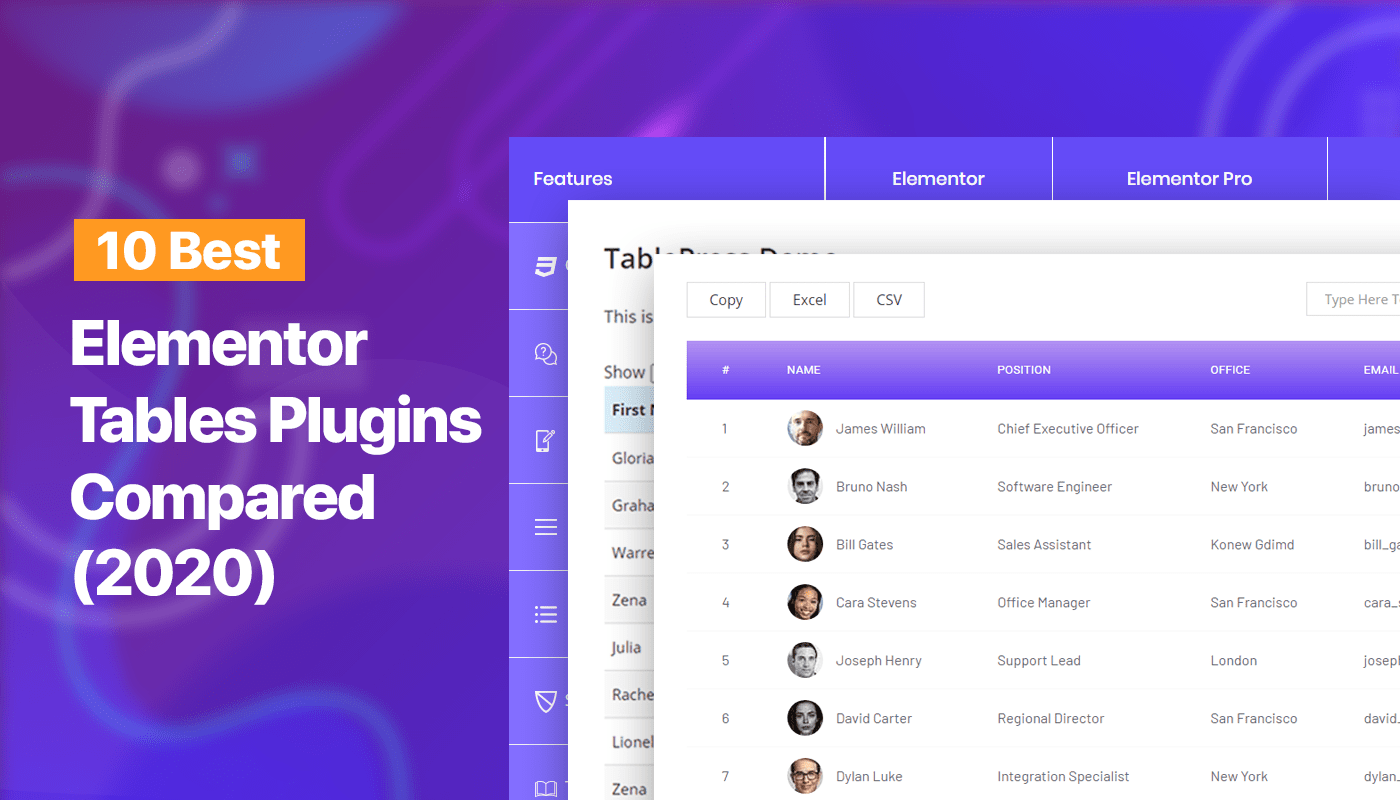 Are you looking for the best way to present your comprehensive data table to your sites? Then read on, as we've picked up some of the best Elementor table plugins out there.
Organize and show the huge data table in a visual way to compare each feature for different products that helps the user to read more information very easily.
If you are an Elementor fan, you have already known that Elementor itself is the most popular WordPress page builder with 5M+ active installs, powerful free version that you can extend with many third party Addons but the core version of Elementor does not have any default table functionality to create data tables.
However, this Elementor table widget gives you a better solution to integrate tables into your content. Though, it's really hard to find out the right one from hundreds of solutions, I think you should give it a try to one of our recommended plugins.
So, here we present you the best Elementor table plugins in this article. If you are struggling about how to add table in Elementor, this article is enough to solve your problem. Let's get started!
Best Elementor Tables Plugins
Here I've listed top 10 best Elementor table plugins which will help you to add an eye-catchy table without affecting your website speed. At first, let me present the list of our Elementor table widgets.
ElementsKit Addons for Elementor
WP Table Builder
Qi Addon for Elementor
TablePress
Essential Addons for Elementor
PowerPack for Elementor
Ultimate Add-ons for Elementor
Premium Add-ons for Elementor
Element Pack
The Plus Addons for Elementor
JetElements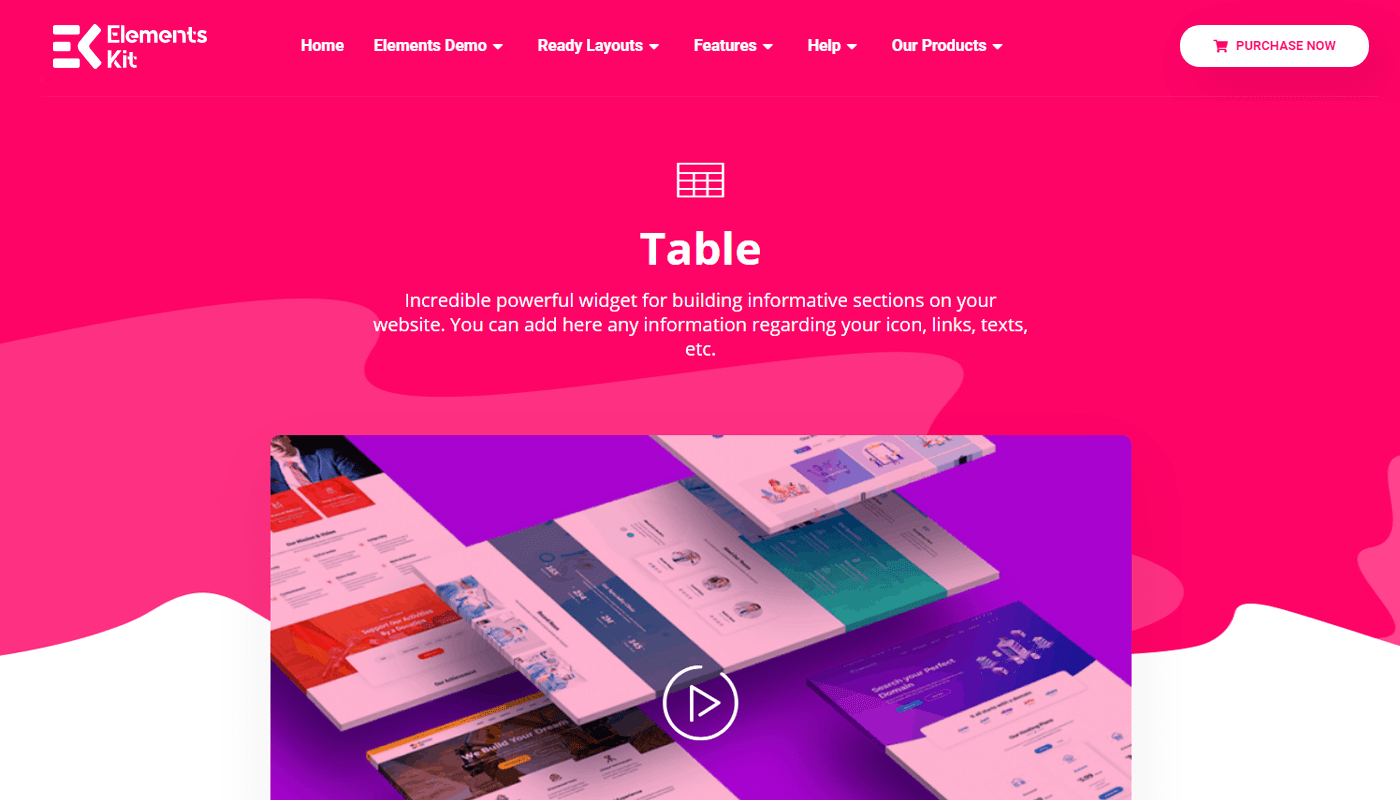 Elementskit is a very impressive and super-advanced top-ranked Addons for Elementor that come up with 70+ amazing widgets, 8+ unique modules, 30+ ready pages, 500+ ready sections, Layouts, and many more. This huge layout library makes it one of the best WordPress table plugins for the webmasters.
Based on our experience and users' feedback, among the tons of plugins, the ElementsKit Table widget of the plugin is the best choice and the most unique one. With this impressive table element, you can show a huge number of unsynchronized data in a sorted way, add unlimited rows, columns, data and design every single element of the table.
Easily upload a custom or CSV file and get sorted data in the table with customizable table, body content, search, info, navigation, info, entries, header image, and other more options.
You can export the CSV file of the data table anytime and make it customize from the style section. Also use short-code and place it anywhere you want on your website by using this Elementor table widget.
It comes up with 3 unique table elements :
Advanced Table- Sort and showcase unsynchronized data with 7 different pre-made data table, import both single and multiple custom or CSV file, Custom table area, Alignment, Change body content, Color, Icon, Add url, Search, Sticky Header, Ordering, Responsive, Pagination, Nav Style, Control over showing item per page and many more.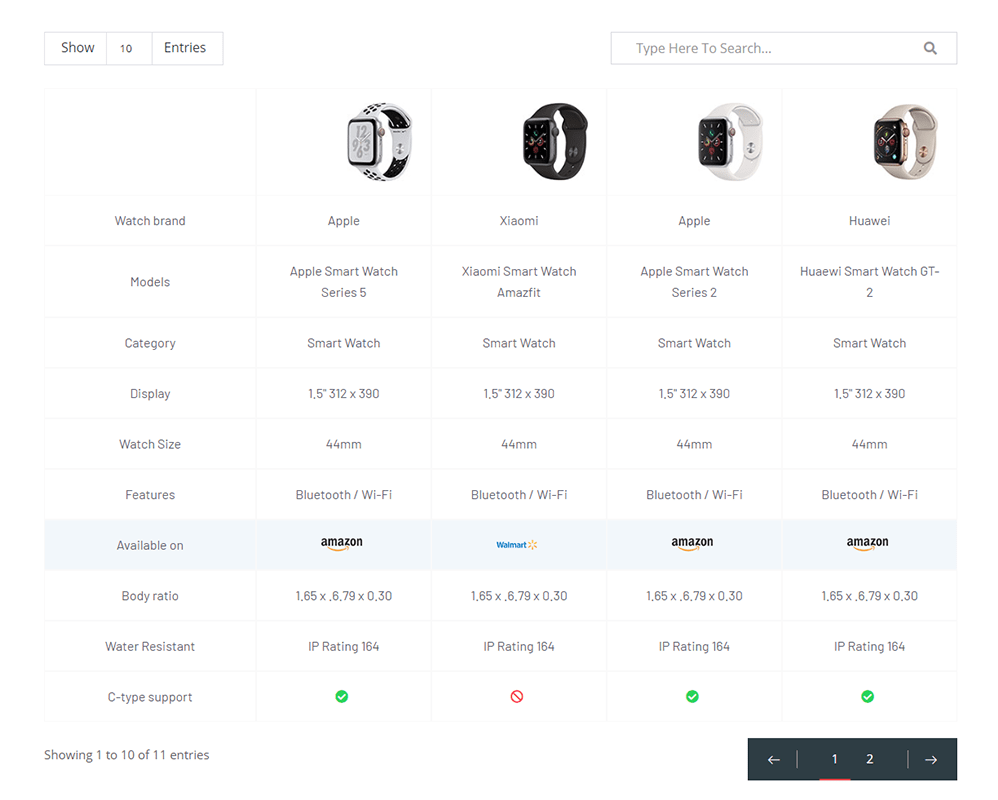 Pricing Table – Demonstrate your clear product value with an amazing pricing table, Customize header section, Edit table subtitle, Icon, Edit pricing currency, Price, Duration, Change pricing content features style, Button label etc.
If you don't have enough time to design a pricing table on your own, you may choose one from our 15+ predesigned table. You can also use a timeline style pricing table for your product.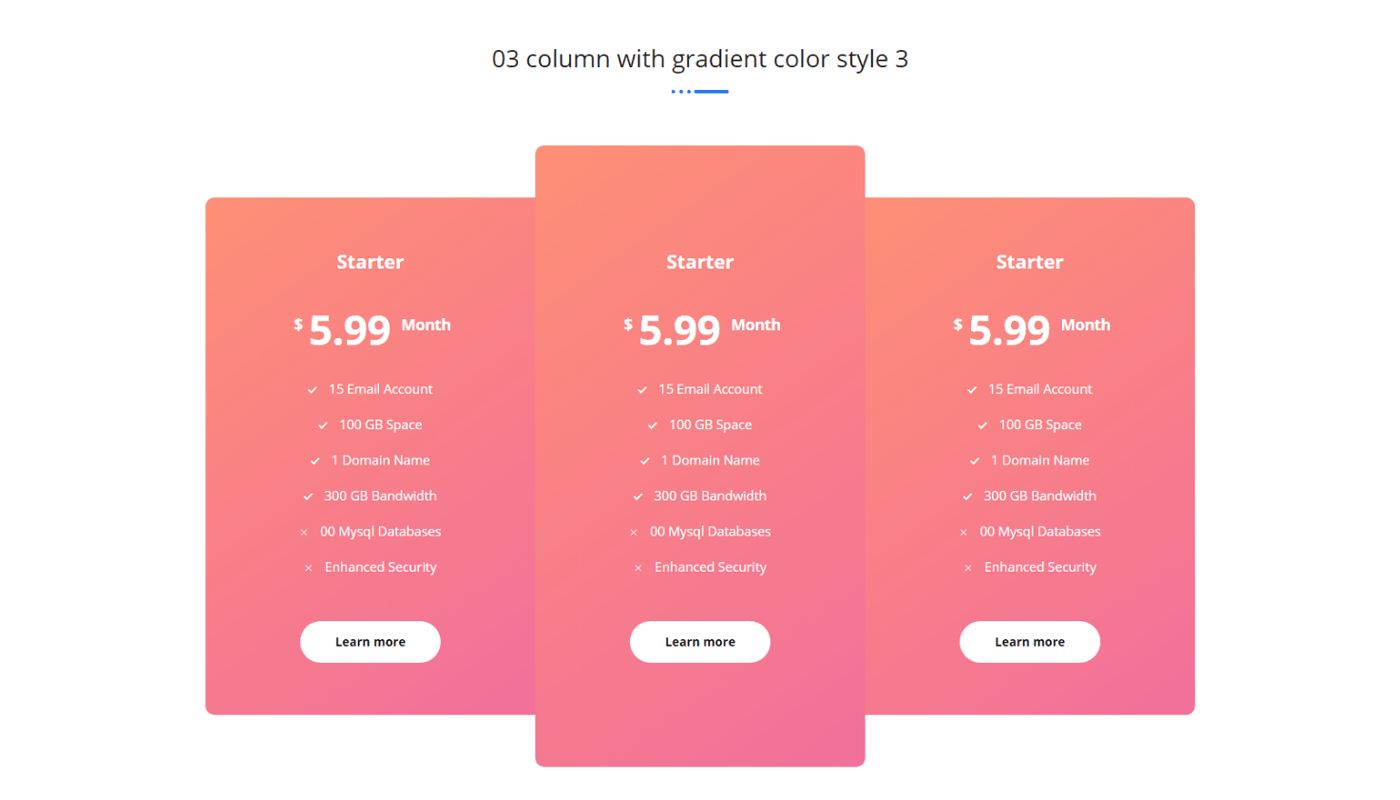 TablePress- Create your brand-new table in 3 different styles. You can customize anything from anywhere. Select table from drop-down, Show or hide nav, Search Footer Info, Pagination, Select Header, body Alignment and many more advanced features.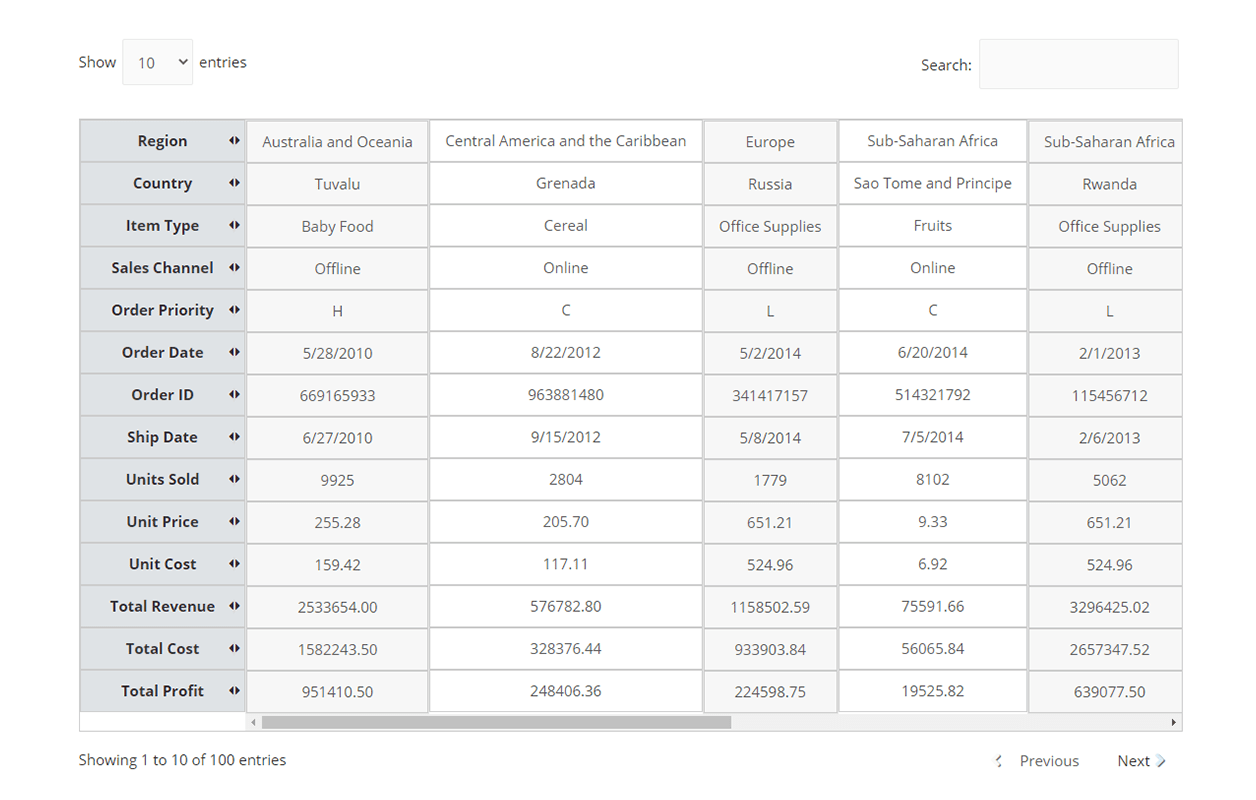 Here are the top features:
User-friendly
Table layout
Conditional Formatting
Export Custom or CSV file
Unlimited rows and columns
Calculating and control totals entries
Row Grouping
RTL ready
Integrate with WooCommerce
Extensive styling options
Animations effects
Amazing Pre-built Table Layouts
Responsive Design
Cross-Browser Compatible
Add sorting, pagination, filtering, searching
If you're a regular Elementor user then, Elementskit is a plugin you should definitely check out! Most importantly, you can reuse your pre-designed pricing tables on multiple domains via ElementsKit Cross-Domain Copy-Paste Module.
Pricing!
| | | |
| --- | --- | --- |
| Personal | Professional | Agency |
| $29/Year | $59/Year | $129/Year |
| $89/Lifetime | $159/Lifetime | $299/Lifetime |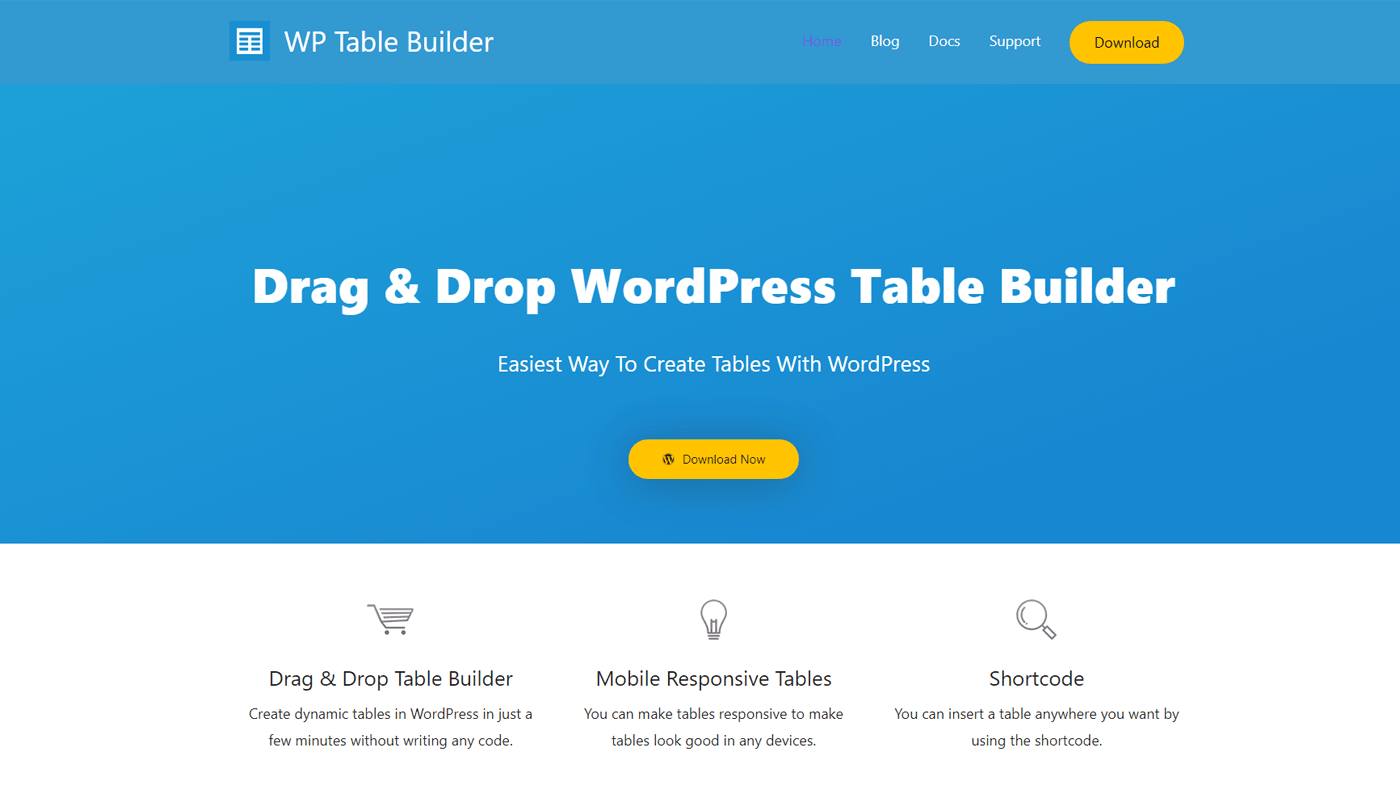 WP Table Builder is a dedicated drag and drop table builder plugin for WordPress that allows you to create any type of tables like comparison tables, pricing tables, list tables, and many more.
Wp Table Builder comes with 7 elements and you can import tables from CSV or XML files, select column number, row number, drag and drop the table element to the table cells, and use shortcode.
You can also move the table to another site by using XML
Here are the top features:
Drag & Drop Table Builder
Mobile Responsive Tables
Seven Elements
Pricing!
It's a free plugin and you can download it from WordPress.org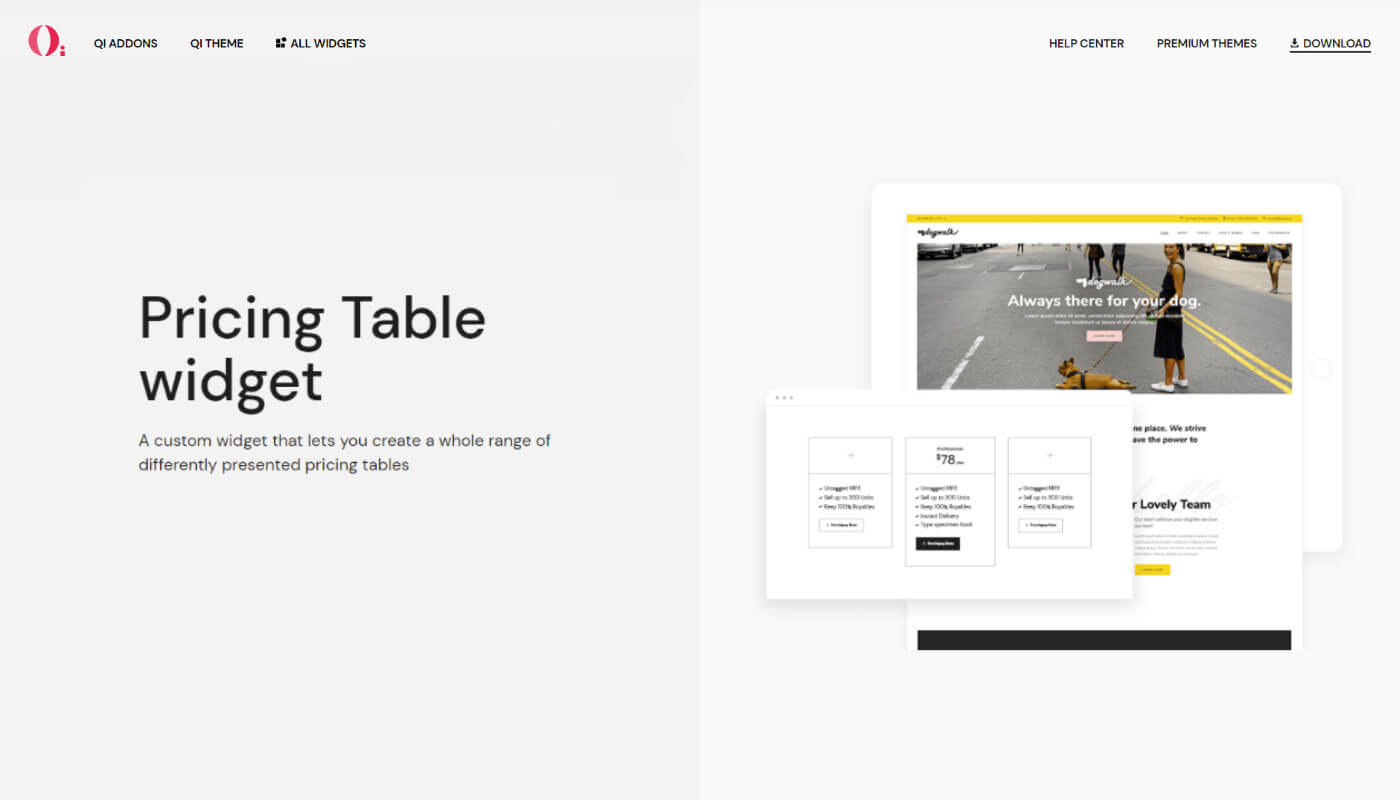 The powerful Qi Addons for Elementor comes with a range of useful elements to enrich your website both in terms of functionality and design. It is currently the largest online collection of 60 free widgets that allows you to effortlessly add creative, WooCommerce, business, and many more types of elements to your website.
The pricing table widget comes with so many customization options, styles, and layouts that you'll find adding this useful feature surprisingly inspiring and easy.
You can choose between six predefined layouts, add icons, images, and badges, opt for minimalistic outlook and vertical style and combine many different features to make this element fit your website seamlessly.
Here are the top features:
Six predefined table layouts
Versatile font options
Numerous customization options
Minimal tables
Professional support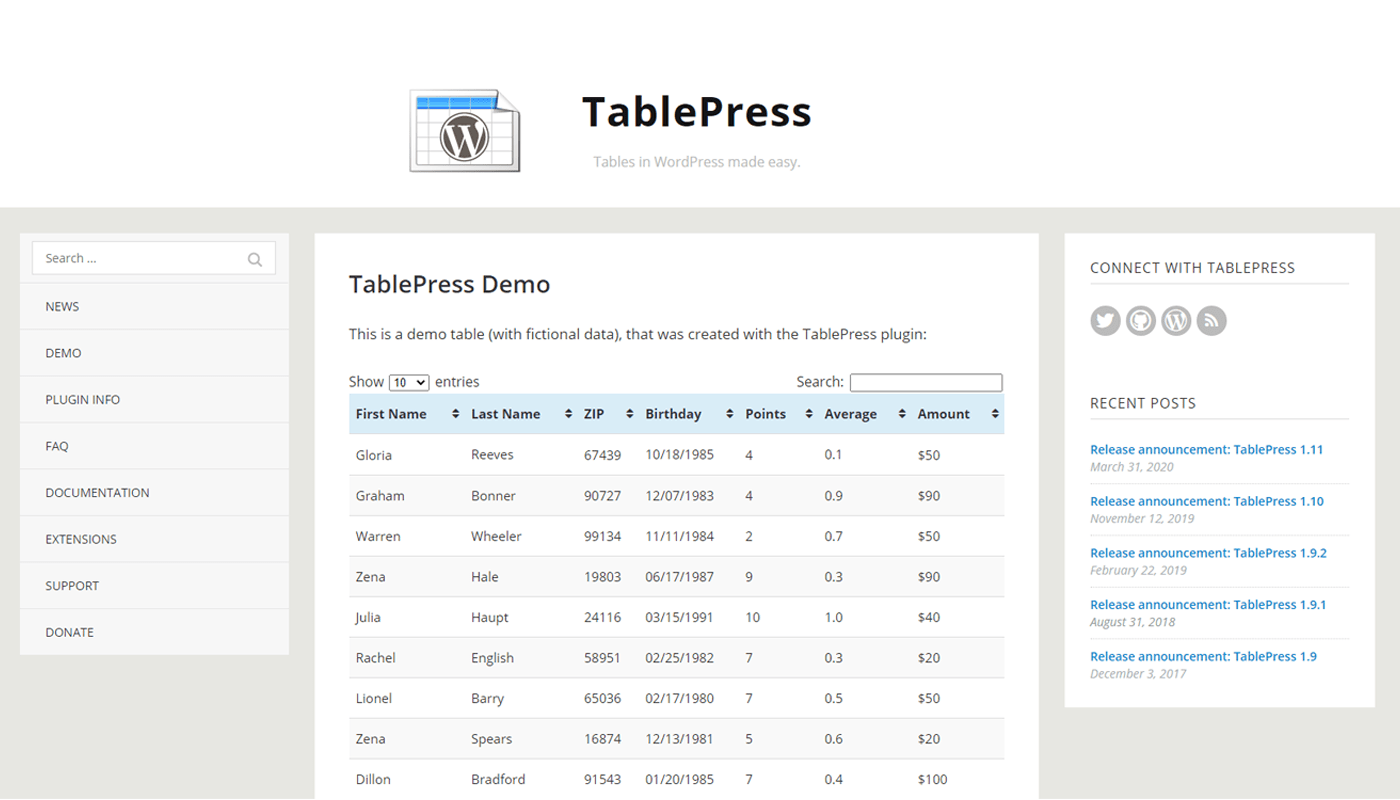 TablePress is one of the best and free dedicated table plugins for Elementor that allows you to easily create and manage beautiful tables.
It's a highly customizable table plugin for creating dynamic tables and you can embed the tables into posts, pages, or text widgets with a simple Shortcode, edit in a spreadsheet-like interface, imported and exported from/to Excel, CSV, HTML, and JSON files.
With an Additional JavaScript library adds features such as sorting, pagination, filtering. You can connect cells across rows and columns, and that also automatically prints the table's name and description to the page.
Moreover, tables have different styling options added by "Custom CSS" code.
Here are the top features:
Unlimited tables
Import/export Excel, CSV, HTML, JSON, Google Sheets URLs
Edit your tables using an Excel-like interface
Add sorting, pagination, filtering, searching, etc.
Custom CSS
Cross Browser Compatible
Responsive
Pricing!
TablePress is a free and open-source plugin.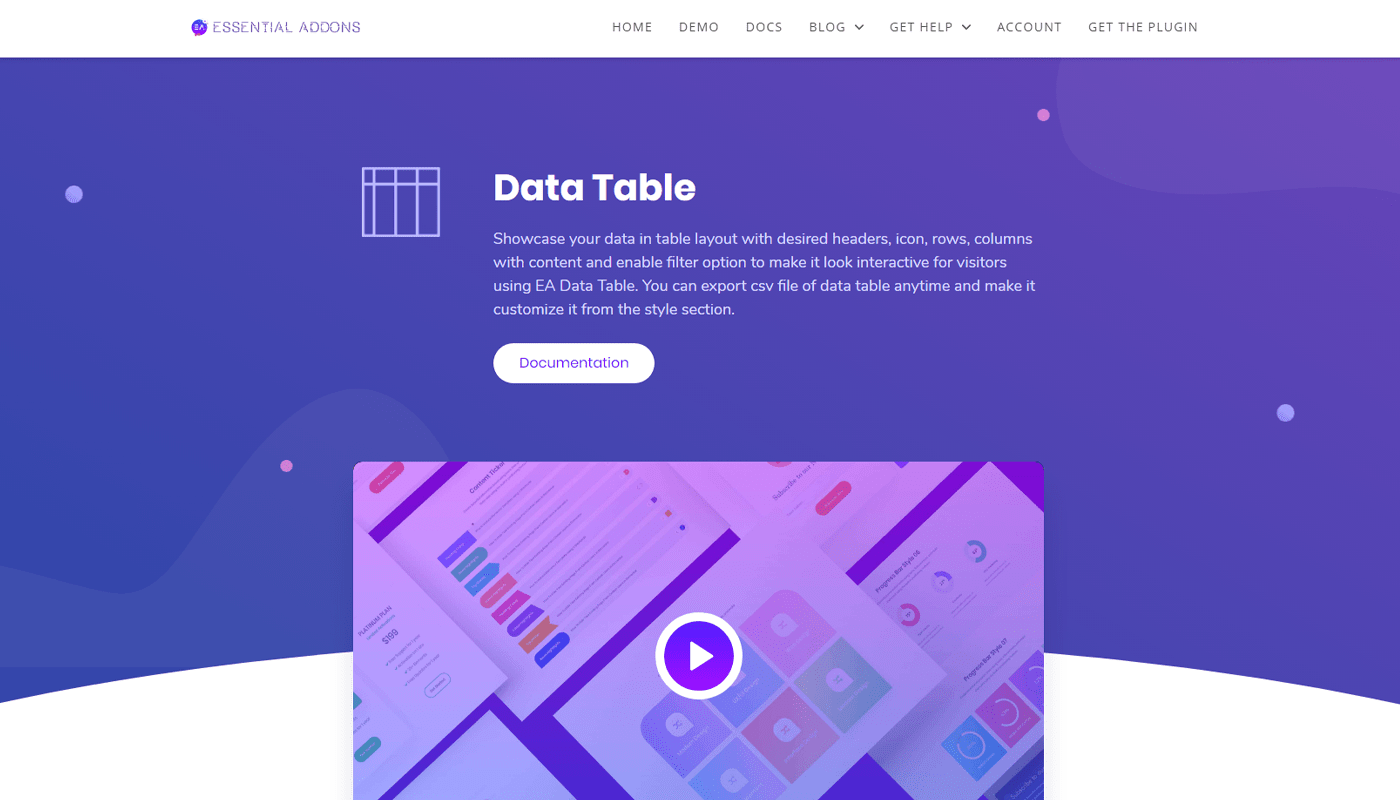 One of the most responsive Addons for Elementor comes with 65+ free both free and pro widgets, 100 ready-made blocks, 1300+ Happy reviews.
Display your data table layout with "Table Widget" and personalize desired headers, icons, rows, columns with content and enable filter option, export the csv file and customize it from the style section.
The tables are entirely customizable and you can add table headers with icon, include table row, column with content, and select 'Content Type' as text from 'Content' section, and enable the responsive feature from 'Style' section and many more
Here are the top features:
CSV Import to Table
Filtering Option
Fully Customizable
Extensive styling options
Responsive
Pricing!
| | | |
| --- | --- | --- |
| Lifetime Unlimited | Unlimited | 1 Website |
| $169.97 | $69.97 | $39.97 |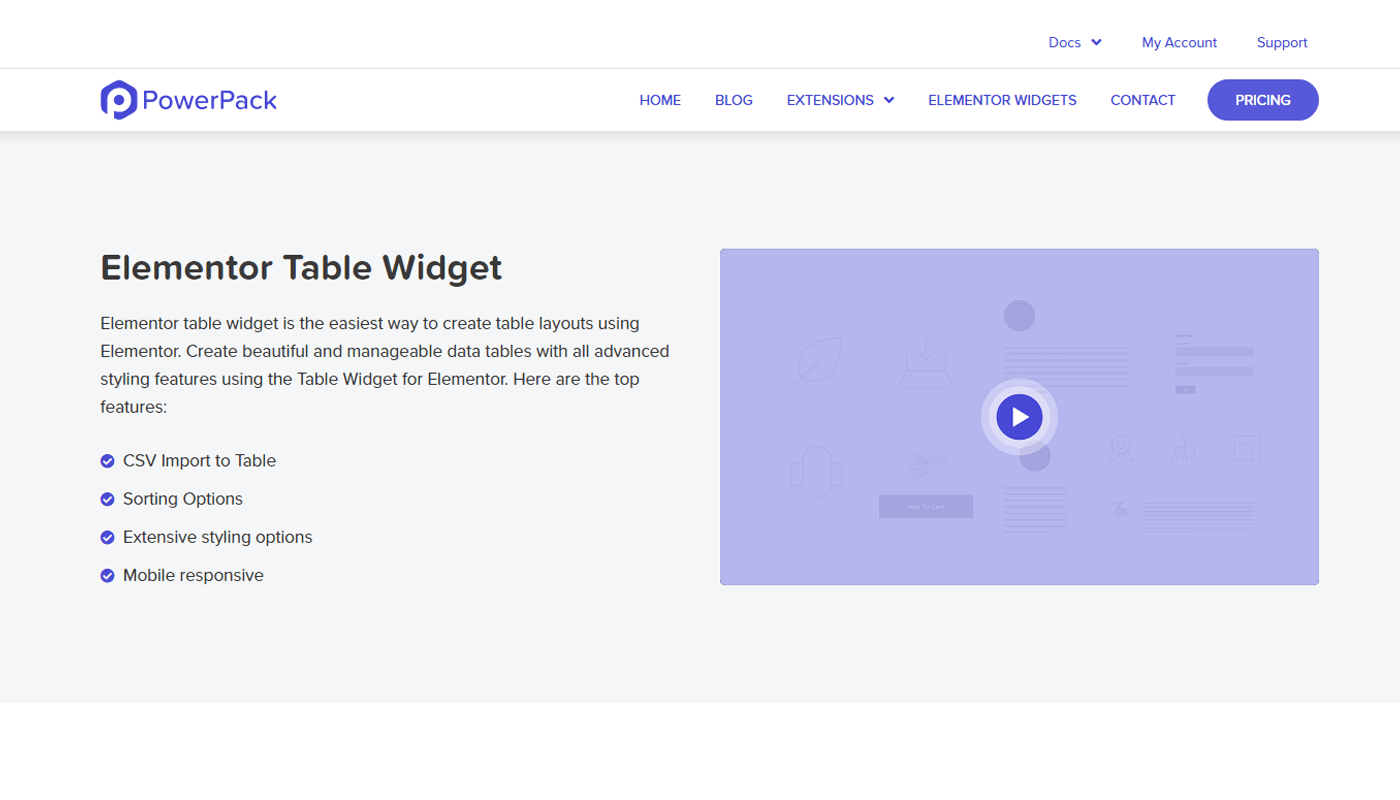 Here comes the Fast Loading and user-friendly Addons for Elementor with 70+ Widgets both free and pro versions.
Create beautiful and outstanding data tables with all smart styling features using the PowerPack Table Widget for Elementor.
Automate your workflow- importing CSV files for the contents of the table, Sort data quickly by alphabetically or by increasing or decreasing the values, Merging rows and columns, control over content, look, alignment, and style property of the table
Display important information, analytical data, resources, style the Table Header & Footer Elements with special styling options using icons and images.
Here are the top features:
CSV Import to Table
Sorting Options
Extensive styling options
Mobile responsive
Pricing!
| | | |
| --- | --- | --- |
| Starter | Professional | Lifetime |
| $69 | $99 | $349 |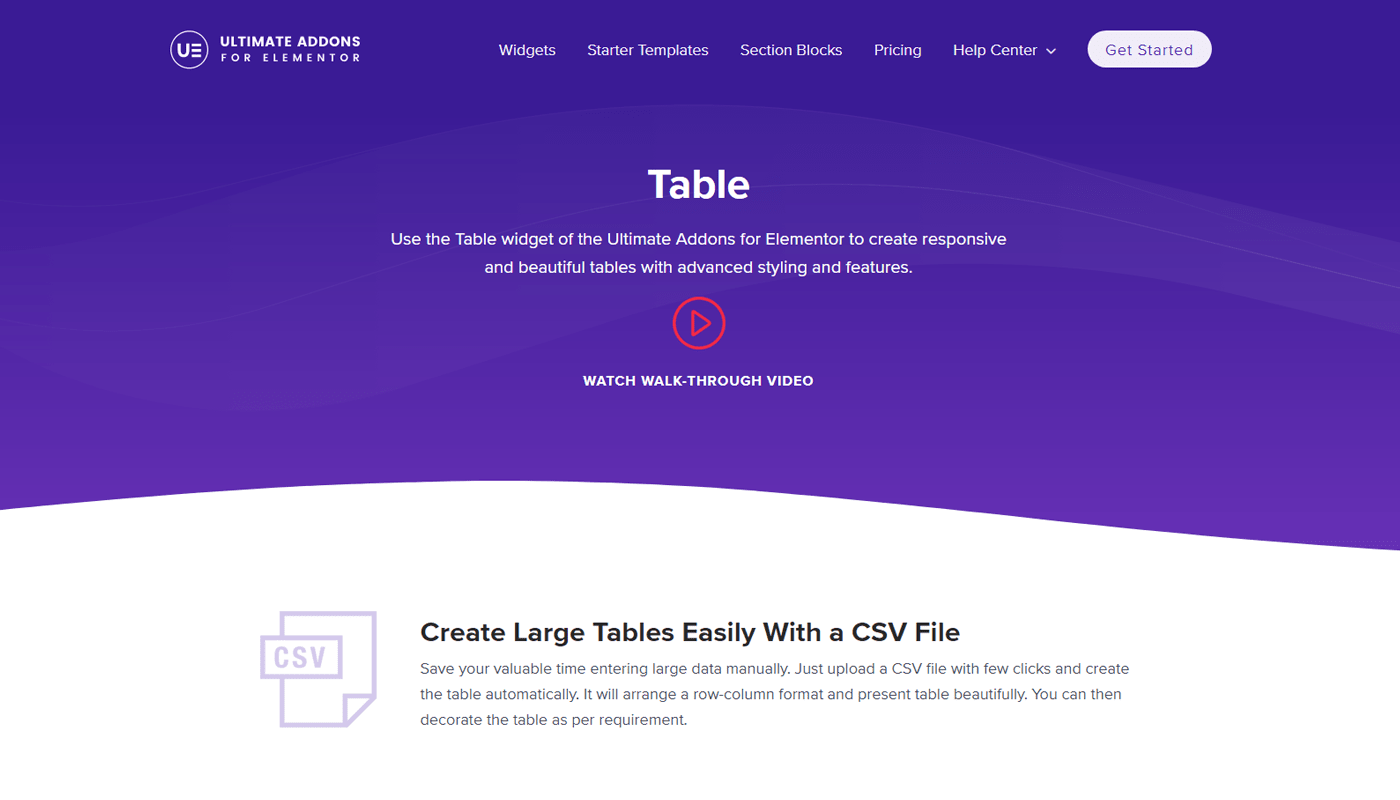 Another Popular and well-rated Addons for Elementor comes to the list with 40+ Elementor widgets.
Among the other elements "Table widget" of the Ultimate Addons helps you to create responsive and beautiful tables with advanced styling and features such as importing CSV File, arrange a row-column format and decorate the table accordingly to your purpose.
Along with the styling features, you can add a sorting option, merge or span columns and rows, Create searchable tables and enable the entries from the dropdown
Here are the top features:
CSV Import to Table
Span column and rows
Attractive styling options
Sorting Options
Searchable table options
Mobile responsive
Pricing!
| | | |
| --- | --- | --- |
| Ultimate Addons | Mini Agency Bundle | Agency Bundle |
| $48 | $169 | $249 |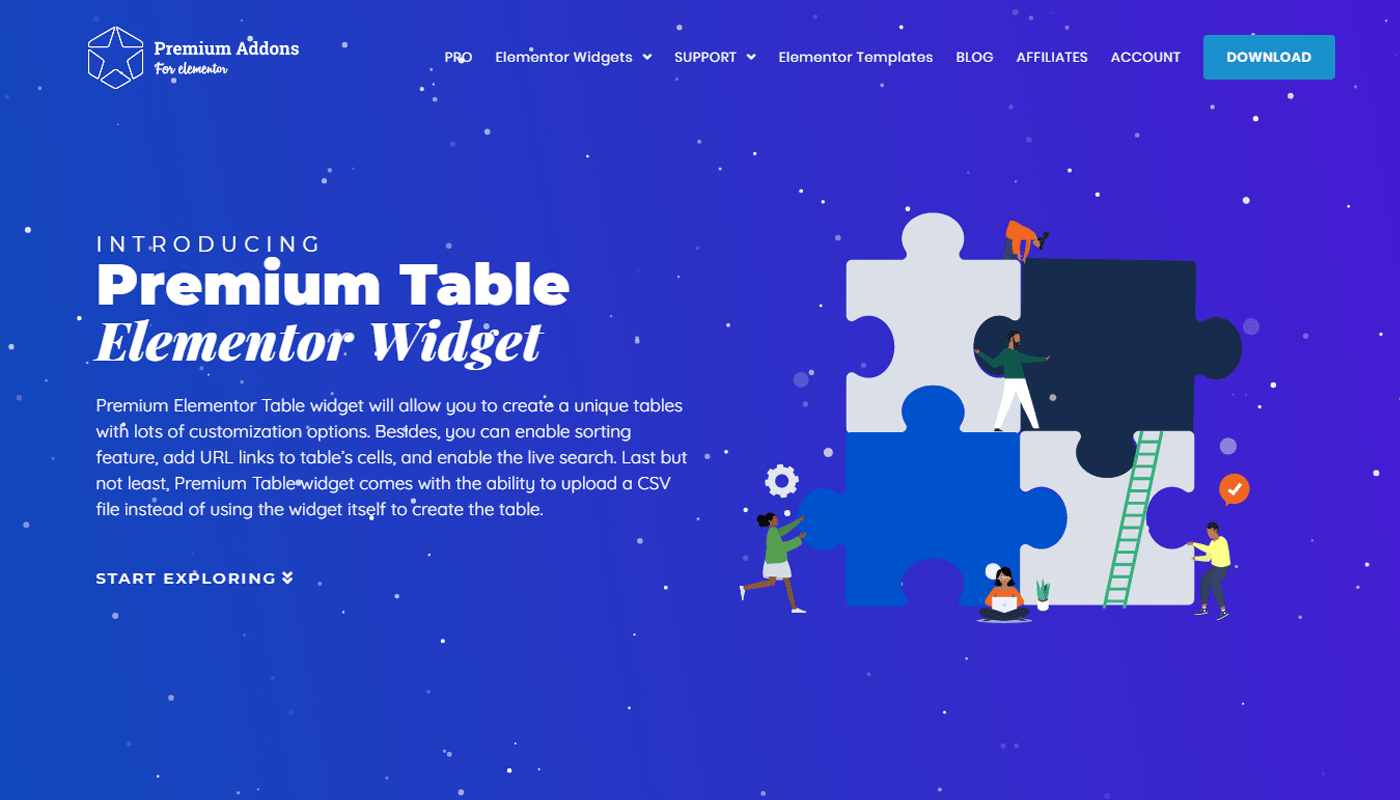 One of the highly customizable interactive Addons for Elementor which provides 20+ Fee and 30+ Premium Elementor widgets
Elementor Pricing Table widget comes up with many features such as sorting feature, add URL links to table's cells, enable the live search, upload a CSV file, sorting features to rearrange table's items/content ascending or descending any many more.
This table widget supports a lot of customization options to style like lottie animations which will make it a lot more attractive and impressive.
Here are the top features:
CSV Import to Table
URL links to table's cells
Attractive styling options
Sorting Options
Live search
Mobile responsive
Pricing!
| | | |
| --- | --- | --- |
| Single Site | Unlimited | Lifetime |
| $39 | $79 | $199 |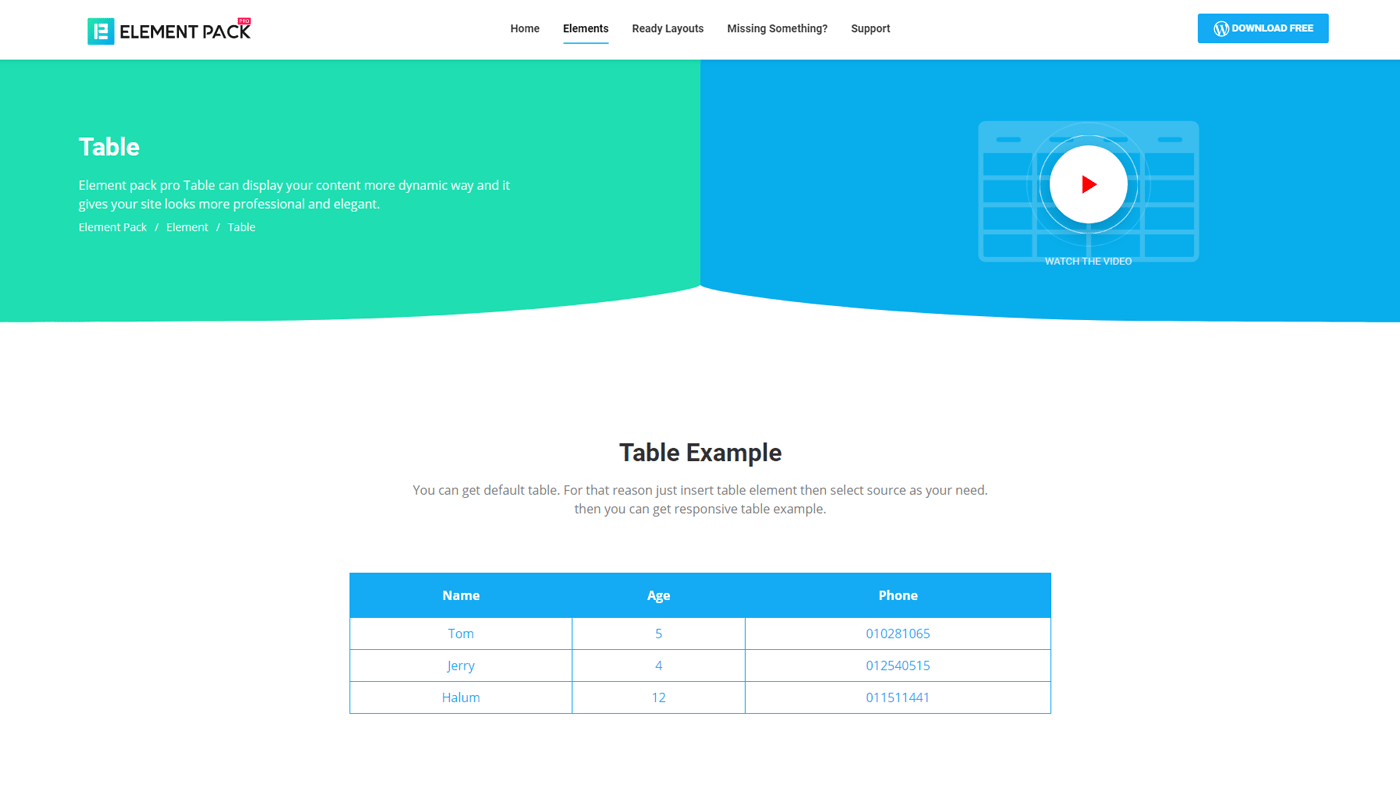 Element pack is an ultimate Addons for Elementor comes with 110 core widgets and 37 third-party widgets.
Surrounded by tons of widgets, Element pack "Table Widget" can display your content in a more dynamic way and it gives you a professional-looking site. You will get different types of table counting Pricing table, Table of content, and Crypto Currency Table.
If you have a huge number of unsynchronized data, then just use csv format data as a csv file and upload it. you can also change the background and border color based on your choice. Filtering and searching options also included
Here are the top features:
CSV Import to Table
Three table element
Attractive styling options
Filtering Options
Live search
Responsive
Pricing!
| | | |
| --- | --- | --- |
| Personal Package | Business Package | Developer Package |
| $24/ Yearly | $59/ Yearly | $129/ Yearly |
| $49/ Lifetime | $129/ Lifetime | $399/ Lifetime |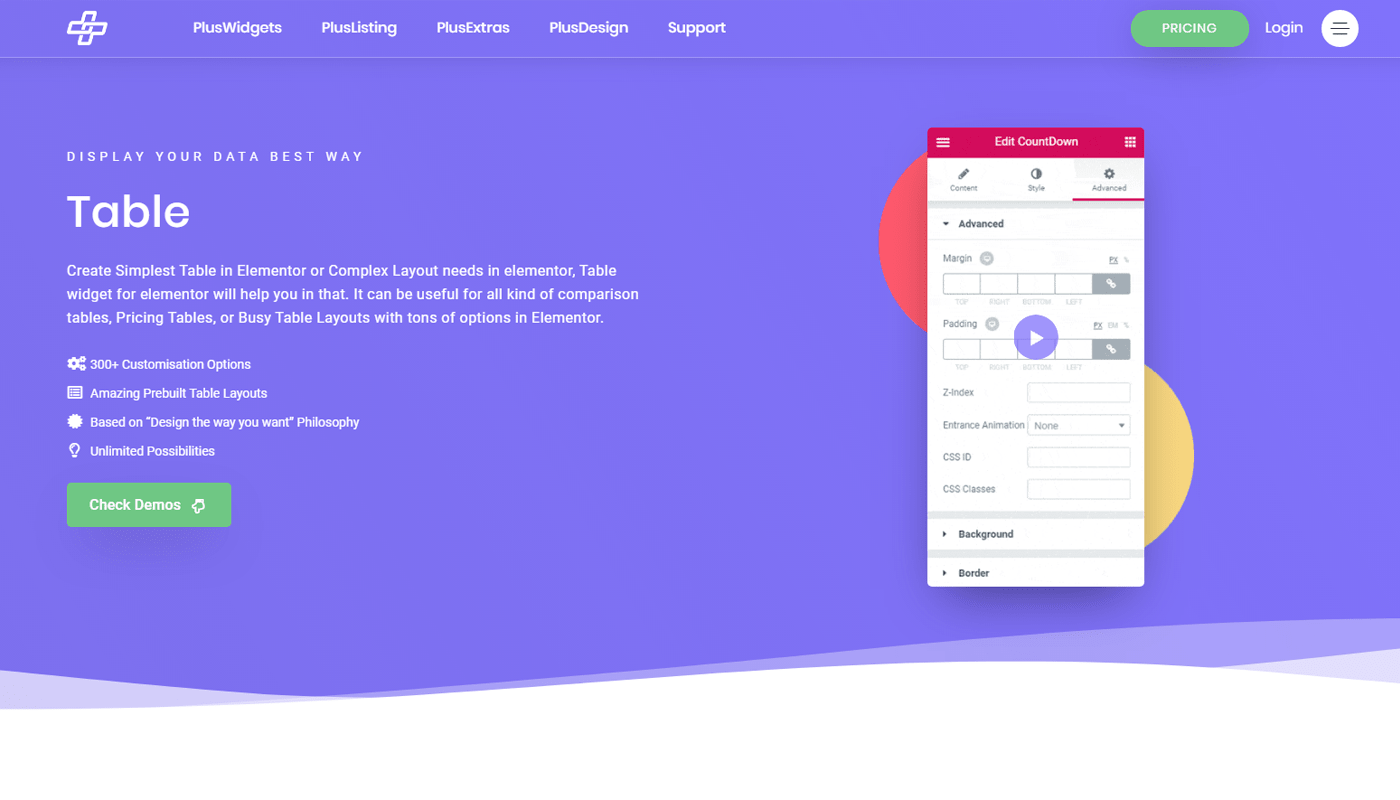 The Plus Addon is a very creative and most design-friendly Addons for Elementor that provides 80+ new Elementor widgets and 18+ Templates to build your amazing web page.
With the most amazing Table widget of the plugin create all kinds of comparison tables, Pricing Tables, or Busy Table Layouts with tons of options in Elementor.
The widget supports various options of filter, show entries, search, Table Cell, Table Row, Inbuilt Button Tab, and more with different Hover highlight effects.
Customization Options
Layout in Layout options
Animations and Hover Effects
Amazing Prebuilt Table Layouts
Unlimited Possibilities
Responsive
Pricing!
| | | |
| --- | --- | --- |
| 1 Website | 3 Websites | Unlimited |
| $39 | $79 | $119 |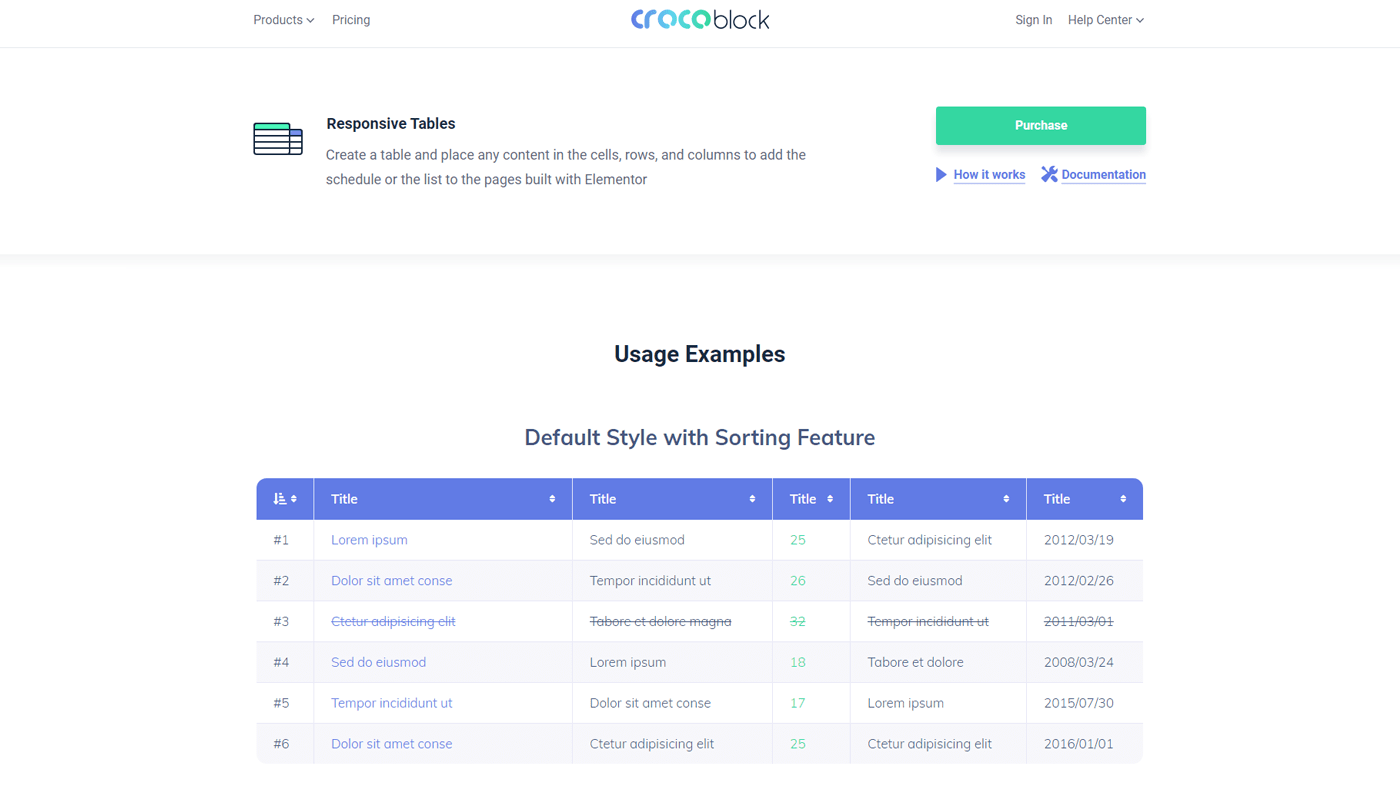 JetElements plugin provides access to 44 user-friendly widgets for creating different types of content and information for your website.
With a dynamic Responsive Table widget for Elementor, you can display any unstructured data in a structured way. Create your Responsive table and place any content in the cells, rows, and columns.
With the Pricing Table widget, you can make your eye-catching pricing tables in 8 different styles.
Here are the top features:
Responsive
CSV Import to Table
8 Different styling options
Place any content in the cells, rows, and columns
Price
| | | |
| --- | --- | --- |
| Single Site | Unlimited Websites | Plugins Set |
| $24/Year | $49/Year | $80/Year |
Comparison
So these are the best Table Plugins for Elementor.
Based on requirements, features, and our experience, we would highly recommend you to try out the "Table Widget of the ElementsKit plugin". This Elementor Addon will enhance the functionalities and you will be able to design almost any pages.
Please let us know which plugin you are using to create your amazing tables. If you have any queries, feel free to leave a comment below. And if you find this helpful for you, don't forget to share it with your friends!