10+ Best Elementor Addons for WordPress 2023 (Free and Premium)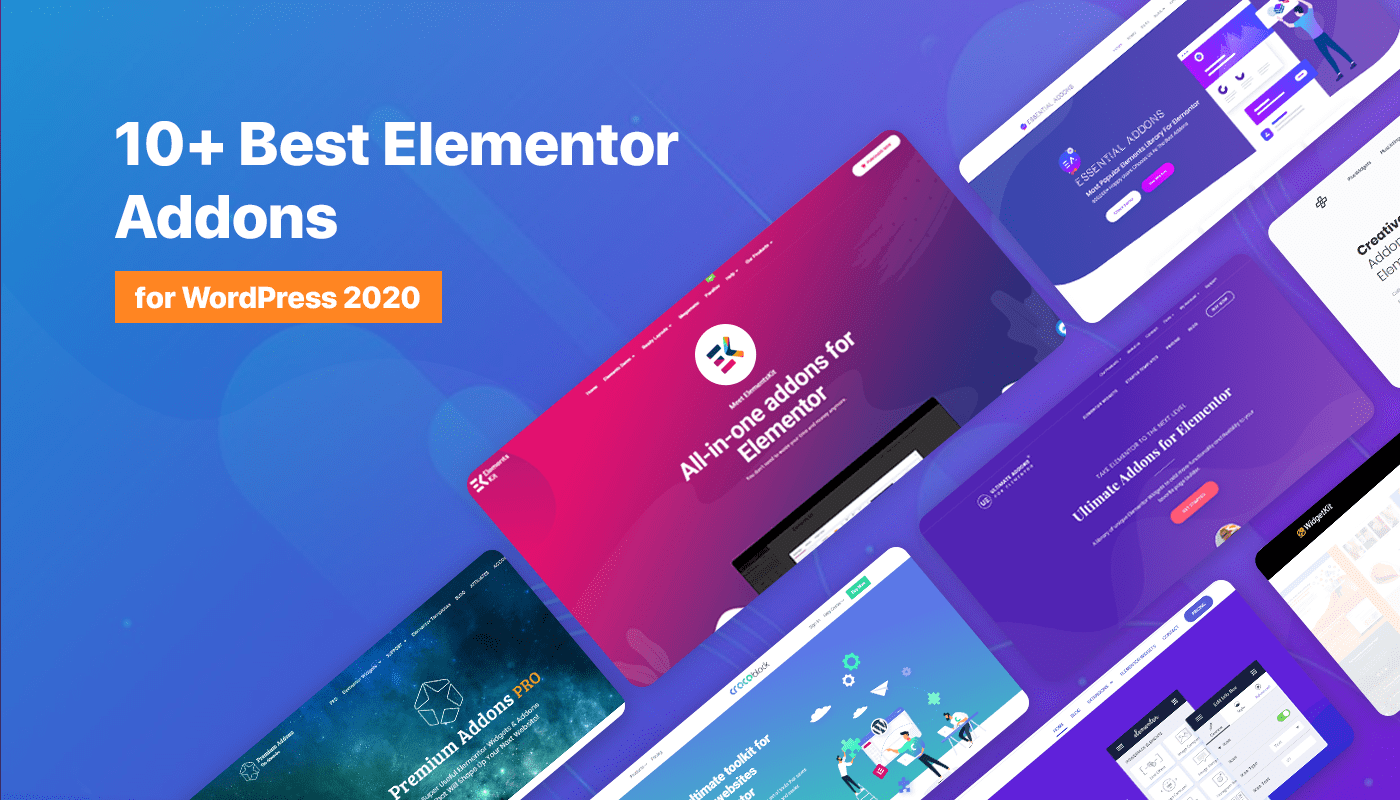 Do you know the market of Elementor plugins for WordPress? With more than 5 Million professional users, Elementor is the top-rated feature-packed page builder which is leading 7% of all WordPress websites.
As time progresses, the demand for Elementor plugins is rising. And this is because of the wide range of striking features that Elementor plugins offer.
Currently, the Elementor builder plugin is providing 80+ design elements and many more ready-made Templates.
But if you want to extend even more core functionality of Elementor, significantly there are 131 Third party Addons that will give you variation of design, add more features with extra widgets
So in this article, we have picked the latest top 10+ Addons for Elementor or Elementor plugins to help you compare each and every detail and find the best Addons you need.
Well, as we all are passing through the global pandemic situation and that is COVID-19, the increase rate of using websites became 32% in the US only. So, let's not just waste our time rather than do something innovative by building our own Web-page.
So, let's check out the quick list of the best WordPress Elementor addons or Elementor plugins!
Best Elementor Addons List:
2. Essential Addons
3. CrocoBlock
4. Ultimate Add-ons for Elementor
5. Happy Addons
6. Premium Addons for Elementor
7. Powerpack
8. The Plus Addons
9. Master Addons
10. Widgetkit
11. LiveMesh Addons for Elementor
12. Mega Addons for Elementor
13. Mighty Addons for Elementor
Based on These specifications I have Figured Out and Compared the Elementor Addons
Modules: Some of the Elementor Addons don't have any option to enable/disable modules. Make sure your choosable Addons have this feature on so you can control your module.

Features: Select your Addons which has the latest features list for a better user experience. Apart from that, you should keep in mind for a professional look there must include these common features: Parallax Effects, Slides, Blog Posts, Woo-commerce widgets, Header and Footer builder, Sticky Content, and Media Carousel.

Performance: Your site needs to be performed really well, ensure that everything is well structured.

Pricing: The pricing strategy must be relevant to the features.
Review of the Best Addons for Elementor – Free and Premium
Introducing one of the Fastest-Selling and Newly Growing Addons for Elementor. This Addon is upgrading so fast that they have got 2,00,000+ Happy Clients in a few times. Shortly it becomes our first choice when it comes to choosing the best Elementor Addons.
The best part of this Addons is you can get more than 85+ Free and Premium elements, 8+ exclusive modules, 30+ Premade Homepages, 500+ Premade Section Layouts, 250+ Widget Presets
This includes Fully Customizable, Drag and Drop, and Beginner Friendly page builders that you can create without having any coding Knowledge within a minute.
Control every module and widget by enabling or disabling it from the Backend. Moreover, there are many more amazing features that you are going to be familiar with.
When it comes to installation and support, it has obtained the fastest happy clients compared to other Elementor Addons and they get full support from the Developer Team.
In short, ElementsKit is the full package of all features that you might not get in any other Elementor Addons at a time. You can say it's a combination of all other Addons and that's the main reason for its short-time popularity.
So, our personal recommendation will be just to try out the Free or Pro version of ElementsKit and start utilizing your time in this global pandemic situation.
What are the Top Most Combination Features that Make ElementsKit Special Among Other Elementor Addons?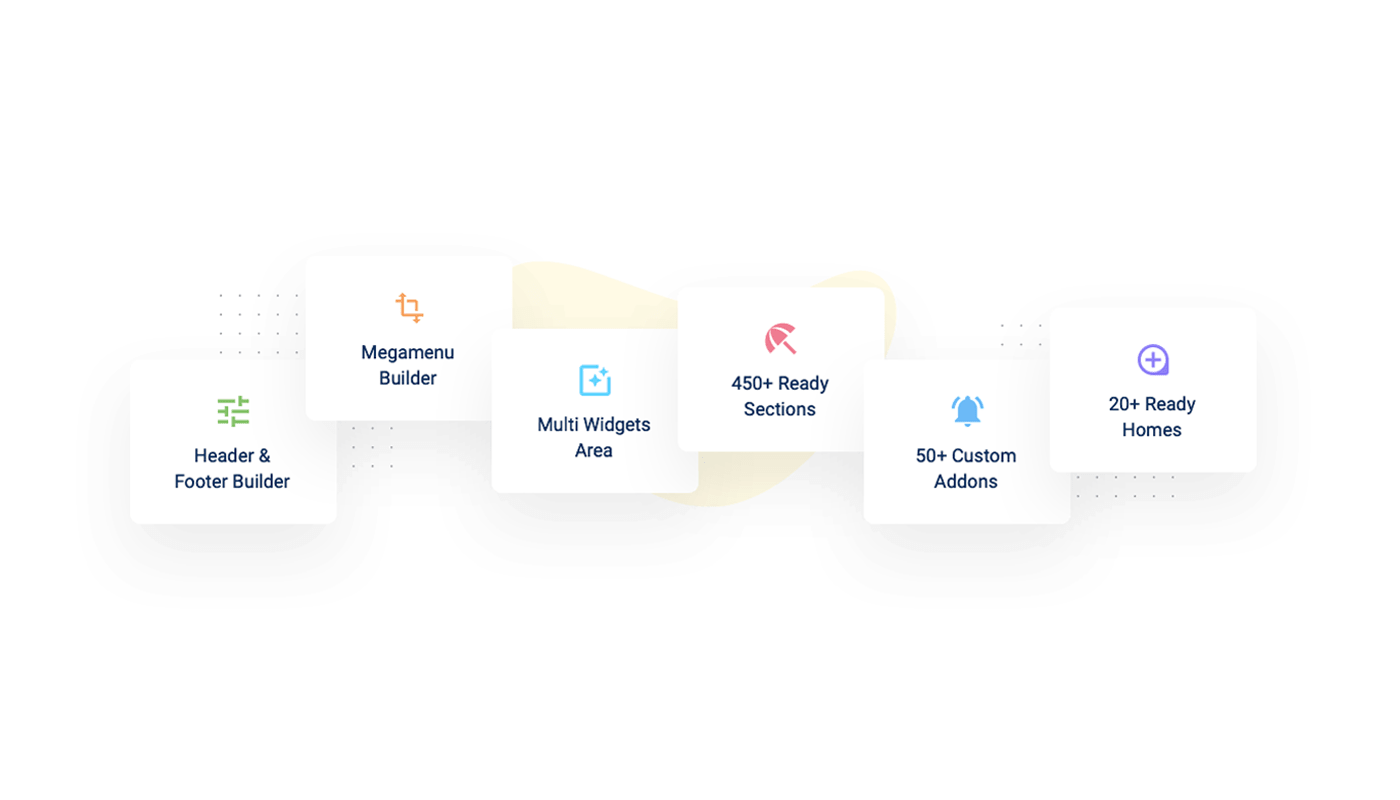 Build with Elementor- Includes most comprehensive modules, such as Header Footer Builder, Mega Menu Builder, Layout kit, etc. under the one hood.
Mega Menu Builder- Customize Content Width, Column Gap, Vertical Align, etc.
Vertical Mega Menu- Let you style in Content, Icon, Badge, Position, etc.
45+ Pre-designed Header & Footer Templates- Set of Classic, Vertical Menu, Black with Social Icon Shadow, and others.
55+ Free and Premium elements- Includes Image Accordions, Hotspot, Woocommerce Product List, Vertical Menu, etc.
500+ Ready Sections- Categorized by About, Archive, Call to Action, Client, Contact, FAQ, and many more.
30+ Ready Pages- Combination of Homepage, Landing page, FAQ Page, Services Page, etc.
250+ Widget Presets- Includes Dual Button, Call to Action, Facebook Feed, Social Share, and others.
WooCommerce Widgets– Woocommerce Product List, Product Carousel, Category List, Mini Cart.
One Page Scroll- Exclusive Navigation styles in positioning, color, and Tooltip Typography.
Sticky Content- Sticky On: Top, Bottom, Column, Until Selected Section, Selected Device.
Parallax Effects- CSS3 Animation, Tilt, On scroll, Mouse move.
Lightbox Support- Set Up Lightbox/ Popup in the image library, Search, Video, and others more.
Image Gallery- With content, layouts, thumbnails, overlay, filter, sequence, alignment, filter label, and ordering.
Multi Widgets area- Supports multiple widget areas, choose where to display them.
RTL Support- Translate a language into your language.
Elementor Gallery Pack- Filterable, Masonry, Grid.
Cross Browser Compatible- Tested browser compatibility as much as possible.
Fully Responsive- On Desktop, Mobile, and Tab.
Unlimited Activation- No limitation on activation.
Expert Support Team- Fully documented and 24/7 active.
40+ Free ElementsKit Addons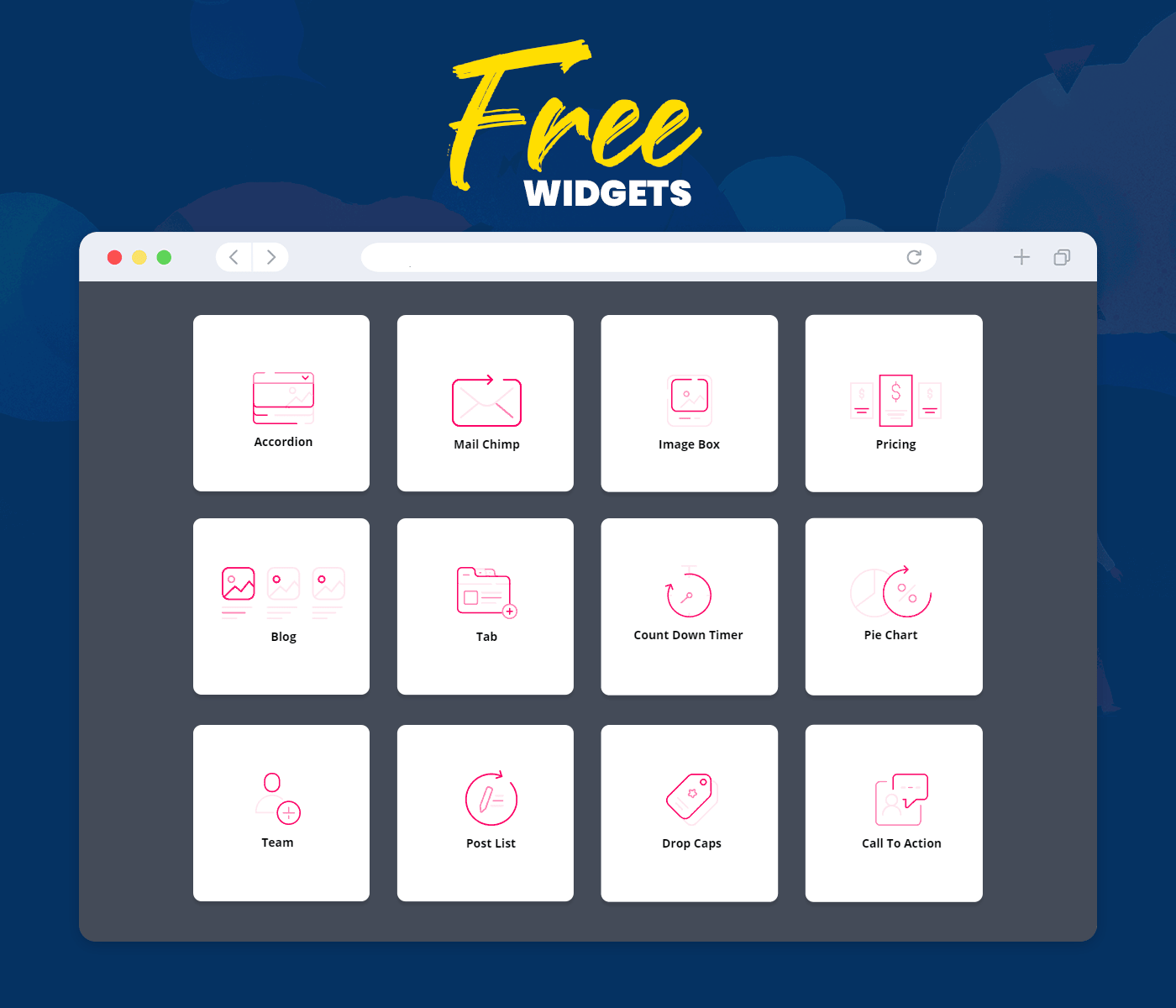 | | |
| --- | --- |
| 1. Heading Title | 22. Call to Action |
| 2. Button | 23. Video |
| 3. Team | 24. Contact Form 7 |
| 4. Accordion | 25. Post Tab |
| 5. Tab | 26. Post List |
| 6. Social Media | 27. Page List |
| 7. Recent Blog | 28. Header Off Canvas Menu |
| 8. Icon Box | 29. Drop Caps |
| 9. Client or Sponsor logo | 30. Dual Button |
| 10. Countdown Timer, Clock timer | 31. Business Hours |
| 11. FAQ | 32. Social Share |
| 12. FunFact | 33. Caldera Form |
| 13. Image Comparison | 34. Category List |
| 14. Lottie | 35. Header Search |
| 15. Image Accordions | 36. Post Grid |
| 16. Image Accordions | 37. Nav menu |
| 17. Pie-Chart | 38. We Form |
| 18. Pricing Table | 39. Wp Forms |
| 19. Progress Bar | 40. Ninja Forms |
| 20. Testimonial | 41. Table Press |
| 21. MailChimp | 42. Header Info |
15+ PRO ElementsKit Addons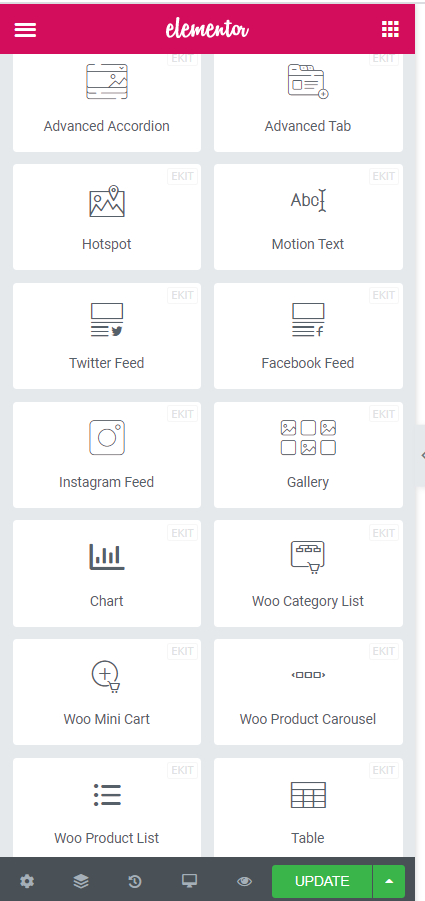 | | |
| --- | --- |
| 1. Advanced Accordion | 10. Creative Button |
| 2. Advanced Tab | 11. Motion Text |
| 3. Hotspot | 12. Woocommerce Product List |
| 4. Timeline | 13. Woocommerce Product Carousel |
| 5. Instagram Feed | 14. Woocommerce Category List |
| 6. Facebook Feed | 15. Woocommerce Mini Cart |
| 7. Twitter Feed | 16. Gallery |
| 8. Advanced Chart | 17. Vertical Menu |
| 9. Data Table | 18. Advanced Toggle |
Let's Check Out the Pricing!
| | | |
| --- | --- | --- |
| Personal | Professional | Agency |
| $35 | $87 | $179 |
Another popular Elementor Addons that comes to the list with 500000+ active installations is Essential Addons. Out of the Elementor addons available in the market, Essential addons for Elementor is one of the best.
Currently they are providing 65+ free and pro features, including Info Box, Image Accordion, Advanced Tab, Instagram Feed, Particle Effects, Advanced Tooltip, Logo Carousel, Form Style's, Content Toggle and many others.
The premium version of Essential Addons offers more than 100 ready-made blocks. You can import it and customize it very easily.
Modules can be controlled from the Back-End. You can see 1300+ Happy reviews from the customer. So, give Essential addons for Elementor a shot!
What are the Top Features that Make Essential Addons Unique?
65+ Elements
100 ready-made blocks
7+ Extensions
Completely Customizable
Unlimited Activation
Elements control option
Free and pro extensions
Premium Support
Let's Check Out the Pricing!
| | | |
| --- | --- | --- |
| Lifetime Unlimited | Unlimited | 1 Website |
| $169.97 | $69.97 | $39.97 |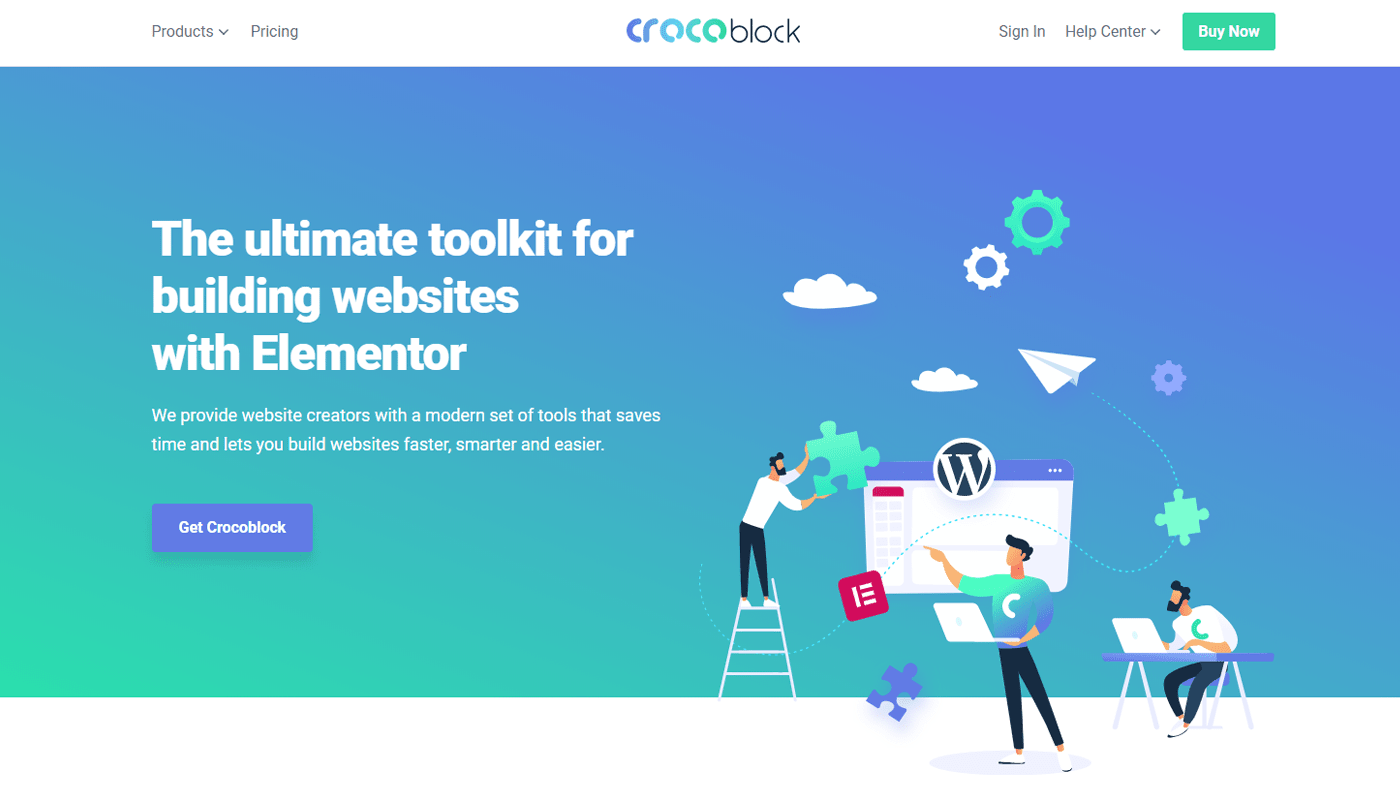 Crocoblock is the ultimate solution for creating your sites including a set of plugins that comes in a package. You can get all the plugins at a glance or you can buy them individually.
You can also get their services by subscription and give a try on localhost.
Moreover, you can customize your site using its image, blogging, basic design widgets, and more.
What are the Top Features that Make CrocoBlock Addons Unique?
18 Premium jet Plugins
47 Templates packages
150 Widgets
60+ stylish pop-up templates
Fully customizable every element
Let's Check Out the Pricing!
| | | |
| --- | --- | --- |
| Design | Multi-Tool | E-Commerce |
| $49/Year | $69/Year | $69/Year |
Ultimate Addons comes with 50+ Ready-made Starter Templates, that can be imported in just a few clicks.
Currently they are offering 40+ elementor widgets that will help you build professional websites faster than ever before.
You will get different form styles, three Woo-commerce widgets Off Canvas, and many others.
What are the Top Most Features that Make Ultimate Add-ons Unique?
40+ elementor widgets
WooCommerce Widgets
RTL Support
One-to-One Support
55+ Agency Starter Templates
WP Portfolio Plugin
Let's Check Out the Pricing!
| | | |
| --- | --- | --- |
| Ultimate Addons | Mini Agency Bundle | Agency Bundle |
| $48 | $169 | $249 |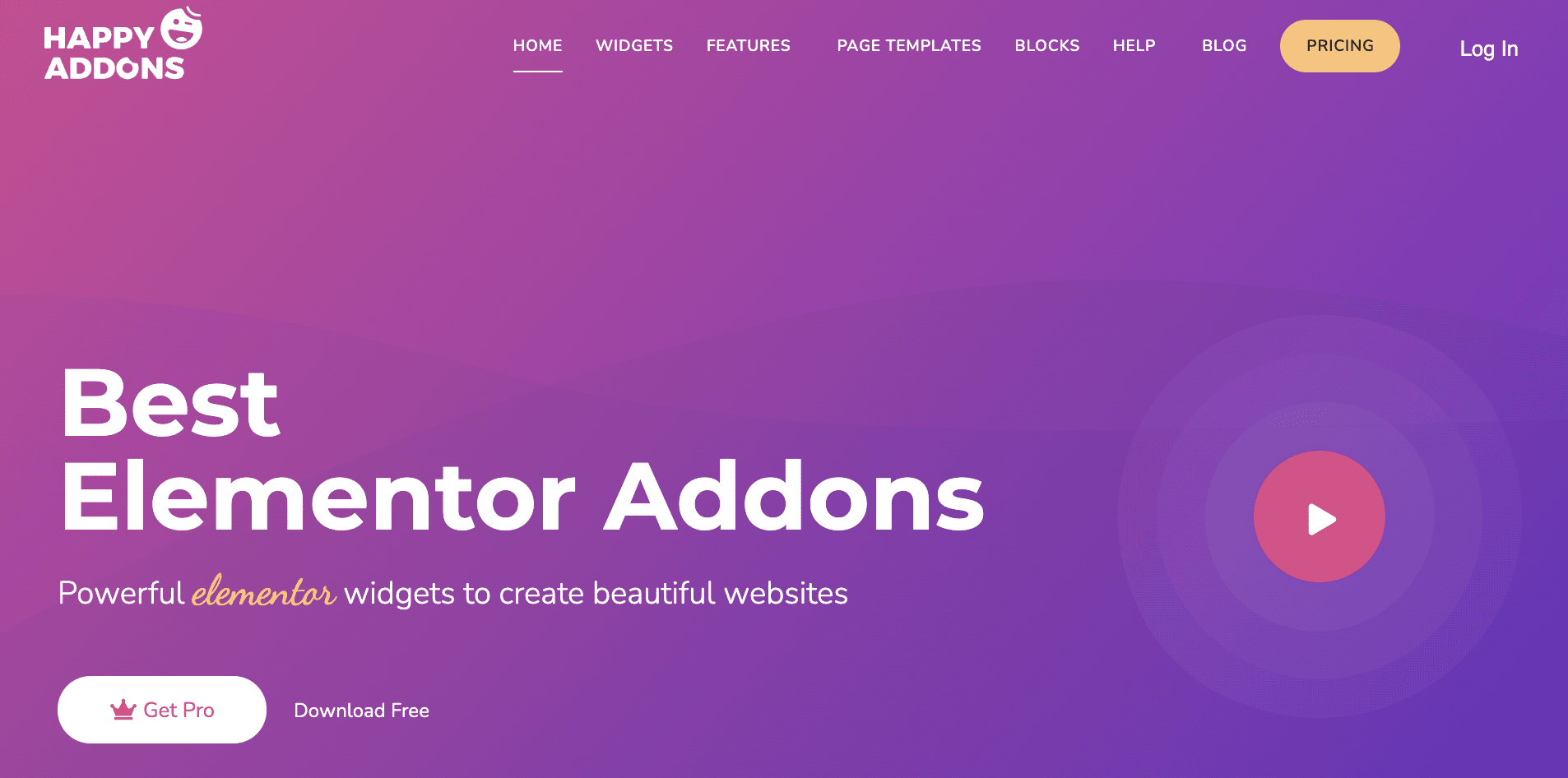 A slick, customizable, and impressive collection of Elementor widgets.
The free version comes with 20+ enhanced features of solve common problems of Elementor.
Happy Addons is one of the fastest growing Elementor Addons out there with beautiful designs and handy widgets. It comes with 90+ widgets and many other features that help you create beautiful-looking landing pages.
What are the Top Features that Make Happy Addons Unique?
90+ Addons
Premium quality Addons
20+ features to solve problems

Live Copy-Paste

Dedicated Support
Let's Check Out the Pricing!
| | | |
| --- | --- | --- |
| Personal | Business | Developer |
| $39/Year | $89/Year | $189/Year |
| $ 149/Lifetime | $ 349/Lifetime | $ 549/Lifetime |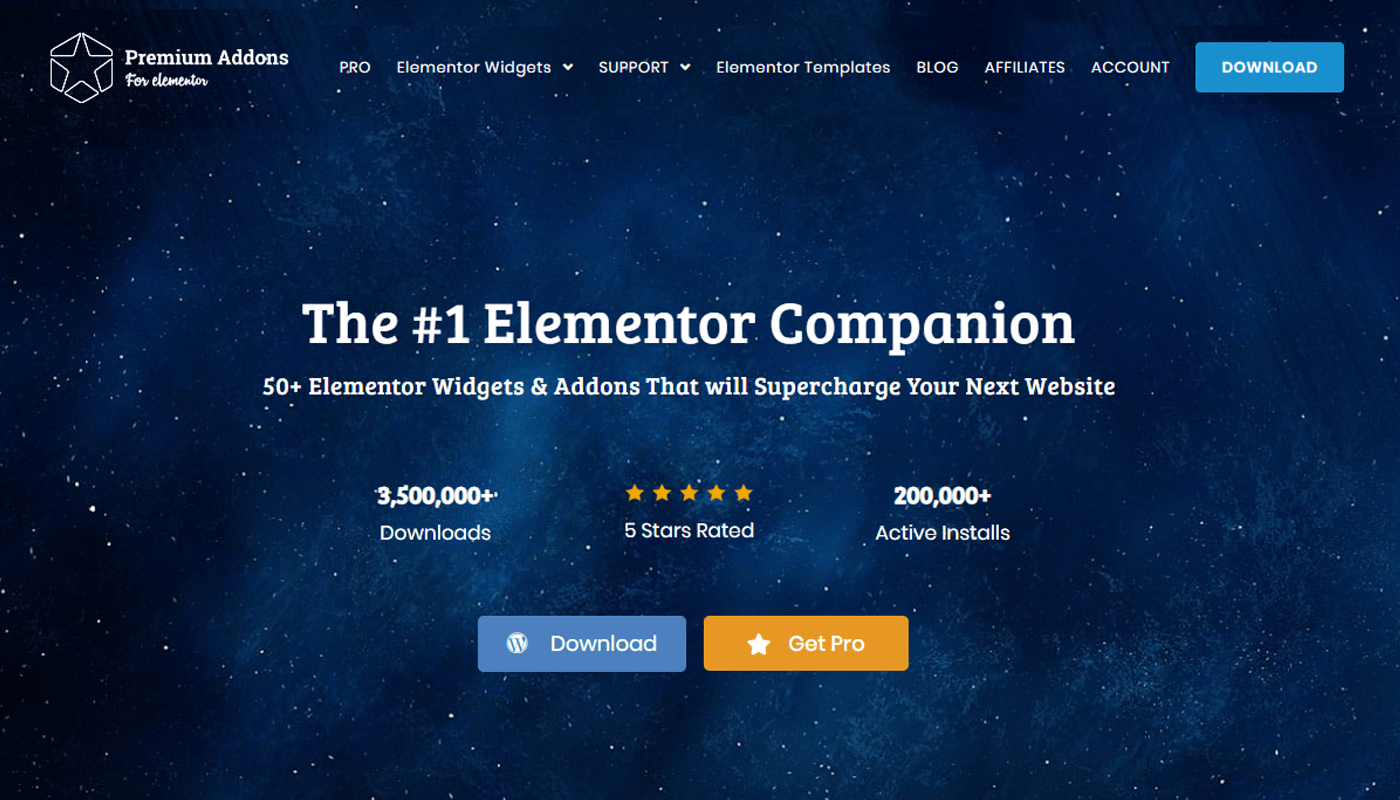 Premium addons for Elementor is a top-notch Elementor addon that you can grab. Don't get confused by seeing the title name. This Addon provides both free and premium elements. Because premium always doesn't mean paid, instead premium means something of high-quality.
The free version comes with 20+ Fee Elementor widgets including Vertical Scroll, Grid, Carousel, Banner, Google Maps and others.
Despite the Free version, the Premium version comes up with 30+ widgets such as Image comparison, Media Grid, Pricing Table, and many more.
What are the Top Most Features that Make Premium Addons Unique?
20+ free widgets
30+ premium widgets
​Image scroll
100% responsive
Let's Check Out the Pricing!
| | | |
| --- | --- | --- |
| Single Site | Unlimited | Lifetime |
| $39 | $79 | $199 |
Powerpack is the most Light-Weight and Fast Loading Addons for Elementor with 70+ Widgets both free and pro version.
These Elementor widgets are designed with focusing on creativity and usability.
They are more likely to focus on creating unique features. You can check out their Live Demo to see exactly how they look.
What are the Top Features that Make Powerpack Unique?
70+ Elementor Widgets
Header Footer Builder
Advanced Display Conditions
White Label Branding
Let's Check Out the Pricing!
| | | |
| --- | --- | --- |
| Starter | Professional | Lifetime |
| $69 | $99 | $349 |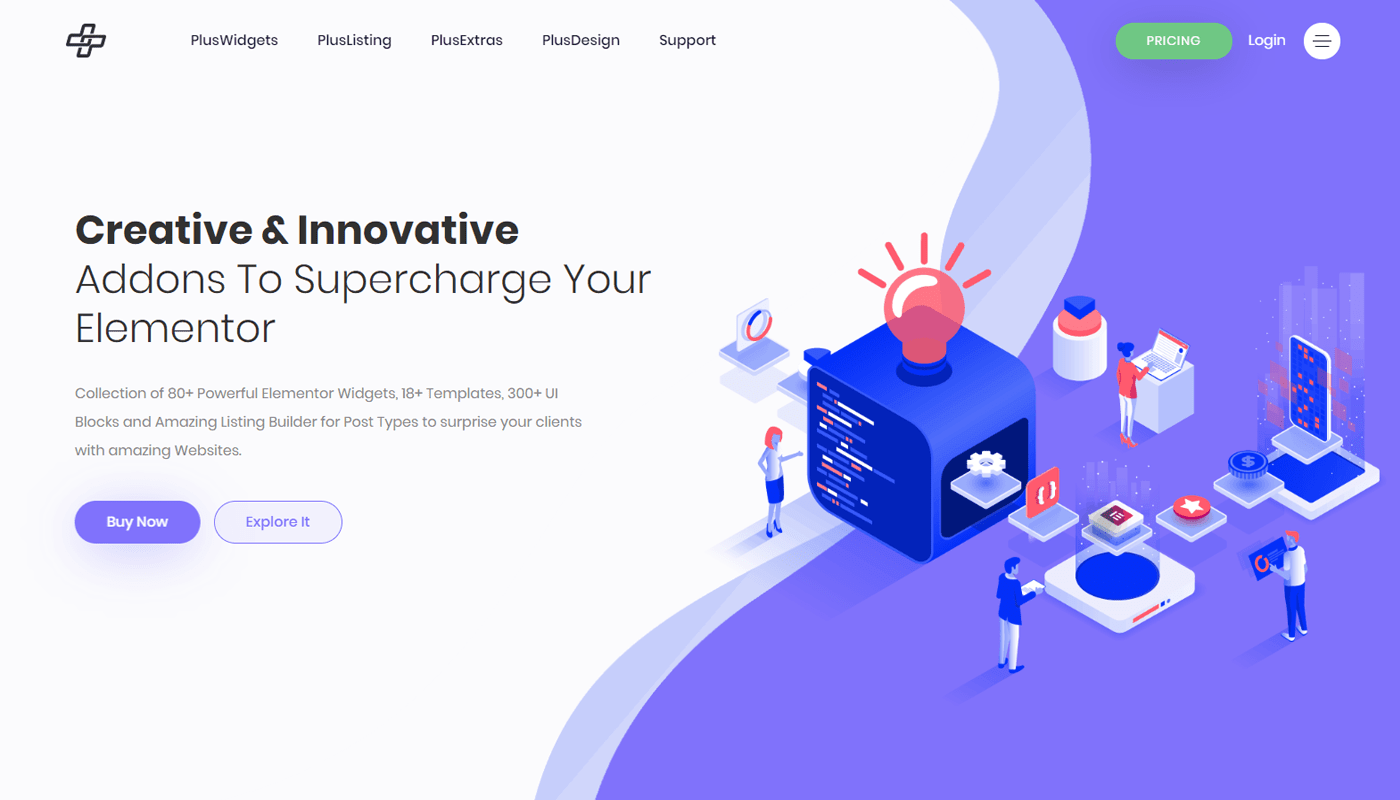 If you are looking for something new and creative, then you should take a look at their features.
Their 80+ new Elementor widgets include Timeline, Ad banners, Carousels, Pie charts, Hotspot and many more.
They have also 18+ Templates to build your amazing web page.
What are the Top Most Features that Make Elements Plus Addons Unique?
Sticky columns
Tilt 3D effects
WooCommerce Compatible
Ease of use
Extremely fast
Coding standards
Let's Check Out the Pricing!
| | | |
| --- | --- | --- |
| 1 Website | 3 Websites | Unlimited |
| $39 | $79 | $119 |
Master Addons is another powerful Addons with 30+ Elements that will give you a professional looking Web-page.
The Free version features several widgets such as Animated Headlines, Dual Heading, Advanced Accordion, Tabs, Progress-bar etc.
Form elements include Contact Form 7, Ninja Form, and WP Forms. You can also get tons of ready-made sections and pages.
What are the Top Features that Make Master Addons Unique?
​30+ Elements
Super responsive
Custom CSS
Positioning
Container Extra
Transforms
Let's Check Out the Pricing!
| | | |
| --- | --- | --- |
| Personal | Business | Developer |
| $19/Year | $39/Year | $129/Year |
| $ 39/Lifetime | $ 129/Lifetime | $ 199/Lifetime |
WidgetKit brings an incredibly fast, interactive and scalable design system with a collection of powerful elements that allows you to build any simple to complex web page very easily.
There are more than 28+ free functional elements that come with WidgetKit that includes Animated Headlines, Button, Call to Action, Image box and others.
The Pro version includes additional modules like Advanced Tab, Banner, News Ticker, Latest Post, etc.
What are the Top Features that Make Widgetkit Unique?
30+ Premium Elements
10+ Premium Landing Page
WooCommerce Compatible
Advanced Customization
Entirely Responsive
Let's Check Out the Pricing!
| | | |
| --- | --- | --- |
| Unlimited | Agency | Personal |
| $199 | $69 | $39 |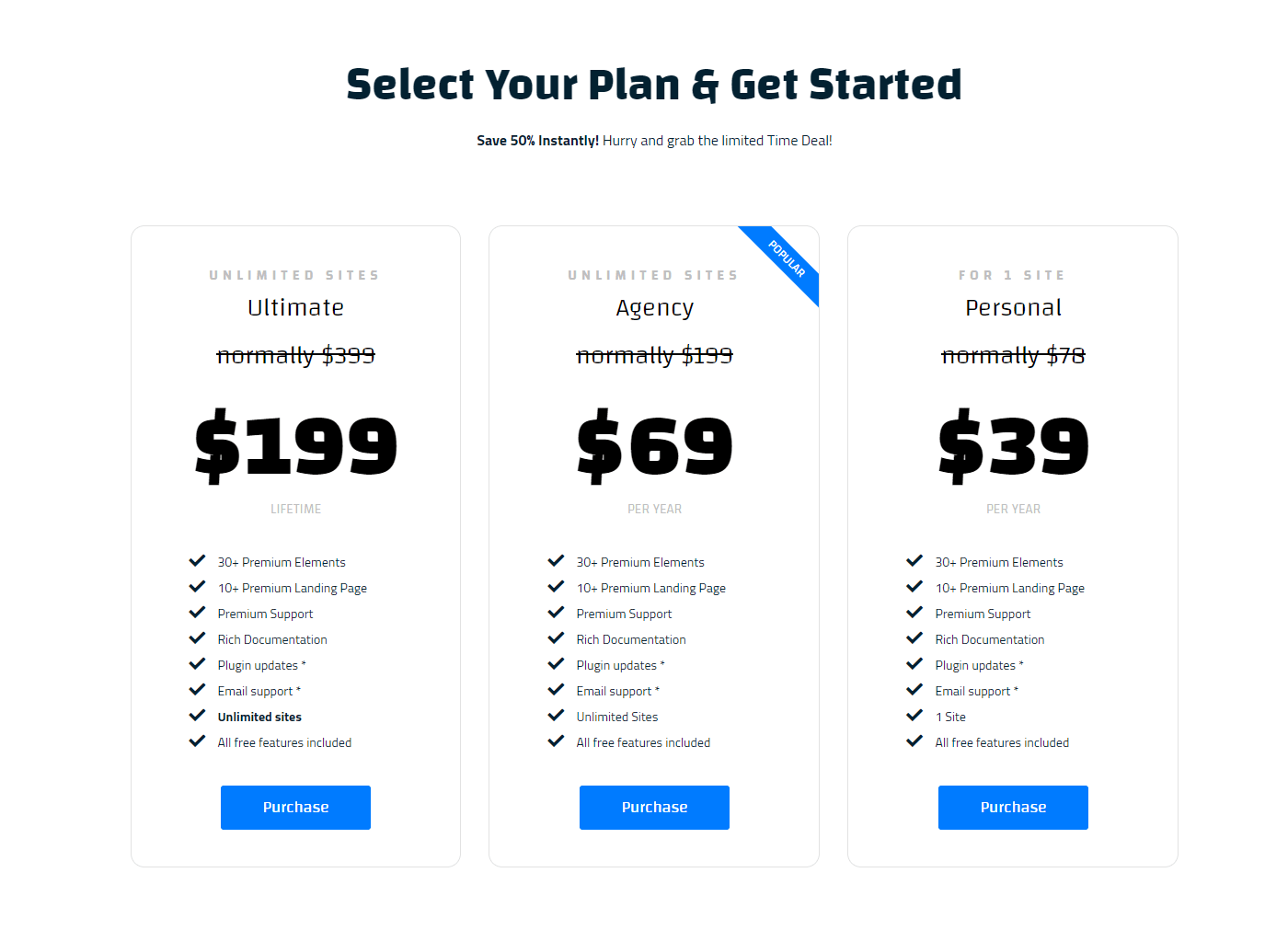 Highly functional and well-rated Elementor Addons for WordPress.
The free version comes with 13+ new widgets with a attractive heading styles.
This plugin comes with widgets for just about everything you need to build a professional website without switching to a premium theme such as bar charts, team profiles, counters, pie charts, testimonials, clients list, and much more.
What are the Top Features that Make LiveMesh Addons Unique?
25+ Addons
Premium quality Addons
Lightbox Support
Image Gallery
Dedicated Support Forum
Let's Check Out the Pricing!
| | | |
| --- | --- | --- |
| Personal | Business | Developer |
| $37/Year | $69/Year | $99/Year |
| $ 99/Lifetime | $ 149/Lifetime | $ 199/Lifetime |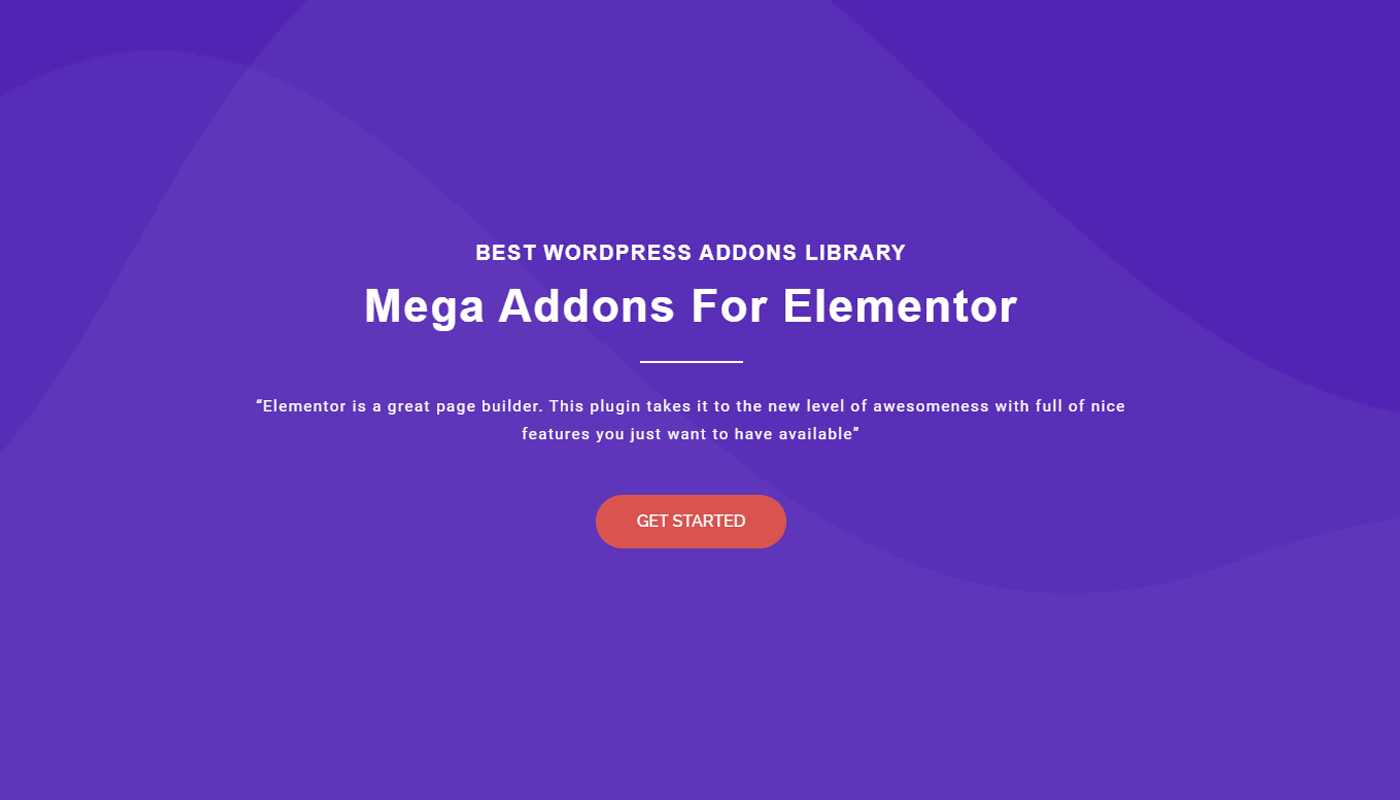 Mega Addons provides functionality for your Elementor Page Builder. This addon for Elementor features professional-looking, easy-to-use yet highly functional extensions that can be used in an Elementor page builder.
There are more than 25+ functional elements which will give you a unique design to build your webpage.
Moreover, They provide expert support for making your work easy.
What are the Top Features that Make Mega Addons Unique?
25+ functional elements
Super responsive and blazing fast
Translation ready
Fully customizable
Dedicated support
Advanced carousel
Let's Check Out the Pricing!
Regular License – $22.00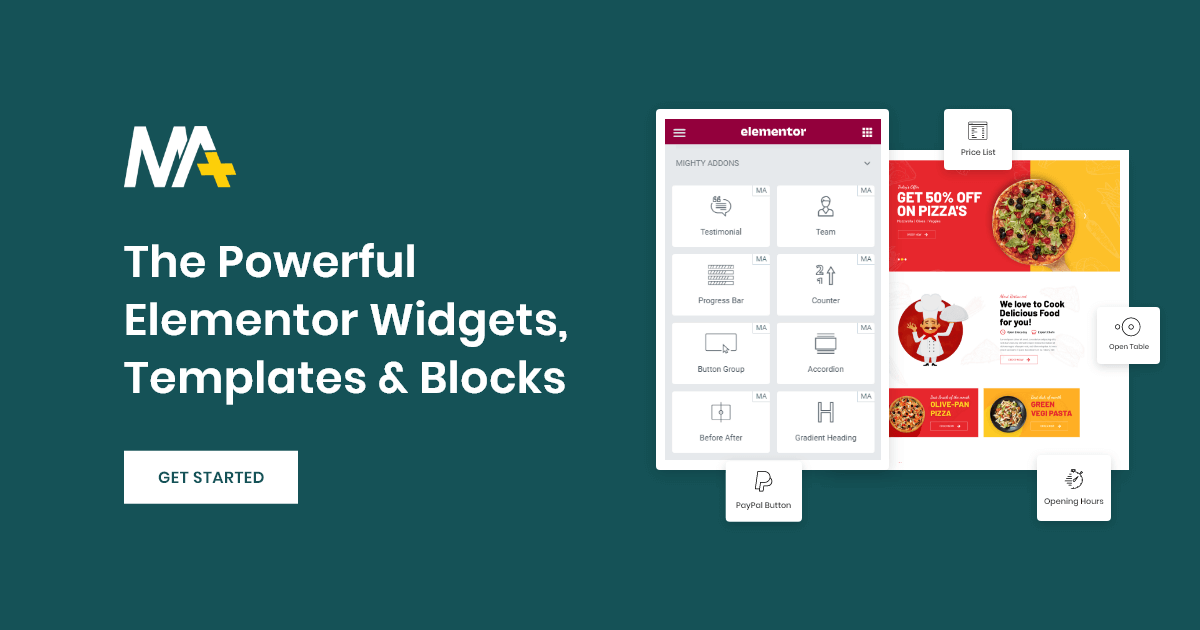 Make using Elementor easier by adding powerful and easy-to-use Mighty Addons. There are irresistible features in this plugin that every user is searching for. As a team of professionals dedicated to developing and testing our software, we are on a constant mission to provide our customers with great functionality and support.
This versatile plugin is loaded with more than 45 ready-to-use blocks and 150+ Elementor sections that can be imported in your webpage with a single click, providing you greater flexibility and a lot of ease. However, Mighty Addons' free version offers similar features but with lesser numbers.
Further, you can speed up the process of designing your website with the highly responsive and fully customizable pre-designed 25+ template kits. Moreover, all of these templates have been designed with SEO-optimized code and are compatible with any theme.
It can take a lot of time and effort to replicate the entire design. Using its Cross-Domain Copy Paste feature, you can easily copy entire pieces of content from one domain to another.
One of the great features of Mighty Addons is the Integration of Pixabay and Unsplash with Elementor. By integrating the media manager and stock images, you'll have access to over 1 million images.
In addition to those mentioned above, Mighty AddOns also provides you with multi-layered shadow elements, content-visibility controls, FAQ schema integration, multi-location Google Map, Open-street map, image hotspot widget, Whatsapp chat, click-to-call, and much more. You name a feature, and Mighty Addons will take care of it.
Features that make Mighty Addons a great Elementor Plugin:
Cross Domain Copy Paste
More than 45 widgets and extensions
Ready-to-use pre-designed 25+ template kit
Fully fledged 150 ready-to-use functional blocks
Pixabay Integration with Elementor
Section Slider – Convert any section in to slider
Advance multi-layer shadow
Advance multi-color gradient
Display conditions
Multi-location Google maps and Openstreet map
Pricelist Widget to display your restaurant menu
OpenTable reservation widget
Cross-browser compatibility
Fully customizable
SEO friendly code
Pricing:
Free version.
Starter (1 website) – $29
VIP (5 websites) – $49
Elite (unlimited websites) – $99
*Pricing also comes with the lifetime plans as well
Which is the Best Elementor Addons?
Well, it's really for you to decide that which addon suits your needs. We did our best to put together the best Elementor addons or Elementor plugins with the key features and price packages they offer.
ElementsKit, however, has the potential to stand out as the best Elementor plugins or addons due to its compelling features with competitive price package. Besides, it also provides a reliable support team. So, in our opinion the best Elementor Addon or plugin is ElementsKit.