How to Create an eCommerce Website Using ShopEngine
With each passing year, the eCommerce business is growing tremendously. That's why chances of getting successful in this business are increasing.
It is estimated that the eCommerce business will be so popular that by the end of 2040, 95% of all sales will happen through eCommerce. Source name- nasdaq.com
This stat proves how rapidly the eCommerce business is growing day by day. It is also found that 46% of American small businesses don't have a website. This is risky for businesses because 93.5% of global internet users purchase products online.
That's why creating a website is important for your business. Building a website was difficult before. Because that time hiring a developer and making a website with coding was the only way to create a website. But, now you can easily create an eCommerce website from scratch in WordPress with the available tools. In this blog, we will show you the easiest way of creating an eCommerce website using ShopEngine.
What is an eCommerce website?
An eCommerce website is a website where you can put the pictures, features, other information of your goods or services and sell it over the internet. There are mainly three kinds of eCommerce websites. They are business-to-business, business-to-consumer, consumer-to-consumer.
An example of a business-to-business website is Alibaba, and for business-to-consumer websites it is Amazon. Finally, an example of consumer-to-consumer is eBay.
Why creating an eCommerce website is a great business idea for you?
Creating an eCommerce website is beneficial for you because each year eCommerce industry is expanding by 23%. Moreover, globally 93.5% of internet users buy stuff online. That means a big portion of your customers will visit your site to buy products or services. In this case, if you don't have an eCommerce website then you are going to lose lots of business opportunities.
Here are more reasons for having an eCommerce website:
Your customers can shop 24/ 7 if you have an eCommerce website. You can't keep your physical Shop open 24/ 7.
Customers shop online because they can shop any time and this is the number one reason for online shopping. Source name- KPMG
You can convert your 50% of visitors into consumers by conversational marketing of the website.
An eCommerce website will help you reach new customers every day.
Through an eCommerce website, you can make lots of conversions. Here is the stat of USA top eCommerce website's sales:
People now depend on the internet for every single work. So, here being online can add new doors for your business.
Prerequisites before creating an eCommerce website
In this generation, the eCommerce business is at the peak of demand where people can't spend a single day without the internet. And to handle this business, you must have an eCommerce website.
In 2021, worldwide 2.16 billion people are desired to buy goods and services online that was 1.66 billion in 2016- Statista.com.
This is only one stat that proves how important to have an online presence. There are others too. Maintaining an eCommerce website can be an effective way for an online presence. That's why you need to build an eCommerce website. But, For building it up, you will need few things.
Here are the prerequisites for creating your eCommerce website using ShopEngine:
Domain name.
Hosting service.
CMS Platform.
WooCommerce.
Elementor.
A WooCommerce builder.
Steps to create an eCommerce website for free using ShopEngine
Building an eCommerce website is not that hard. You don't need to hire or be a developer. All you need is proper eCommerce solutions that will guide you through the process of building an eCommerce website. Besides, this process is almost the same for building small or large eCommerce websites. In this case, you have two options. Either build it by using eCommerce solutions or hiring a developer who will create your eCommerce site with coding.
Which is the best option you think?
Of course first. Because in this case, you will be independent. No need to see the face of your developer every single day. Here I will provide you the easiest solution for creating an eCommerce website using ShopEngine:
Step 1: Choose your hosting service provider and select a domain name.
In the first step, you need to choose your hosting service provider who will provide a digital space to your company. There are many hosting service providers like Kinsta, Bluehost, HostGator, Hostinger, etc. At the time of choosing your service provider, you need to observe 3 things:
Load time.
Uptime.
Support system.
After choosing your hosting service provider then fix a domain name for your website. A domain name is a name by that your customers will reach you. Before picking it up keep few things in mind:
Keep it short, specific, and brandable.
Skip numbers and hyphens.
Make it easy to remember.
Select a domain name by maintaining the above criteria.
Note:
Your website domain name has an impact on your brand's success. After choosing it and investing time in it, you can't change it. Changing domain name means losing all your traffic and backlinks. You need to start from zero again. So, set your domain name by focusing on all important things.
Step 2: Select WordPress as your CMS.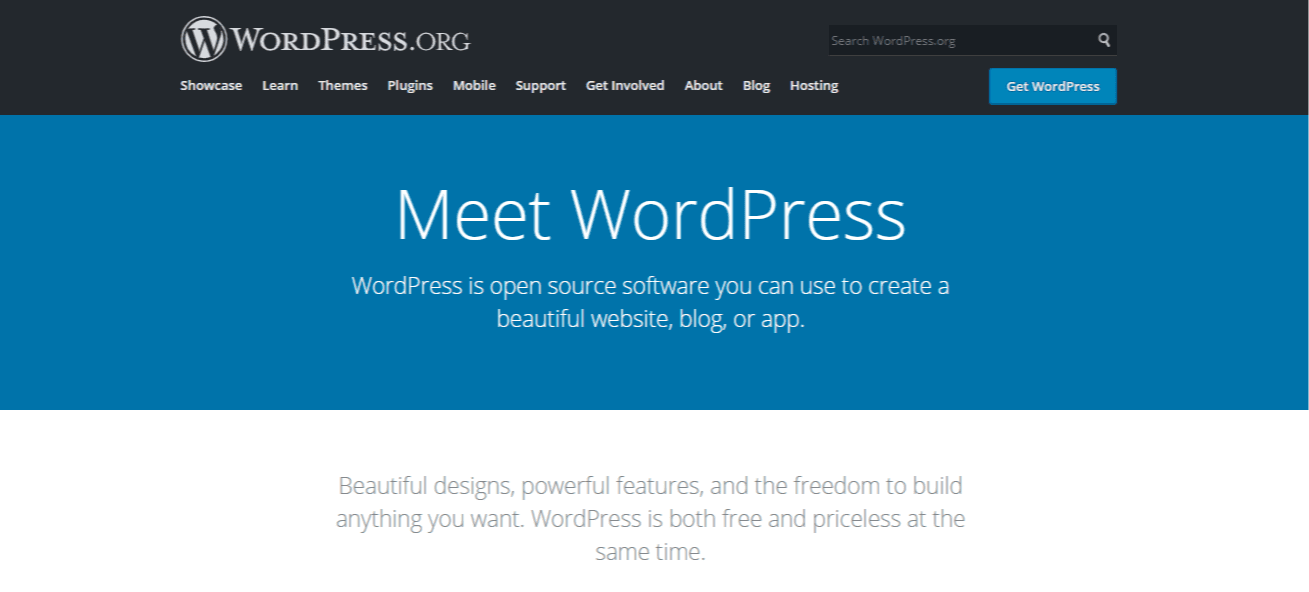 After choosing your domain name and hosting service, it's time to choose the right content management system. In terms of CMS, nothing can beat WordPress.
Currently, 42% of websites on the net are powered by WordPress.
It is increasing at a rapid rate more than before. You will get two versions of WordPress. WordPress.org is non-paid and WordPress.com is paid version. Its non-paid version is more profitable to use than the paid ones. WordPress.org is the most recommendable as it also provides free 8.7k+ themes and 58.9k+ plugins. With these available themes and plugins, you can create a converting and engaging website.
Step 3: Install WooCommerce.
In this step, for converting your website into an eCommerce site, you need to install and activate WooCommerce. According to builtwith.com, 28% of eCommerce websites are using WooCommerce the most advanced eCommerce builder. By installing WooCommerce, you can easily add eCommerce features to your website. After activating WooCommerce you need to set up WooCommerce in WordPress.
Step 4: Install Elementor.

After adding eCommerce features to your site, you need to add an eCommerce page builder that is Elementor. It provides an easy drag and drop option to design an eCommerce website.
Step 5: Customize your eCommerce store using ShopEngine.
After choosing WooCommerce and Elementor, you need to pick a solution for your eCommerce website that will let you customize your eCommerce pages. ShopEngine will help you to fully customize your single page, product page, cart page, checkout page, and other eCommerce pages. You can fully customize your page templates with available modules and widgets. Till now more than 18+ modules, 62+ widgets are available in ShopEngine. These modules and widgets will also let you fully create a customized eCommerce page. Learn more interesting facts about ShopEngine that will make a big change to your WooCommerce store.
In this step, you need to install and activate ShopEngine like other plugins. Go to ShopEngine>> templates to add a new archive page template.
Then, click add new button.
Now, it's time to set your template. For setting it up, fill the following gaps:
Name: You need to put your page name here.
Type: Select what type of page you are creating. here, I have chosen archive as I am making an archive page template.
Set default: You can set it on if you want to use the default design.
Sample design: Sample design will make your work easier. In ShopEngine you will get designs for your templates.
Here select a design like in the picture. Finally, press the save changes button to save your template.
Now, Press edit with Elementor button to edit your template.
After that, add a new section by clicking on the plus sign.
Now, from the left widget section, you can drag and drop archive widgets to the newly added section.
Here is how you can drag and drop your archive widgets to the added section and customize your page template as your desire.
Now it's time to updating your archive page template. To do it press the update button on the left bottom.
Here is the final outlook of your archive page:
Like this, you can also create and customize shop, account, Checkout pages using ShopEngine.
Step 6: Give beautiful eCommerce outlook with Bajaar.
Finally, you will need an eCommerce theme that will change the total outlook of your website. This can be any eCommerce theme. But, must ensure that your chosen theme has all essential eCommerce features Like Bajaar. Bajaar is the perfect match for any eCommerce website. It is the first loading and responsive WooCommerce theme that is highly compatible with ShopEngine the ultimate WooCommerce builder. Besides, it provides a custom CSS framework for your website's fast loading speed. With smooth animation and parallax effects, you can customize your website to get the best appearance. Bajaar is not only compatible with ShopEngine but also compatible with ElementsKit, MetForm, WP Social, and many more plugins. It also provides unlimited headers and footers for your eCommerce website. Moreover, you can get 200+ premium world-class demo that you can import with just one click.
After installing and activating Bajaar and all required plugins, now customize your website appearance from the left customization panel.
After all customizations, here is the outlook of your website:
Reasons that will make you love Bajaar:
Bajaar is a highly responsive, flexible, fast-loading WordPress theme that is compatible with any plugin. With Bajaar you can build your eCommerce site from scratch in the most efficient way. Not only this, Bajaar has lots of other reasons that will make you fall for Bajaar. Take a look at what you can do with Bajaar:
It is super easy to use because of its user-friendly features. It will help you to get 76% of customers who want easy-to-use and search facilities on a website.
Your website will be highly mobile responsive when you will build your site with Bajaar.
You can add quick checkout, wishlist, testimonials to your website that will help you to boost conversion rate.
With Bajaar you can show related products and quality pictures on your eCommerce site.
Expand your business more than before because Bajaar will let you add different payment gateways to your website.
One click demo import is available for your website.
Things you need to maintain after creating your eCommerce website:
After creating your eCommerce website using WordPress and ShopEngine, you need to focus on your website maintenance. Because without it, your website will not run smoothly. This website maintenance is the same for all types of websites. There are lots of things that need to be done after creating an eCommerce website. Follow the following website maintenance checklist to make sure your business go in the right direction:
Regular Backup:
You need to keep your website data safe by keeping backup. This backup needs to be done regularly because you and your team add data to your website every day. Besides, data is very important for your website. That's why you can't afford to lose them.
It is also time-consuming to restore data that you can lose for some reason. You can use a plugin to backup your website data. Moreover, you can backup your website by using cPanel. The regular backup will keep your website data safe from any unexpected problem.
Update plugins and theme:
Updating your theme and plugins is important as it will make your website safe from any security issues. WordPress plugins and themes are updated due to provide extra features or making security strong from any malware or hackers.
That's why you need to update your plugins if you have found any updates.
Check broken links:
Finding broken links in websites is not a new problem. Besides, it is the most common and frustrating problem that needs to be checked weekly or at least monthly. As when your customers click on a link and find a 404 error they will become disturbed and maybe leave your site.
This will also prevent you to rank on google. As google checks all links that you have connected to your site. Moreover, you need to link an indexed page to your website. Because it will be meaningless if google doesn't recognize those pages. That's why after building your eCommerce site, you need to check broken links and remove those links regularly. It is harmful to both your website's reputation and ranking.
Focus on SEO:
SEO is the lifeline of your website. Your website is nothing without it. You need to optimize your website regularly for the sake of search engines. Focus on on-page and off-page SEO to rank high your website on SERP. SEO is not a thing that you will do one day in a week or month. You need to stick with it regularly.
Jill Whalen who is a search engine optimization consultant said that, " SEO work gets better over time. It's search engine tricks that changes along with ranking algorithms."
That's why continuous working on it is a must for good ranking. For example, you can make new content for your site that has good search results, sharing those on social media, guest posting, and many more. This will gradually increase your traffic and ranking.
Update contents:
You need to update your website content when it gets backdated. Update it once a month or once a year. Without updating website content, you lose website ranking on google. Besides, your website traffic will decrease day by day as it loses ranking on google.
However, many contents get back-dated because of old information or stats. These need to be updated instantly. Moreover, you need to add new information to your content if there is any. Rank high on google by updating it from time to time.
Change old pictures:
You have to check your website and find all pictures that need to be changed. For example, you have promoted your themes or plugins by adding a sale price with the pictures. After the price change, you need to change it immediately. Because an old sale price on the pictures can cause your customers to think that you have run a fake promotion. Not good at all for your business.
That's why check your website pictures and change the old pictures. This is one of the essential things that need to be maintained after building an eCommerce website.
Uninstalled unused plugins:
Deactivate or uninstall unnecessary plugins. Because these installed plugins will increase your loading speed and cause your customers to leave your site. 47% of your visitors want your site to load within 2 seconds or less than 2 seconds. So, you must maintain this loading speed.
These plugins can be risky as your website can break due to these plugins. So, uninstall all unnecessary plugins to make your website safe from high loading speed and sudden breakdown.
Optimize loading speed:
You need to optimize your loading speed from time to time. Because 40% of visitors will leave your website if it takes more than 3 minutes to load. To optimize your website loading speed, you can delete unused plugins, reduce the size of your pictures, change your hosting provider, and many more.
After creating your eCommerce website, this is the most important thing that you need to focus on. Because high loading speed will make you lose your website visitors.
Check website responsiveness:
Test your website responsiveness on all devices so that it looks great on all screens. It is examined by statista.com that half of your website visitors use mobile to visit your website. If you can't make your website responsive on the mobile screen then, you have a 100% chance to lose your half visitors. To make your website mobile responsive, you need to use responsive themes and plugins, improve loading time.
How much money do you need to spend for creating an eCommerce website?
When you will create an eCommerce website in WordPress using ShopEngine, you have to spend less than hiring a developer. All you need to pay for hosting service, theme, and plugin. Besides, you will have to speed $4000-$5000 on your developer only. The website setup and all will be out of your reach as you don't know how to code. On the other hand, you have to spend ten times less if you want to build it in WordPress with available tools.
Take a look at the cost of building an eCommerce website:
Hosting service provider– $60-$70/ year.
Theme– $50- $60/ year.
A WooCommerce builder like ShopEngine– $100- $300/ year (according to your plan)
This means in total you will need $250- $450 for creating an eCommerce website with ShopEngine. Here cost of building an eCommerce website is ten times less than hiring a developer. So, why do you need to spend extra money on it?
Summing up:
Building an eCommerce website is a great idea for boosting your sales. Because people are more likely to buy products online by visiting a website. Now website making has become super easy with available themes and plugins. Above I have discussed how you can create an eCommerce website using ShopEngine in WordPress. It is easier than creating an eCommerce website with Wix or other tools.
Hope you get the proper resource to build up your eCommerce website. If you need more then don't hesitate to ask for it in the comment section. Also, share your thoughts about this content in the comment section. Don't forget to join the Wpmet community and also subscribe to our channels to get more resources.