How to Create An Online Merch Store in 7 Simple Steps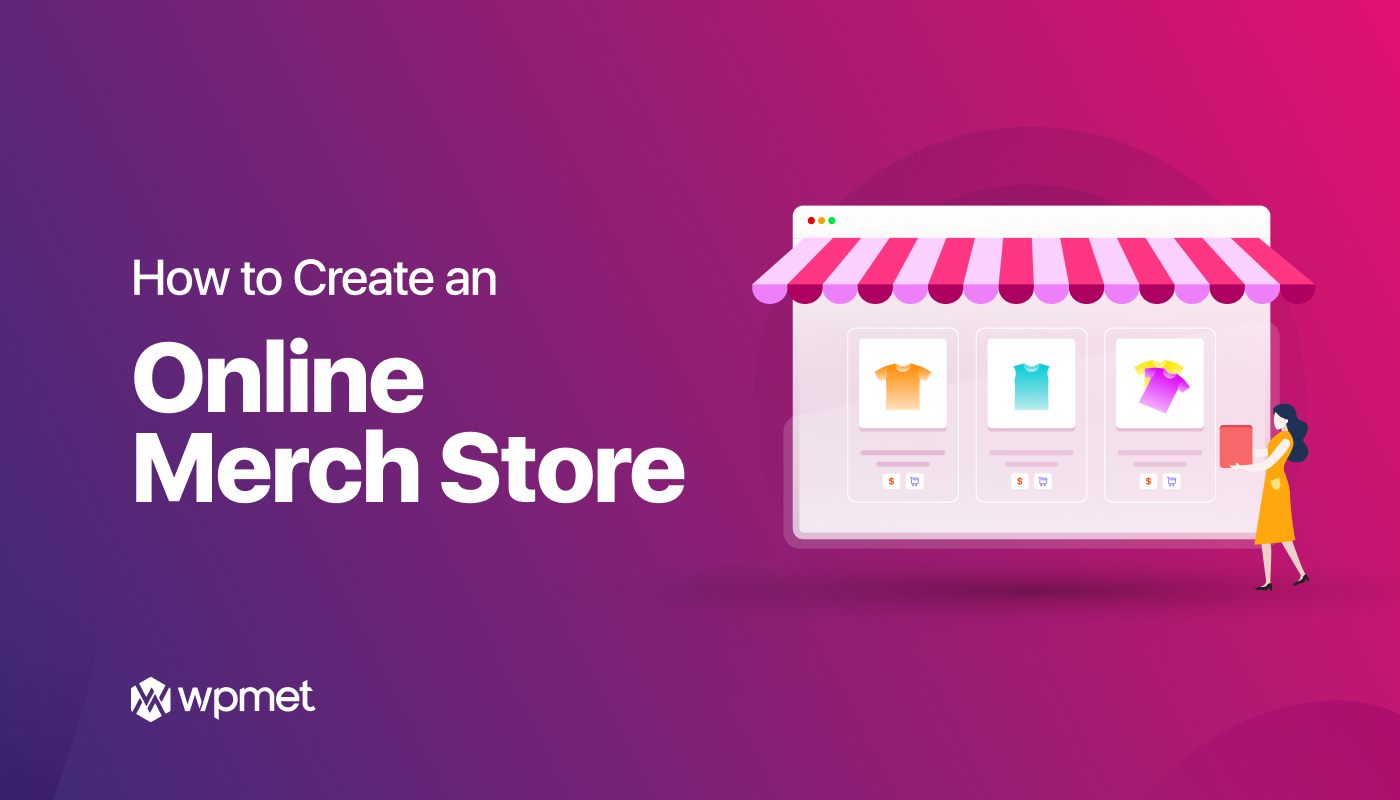 Starting an online merch store has never been easier. With the rise of e-commerce and the growing demand for branded merchandise, it's the perfect time to take your brand to the next level.
In this blog, I will show you how to create an online merch store in 7 simple steps.
From choosing the right platform to launching your first product, this guide will take you through the process of building a store that truly represents your brand and serves your customers.
Whether you're an artist, musician, or content creator, this guide is the perfect starting point for growing your online empire.
What is an online Merch store?
An online merch store is a type of e-commerce website that sells merchandise, such as physical products, from individuals, brands, or companies.
These products may include clothing, accessories, collectibles, and other items that are designed to appeal to fans of the brand or organization. Customers can typically browse and purchase products directly from the website, with a range of shipping and payment options available.
The appearance of these websites may vary, as a merch store selling clothes may look different from a store that sells shoes. However, there are also stores that sell a variety of merchandise and have multiple categories.
How to create an online Merch store?
So, are you ready to launch your own online merch store? Here are the steps you need to follow to get started:
Step 1: Brand name and domain hosting registration
Establishing your online merch store begins with choosing a brandable and memorable name. Before finalizing the name, make sure to check its domain name availability using a tool like Instant Domain Search.
Once you've confirmed its availability, register the domain through a reputable marketplace like GoDaddy or Namecheap. Additionally, you will need to select a hosting plan to serve as your digital storage for displaying your products.
Step 2: Choose the best eCommerce platform
The next step is to choose the best eCommerce platform for your store. Among the various options available, WooCommerce stands out for its user-friendliness and affordability.
To use WooCommerce, you first need to install WordPress. You can do this through your hosting panel's cPanel, or by requesting assistance from your hosting provider's live chat.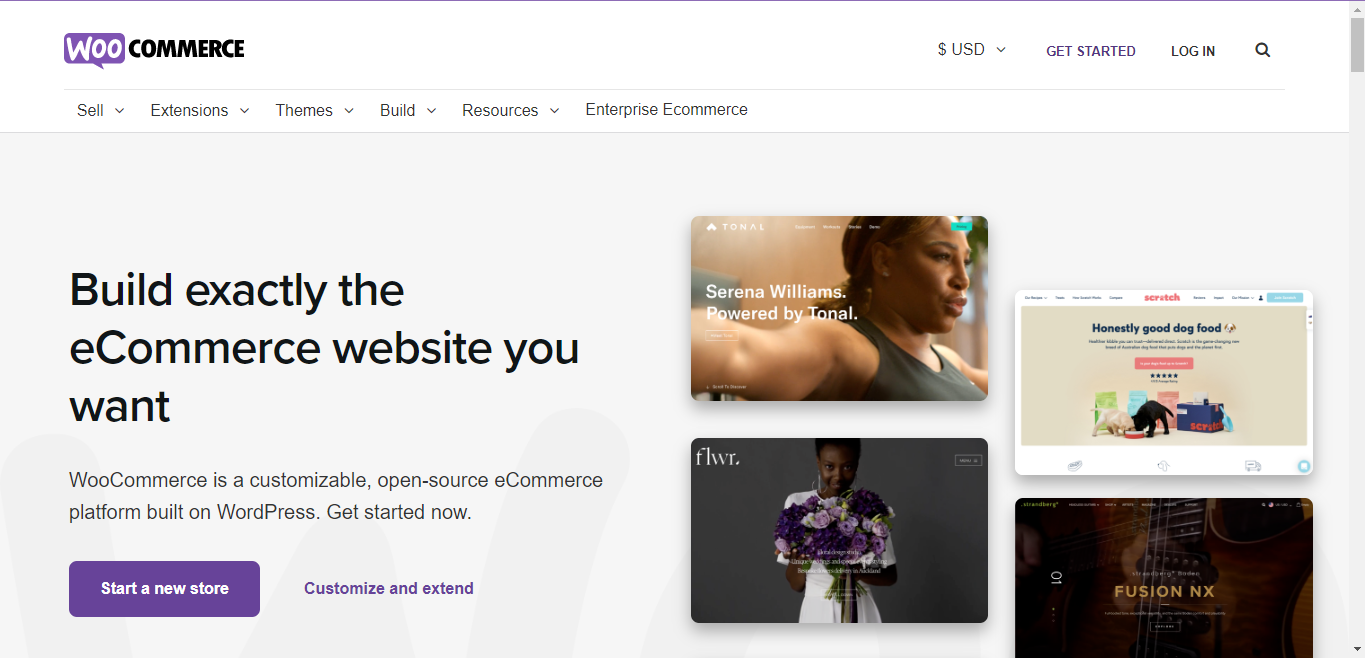 Once WordPress is installed, navigate to your WordPress dashboard, go to plugins, and add the WooCommerce plugin. Make sure to activate it once it has been installed.
Step 3: Ecommerce plugins and theme
To design a fully-functional e-commerce website with ease, you will need to install some essential plugins. Here are a few recommended plugins to help you start your online merch store:
Elementor: This page builder allows you to create custom layouts and designs for your store.
ShopEngine: ShopEngine is an Elementor addon that helps to create any kind of WooCommerce website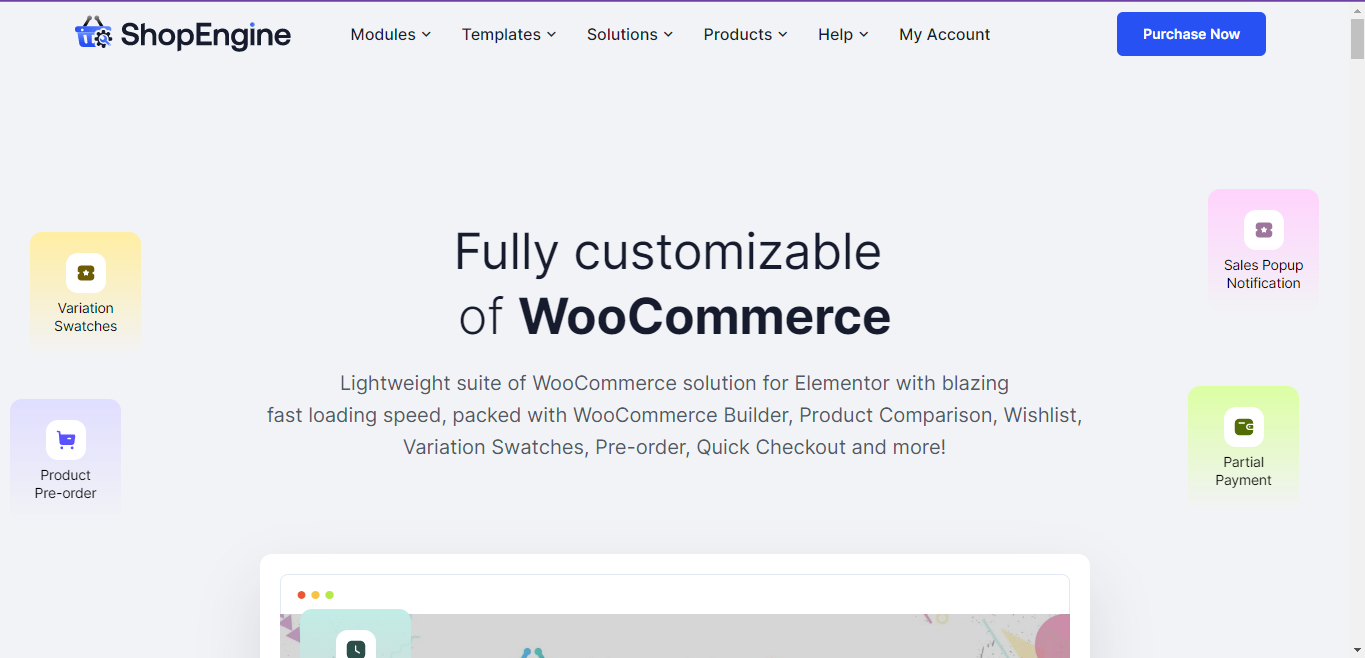 Please note that the list is not complete. You may require additional plugins based on your store's specific requirements.
Step 4: Choose the settings for the website
If you have installed the WooCommerce plugin and other plugins for your e-commerce store, it's time to choose the settings. Each of the plugins you have installed for your store will have different options, which you can enable or disable based on your requirements.
Start with the WooCommerce plugin, where you can add the details of your store, including your store address, payment options, and some additional settings.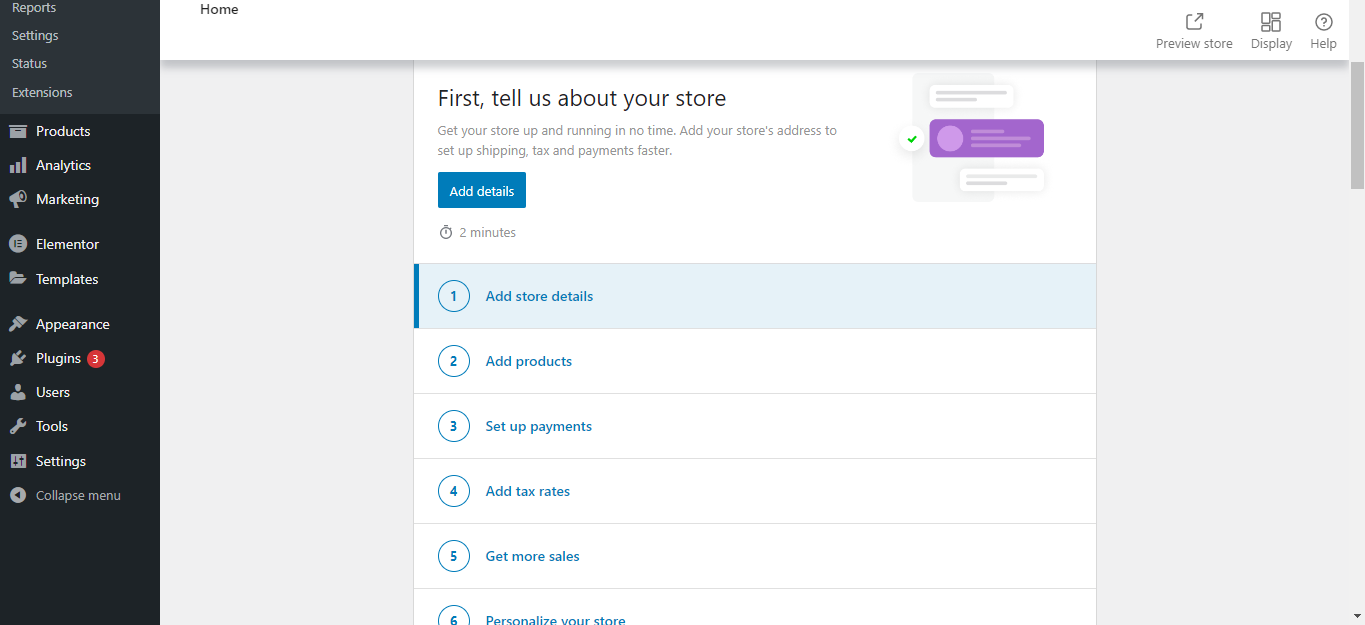 Similarly, when you check the ShopEngine plugin, you will see that there are multiple modules and widgets, which you can turn on or off based on your needs.
Step 5: Upload the products
Once your online merch store is ready and you are done with the designing, you need to upload the products. Now it depends on you what kind of products you are selling.
Before you upload, upload all the product information in a CSV file. You can easily create the file by inputting the product details.
Go to your WordPress dashboard > WooCommerce > Products. Now you will get the option to upload all your products. Upload the products in bulk using excel sheets which will save you time.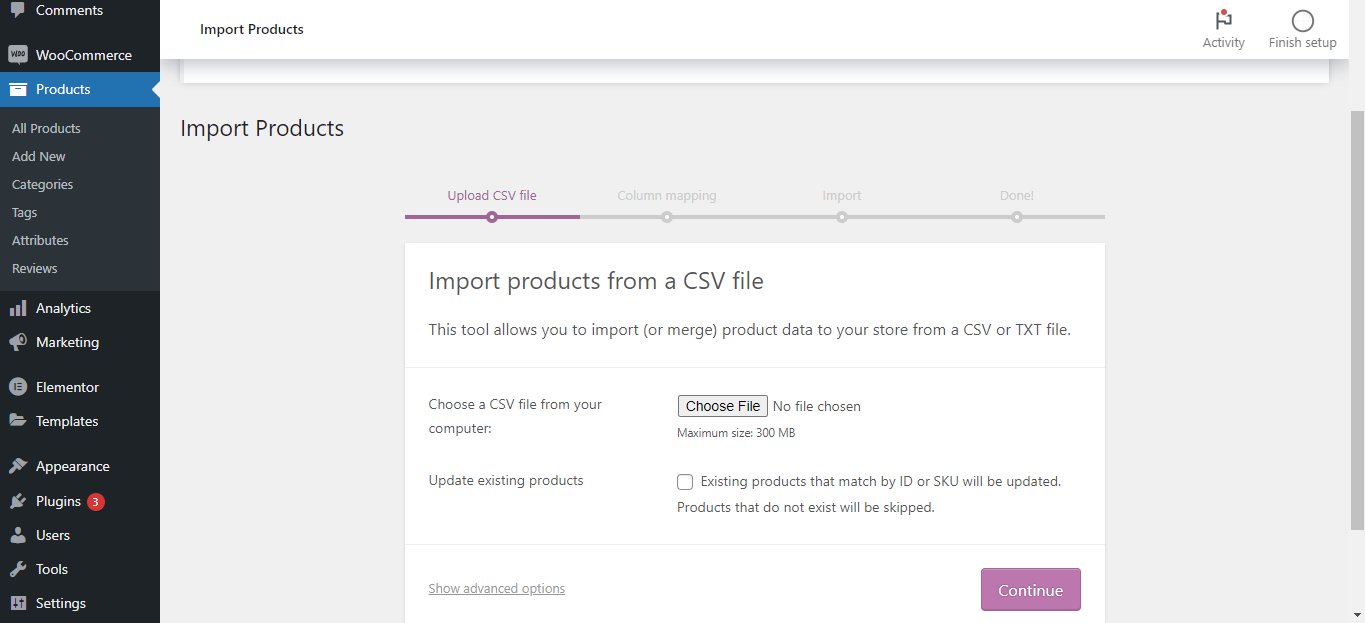 Step 6: Create the necessary pages
When you are selling merchandise online, you need to create multiple pages for your online store. For instance, each of the products should have a single product page with all the essential elements.
For the product page, go to your WordPress dashboard > ShopEngine > Builder templates. Now choose to add new and you will get the option to create a new page for your WooCommerce store.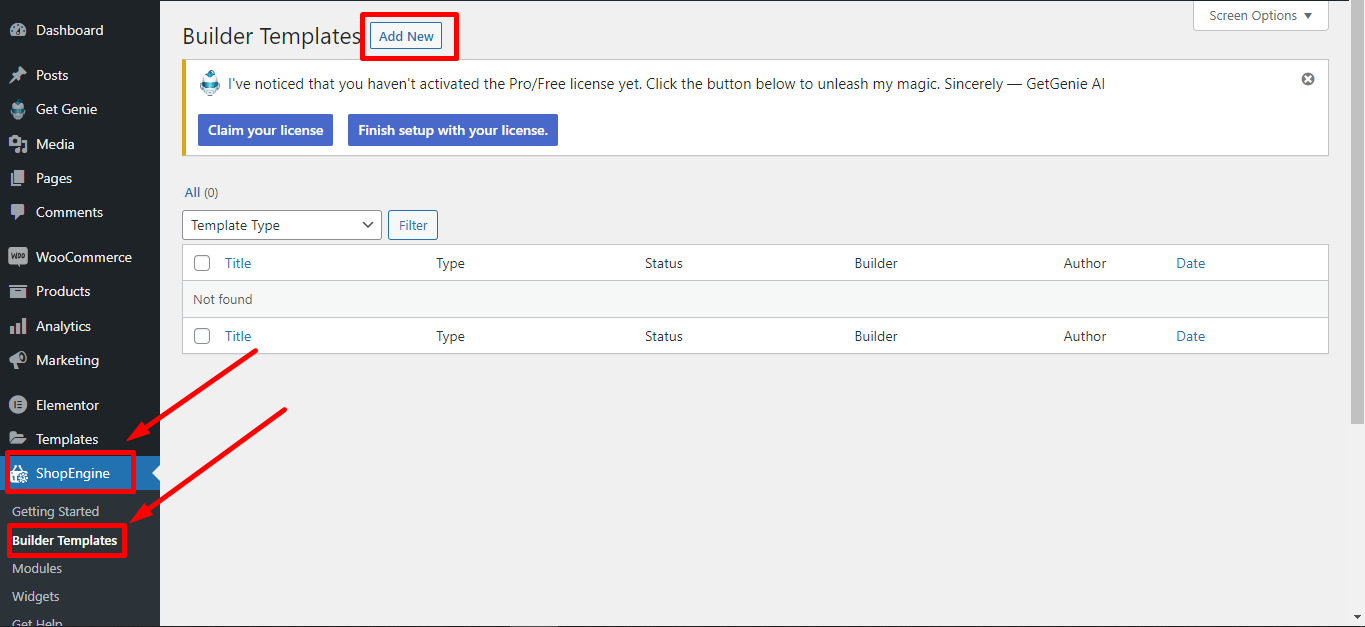 Now from the page type, choose single and you will see ready templates for a single product page. Choose one and save the changes. A new single product page will be created.
Similarly, if you need to create a checkout page for your store, choose the 'checkout' as the page type. Next, save changes and a checkout page will be created.
In this way, add the pages like add to cart, thank you page, account details page, and more.
The best part is, once you are done with the template, you can customize it easily with Elementor. For this, choose the page > select edit and then choose edit with Elementor.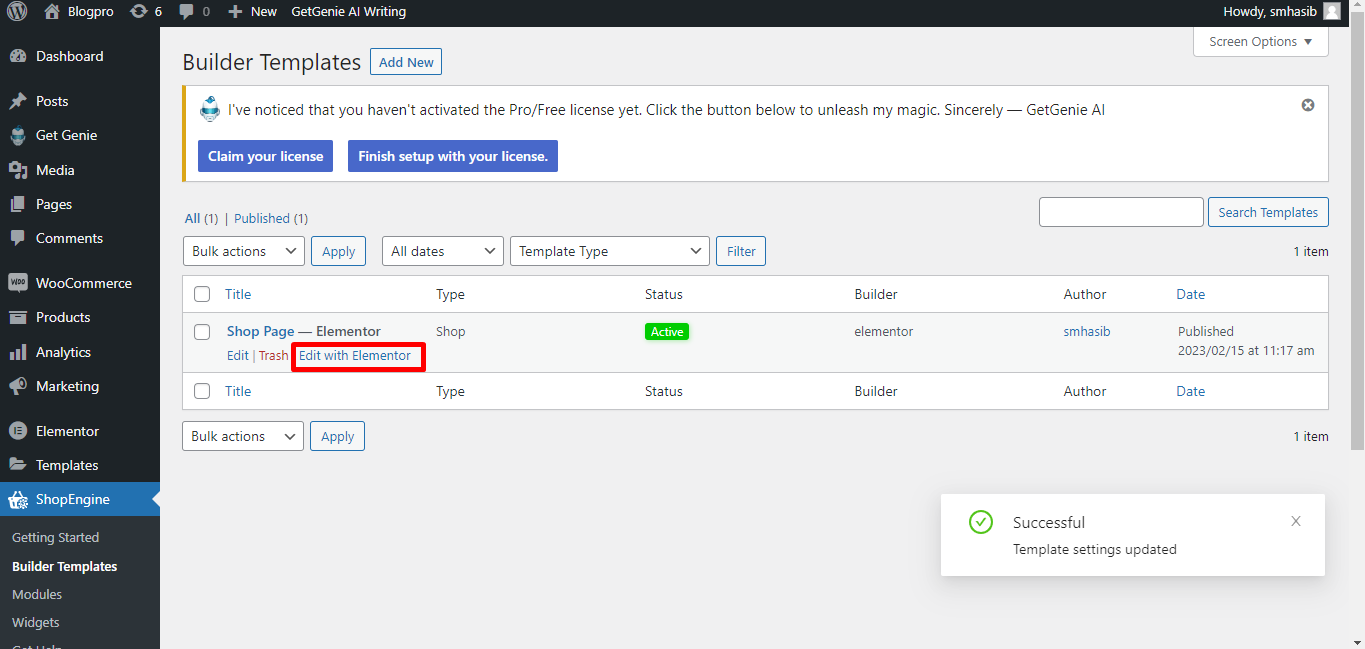 Step 7: Decorate the store and start selling
After creating all the pages of your WooCommerce store, check the preview of it. It will give you an idea of how it is going to look.
From the preview, you can find out what is missing in the pages of your store. It is time to decorate the pages of your store.
You need to decorate each of the pages individually. For this, first, choose the page that you want to customize. Choose edit with Elementor. Do the customization, check the preview and finally update the page.
Additional things you need for an online merch store
Once you are done with the above steps, your store is ready to showcase the products. But when you want to run the store properly, you need some additional things as well. Here are the things that you require to sell merchandise online.
Payment gateway
You need to use a payment gateway for your WooCommerce store that makes it easy to collect money from the customers. Make sure that you are using one that supports your target region.
Shipping
Once a customer orders from your store, you need to send the product safely to him. It becomes possible when you are using a good shipping partner. There are a wide number of shipping companies for WooCommerce. You need to find the best one to keep everything flawless.
Stock management
In any kind of merchandise selling store, stock management is a big challenge. There are WooCommerce plugins that give support for stock management. Make sure to choose one that meets your requirements.
Invoice provider
With every order you get in your store, you need to provide an invoice to your customer. Whether it is a printed invoice or a digital invoice, supporting software can make it easy.
Benefits of selling Merchandise online
Having an online store gives the opportunity to reach a wider audience
Unlike offline stores, online merchandise stores can sell 24/7
You can offer a more personalized shopping experience with online store
It is easy to track and analyze customer data with an online store
You can save on operational costs, such as rent and utilities, and ensure a higher profit margin
Frequently asked questions
How much does it cost to create an online Merch store?
The cost of creating an online merchandise store can vary depending on the platform you use, the amount of customization you want, and any additional features or services you may require.
Some online platforms, such as Shopify, offer basic plans that start at around $30 per month, while others may have higher monthly fees or transaction fees. Additionally, you may need to pay for domain registration, website hosting, and other services, depending on your specific needs. It's important to research different options and compare costs to find the best solution for your online store.
What type of merch sells best?
The type of merchandise that sells best online can vary depending on many factors, including the target audience, the price point, and the quality of the product. In general, products that are unique, high-quality, and reasonably priced tend to do well online. Additionally, products that are closely tied to a popular brand, celebrity, or cause can also be successful.
Some examples of merchandise that may sell well online include clothing and accessories, art and collectibles, and electronic or tech gadgets. Ultimately, the key to success in selling merchandise online is to offer products that are in demand and that meet the needs and preferences of your target audience.
Why create and sell merchandise?
This can be particularly beneficial for small businesses or independent artists who may not have the resources to open a physical storefront. Second, selling online can be less expensive than traditional retail, as you don't have to pay for rent or utilities for a physical storefront.
Finally, selling online can be more convenient for both the seller and the customer, as it allows for easy and quick transactions without the need to physically visit a store.
Can you sell merch without a license?
It depends on the type of merchandise you are selling and the laws and regulations in your area. In some cases, you may need to obtain a license or permit to sell certain types of merchandise, such as food or alcohol. In other cases, you may not need a license, but you may still need to comply with certain regulations, such as labeling requirements or safety standards. It's always best to research the laws and regulations in your area and consult with a lawyer or other professional if you have any questions or concerns.
Wrapping up
In conclusion, creating an online merch store can be a great way to turn your passion or brand into a profitable business. With the rise of eCommerce and the internet, it's easier than ever to reach a global audience and sell your products online.
By following the 7 simple steps outlined in this blog, you can launch your online merch store with ease. Just give more effort towards traffic growth and having a simple store could be a great way for you to earn money.