Top 7 WordPress Restaurant Plugins to Consider in 2023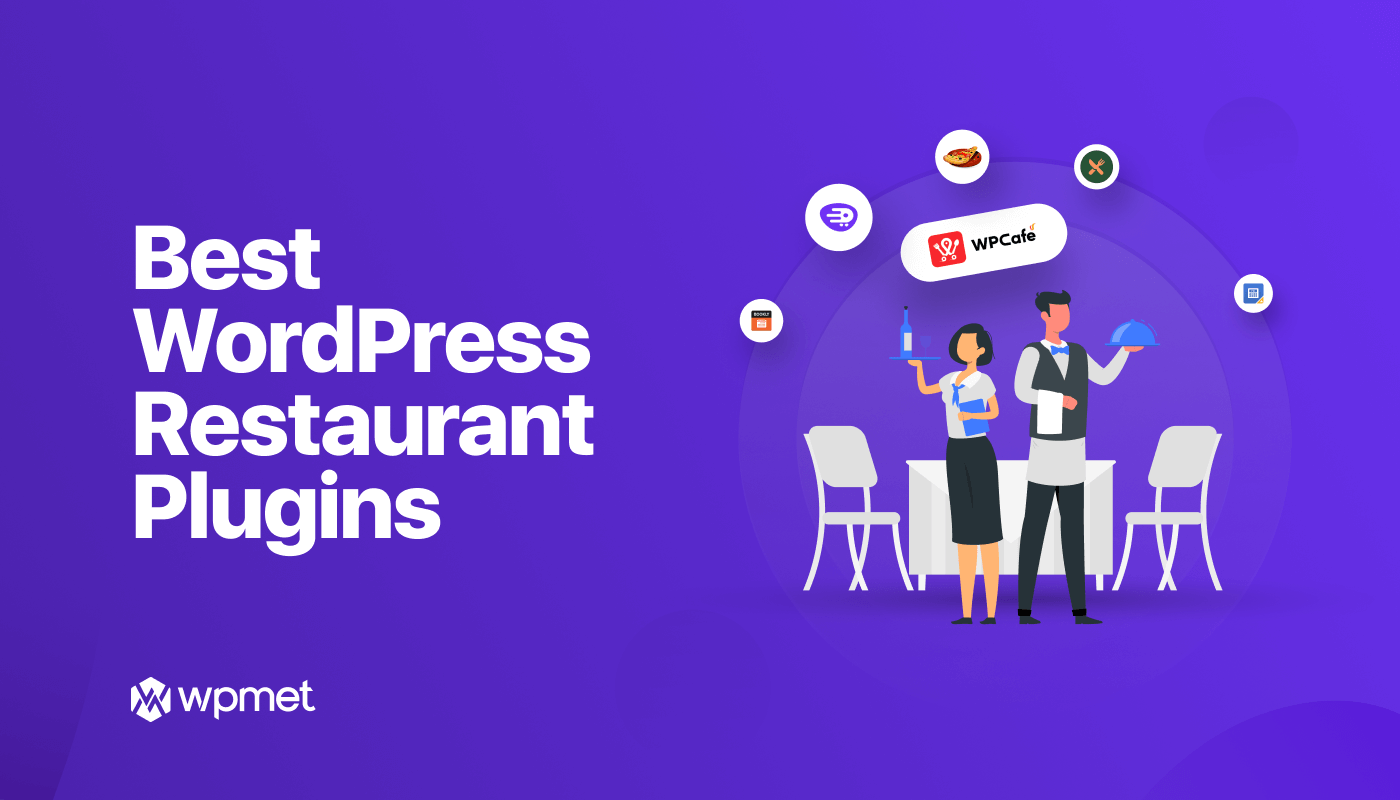 A WordPress restaurant plugin can help you to convert your simple website into an online food store with minimal effort.
Nowadays, everything is available online and so is food. Online food ordering has become a norm. And, if you want to keep your food business a profitable one then selling online has to be an option that your restaurant offers. That's exactly where a WordPress restaurant plugin comes in handy.
Check our list of best WordPress restaurant plugins (with key features and prices ), so you can pick the right plugin and get your online restaurant up and running….
What is a WordPress restaurant plugin?
A WordPress restaurant plugin is software that provides features to add the functionality of a restaurant to your website. For example, with a restaurant plugin, you will be able to add restaurant menus to your website so users can check them online. Other examples can be adding an online ordering option with online payment, a reservation system, etc.
Are you using a nulled WordPress plugin? Then you should stop now. Read our blog to learn the harmful effect of using a WordPress nulled plugin.

Reasons why you must avoid nulled WordPress plugins & themes
Why should you use a WordPress Restaurant Plugin?
We live in a digital era where almost everything is available online. You can do your meetings, classes, buy clothes, and whatnot using just a device sitting at home. Following all these, people nowadays want the convenience of purchasing something with food too.
And to put your food business online at people's disposal so they can order food or reserve seats at your restaurant can be easily achievable with a WordPress restaurant plugin. Having a digital restaurant system for your food store is something you can not afford to put up for later because that pushes your customers to switch to your competitors who have an online restaurant website.
Besides, having a restaurant website will also help you up your digital marketing game which is essential to ensure your business's success. How? You can showcase the restaurant menu in an attractive way with enticing pictures, descriptions, and prices. This way it's easier for people to know about the dishes you offer and grow an appetite for those foods.
We hope now you understand the importance of the WordPress restaurant plugin and why you should use one to add all the features of an online restaurant to your website.
Leveraging Facebook ads to promote your restaurant can skyrocket your ROI, to learn more detail read our blog on
How To Run a Facebook Ads Campaign (Step by Step Guide)
How Can You Select the Right WordPress Restaurant Plugin?
Choosing a restaurant plugin out of the abundance of available plugins can be hard times. However, if you keep in mind to check the following list, then you can are own your way to choose a good WordPress restaurant plugin:
Restaurant specific feature you need for your store (may vary from person to person)
SEO- friendliness
Easy customization options
Good rating on WordPress.org
Check if the plugin gets updated regularly
Best WordPress restaurant plugins
Let's know some of the best WordPress restaurant plugins in more detail with the main features and prices.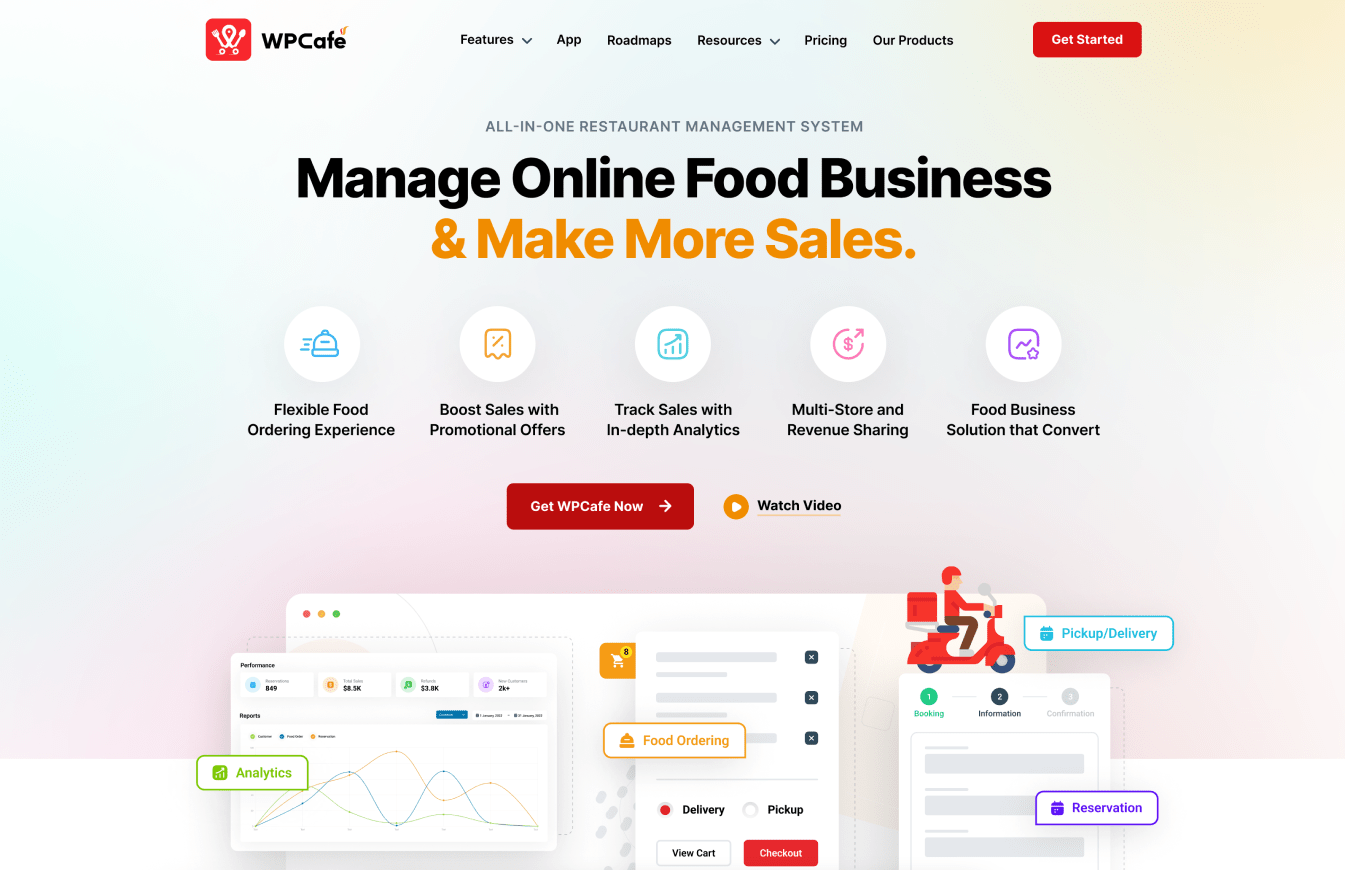 Our top pick of WordPress restaurant plugins is WPCafe. This is a one-stop restaurant solution that takes care of online food ordering, food menu, and Restaurant Reservation by itself. You also have the option to manage bookings for multiple restaurants branches in different locations.
If you are looking for a flexible food ordering experience then WPCafe is a ideal plugin for you. You can boost sales with promotional offers and track sales with in-depth analytics. At the same time, you can setup multi-store and revenue sharing options. WPCafe is a food business solution that brings sales.
Moreover, this is an Elementor-based restaurant management system so you can be assured that your site will be device-responsive. Another pro feature that contributes to making WPCafe the first choice for your WordPress restaurant plugin is its online pickup and delivery system. Furthermore, this plugin is available in the form of the Elementor widget and Gutenberg block.
So, if you are looking for an all-in-one, flexible restaurant solution, then you can blindly go for WPCafe.
Key Features of the WPCafe plugin:
Flavorful food menu templates
Instant admin live order notification
Tipping option for orders
Accurate location-based food menu
Seamless pickup/delivery system
Flexible single/multi slot reservation
Special day schedule for different occasions
Accessible branch-wise reservation
Maintain reservation seat capacity
Simply modify reservation form
Multiple product add ons
Convenient early/late booking
Discount options on food menu
Customizable mini cart and quantity picker
Food selection during reservation
Food ordering with QR code
QR Code for food menu
Visual table reservations
Apart from the features, WPCafe also has 2 dedicated addons that allow you to go beyond your expectations.
WPCafe Multivendor Restaurant Addon for Dokan – You can convert your Restaurant Website into a multi vendor restaurant and food-selling marketplace with WPCafe.
WPCafe Restaurant Addon for Oxygen Builder – WPCafe Oxygen Builder addons provide free Oxygen Builder elements for creating cafe and restaurant websites.
Price: Free version is available. The WPCafe Pro is available in three packages; Standard which costs $59/ Yearly, Premium which costs $139/ Yearly and Agency which costs $279/Yearly.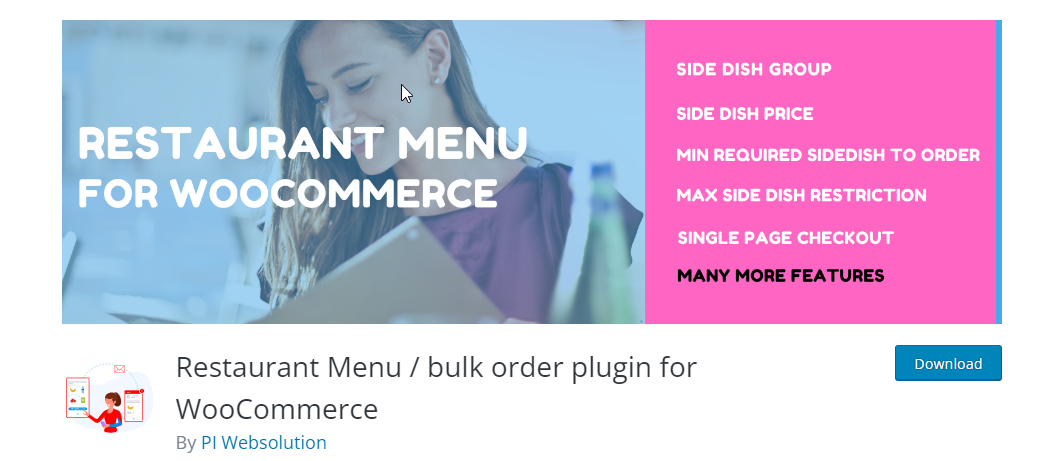 If you are looking for a restaurant menu plugin for your WooCommerce store, then Restaurant Menu For WooCommerce can be a feasible option. Using this tool, you can create a single-page restaurant menu with multiple categories.
In addition to adding menus, it also provides a search option for the customers so they can search for their favorite food by either category or product name itself. You also have the flexibility of whether you want to show an image for a food item or not.
Key Features of Restaurant Menu For WooCommerce
Can add side dishes to each menu
Ability to add multiple side dishes to a single menu item
Can set a category image that will apply to all the products under that category that has no image
Set the minimum items that a customer must add before they can checkout
24×7 hours support
Price: Free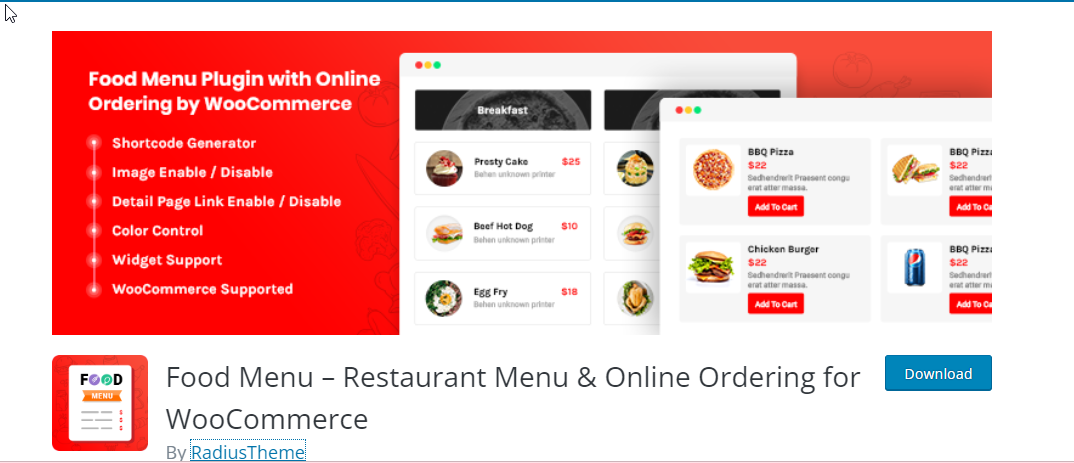 Another good WordPress restaurant is the Food menu which lets you edit menus extensively for your restaurant website. The focus point is you can alter the image size of menus and choose to show/hide the menu images according to your needs.
Moreover, you get multiple layout options to display your menu on your WordPress website. Besides, this plugin takes care of the online food ordering system using the WooCommerce functionalities.
Key Features of Food Menu:
A fully responsive WordPress restaurant plugin
Can easily change the color of the title, price, and other options
Provides shortcode
Option to translate the menu into the preferred language
Ajax pagination is available with the pro version
Price: Free. The pro version starts at $21 / Yearly for a single website.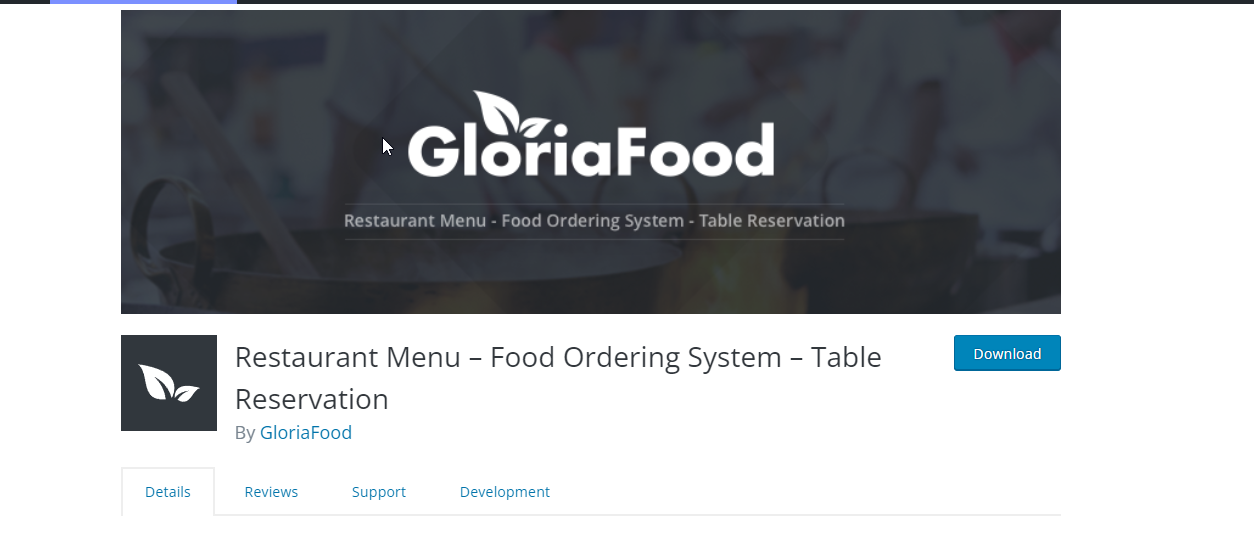 If you are looking for a free solution to create a restaurant menu, online food ordering, and restaurant booking system with no extra hidden charge, then the "Restaurant menu, online food ordering, and restaurant booking system" by GloriaFood is your plugin.
It offers a visual, drag & drops online menu editor that makes it easy to create responsive designs. You can use the menu-making feature to create a menu for cuisine, including complex pizza or burger menus, etc. Moreover, it also offers online food delivery for both takeaway and delivery to doorstep options.
Upload multiple images and create customizable menus
Option to order food for later
Can confirm and fulfill the order in real time using the plugin
Cash on delivery is available
One page checkout page option is also there
Can reserve a table at the restaurant
Supports multi-location
Price: Free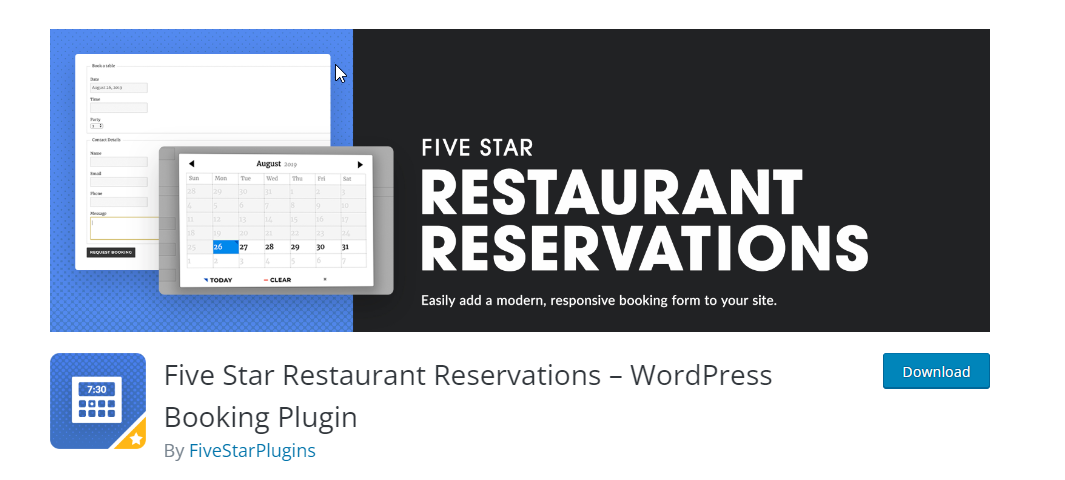 If you are someone looking for a dedicated reservation restaurant plugin for your WordPress website, then you can opt for Five Star Restaurant Reservations. You can create a user-friendly reservation system with options to confirm or reject each booking.
This comes in the form of a Gutenberg block which beautifully displays your reservation form. You can build your customized, device-friendly reservation forms using this plugin. And after creating the forms, you can easily add them to any page of your website using either the restaurant booking block or shortcode.
Key Features of Five Star Restaurant Reservations
Receive an email request when someone requests a booking
Notify the customer about the booking status (whether accepted or rejected)
Can add/edit reservation settings from the easy-to-use admin interface
Support multiple booking locations with an addon
Price: Free. The premium version costs $67 for a single site.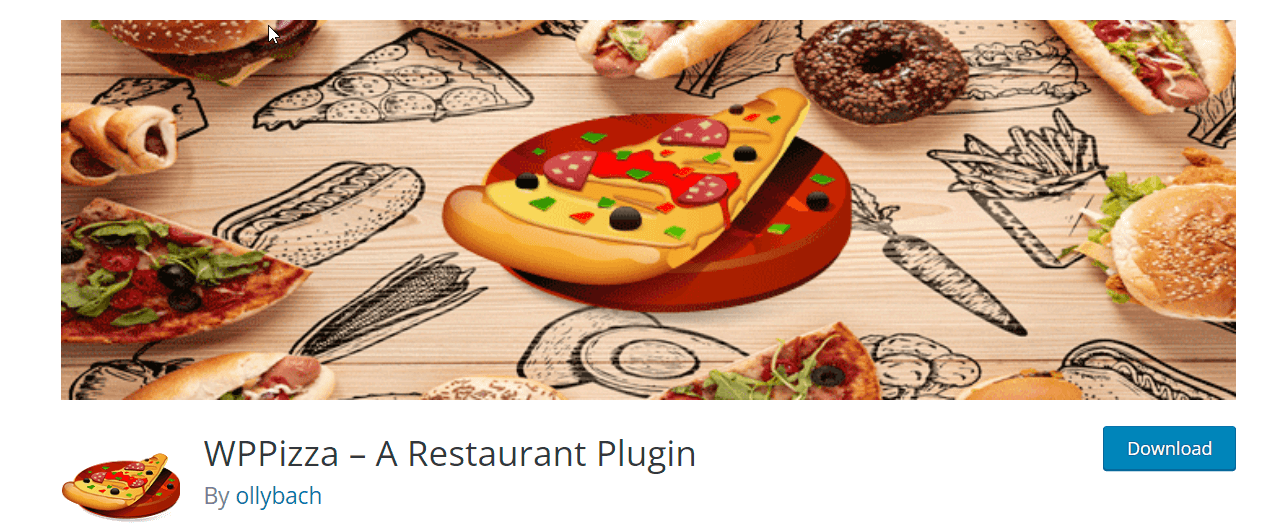 If you aim to build an online pizza delivery empire then WPPizza is the perfect tool. This plugin comes with all the features and functionality to run an online pizza store efficiently and successfully. While this plugin was created keeping pizza shops in mind, you can easily leverage this for any other restaurant business.
This lets you smoothly create categories and ingredients for pizzas. In addition, you can provide customers the options to pay both on COD and credit card (available with the pro version). Furthermore, you can keep track of orders online easily.
Key Features of WPPizza
Can leverage different layouts such as default, responsive, and grid
Options to set up opening and closing time
Receive notification for a new order
Set up categories with different price options
Can set up discounts and tax rates
Compatible with WPML
Price: Free. You can add multiple addons which are paid.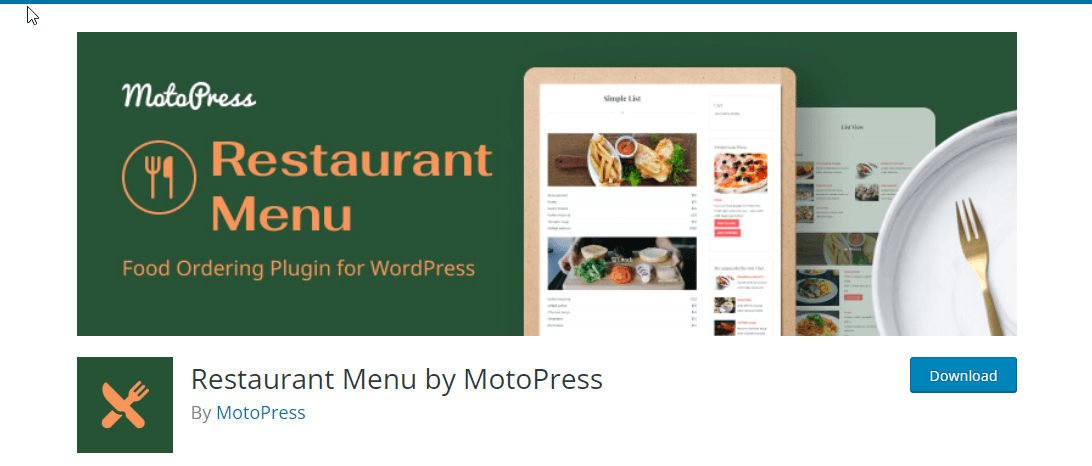 Restaurant Menu by MotoPress is a full-fledged WordPress restaurant plugin. With the help of this plugin, you can smoothly run your online cafe or restaurant. Whether you run a pizza store, fast food store, or any such kind, you can rely on this plugin.
Both cash-on delivery and PayPal payment options are integrated with this plugin to make customer's life super easy. Besides payment, this WordPress restaurant plugin also offers different layout options that you can use to customize your online restaurant.
Key Features of Restaurant Menu by MotoPress
Can highlight specific menus with the help of custom icons
Category page that will display products from that very category only
Easily customize Add to cart and Buy buttons
Can be used as a shortcode or Gutenberg block
Option to export/import menus
Price: Free.
Also Read: Top-rated WooCommerce Themes to Build your Online Store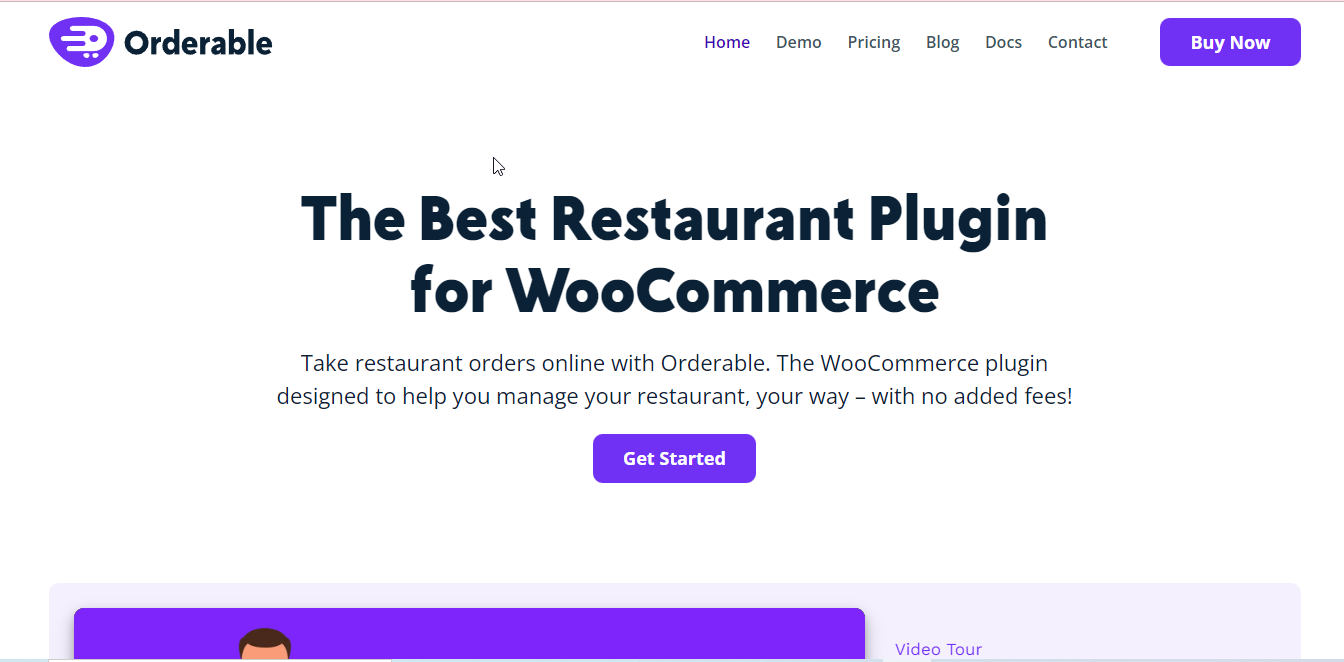 If you want to manage online restaurant functionalities for a WooCommerce store, then Orderable is your plugin. Managing restaurants using this WordPress plugin can be categorized into three parts – add the items you want to sell, process orders, and deliver them.
If you are not into coding or not that tech person, then choosing this restaurant plugin for WordPress would be a smart choice as it is 100% beginner friendly. Along with cafes and restaurants, this can be used for local Cafes, Florists, Farmer's Farmer's Markets, Hardware Stores, etc.
Key Features of Orderable
The plugin is built with a mobile-first design feature
Create modern-looking menus super fast
Can set custom delivery fee
Control when you are available for delivery or offer restaurants pickups
Options to add a tip for customers on the checkout
Price: Free version is available. The pro is $149/per site which includes 1-year updates & support with multiple addons.

The food store plugin provides a clutter-free way of extending your WooCommerce-based WordPress site to make it an online store. With this WordPress restaurant plugin, you can display food menus online and let customers pick them up at a preferred time.
When it comes to the cart and checkout with the payment gateway, this plugin uses the default WooCommerce feature. On top of the default functionalities, you can also add many additional features with the different premium level addons that it offers.
Key Features of Food Store:
Easily setup an online store with WooCommerce options
Options to mark your items as veg or non-veg
Display number of addon options to users
Completely device-responsive and SEO-friendly plugin
Offers different shortcodes to add to your website
Price: The plugin is free. You can purchase different premium add-ons to extend functionalities. The premium add-ons start from $14.9.
Which WordPress restaurant plugin should you pick?
Now you know about the top WordPress restaurant plugins out there. However, reading about so many plugins at the same time can be somewhat overwhelming and make it hard to choose the right one for you. To make your job of choosing the right WordPress restaurant plugin, we have tried to put in a simple way one choose the particular plugin from our list:
WPCafe: If you want a complete solution for your restaurant, then WPCafe is the right choice for you as it takes care of food ordering, food menu, restaurant reservation, promotional offers, and sales track.
Restaurant Menu For WooCommerce: If you want a restaurant solution for your WooCommerce store that offers a single-page restaurant menu with multiple categories, then this one is your plugin.
Restaurant menu, online food ordering, and restaurant booking system: If you want features like creating a restaurant menu, online food ordering, and a restaurant booking system then you can opt for this plugin.
Five Star Restaurant Reservations: If you are looking for a dedicated yet user-friendly restaurant reservation plugin, then you can go for this plugin.
WPPizza: If you run an online pizza delivery business, then you can blindly go for this restaurant plugin without a second thought.
Restaurant Menu: If you are looking to run a fast food chain with payment options of both COD and online payment, then you can choose this plugin.
Orderable: If you are not a tech-savvy person and looking for a beginner-friendly plugin to create WordPress restaurant websites, then this is a good option for you.
Food Menu: If you want more control over how to create complicated menus and display them, you can opt for Food menu as your WordPress restaurant plugin.
Food Store: If you are on your way to creating a WooCommerce-based online store and are comfortable with the idea of paid add-ons, then you can opt for a Food Store.
Feel free to go for the plugin that you think will fulfill your needs as you know best about the features you want and of course you always have to take into consideration your budget.
All the best for your online restaurant!