11 Best Gutenberg Plugins for WordPress in 2023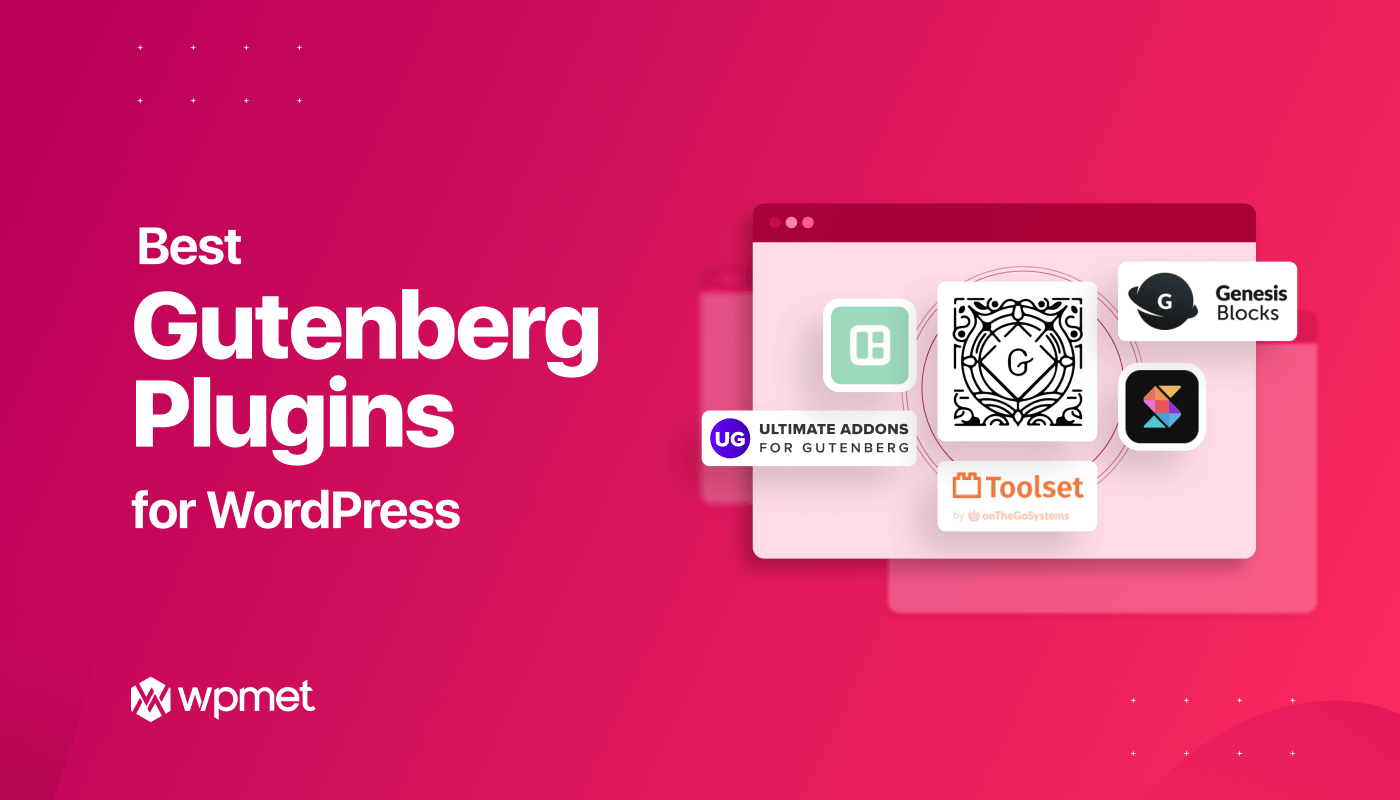 Looking for some great Gutenberg plugins? We got you covered.
Gutenberg is the WordPress block editor. It was introduced with WordPress 5.0 in November 2018, and it just kept getting better.
With every update, Gutenberg brings more and improved features. It helps you build professional websites and helps with excellent website performance.
The best thing about Gutenberg editor is that several addon plugins are available for Gutenberg. These plugins add more features, making it even more efficient and powerful.
In this article, we have compiled a list of 11 powerful Gutenberg plugins. We tried them, tested them and used them on our own websites.
We think you'll like them all!
Diving Into the Best Gutenberg Plugins
These plugins help you add more interesting blocks or come with block layout libraries that you can directly import to your WordPress website.
Each is easy to use and complements the default blocks within Gutenberg. Check them out!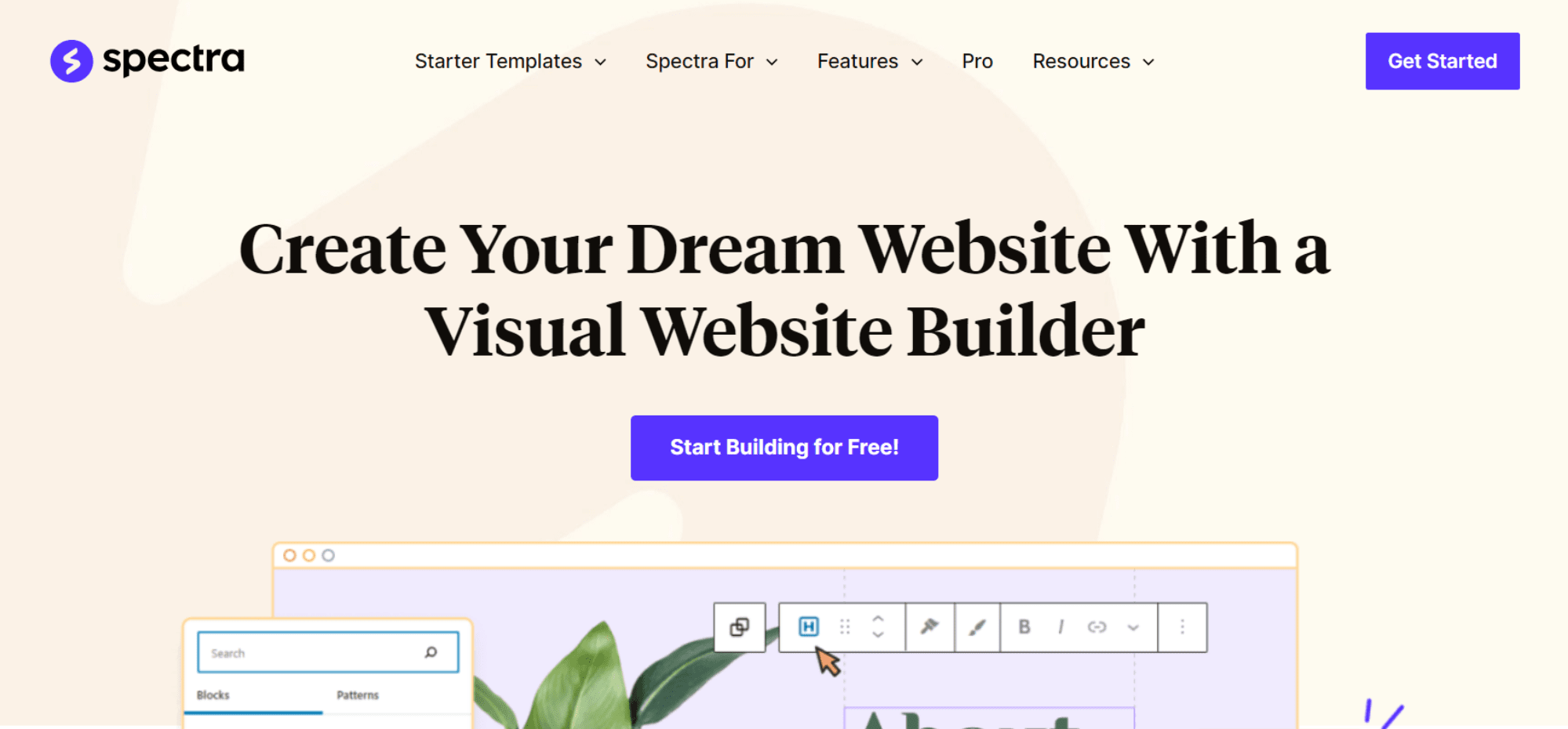 Spectra, (formerly Ultimate Addons for Gutenberg), is a Gutenberg powerhouse. It has grown from a plugin to a fully-fledged page builder that works inside the WordPress block editor.
It provides 28 creative building blocks, wireframes, and templates. Blocks include features like star rating, advanced columns, blockquotes, content timelines, and every type of block you need to build amazing websites.
Spectra is free and always will be. There's also a new premium version, Spectra Pro. It adds unique blocks, a popup builder, a copy of the Astra Pro theme, premium Starter Templates, and lots more.
Pros of Spectra
A full page builder that works inside the block editor
28 Creative blocks
Free & Premium Website templates
Built for speed and performance
Completely customizable
Cons of Spectra
There's always room for more blocks
Spectra Pricing
Spectra is completely free while Spectra Pro costs from $47 up to $137 per year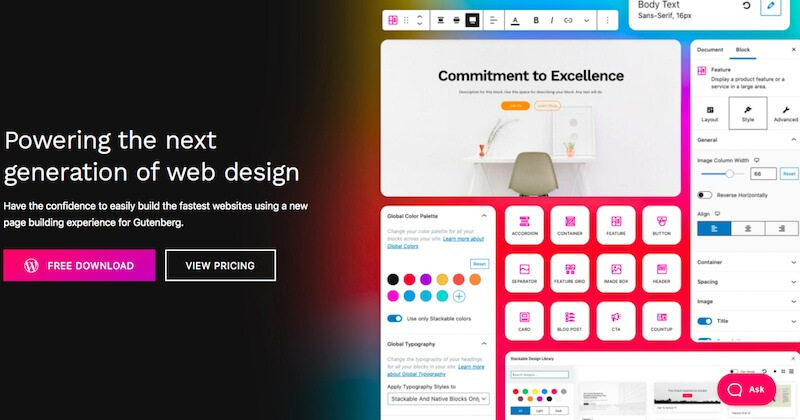 One of the best Gutenberg block plugins is Stackable. It's a lightweight block plugin that helps you build professional websites. Use any of the 35 new blocks on your website without writing code!
The blocks include headings, advanced posts, blogs, pricing, feature grid, number blocks, and many more.
What's more, Stackable comes with 38 UI kits and 482 block designs that you can import directly into your website with just a click.
Pros of Stackable
User-friendly UI
35 feature-rich blocks
482 readymade block designs
120 block layouts
Copy-paste blocks (in premium version)
Cons of Stackable
Most of its remarkable features come in the premium version
Stackable Pricing
The premium version of Stackable starts from $49 per year and goes up to $499 per year.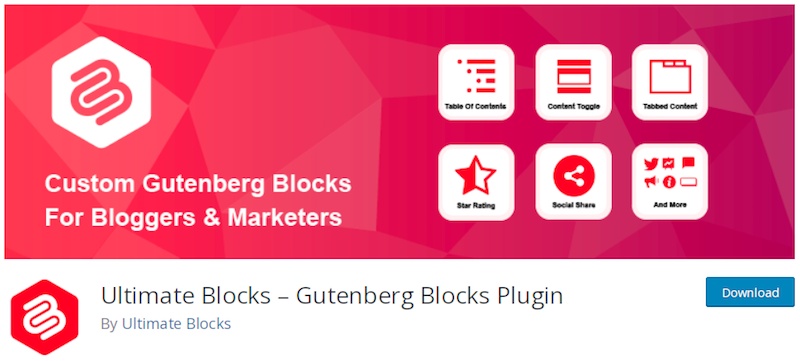 Ultimate blocks is a free Gutenberg block plugin that adds 20 additional blocks to the editor. You can have advanced blocks like schema enabled review, call to action, image slider, click to tweet, progress bar, table of content and more.
One unique feature of the Ultimate Blocks is that you can enable or disable blocks as required. If you feel like you don't require a block for the time being, you can simply disable it.
Pros of Ultimate Blocks
Enable or disable blocks
20 content blocks
Fast and lightweight
Open-source
Schema optimized and SEO friendly
Cons of Ultimate Blocks
It could do with more blocks
Ultimate Blocks Pricing
Ultimate blocks is completely free to download and use.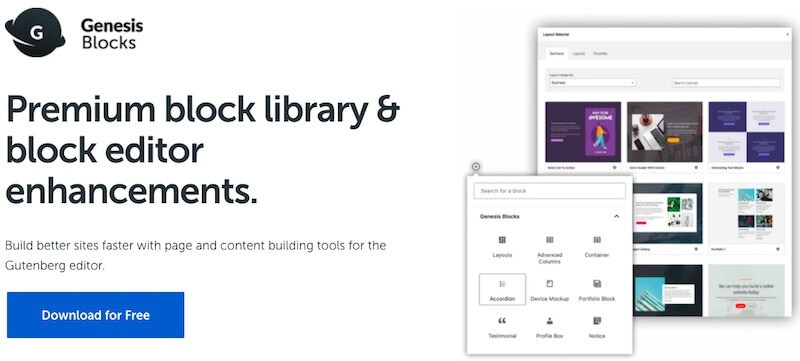 Genesis blocks is a collection of 130+ pre-built sections and 15 new blocks for your block library. It also has more than 50 full-page templates that you can import with just one click.
All these features, including the blocks, layouts and pages, are accessible through your block editor.
The best thing about Genesis Gutenberg plugin blocks is that they are responsive and can adapt to most devices. All the layouts are optimized for great website performance.
Pros of Genesis Blocks
Beginner friendly and easy to use
15 new Gutenberg blocks
130+ pre-built sections in the premium version
50 full page templates in the premium version
Cons of Genesis Blocks
The free version has a very limited number of blocks and templates
The premium version can be costly for new businesses
Genesis Blocks Pricing
Genesis Blocks does have a free version. You can also upgrade to Genesis Pro, which costs $360 per year (excluding taxes).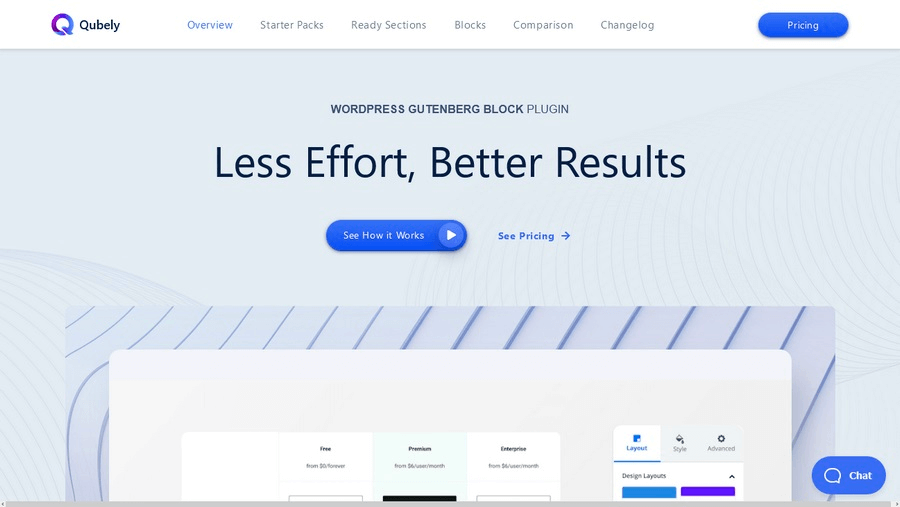 Qubely is a powerful Gutenberg block plugin that offers 39 content blocks for your block editor. It also comes with 161 ready-made sections that you can directly import. You can also import one of their starter packs if you are setting up a website.
Qubely brings advanced functionality and lets you design all sorts of layouts varying from the simple to the complex. You can create as many as six columns in a single row with Qubely too, which is a neat trick.
Pros of Qubely
45 readymade websites to import
39 content blocks
160+ layouts (available in the Pro version)
100% customizable and beginner-friendly
You can create complex yet elegant designs with ease
Cons of Qubely
You can avail their priority support only on the Pro version
Qubely Pricing
Qubely has both free and paid plans. Qubely Pro starts from $39 per year for a single site and goes up to $599 for lifetime plan on Agency websites.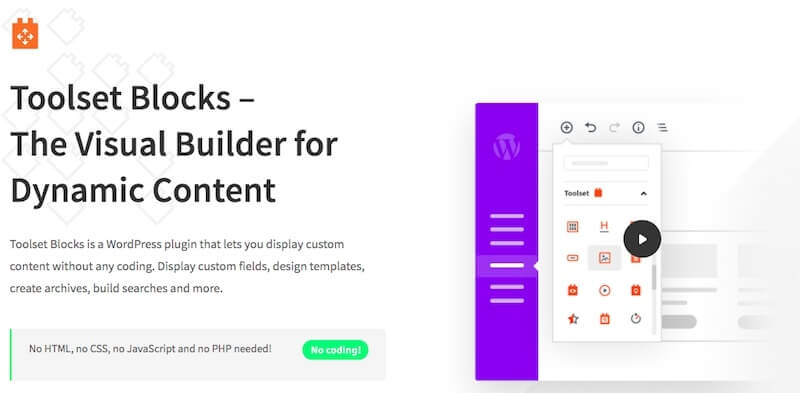 Toolset is an advanced Gutenberg block plugin that allows you to display custom content without any coding. It adds 30+ blocks to the Gutenberg block library. You get a wide range of blocks such as countdowns, WooCommerce stock status, content templates, grids, star ratings, and many more.
With these blocks, you can visually create templates for your custom post types and fields. You can also create taxonomies, create custom searches and display content on maps.
Pros of Toolset Blocks
Design templates for custom content and add custom fields without coding
30+ Gutenberg blocks
Drag and drop editor
Create custom searches for any type of content
Display content on maps
Cons of Toolset Blocks
It is more suitable for seasoned users
It does not have a free version
Toolset Blocks Pricing
Toolset is a premium plugin only plugin. It starts from $69 per year for one website and goes up to $299 for unlimited websites.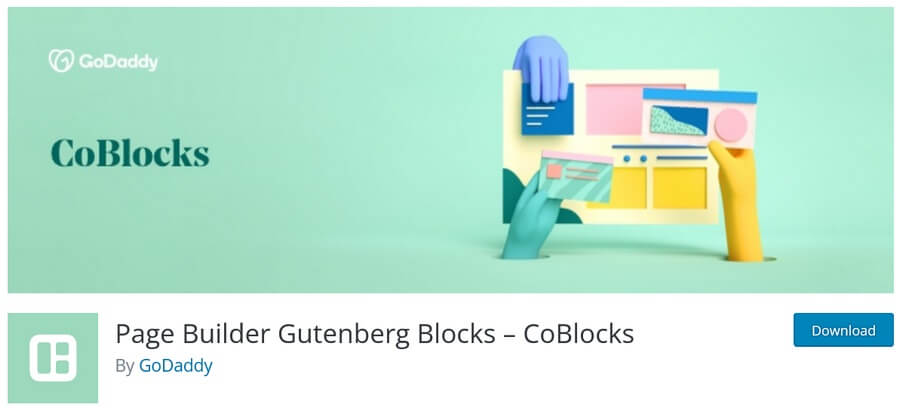 CoBlocks by Godaddy is a very simple and easy to use plugin. With this plugin you can create elegant and professional web pages easily.
It adds 32 additional blocks to the Gutenberg block editor. It includes an FAQ block, dynamic separator block, accordion block, github gist block, gif block and many more. The shape divider block allows you to add a divider and split up your content easily.
Pros of CoBlocks
Beginner friendly and lightweight
32 beautiful content blocks
Responsive margin and padding settings
Custom typography control
Cons of CoBlocks
You might see compatibility issues with certain themes
CoBlocks Pricing
CoBlocks is 100% free.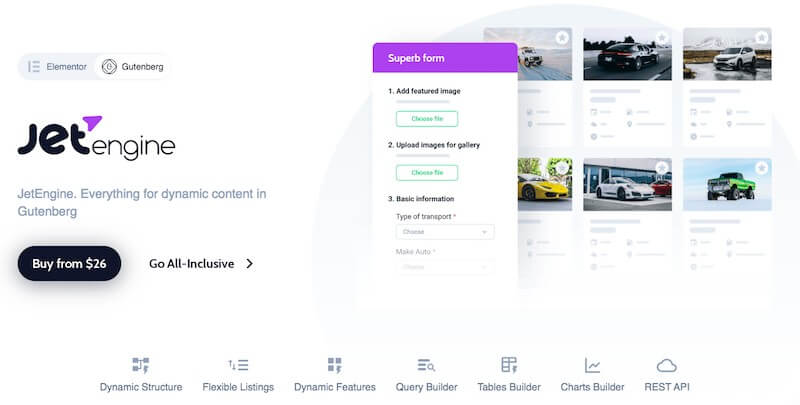 JetEngine helps you build dynamic websites using the block editor. It is a premium plugin, packed with lots of powerful features. You can create custom posts, content and fields. You can even group the post types into taxonomies. It also lets you build dynamic charts and queries.
JetEngine works with almost all themes. It is compatible with popular plugins like WooCommerce, RankMath, and Yoast.
Pros of JetEngine
13 dynamic Gutenberg blocks
Create dynamic websites
Add conditional logic and more advanced features to your content
Beautiful layouts
Compatible with almost all themes
Cons of JetEngine
Adds only 13 blocks to the gutenberg editor
Doesn't have free version
JetEngine Pricing
It is a premium-only plugin and paid plans start from $26.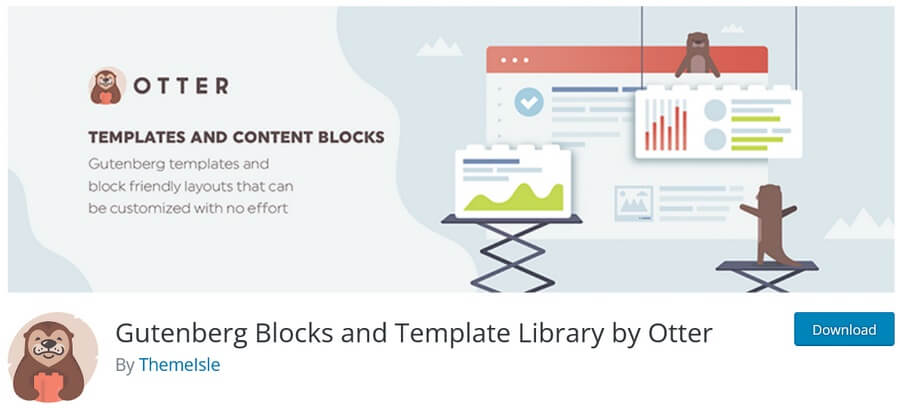 Otter is an open-source WordPress plugin by Themeisle. It adds 23 excellent blocks to the Gutenberg editor. You can create innovative layouts using this plugin. It includes some advanced blocks like Google Maps block, countdown timer, testimonial block, about author block, and many more.
One of its best features is that it can serve any website. Whether you're creating an online store or starting a personal blog, it can help you design some beautiful layouts.
Pros of Otter Blocks
23 content blocks
50+ website templates
Easily customizable
Fast and lightweight
Responsive design
Cons of Otter Blocks
It can certainly use more blocks
Otter Blocks Pricing
Otter is completely free. It is available in the WordPress repository.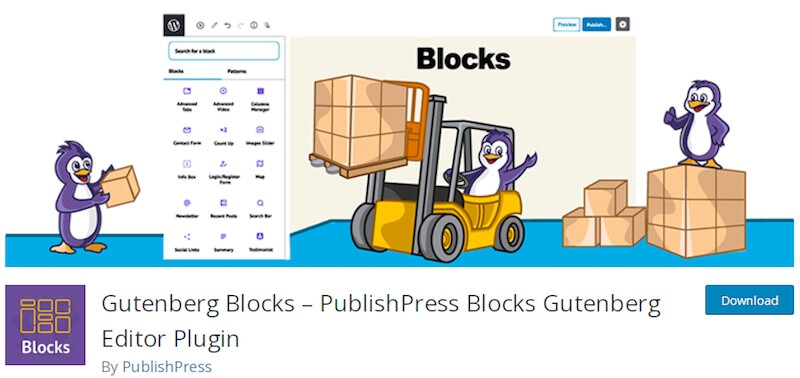 PublishPress, another Gutenberg plugin adds over 20 additional blocks to Gutenberg. This includes accordion, custom buttons, contact forms, Google Maps, icon and image gallery blocks. It has everything you need to build beautiful websites.
It also includes advanced block layouts, display posts from specific authors and custom post types. You can even enable or disable posts for particular users. This makes PublishPress the perfect plugin for bloggers.
Pros of PublishPress Blocks
Create flexible block layouts
20 additional blocks
Set user permission on display of blocks
Responsive design
WooCommerce block helps you display store product nicely
Cons of PublishPress Blocks
A lot of its useful blocks are only available in the premium plan
PublishPress Blocks Pricing
PublishPress comes as both a free and premium version. The premium version costs $129 per year per website.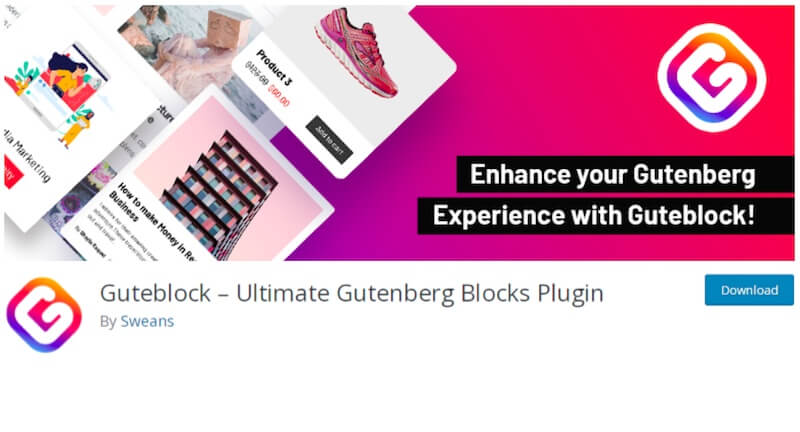 GuteBlock is an open-source WordPress plugin that adds 21 professional blocks to your website. These blocks include post grids, team members, testimonials, container, separator, author profiles, and many more.
This plugin offers excellent blocks for all purposes. Whether building a website or a landing page, you can do it through Guteblocks.
Pros of Guteblock
21 content blocks
Easily customizable
Responsive design
Optimized for SEO
Open-source
Cons of Guteblock
It has not been updated for quite a while
Guteblock Pricing
Guteblock is entirely free and available in the WordPress repository.
Best Gutenberg Blocks Plugin – The Verdict
Gutenberg is one of the most powerful developments by WordPress. Not only because it is easy to use but also because of its versatility.
All the Gutenberg addons listed here boost the capabilities of the Gutenberg block editor. But you don't need to install them all for them to perform well.
If you are looking for a combination of features, user-friendliness, and cost-efficiency, we pick the Ultimate Addons for Gutenberg plugin.
It adds advanced features to the block editor, but it is also lightweight and SEO-friendly.
If you have a budget and need more customizable features, we recommend going with Toolset Blocks. Though it is heavy on pricing, it does let you add custom posts and customize your website the way you want.
Aside from those two, the Gutenberg add-ons or plugins on this list cover almost everything you might need to create a professional website.
What is Your Favorite Gutenberg Plugin?
Gutenberg is a significant step forward from the earlier classic editor, and creating content using the modular approach is a lot easier.
Simply select a block you'd like to add, tweak the settings, and go about creating your pages.
However, the default blocks may limit your creativity beyond a certain point. And that's when you will need some of these plugins to help improve the capabilities of Gutenberg.
Do you use any Gutenberg plugins? Can you recommend any Gutenberg plugins not mentioned here? Let us know in the comments below!