8 Top-rated WooCommerce Themes to Build your Online Store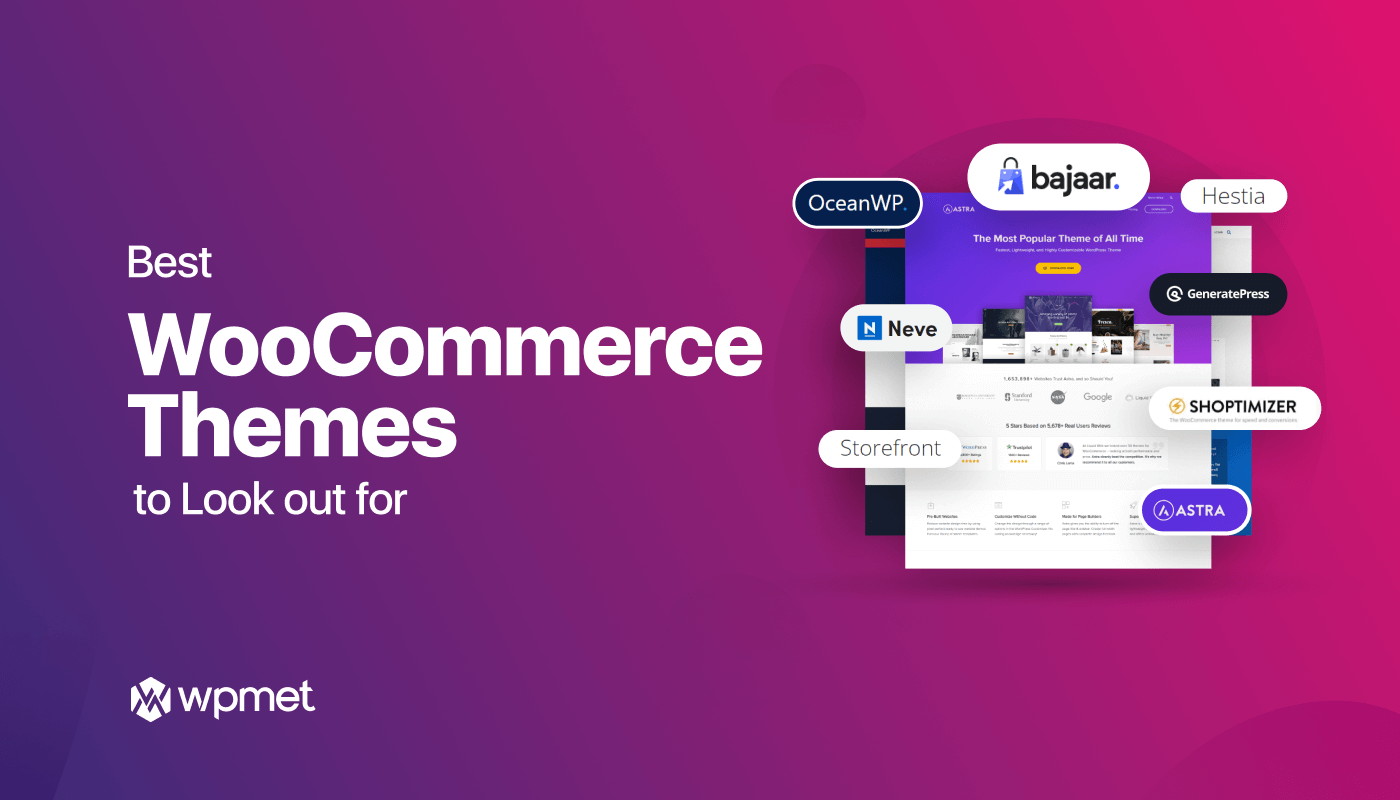 The layout of a WordPress website primarily depends on the theme of it, doesn't it? If you explore Themeforest, you will find umpteen themes to use for your website. On top of that, WordPress.org also offers countless free themes that you can use in your website.
No matter whether you need themes for an ecommerce site, business site, educational site, or blogging site, you will find them both in Themeforest and WordPress.org. Besides, you can look for themes in other marketplaces too.
In this write-up, however, I have basically come up with the best of WooCommerce themes for your WooCommerce site. For your information, not all the WordPress themes offer WooCommerce support. Absence of WooCommerce support by a theme also means it won't support WooCommerce addons and extensions.
Hence, it's essential to choose WordPress WooCommerce themes. To make your job easy, I have cherry-picked 8 top-quality WooCommerce themes in this round-up.
Things to Look at before Choosing a WooCommerce Theme:
Before I list out the 8 top-most WooCommerce themes, it's salient to make out what makes a WooCommerce theme actually a better theme. Apparently, it's the design that makes a theme stand out. But plenty of other things matter while picking a theme.
Curious to know what to look for before picking a WooCommerce theme? Check them out below-
Flexibility & User-friendliness
Level of integration with WooCommerce
Page builder integration
Should be customizable and responsive
Seamless working with other WooCommerce plugins
Must be SEO-friendly
Fast loading speed & high performance
Should provide translation and RTL support
Top 8 WooCommerce Themes for your Online Store:
Now, you are at the heart of the write-up. Yeah, I will now introduce you to the 8 best WooCommerce themes that I have found out after thorough research. And the best part is you will know about these WooCommerce themes in one place.
Bajaar is the first pick of our list of best WooCommerce themes. It comes with trendy as well as nifty design that you would love to have in your WooCommerce website. The theme is user-friendly and has all the functionalities to spice up your design.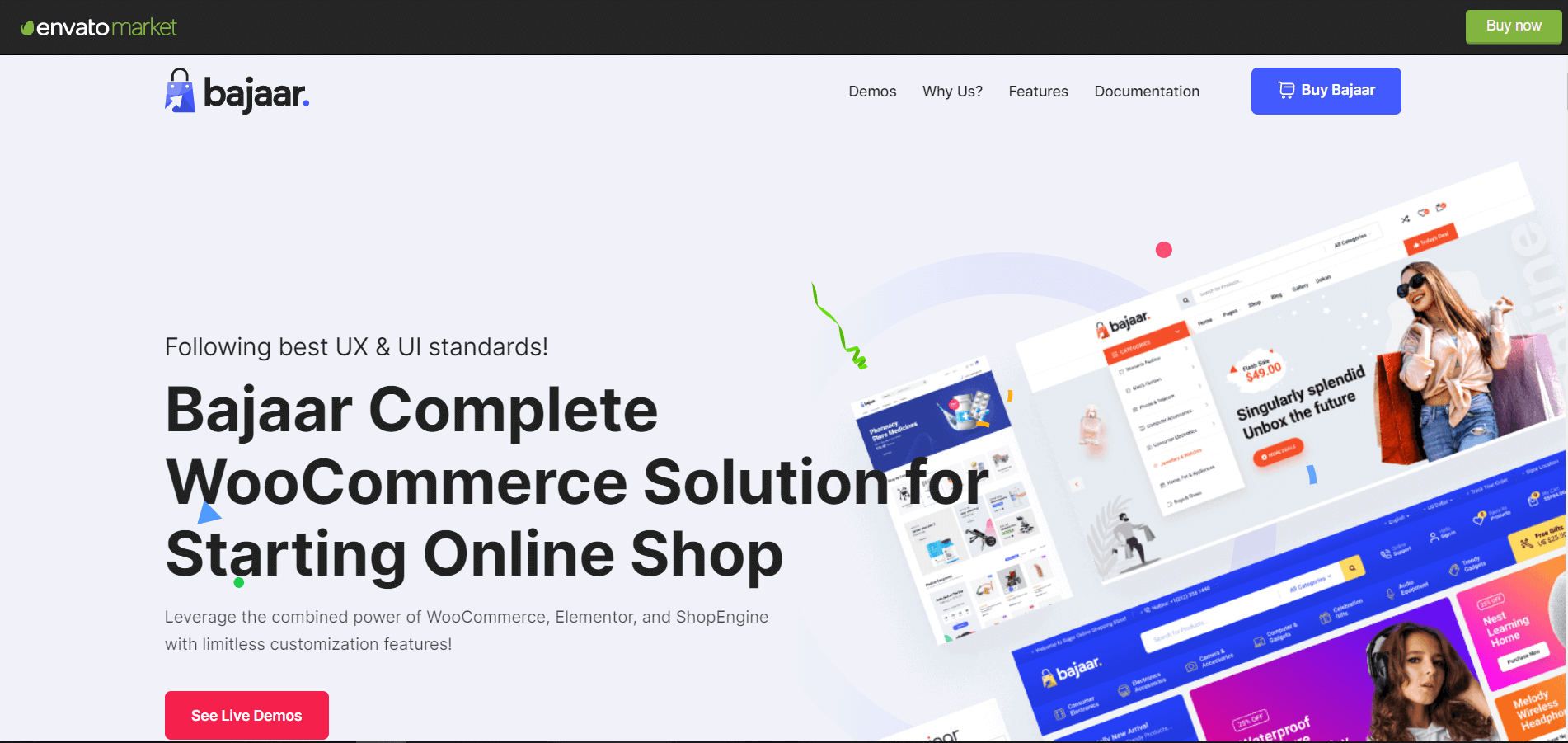 Bajaar is compatible with WooCommerce builders like ShopEngine and boasts features to build and customize the single product page, cart page, archive page, checkout page, order page, my account page, and thank-you page from scratch.
If you want to build a fast, flexible, and lightweight WooCommerce store with graceful design, look no further than Bajaar theme.
Notable Features:
Compatible with WooCommerce builders
15+ premium demos
Large element library and readymade templates available
Enables creating and customizing any page with drag and drop features
Builds unlimited headers, footers, and megamenus
Different product page layouts and styles
Provides one-click demo import
Total Sales: 291 Sales
Price: $59 (Regular License Fee)
Astra is a flexible, lightweight, and exquisite WordPress theme that is entirely WooCommerce-ready. That means it comes with a holistic support for WooCommerce and provides limitless customization opportunities.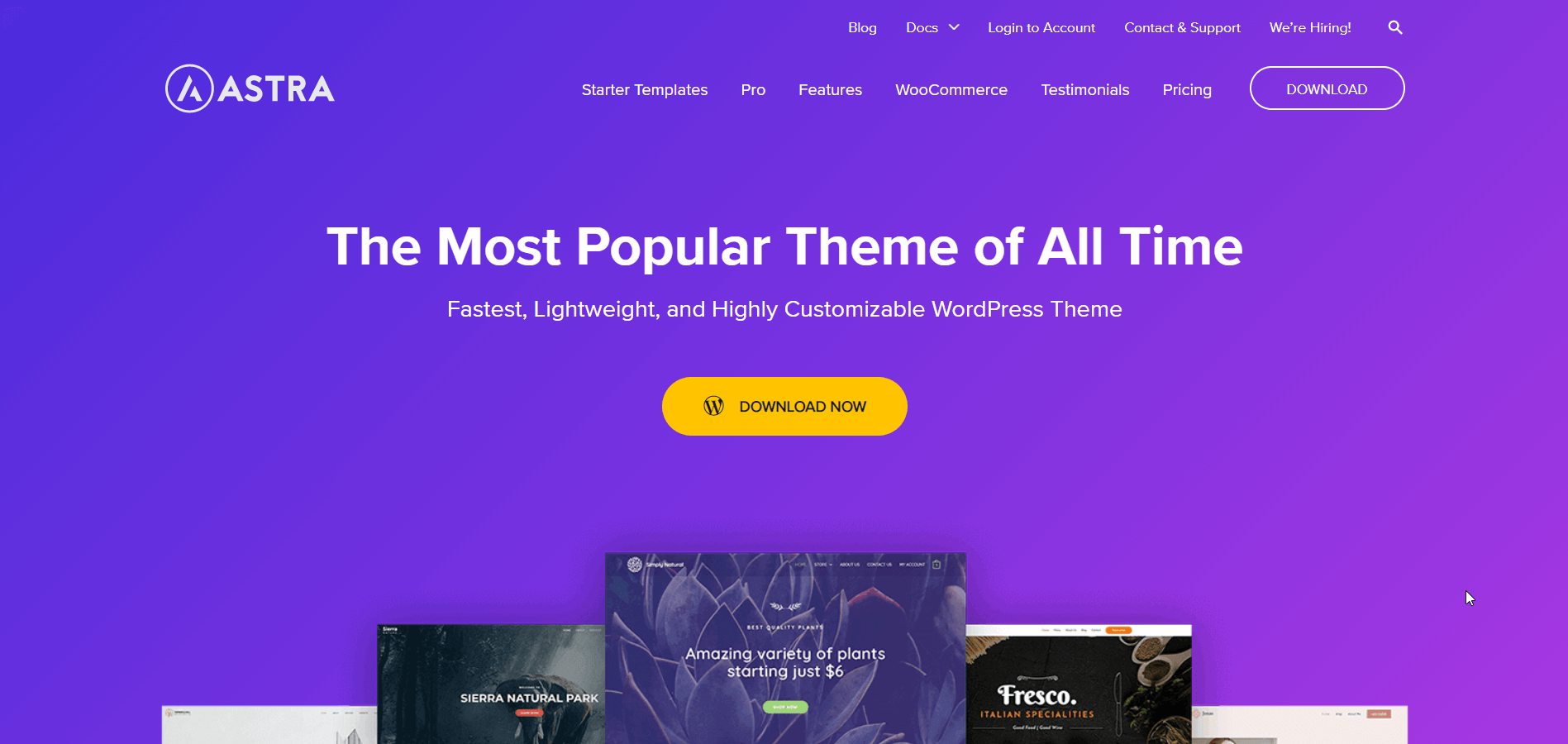 Astra has a number of widget-ready areas where you can easily drag and drop content widgets. And homepage layout? That's visually appealing and eye soothing. Besides, this WooCommerce theme comes with easy and simple set-up.
When it comes to the WordPress page builder plugins, Astra supports all the popular ones. So, it becomes easier to create custom WordPress page layouts. Moreover, Astra is designed with good SEO, easing your site to rank well on Google and other search engines.
Notable Features:
An easy to use drop-down cart
Multiple checkout options- 2-step and distraction-free checkouts
Boasts custom sales bubble
Offers unbounded scroll for products
Enables product quick view
Plenty of gallery options on the single product page
Total Active Installations: 1M+
Price: $49/Year (Astra Pro)
Ocean WP is another multipurpose WooCommerce theme that comes with tons of ecommerce-centered features and demos. It's flexible, fast, and lightweight enhancing your clients' shopping experience. Apart from WooCommerce integration, Ocean WP also comes with a floating add to cart bar and shopping cart popup.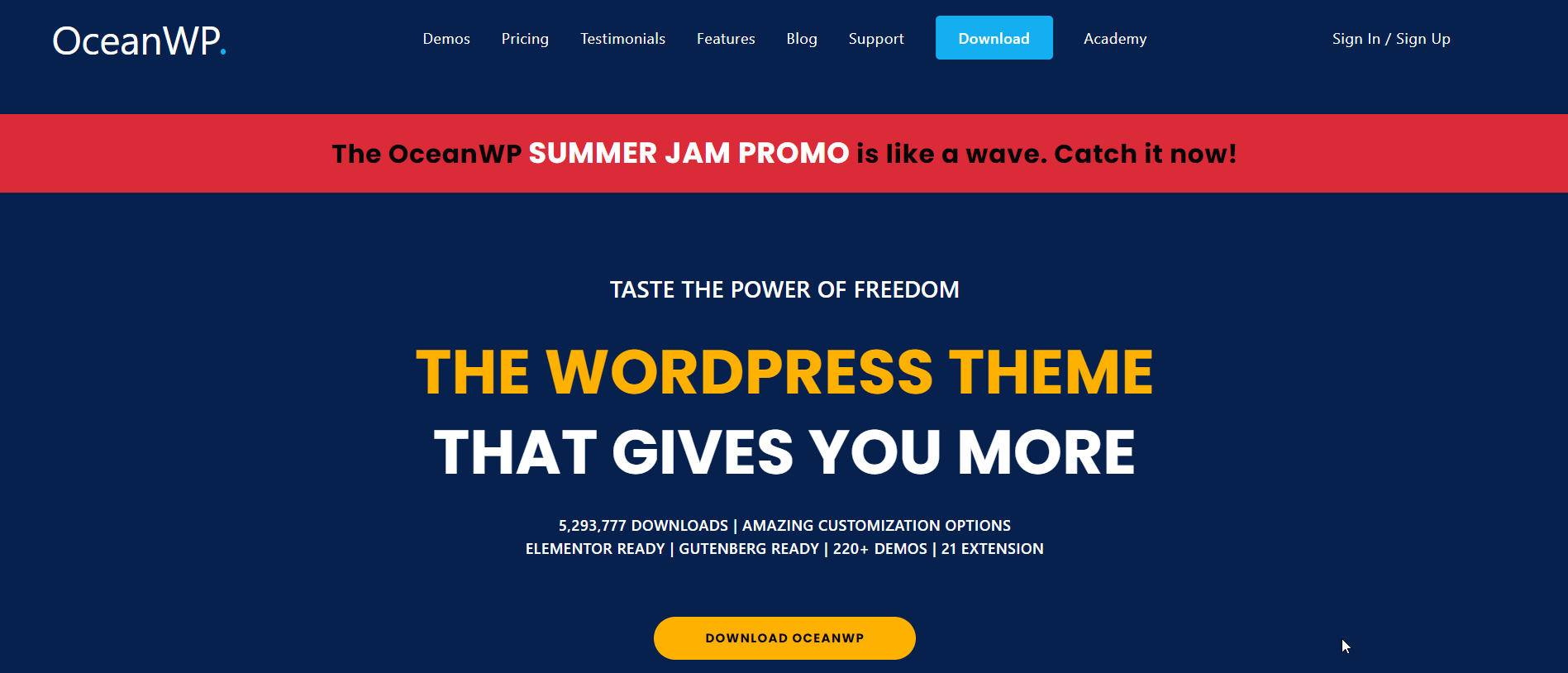 Ocean WP has a wealth of options in the live customizer where you can pick colors, backgrounds, header styles, navigation styles, and so forth. In this WooCommerce theme, you will also get built-in templates to create custom landing pages.
Ocean WP is compatible with page builders like Elementor and Visual Composer. When it comes to the basic Ocean WP theme, it's available free on WordPress.org. For advanced features, you have to switch to the paid plan.
Notable Features:
Drop-down cart is available
Boasts off-canvas sidebar for product search and filter
A popup that opens up after a user adds item to their cart
Comes with built-in SEO
Offers premium extensions
Total Downloads/Active Installations: 5,296,015/700K+
Price: $49/Year for 6 sites (Business)
A quick-loading and multipurpose theme, Neve is a versatile WooCommerce theme that looks elegant both in mobile and desktop. It has a whole lot of layout options in the customizer. They enable you to build your online store in a diverse manner.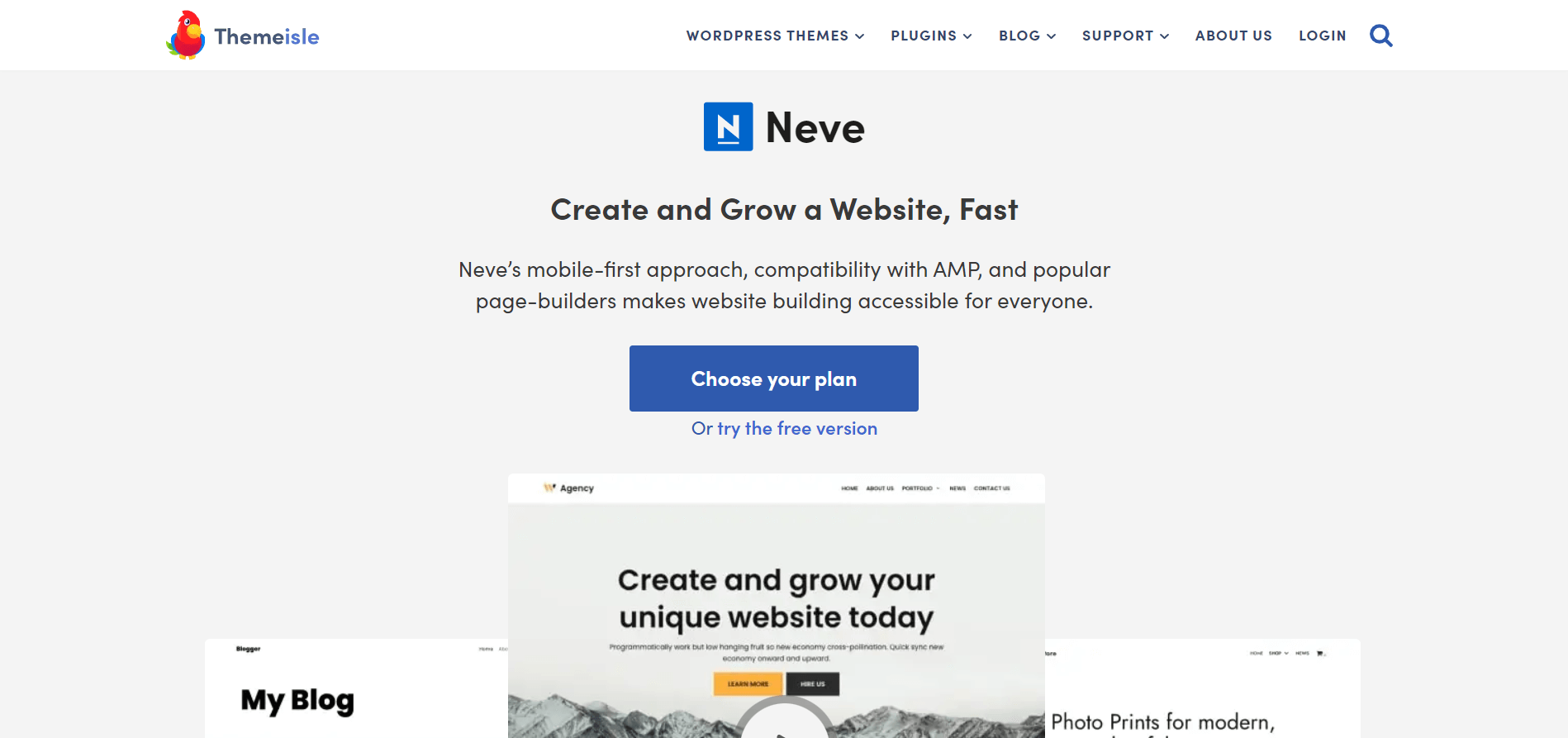 Neve provides full WooCommerce compatibility in WordPress.org. But for the complete WooCommerce integration, you have to spring for Neve Pro. Besides, the WooCommerce theme also comes with dozens of starter sites, making ecommerce site setup easy-peasy.
Notable Features:
Super fast and lightweight
Highly customizable
AMP compatible and translation-ready
80+ starter site templates available
Comes with WooCommerce booster
Total Active Installations: 300K+
Price: $149/Year (Business)
Like the themes above, Shoptimizer isn't a multipurpose theme. Instead, it's solely WooCommerce-centered. What's remarkable in this striking WooCommerce theme is its focus on conversion rate optimization. For this purpose, it contains heaps of features.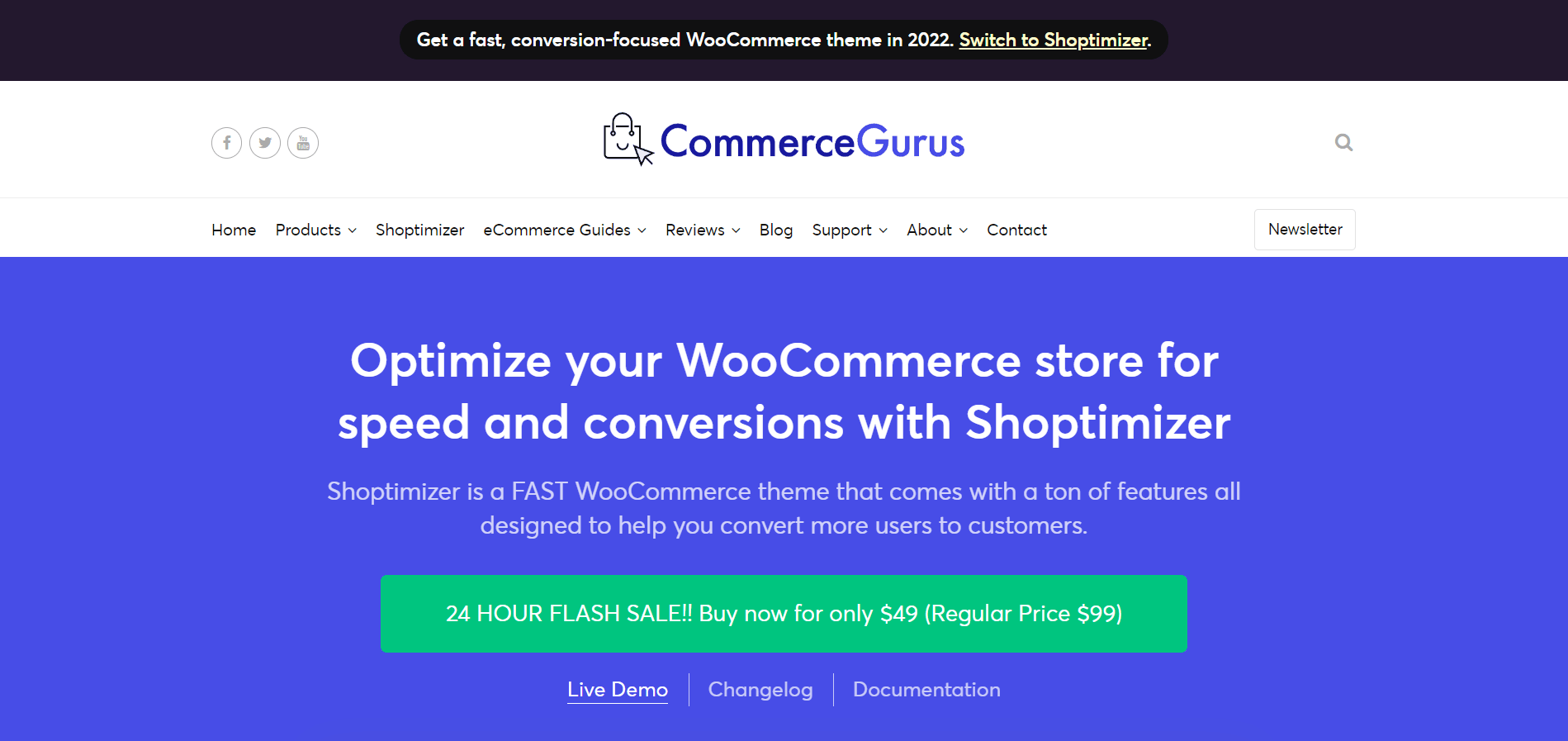 Among these features, sticky product details, request a callback, FOMO timers on product pages, faster checkout, etc. are worth mentioning. Besides, it comes with lovely page templates, a mega menu, and a product search feature. Shoptimizer is also user-friendly and its theme settings are accessible in the WordPress customizer.
Notable Features:
Checkout free from distraction
Displays sales countdown timer
Features autosuggest product search
Shows animated stock counters
Request a callback option, FOMO timers on product pages, sticky product details, etc.
Total Downloads: N/A
Price: $99
Providing deep integration with WooCommerce, Storefront is one of the best WooCommerce themes available out there. The theme is responsive and compatible with all the popular plugins. So, performance-wise, it holds up. The only deficit that may be spotted is in customization options compared to other WooCommerce themes.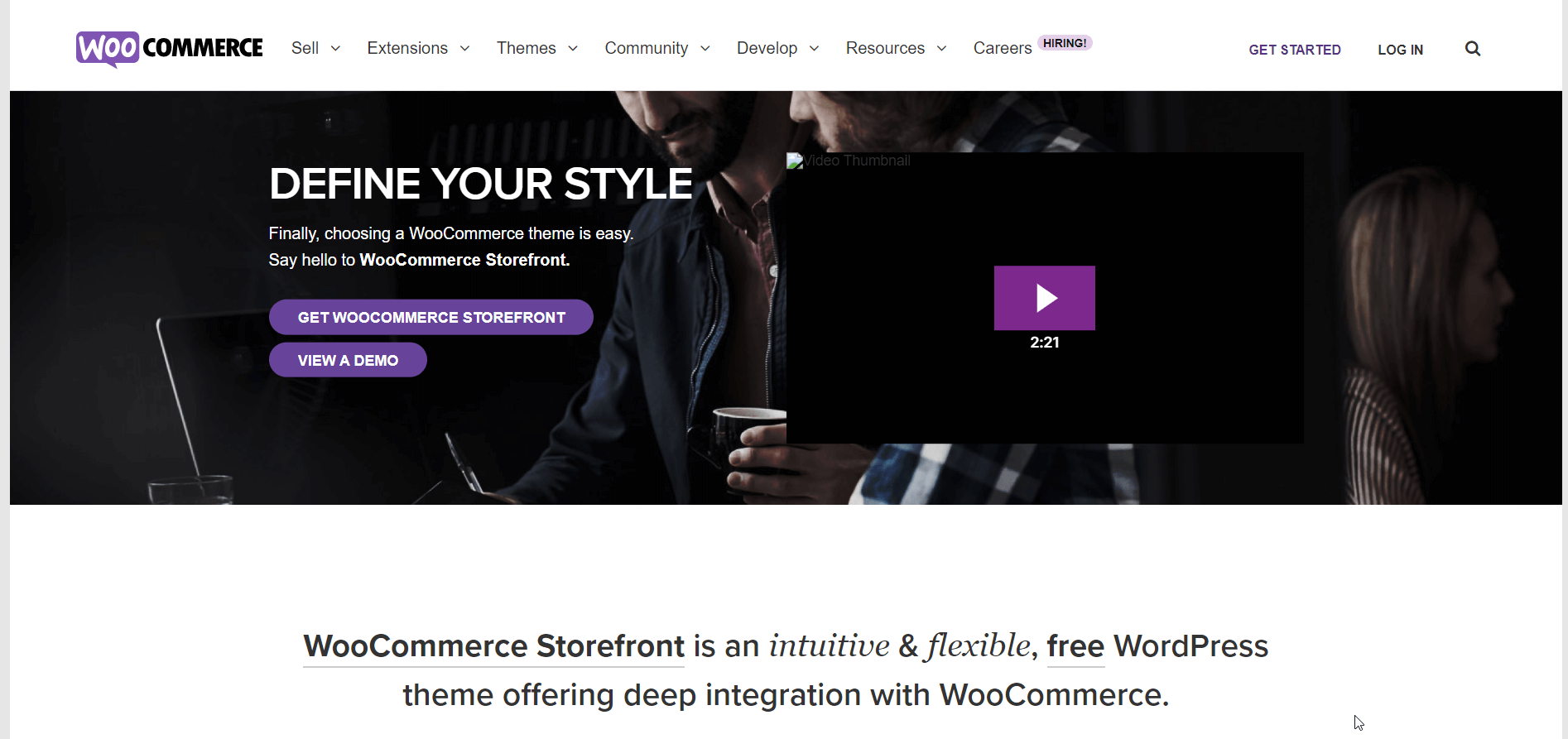 Storefront provides a crisp, majestic, and ecommerce-focused design letting you showcase product categories, featured products, etc. all from your homepage. And the good thing is users can customize header styles, button styles, color, background, typography, etc.
Notable Features:
Mobile-friendly WooCommerce theme
Catchy design with plenty of customization options
Compatible with most of the WooCommerce-supported plugins, addons, and extensions.
Search-engine friendly theme
Total Active Installations: 200K+
Price: $19/Year
If you are hunting for a free theme featuring breathtaking design, Hestia can be a perfect pick for you. The theme is user-focused and integrated with WooCommerce. Hestia contains some of the premium-like features that would blow your mind.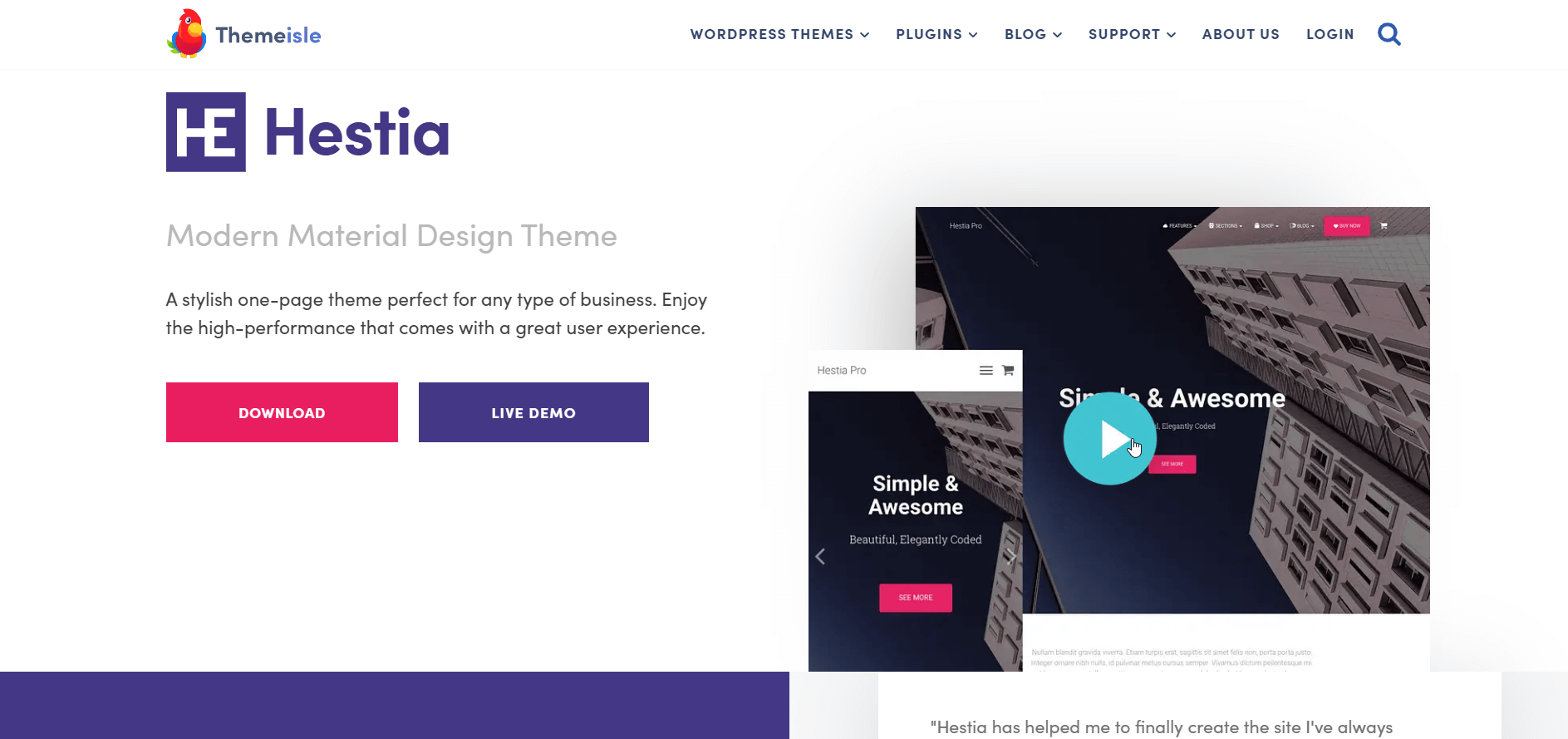 Some of the killer features include limitless color options, multiple layout options, social media icons, multiple navigation menus, a highly customizable header, and so forth. With Hestia, you can execute real-time customization for product styling and categorization.
So, get your WooCommerce store up and running with Hestia in no time. Another unique facet of Hestia is you will get 300 articles and 200 video tutorials from Hestia developers.
Notable Features:
Comes with minimalist layout
Front page sections available
Provides video header options
Multiple layout options available
Total Active Installations: 100K+
Price: $99/Year for 3 sites (Business)
Customify, as the name suggests has scores of customization options. It's lightweight, super fast, and flexible multipurpose WooCommerce theme that can enhance your ecommerce shop. The WooCommerce theme comes with an easy-to-use header and footer builder, letting you build stellar header layouts for different platforms.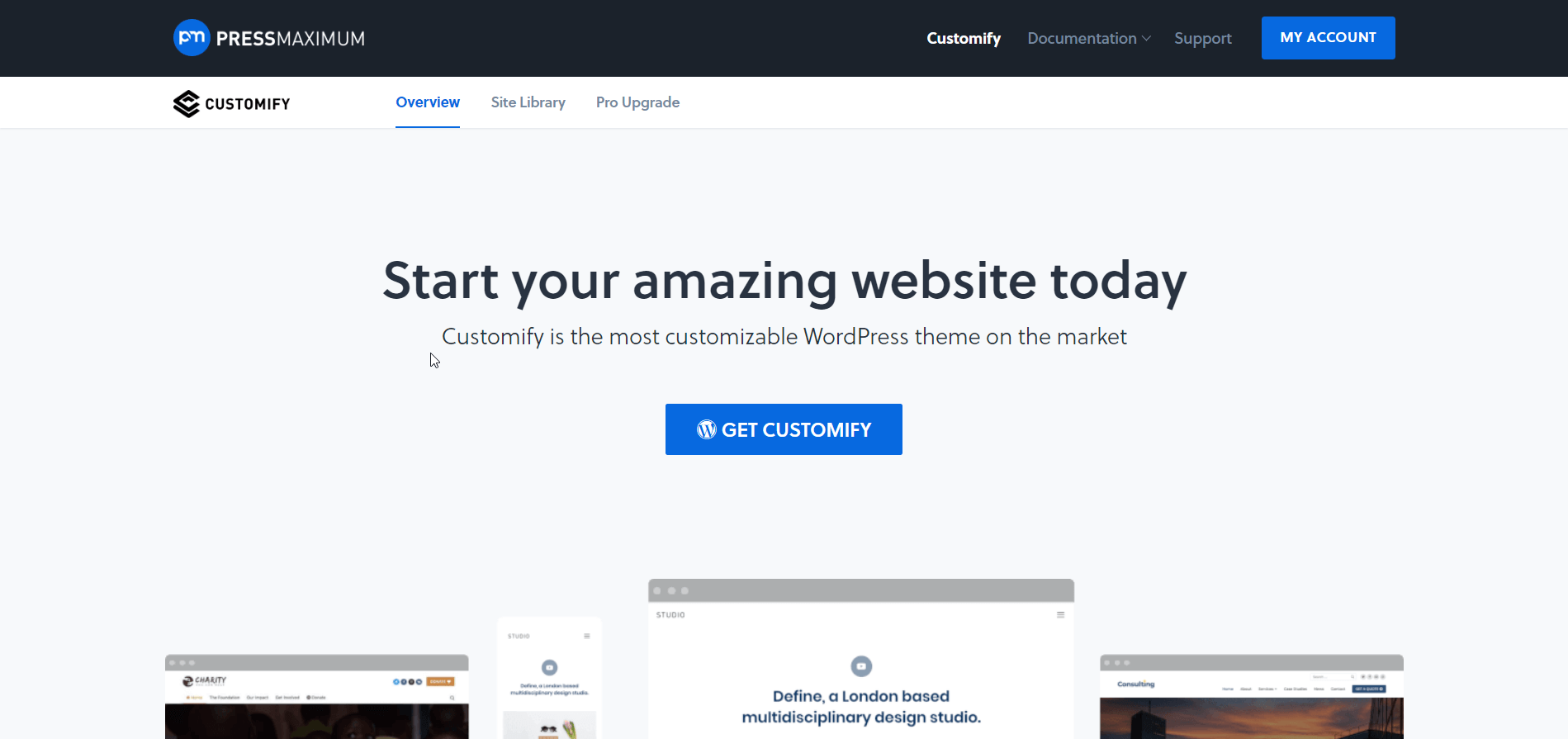 Customify was built with SEO, speed, usability, and page builders in mind. It's compatible with 8 different WordPress page builders. Along with that, it also allows for easy website importing letting you create ecommerce site in a snap. Pick Customify, unleash your imagination and creativity to nail WooCommerce store design.
Notable Features:
Compatibility with 8 WordPress page builders
Compatible with all well-coded plugins, including WooCommerce, OrbitFox, Yoast, etc.
Responsive and super flexible
Easy-to-use header and footer builder
Total Active Installations: 50K+
Price: $30/Month (Professional)
Happy with the Listings?
Theme is a vital element for any website design. A website stands nowhere without a theme. The same case applies for a WooCommerce site. If you want to build a WooCommerce store, having a theme compatible with WooCommerce is obligatory.
Not only with WooCommerce, but also the themes should operate with WooCommerce-based plugins, addons, and extensions to hold up. This is where my little effort of bringing together the above WooCommerce themes will come into play.
I have catalogued the top 8 WooCommerce themes in this write-up detailing all the key aspects including the key features. Leave your thoughts about the listings on the comment section and suggest any worthy WooCommerce theme if you think I have missed out.
Out of the 8 listed WooCommerce themes, Bajaar stands out due to some of the killer features it possesses like integration with WooCommerce builders like ShopEngine.