Top 7 WordPress AI Content Generators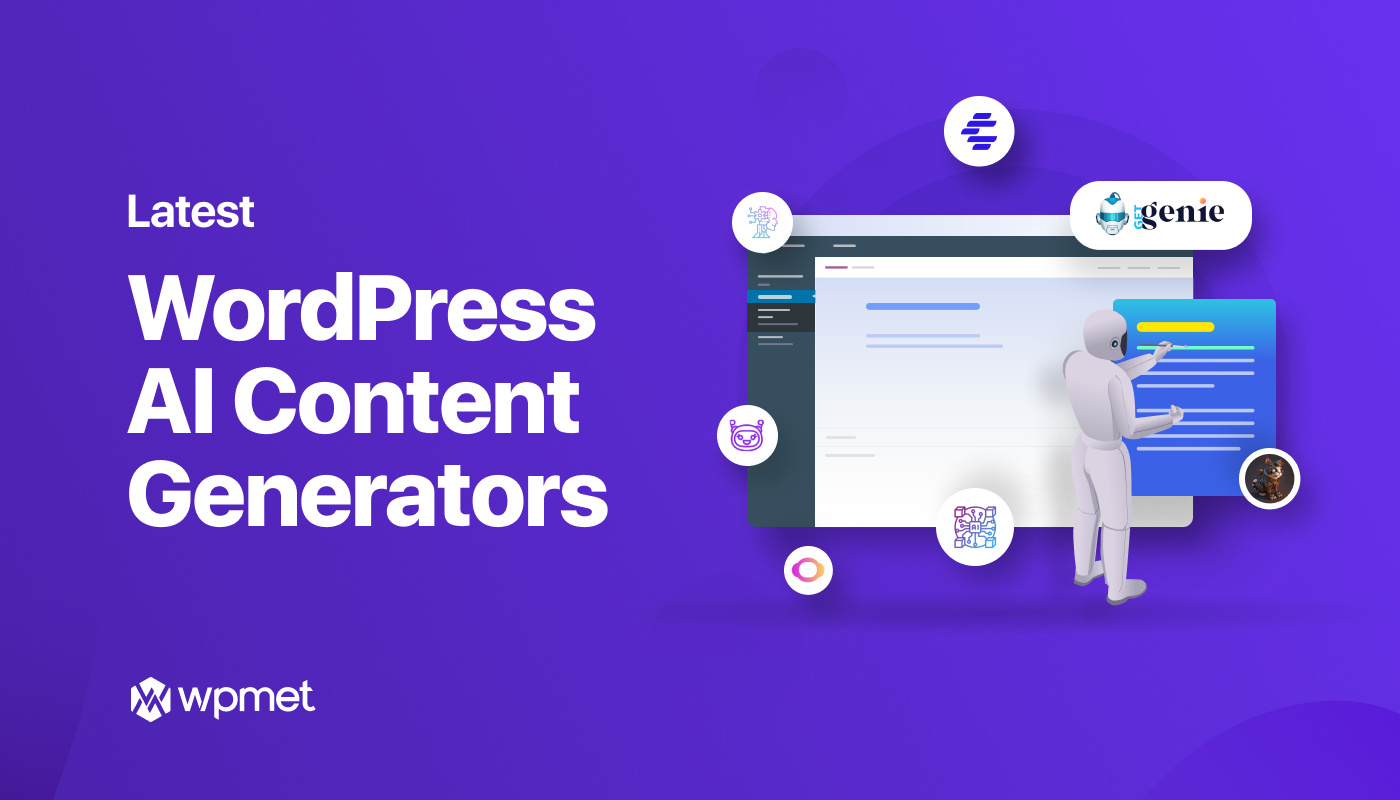 WordPress content generated by artificial intelligence is a speedy method that saves your time and minimizes the redundancies of writing. These tools are designed to help creative professionals, marketers, and website managers.
AI Content Generators can be used to generate new articles, blog posts, website copies, and much more. The technology behind a WordPress content generator is based on natural language processing (NLP) techniques. This means that the content generator can understand human behaviors and language structure.
Additionally, an AI writer can study the human brain better than any other existing content-generation tool. So, these tools work smartly to produce better content for you.
In this article, we have discussed the best modern ai content generators. Have a look at them, hope they'll help you to gather all the necessary information.
Why Do You Need a WordPress AI Content Generator?
The main advantage of using an AI content generator tool is saving time and avoiding unnecessary struggles at the same time. Let's see more interesting benefits of it –
You can add some fresh content to your WordPress site within a short time
An AI content creator is your perfect assistant that provides you useful suggestions.
With a standard plugin, you can generate hundreds of original pieces of text.
Such a plugin generates content and puts it directly to the post editor.
The AI tool pushes templates to offer options for customizable headings, language, and other essential parameters.
An AI content generator is able to take complex topics and break them down into smaller and easy pieces. Thus making and editing content is an effortless job through this robotic system now.
What are the Characteristics of a Good AI Content Generator?
Websites need informative pieces of content that represent the organization's name and the products also. A standard content-making plugin must hold some qualities that make it a good tool. Let's inside out –
A good WordPress content generator must have a user-friendly UI.
The plugin needs to be systematic and fast.
There should be useful workflows in place and should complement the default functionalities of WordPress
The AI generated content should be relevant and unique.
The tool has to produce manageable pieces of content that are grammar and spelling error-free.
One of the top qualities is if the plugin produces SEO-optimized content.
Top 7 WordPress AI Content Generators
AI content creators are efficient to study the inputs and release outputs accordingly. However, there are many tools on the internet, you need to know which ones have stolen the spotlight already. So, let's see –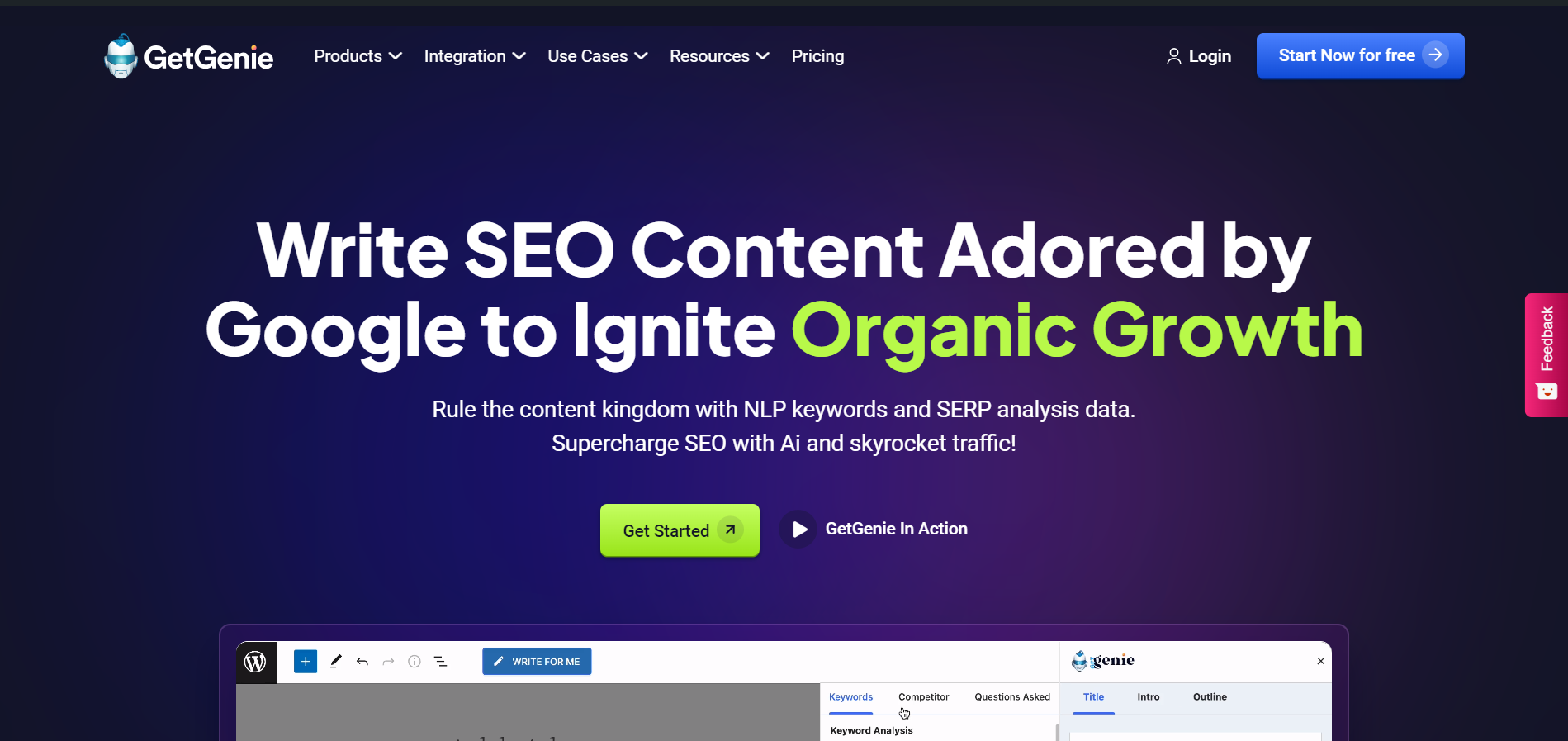 GetGenie AI is one of the popular tools among WordPress and SaaS users. It is a simpler tool yet works magically for any type of content. With it, you can feel free to play around with the settings. Thus, Genie allows you to modify the prompts to create exactly the content you need.
Main Use Cases of GetGenie AI
Provides SEO-optimized content and helps to rank 20x faster than ever.
Effective for both short and long-form content.
37+ templates.
Genie is available as a WordPress plugin, SaaS app, and chatbot named GenieChat.
Cons of GetGenie AI
Though GetGenie shows a plan to develop a browser extension, they are still working on that.
Cost and Features
This WordPress Ai writer has a free plan for users which comes with 2,500 AI word generation and other credits every month. With 14-day money, and a return guarantee it also sells premium packages. There are two payment systems: monthly and annually.
You can start trusting this AI tool from $17 per month. The main features of this plan are – 50,000 words, 40 SEO keyword analysis along 20 competitor SERP analysis per month. You can upgrade any current monthly plan up to $89.50. This package comes with unlimited words, 600 SEO keyword analysis, and 200 competitor SERP analysis per month. Yes, you have access to 37+ templates with all the monthly and yearly plans.
For more details, check their Starter, Writer, Pro, and Agency plans.
Bertha AI is also an advanced content generation platform designed specifically for marketers and writers. In a robotic yet smart way, Bertha has the capability to prepare any new or rewrite any old content. It offers a range of features to design your product copies, articles, and images.
Main Use Cases of Bertha AI
Bertha is an expert at making web copies.
It helps to create different images and illustrations.
Provides high-quality product descriptions to increase conversions.
Good at generating content ideas.
Cons of Bertha AI
The tool has no SEO feature. You have to work on SEO to make the content SEO-optimized.
Cost and Features
By opening an account, you can try Bertha AI for free simply, and the limit is 5k words. Its pro plan starts at $45 per month and offers 3 websites, 100,000 words, 63 image generations, etc. Besides, there are yearly packages and a 'pay as you go' system. The tool also ensures 7 days money-back guarantee and excellent user support.
💡 Convert Your Old and Boring Website into an Engaging Site!
Follow These Techniques 👉 Image Masking in 4 Easy Steps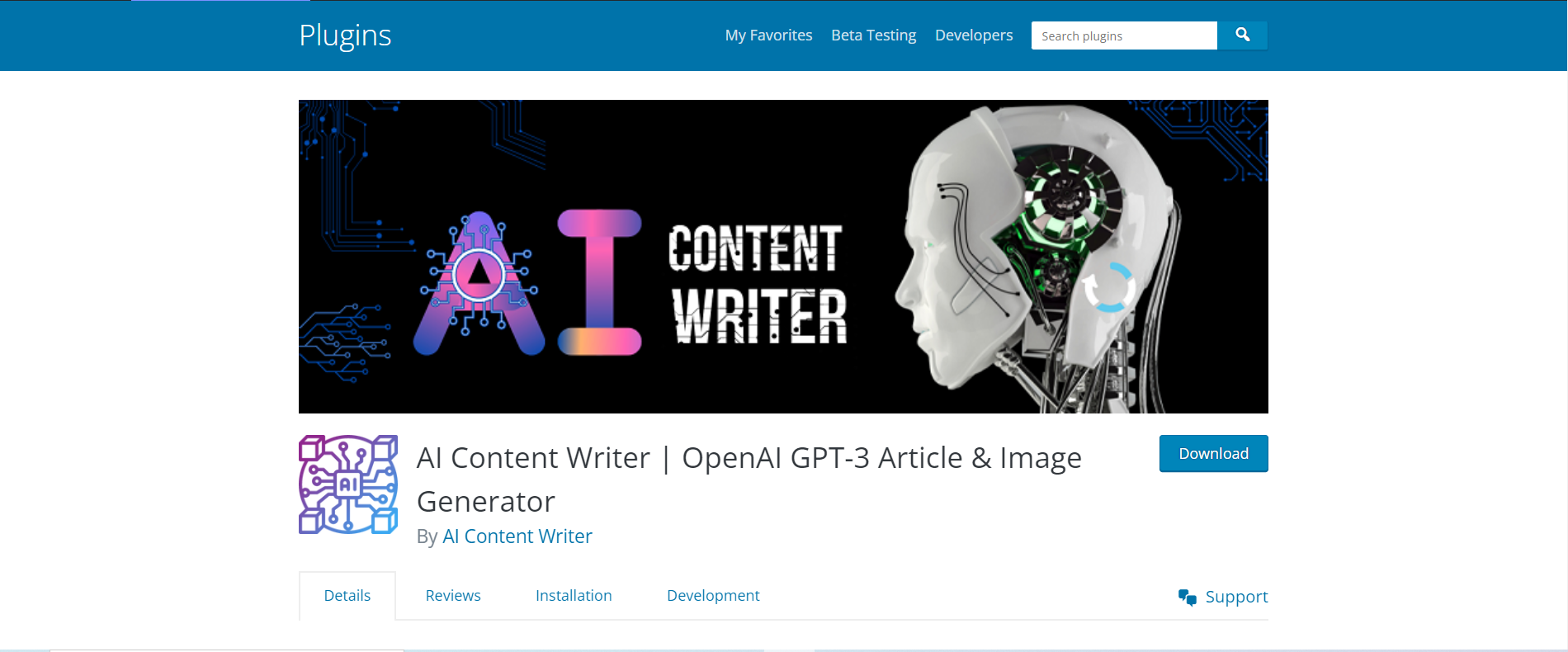 In the modern digital marketing world of WP, AI Content Writer is an alternative solution for you. It gets you standard writings for the WordPress site with less manual effort. With the tool, you can generate engaging articles, desired images, stories, and so on. It will also help you improve your content SEO and save time.
Main Use Cases of AI Content Writer
The OpenAI GPT-3 powered content writer generates original texts
It gives heading ideas
Generates unique images
It has custom settings for better SEO
Cons of AI Content Writer
The tool has no monthly pricing plan. It should develop more SEO features and also improve the existing settings.
Cost and Features
WordPress users can use the core plugin for free. You can avail of more advantages by using premium plans which begin from $39.99. The plans are named personal, professional, and elite. These plans come with features like adding custom headings for content generation, images, changing heading type for h2-h6, etc. You will get a 1-year update and standard customer support with each plan.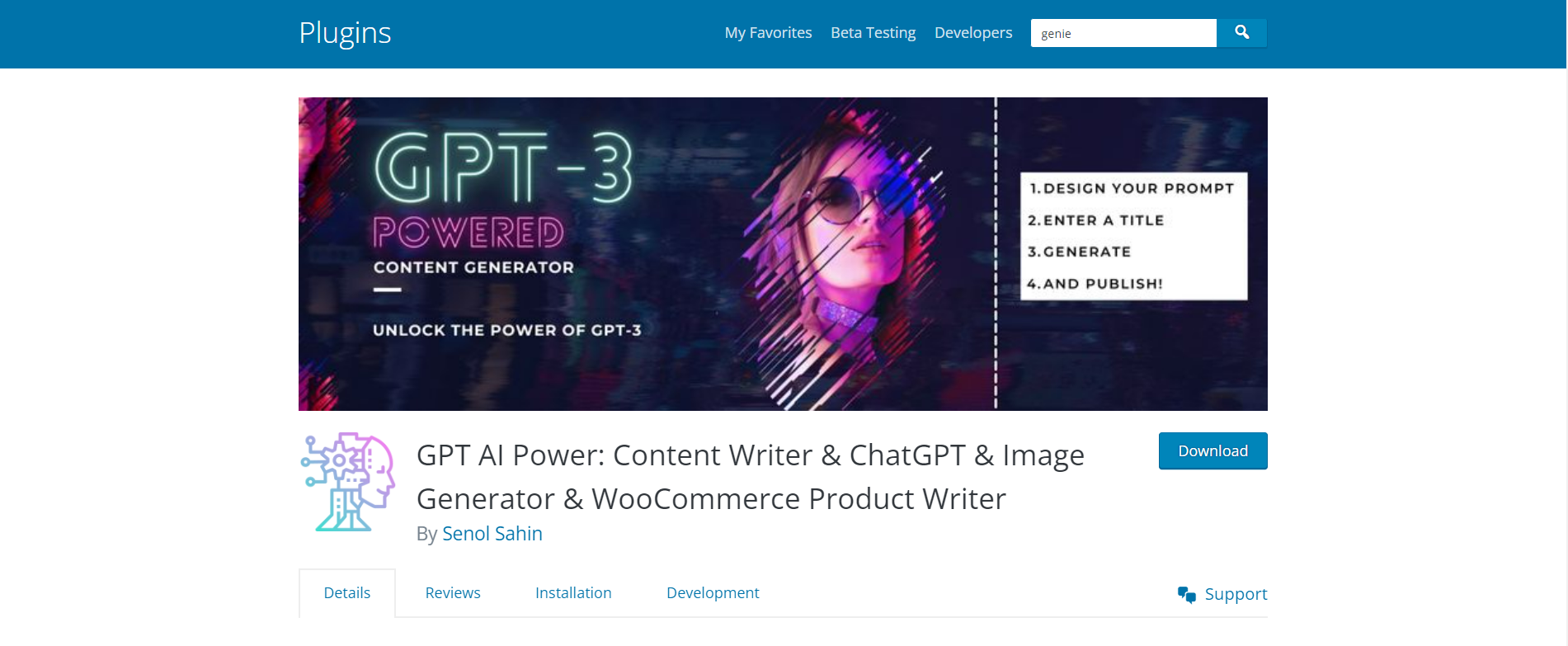 We have listed another versatile plugin as a simple solution for your WordPress website. The AI tool interprets your inputs and produces useful and accurate content. Also, you can make your content visually attractive as the Dall-E integration allows the tool to make appealing images.
Main Use Cases of GPT3 AI Content Writer & Generator
Quality content and Image generation
WooCommerce integration
Bulk content writing system
Playground for testing purposes
Cons of GPT3 AI Content Writer & Generator
The tool doesn't allow you to generate content on its own. It needs a personal openAI API to work.
Cost and Features
New users can get standard longer content and other facilities without cost. GPT3 AI content writer & generator gives a paid plan at $9.99 per month. This pro package comes with all features, keyword adding system, Q&A, tone settings, and much more.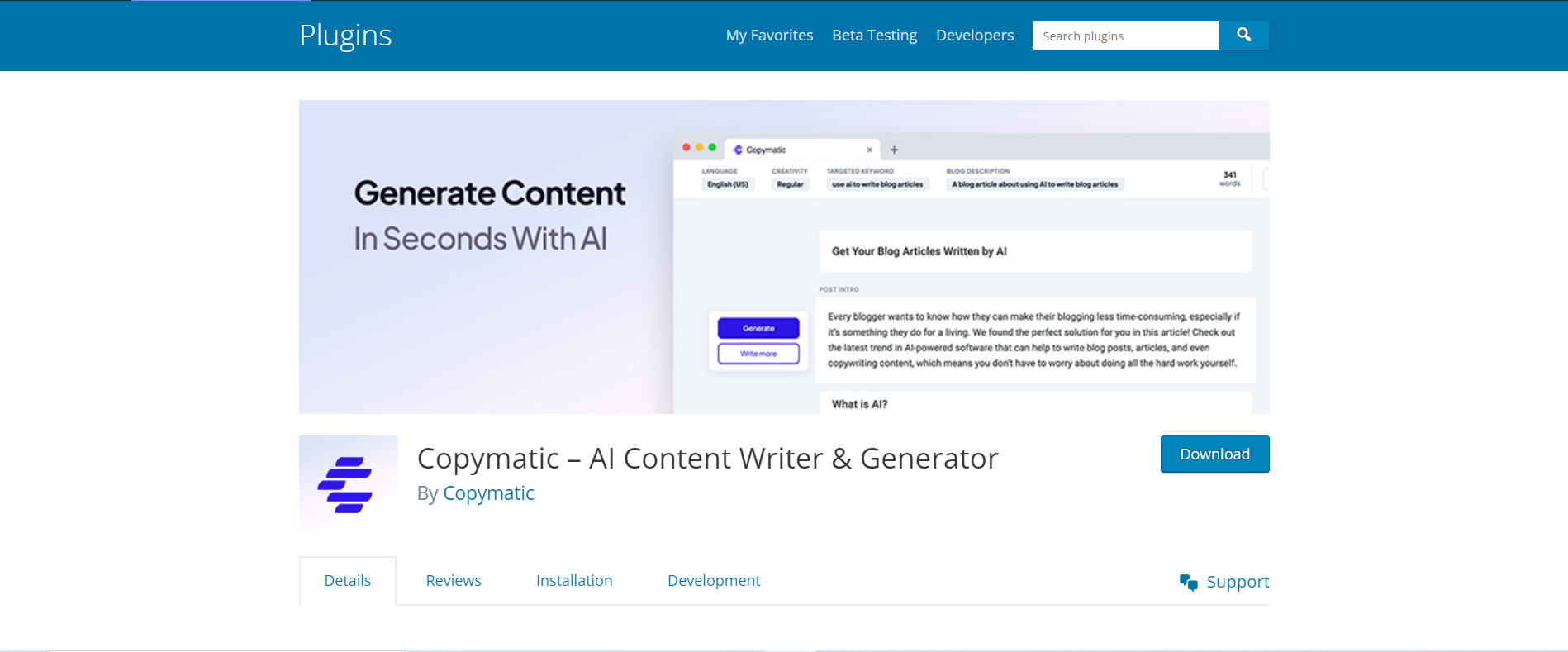 Copymatic AI is a quite well-known writing tool for WordPress. Whether you want distinctive product descriptions or big articles on any topic this tool can show its expertise. It is fast and the AI-generated content is rich enough to bring you good traffic.
Main Use Cases of Copymatic
Social Media & Ads
Website Copy, blog, & SEO
eCommerce Copy
Grammar checker
Cons of Copymatic
Copymatic only provides 2 pricing plans, which is not a flexible way to select the required plan sometimes. Also, the free version offers only 1000 words, which is a bit low to test the tool's performance.
Cost and Features
The Copymatic AI tool offers 15k words at $6 per month which is the lowest rate you can start using it. This pro plan permits you to utilize all the templates, do SEO keyword research, plagiarism check, etc. Again, you can customize your package based on your needs which is named enterprise. It costs from $6 to $532 and you will get all the benefits of a pro plan plus many more.
Do you Know How Highlighted Texts Attract Readers? 🤔
Read this Amazing Information 'Animation to Text in WordPress'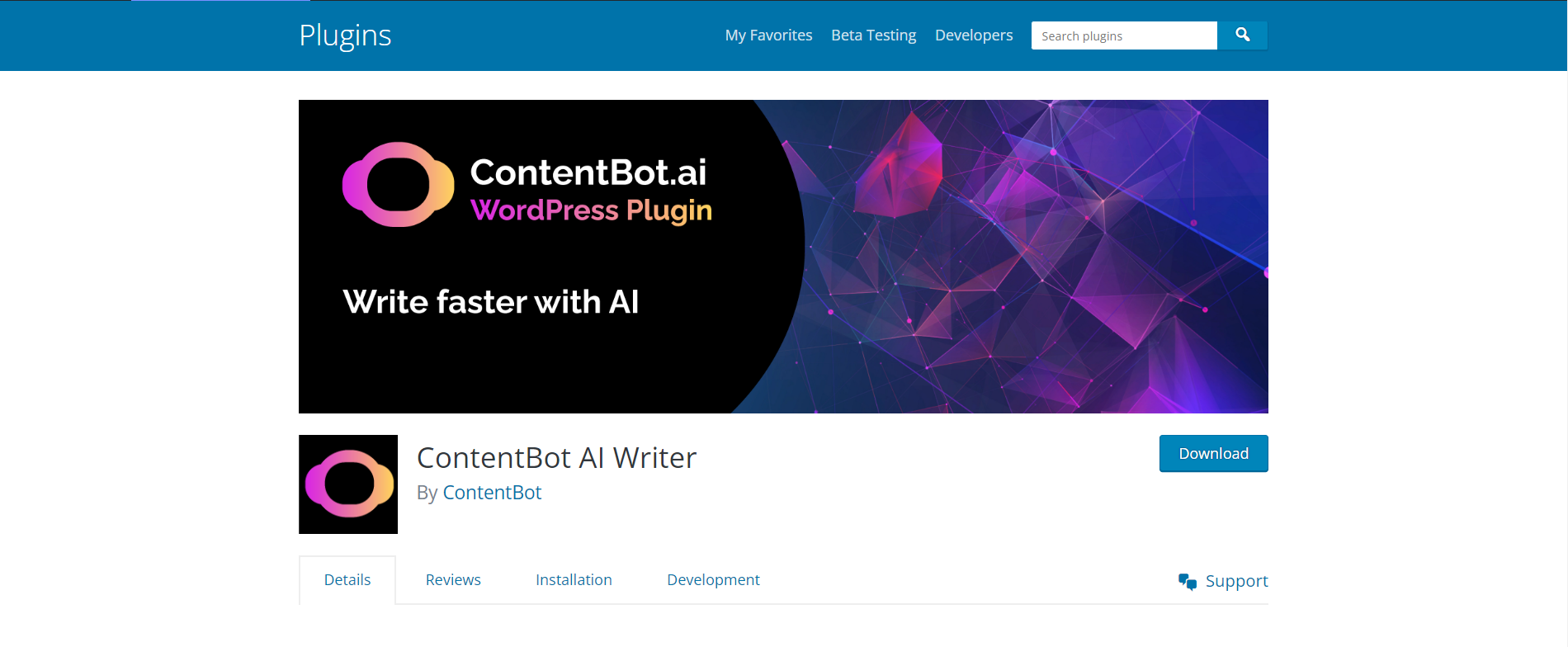 This is among the expert AI content-making tools. It gives you unique and exact-size content based on your inputs. With just a few clicks, you can give instructions and ContentBot will return you interesting content and new ideas to improve your website.
Main Use Cases of ContentBot
Human-like log copy and topic ideas
The tool generates innovative marketing ideas
Excellent landing page copies
SEO features
Cons of ContentBot
ContentBot generated long-form content quality needs to be improved. Additionally, the tool seems a bit costlier as it has no yearly plan for users.
Cost and Features
ContentBot AI offers four packages to its customers. The prepaid plan costs $0.5 per 1k words and the limit is 15k-5m words per month. The prices of starter, premium, and premium+ are $14.5, $29.5, and $49.5 per month accordingly. All these plans come with 30+ AI skills, unlimited seats, a plagiarism checker, and so on.
AI Engine is the last addition to this top content generator listing. This tool can also improve your writing to attract viewers to the website. It is a modern and well-structured AI tool. With this assistant, you can develop attractive headings, meaningful content, and relevant images smartly.
Main Use Cases of AI Engine
Generates fresh and valuable content
You can keep track of your OpenAI usage with built-in statistics
It has an internal API
The tool allows you to add AI-powered chat functionality to your website
Cons of AI Engine
AI Engine doesn't offer any browser extension. It also needs to work more to enrich the SEO feature to ensure better performance.
Cost and Features
AI Engine costs $0 per month if you use the free version. It gives a chatbot, AI playground, quick suggestions and other features. To enjoy premium features, you can pay $29 and begin with the starter plan. You can stretch up to $499 and use packages with different advanced features. The packages are named as Starter, Standard, Professional, Developer, and Agency.
Conclusion
Overall, WordPress AI Content Generators are a great way to create high-quality content in a fraction of the time. They allow you to create content quickly and effectively, freeing up valuable time and resources. Thus, WordPress AI tools have gained popularity today.
We have made an effort here to present the best and most modern WordPress AI content generator tools. Now it's your turn to check them with your demands and pick the one that suits you best.