Top AI LinkedIn Post Generators (Updated for 2023)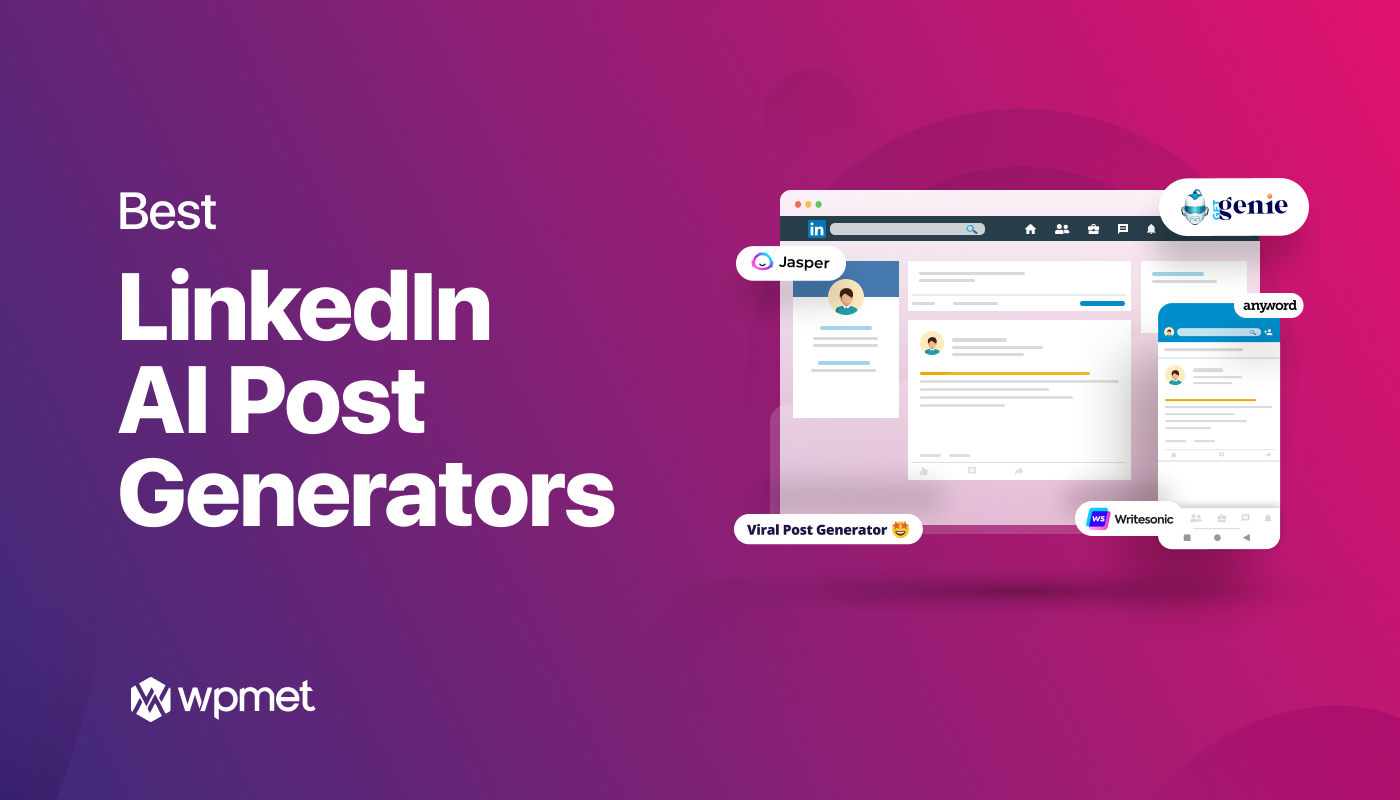 Clearly, LinkedIn remains a leading platform for professionals in the modern age. On this platform, people seek jobs, professionals can network with their peers, and recruit new team members also. So, to be more productive and successful with LinkedIn content creation, quality is vital. On that note, a modern AI LinkedIn post generator helps you create compelling content quickly and easily. It saves you time from spending hours on research and editing.
Like other AI writing assistants, there are also several well-designed AI tools to produce LinkedIn posts in the market today. In this blog, we have enlisted popular AI LinkedIn post generators. So, if you are looking for an AI-powered tool to make the most out of LinkedIn, this blog is definitely for you.
How Does an AI LinkedIn Post Generator work?
GPT-3, a machine learning model created by Open AI, provides the basis for most of the AI writing tools. Its neural networks are trained on a vast dataset. So, the tools are capable of generating natural-sounding language by leveraging pre-trained language representations.
The working principle of an AI Linkedin Post Generator is not different. It works by allowing you to create and customize pre-made content made specifically for the platform powered by GPT-3. It typically provides you with templates you can follow and easily create posts with your own branded or curated content.
👉 Check 5 Excellent Tips to Improve Customer Service on Your WordPress Website
Why Should You Use an LinkedIn AI Post Generator?
According to Hootsuite, organizations with a complete, active LinkedIn Page see 5 times more page views. So needless to say, a well-written relevant post is all you need to expand your brand name in this huge professional world. This is where a good LinkedIn post creator tool supports you. Let's see some specific reasons to choose such an AI tool –
1️⃣ LinkedIn post generator provides customized templates for quick content creation.
2️⃣ Shows tips, and advice, and optimize the post for different search engines for better reach
3️⃣ Track the performance of each post, so that you can understand what works best and maximize the impact of your content.
4️⃣ The tools suggest words, images, and hashtags that help in enhancing LinkedIn posts.
5️⃣ Provides SEO-optimized content with magical AI sidekick support to improve your processes and product.
Top LinkedIn AI Generators
We have sorted out some advanced LinkedIn AI generators to make your post-making tasks tension-free. Follow the list below –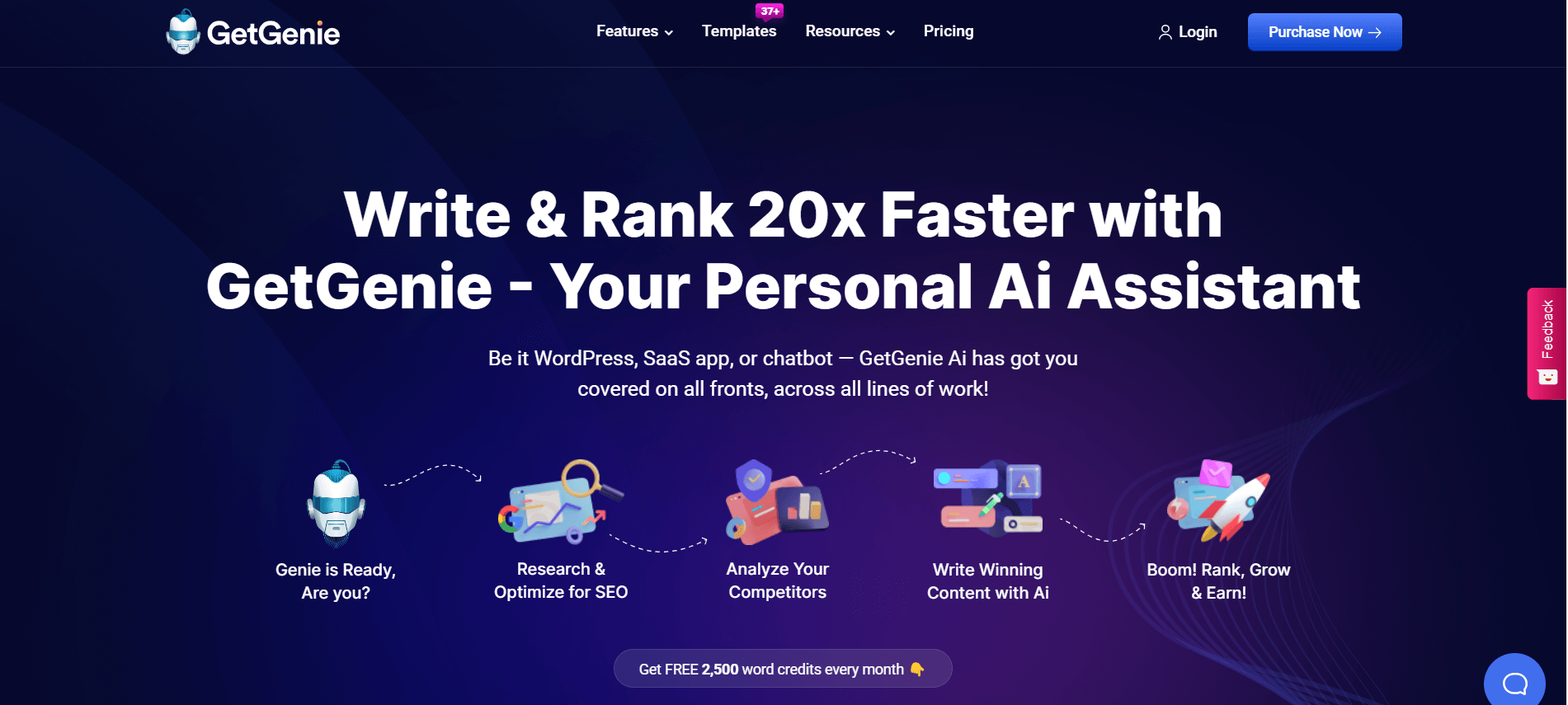 This is the latest AI-driven LinkedIn post generator that presents you with the best features. It is versatile, accurate, and a quick tool. GetGenie LinkedIn post template generates professional posts and gives you new ideas. With this tool you can be consistent by posting creative posts on your LinkedIn profile.
Pricing
GetGenie offers the most fair price for you.
The price starts from only $17 monthly and $13 yearly. Of course, a trial version of GetGenie is available free of cost! This starter plan offers 2,500 Ai Writing Words per month, 10 Credits of SEO Keyword Analysis per month, 5 Credits of Competitor SERP Analysis per month, and many other facilities. Visit the website for more details.
What Makes the Tool Worth Using?
GetGenie Ai is an overall high-featured tool. It serves the best content for SEO and shows an instant content score to improve your content. The tool provides 37+ different writing templates along with the LinkedIn post generator, 33+ language supports. Also, it replaces 10+ apps with its Ai writing magic.
🤩 🤩 🤩 Another attractive fact about the tool is, it facilitates you as the WordPress plugin, a SaaS app, and a chatbot called GenieChat.
Creating attention-grabbing content for LinkedIn is quite painless with Jasper's post generator. All you have to do is fill out a template with your input. You can focus on what matters in your business and produce relevant content to post on LinkedIn.
Pricing
You can start using Jasper at $29 per month which offers 20,000 words and other facilities. You can use this word limit to generate LinkedIn posts or choose from boss mode also based on your needs. Also, you can make a custom plan from the business plan option if you need to.
What Makes the Tool Worth Using?
Jasper has got a user-friendly interface and provides great customer service to the users. It is a standard tool that is suitable for almost any type of user. So, you can definitely pick the LinkedIn template and make relevant write-ups.
This is another suitable tool to make sure your company gets the recognition it deserves on the world's most popular professional networking platform. With a few clicks, you can quickly create thoughtful posts on any topic. To stand out from the crowd and attract even more potential customers you can take help from Writesonic.
Pricing
Writesonic costs $19 initially for bloggers, freelancers & businesses with 19,000 words. There are options to choose from premium, good, average, and economic qualities of the output. Each package comes with different offers and facilities for the users. Also, to grow your network on LinkedIn you can give Writesonic a free trial and generate content.
What Makes the Tool Worth Using?
We recommend Writesonic for its efficiency in supporting you to get different types of LinkedIn content. It gives you synchronized and semantically correct content as any other quality AI tool.
Here is Top AI Competitor Blog Analysis Tools for you to improve your blogs brilliantly!
Whether you need to develop new content or improve existing writing for LinkedIn, we have listed this amazing tool for you. Anyword also offers a selection of features and formats to generate content. It provides content that can be easily personalized to suit your brand and promote your products or services.
Pricing
Spending only $29 each month will get you 20,000 words to start producing your LinkedIn content. The tool presents two options — starter and data-driven to select pricing packages based on the needs. Similarly to other LinkedIn content generators, Anyword gives you a chance to try it free for.
What Makes the Tool Worth Using?
Anyword is one of the good LinkedIn post generators that produce content according to your style and tone. You can also get different types of posts and also improve old copies to make them worthy. Again, proper utilization of the tool will allow you to convert LinkedIn post copy for all of your professional needs.
Here is another one for you! The viral post generator is powered by Taplio. This is a well-known tool that guides you on how to write a LinkedIn post with only a few clicks. It crafts effective posts easily, saving your time and effort while potentially increasing post engagement rates. Besides, a viral post generator also gives you the chance to schedule the posts at the right time.
Pricing
The template presents easy steps on how to write a post on LinkedIn that is free of cost. But to get more real viral ideas and details about pricing, you can visit the Taplio website.
What Makes the Tool Worth Using?
Like the name viral post generator is popular for its quick catchy content. You can utilize the options in your posts to further personalize them. You can choose from the best and post to build new relationships and monitor all your results.
TinyWow's post generator is a simple yet efficient tool to maximize your presence on LinkedIn. It generally doesn't require any limit, no sign-up for its featured tools. TinyWow is handy and helps you to overcome all distress in making LinkedIn posts. Here remember that the tool deletes all files both processed and unprocessed after 1 hour.
Pricing
You can enjoy a more powerful experience with paid TinyWow. The price begins from $5.99 every month and unlocks an ad and captcha-free test for loyal users.
What Makes the Tool Worth Using?
The tool is also worthy to use as a LinkedIn post generator as it is programmed with modern algorithms. It holds all the necessary options to make a quality post on any topic. It maintains relevancy with the social platform while ensuring original content. Whether you are a business owner, marketer, or professional, you can trust TinyWow.
Select The Right One
Writing a good LinkedIn post is easy yet tricky. A dynamic LinkedIn AI generator knows how to apply the tricks and provide creative posts. The content is also customized to fit your brand's messaging and goals. These generators come with built-in designs and analytics that are known to compose likable content and the standard LinkedIn post size. Additionally, an AI tool assists you in tracking how each post performs and measuring its impact. Thus you can gain deeper reach and more visibility for your brand.
We tried to present the best tools of the present time. Now, it's your turn to analyze and select the appropriate LinkedIn post generator for yourself and your business as well.
Here is your personal Ai assistant 😎 👇