Best Web Hosting Providers for WordPress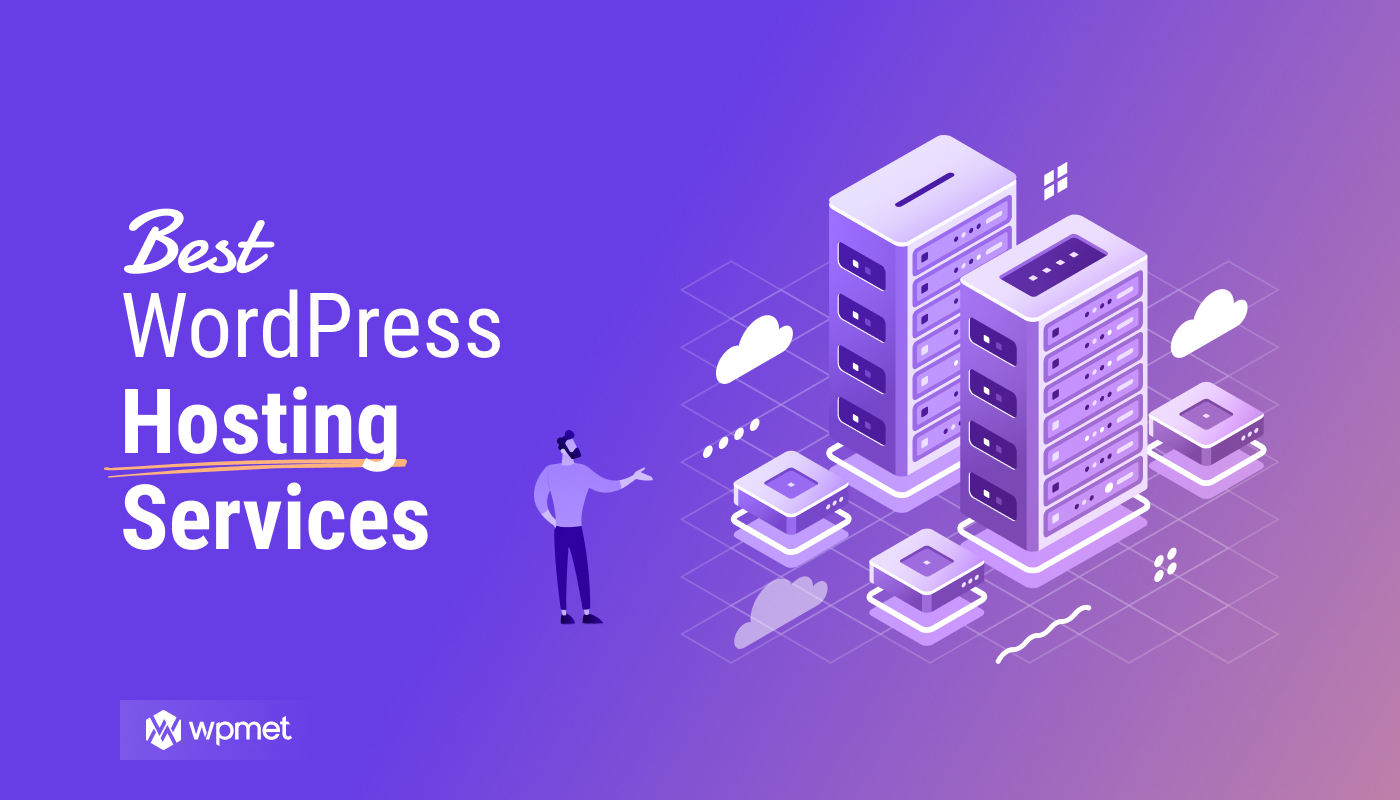 Undoubtedly, WordPress is the most user-friendly content management system. But when you want to run a new website, besides WordPress CMS, you need to choose the best web hosting for the website. Good web hosting can boost your website's performance.
Now the question is, what are the best web hosting providers for WordPress? Well, the answer varies for the demands of the website. There are several things you have to consider before choosing a new web hosting for WordPress. Like you might want to run an agency while someone else might want to run a personal blog website.
Regardless of the type of website, choosing the best hosting provider could be tricky. In this post, we have compared the top WordPress web hosting companies so that you can decide where you should host WordPress websites.
Our Top Picks for Best WordPress Hosting
7 Best WordPress Hosting Services
We have gone through different WordPress web hosting services. After analyzing the pricing, features, uptime, and some similar features, we finally picked the top 7.
If you are in a hurry, check this comparison table –
| | | | | | | | |
| --- | --- | --- | --- | --- | --- | --- | --- |
| | Starting price | Managed WordPress hosting price | Free site migration | SSL | Security level | Backup | Suitable for |
| Siteground | $3.99/mo | $6.69/mo | Available | Free | High | Daily | Advanced level |
| Kinsta | $35/mo | $35/mo | Available | Free | Top-level | 14-days retention | For all levels |
| Bluehost | $2.95/mo | $19.95/mo | Available | Free | Moderate | Not convenient | For beginners |
| Hostinger | $2.99/mo | $6.99/mo | Available | Free for lifetime | High | Weekly | All levels |
| A2 Hosting | $2.99 | $11.99/mo | Available | Paid | Moderate | Daily | Beginners |
| Namecheap | $34.88/year | $34.88/year | Available | Free | Moderate | Regular | Beginners |
Want to know the details about each of the hosting plans? Then check out the following descriptions to get the feature details.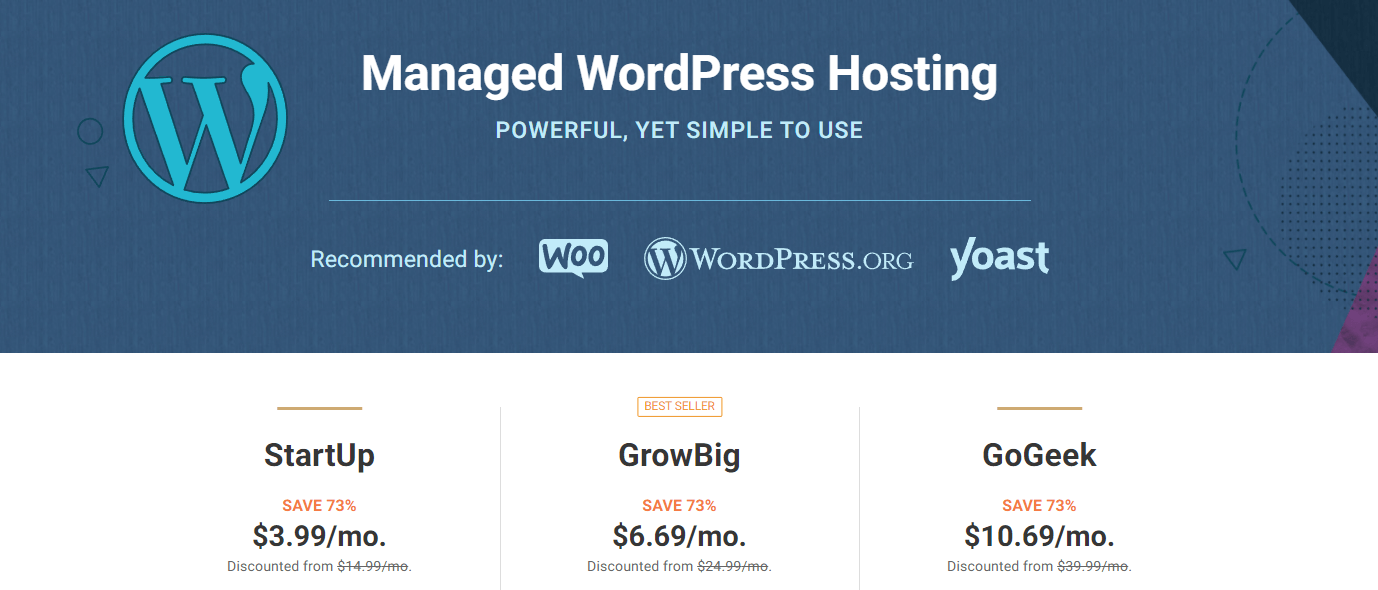 If you are looking for the best web hosting for WordPress that is trustworthy, siteground will be top of that. Whether you are a beginner or a pro, you will find affordable options from this hosting service provider. All their hosting plans include top-notch support that promptly responds and solves issues regarding hosting.
They offer a WordPress launch tool. It allows you to install WordPress with a few clicks and run a functional website within minutes. Also, if the website is hosted somewhere else, it is very easy to migrate the site to this platform with the free SiteGround Migrator plugin.
The best thing about this hosting provider is their technical support. They keep auto backup for websites and auto-update the WordPress features. With its layered security system, the website remains safe from common hacking issues, data leaks, and malware. For all these features, Siteground used to remain as one of the top web hosting for WordPress.
You will enjoy tons of additional features for free with all of their hosting plans. With each of the hosting plans, they offer free SSL certificates, CDN, Email, and daily backup. The chances of getting a malware attack or losing data are almost zero with site ground.
Highlighted Features
The pricing starts from $3.99/month
24/7 dedicated support team to resolve issues
Only $6.69/month to host unlimited websites
They offer managed WordPress hosting plans at an affordable price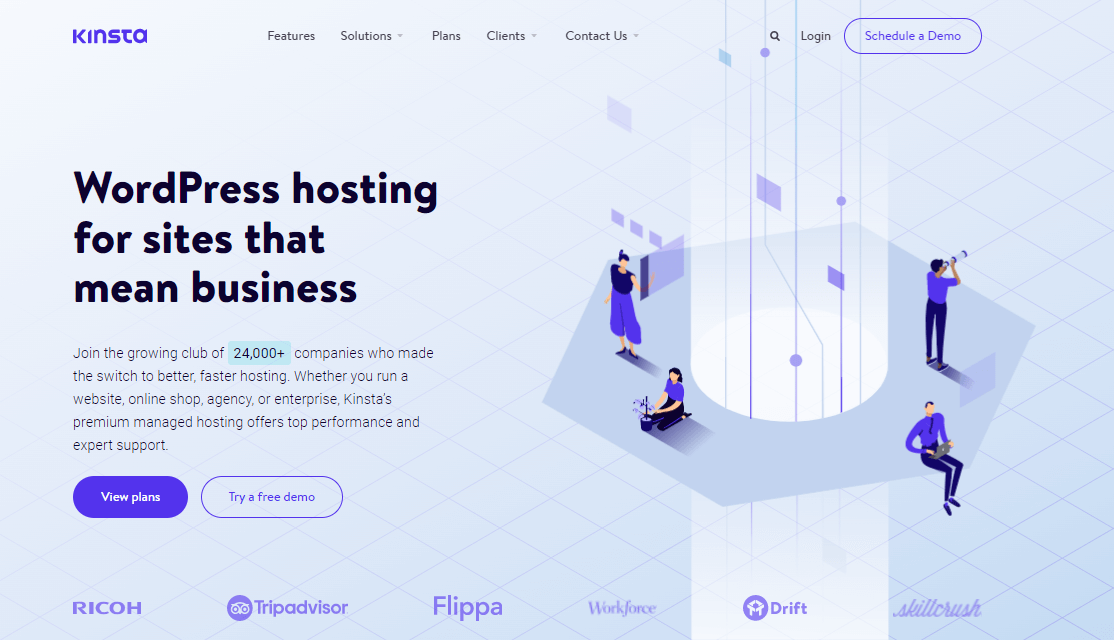 Whether you run a website, online shop, or agency, Kinsta's premium managed hosting offers top performance and expert support. Especially, if you are looking for the best web hosting for WordPress to use for business website, you should check the packages of them. Save hours of work and hundreds of dollars every month with Kinsta's best-in-class managed WordPress best hosting plans.
The pricing of Kinsta might look a bit expensive at the beginning, but if you are looking for the best enterprise WordPress hosting solution for your site, you can rely on Kinsta hosting.
Kinsta provides industry-leading speed through Google's C2 machines. Kinsta clients see performance improvements up to 200%! Kinsta also provides a built-in application monitoring tool (APM) that's free and available across all plans.
Kinsta also allows customers to choose from over 30 data centers worldwide to store and serve their content close to their visitors' locations. Kinsta's CDN provider, Cloudflare, has a network that spans 200+ cities in more than 100 countries and comes automatically available in all Kinsta plans.
Lastly, Kinsta's support is next level. Their WordPress experts are available 24/7, 365 days a year through live chat, with an average response time of below two minutes. With no tier level differentiation, the same quality of support is provided for all customers.
Highlighted Features
Fully managed hosting with 24/7/365 expert support
Free enterprise-level Cloudflare integration with CDN, SSL, and DDoS protection
Advanced security features and performance-optimized infrastructure
Free local WP development tool, DevKinsta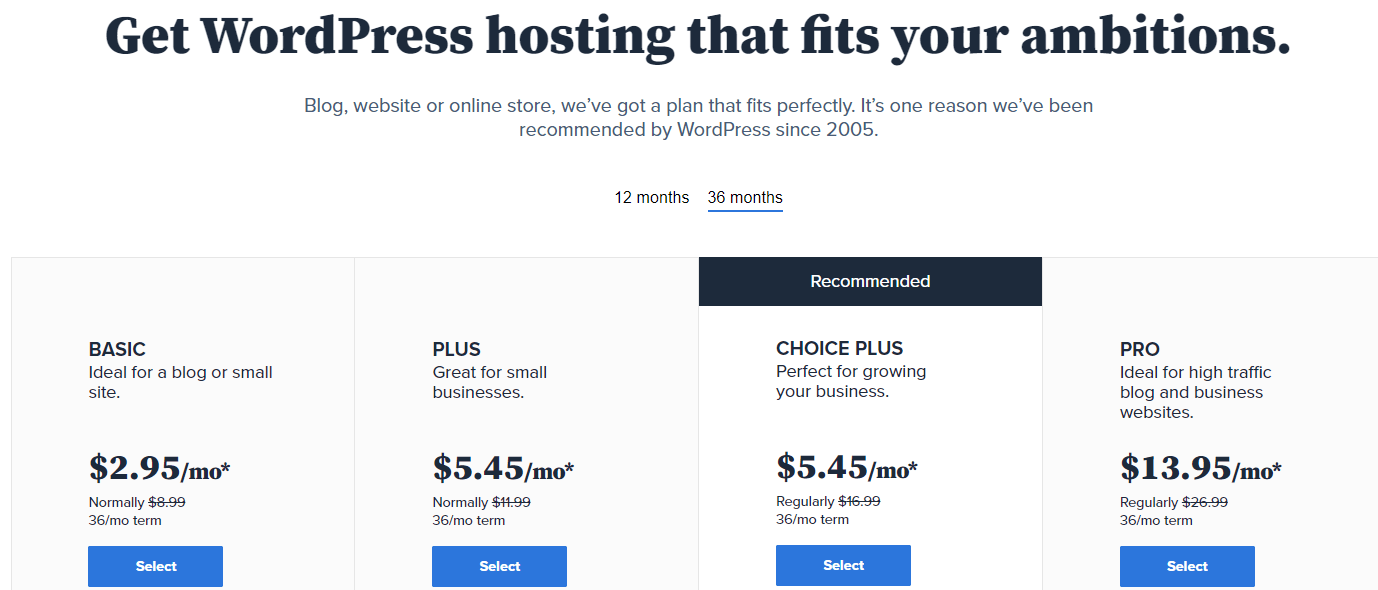 Bluehost is a renowned web hosting service provider with a wide range of packages for WordPress sites. If you consider the best service at an affordable price, this is one of the top web hosting services. From beginners to giant companies, everyone will find something in their hosting plans. They are popular for their dedicated support team. Bluehost has almost 100% uptime.
You don't have to be a tech guy to install WordPress in Bluehost. All it takes is a few clicks and WordPress installation will be done. In the basic plan, you can host one website and you will have 50 GB of storage. For big companies, they are offering a pro plan to host unlimited websites and provide unlimited SSD storage.
Each of the packages has free offers. Even with the basic plan, you will get one free domain, a free CDN, and a free SSL certificate. If you didn't buy a domain name yet grab the free domain offer.
If you find it difficult to design a website, simply choose the free WordPress website builder of Bluehost. It allows you to design a website just by dragging and dropping the features. However, the auto-backup option is available only for the 'Choice Plus' and 'Pro' plans. Considering all the features, Bluehost is the most inexpensive web hosting for WordPress.
Highlighted Features
Starts from as low as $2.95/month for WordPress hosting
Managed WordPress best hosting plans start from as low as $2.95/month
50 GB storage SSD in the basic plan
Features automatic WordPress installation system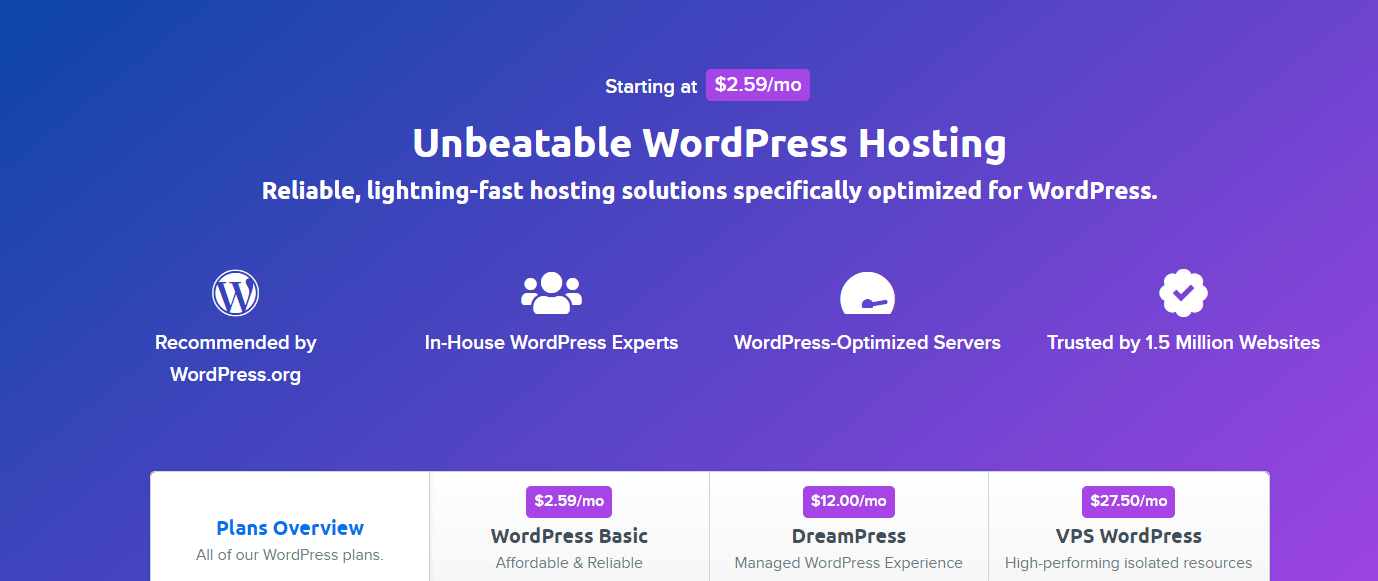 If you are looking for the best inexpensive hosting plans for WordPress sites, Dreamhost is a good option. They offer user-friendly features that it becomes too easy to control the setting for the website. Also, a dedicated 24/7 support team is always ready to give instant solutions for issues regarding hosting. In fact, they have won awards for their top-notch customer support.
You will get the one-click WordPress installation feature. It won't take more than a few minutes to install WordPress with Dreamhost. Also, this platform has an auto WordPress update feature, which will keep your website up to date all the time.
Most people rely on Dreamhost because of its free privacy protection system. Unlike traditional web hosting companies, they don't charge extra fees. They will mask all the personal data for free. Dreamhost prevents malware attacks, data leaking, and keeps the user data safe.
Whichever package you pick, you will get some free offers. Each of the packages includes a free domain name, free SSL certificate, and free privacy protection. If you are just beginning a new WordPress website, go for Dreamhost.
Highlighted Features
WordPress hosting plan starts from $2.59/month
Recommended by WordPress
Offers automated WordPress site backup
Versatile hosting plans with various features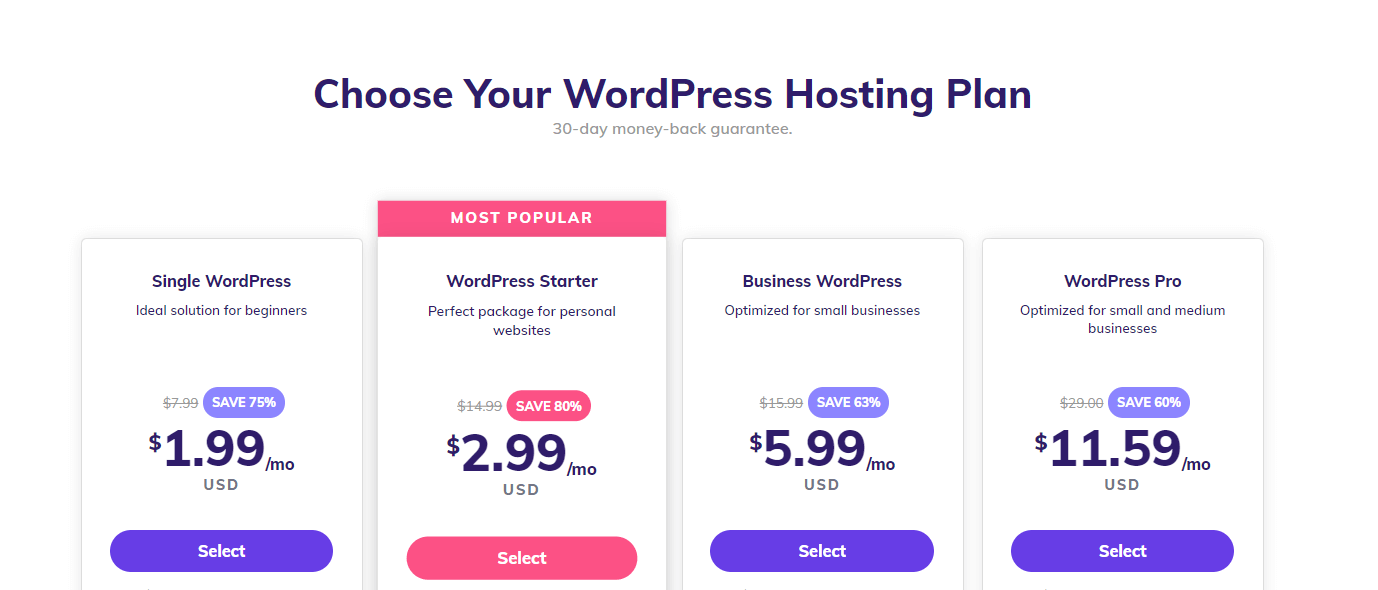 If you are looking for the best WordPress hosting provider that has a powerful control panel, we would suggest going for Hostinger. Besides all their other features, they are offering low-priced packages that anyone can start with.
Whether you have to host a small WordPress website or a giant website you will find something from hostinger. Each of their packages offers a Free SSL certificate. However, the basic plan doesn't come with a free domain. The higher packages have the free domain option.
With any of their WordPress hosting packages, you can install WordPress just with a click. It will save time. Hostinger ensures fast loading of the website. The 24/7/365 chat support is very helpful to resolve any issue within a short time.
All of their WordPress hosting plans are optimized for WordPress. Start your website with hostinger to save money and save time on installation.
Highlighted Features
WordPress hosting pricing starts from as low as $1.99/month
Quick responding support team for 24/7
Uptime more than 99.9%
User-friendly control panel
Note: Hostinger also provides exclusive discounts on their hosting. You can get a flat 10% off at Blogging Ocean.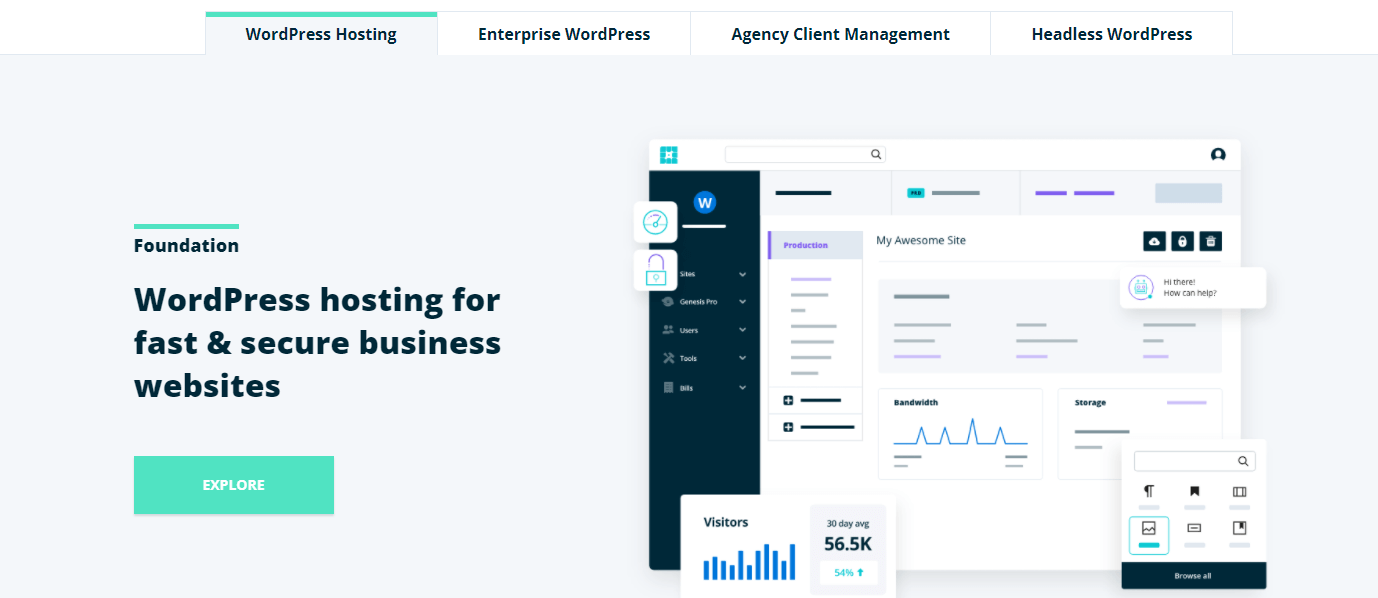 If you are planning to run a business website without any interruption, WpEngine is the best solution. Their WordPress hosting plans are expensive compared to others. But, they are providing the best service. So, if you are looking for a high-performing hosting plan, go for it.
All of their hosting plans are managed. So, your website will never be down with WpEngine. The startup managed WordPress hosting plan starts from $25/ month. It allows you to install WordPress with a single click. No technical knowledge is required.
Each of the packages from WpEngine comes with 10 free themes, free migration option, and free SSL. Though the initial cost is a bit high, in the long run, you will save extra bucks.
It keeps a daily backup of the WordPress sites. There is no chance of losing valuable information from the sites. Moreover, it protects WordPress sites from malware attacks. The support team is very responsive and solves issues very fast.
Highlighted Features
Topnotch managed WordPress hosting
Improves website's loading speed
Advanced security and backup system
Almost 100% uptime for WordPress sites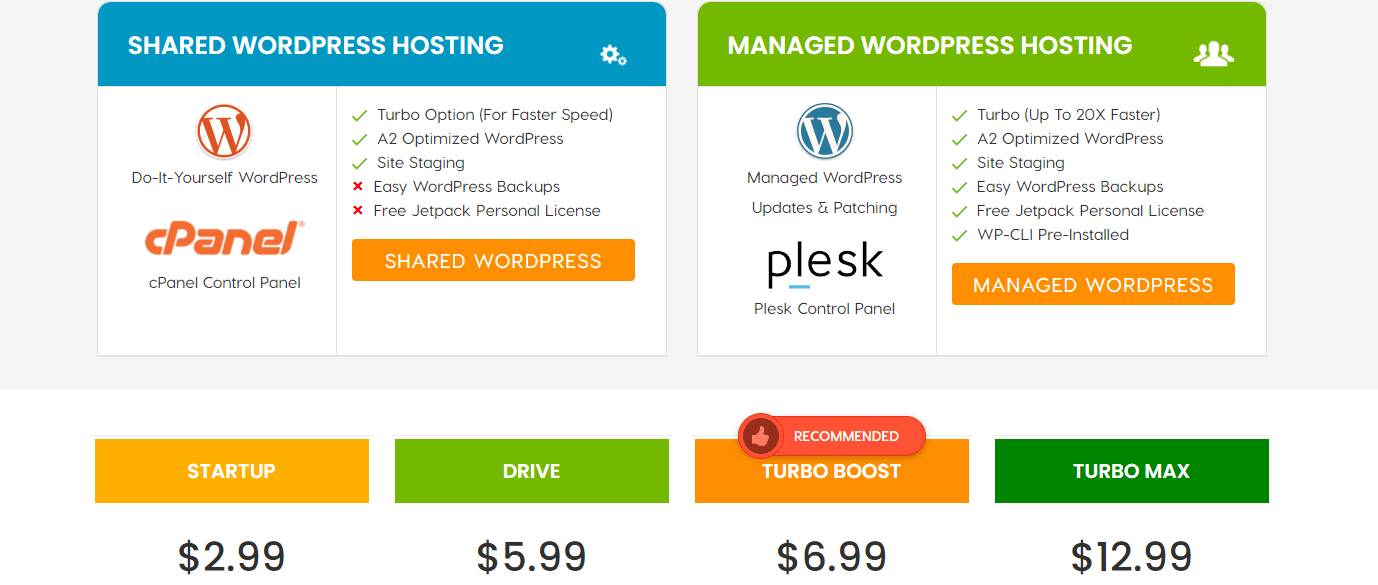 Looking for the best WordPress hosting for beginners? Then we recommend A2 hosting. Their pricing is affordable for all. Also, each of the packages has some amazing offers.
They offer both shared and managed WordPress hosting. Obviously, the managed one will be a bit expensive. It is up to you what you prefer. For agencies or small businesses, you should be using managed WordPress hosting. The managed WordPress hosting plan includes Jetpack personal license.
A2 hosting provides full control over the C-panel. If you need to customize settings, you can simply do that from this panel. Also, the support team is very responsive. Though server down is rare, if it occurs, you will get an immediate solution.
Free migration offer is available for each plan. The higher packages include data backup for WordPress sites. Considering the overall performance and features, A2 hosting is one of the best WordPress hostings.
Highlighted Features
WordPress hosting packages start from as low as $2.99/month
Offers 100% money-back guarantee
Easy WordPress installation
Committed to ensuring 99.9% uptime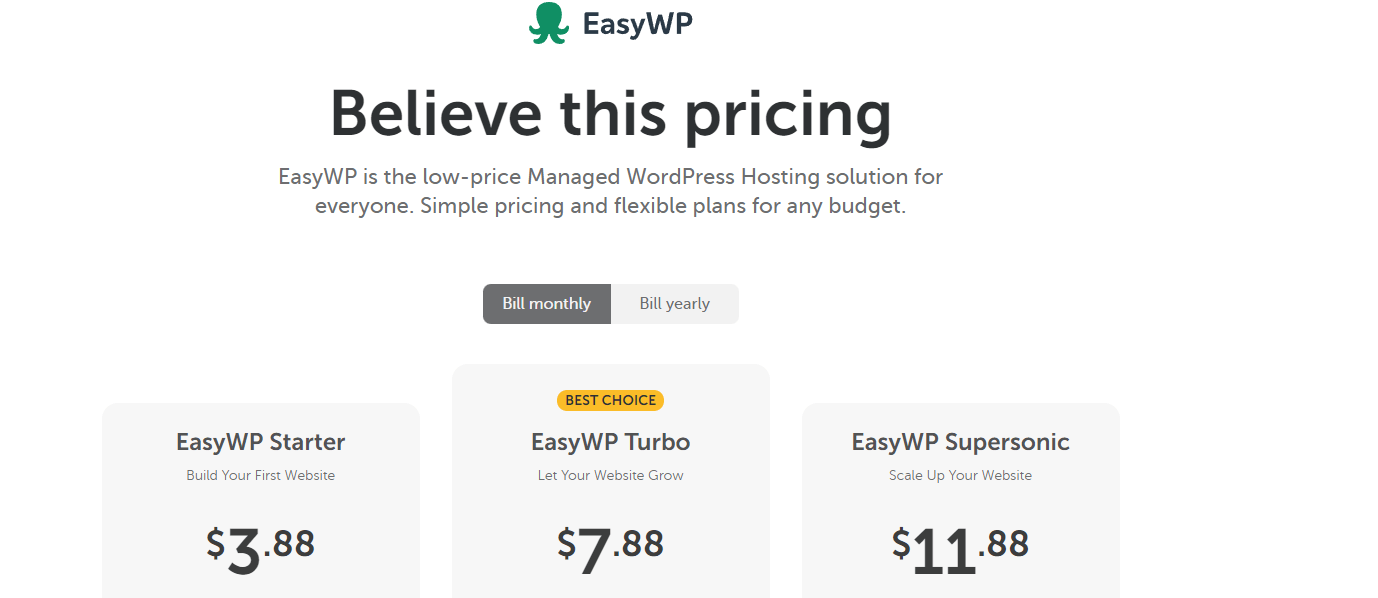 If you are looking for the best web hosting for WordPress within a shoestring budget, you should check the packages of Namecheap.
Though Namecheap is known for their domain services, they also offer hosting at a decent price. If you are just a beginner, choosing Namecheap hosting would be a good idea.
The basic plan provides 10 GB SSD and it can handle 50,000 visitors per month. So, it could be the best deal for small businesses and blog websites. Namecheap is committed to providing 99.99% uptime. Also, auto backup is available with the basic plan.
Namecheap customer care support is very active. Whenever you find an issue, just contact them through live chat and they resolve the issues. Also, you can upgrade to a higher package without interrupting the site when getting too much traffic.
There are options to choose a hosting plan with a free CDN and SSL certificate. Also, if you feel like you need something premium, feel free to go for their managed best WordPress hosted plans.
Highlighted Features
The basic plan starts from $3.88/month
One-click WordPress installation
Free migration for WordPress website
Well managed and no need to lookup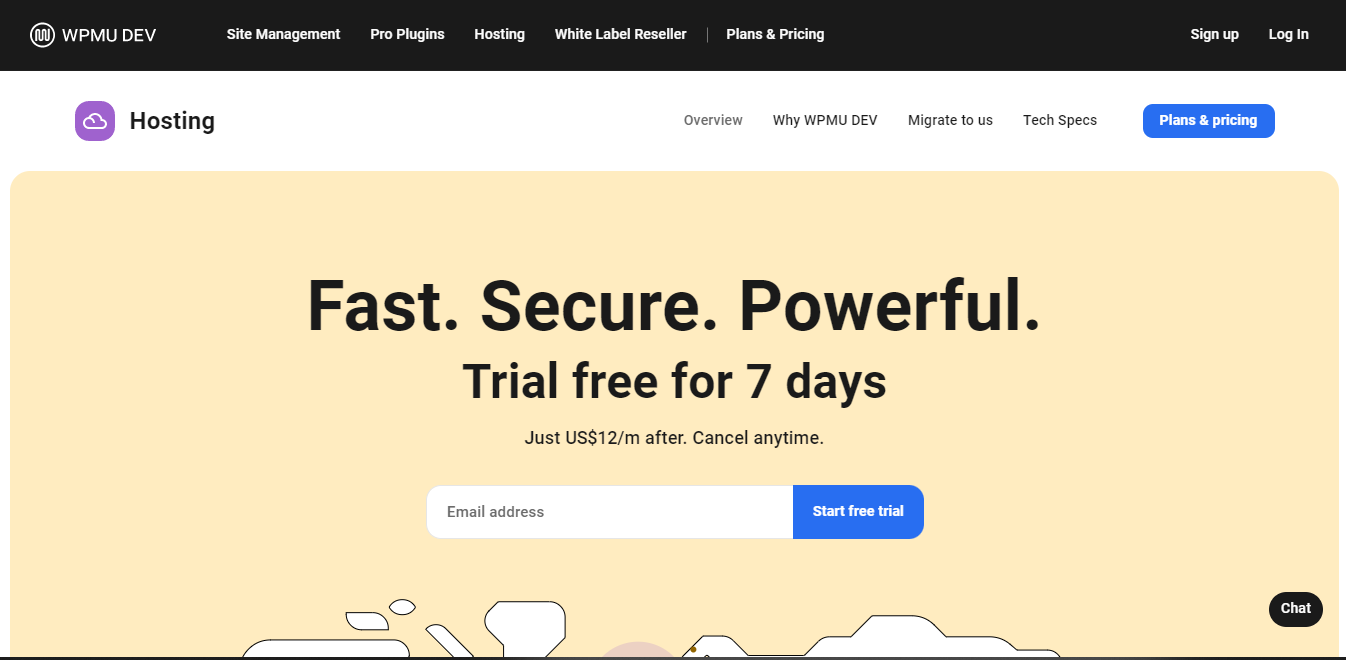 WPMU DEV's hosting platform is fully managed, optimized, virtually dedicated, and eCommerce-ready. Their hosting service is also backed by an expert 24/7 support team and is great value for money.
Every hosted site includes its own VPS, unique IP address, and fully-dedicated resources, plus Static Server Cache, Object Cache, and a Web Application Firewall (WAF) for added security. Nothing is shared or disrupted.
Additional features include: free SSL certificates, free migration, 10 data center locations/45-point CDN, daily/hourly backups, one-click staging, DNS management (integrated domains coming soon!), 10 free email accounts, 7 integrated WordPress plugins, and more!
All of WPMU DEV's hosting features are easily accessible from one dashboard. From this same interface you can also manage unlimited WordPress sites, your clients, invoices, subscriptions, and use their client billing tools, with no fees for members.
WPMU DEV offers live chat support for all hosting and WordPress-related issues 24/7/365. Their customer service is super-responsive and active via support tickets, chat channels, and forums.
Additionally, WPMU DEV provides comprehensive documentation and excellent WordPress tutorials for free on their blog. Hosting plans are flexible and start from just US$12 per month (Bronze) up to Enterprise-level hosting ranging from US$250 per month (Uranium) to US$1,500 per month (Iridium).
Highlighted features
10 data center locations and 45 point CDN
Latest technologies like NGINX, PHP 8.1, and HTTP/2
Fast loading speed that helps in SEO
Secured and site monitoring tools
Regular updates and daily automatic backup

Whenever you try to choose the best WordPress hosting service provider, you will mainly find two kinds of hosting services. One is 'shared hosting' and the other one is 'managed hosting'. People often get confused after seeing these two categories and think which will be better for WordPress.
First of all, both of them are for hosting websites. Shared hosting is a kind of hosting plan where multiple websites share the same resources. It means WordPress sites share the same server. Because of sharing-based service, shared hostings used to be cheaper and affordable for all. But shared hosting can't handle too much traffic to a website.
On the other hand, managed WordPress hosting is a dedicated server for a single website. For instance, if you have chosen a managed WordPress hosting then it means the server will save the data only for your website. No one will share the storage. Managed WordPress hosting services used to be expensive.
Brands and giant companies host WordPress sites on managed WordPress hosting. It gives security for the website and keeps backup for the website. Also, the hosting service provider responds quickly to any kind of issues regarding the hosting service. For beginners with zero traffic on the website, it is not a good idea to choose a managed WordPress hosting.
What to Consider to Choose the Best WordPress Web Hosting?
No matter what kind of website you want to host, there are some parameters that the web hosting provider should meet. Consider the following things before picking any web hosting for a WordPress website –
One-Click WordPress Installation
You are looking for the best hosting for WordPress that actually best suits WordPress, right? So, when checking the features of different hosting services, look for the easy WordPress installation service. Especially, if you are not a tech guy, installing WordPress manually from the C panel could be hard for you.
So, what to expect? You should expect to have an option like a one-click WordPress installer. It helps to get rid of all the technical jargon. All it takes to get started is just doing some clicks one by one. No coding, no customizations are needed. Even if you are a tech guy, the option is great to save you time.
Uptime
The next crucial thing to consider is the uptime of the hosting. You don't want to keep your site down even for a few minutes, right? It is only possible when the hosting is providing 100% uptime. If a hosting has uptime less than the average, your site's performance may fall. Google also considers the site's uptime as a ranking factor for the search result.
So, what is the reasonable uptime for hosting? Though the uptime varies for WordPress hosting service providers, a good web hosting service provider should ensure at least 99.9% uptime.
Support
Even if you choose the best WordPress hosting services, sometimes you might need to contact them for support. For instance, in some particular events, you might get tons of traffic that exceed the limit of the hosting plan. A quick chat with the support team can solve this. Or, maybe some malware attacked the website, the support team will help you to resolve the issue.
Your chosen hosting services should have a 24/7 support team. Maybe there may not be a calling system, but at least the instant chatting option helps a lot. Be aware that nowadays all the hosting providers claim to have 24/7 support. But in reality, only a few can meet the standard. Get the actual data before you host your WordPress website.
Security and Backup
Getting malware on websites is now common. Hackers often try to inject malware to hack the website. The hosting service provider can play a major role in preventing them. It should have security features like restricting access to suspicious login attempts. Also, the hosting service should have the ability to detect malware and remove them.
Another major fact is keeping the backup data for the websites. Suddenly servers of hosting services can crash. As a result, the data for websites will get lost. But if the hosting provider has a backup for the data, you will be on the safe side. They can immediately restore the data and you won't lose any traffic.
In general, you will find two types of WordPress web hosting – shared hosting and dedicated web hosting. For WordPress sites, you can pick any depending on your website's data and the number of traffic. For beginners, getting dedicated hosting could be too expensive. For a new WordPress site, shared hosting could be enough. In most cases, these hosting services can handle up to 10k of traffic per month.
But if you are planning to launch a giant website like Software as a Service and you don't want any interruption to your WordPress website, dedicated hosting is the ideal solution. Whichever hosting provider you choose, you will see a pricing difference between these two types of hosting plans.
Control Panel
The next thing to consider is the control panel of the hosting. No matter whether you choose managed WordPress hosting or dedicated hosting, you will get a control panel from the hosting provider. For any kind of customization for the website, you can change the settings from the control panel. It is a kind of tool where the user can change things.
The control panel interface should be user-friendly. However, most renowned WordPress hosting companies manage the hosting account well enough that the user doesn't have to do anything. Still, if you have technical knowledge, you might want to change some technical features from the hosting control panel.
Free Domain and SSL
Does it sound exciting to get a domain and SSL for free? Well, if you are looking for the best WordPress hosting, you might already have purchased a domain. If you didn't, a free domain is an extra advantage for sure. You will save for at least one year.
Another free offer often a hosting provider gives is a free SSL certificate. If you are not familiar with SSL, it stands for Secure Sockets Layer. It helps to increase the trustworthiness of a WordPress website. Especially, if there are any features related to money transactions, SSL is a must.
Free Site Migration
Let's consider you have hosted the website on a platform, but now you are thinking of migrating the whole website to a new web hosting. For a non-tech guy, it could be very hard to do. But what about if the hosting provider migrates the website on behalf of you? Sounds good, right? It is possible with some WordPress hosting providers. They offer free site migrations.
Basically, the free site migration allows you to change the web hosting from one platform to another without interrupting the website. Even the website will be live during the migration. It is a great relief. If you are planning to migrate an old site, you must consider this fact.
Frequently Asked Questions Regarding Best Hosting for WordPress
If you still have some queries regarding best web host for WordPress, go through the following questions and answers.
What is cloud hosting?
Cloud hosting is a cloud-based hosting service, where, unlike a traditional server system, it provides data from a network of storage – both physical and virtual servers and ensures blazing fast website loading speed.
Who offers the best inexpensive WordPress hosting?
In our research, Hostinger is currently offering the most inexpensive hosting packages. However, compared to some giant platforms, hostinger has some limitations. Still, you can choose a package from them if you have a tight budget.
Is there any free best hosted WordPress service?
Yes, there are several WordPress hosting providers that offer free hosting to a limited extent. However, if you care for security, getting premium hosting is always the best idea.
Does WordPress Have a Hosting Offer?
Yes, WordPress offers hosting packages. There are both free and paid hosting plans from WordPress. But WordPress hosting has some limitations and that's why we recommend choosing a top-level hosting package alternatively.
How to connect a domain to hosting?
Once you get access to the control panel of the hosting plan, there will be an option to connect your domain. The hosting providers used to ask for a name server to connect the domain. You will get the name server from your domain name provider.
What's Next?
So, you have installed your WordPress website on the new hosting. How would you design different sections of your website? Do you want to give the new website a decent look that users like? If you don't have coding knowledge, you can't do it yourself. But there are alternatives to coding.
All you need is the Elementor WordPress builder and ElementsKit addons for Elementor. The combo makes it possible to give life to your imagination. Both of these tools have free and paid versions. You can start for free and start designing a website from scratch.
Wrap Up
I guess, finally you have chosen the best hosting for WordPress. Whichever hosting provider you choose from this list of the best web hosting providers for WordPress, make sure you have read their terms and conditions. Also, if you are just a beginner, go with something cheaper and test the service of the platform.
The good news is, we have tested the recommended hosting providers in the above list and found they are better than other available hosting service providers.