How to Build the Best Dropshipping Website for Free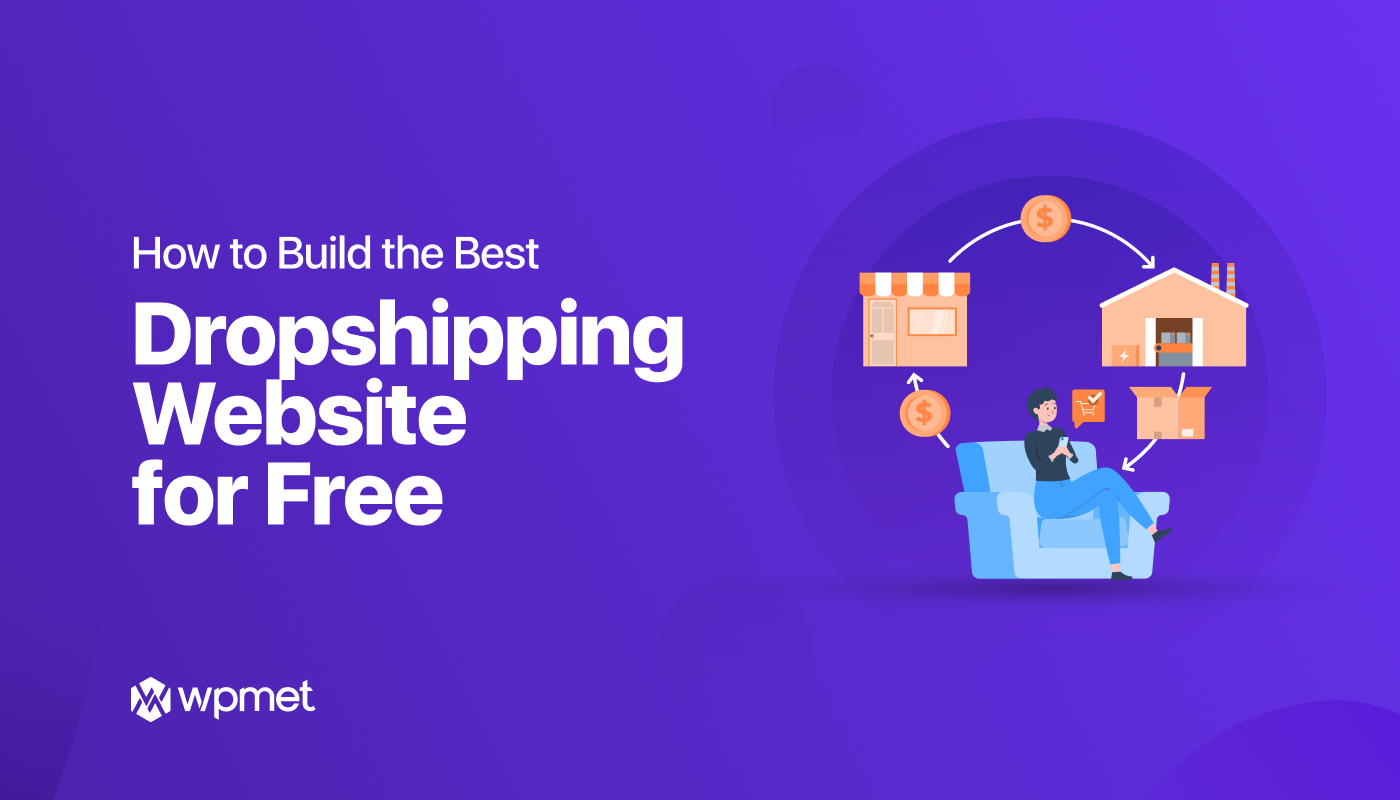 Like any business, learning how to launch a dropshipping website is not simple. But it's still a significant first step into the realm of entrepreneurship. You don't need to keep any inventory to sell to clients. Products do not require an upfront payment.
Additionally, if you're committed to your new business, you can eventually create a reliable source of revenue.
If you're thinking about starting a dropshipping site, consider the following commercial and monetary suggestions in this comprehensive dropshipping write-up. While some have fantastic concepts, others are required right away. But taking care of them now will spare you time and hassle later!
So, let's begin… 💨
🧐 What is Dropshipping?
Dropshipping is an eCommerce site with a unique approach to retail. It denotes that the product was obtained from a third party and was shipped to the consumer directly.
The fact that a business doesn't have the items in inventory is the primary distinction between dropshipping and the traditional retail approach. But to fill orders, the vendor buys what is required from a third party.
🤔 How Does the Dropshipping Business Work?
Dropshipping has a very low initial investment need. The owner starts by compiling a list of vendors that will supply the goods that will be advertised and sold on the website. All of the shipping and logistics are handled by a third party, who is typically a wholesaler or manufacturer.
Therefore, when someone purchases a product, the wholesaler ships it, and you receive a share of the transaction as compensation for selling the goods.
🤨 Why Establish a Dropshipping Website?
Starting a dropshipping company is a fantastic way to get started in entrepreneurship. However, it only works if you have a fantastic website that connects you with your clients.
You require a drop-shipping website for the following reasons:
A dealer who can show they have an active website and a loyal customer base is preferred by both manufacturers and suppliers.
Since all of your competitors have websites, not having one could be bad for business.
Since most of your clients are online, having a website shows the authenticity of your company.
A website serves as a platform for the goods and services you offer.
✨ Benefits of a Dropshipping Website
The drop-shipping business concept has several advantages for the retailers:
Lower Starting Cost
Since processing orders doesn't depend on the physical location, the size of the warehouse, the number of staff, or the logistics, so your drop-shipper site can rapidly grow. And with a minimal cost to start with!

Limitless Product Range
A drop-shipping company may provide a wide range of products without having to invest a lot of money in expanding the business because it is not dependent on physical infrastructure and suppliers.

Flexibility in Operation
A drop-shipping company can run from anywhere in the world, provide a wide variety of items, and quickly adjust to changing trends.
🛒 eCommerce Platform to Start a Dropshipping Website
Every online merchant should be mindful of a few special requirements because drop shipping is a relatively new practice and is specific to certain sorts of selling goods.
For your drop shipping eCommerce website, you may choose the best option by following the straightforward rules provided below:
Choose an easy to afford to maintain the platform
Drop-shipping plugins must be supported by eCommerce platforms
The website should offer customer support around-the-clock
It needs to be flexible and offer a smooth management
Make a note of the most popular dropshipping sites
When you're planning to start a dropshipping site, don't forget to research the existing dropshipping sites and learn from them.
📈 The Current State of the eCommerce Services Market Today
Finding the perfect eCommerce platform for your online store may initially seem tough. We choose to do this by mapping the market shares of the most widely used eCommerce solutions:
The data above demonstrates that WooCommerce has a more significant user base. Next are Shopify, a self-hosted option, and Magento, an open-source platform. BigCommerce and OpenCart hold a smaller portion of the market.
⭐ Best Dropshipping Website Platform for Dropshipping Business
You may find more details that may be useful when starting a dropshipping online store in our tutorial on how to build a website.
So let's get going…
WooCommerce is powered by 3,876,740+ websites, among which 68,000 of the world's top million websites are built with WooCommerce.
The key benefits are that it is totally free and very easy to use. The main advantage for non-technical customers is that it only takes one click to set up a drop shipping website.

WooCommerce is the most popular eCommerce platform in the WordPress admin panel. Additionally, you can quickly add a variety of features to an online business by installing a number of useful plugins.
For building a dropshipping website, designers and developers frequently use WooCommerce. eCommerce themes, designs, and installation guides are widely available.
WooCommerce is a cost-free alternative to WordPress. However, customers on the WordPress marketplace should purchase for the domains, and for any additional feature, a large variety of plugins are always there for your assistance.
💸 Price: Free

💪 Active Users: 3,876,740+ Live Websites

Many users regard Shopify as one of the top platforms for dropshipping. Over 500,000 online stores, including dropshipping websites, are currently hosted by the solution.
The platform is appropriate for novices. So even you, without any technical skills, may build a dropshipping website all by yourself!
Shopify features an easy-to-use admin panel. Users can also access pre-field sites like return policy, shipping calculator, about us, privacy policy, and shipping information through the platform.
Shopify makes running a dropshipping online store very simple by offering user support via email, phone, and online chat.
💸 Price: Starts at $29/Month

💪 Active Users: 2,100,000+ Live Websites
Among online shops, this is the third-most-popular eCommerce solution. Since Magento is an open-source platform, keep in mind that you should look elsewhere if you are new to eCommerce. Nowadays known as Adobe Commerce. You might, however, hire an eCommerce team to set up your store for you.
A perk of Magento is its enhanced customizing capabilities. So, you might think about Magento if you wish to amaze your eCommerce store's customers.
The backend of this sophisticated eCommerce platform is user-friendly. However, you will be required to learn a few guides or work with an eCommerce team to set up a dropshipping web business on Magento.
There is even a free plan offered by Magento. For large businesses, other expensive plans include a ton of features. You can choose the free option if you do not intend to launch a sizable marketplace for drop shipping.
💸 Price: Starts at $22,000/Year

💪 Active Users: 2,50,000+ Live Websites
Over 50,000 small online stores, as well as more than 2000 large online stores, are powered by this dedicated eCommerce service.
Because of its easy setup and practical UI, users adore BigCommerce. BigCommerce does not impose any additional transaction fees, in contrast to Shopify.
Moreover, the platform offers additional advantages like an incredibly quick and easy setup process, online support, and a configurable style.
💸 Price: Starts at $29.95/Month

💪 Active Users: 49,712+ Live Websites
The biggest online retailers on the market are all powered by Shopware, a well-known eCommerce platform. Manufacturers, retailers, and brands in the B2C and B2B industries all use it.
Shopware offers flexibility and less complexity, which makes it easy and fast to realize development potential. This program has integrated SEO capabilities and highly inventive marketing features that could serve as the foundation for a dependable, future-proof solution.
💸 Price: Starts at $200/Month

💪 Active Users: 91,246+ Live websites
👍 Our Recommendation
Any of the examined platforms that we've mentioned above can be used to create a dropshipping website. But keep in mind that the decision should be based on your company's demands and long-term objectives, along with durability and cost-effectiveness.
By keeping every aspect in mind, we would highly recommend you to go for WooCommerce.
As it is an amazing platform for beginners with no coding involved. WooCommerce also has the highest amount of users, and of course, tons of themes and plugins are there to help and make your dropshipping website up and running in mins!
📝 How to Create a Dropshipping Website using WooCommerce on WordPress
WooCommerce is a WordPress plugin that is regarded as the market's most common online shop creator. Anyone can create an eCommerce by using WooCommerce and a compatible WordPress theme in just a few steps:
✅ Step 1: Get a Domain and Hosting
To start a dropshipping website, an official domain is what you need first. Which you must buy, and several hosting providers are available online, or you can even use an existing domain ID (if you have any).
✅ Step 2: Install and Setup WooCommerce
The second step is to set up WooCommerce on your website. You may get it from the WordPress plugin library for free and then install it on your site. You may even install it directly from your WordPress dashboard.
✅ Step 3: Access the Setup WooCommerce Wizard
Let WooCommerce be your ultimate setup wizard. Just right after activating WooCommerce for the first time, you will surely be prompted to use the setup wizard.
✅ Step 4: Choosing Payment Gateway
On the next page, you can choose which types of payments your online store will accept. You can utilize Stripe and/or PayPal by default, as well as offline payments like online payments and/or cash.
✅ Step 5: Configure your Shipping Options
The next section you'll be seeing after configuring your payment gateways is Shipping. You can set the amount your clients will be charged (or free) for shipping there.
After that, you need to go through some of the recommended plugins, and after that your online business platform formatting is done. Then all you need to do is just create products and add up extensions that will make your website better.
If you want to the whole article on how to create a WooCommerce Website a to z bigginers guide, with real step-by-step images and explanations… Check the button below 👇👇👇
Final Thoughts
You are now fully informed on how to create a dropshipping website. Choosing the best platform for your dropshipping business is crucial when you're just getting started.
Additionally, it should be affordable for you because not all platforms are free. Remember that even if you choose a free platform, you will still need to pay for a domain, extra features like a dropshipping extension or plug-in, and the layout.