5 Free Gutenberg Page Builders: Your Web Design Game Changer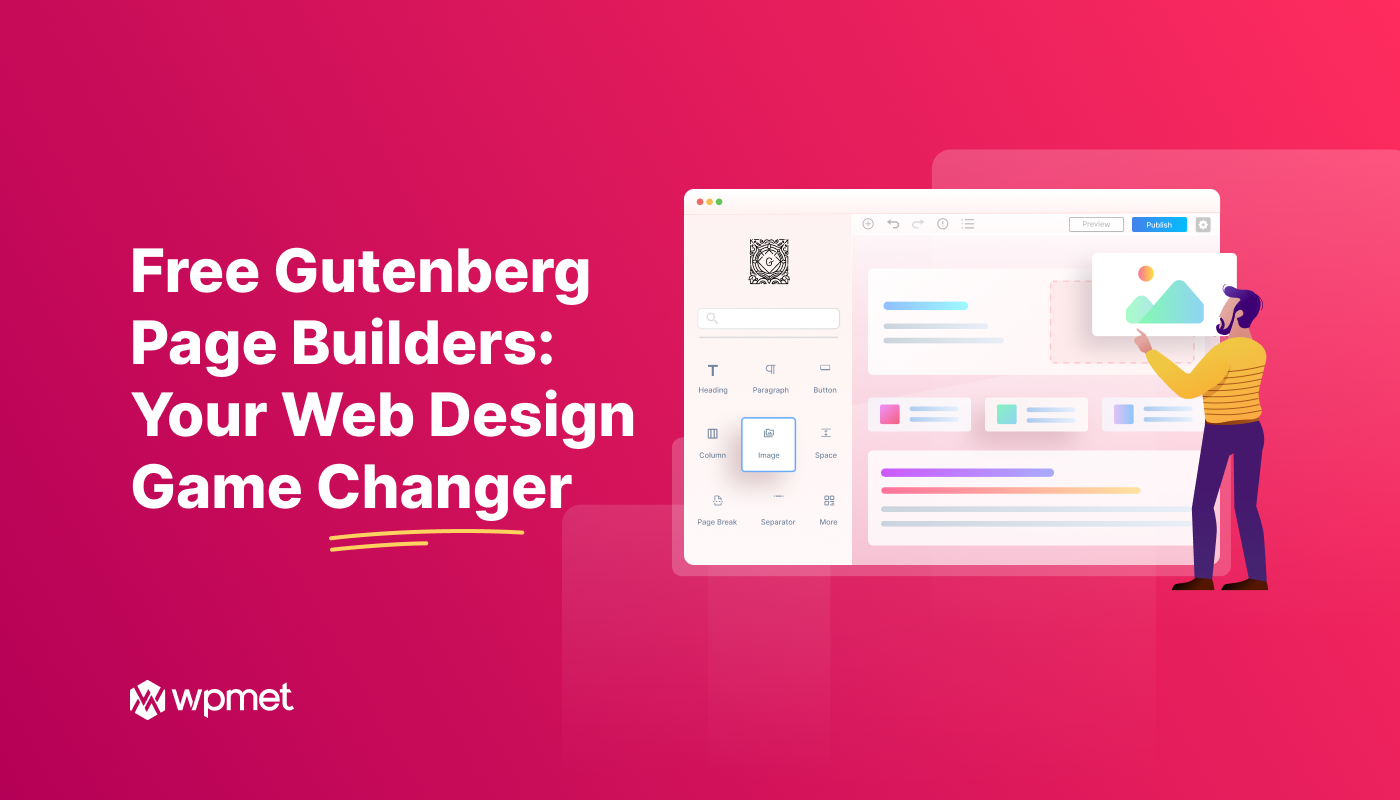 If you're new to WordPress, you've probably heard the name "Gutenberg" here and there. But as a beginner, you might be wondering, "What's the deal with it?"
Well, meet Gutenberg (also known as the Block Editor), the friendly WordPress editor that helps you write posts and build your website. It's like your magic wand for creating awesome posts and pages without breaking a sweat. This new editor is here to replace the old, not-so-fancy WordPress Classic Editor and make your web design adventures way easier.
Today, we'll be uncovering its secrets and show you how Free Gutenberg Page Builders can be your web design game-changer!
What are Gutenberg Page Builders?
Gutenberg Page Builders are additional plugins or extensions designed to enhance the functionality and features of Gutenberg in WordPress. These page builders provide users with a wider array of content blocks and tools to create more complex and visually appealing web pages.
Some Gutenberg Page builders offer specialized blocks with customizable options for various purposes, such as testimonials, sliders, accordions, forms, pricing tables, and more.
Is Gutenberg Better than Elementor?
Whether Gutenberg is better than Elementor depends on the specific needs and preferences of the user. Gutenberg is the default WordPress block editor. It has improved over time, offering a streamlined and intuitive way to create content using blocks. It's great for users who prefer a more integrated and native approach to content creation.
On the other hand, Elementor is a powerful page builder plugin that offers a more robust and flexible design experience. It's highly popular for its drag-and-drop interface, extensive template library, and advanced customization options. Elementor is excellent for users seeking a higher level of control over the design and layout of their website.
Advantages of Using Gutenberg Page Builders
Using Gutenberg Page Builders in WordPress offers several advantages 🚀🚀🚀:
➡️ Enhanced Functionality
Extend the functionality of the Gutenberg editor by providing a wide range of blocks and features that can be easily integrated into your content.
➡️ Diverse Content Blocks
Offer a variety of specialized content blocks, such as galleries, sliders, testimonials, and more for diverse and engaging content layouts.
➡️ Ease of Use
Their intuitive design makes it ideal for both beginners and experienced users even in complex layouts and designs.
➡️ Time Efficiency
Pre-designed blocks and templates can save time while creating and styling each element from scratch.
➡️ Customization Options
They allow users to tailor each block's appearance and behavior according to branding requirements.
➡️ Responsive Design
Most Gutenberg page builders are designed to be responsive across various devices, including desktops, tablets, and smartphones.
5 Popular Free Gutenberg Page Builders
We have identified 5 Gutenberg page builder plugins that you can avail for free. These plugins have features ideal for your page building.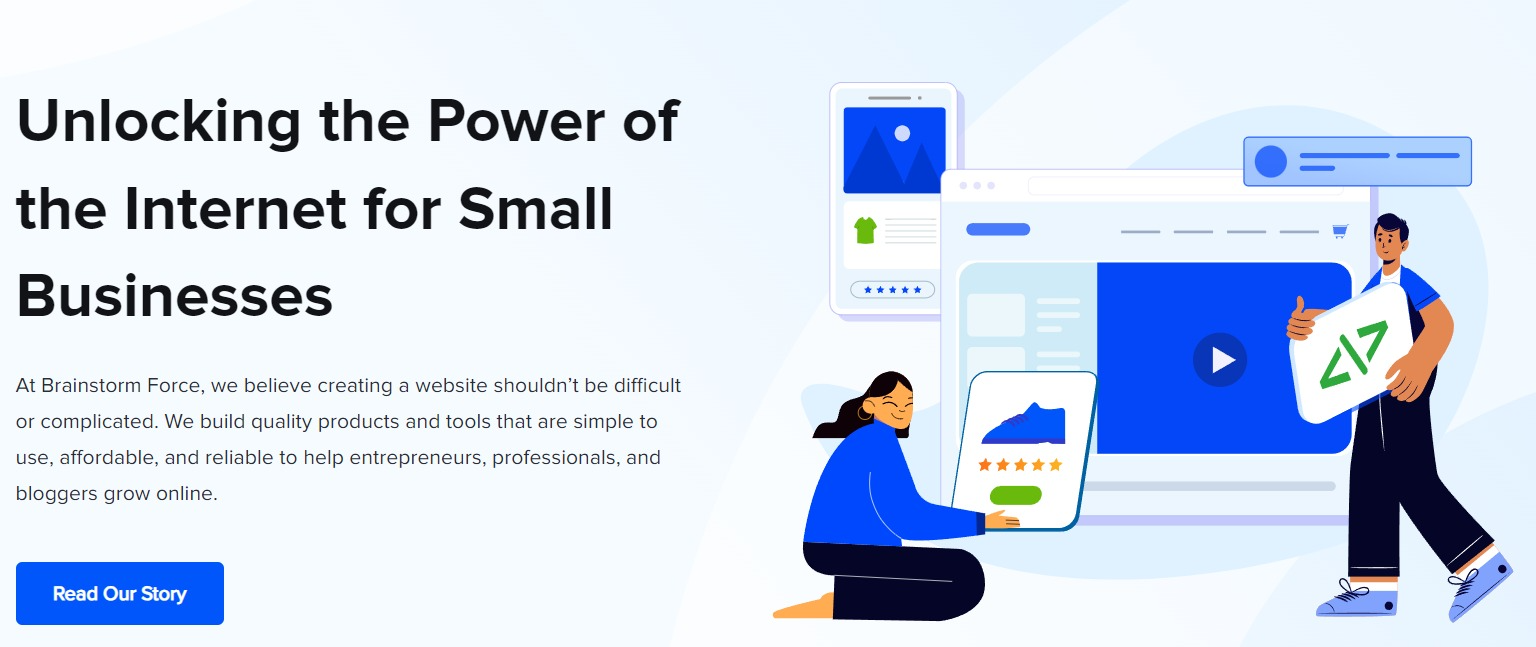 Spectra is a highly acclaimed plugin that enables rapid and professional website design. It boasts an impressive selection of 23+ blocks for building a fully functional website. One notable feature is their Marketing button blocks. This feature allows you to insert captivating lines to boost lead generation.
Additionally, Spectra offers extensive customization options like gradient styles and icons. These options give you the ability to tailor its blocks to match your brand and engage with visitors. This tool has responsive layouts offering color variations and image placement. Be it on the top, left, or right — resulting in an aesthetically pleasing outcome.
Moreover, the Info box block within Spectra is another standout. Integrating an attractive Call-to-Action (CTA) button can significantly enhance conversions through this block.
Some Notable Blocks:
➡️ Multi Buttons Block
Effortlessly add multiple buttons within a single block using this feature.
➡️ Info Box Block
Incorporate an information box with an image, heading, and description seamlessly.
➡️ Testimonial Block
Add testimonials to your website effectively using this dedicated block.
➡️ Price List Block
Easily generate a price list resembling a restaurant menu with this intuitive block.
➡️ Team Block
Create an engaging team section complete with photos using this versatile block.

CoBlocks is a WordPress plugin introduced in 2018 to enhance the WordPress content management system (CMS). It offers a valuable set of blocks that seamlessly integrate into WordPress for:
Images,
Galleries,
Quotes,
Forms, and
Various advanced options.
CoBlocks markets itself as the go-to page builder for all your needs. They present a selection of 29+ impressive blocks, perfect for quickly creating a standard website. One standout feature is its exceptional Row and Column blocks. This feature allows the addition of generated content areas with specific responsive margins and padding options.
Moreover, each block is thoughtfully optimized to provide a powerful yet familiar customization experience through its innovative Typography Control Panel.
Some Notable Blocks:
➡️ Carousel Gallery Block
Provides the ability to craft carousel-style galleries, allowing a beautiful showcase of your images.
➡️ Author Profile Block
Allows for the addition of an author profile box within your WordPress post or page, enhancing personalization.
➡️ Rows and Columns Blocks
Empowers you to fashion dynamic layouts utilizing a versatile grid system.
➡️ Alert Block
Construct engaging alerts to seamlessly integrate into your WordPress posts and pages.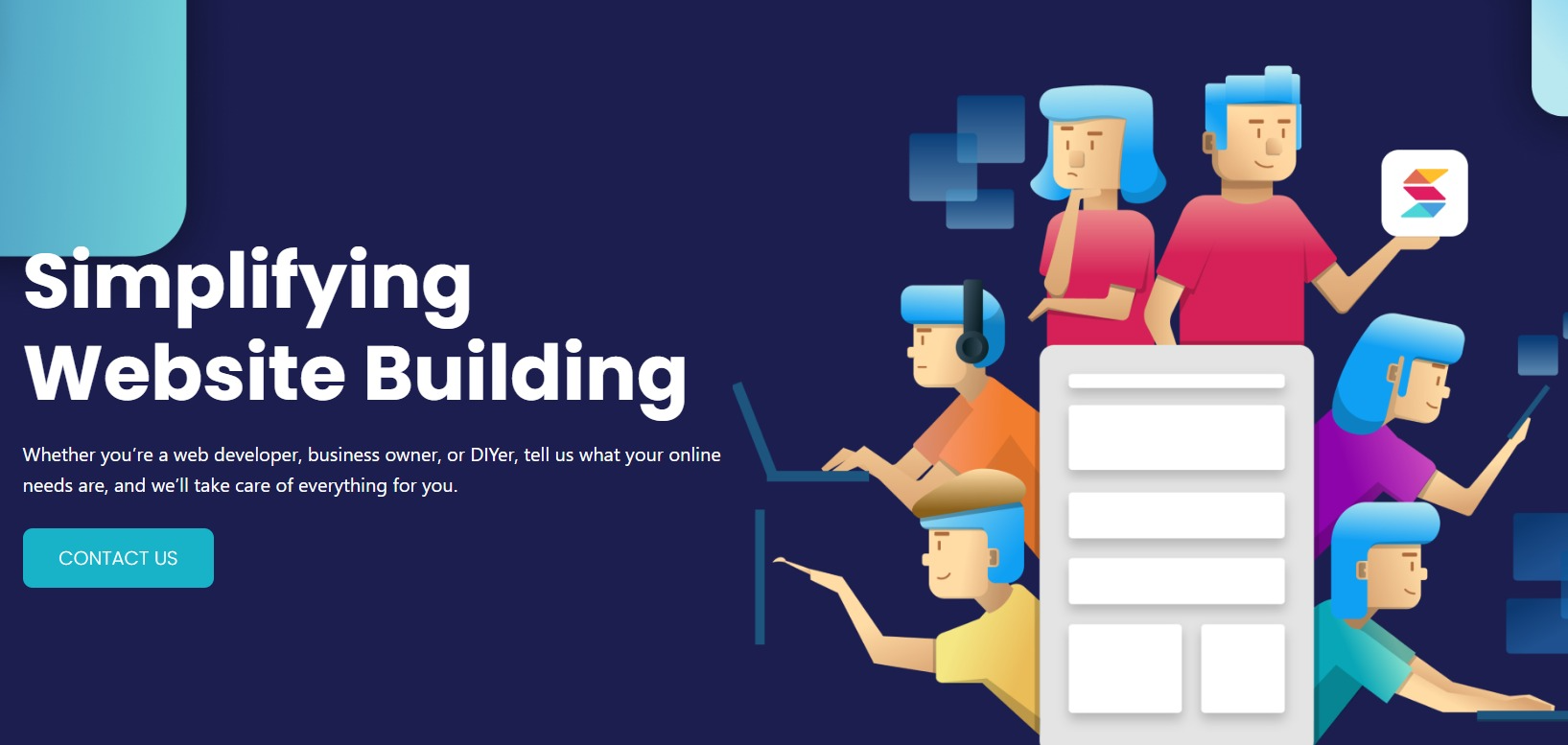 Stackable Blocks is a popular page builder for Gutenberg that extends the capabilities of the Gutenberg editor. Its rich set of custom blocks allows users to create visually appealing and feature-rich web pages without extensive coding knowledge.
The plugin offers a variety of blocks that can be stacked on top of each other. These blocks cover a wide range of design and functional elements such as testimonials, team profiles, accordions, headers, counters, and more. Users can simply drag and drop these blocks into their content area, adjust settings, and style them to match their website's branding.
Stackable Blocks makes it easy for all users to design beautiful and functional web pages in WordPress. You can mix and match various blocks and customize them to suit your needs, giving you the freedom to create engaging content with ease.
Some Notable Blocks:
➡️ Feature Grid Block
Showcase features, products, or services in an organized grid layout, complete with icons and descriptions for each item.
➡️ Video Popup Block
Embed videos that open in a popup window upon user interaction, enhancing the user experience and engagement.
➡️ Call to Action Block
Encourage users to take action with customizable buttons and compelling text, directing them to specific pages or actions.
➡️ Notification Box Block
Add eye-catching notifications or alerts in various styles and colors to convey important messages and announcements.
➡️ Team Members Block
Introduce your team with images, titles, and brief bios, helping visitors connect with the people behind your project or organization.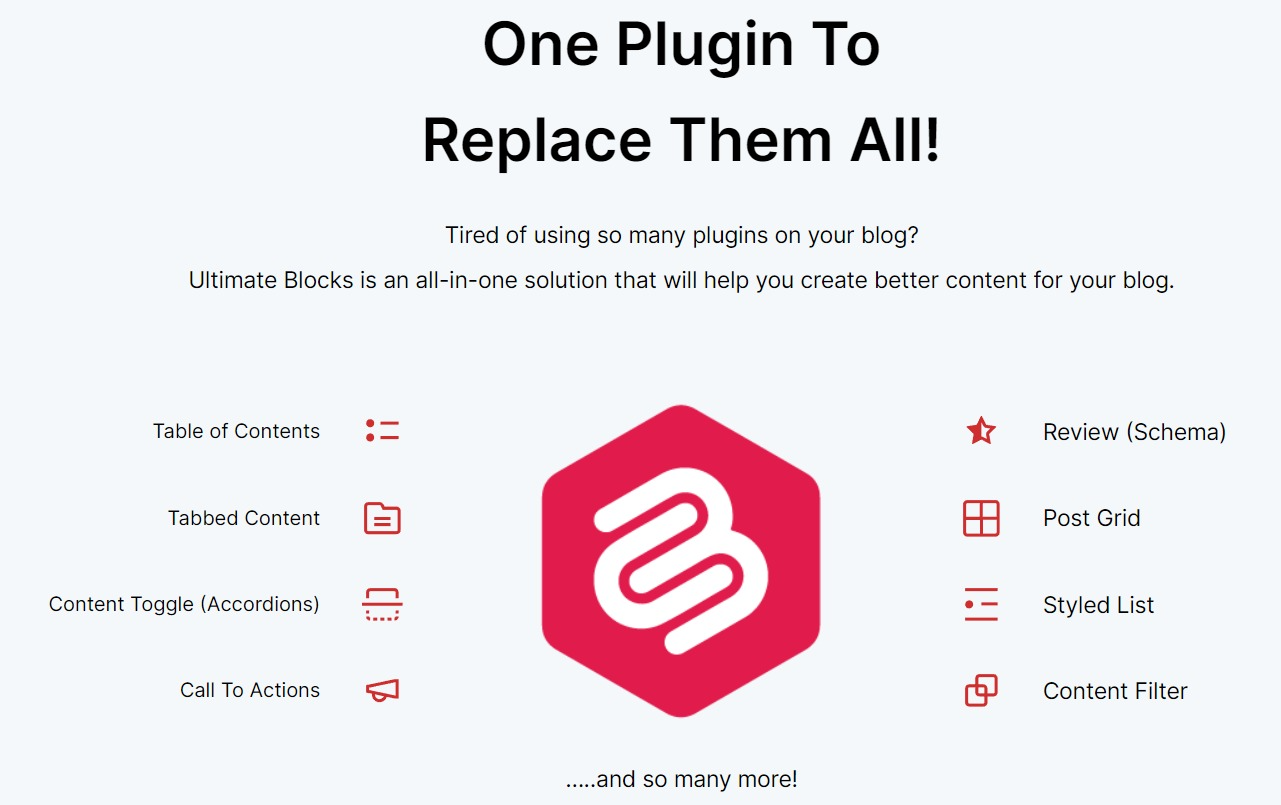 Ultimate Blocks empowers you to elevate your content creation with its impressive selection of over 18 Gutenberg blocks. It comes at no cost, available for download on WordPress.org, ensuring accessibility for all.
Ultimate Blocks provides the flexibility to enable or disable individual blocks, allowing you to tailor your site to your specific needs. Each block is carefully designed to make your content more appealing and engaging. You can easily customize each block to present your content just the way you want.
Notably, Ultimate Blocks prioritizes SEO-friendliness. It incorporates three valuable schema types – HowTo, FAQ, and Review – into its arsenal. Implementing these schemas can boost your Click-Through Rates (CTR) in SERPs.
Some Notable Blocks:
➡️ Review Block
Enables the incorporation of product reviews complete with the product name, features, summary, and a star rating.
➡️ Table of Contents Block
Facilitates the seamless creation of a table of contents by utilizing the headings present in your article.
➡️ Call to Action Block
Empowers you to craft an engaging call-to-action box featuring a compelling heading, descriptive text, and an interactive button.
➡️ Click to Tweet Block
Simplifies the process of embedding tweetable content within your posts and pages.
➡️ Notification Box Block
Provides the ability to insert uncomplicated notification boxes within your articles for enhanced visibility and communication.
…..and more.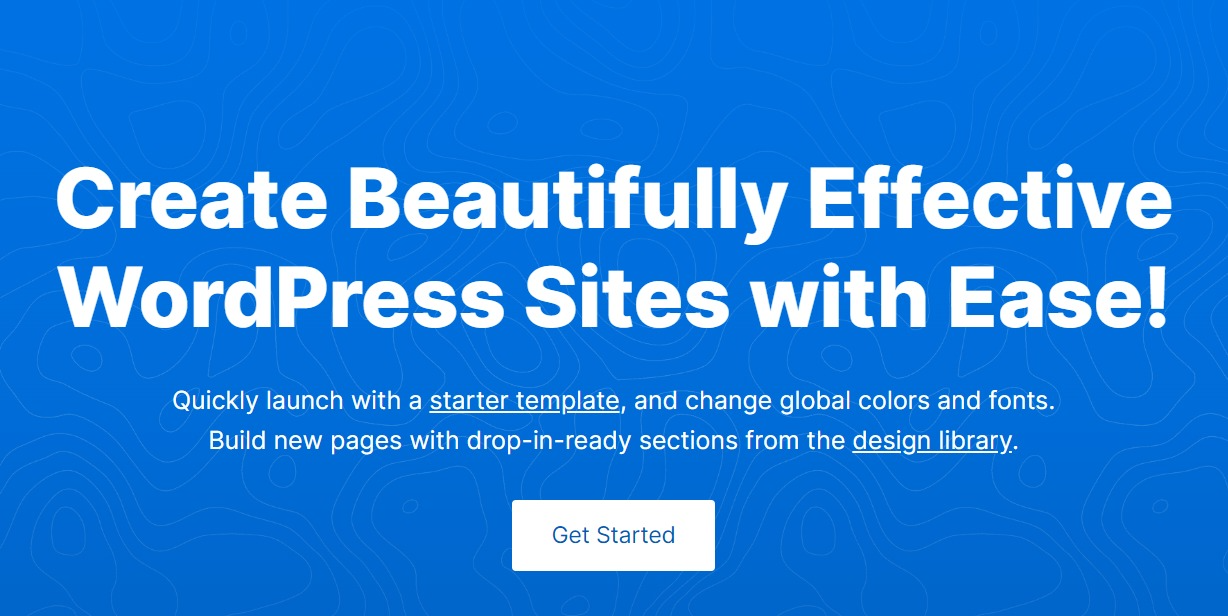 Compared to popular page builders like Elementor or Divi, Gutenberg has some constraints. That's where Kadence Blocks comes in. It expands your choices for creating dynamic web pages flexibly.
Kadence Blocks is a unique plugin for the block editor. It's great for those looking for efficient web design solutions. It lets you build pages with complex layouts, giving you better control over columns, rows, spacing, and other elements.
Among their standout blocks, the Row Layout block takes the spotlight. Revel in the liberty to set up remarkably adaptable multi-column layouts. Within these layouts, you can embed other blocks seamlessly. This robust block offers responsive controls, allowing you to govern column layouts across various modern devices. Moreover, it features a pre-existing content library, enabling swift design imports.
Some Notable Blocks:
➡️ Row Layout Block
Incorporate content blocks within a single row or multiple columns effortlessly.
➡️ Tabs Block
Empower yourself to craft both horizontal and vertical tabs, customized to your preference.
➡️ Accordion Block
Effortlessly design appealing accordions seamlessly integrated into your content.
➡️ Icon List Block
Construct eye-catching lists using personalized icons, replacing the standard bullet points.
Bonus – Tips and Tricks for Effective Page Building
Let's take a look at some valuable tips and tricks to enhance your page-building prowess, ensuring a seamless and efficient workflow.
💡 Organizing Content with Blocks
Blocks allow detailed and flexible content structuring, catering to specific elements like paragraphs, headings, images, and more.
By utilizing blocks, you can logically segment your page. For example, 'Heading' blocks for titles, 'Paragraph' blocks for explanations, and 'Image' blocks for visuals.
💡 Leveraging Reusable Blocks
Creating a reusable block is easy: design a block as usual, then click on the three dots in the toolbar and choose 'Add to Reusable Blocks.' Assign a clear name for future identification. This way, you can quickly insert complex or commonly used content without starting from scratch.
💡 Keyboard Shortcuts for Efficiency
Gutenberg provides a variety of keyboard shortcuts that can greatly boost your productivity. For instance, 'Enter' for a new paragraph, '/' followed by the block name for a new block, or 'Ctrl + Z' (Windows) or 'Command + Z' (Mac) to undo your last action.
💡 Collaborative Editing with Gutenberg
Gutenberg supports collaboration by enabling multiple users to edit a post simultaneously. To collaborate on a page, simply click 'Invite anyone to this document.' This creates a shareable link, granting others access to edit the page. You have the ability to set their permissions, allowing either viewing or full editing rights.
👉 👉 👉 Check out 11 Best Gutenberg Plugins for WordPress 👈 👈 👈
Conclusion
While the Gutenberg page builder plugin can achieve a lot on its own, the block-based system they utilize offers endless possibilities for creativity. This list of page builders for Gutenberg is designed to assist you in crafting more dynamic, interactive, and unique content for your website.
By now, we trust you've identified the best Gutenberg page builder from the list. Best of luck on your Gutenberg journey 🤟🤟🤟