10 Best Gutenberg Page Builders (Tested & Compared)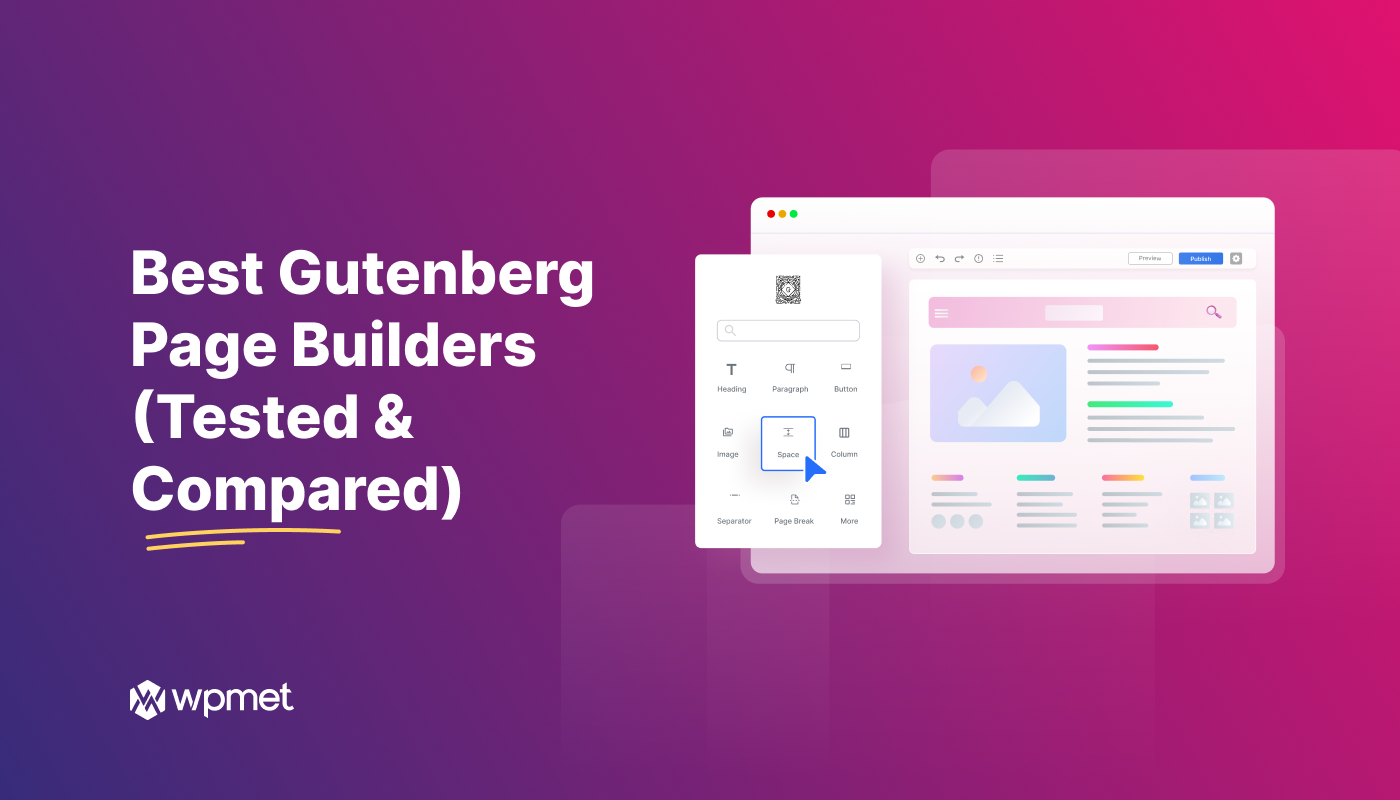 Recently WordPress made a significant change from its classic editor to the block-based editor Gutenberg. It comes with a simplified and intuitive interface with a few content blocks like a paragraph, heading, image, button, list, etc.
But, using a Gutenberg page builder you can easily extend its functionality even more. You will find additional blocks, new extensions, extra functionalities, and many more.
In this article, We'll also share our top picks for the best Gutenberg page builder along with a comparison.
What are Gutenberg Page Builder Plugins?
In simple words, Gutenberg page builder has a set of blocks to let you create any pages and posts. It replaces the previous classic editor to provide an improved experience.
After launching WordPress 5.0, users got a new drag-and-drop interface with blocks like text, images, videos, and other simple web designing solutions to give a smooth user experience.
This change has started breaking new ground. More recently, other third-party partners have developed advanced functionalities and additional blocks to counter regular page builders.
Now, there is a range of Gutenberg page builders as a complete alternative to Elementor and Divi. Besides enhancing WordPress editing capabilities, these plugins help you create lightweight and bloat-free websites.
Let's learn about the Gutenberg block page builder even better.
Types of Gutenberg Block Plugins
Now, to filter the Gutenberg page builder plugin based on specific needs, we are going to discuss the different Gutenberg block plugin types. We can define these plugins in two categories:
Single Block-based Plugin: This type of Gutenberg plugin supports a specific content element. Such as a map block plugin, you will find all the advanced design functionalities to add and show a map on the website.
Multiple Blocks Plugin: Refer to a library or toolkit with a range of block collections and other useful functionalities to build an entire website. You will find all the various elements column, row, gallery, spacer, countdown, and many more.
And, today we'll focus on the second one – a plugin with various block collections. We've done our homework to find a list of the 10 best Gutenberg page builders, including their standout blocks, pros, cons, and pricing.
Best Gutenberg Page Builder to Try
Here are the top 10 best Specially selected Gutenberg page builders by us.
✔️ Active installations: 600,000+
⭐ Ratings: 4.7 out of 5 stars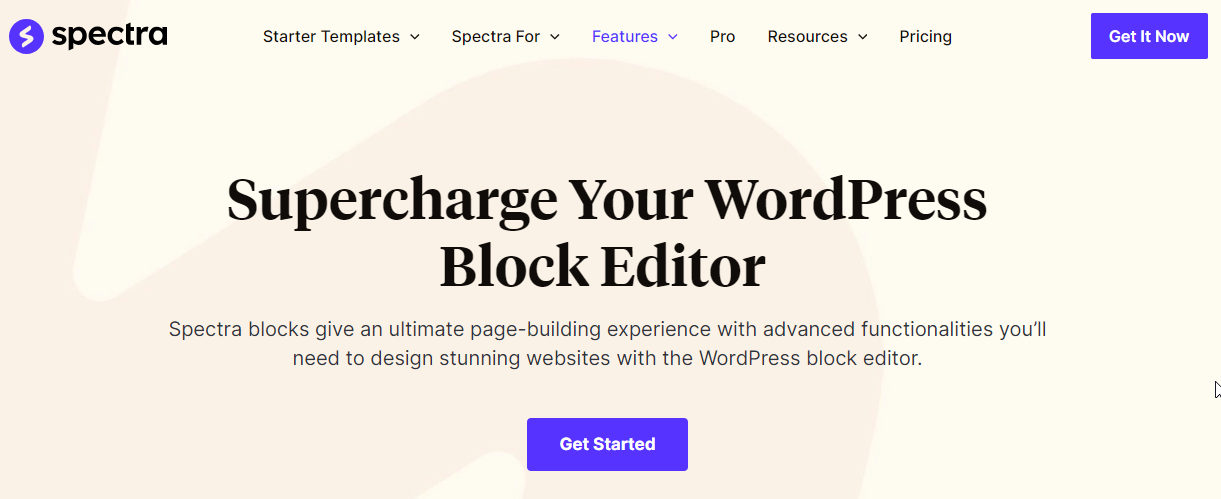 Spectra aka Ultimate Addon (formerly) is developed by the Brainstorm Force team, the makers of some amazing WordPress products like Astra, Starter Templates, and Neve.
That's a big plus! You can import any Astra Theme starter sites to create stunning website layouts in the block editor.
It has the most powerful and fully optimized (40+) block collection to design a beautiful and sleek website in the WordPress block editor.
We recommend it over a block library because it allows you to apply interactive animation styles to any element and customize the look of your website based on different devices.
In essence, you get an all-in-one page-building experience.
Features That Make This a Top Gutenberg Page Builder
👏 Standout Blocks
Slider: This allows you to easily show your product, news, or anything in responsive and stunning sliders.
Image: Flexible way to show a range of photos with unique and stylish galleries.
Form Builder: Make intuitive and attractive multipurpose forms by adding any fields.
Taxonomy List: Categorize your content for your users to navigate to related content.
Marketing Button: Showcase engaging and attractive buttons anywhere on the website.
☑️ Pros
Offers a clean and intuitive user interface.
100+ Expert-designed templates to build websites faster.
Provide global styling support to maintain design consistency.
Features wireframe blocks to create mockups for design.
Flexbox enables site layouts to resize and reorganize all elements.
Show or hide specific content depending on device types.
Highly optimized blocks ensure lean design to higher website performance.
Offers a wide range of useful settings.
Compatible with any WordPress theme and plugins.
⛔ Cons
No dynamic data support.
Beginners face a slightly longer learning curve.
💸 Spectra Pricing
Free: You can use the free version to build a fully functional WordPress website.
Pro: Available from $61 annually. Get powerful features, custom blocks, and extensions to enhance the block editor experience.
✔️ Active installations: 400,000+
⭐ Ratings: 4.4 out of 5 stars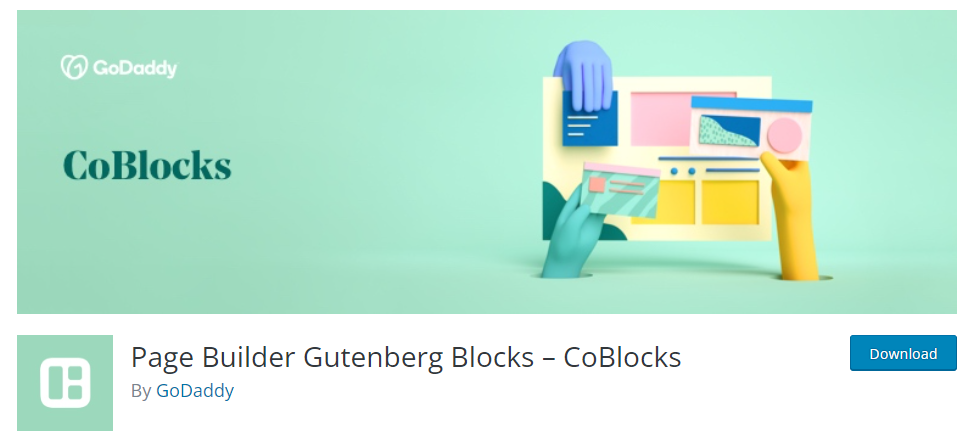 CoBlocks is another top block editor plugin powered by the industry leader GoDaddy. In total, it has 54 blocks that will make your website stand out by implementing your out-of-the-box thinking.
These additional blocks have unique solutions for the Gutenberg WordPress editor like Carousel Gallery, Events Block, Gif Block, Hero Block, Services Block, and many more.
Beyond that, CoBlocks provides a true page-builder experience with its exceptional Row and Column blocks. You will have margin and padding settings to design dynamically generated content areas responsively. This is something that its competitors miss.
Features That Make This a Top Gutenberg Page Builder
👏 Standout Blocks
Resizable Row/Columns Blocks: This adds responsive content areas with dynamically generated content.
Carousel Gallery Block: Add images in a visually appealing way.
Dynamic Separator Block: Helps to add an automatically resizable separator between content.
Alert Block: Notify your visitors by showing notices or alerts on the website page or post.
Service Block: Display your services in a professional and stylish way.
☑️ Pros
Let you split content with a beautiful divider.
Each block includes extensive customization features.
Create your own custom block patterns.
Adds functionality to the block editor without any bloat.
Full control over block typography.
Integrate with Google Maps
The best companion "Go theme" is absolutely free.
⛔ Cons
Additional memory usage.
No demo is available.
💸 CoBlocksPricing
Free (No money at all.)
✔️ Active installations: 300000+
⭐ Ratings: 4.7 out of 5 stars

Our next best Gutenberg page builder, Kadence, is a possible alternative to conventional page builders. Its library includes the most used blocks for designing any type of website.
The publisher developed these blocks to do more than a single design element. You will find each Kadence block with extensive customizing functionalities to ensure an elegant content design.
What stood out most to us is its "Intelligent Load". This means kadence blocks only generate CSS or Javascript while you are using them on your website page.
So, no extra blots!
Features That Make This a Top Gutenberg Page Builder
👏 Standout Blocks
Row Layout: Experience extensive editing settings for any kind of rows or layouts.
Tab: Show vertical or horizontal tabs and add other blocks between them.
Spacer / Divider: Add responsive dividers or spacers between other block content.
Form: Get all the fields and styling elements for building any type of form within the block editor.
Icon List: Beauty your list content with a range of SVG icons.
☑️ Pros
Ready to use high-quality Template Kits for Pages, Patterns, and Wireframes to guide and accelerate your design process.
Intelligent Load only enables the generation of required resources.
Customize the website design for different devices.
Define a default setting that automatically applies to any block you add.
Use lightweight SVG icons as they don't load the font family.
Controls block settings visibility according to role types.
Integrate with major third-party platforms like LearnDash, Lifter LMS, WooCommerce, etc.
⛔ Cons
Users often face issues after a version update.
💸 Kadence Pricing
Free: Offer a free package with all the core functionality and custom blocks to design a professional website.
Kadence Blocks Pro: Starts at $69 for Unlimited sites and One year of support & updates. Features include Custom Pro Blocks, Pro Addons to Kadences Blocks, Dynamic Content, Custom Icons, Custom Fonts, Premium Design Library, etc.
Essential Bundle: Starts at $129 for Unlimited sites and One year of support & updates. Features include Kadence Blocks Pro, Kadence Theme Pro, Pro Starter Templates, Kadence Custom Fonts, etc.
Full Bundle: Starts at $129 for Unlimited sites and One year of support & updates. Features include Kadence Blocks Pro, Kadence Theme Pro, Pro Starter Templates, Kadence Custom Fonts, Kadence Cloud, Kadence Conversions, Kadence WooCommerce Shop Kit, Child Theme Builder, Kadence Recaptcha, Access to all plugins, Exclusive access to all future products.
✔️ Active installations: 300000+
⭐ Ratings: 4.8 out of 5 stars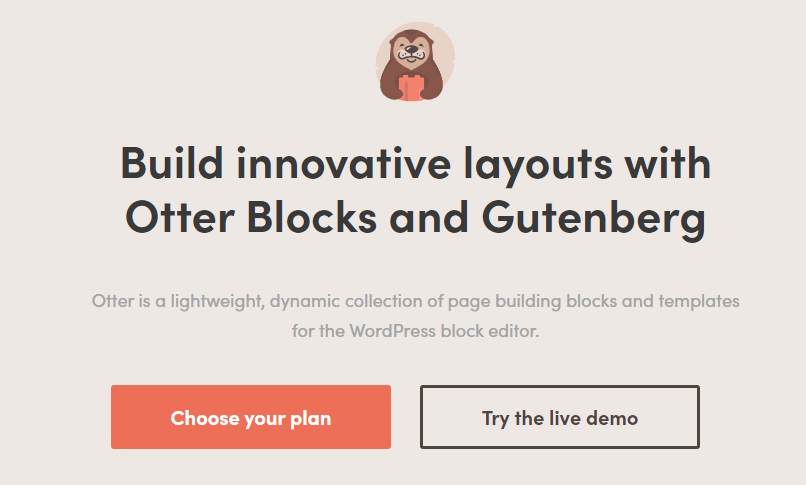 Otter Blocks is perfect for both general users and developers. First, it provides a collection of 30+ easy-to-use Gutenberg page builder blocks to create a website design effortlessly.
Then, it adds custom CSS features to customize the CSS properties of their block. Which helps developers play with more advanced functionality.
The inclusive pattern library is great for showing multiple elements within various styles to match your unique design idea for website headers, testimonials, pricing tables, etc.
And, if you choose the pro version, you will also get powerful e-commerce features to make a profitable WooCommerce website.
Features That Make This a Top Gutenberg Page Builder
👏 Standout Blocks
Popup Block: Show discounts or important news with appealing popup designs.
Maps Block: Show Google Maps right on your website.
Service Block: Display your business service list with an optional button.
AI Block: Generate text content and forms with artificial intelligence.
Flip Block: Apply flip effects to your website content.
☑️ Pros
A large collection of versatile patterns.
Lets you customize the CSS properties of any Gutenberg block on the page.
Bring ease to work by enabling default configuration for most used blocks.
Control block design visibility based on different conditions.
Make appealing designs with the help of 55+ motion effects.
Get built-in responsive settings.
Integrated with AI support.
⛔ Cons
Extra memory usage compared to other WP plugins.
💸 Otter Blocks Pricing
Free: 26 Blocks to make an entire website.
Personal: $69 per year for 1 site. Includes 30+ Blocks and Extensions, WooCommerce Product Builder, Enhanced Popup Block Builder, Stick any content area, Dynamic content, etc
Business: $129 per year for 5 sites. Includes everything in the Personal package and gives Live Chat & VIP Support.
Agency: $199 per year for unlimited sites. Includes everything in the Business package, Templates Cloud, and Extended Live Search.
✔️ Active installations: 100000+
⭐ Ratings: 4.8 out of 5 stars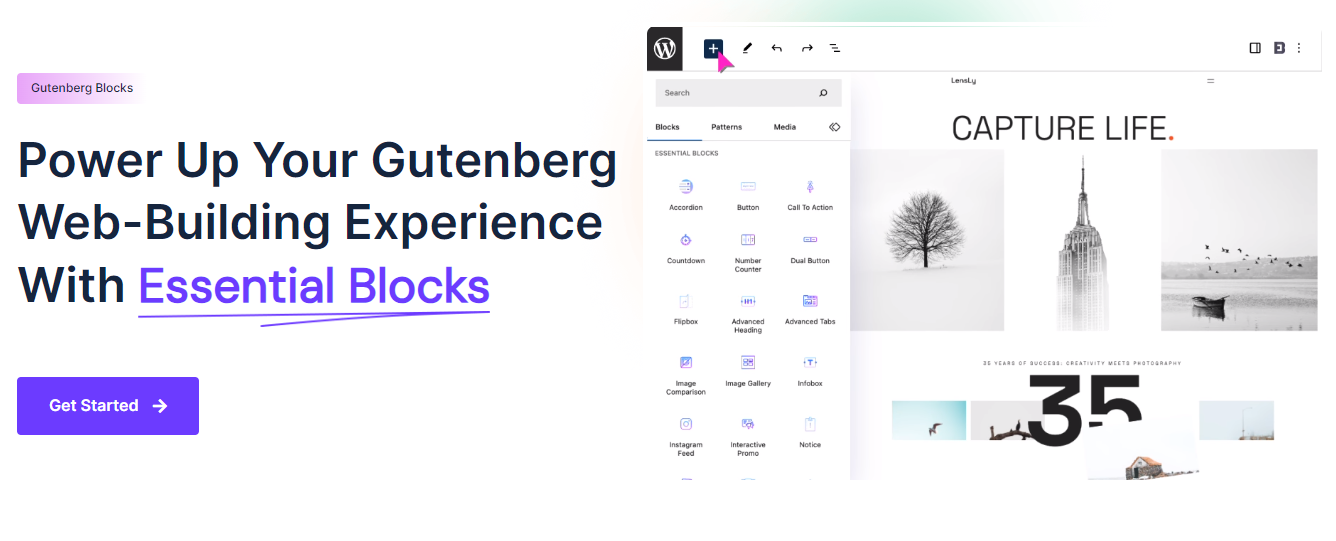 If you're looking forward to working with multipurpose websites, then Essential Blocks Gutenberg page builder is a useful option. It comes with 50+ lightweight and highly customizable blocks for WordPress to create a variety of designs.
You get unique options like the NFT Gallery block, Openverse block, and Parallax Slider block. It has advanced WooCommerce options as well. So, Essential Blocks is a pretty versatile Gutenberg block-based builder.
Features That Make This a Top Gutenberg Page Builder
👏 Standout Blocks
Advanced Video: Has advanced options like video sticky and auto-loop.
Interactive Promo: Make a part of your website more interactive.
Multicolumn Pricing Table: Compellingly display your pricing plan.
News Ticker: Show breaking news, headlines, and important posts anywhere on the website.
Woo Product Carousel: Show your product in a visually appealing way.
☑️ Pros
Get access to 2,000+ pre-made Gutenberg templates.
Save time with global block styling.
Asset Regeneration ensures a fast-loading website.
Compatible with Google fonts.
Get responsive customization individually for all blocks.
Provide translation support for all blocks.
Apply eye-catching animated flair to your designs.
⛔ Cons
Don't provide extensive customization to each block.
Show bugs & errors after updating to a new version.
💸 Essential Blocks Pricing
Free: Get the advanced blocks and ready-made templates.
Premium Plans:
Starter: $49 for 1 site.
Innovator: $149 for 5 sites.
Visionary: $349 for 25 sites for Lifetime.
✔️ Active installations: 90000+
⭐ Ratings: 4.1 out of 5 stars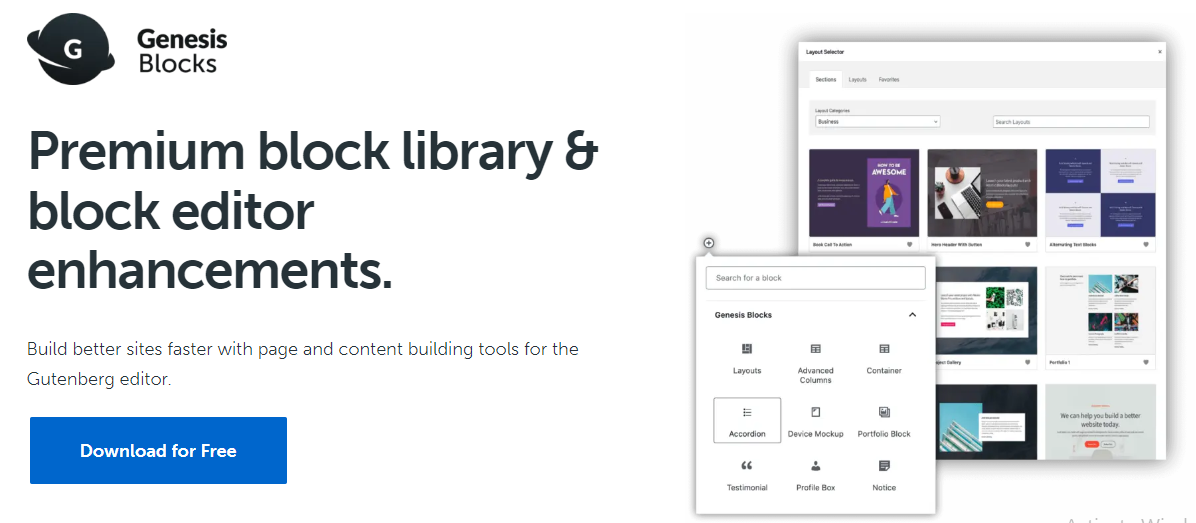 Genesis blocks can help you especially if you have a large number of mobile visitors. This Gutenberg website builder enables Google AMP support to improve your website performance on mobile devices.
Along with its 18+ blocks, you can use pre-built full-page layouts and custom content sections to quickly set up an entire website.
With a Genesis pro-subscription, you will have another 3 blocks with other features like reusable blocks and block permissions.
Features That Make This a Top Gutenberg Page Builder
👏 Standout Blocks
Responsive Typography: Offer responsive settings for text styling to different devices.
Email Newsletter Block: Insert Mailchimp form anywhere in a post or page.
Post and Page Grid block: Useful to display any custom post type in a stylish grid layout.
Block Permissions (Pro): Allow you to control the role accessibility to an individual block.
Reusable Blocks: Save the settings of the most used blocks to add anytime.
☑️ Pros
Quickly create web pages with pre-built sections.
Ensure an effective permission control for the block settings.
Quickly load web pages to mobile devices. (AMP optimized)
Simple interface to provide absolute comfort while designing.
Allow users to save and reuse sections and layouts.
Get access to Genesis Framework & all of our 35 StudioPress-made premium child themes.
⛔ Cons
Less pre-made sections and layouts in the free version.
Should have a separate pricing plan for the Genesis Blocks only.
💸 Genesis Pricing
Free: The free version includes 15 new blocks, 4 pre-built full-page layouts, 8 pre-build sections, and AMP optimized.
Pro: $360 for a year. Includes over 15+ new blocks, 50+ pre-built full-page layouts, 130+ pre-built sections, AMP optimized, Save & reuse your sections & layouts, Advanced block level user permissions. And, all the products in the Genesis Suits.
✔️Active installations: 90000+
⭐Ratings: 4.9 out of 5 stars

Stackable is a high-quality, easy-to-use Gutenberg WordPress plugin (page builder) with everything you need to create a beautiful, functional website.
To empower your block editor, it comes with WordPress blocks, templates, and other advanced functions like wireframes, dynamic content, conditional display, global settings, role manager, custom fields, and many more.
So not only do you get some design-focused solutions for the block editor, but you also get the peace of mind that you have a real alternative to a conventional page builder.
And, if you upgrade to the premium plan, you will get the motion effects feature, more blocks, and more integration supports.
Features That Make This a Top Gutenberg Page Builder
👏 Standout Blocks
Columns/Control: Get powerful columns & grids to create unique layouts.
Notification: Place dismissible notices & info banners anywhere on the website.
Subtitle: Insert stylish subtitle text to enhance the typography's beauty.
Horizontal Scroller: Make a part of your website scroll left to right.
Featured Grid Block: Useful for displaying multiple content elements in a decorative layout.
☑️ Pros
The layout library includes 37 UI kits and 447 Pre-made Block Designs.
Streamline your website design process with a wireframe.
Dedicated tools for agency
Load only the required JS and CSS files in the front end.
Save the default settings of blocks.
Compatible and integrated with popular tools.
⛔ Cons
Important features like dynamic content and motion effects are only available in the pro version.
💸 Stackable Pricing
Free: 42 blocks, layout kits, integration to popular tools, and some other basic functionalities for building a website.
Pro: Get advanced features like dynamic content, motion effects, and additional blocks, along with everything in the freemium package.
Personal: Available at $49 per year for 1 site.
Business: Available at $99 per year for 10 sites.
Agency: Available at $149 per year for unlimited sites.
Agency Lifetime: Available at $499 for a lifetime and unlimited sites.
✔️ Active installations: 30000+
⭐ Ratings: 4.8 out of 5 stars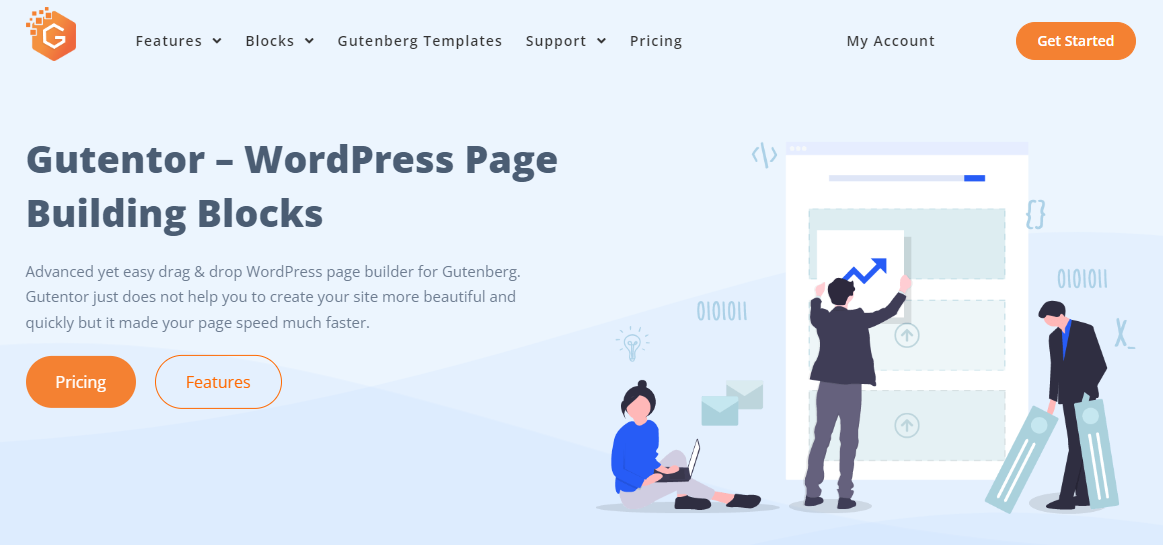 The features of Gutentor exceed those of the conventional Gutentor Page Builder., allowing the users to customize the look of the entire website with elements, modules, post types, terms, and widgets.
Alongside close attention to any website type, it also supports dedicated features for WooCommerce and EDD websites. And, other specialized attributes like adding a video background to the Gutenberg block editor.
While powerful, Gutentor is perfectly optimized to make your website faster.
Features That Make This a Top Gutenberg Page Builder
👏 Standout Blocks
Gutentor Elements: A collection of small design elements.
Gutentor Modules: Painless way to design a website section beautifully.
Gutentor Posts: Gives versatile ways to show blog posts on your website.
Gutentor Widgets: Easily create an interactive section on your websites.
☑️ Pros
Dynamic and advanced column features let to create the layout for any type of design.
One-click import template library to ease the design process.
Add Google Maps and modify its appearance.
Show popup anytime or anywhere on your website (Pro Feature).
Make columns and containers or the entire section clickable.
Add and customize the terms and categories with beautiful templates.
Display video from YouTube, Vimeo link, or your own uploaded video in the popup.
⛔ Cons
Documentation should be more detailed.
Consume more memory than other plugins.
Fewer templates in the free version.
💸 Gutentor Pricing
Free: Get all the blocks and basic functionalities for making a website.
Pro: Starts at $48
✔️ Active installations: 50000+
⭐ Ratings: 4.7 out of 5 stars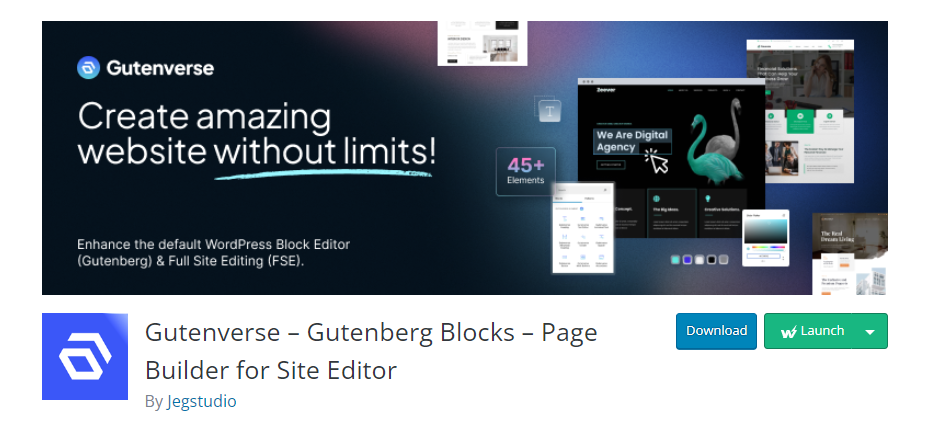 Gutenverse is a simple yet handy tool that delivers additional features for the block editor. It includes more than 45 blocks and advanced features like Global typography and color settings.
This WordPress Gutenberg plugin has various drag-and-drop dedicated features to build forms within the block editor. Plus, you can display and organize blog posts with the help of specific post blocks.
Features That Make This a Top Gutenberg Page Builder
👏 Standout Blocks
Popup Builder: Design an interactive popup with advanced features.
Logo Slider: Intuitively show your clients, sponsors, or other images on a slider.
Image Box: Add an image with other elements to make an informative section.
Divider: Use a custom divider to separate your content.
Post Blocks: Adore and organize posts with multiple blocks.
Form Blocks: Includes everything you need to build a form.
☑️ Pros
Facilitates global control of color and typography settings.
Control responsive according to device types.
Developed with effective code flow to ensure better performance.
Define separate breakpoints for different devices.
Dedicated features for showing posts and building forms.
⛔ Cons
Not seem like an amazing team working behind.
💸 Gutenverse Pricing
This Gutenberg plugin is Completely free!
✔️ Active installations: 50000+
⭐ Ratings: 4.7 out of 5 stars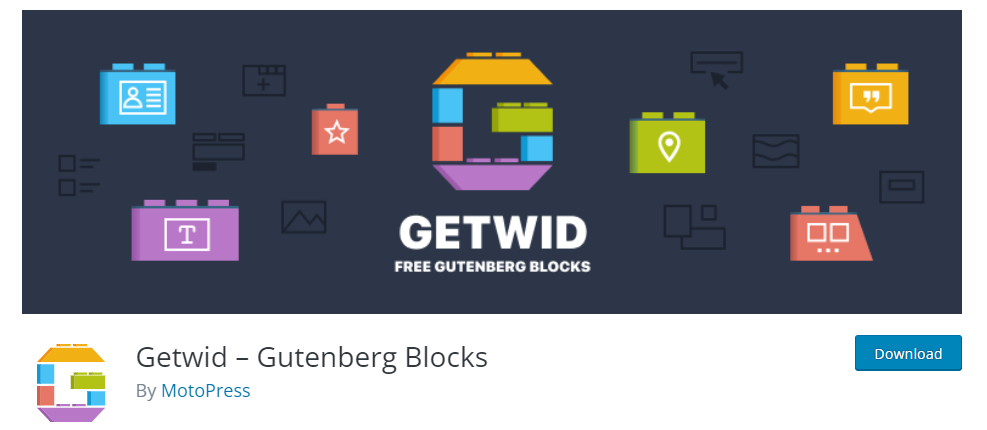 Another freemium Gutenberg page builder worth checking out is Getwid. It comes with 40+ Gutenberg blocks and 35+ starter packs. These templates are useful free resources to guide your design process.
In addition, you can use AI Writing Block for free to generate human-like texts, headlines, and tables.
Features That Make This a Top Gutenberg Page Builder
👏Standout Blocks
Banner Block: Capture the audience's attention with intuitive banners by adding video, text & block animations.
Toggle Block: Show more content in a smaller area with expandable/collapsible toggle tabs.
Image Stack Gallery Block: Show images from seven different eye-catching gallery styles.
Image Hotspot Block: Place interactive and informative tooltips over your image.
☑️ Pros
Get a variety of templates from the pre-made layouts library.
Can apply custom field filter and meta query.
Provide advanced icon selector.
Constantly conduct performance tests for better speed performance of your website.
Free Design Boilerplate for Developers.
⛔ Cons
Aren't compatible with many popular tools.
💸 Getwid Pricing
It does not have any pro version. Can download the free version from the WordPress repository.
Choosing the Right Gutenberg Page Builder For You!
When it comes to building a website using the block editor, selecting the right Gutenberg page builder is paramount. Here are some key factors to consider when choosing a Gutenberg block editor builder.
User Interface and Flexibility: A comfortable experience heavily relies on an intuitive interface. Users should easily meet their design needs using the customization options of the block. For example, a reusable block functionality can eliminate redundant design work.
Design Capabilities: The Gutenberg page builder plugin should offer you unique content elements. If you need something like a carousel gallery or a dynamic layout, it should be in the block library.
Performance and Loading Speed: Consider a lightweight and speed-optimized Gutenberg editor Block page builder to ensure fast website loading. Most website owners are changing to Gutenberg block editor to make a well-optimized website.
Responsive design and Mobile-friendliness: Look for a Gutenberg page builder that supports responsive functionalities. This makes sure your website can fit on any device, such as mobiles and tablets. Having an AMP support could be an extra advantage.
Compatibility and Integration: As a WordPress user, you need to use other SEO or security plugins as well. So, opt for a plugin that is compatible with the most popular plugins.
Installations and Ratings: Figuring out the installation number and review ratings is easy. Go to the WordPress repository, you will see the insights to easily check out the authentic reliability and credibility of a Gutenberg page builder plugin.
Professional Support & Documentation: Nowadays, companies are managing support with a bot system. This increases the chances of misinformation and less dedicated support. Make sure their block documentation is thorough and up-to-date.
Active Team: This is what we often miss. WordPress is constantly updating, so the plugin needs to be updated too. That's why, an active team should work to make necessary changes and bring a new version.
Best Gutenberg Page Builder: At a Glance
| Gutenberg Page Builder | Active Installation | WordPress Rating | Verdict |
| --- | --- | --- | --- |
| Spectra | 600,000+ | 4.7/5 | Excellent choice for block editor users looking for a free option. Get a flexible experience with the ultimate block library with advanced functionalities to create any kind of web page. |
| CoBlocks | 400,000+ | 4.4/5 | Get a lightweight and bloat-free website without sacrificing your design vision. Provide responsive controls with dynamic content area. |
| Kadence | 300,000+ | 4.7/5 | Kadence empowers Gutenberg editing potentials and an easy-to-use pre-made design library. |
| Otter Block | 300,000+ | 4.8/5 | Otter Block offers robust layout functionality and other exceptional features like animation styles, form blocks, and popup blocks. |
| Essential Block | 100,000+ | 4.8/5 | With its huge collection of blocks and Gutenberg template library, you are just a few clicks away from your dream website. |
| Genesis Block | 90,000+ | 4.1/5 | Built with the mobile audience in mind, Genesis stands out with unique blocks like Email Newsletter Block. |
| Stackable | 90,000+ | 4.9/5 | Along with design functionalities, Stackable focuses on user controls. Also an ideal option for an agency. |
| Gutentor | 30,000+ | 4.8/5 | Quickly start your design process with a one-click template feature and support dedicated features for WooCommerce and EDD websites. |
| Gutenverse | 50,000+ | 4.7/5 | Gutenverse has a vast collection of blocks to extend the Gutenberg blog capabilities and offers responsiveness, global controls, and typography settings. |
| Getwid | 50,000+ | 4.7/5 | Getwid provides unique features like applying custom field filters and meta queries. And, constantly take care the speed optimization. |
Wrapping Up!
Now that you know the various Gutenberg page builder and their pros and cons, choose the one that best meets your requirements and make your website.
Using any of our crafted lists of the best Gutenberg page builders plugins offers great value, several customization options, and flexibility.