Best Website Builders for WordPress (2023)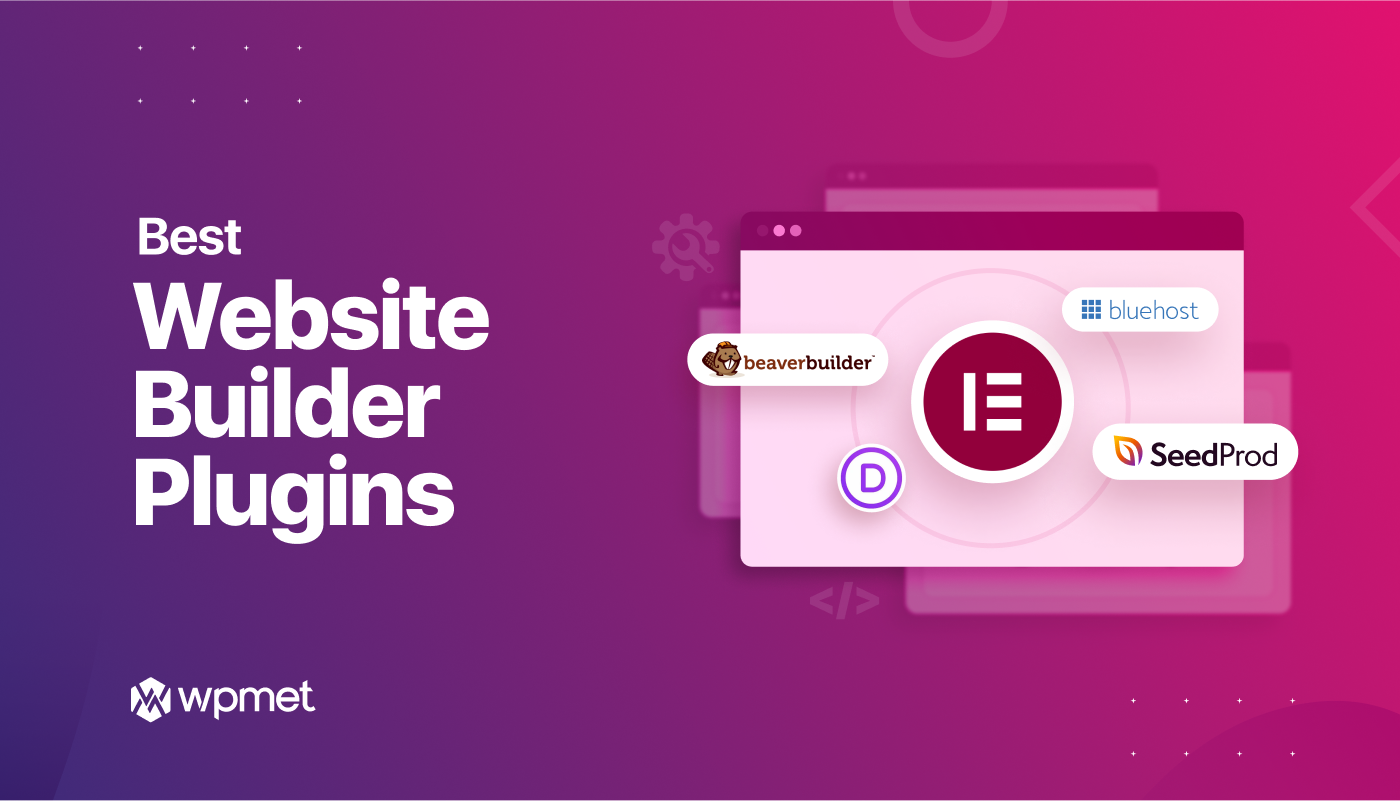 Wasn't it too difficult to construct a website a couple of years ago?
Either you had to spend many hours learning how to code or hire a developer to build your site for you.
Fortunately, things have improved ever since WordPress came along. This allows even absolute newbies to construct and personalize their websites. When it comes to designing and changing the entire style of your site, WordPress had a bit of a learning curve even back then.
There has been an increase in the number of WordPress website builders in recent times. Without any coding or development abilities, these tools allowed total beginners to change the style of a website.
With the arrival of WordPress page builders, we now have the perfect combination. This article is about plugins that combine the power of WordPress with the accessibility of a WordPress website builder.
🧐 What is WordPress?
WordPress is a content management system, or CMS. It began as a blogging platform but has now grown into a full-featured WordPress website builder.
WordPress is an open-source content management system that is self-hosted. It can be used to create a website, but it isn't a website builder (as you'll see below).
After installing the core version of WordPress on your website, you need to choose and install or purchase a WordPress theme that will serve as the framework for your website. Your theme is in charge of how your website looks and works.
Then, if you wish to enhance your website's functionality, you can install a WordPress plugin.
WordPress's actual strength lies in its content management capabilities. It's used to run and maintain some of the web's most popular content-driven sites.
⚡ What is a Website Builder for WordPress?
A WordPress website builders is a plugin that adds drag-and-drop design and enhances the capabilities of the site. When active, this type of plugin generates a user-friendly design environment that makes it simple to construct personalized websites.
You don't have to touch the backend code because it's drag and drop. As you design your site, the plugin generates clean code for you.
It's a terrific system for small business owners who want a bespoke website and want to utilize WordPress, but don't want to hire an expensive designer to do it for them.
Best WordPress Website Builder Plugins:
It's simple to see why the page builder plugins demand has expanded in recent years. It's difficult to beat WordPress's strength and content management capabilities when combined with a page builder's beginner-friendly features.
The following are some of the most widely used WordPress website builder plugins today:
Elementor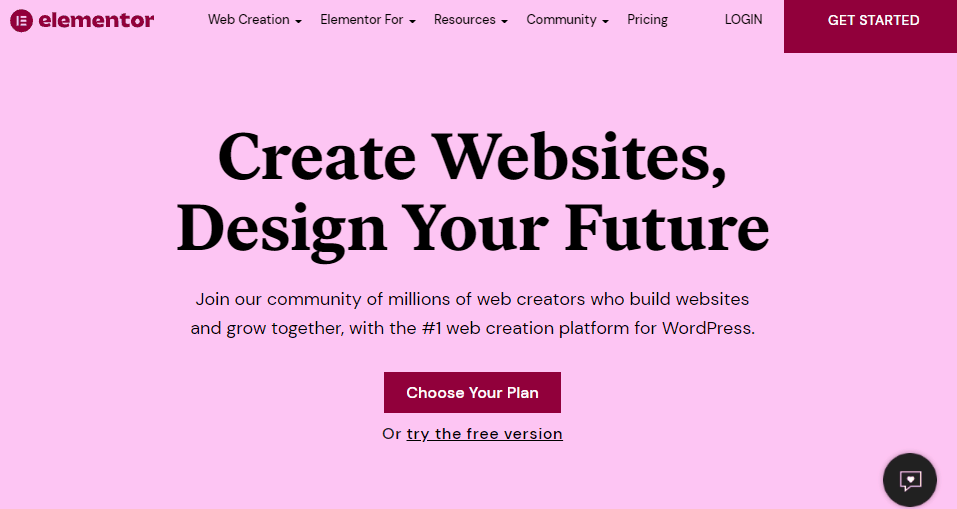 One of the best drag-and-drop WordPress page builder plugins is Elementor.
Just a glance reveals why Elementor is one of the most popular WordPress website builders. It provides a wide range of page-building options for everyone from complete beginners to skilled programmers.
Elementor also has a nice free version that you can use to build simple sites and evaluate the platform's overall capabilities, as well as a few paid license choices.
With this plugin, you may add a variety of amazing effects to your site, including animations, shapes, moving backgrounds, and more. Simply drag and drop any element or widget from the sidebar into the page you're working on. You can choose from several different widgets.
You'll also find 300+ page templates to choose from to help you get started designing your site.
✨ Key features of Elementor:
Design a visually stunning webpage without any coding
Rich library of 300+ basic & pro templates
Add multiple columns and complex layouts efficiently
Access 60+ Pro website kits
More styles for the sections and widgets
Able to design unique headers, footers, and landing page of your website
Has a built-in visual editor, which helps its users to view the site before launching
Elementor Specifications
⚡ Pre-Built Templates: 300+
🆓 Free Version: Yes
💵 Basic Price: $49 a year
📈 Number of Websites built with Elementor: 10M+

✅ Reasons to buy Elementor:
A large number of built-in editing tools are available.
Design versatility is impressive
User-friendly (even for beginners)
Very reasonably priced

Divi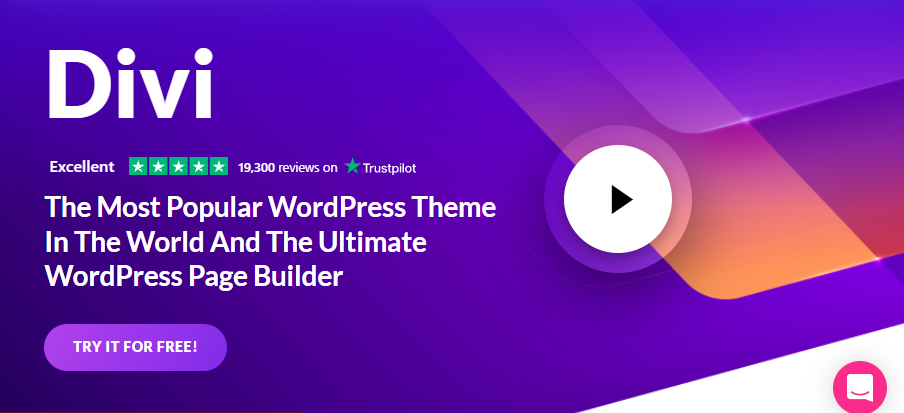 Divi is another most popular WordPress website builder, and it appears on almost every list of the best WordPress website builders. It was released in 2015 and can be combined with any WordPress theme to create genuinely unique designs with rich functionality.
It's a pity that there isn't a free trial or version accessible. On the bright side, all plans include a package of high-end features like the famous Extra theme, Bloom email opt-in plugin, and Monarch social sharing plugin.
With Divi, you can create any kind of website from scratch using prebuilt page templates. The best part about Divi is that it's easy to use and has tons of features.
✨ Key features of Divi:
Live virtual preview option
Includes over 20 pre-made layout templates to quick-start your design
There're 46 simple-but-flexible content elements
It also has features such as, an inline editing system.
Divi Specifications
⚡ Pre-Built Templates: 800+
🆓 Free Version: No
💵 Basic Price: $89 a year
📈 Number of Websites built with Divi: 2M+

✅ Reasons to buy Divi:
Elegant Themes offers a variety of solutions to help you get the job done.
The visual editor that is appealing
Content modules and site features that can be customized
It is suitable for users of all skill levels
🚫 Reasons not to buy Divi:
When compared to other page builders, it's a little pricey.
There isn't a free version or a free trial available.
Bluehost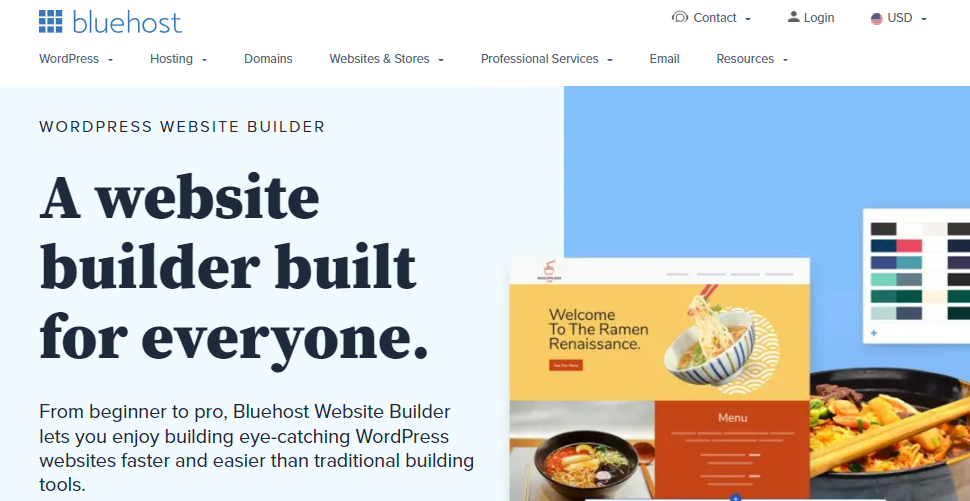 Despite being brand new to the world of website builders, since its release in August 2021. It's quickly gained popularity as a beginner-friendly alternative, and it's meant to help you create a website quickly and efficiently.
Bluehost is totally streamlined and simple to use, with 24/7 live backend support and a leading knowledge base. The builder is aimed at users with limited design experience, and it also comes with an excellent introductory tour just to help the users.
Meanwhile, if you're an advanced user seeking more complex functionality, the builder also supports custom HTML, CSS, and Javascript code, all of which can be added by dragging and dropping simple short codes into the editor.
It also has SEO, meta text popups, and eCommerce features like online store design among the other options provided.
✨ Key features of Bluehost:
User-friendly, drag and drop layout
Includes hosting and unlimited websites
SSL and marketing tools are available
Supports shortcodes
Bluehost Specifications
⚡ Pre-Built Templates: 300+
🆓 Free Version: No
💵 Basic Price: $2.95 per month
📈 Number of Websites built with Bluehost: 2M+

✅ Reasons to buy Bluehost:
Included with Bluehost shared hosting options
Rapid WordPress site construction
Editing tools that are versatile
🚫 Reasons not to buy Bluehost:
Poor server network quality
Can't change template once editing has begun
SeedPort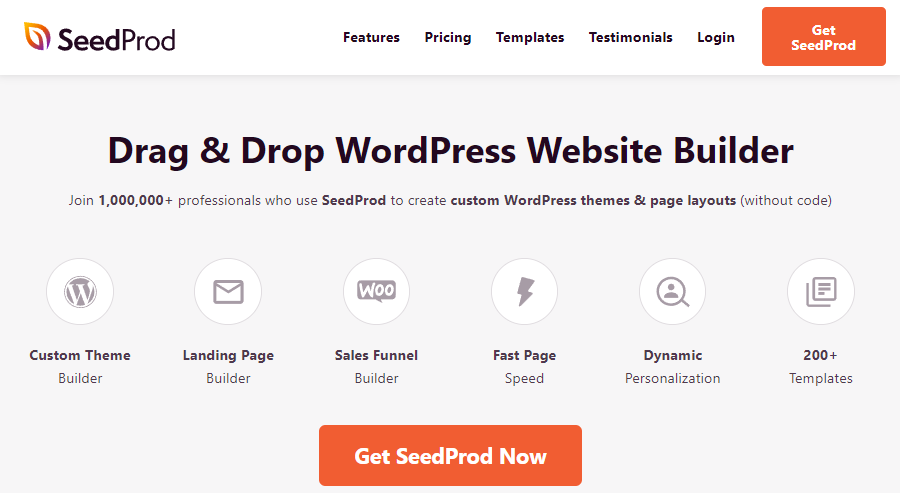 SeedProd is a little different from the other options on this list in that it focuses on landing page construction rather than full website development. It is, however, one of the most powerful WordPress page builder plugins we've seen, and it deserves to be on our list.
It's also one of the more affordable solutions, with a basic single-site subscription starting at just $39.50 per year. All plans include access to over 150 templates, a variety of email marketing integrations, subscriber management, and full drag-and-drop page building functionality.
Although there is no "free" package, all subscriptions include a 14-day money-back guarantee, allowing you to try the platform without risk. The primary disadvantage is that you can't use SeedProd to design a whole website, but it's still a good choice for people searching for a strong landing page builder.
✨ Key features of SeedPort:
Has advanced drag and drop layout
Comes with 80+ Pro blocks
SEO optimized and spam-protected
MailChimp, ActiveCampaign, ConvertKit, and more mail marketing tools are integrated
SeedPort Specifications
⚡ Pre-Built Templates: 150+
🆓 Free Version: No
💵 Basic Price: $39.50 a year
📈 Number of Websites built with SeedPort: 1M+

✅ Reasons to buy SeedPord:
Appealing landing page construction option
Outstanding pre-designed templates
Integrations with a variety of third-party apps
Many modification options
🚫 Reasons not to buy SeedPord:
Not a great option to create a regular website
There is no free version
Beaver Builder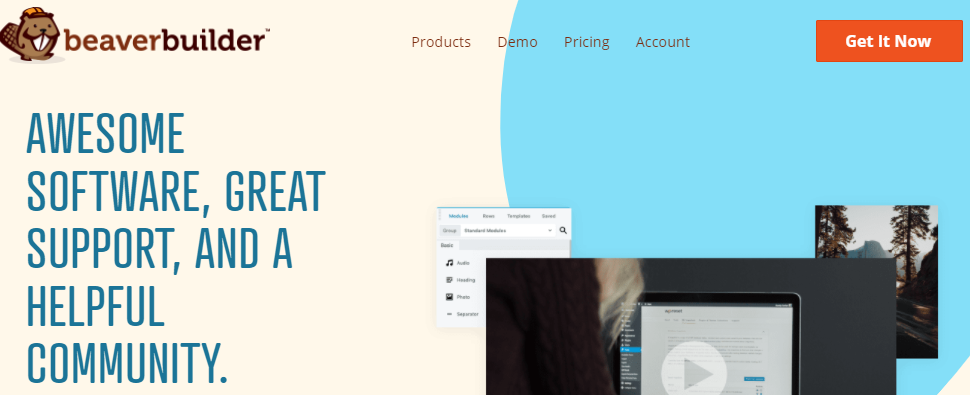 Beaver Builder is a popular WordPress website plugin that has been around for a long time. It's known for producing clean code, making fine-tuning your design far easier than with other page builders.
A free version is accessible through the WordPress plugin library, however, it is severely limited. Premium subscriptions start at $99 per year and allow you to connect to an unlimited number of sites. For the first year, all plans include premium support and access to all premium design elements and templates.
The Beaver Builder theme, multi-site network settings, and full white labeling options are included in the more sophisticated tiers.
✨ Key features of Beaver Builder:
Excellent selection of website, page, and other templates
Live, front-end editing
Fully adopted the WordPress Customizer for all of our theme settings
Lets you create layouts for archive pages, 404 and search pages and more
Beaver Builder Specifications
⚡ Pre-Built Templates: Multiple
🆓 Free Version: Yes
💵 Basic Price: $99 a year
📈 Number of Websites built with Beaver Builder: 1M+

✅ Reasons to buy Beaver Builder:
Excellent design flexibility
Clean code generation
Simple, beginner-friendly page builder
🚫 Reasons not to buy Beaver Builder:
Tool selection is limited
Price is a tad on the high side
Inline text editing is noticeably absent
Final words on Best Website Builders
Finally, we can confidently state that Elementor would be the finest pick after reviewing the top WordPress drag-and-drop page builders. It is the greatest page builder for WordPress because of its easy UI and powerful functionality.
You must be wondering how to increase your website's traffic and conversion rate now that you know which WordPress page builder to utilize to generate great landing pages.
However, as previously said, both WordPress and traditional website builders assist users in designing, creating, and publishing websites. Lastly, don't forget to subscribe to our site Wpmet.