5 Tips on Enhancing Productivity with Elementor Tools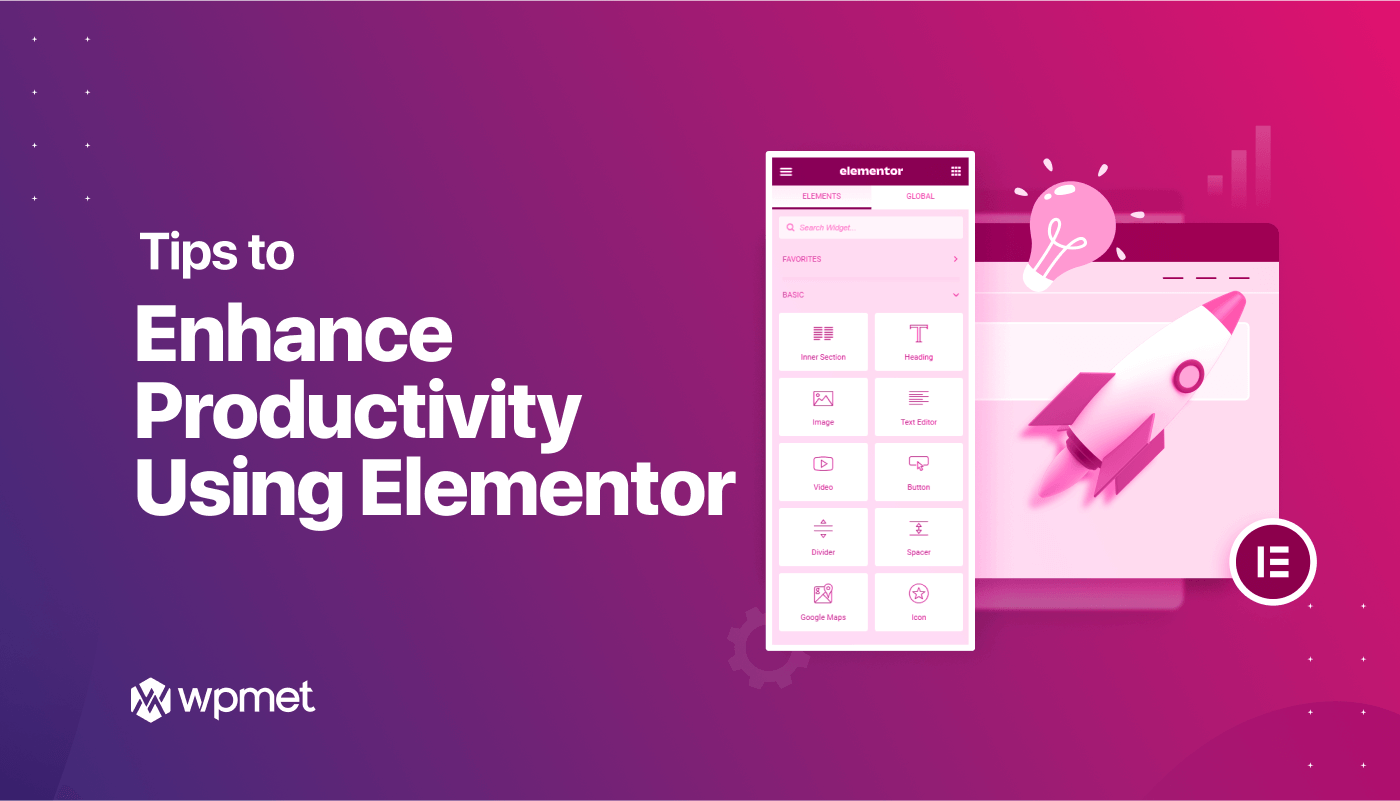 For many beginners, creating a website seems intimidating at first. It is a common misconception that it requires technical skills such as coding and programming. Fortunately, there are various website builder platforms you can use to easily build your own website without learning how to code.
Having your own website is a must nowadays. As consumers embrace digital transformation, this is how you can reach out to more of them and show off your brand. Hence, the demand for website builder platforms is projected to reach $2.62 billion by 2027 as more businesses leverage websites for their own marketing and sales strategy. One of the most popular website builder platforms is Elementor.
What is Elementor?
Elementor is a popular website builder platform designed specifically for WordPress websites. It caters to all types of web professionals, including developers, designers, and marketers. Most importantly, it provides you with tools so that you can easily create stunning websites from scratch regardless of your background.
Its live drag-and-drop editor makes designing websites intuitive and convenient. In just a few clicks, you can instantly add headings, videos, images, buttons, text, and more into the interface of your website. Moreover, it offers over 90 different widgets that you can use to increase your website's functionality and make it more engaging. And if you want some more advanced options, Elementor also offers a wide selection of custom attributes and script optimization. You can also invest in some of the best plugins for Elementor to further boost customization and your productivity while using the tool.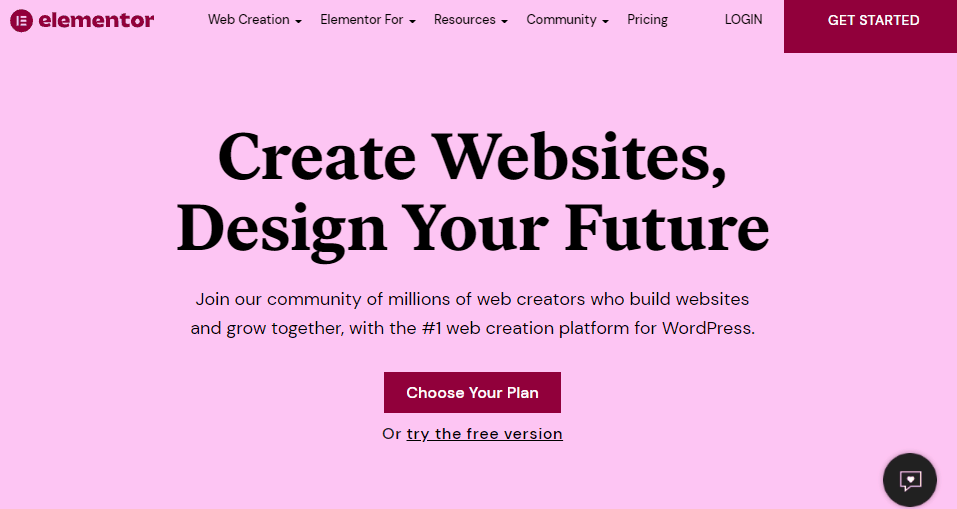 Tips on enhancing productivity with Elementor
On its own, Elementor is already an impressive web development tool for WordPress. It offers a vast array of customization options to design your landing pages, promotions pages, and more. There are also numerous Elementor add-on elements to choose from. While this serves as an advantage, you might also find yourself at a loss on how its many tools work. As a result, this affects your overall productivity.
To avoid such a scenario, here are some tips you can do to enhance your productivity while using Elementor.
1. Learn keyboard shortcuts
You might find it hard to believe, but keyboard shortcuts can increase your productivity. It helps you save time while working on your web pages since you can take action and commands with just a few clicks on your keyboard. The duration of time it saves might seem insignificant at first, but you will be surprised to see how much work time it can cut down once it starts to accumulate. In fact, a recent study calculated that keyboard shortcuts can increase your total productivity by 3.3%, which is equal to 8 entire workdays in a year.
Fortunately, Elementor has its own set of hotkeys that can make website designing much more efficient and intuitive. Here are some of its most useful shortcuts that you definitely need to know when designing your website:
Undo: CMD/CTRL + Z
Redo: CMD/CTRL + SHIFT + Z
Copy: CMD/CTRL + C
Paste: CMD/CTRL + V
Save: CMD/CTRL + S
Switch between panel and preview: CMD/CTRL + P
Navigator: CMD/CTRL + I
Template library: CMD/CTRL + SHIFT + L
History: CMD/CTRL + SHIFT + H
Shortcuts: CMD/CTRL +
2. Use templates and blocks
Creating a website from scratch can be time-consuming. The mere process of coming up with an idea alone can take ages before you can start the actual development stage of your website. Worse, web designers and developers can sometimes get stuck at the brainstorming stage, preventing them from taking the next step.
The best way to get the creative juices flowing is to use templates for your website. Using templates for your websites doesn't mean confining your designs with what is already provided. Templates in Elementor, for example, offer a wide array of customization options to make your web pages unique. You can also install some of the best Elementor add-ons to expand your template library. These templates will then serve as a take-off point for your creativity.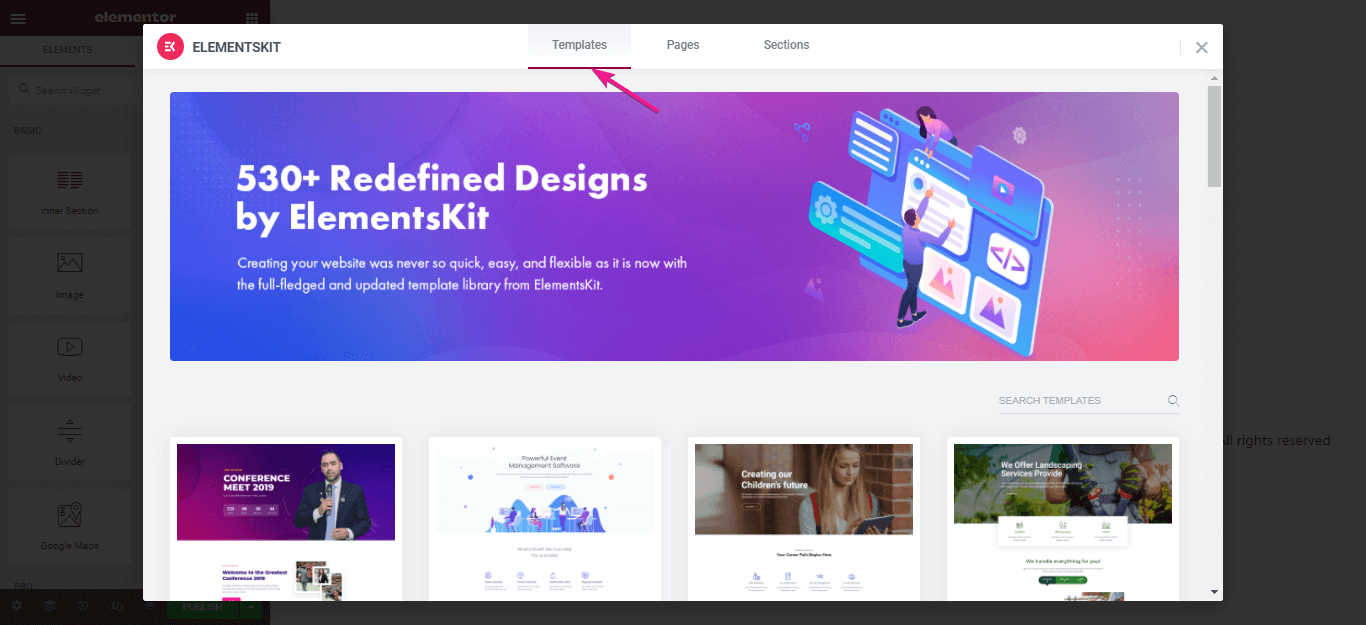 And thanks to Elementor's live drag-and-drop editor, customizing templates has never been easier. You can easily add texts, headlines, images, columns, and videos onto your web pages to liven up the pre-made template. It will also allow you to create your own blog post template to help maintain brand consistency.
3. Search through Elementor Finder
Elementor has a lot of things to offer. Hence, it is considered one of the best website builder platforms. However, new users can find themselves overwhelmed by the numerous choices laid out before them. They end up using more time exploring and familiarizing themselves with the tools, widgets, and features that Elementor offers.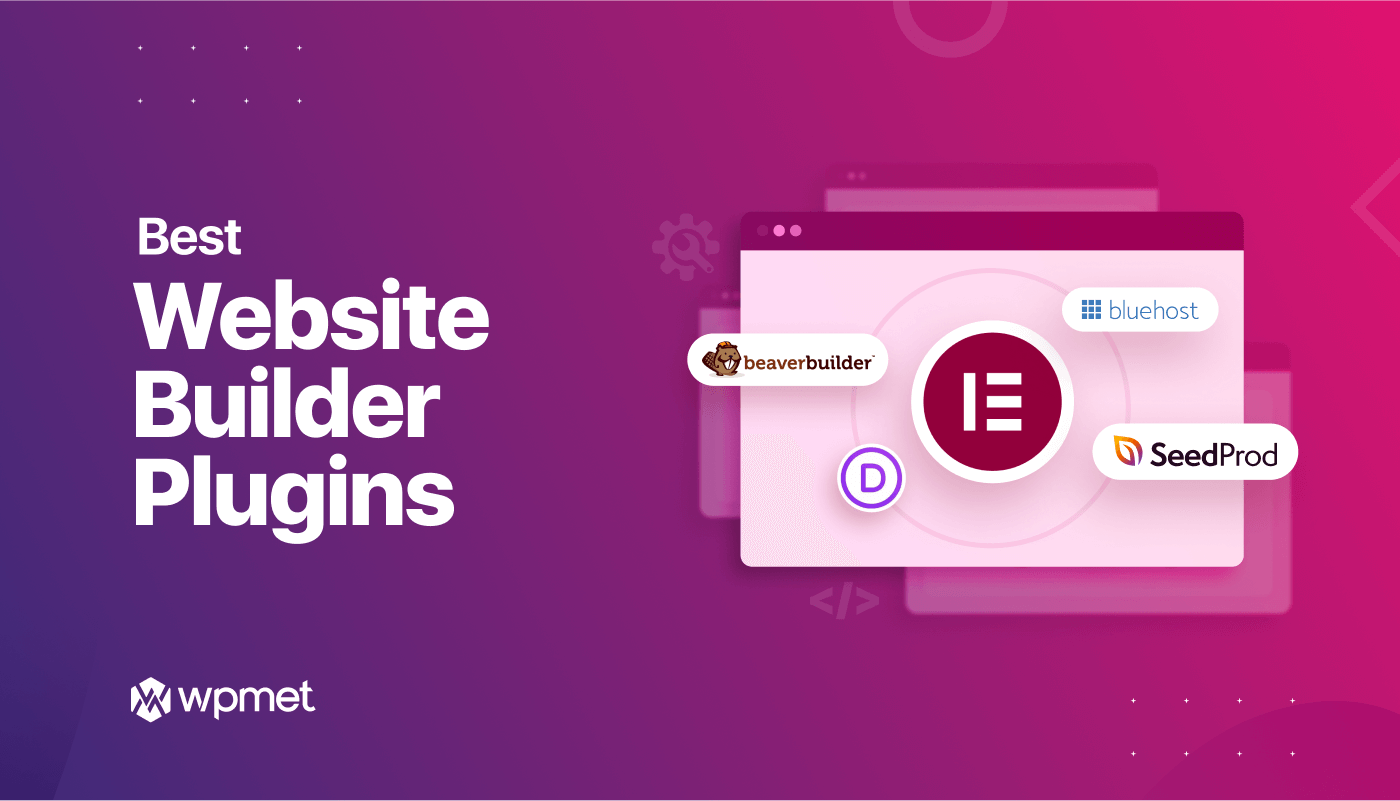 However, doing this manually can be too time-consuming and counterproductive. It forces you to scroll and click through hundreds of widgets, templates, and tools before you can finally find what you are looking for.
Instead of doing this manually, make sure to use Elementor Finder instead. This is a search bar within the application itself where you can simply type what you are looking for and it will instantly locate it for you. This makes it easier to navigate between pages and dashboard settings, saving you more time and effort.
4. Personalize the Editor's Panel
Elementor has an editor's panel section where you can pin your favorite widgets and tools on. This ensures that you can easily access them without going through the trouble of scrolling through the hundred options available or typing it down on the Elementor Finder. Instead, you have everything you need in one panel.
So make the most out of this feature by personalizing the Editor's Panel to your heart's content. Mark your favorite widgets and tools so that they will all appear in the panel. And if you no longer need such a widget or tool, you can just unmark it to avoid cluttering your Editor's Panel with things you don't need.
5. Find the right add-ons
As a result of Elementor's popularity among web developers and designers, there are hundreds of compatible Elementor add-ons that you can install within the platform. These Elementor add-ons will provide you with more tools, widgets, templates, and functionalities to make your website more dynamic and unique. So if you are no longer satisfied with Elementor's library, you can always install a third-party add-on to enhance your web design process. More than that, some Elementor add-ons can also help boost your productivity. 
With so many free Elementor add-ons to choose from, it is tempting to install anything that catches your eye. But too many add-ons can affect the platform's performance in terms of loading time, speed, and stability. So instead of installing the best free Elementor add-ons at once, consider limiting your choices according to what you really need.
Furthermore, there are many best Elementor addons for WooCommerce available in WordPress by which you can create your eCommerce site in a few minutes. On top of that, these best Elementor addons for WooCommerce are also 100% customizable.
In WordPress, you will find many premium addons for Elementor as well. These premium addons for Elementor offer various advanced Elements to smoothen website building and maintenance experience. besides, these Elementor addons elements are super responsive for device and speed.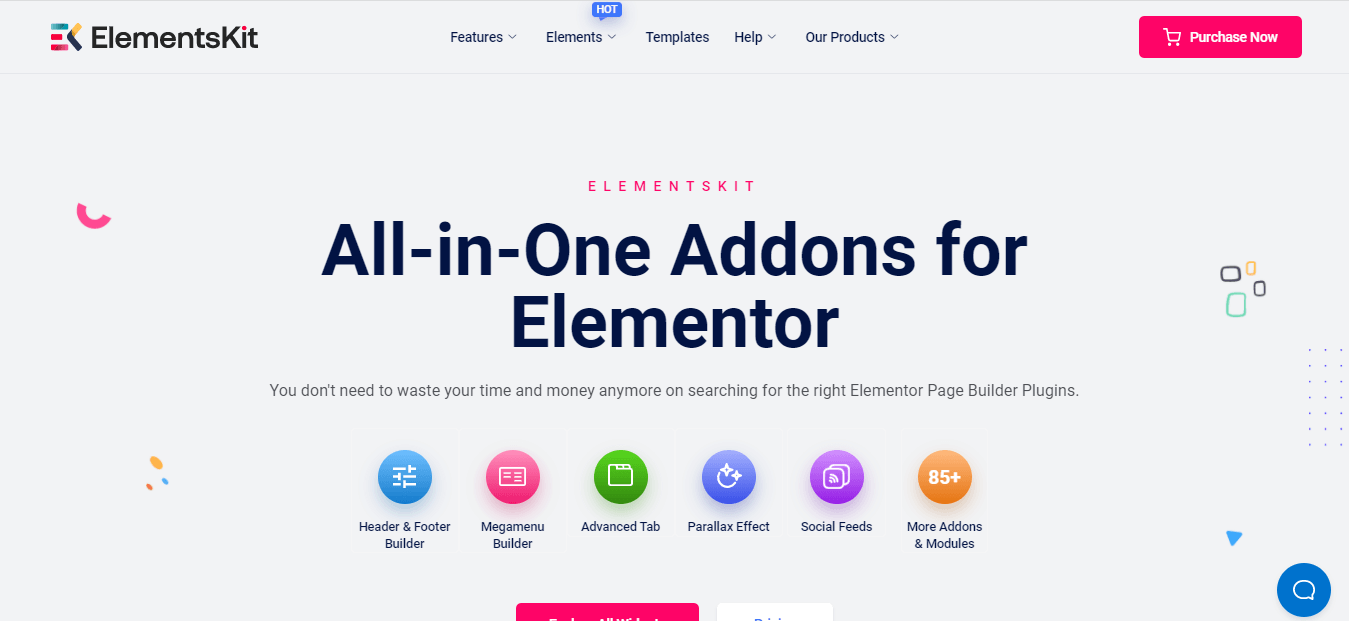 In fact, one of the essential add-ons for Elementor is ElementsKit. It is an all-in-one addon for Elementor that provides you with header and footer builder, megamenu builder, social feeds, and more.
Wrapping Up
Having your own website is more than just beneficial. Nowadays, it is also a must if you want to connect with your consumers. Fortunately, you can now create unique and dynamic websites regardless of what your background is. Thanks to platforms like Elementor, designing your web pages has become more intuitive and convenient. Such tools also make it easier to integrate other software into your website such as CRM software for small business.
And if you want to further boost your productivity using Elementor, there are many widgets, ready templates, and features that ElementsKit has to offers. So make the most out of Elementor by leveraging the best addon available.