ElementsKit Crossed 900k Active Installations: Only One Step to Go for Millions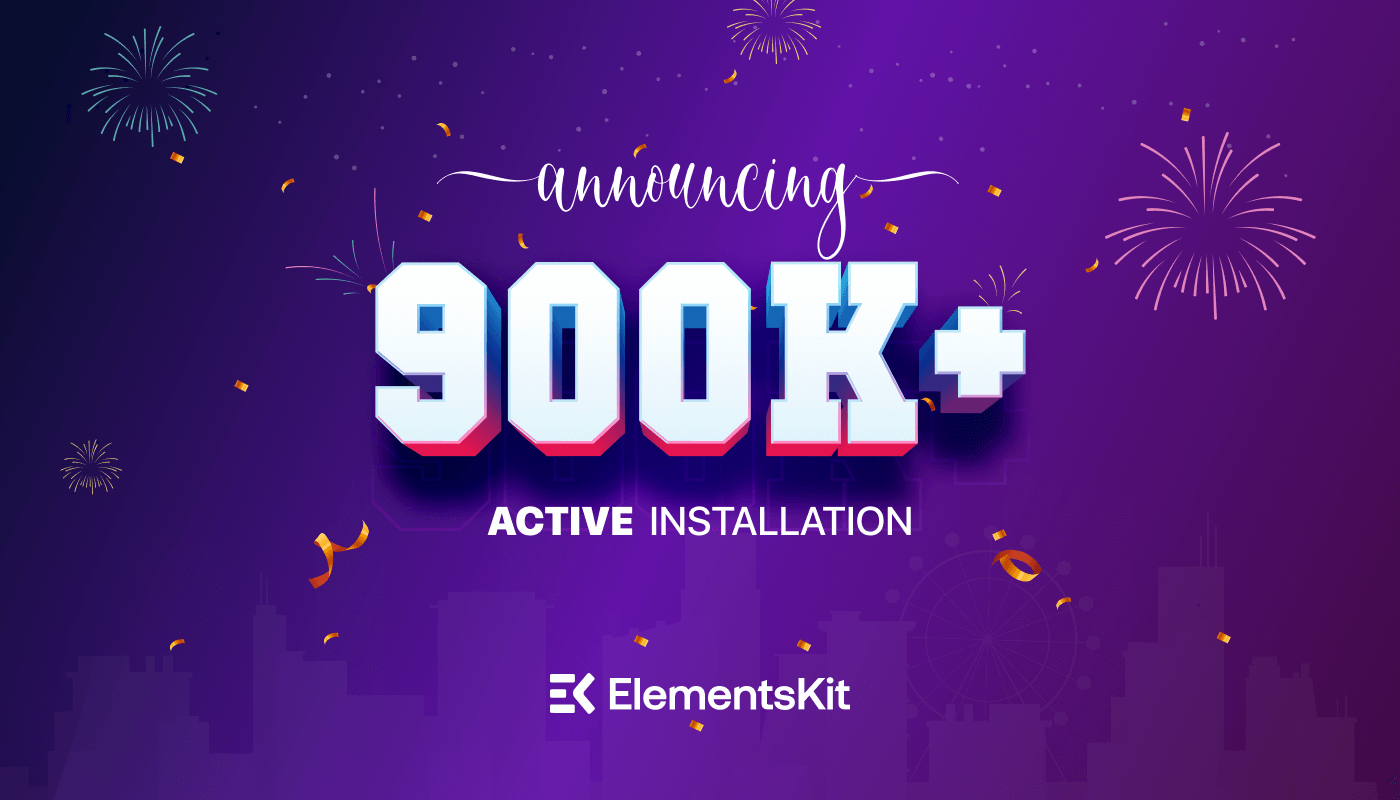 The new year is always special and 2023 seems to be a remarkable year as we are heading toward millions.
Can you believe ElementsKit crossed 900K active installations this year? 🤯
Yes, you heard that right! ElementsKit for Elementor reached another milestone. This is a big moment for Us, You, and ElementsKit Users. And, also it wouldn't be possible without your support 🤝.
Although, this glorious milestone didn't unlock in a single day. We have worked hard for more than four years and now we are here to share our proud moment.
Are you curious how ElementsKit managed to spend this long journey? If you are, then go through the whole expedition of ElementsKit from start to remarkable end.
A journey toward 900k active installations
ElementsKit, your favorite and desired Elementor addon, has crossed another glorious milestone. It is now one step closer to hitting millions!
It started its journey in 2019 with a few users. After that, with each passing year, it has unlocked new milestones and gradually now it has become a proud family of 900k active users.
However, describing this wholesome journey in just a single paragraph can't properly depict its outstanding journey. So, here we have put together the magnificent journey of ElementsKit: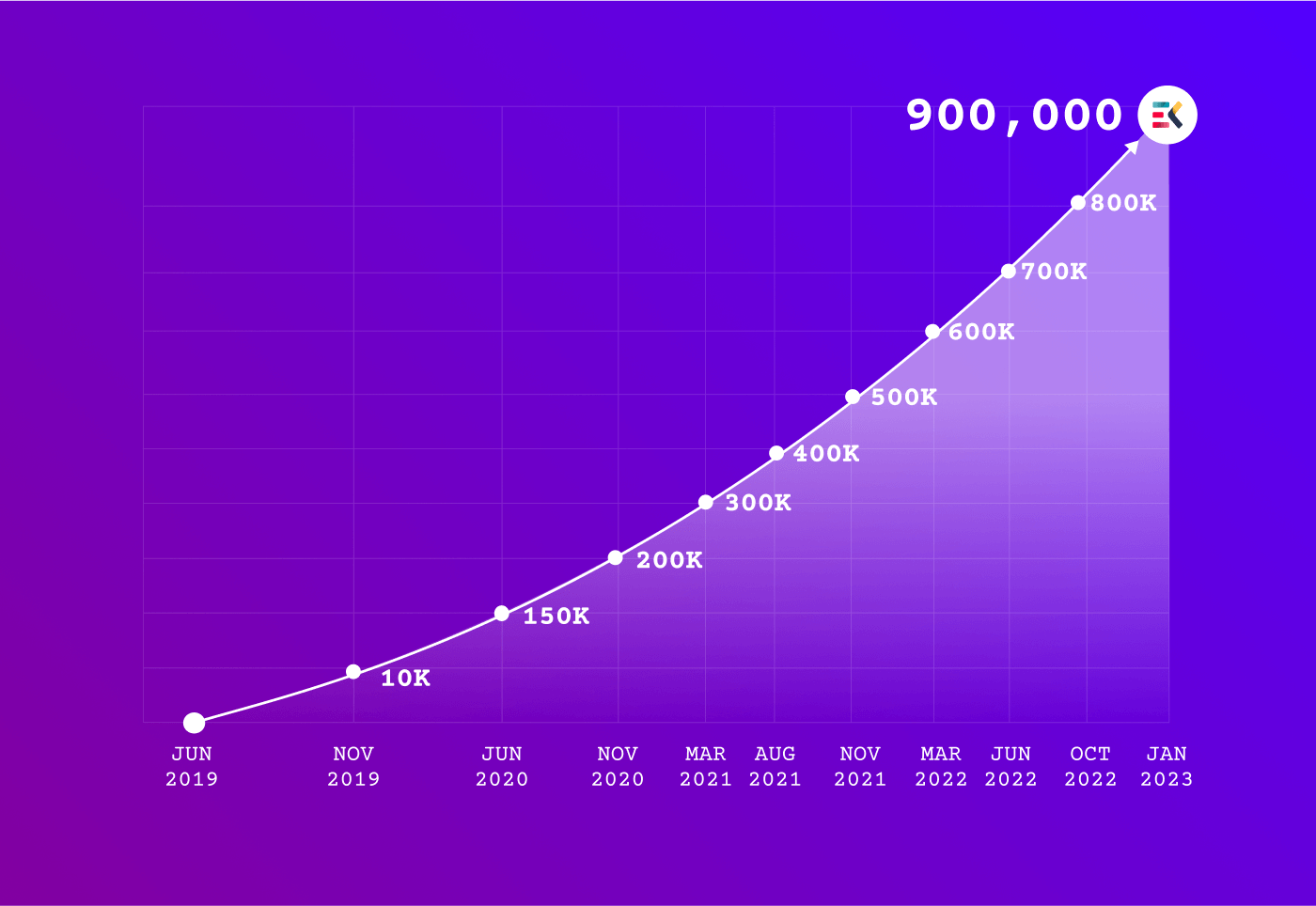 2019: ElementsKit crossed its first milestone of 10k active users in November 2019, just four months from its launch. After that, it never stopped unlocking milestones.
2020: On this year, it pulled off two milestones one after another. The goal of having 150k active users was achieved in the middle of the year and another milestone was unlocked at the end of 2020. ElementsKit became unstoppable after these fantastic achievements.
2021: The year 2021 was more successful than the previous years. Because this year, we have crossed half a million active users and become one of the most popular and marketable Elementor addons in the WordPress ecosystem.
2022: This year was spent just like the year 2021. Like the previous year, ElementsKit has gained more than 300k active users and stepped into a family of 800k.
2023: New year means new goals, achievements, and milestones. The year 2023 started with the good news of crossing 900k active users. This is the very last milestone on the way to millions.
We are thrilled to announce to you that this year we are expecting to cross a million and more to unlock in the coming days.
Reasons behind this phenomenal success
A new achievement stored for ElementsKit that it has achieved in less than four years. Throughout this short period, we have added numerous features both in freemium and premium versions of ElementsKit so that you can effortlessly build a site without technical expertise.
Here are the top reasons for being one of the leading Elementor addons:
Coding always seems like a barrier when building a site or creating an online presence. However, due to user-friendly WordPress plugins like ElementsKit, getting started with a site doesn't require coding skills.
On top of that, you can add a header and footer by simply dragging and dropping and it will take only a few minutes.
Mega Menu builder:
Another best feature of ElementsKit is its mega menu builder. Through it, you can build any mega menu such as vertical and horizontal in the blink of an eye. Besides, there are templates for adding a mega menu in ElementsKit. Thus, it will take a few seconds to add a mega menu in WordPress.
Conditional content:
Conditional content is a widely used feature of ElementsKit that will control your content visibility by applying conditions. For example, you have added a form on your website where the "number of children" field will show if your visitor is married.
Advanced sticky:
Sometimes, it becomes necessary to make a certain part sticky for grabbing your customers' attention. In such cases, ElementsKit offers an advanced sticky feature to make a part static for a certain period. This helps you to boost the conversions and revenue of your business.
Advanced parallax:
The Parallax effect is another demanding feature that lets website owners offer a unique look to their websites. By adding this feature, your website's background image will move slowly compared to the foreground image. As a result, you can showcase background images for more time than the foreground.
Image masking:
Now, providing a variety of shapes is also possible with the ElementsKit image masking feature. This will help you to prepare lucrative images for your site which will have a great impact on boosting conversion.
Ready section and pages:
ElementsKit also offers a template library along with countless features. In this template library, you will find pre-built sections and pages for building your sites. Furthermore, you can completely customize these sections and pages however you want.
Continuously updated:
Another reason for widely using this plugin is it always updates according to customers' needs. Therefore, it can keep your customers' satisfaction up and make them happy users of ElementsKit.
What is coming next in ElementsKit?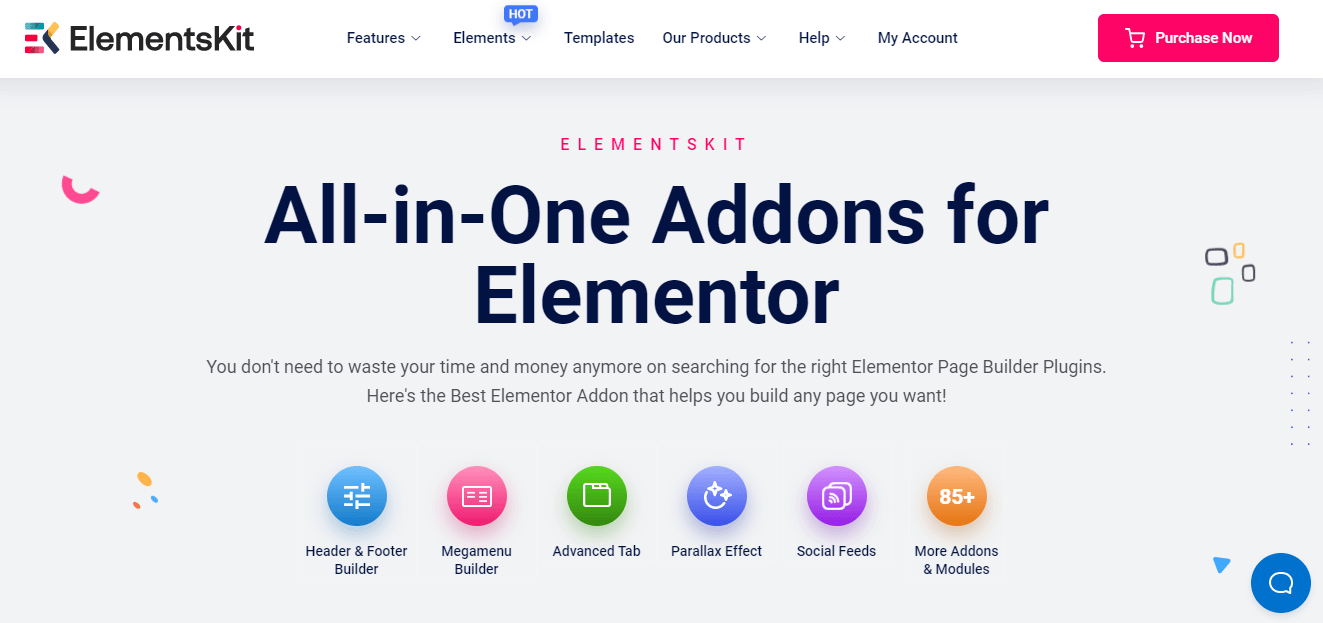 ElementsKit, the most desired and admired Elementor addon, always tries to bring new and in-demand features for its users. That's why ElementsKit is now a family of 900k active users.
Throughout its four years of splendid journey, it has bought various mindblowing features. Furthermore, the team working behind this excellent plugin is also focusing on launching more features in the coming days.
Here are some upcoming features that will launch soon for providing a seamless user experience to its users:
Coupon code widget: It is one of the upcoming features of ElementsKit that will make it possible to easily grab discounts, deals, and sales. This means you can easily copy and paste the code to avail the discount.
Particles Module: This feature will allow you to provide lucrative particle effects on your website's background which you can stand out with a few clicks.
Content/ News Ticker widget: Grabbing customers' attention will be easier for you with this content/ News Ticker Widget. Because it will let you show your website's content attractively by adding a custom ticker.
Google Review widget: This widget will fetch Google reviews and beautifully showcase those on your website.
YouTube Feed widget: You will be able to display videos and shorts on your website directly from your YouTube account with this ElementsKit's upcoming feature.
What do people say about ElementsKit?
No matter what you do, you can't stay in the market if you don't care about what people feel about your business. And, the main source to identify WordPress plugin's customer support is checking its directory.
That's why we have checked and are thrilled to announce to you that ElementsKit has 1150+ five-star reviews. Besides, its WordPress.org rating is 4.9 which is quite impressive and high. These reviews let people trust on ElementsKit and encourage them to become active users.
Wondering what reviews influence users to try on ElementsKit? Let's check out the reviews of our ElementsKit's users on WordPress.org:



Summing up
It would be impossible for ElementsKit to come this far without your support. Your continuous support gave us the inspiration to work hard and unlock milestones one after another. So, we are here to thank all our customers for being persistent users and supporters of ElementsKit.
In case, if you didn't join this ecosystem, consider giving it a try. Because this ultimate addon for Elementor, ElementsKit, will give you a flawless user experience and you will be able to create your website without any skills. So, be a part of our community and let's head toward millions together.