ElementsKit Best Elementor Addon: Celebrating 800k+ Active Installation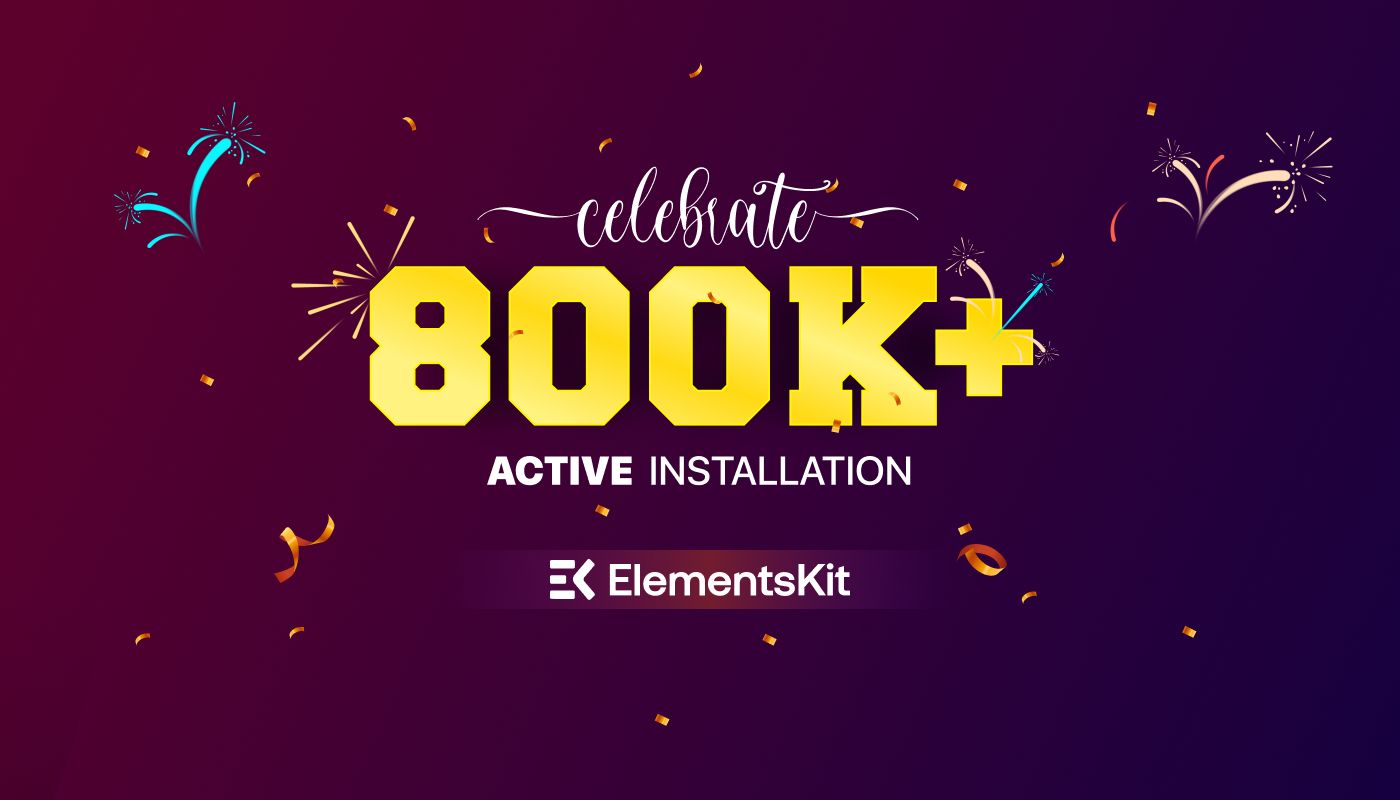 Another remarkable achievement is unlocked! 🔓
We are extremely thrilled to announce that ElementsKit for Elementor just crossed the 800,000 happy users landmark with 1000+ ⭐ 5-star reviews on WordPress.org!
It's truly delightful to attain such a huge achievement! 🥳
We would like to thank all of our dedicated users and appreciate the efforts of everyone who has worked day and night to make this happen. Truly, without you guys, it wouldn't be possible.
Since its start, ElementsKit has added cutting-edge capabilities to help its users work with their Elementor websites more effectively. And, as with our previous milestone, we hope to reach 1 million active users sometime soon!
However, we are thrilled to accomplish 800,000+ active installations in such a short amount of time (less than three months to be exact 🤫)!
📈 All the Recent Improvements & Features from ElementsKit
Here at Wpmet, our first and foremost responsibility is to help people and make their lives easier in the process of creating their dream WordPress website.
And in our recent update, we have tried to bring up some of the advanced features on both (free and paid) versions that might help our users to create more advanced and improved WordPress websites with Elementor.
Let's look into the details below:
🆓 ElementsKit Lite (Version 2.7.2)
ElementsKit is also known as one of the best free Elementor addons in the WordPress community. To provide the smoothest and most satisfying site-building experience. We have added a list of improvements in the Lite version explained beneath.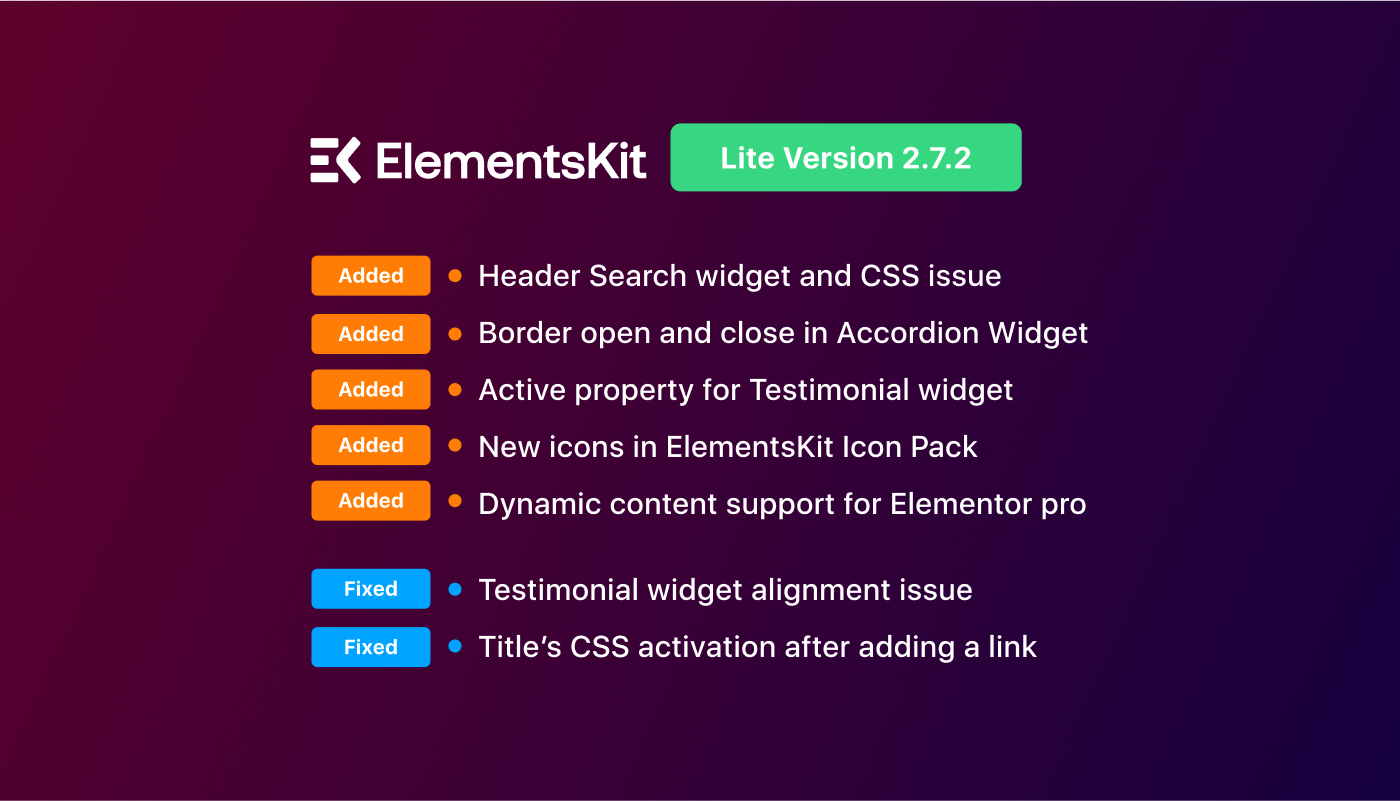 Here let's look into the detailed version of ElementsKit for Elementor – Lite recent updates:
⚡ Added:
Now you will have full control over the Header Search widget which also fixed the CSS issue that a lot of our users had requested.

⚡ Added:
A number ElementsKit free Elementor addon users wanted to customize the border open and close in Accordion Widget, and finally, they'll be able to do that.

⚡ Added:
We have also decided to add an active property for the Testimonial widget dedicated, just to make it more functional for our users.

⚡ Added:
A bunch of brand-new icons have been included in ElementsKit Icon Pack.

⚡ Added:
If you are an Elementor pro user then now can add up dynamic content support to your webpage.

✅ Fixed:
Our users were facing the Testimonial widget alignment issue, however, it's been fixed.

✅ Fixed:
The focused title's CSS has also been fixed for all of our free users.
Now let's jump into the recent pro version's improvements and features.
🔥 ElementsKit Pro (Version 2.8.0)
ElementsKit PRO, the best plugin for Elementor, offers a number of widgets, features, and ready sections, along with a variety of beautiful, pre-defined templates and much more!
In a nutshell, it gives you everything you could possibly need to create an appealing, advanced, feature-rich Elementor WordPress website.
Here is the list of the advanced features that come with the latest PRO version of ElementsKit for Elementor:
⚡ Added:
The most awaited Price Menu widget is now available in ElementsKit for the Elementor addon. With this useful, easy-to-use, drag-and-drop widget you can easily create a pricing menu in mins.
With this widget, you'll be able to add icons, images, buttons, and a number of customizations available in this element.
✅ Features:
Menu with image, price, and button
High in customization (text, color, etc)
Easy to use
If you have a restaurant or own an online shop, this Price Menu feature will add up a great deal to your site.
⚡ Added:
It is proven that Fancy Animated Text upgrades the website's attire. Now with ElementsKit's latest update, we've introduced the most advanced animated text widget that one could ever have.
With this widget, you will be able to customize the animation style, animation type, reveal duration, and reveal animation delay. It will also assist you in adding prefix text and fancy text along with color customization.
✅ Features:
Title HTML tag with a link
SVG animation
Limitless animation style
Multiple customization options
Get rid of boring text and enhance your site's overlook by adding ElementsKit fancy text animation.
⚡ Added:
Do you want to make your website images look a little cooler, then it actually is? Then, ElementsKit for Elementor Image Masking Module is for you.
With this widget, you will get to choose from a number of unique shape types for your image. You can also customize the position, repeat, and size for image masking.
✅ Features:
SVG image customization
Multiple shape types
High in customization
Besides, you can also add shapes to SVG by selecting the shape type, SVG from your media library, position, repeat, and size.
Apart from the awesome features above we have also done the following updates mentioned below.
⚡ Added:
Dynamic content support for all the Elementor pro users, who are Elementor the best addon for Elementor.

⚡Added:
With the ElementsKit WordPress image hover effect widget, you can improve WPML compatibility with just a few clicks.

✅ Fixed:
We have also fixed the Elementor reset style issue with the ElementsKit Conditions module.

✅ Fixed:
Our user has been demanding that the swiper slider is not working and the issues have been resolved. Along with that we also have updated inside an advanced tab.

✅ Fixed:
We've also looked into the Ajax mega menu load issue with the vertical menu, everything is in perfect order now, and all for our users.

⚓ Tweaked:
A few small details have been developed in the Image Hover Effect widget. So that it coincides with desired results.

🏆 Our Phenomenal Journey Towards Excellence
Well, for those who don't know, ElementsKit was inaugurated in June 2019 in this astonishing WordPress x Elementor world! 🌍
And before that, it was a dream 💭 with endless hope and dedication.
Wpmet's founder, M. Ataur Rahman, has always been aware of WordPress and Elementor's enormous possibilities, as well as the importance they carry in this developing world.
And today, ElementsKit for Elementor is being used by 800,000 WordPress enthusiasts from multiple countries around the world to run their WordPress websites. The love and encouragement we have gotten from you all have truly humbled us; this is nothing but a huge victory for our team.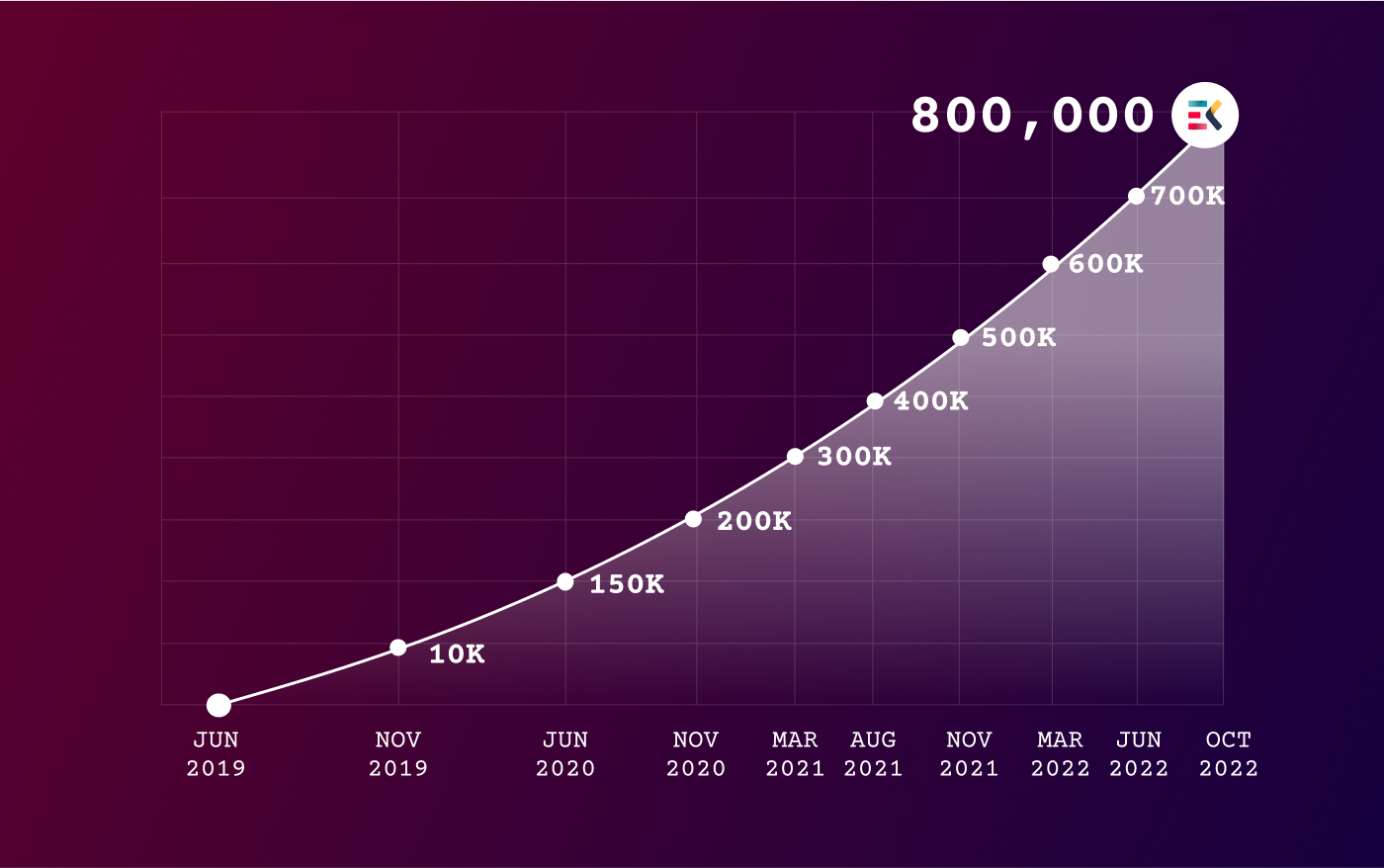 November 2019: We hit our first milestone of 10,000+ active users within four months of inaugurating ElementsKit for Elementor. That moment will always be cherishable.

June 2020: On our first anniversary we successfully attained over 150,000+ active users.

November 2020: In less than 5 months after that, we unlocked another milestone of 200,000+ users who are actively using ElementsKit as their builder plugin.

March 2021: Successfully hit 300,000+active installations in the next 3 months, and the number has increased every day ever since.

August 2021: ElementsKit for Elementor polarity increased significantly and we reached 400,000+ active users.

December 2021: Finally, by the end of 2021, we had 500,000+ active users.

March 2022: And in another 3 months the number raised to 600,000+active installs. Truly remarkable, don't you think?

June 2022: Surprisingly, in another 3 months we pulled off 700,000+ installations.

October 2022: Finally, there are over 800,000+ active installs. 🎉
ElementsKit is the best Elementor addon that has been around for 3+ years in the WordPress industry. We will try to add more value to our user interface and introduce new widgets and features.
🔥 The most unbelievable achievement of all for ElementsKit WordPress?
Today, ElementsKit is listed among the best Elementor plugins in the Elementor WordPress directory.
🔔 Want to create your own Website?

Here we have made the most detailed step-by-step tutorial on how to build a WordPress website from scratch without knowing how to code | Learn more
✨ What makes ElementsKit the Best Elementor Addon?
The reasons are simple, ElementsKit's Header Footer Builder and Mega Menu Builder modules are among WordPress' best.
Let's look into some more amazing features that make ElementsKit stand out.
🎖️ Header-Footer Builder:
ElementsKit, the best addon for Elementor gained a large population by virtue of being the best header and footer builder in the WordPress community.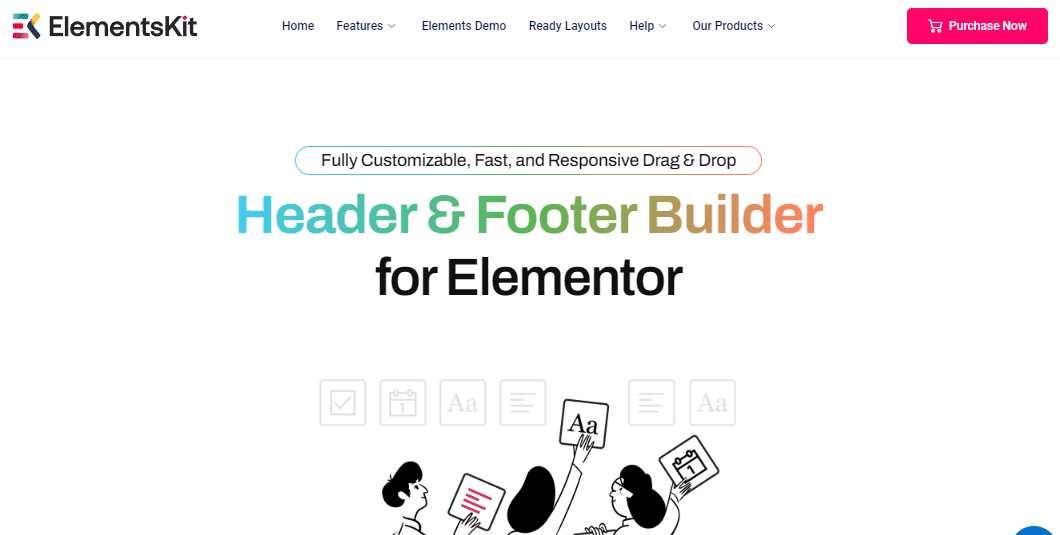 With ElementsKit WordPress anyone can create a visually stunning header and footer. Because of its easy-to-use interface. It also includes the underlying features:
It creates an impressive header and footer
It helps you to create a sticky menu
It comes with multiple prebuilt templates
WooCommerce cart in the header section
Limitless social icons are also available.
Elegant and super professional header and footer in minutes. If you want to learn more about ElementsKit best addon for the Elementor plugin, click the button below.
🎖️ Mega Menu Builder:
One of the best features that qualify a website to be advanced is its mega menu feature. The ElementsKit mega menu has all the advantages to create the best menu of your dreams.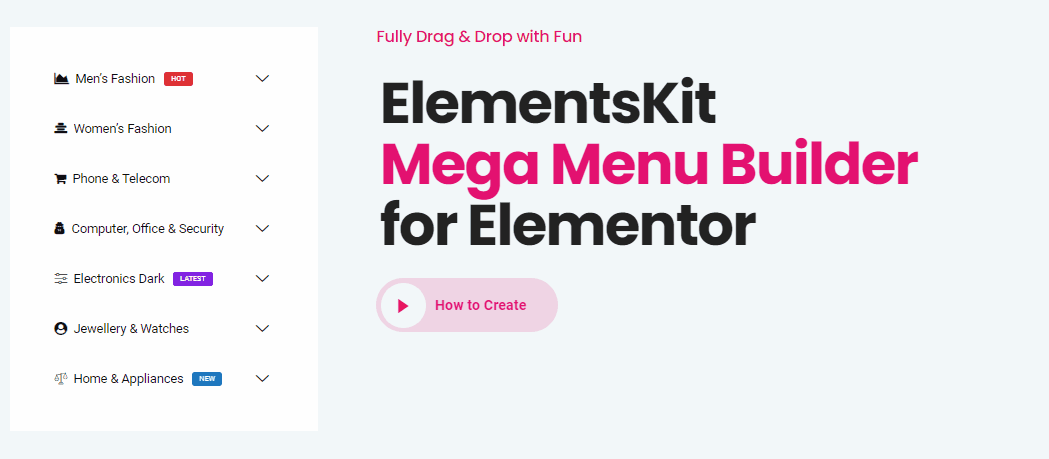 You can customize the mega menu in a number of ways, including with the nav menu and vertical mega menu. It also includes some useful features:
Full drag-and-drop layout
No coding knowledge is required
It works perfectly with WooCommerce
Adaptable to any theme
High degree of customization
ElementsKit's Elementor Mega Menu is an all-inclusive menu builder for your professional website, offering a wealth of features.
🎖️ 85+ Free and Premium Widgets
ElementsKit has a bundle of customizable 85+ free and premium widgets which will make your site building experience smoother, better, and faster! 🚀
✅ Here's the list of ElementsKit general free and pro widgets:
| | | |
| --- | --- | --- |
| Heading | Social Icons | Motion Text (PRO) |
| Icon Box | Progress Bar | Gallery (PRO) |
| Image Box | Pie Chart | Chart (PRO) |
| Button | Tab | Advanced Table (PRO) |
| Accordion | Video | Timeline (PRO) |
| Image Accordion | Business Hours | Creative Button (PRO) |
| Countdown Timer | Drop Caps | Advanced Toggle (PRO) |
| Client Logo | Social Share | Google Maps (PRO) |
| Image Comparison | Dual Button | Unfold (PRO) |
| FAQ | Table Press | Image Swap (PRO) |
| Funfact | Call to Action | Popup Modal (PRO) |
| Lottie | Back to Top | Video Gallery (PRO) |
| Testimonial | Advanced Accordion (PRO) | Breadcrumb (PRO) |
| Pricing Table | Advanced Tab (PRO) | Image Hover Effect (PRO) |
| Team | Hotspot (PRO) | Fancy Animation Text (PRO) |
| | Price Menu (PRO) | |
ElementsKit Best Elementor Addon Widgets List
✅ ElementsKit also has a number of outstanding modules listed below:
| | |
| --- | --- |
| Header and Footer Builder | Advanced Sticky (PRO) |
| Mega Menu Builder | Advanced parallax (PRO) |
| Widget Builder | Advanced Tooltip (PRO) |
| Onepage Scroll | Cross Domain Copy Paste (PRO) |
| Conditional Content (PRO) | Image Masking (PRO) |
✅ Here is the list of social media feed features:
| | |
| --- | --- |
| Facebook Feed (PRO) | Behance Feed (PRO) |
| Dribble Feed (PRO) | Twitter Feed (PRO) |
| Instagram Feed (PRO) | Pinterest Feed (PRO) |
With ElementsKit pro and the free Elementor addon, you can also access a list of post element widgets as such:
Post Grid
Post List
Post Tab
Blog Post
ElementsKit comes with a whole package along with endless possibilities.
🎖️ Pre-Designed Templates
Time is money, and ElementsKit is always ahead to value its users' time and provide a value-for-money solution.
ElementsKit is the best Elementor addon prebuilt template. Nonetheless, it is one of the best choices you could get that will save you time and money. You can get 35+ advanced designed prebuilt templates with ElementsKit for WordPress.
Just a brief reminder that ready pages are accessible to both free and pro users, but only ElementsKit pro users will have access to the most recent pages. Simply click on the template, enter your data, and you're ready to launch your site.
ElementsKit, WordPress's best Elementor addon, has a number of categories in which you'll find the best option for you.
🎖️ Limitless Ready Sections
ElementsKit also offers 500+ ready sections, which include the header, footer, image slider, and many more other useful sections that will upgrade your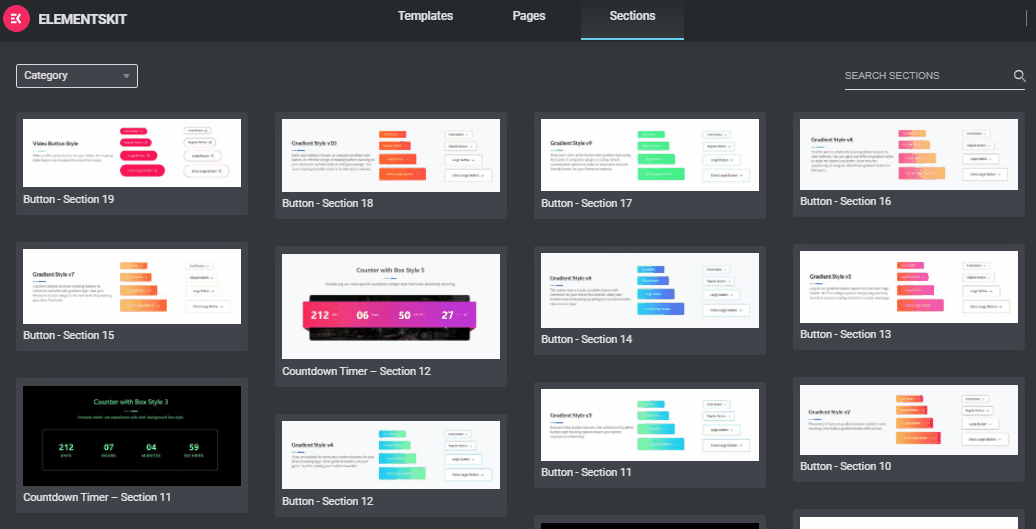 These Elementor sessions are super unique and creative. Also, the sections are extremely easy to integrate into your site and have high customization.
🎁 Wait! There's more…
ElementsKit best Elementor plugin is also known as the best widget builder plugin in the WordPress repository. It also comes with a number of other advanced features as well as elements, such as –
Cross-domain copy-paste
Conditional content
Advanced sticky
Parallax effect
Image masking
Review element: Facebook, Yelp
Form Element: WeForms, WPForm, Ninja Form, MailChimp, etc
Meeting elements: Zoom
It's up to you, friends, to decide and enter this ElementsKit best Elementor addon world, and make the most of your site.
✨ Build your dream WordPress with the best Elementor addon: ElementsKit
Finally, again we would like to thank all of our awesome users for choosing ElementsKit for Elementor as their best Elementor plugin.
What are you waiting for WordPressians?
Be a part of ElementsKit's phenomenal journey and create a site that flies high above the sky! ✈️
Even though the year is about to end soon, we at Wpmet are thrilled and appreciative that you have supported us and enabled us to reach this incredible milestone of 800,000 Elementor customers.
We appreciate your support and hope you will stick with us as we continue to add more widgets, templates, and features to ElementsKit throughout the course of the upcoming year.