Best Elementor Addon: ElementsKit Hits Half a Million Active Installations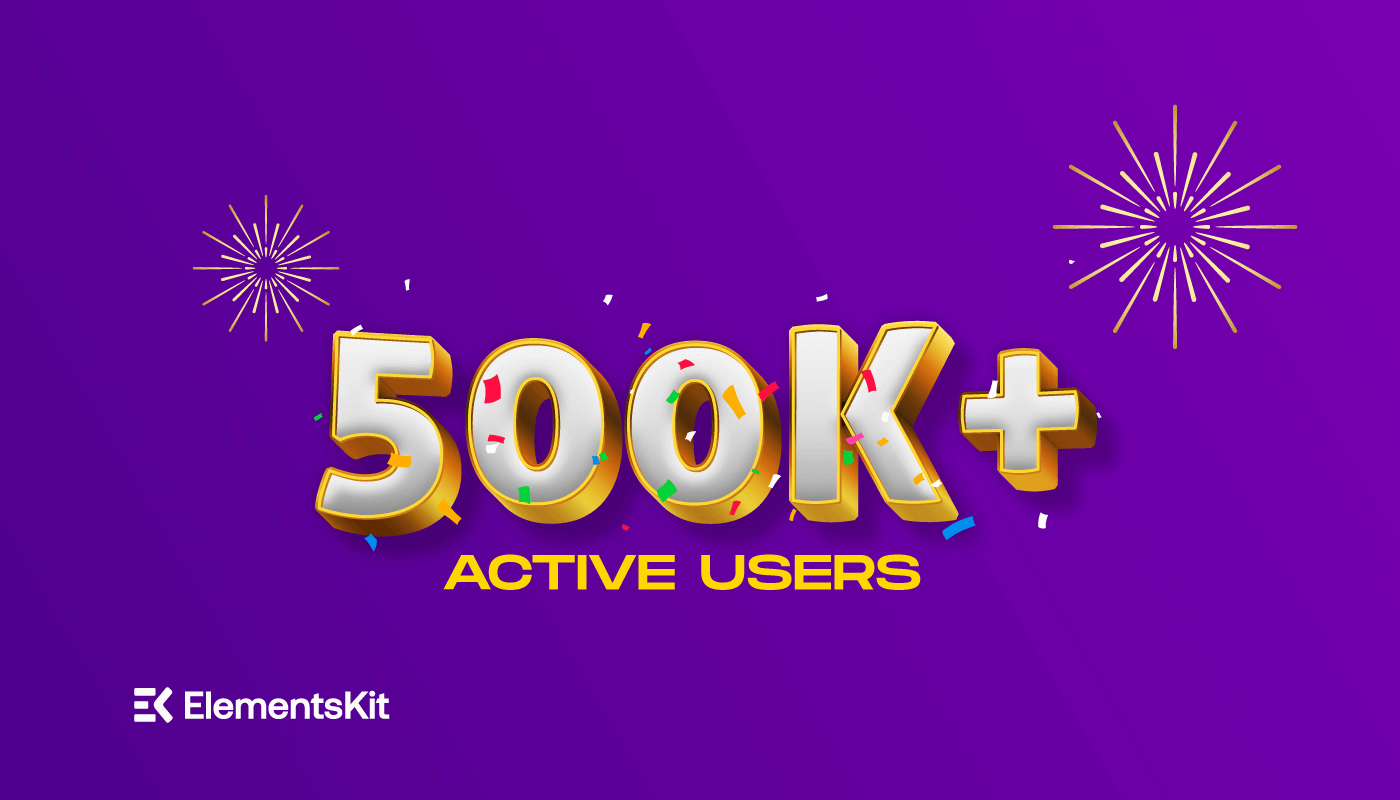 Do you know ElementsKit has achieved another milestone?
Can you guess? Let's disclose it.
This November, ElementsKit has stepped to 500k active installations! This half a million milestone is excellent news for both you, ElementsKit users and us. We are not flexing, but it took only 4 months to reach this achievement from the previous one when it was 400K.
ElementsKit is an ultimate all-in-one Elementor addon that makes building and customizing any website possible within minutes. It offers an amazing user experience so that a non-techy person can develop websites without facing any kind of difficulties. ElementsKit started its journey back in 2019, and thanks to your support, it has succeeded to go through this long journey and hoping to reach even bigger milestones in the future.
History of ElementsKit's mindblowing achievement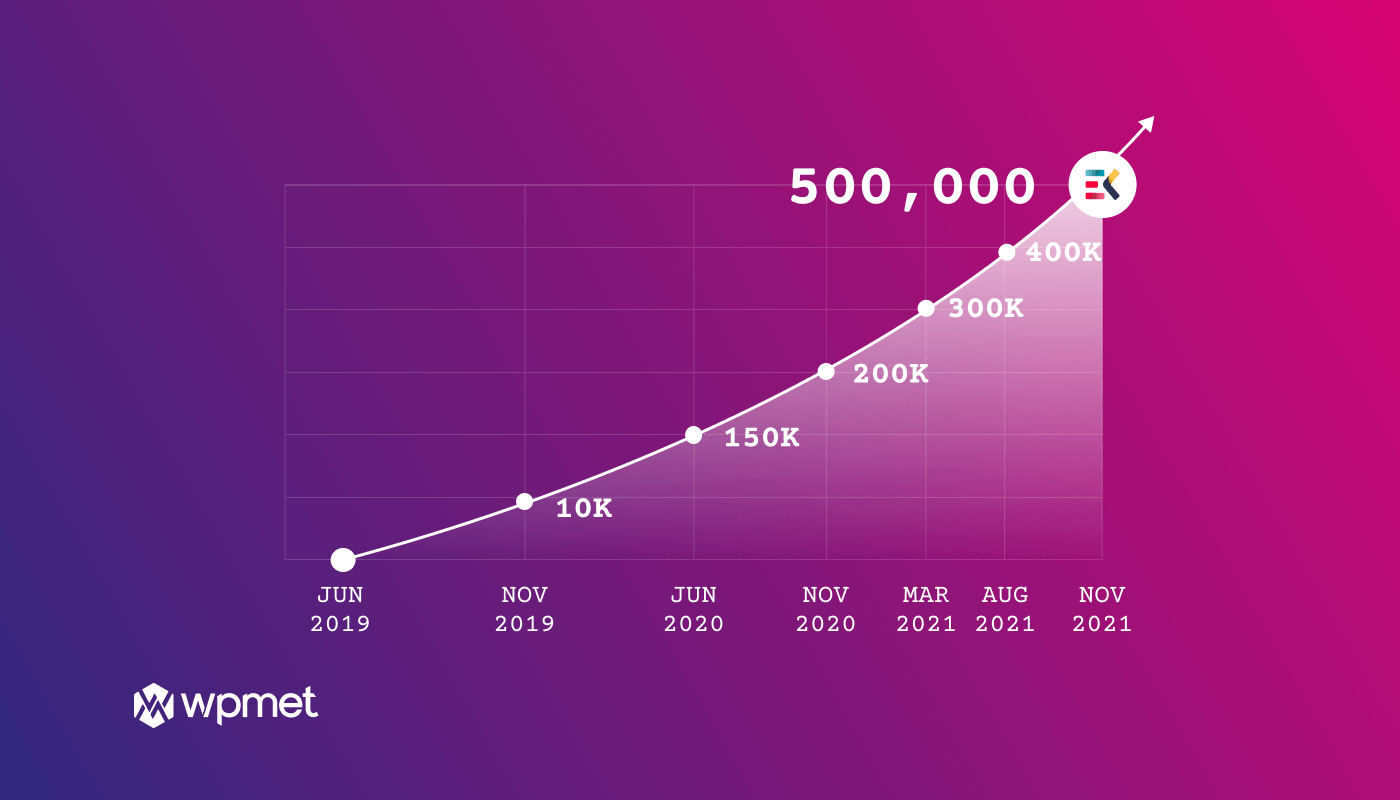 ElementsKit is an all-in-one addon that has launched in June 2019 intending to be the best addon for Elementor one day. After 2 years of hard work, we have succeeded to achieve your trust and love.
ElementsKit has started with zero users but within 6 months we got support from 10k active users like you and this support and love never ends. You have bestowed more and more love and trust over months and finally, in June 2020, ElementsKit had succeeded to hit 150K active users within 8 months.
After that, it has become an unstoppable Elementor addon because of getting your continuous support and love. Its family has grown from 150K to 300K within just 9 months. Your support and love didn't end here. Moreover, we got more support with each passing month. Even your support got doubled.
That's why we have succeeded to build a half-million happy Elementor family in Nov 2021. It took only 9 months to grow our family from 300K to 500K. That is mind-blowing and this was impossible without your support that we got and still getting.
How has ElementsKit gathered half a million active users like you?
ElementsKit has started its journey in 2019 with a small number of widgets, modules, and templates. But, after getting a huge shout-out from you, the developers of ElementsKit get more motivated to increase its modules and widgets for making it more featureful and handy.
Now, it provides 85+ widgets, 11+ modules, 79+ ready pages, 45 header and footer templates, and so on. As a result of the ongoing development of ElementsKit and getting your continuous support, it has unlocked the 500K active users target. Since you have already known how ElementsKit gathered this large number of active users, Do you want to know more about ElementsKit? Then take a deep look at the excellent features of ElementsKit:
85+ powerful customizable widgets

It offers more than 85 powerful widgets that are fully customizable and easy to use. You can enable and disable any widget you like. For example, if you don't want to use the testimonial widget of ElementsKit then, you can easily disable it.
These widgets are also categorized for your site. Like in ElementsKit, you will get 41 general widgets, 8 special widgets, 6 social media feed widgets, 4 posts and WooCommerce elements, 7 Header and footer elements and so on. However, you can add countdown timer, search bar, and create team member sections for your Elementor website with these widgets.
You can enable and use any widgets you like but that won't hamper your site performance a bit. This is the most excellent part of ElementsKit.
A library that is packed with beautifully designed layouts and blocks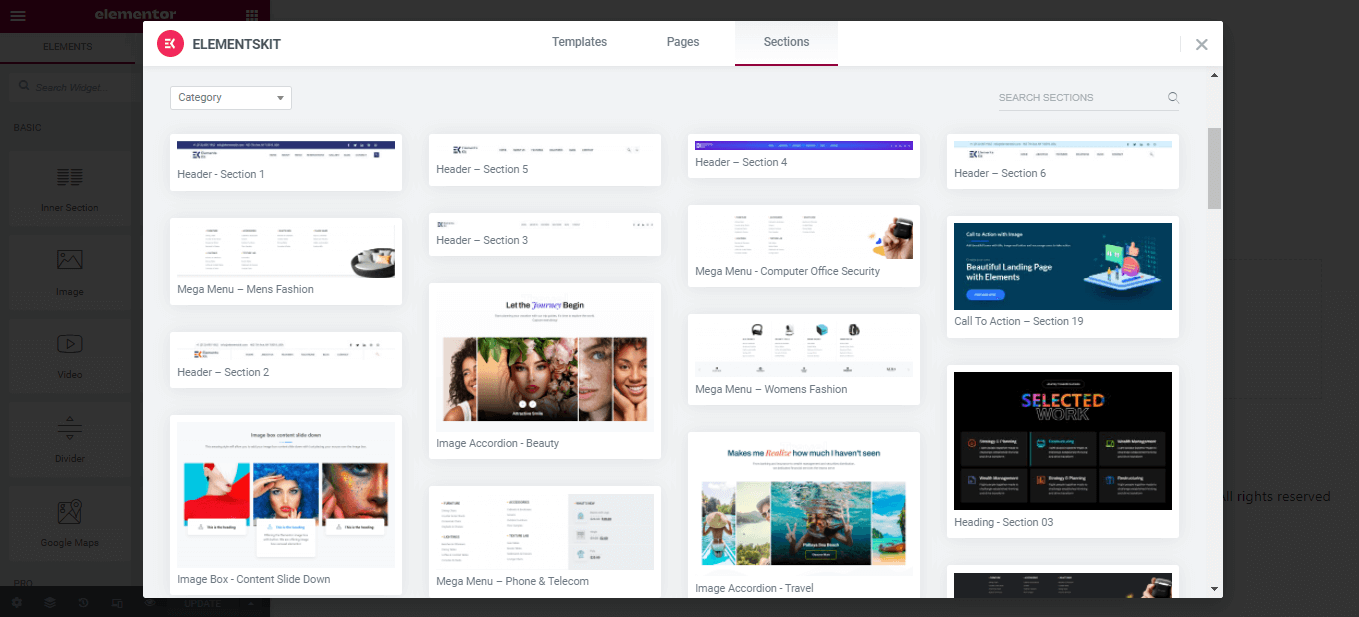 ElementsKit provides a beautiful layout library where you will get any layouts or blocks for your site. You don't need to spend time thinking about the designs of your website. Just have ElementsKit and get designs and ideas for your website.
This library is packed with 500+ ready sections and header and footer templates and many more so that, you don't face a single issue to build your website.
Built-in ready pages by professional developers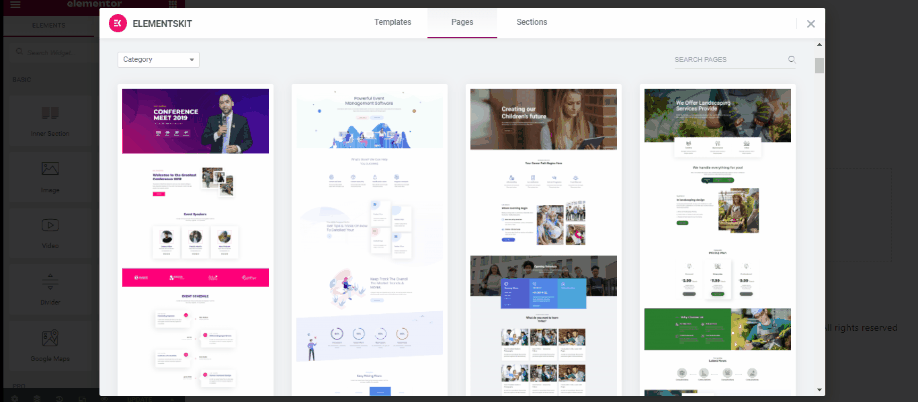 After installing and using ElementsKit, you will get more than 35 ready built-in pages for your site. These pages are built by professionals so that your WordPress site gets the best professional look. Besides, these ready pages are fully customizable. You can change anything or you can add anything anywhere. As a result, your site won't look like other sites that are built with ElementsKit. This is the best-noted part of these in-built pages.
Advanced features for Advanced customization: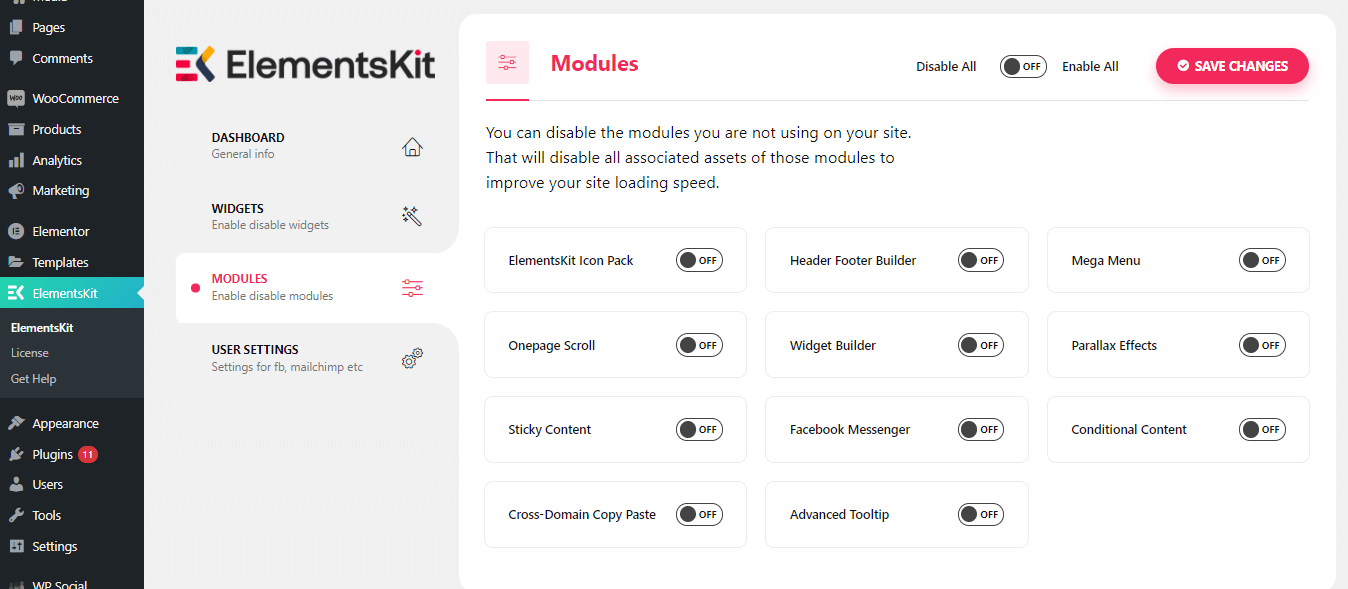 ElementsKit is well recognized because of the advanced features provides through its modules. Till now it has 11+ modules by that creating and customizing a site is super friendly also less time-consuming. Besides, the development team of ElementsKit all in one addon for Elementor is working hard to bring more modules. Some modules will also release in the coming months.
Call to response support system:
No matter how much development is done for a plugin if its support system is bad then, you will never prefer that plugin. Because you will need help during using or building your site with a plugin. So, a plugin support system always needs to be good enough to get help at any time.
Here ElementsKit always wins your heart. Because it never fails to answer your queries on time. Besides, ElementsKit always treats your problem as its own problem. So, its support system is beyond excellent.
Best free Elementor addon:
Most of the best and handy Elementor addons are paid. But, ElementsKit offers both free and paid versions thinking about the betterment of its users. It's not like its free version is useless. In fact, ElementsKit free version offers more features than the pro version of some plugins.
That's why ElementsKit is considered to be the best free Elementor addon available in WordPress.
Elementor WooCommerce addon:
ElementsKit is also suitable for building a whole eCommerce site with premade templates or else you can build your site from scratch. Besides, it provides four WooCommerce elements as well that are Woo category list, Woo mini cart, Woo product carousel, Woo product list. These widgets and modules will help you to build an eCommerce site that can compete with other renowned eCommerce sites.
Unstoppable growth of ElementsKit:
The journey of ElementsKit has started in 2019. But, in two years the love we get is unexpected. Because of your love and support, our small family is now reached 500K. ElementsKit is growing high and high. Here is the unstoppable growth graph of ElementsKit: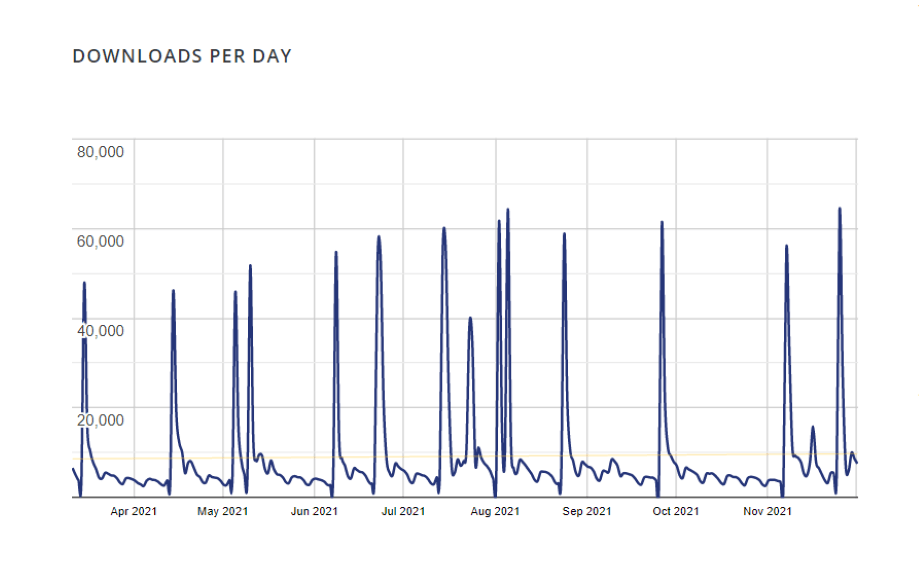 With each passing day, users of ElementsKit is continuously rising high. For example in 14 april, 2021 ElementsKit has downloaded for more than 46 thousand times. But, in November 25, 2021 it has increased to 64 thousands.
This growth is remarkable and all these developments are only happening due to your boundless love and support.
Because of your increasing love and support, we are getting motivated to work hard to stand by your expectations. Do you want to know how much we get love from our users for the last 7 days? Here it is:
For the last 7 days ElementsKit has downloaded over 130K times.
Your this love and support are overwhelming for us. This is making ElementsKit one of the best unstoppable Elementor addons in WordPress.
Wrapping up:
ElementsKit provides advanced widgets and modules with that from adding images to add parallax effect, every little and big change is possible. Besides, its all useful features are not only for pro users. Free users can also use these features to build and customize their websites. The free version of ElementsKit is so featureful that the active users of this addon are increasing day by day.
Now, it has successfully reached 500K installations within 2 years along with it, our desire to serve you is also increased. We got the new inspiration to start our work again with another milestone that can be only possible if we get this never-ending support from you. Shower your love and support so that we can make our dream come true.
Don't forget to add your desired features to our roadmap so that we can know what you are expecting from the future version of ElementsKit.