5 Best WordPress Event Management Plugins You Must Try Out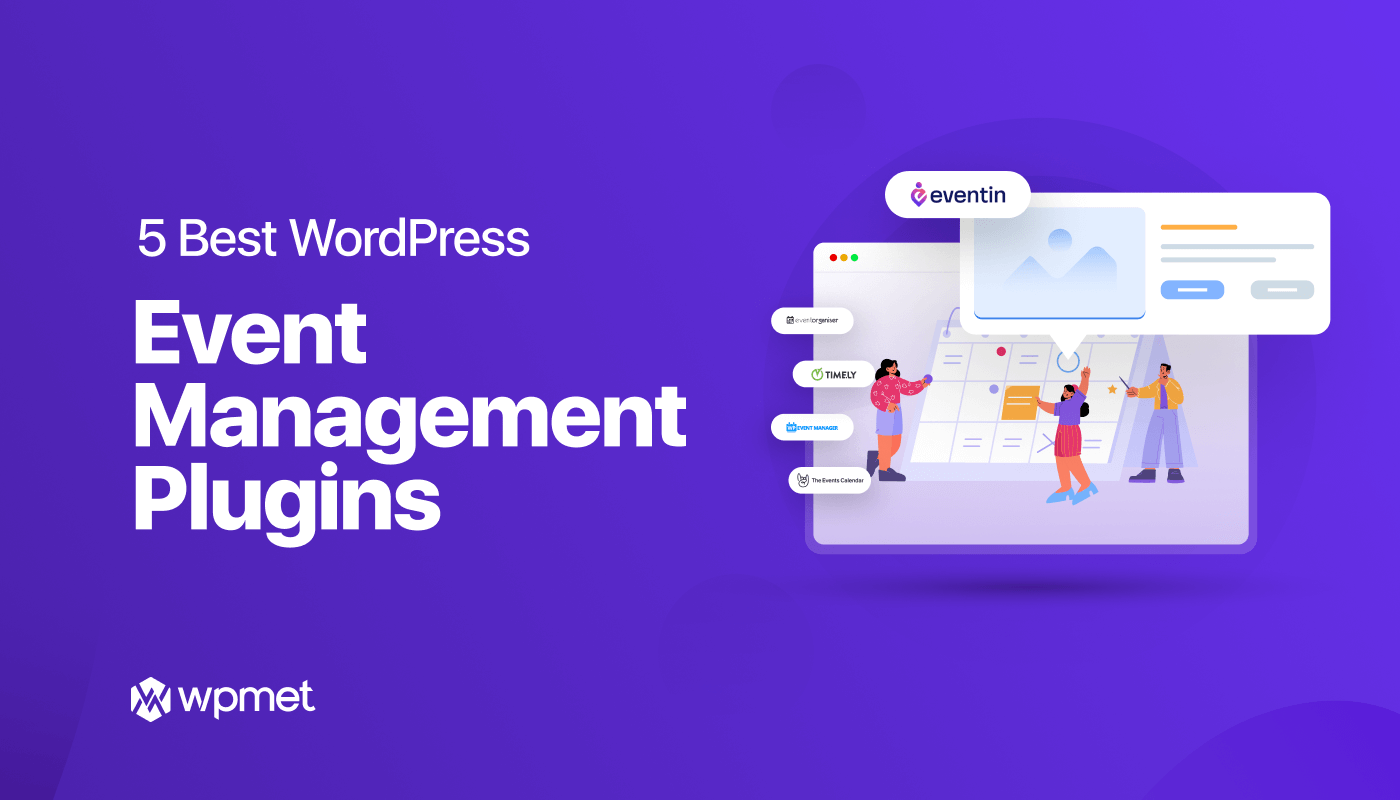 An event management calendar is important for arranging successful events, RSVP's, creating and selling tickets, managing participants, etc. Now to arrange a successful event, you will need an effective solution and that is utilizing WordPress event management plugins. Though WordPress also provides solutions for this, it is not as helpful as dedicated WordPress event management plugins.
Since there are a large number of event management plugins available in WordPress, it is quite hard to select one from such a long list.
Keeping that thing in mind, here we prepared our mind to share a list of the 5 best WordPress event management plugins with their features and comparison. So, without wasting any time, let's check them one by one.
What is an event management plugin in WordPress?
An event management plugin is an easy solution to create and manage events that can add a calendar to your website for alerting visitors about upcoming events and occasions. Besides, it also helps you to set recurring events, sell tickets, manage participants, and so on.
More specifically, a WordPress event management plugin simplifies all the event management tasks and ensures to have a successful event.
Why would you need an event management plugin?
Events are necessary for empowering your business as it lets you promote your products or services in front of your target audience. Though organizing an event is a tiring and time-consuming task, thanks to the available full-fledged WordPress event management plugins. Now, arranging events is not a hard task anymore.
These WP event plugins will let you organize an event by providing the below event management solutions:
It helps you to organize single or multi events for your website.
These plugins ensure super easy event management by letting you list down similar events.
WP event plugins will let you add and manage recurring events.
It showcases an event calendar for better acknowledgment of upcoming events.
Filtering events is also super easy with these event solutions.
Some WP event plugins also offer RTL language support.
You can also manage attendees with these plugins.
Effortless single and multi-speaker selection is also possible.
So, these are the basic benefits of using an event management plugin in WordPress. But, there are more depending on the variety of available event management plugins. Therefore, you have to check the available event management plugins one by one to pick the best one.
What to look for while picking an event management plugin?
You will find numerous event management plugins in WordPress. But all those plugins, don't provide the same value. So, on what basis will you pick the best event management plugin? Very confusing, right? No worries, we will cover that as well.
Must ensure that your event management plugin has the following features:
Your event management plugin should have a multivendor marketplace feature.
It should be capable of setting up single, multiple, or recurring events.
Your chosen plugin should easily integrate with Google Maps.
It supports all the popular payment gateways.
CRM and other popular integration should be available in this plugin.
It can generate Unique QR codes.
Available in multiple languages.
It should be lightweight and easy to use.
So, you should check whether your event management plugin has the above functionalities or not. Now it is time to make your selection process easier by offering you the list of the 5 best WordPress event management plugins. Here we have listed down the event management plugins based on their active installations and WordPress.org rating.
5 best WordPress event management plugins for your website
Here, we have hand-picked the 5 best functional and handy WordPress event planning plugins that you must consider to perfectly arrange events. So, Check out the features of the following plugins and pick the most suitable one for your business: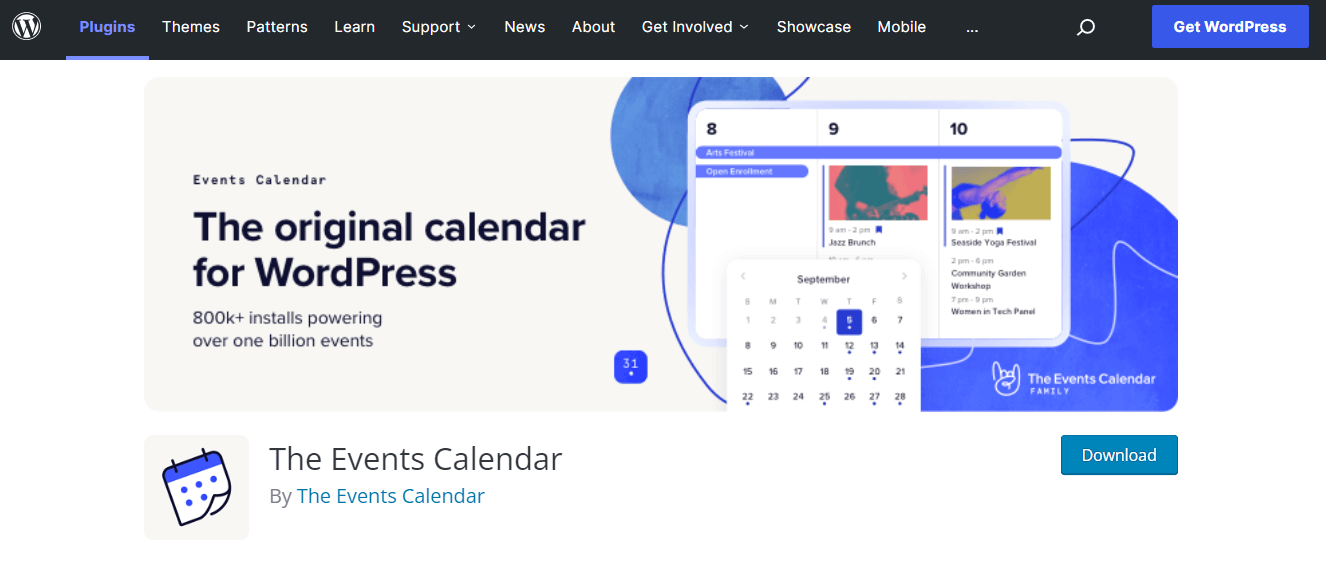 This is another WordPress event management plugin that allows you to create and manage events right from your WordPress dashboard without applying any technical expertise. The Events Calendar plugin is completely responsive for any kind of device. Besides, it is fully compatible with all the renowned frameworks such as Avada, Divi, Enfold, and so on. Furthermore, you will also get a template library while using this plugin.
The Events Calendar provides out-of-the-box UX to its users by providing the easiest device interface. Whether you want to arrange in-person or virtual events, everything is possible with The Events Calendar.
Features of The Events Calendar:
Free ticket and RSVP management.
The system of this event management WordPress plugin allows you to fill up the forms from Meetup, Eventbrite, iCal, Google Calendar, etc.
It filters your events by category, venue, organizer, etc.
You can arrange virtual as well as community events.
The Events Calendar can translate your events into multiple languages.
It has numerous stylesheets to improve integration.
You can create an Eventbrite ticket right from your WordPress dashboard.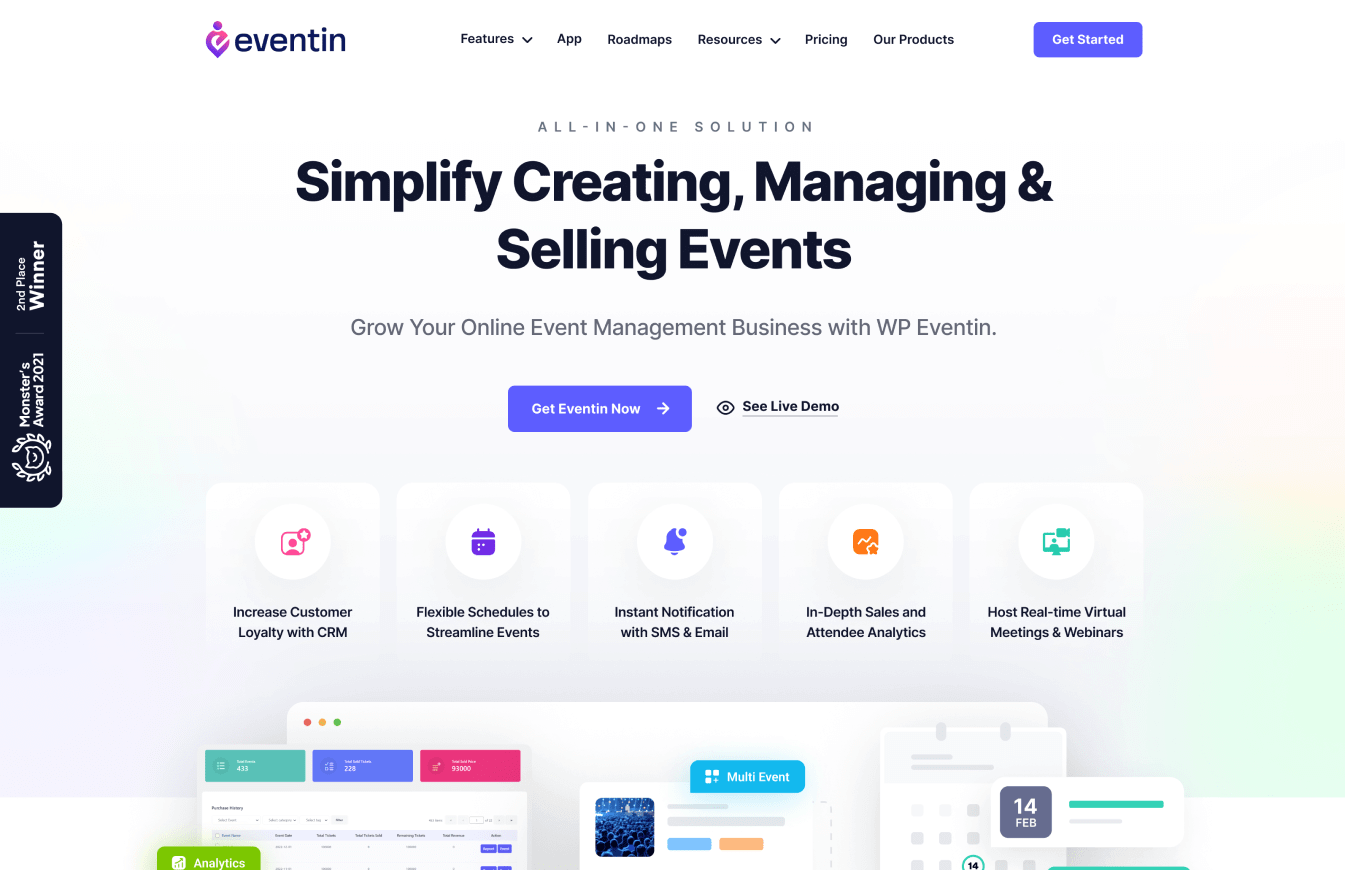 Eventin is the ultimate solution for effective and effortless event creation and management. It will let you manage all the events by simply showcasing an event calendar. Therefore, anyone can check the upcoming events from this calendar. Besides, this best WordPress event management plugin can create different types of tickets and sell them at different prices.
With Eventin, you can set flexible schedules to streamline events, create and manage unlimited events, increase customer loyalty with CRM, confirm attendees with unique QR codes, and whatnot. You can see in-depth sales and attendee analytics from the dashboard. The plugins can be used for in-person physical and online events. Besides, you can host virtual meetings & webinars with Zoom.
Moreover, it supports various integrations including Zoom, Fluent CRM, Stripe, and so on. Eventin not only supports various integration but also supports WordPress shortcodes and Elementor, the easiest drag-and-drop website builder.
Features of Eventin:
It has a multivendor event marketplace.
Eventin has option to set up recurring events.
Different types of calendar views are available.
Simplified schedule management system.
Showcase your speakers or organizers with Eventin.
Unlimited event setup option.
Eventin has a multi-tier ticket pricing option.
You will find the WooCommerce and stripe payment method in Eventin.
It contains a unique attendee management system.
You can add custom fields on the attendee form.
Eventin adds venue with Google map.
You can set WooCommerce coupons for events.
Lots of integrations are available such as Groundhogg, FluentCRM, Zoom meeting, and Webinar.
If you are a Divi user, you can use Eventin on your website too. Eventin has a dedicated Divi builder addon that allows you to use Eventin on the Divi site.
Eventin Divi Builder Addon – Design with Divi to create the perfect event management and ticket selling website by using Eventin Divi builder addon.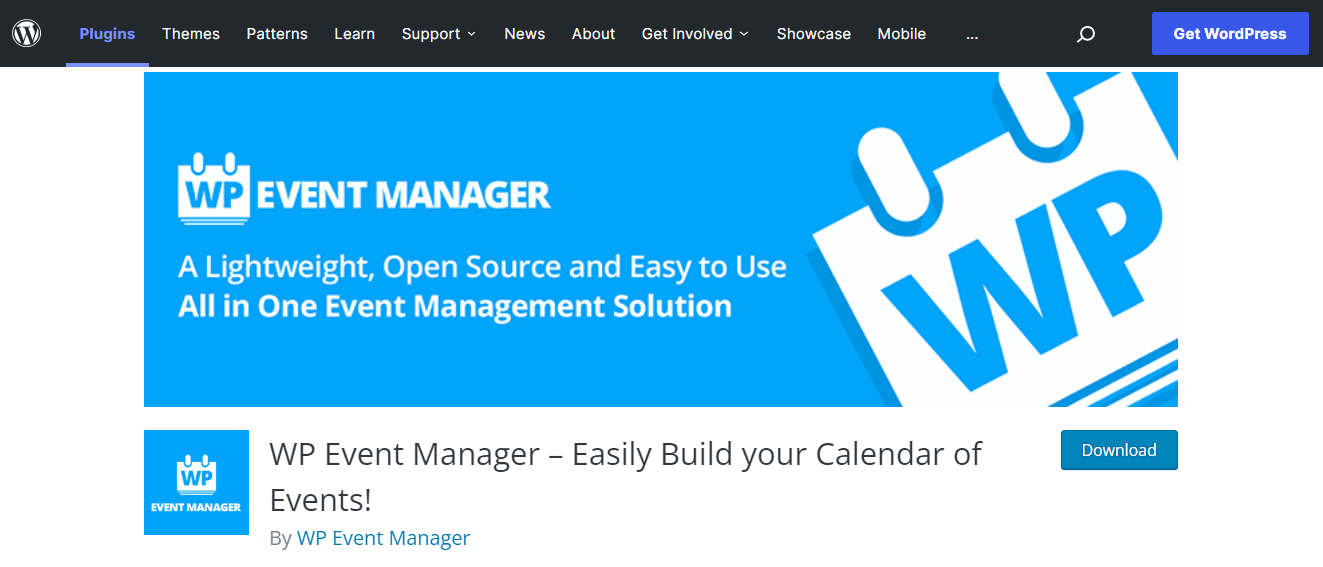 WP Event Manager is a lightweight and powerful event management plugin for WordPress which is capable of creating both live and virtual events. It is also compatible with all the popular themes. If you want a robust event management system, then WP Event Manager is the perfect solution for it. On top of that, this WP event plugin is fully customizable, responsive, and SEO-friendly.
As a result, you can create and manage events as you want. Attendees can also view events and filter events to search for the most suitable events for them. Furthermore, it offers the finest UX to its users.
Features of WP Event Manager:
You can set multiple formats to view events.
Location setting option with your event.
It has a preview option for viewing events before making them live.
You can manage event listing forms from the front end and dashboard.
WP Event Manager can show events in multiple areas with its premium addon.
This plugin has a debug mode that ensures smooth working without facing any issues.
Events can be translated into more than 40 languages with this plugin.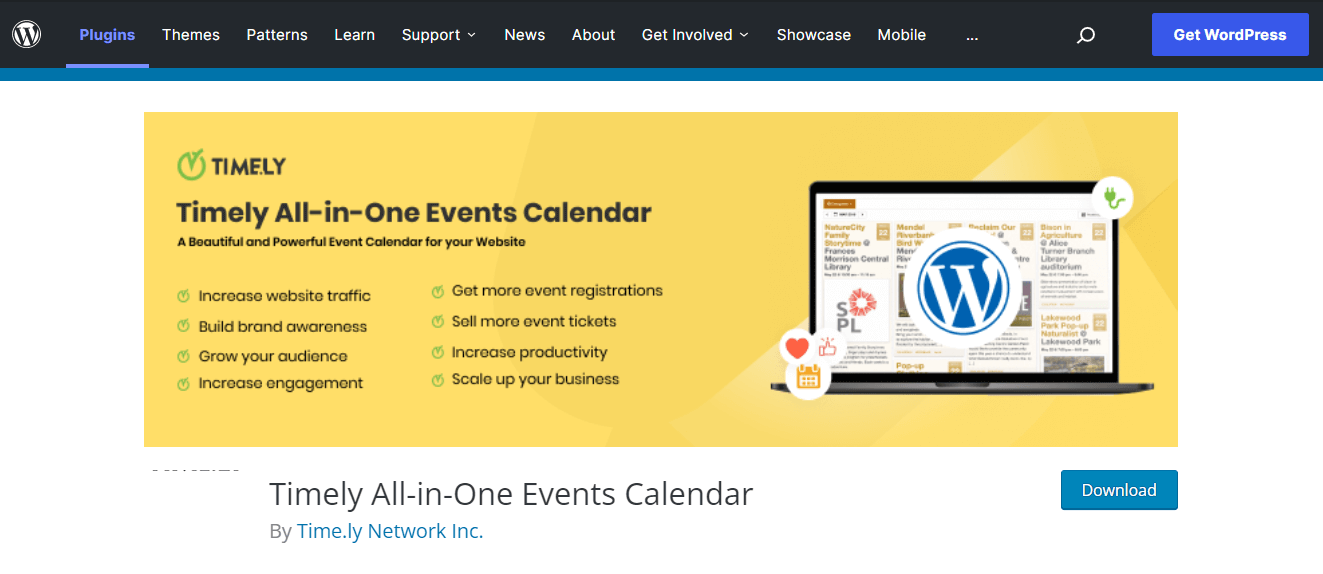 All-in-One Events Calendar is a design-focused event management plugin by which you can set up different types of events and showcase the event calendar responsively. Besides, it lets you set up different calendar views for any device. Again, you can filter events based on category, venue, tag, and organizer. This plugin sets the time zone for the events.
It has an easy event-sharing option on Google Calendar, MS Outlook, Apple iCal, or any events that support iCalendar feeds. Furthermore, you can seek support and they will provide support via documentation.
Features of All-in-One Events Calendar:
Events can be translated into all popular languages.
This WP event plugin displays the calendar in multiple views.
Multiple calendar themes are available.
It allows you to create different types of events such as in-person, visual, and hybrids.
Duplicating events is also possible to save productivity and time.
The All-in-one Events calendar is well compatible with all the popular browsers.
The created event calendar looks perfect on all screen sizes.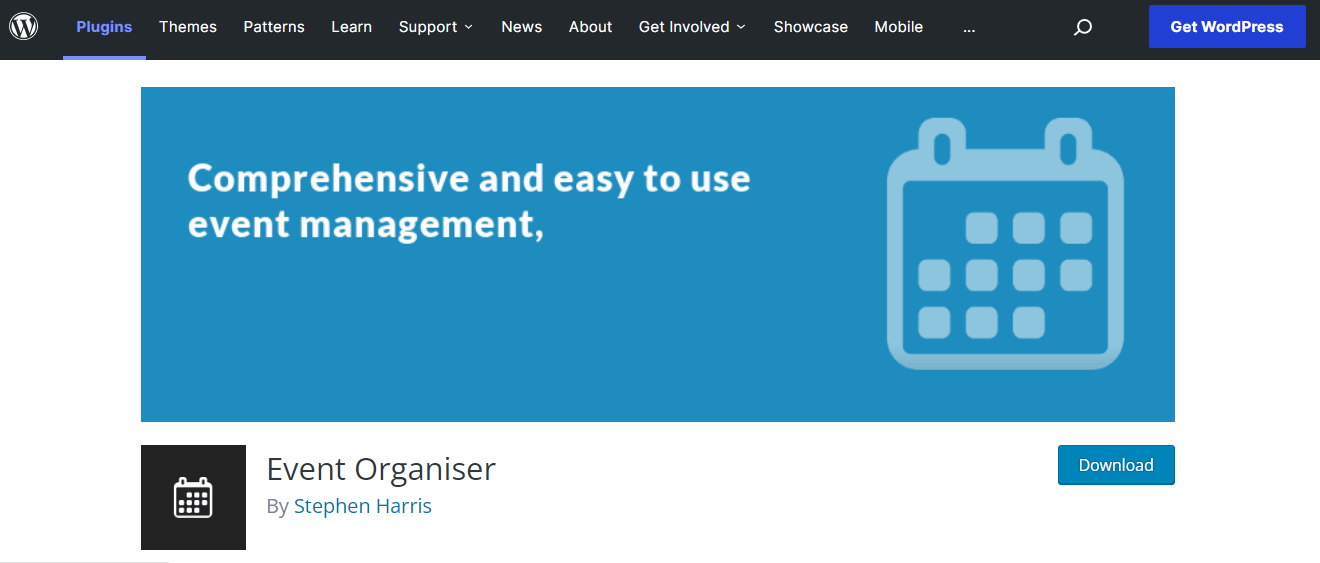 Event Organiser plugin is an event management plugin in WordPress that allows you to create one-time or recurring events. Besides, you will have full control over customizing your events. You can also add or remove any date from your events. The system of WordPress event management plugin allows you to create and maintain venues with Google maps integration.
On top of that, visitors can subscribe to the events, particular venues, or categories. Again, expired events will be automatically deleted from your calendar. Therefore, your calendar will be well sorted.
Features of Event Organiser:
It supports complex recurring patterns.
Your events can be translated into 40+ languages with this Event Organiser plugin.
This allows you to integrate your events with different payment gateways.
Users can subscribe to individual events.
It supports google shortcodes.
Get custom templates for shortcodes, widgets, and ICAL.
Custom meta boxes and metadata support are available for venues.
Plugin actions and filters are available for developers to bring improvement to the plugin.
Bonus Blogs:
1. Best WooCommerce countdown timer plugins in WordPress.
2. Translate your site into any language with ElementsKit.
3 10 must-have chrome extensions for writing.
4 Why you should avoid null plugins and themes.
Quick comparison among the best WordPress event planning plugins
After checking out the above list of the best WordPress event management plugins, you might get confused. So. a quick comparison among the 5 best event management plugins is added here:
| Feature | The Events Calendar | Eventin | WP Event Manager | All-in-One Event Calendar | Event Organiser |
| --- | --- | --- | --- | --- | --- |
| Multiple event templates | ✅ | ✅ | ✅ | ✅ | ✅ |
| Recurring events | ✅ | ✅ | ✅ | ✅ | ✅ |
| Multiple calendar view | ✅ | ✅ | ✅ | ✅ | ✅ |
| Stripe integration | ✅ | ✅ | ✅ | ✅ | ✅ |
| Import event data | ✅ | ❌ | ✅ | ✅ | ✅ |
| Customized registration form for attendees | ✅ | ✅ | ✅ | ✅ | ❌ |
| Mobile app | ✅ | ❌ | ✅ | ✅ | ❌ |
| Unique QR code for attendee | ✅ | ✅ | ✅ | ❌ | ❌ |
| Tickets for events | ❌ | ✅ | ✅ | ❌ | ✅ |
| Coupon for WooCommerce | ✅ | ✅ | ❌ | ✅ | ❌ |
| Speaker or organizer listing | ❌ | ✅ | ✅ | ❌ | ❌ |
| Multivendor marketplace | ❌ | ✅ | ❌ | ❌ | ❌ |
| CRM integration | ❌ | ✅ | ❌ | ❌ | ❌ |
| Countdown timer for events | ❌ | ✅ | ❌ | ❌ | ❌ |
| Current WordPress.org Rating | 4.3 | 5.0 | 4.6 | 4.2 | 4.6 |
Pick the best WordPress event management plugin
Undoubtedly, arranging a successful event can help your business to grow well. Whereas an event management WordPress plugin ensures to create and manage all events along with other management tasks so that you don't face difficulties while arranging them. Now, to get started with a perfect WordPress event management plugin, go through the above list and pick the most suitable plugin after analyzing its features and benefits.