Best Currency Switcher Plugins for WordPress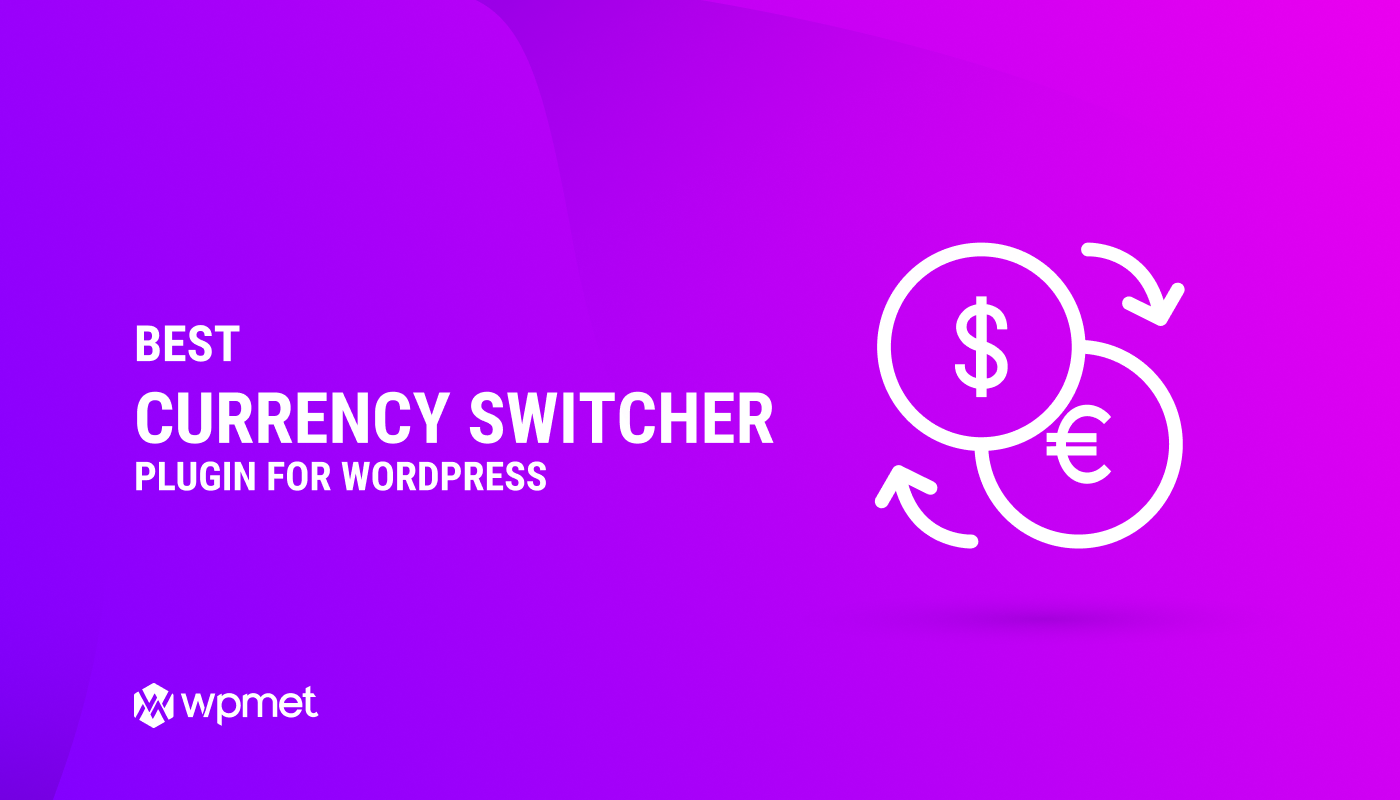 Do you want to add a currency switcher plugin to your WordPress site?
Installing the best currency switcher plugin on your eCommerce website will help you expand your business overseas. This segment of eCommerce sites will allow your clients to see the pricing of your products in their local currency, which enhances the user experience (UX).
Online commerce and exchange are on the rise these days, and as WordPress powers the majority of websites, the necessity for a currency converter plugin is also on the rise.
We'd like to introduce the best WordPress currency converter plugin in this article. Please note that our list includes both free and paid plugins.
Why Should You Install a Currency Switcher Plugin?
As you may be aware, the WordPress Currency Converter Plugin is a necessary tool that allows you to convert currencies as needed. You may easily expand your business all over the world thanks to it.
Today, in order to assist you in selecting the best one, we have compiled a list of the top best WordPress Currency Converter Plugins in the hopes that you will be able to select the finest one.
Benefits of using Currency Switcher Plugin:
The best currency switcher plugin on your website is necessary if you run an online business with foreign clients. Some of the advantages of using a WordPress currency exchange plugin are listed below.
✅ Expand your business: A currency exchange plugin allows you to reach out to a wider range of customers from other nations. It can assist your overseas consumers in converting your price into their own currency without the need to do it manually.
✅ Reduce buyer confusion: A currency exchange plugin can help your business accept international payments more efficiently. Users will have less buying friction as a result of this. As a result, you'll never lose consumers owing to pricing uncertainty.
✅ Business exposure: As your user base grows, so will your business's exposure, which can be extremely beneficial to its growth. International exposure may result in increased visitors, which will help your SEO efforts.
Best Currency Switcher Plugins for WordPress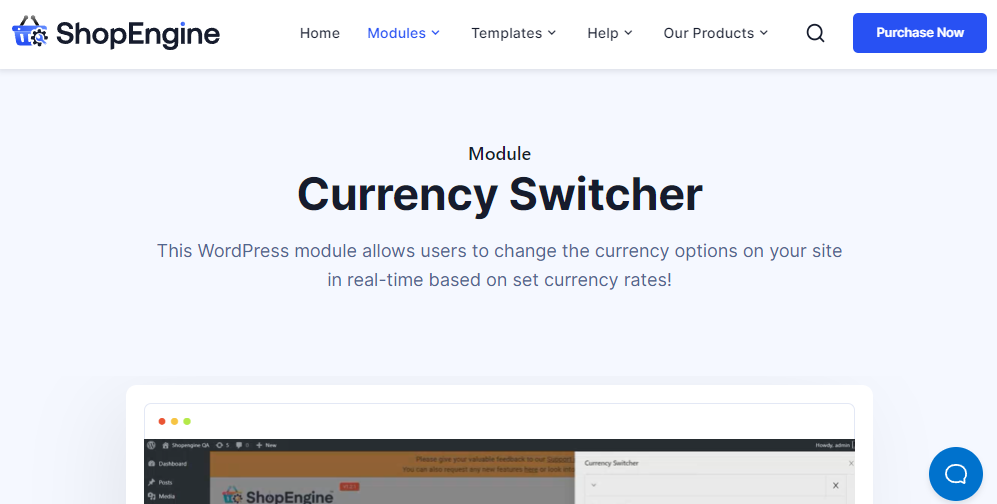 ShopEngine is a one-stop solution for WooCommerce and WordPress. With its Currency Switcher module, you could allow your users to change the currency options on your site in real-time based on set currency rates!
This currency switcher module is a powerful pricing marketing tool for WordPress sites that need to display information in multiple currencies.
The ideal technique for making your website's business recommendations clear for customers from all around the globe. Extremely effective module, especially for marketing programs, catalogs, portfolios, and any commercial text content.
✨ Key features of ShopEngine (Currency Switcher Module):
This module auto-updates the currency rates hourly, daily, or monthly
Highly customizable
Editable currency format
Supports multiple currencies
Easy to use and install
It will make your site faster and lighter
All-in-one solution for eCommerce store
🔥 Active installation: 6,000+
💰 Price: This plugin has both free and pro. The Pro version starts at $59 including multiple WooCommerce widgets, modules, and pre-built templates, along with one-year updates and professional live help support.
WooCommerce Multilingual & Multicurrency with WPML
WPML is one of the most popular translation plugins on the market. Since they are experts in multilingualism, it is no wonder that they also offer a highly rated multi-currency plugin for WordPress too! With it, users can set up multiple currencies for their WooCommerce store, add a currency switcher, set up exchange rates, and more.
✨ Key features of the WooCommerce Multilingual & Multicurrency (Free):
Configure currencies to display based on customer location
Embed a currency switcher on your site
Various settings for formatting currencies
Manually set exchange rates or use the integrated automatic exchange rate services
Customize prices and shipping rates for secondary currencies
Compatibility with various popular WooCommerce extensions and addons
🔥 Active installation: 100,000+
💰 Price: The free version is available via WordPress and offers multi-currency features only. When paired with WPML ($99 for 3 sites) you can gain access to additional multi-currency options as well as full multilingual capabilities to help build a truly global e-commerce store for a regular license.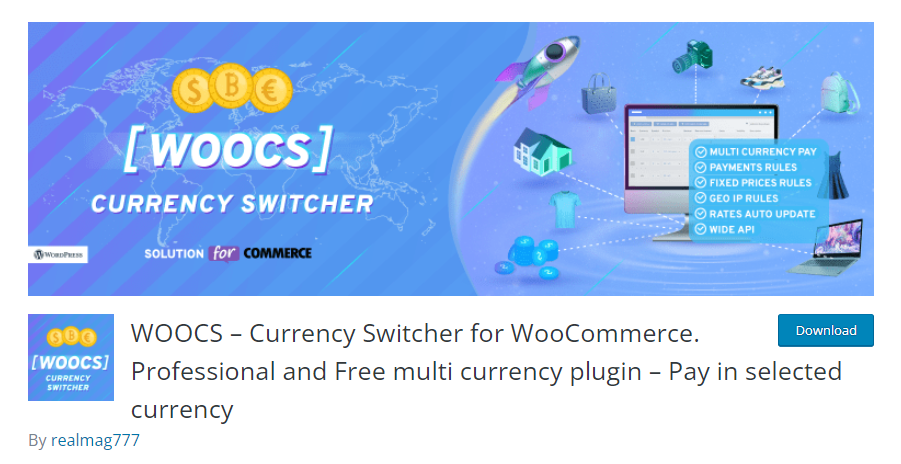 With the WooCommerce Currency Switcher (WOOCS) plugin, your customers may switch from one currency to another. This could be your trump card if you want to increase your sales globally.
Your visitor will not have to convert your site's currency to their own because it transforms the currencies automatically.
You can tell the plugin to use GeoIP rules to figure out the visitor's IP and currency if you like. This plugin has a unique feature that I found intriguing: it displays a bar graph of each currency used on your site.
It also has a neat function called Side Switcher, which allows you to have the currency switcher visible at the bottom of the screen at all times. While you don't like the location of the currency switcher when utilizing a shortcode or Widget, the Side Switcher feature comes in handy.
✨ Key features of WOOCH:
Shortcode and widget support for side switcher
GeoIP regulations
Currencies visibility
Statistics for currency switchers
Exchange rate payment rules are automatically updated
🔥 Active installation: 60,000+
💰 Price: This plugin has both free and pro. The Pro version starts at $32 for a regular license.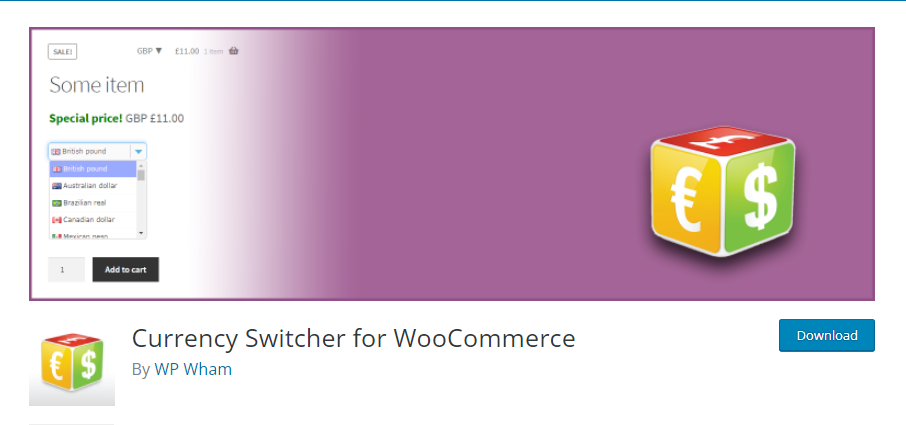 Currency Switcher for WooCommerce is a free currency exchange plugin that allows you to offer product prices based on your users' geography. It will detect your customer's IP address and change the currency of your products to the customer's native currency.
You can also include a currency switcher in your website widget. From the admin panel, you can adjust the order of your currencies.
✨ Key features of Currency Switcher for WooCommerce:
Price per product basis
Show currency by the country
Show currency by country flags
During the checkout process, return to the original currency
The currency switcher can be placed anywhere
Support for shortcodes and widgets
🔥 Active installation: 30,000+
💰 Price: This plugin has both free and pro. The Pro version starts at $29.99 for one site.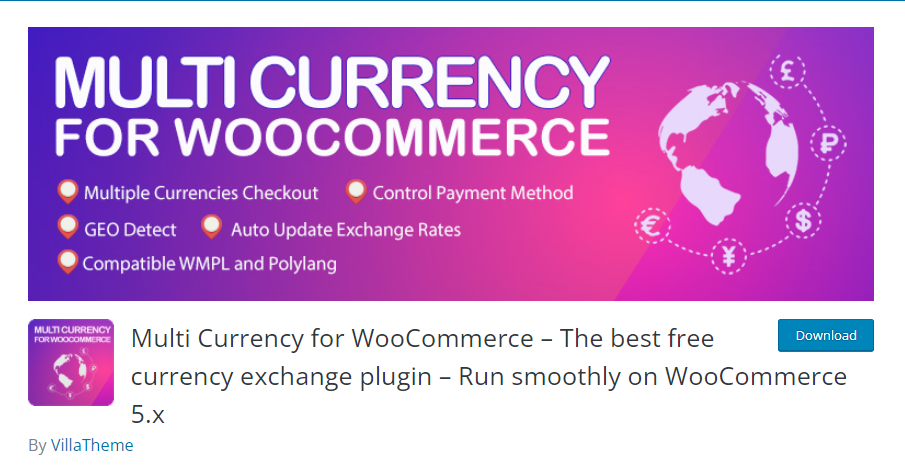 WooCommerce Multi Currency is a robust currency exchange plugin for WooCommerce that allows you to take payments in a variety of currencies. It can be used to set the exchange rate manually. It does, however, have the option of setting it automatically.
When a customer visits your website, the plugin detects their location and displays the price in their preferred currency. It will send you an email every time the exchange rate changes to keep you informed about the situation. You can also easily customize how the price appears on your website's front end.
✨ Key features of Multi-Currency for WooCommerce:
Automatically updated currency exchange rates
Manually setting exchange rates
Widget design
Friendly interface
Custom CSS and shortcode support
Auto-detects visitor's native currency price format
🔥 Active installation: 20,000+
💰 Price: This plugin has both free and pro. The Pro version starts at $32 for one site.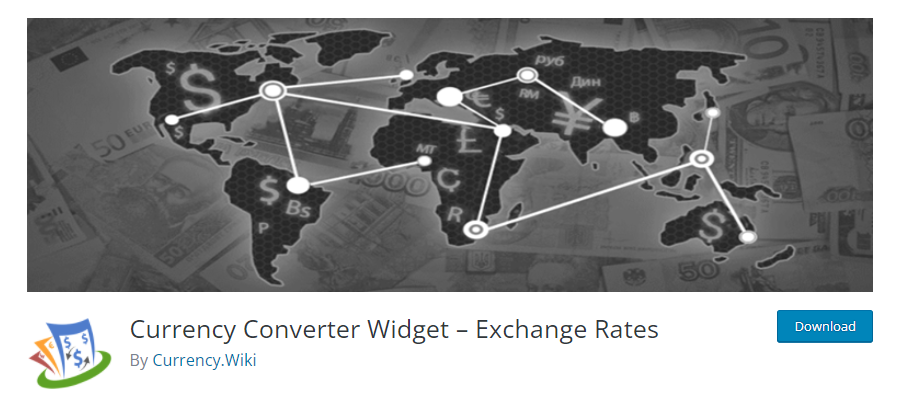 With the help of this plugin, you'll be able to add a useful currency converter widget to your WooCommerce store. The plugin will calculate conversion rates and provide you with a forecast.
Though the converted pricing is saved, your store's base currency will be used at checkout. You can customize the widget by adding multiple currencies to the converter.
✨ Key features of Currency Converter Widget:
Support for shortcodes and widgets
8 Different Currency Pairs in 8 Different Languages
Exceptionally adaptable
Beginner-friendly
The currency rate can be displayed anywhere
🔥 Active installation: 3,000+
💰 Price: This plugin is absolutely free.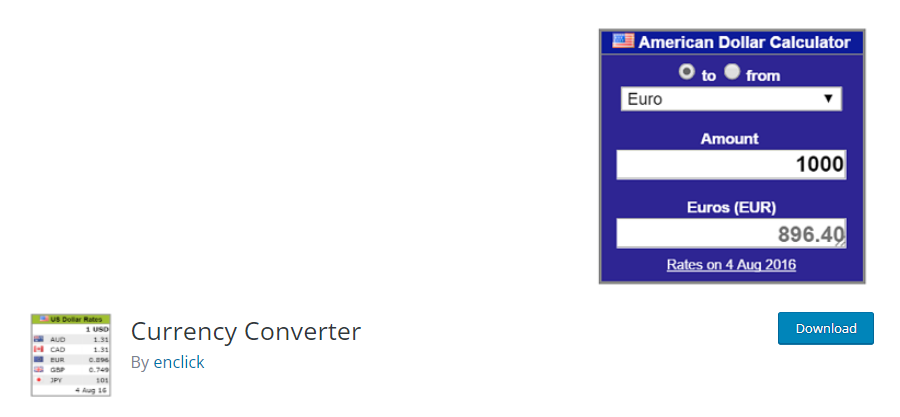 Another WordPress currency converter plugin is Currency Converter. You can quickly compute different exchanges by installing this plugin on your website. It now supports over 200 different currencies. The calculations are instantaneous, and the widget is straightforward to personalize.
Currency Converter is available for download from the WordPress website or dashboard and has over 2000+ active installs.
✨ Key features of Currency Converter:
Set the calculator's default currencies.
There are over 200 currencies to choose from.
Display formats, width, and header colors can all be customized.
The calculation is instantaneous.
Because the widget is preloaded with conversion rates, it responds quickly.
🔥 Active installation: 2,000+
💰 Price: This plugin is absolutely free.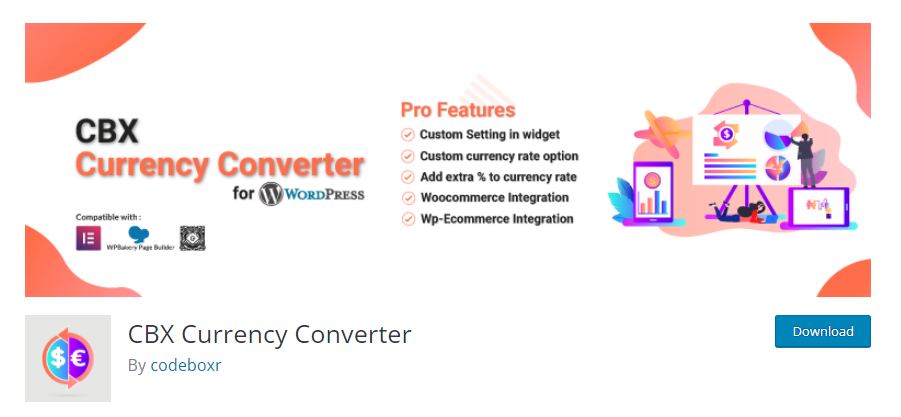 Another fantastic currency converter you may try is CBX Currency Converter for WordPress. You can quickly compute and display current currency rates to your consumers with this plugin. The plugin's Ajax-based results allow your clients to see the results without having to reload the page.
The plugin supports 94 different currencies and allows you to set your website's default currency. It gives you the option of selecting the number of decimal points to display following the currency. This assists your customers in determining the exact value. The plugin is extremely responsive and also works with other WordPress plugins.
✨ Key features of CBX Currency Converter:
Supports elementor and WPBakery widget
Gutenberg block support
Decimal point show
Has 4 pre-built layouts
Ajax based calculator
Shortcode support
Integration with Woocommerce (Pro)
Customized Exchange Rates (Pro)
Support for Bitcoin (Pro)
🔥 Active installation: 1,000+
💰 Price: This plugin is absolutely free.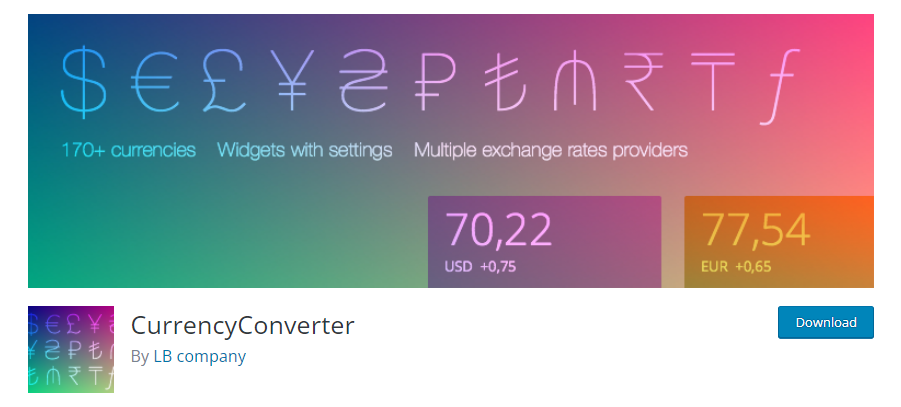 CurrencyConverter is the next currency converter plugin on our list, and it's considered one of the top WordPress currency converter plugins in the WordPress repository. It supports over 170 currencies. CurrencyConverter receives its information from the exchange rate. Guru refreshes itself every hour with the most recent exchange rate.
Furthermore, this plugin caches the data using browser memory. As a result, it will have no negative impact on your website. Widgets can also be changed and configured.
CurrencyConverter, like the other plugins on our list, can be downloaded via the official WordPress website or directly from the WordPress Dashboard.
✨ Key features of CurrencyConverter:
Few widgets for displaying currency rates with customization
Helps your site to become lighter
Currency rates are cached and updated in the background
This API is useful for generating custom widgets or displaying exchange rates on your website
🔥 Active installation: 1,000+
💰 Price: This plugin is absolutely free.
Conclusion
So there you have it: the top 8 WooCommerce currency exchange plugins, complete with features and information. Because all of these plugins have free versions, I recommend giving them a try before investing in the premium version.
I hope this article assisted you in selecting the best currency exchange plugin for your needs.
Now, please let me know what you think of these plugins. Consider sharing this article on social media if you enjoyed it.